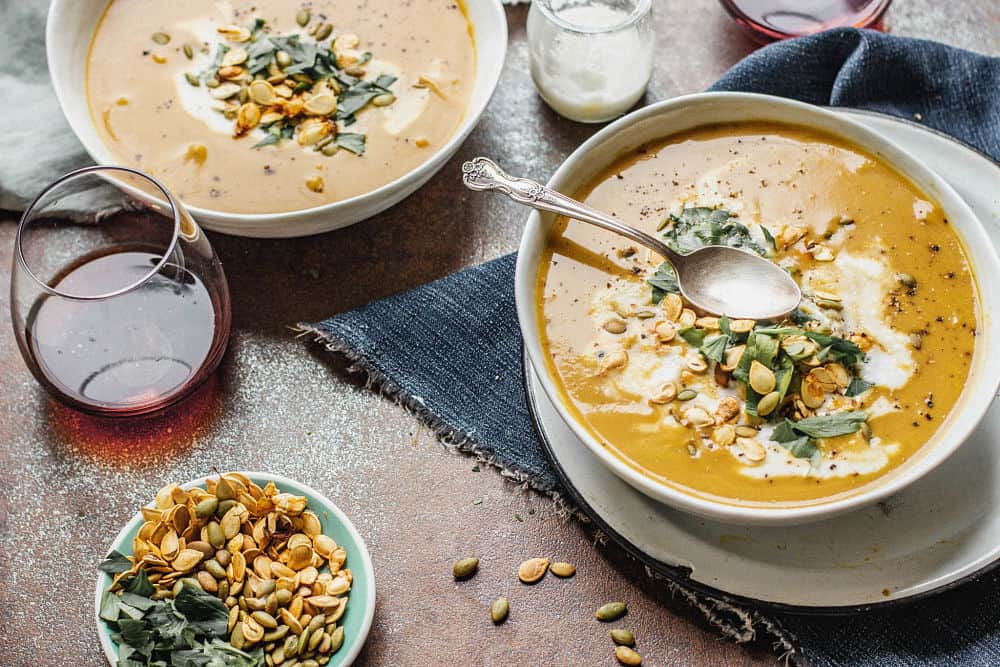 Yep, it's over. All those pumpkin recipes that popped up on the web will be behind us.
These last two months, this fall squash was in high season. That's the reason why it imposes itself in October and November celebrations.
Despite this, many prefer to turn their backs on it, finding it intimidating. They resist the idea of preparing it.
I get it. I felt the same way too. There was a time when opening this vegetable with a knife frightened me like a cat in front of the rain.
But with lots of courage, conviction, and confidence, I grabbed the bull by the horns. And now everything's fine.
So today, as we say farewell to the month of November, I offer you a very simple pumpkin recipe. I admit, I'm late, but I couldn't let it molder in my archives especially since it's succulent.
On top of that, I show you a unique preparation method that will save you time and increase nutrient density.
Yes, it does involve a cutting operation with a knife, but don't you worry, my friend, you won't be involved in a bloody scene a la Annie Wilkes in Misery (outdated Halloween joke, I know).
C'mon! Let me guide you so you want to celebrate the end of fall in all its splendor.
How to cut a pumpkin without hurting yourself
In my humble beginnings, almost everywhere I looked, the most recommended way to cook pumpkin, or any other squash, was to put it in the oven or microwave for about fifteen, twenty minutes. Why? This method makes it possible to soften the flesh before scraping it with a spoon.
But that didn't suit me. I wanted to skip this step. I wanted to go straight to the point. And I wanted to minimize the cooking process (I'll explain why more precisely later).
So, I decided to prepare it raw. Yes, raw. Difficult, you think? Not at all.
For this operation, you'll need a sharp knife (ideally, a chef's knife or a utility knife) and a Y peeler. Not a peeler that isn't worth a scrap. Not one bought at the dollar store. Pumpkin has a very hard skin, so you need good tools.
Good. Follow me.
First, after washing the pumpkin, you cut it in half. Not exactly in the middle. Don't even try to cut the stem. It's hard as steel. But you can try to tear it off if it amuses you.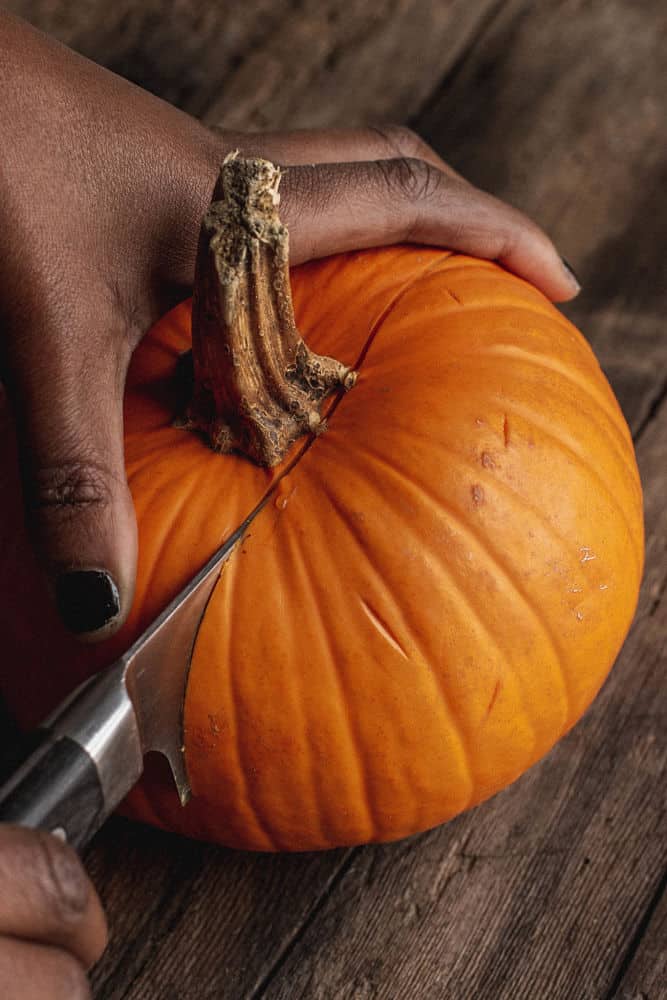 You seed it.
You place it face down, then you peel it. Don't hesitate to take it in your hands to peel the skin at the ends.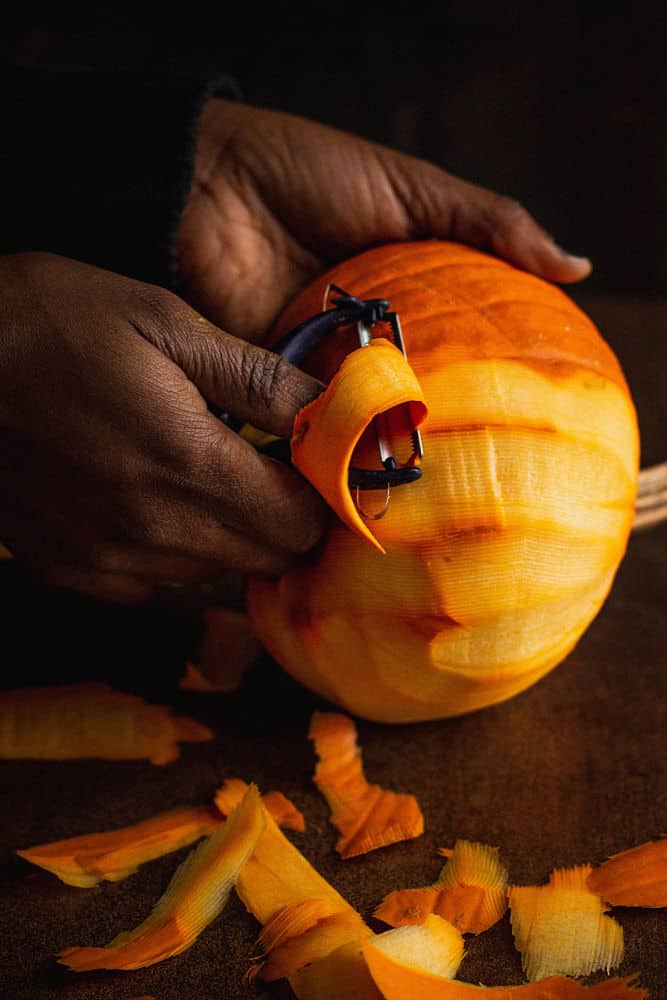 Finally, you cut it into pieces.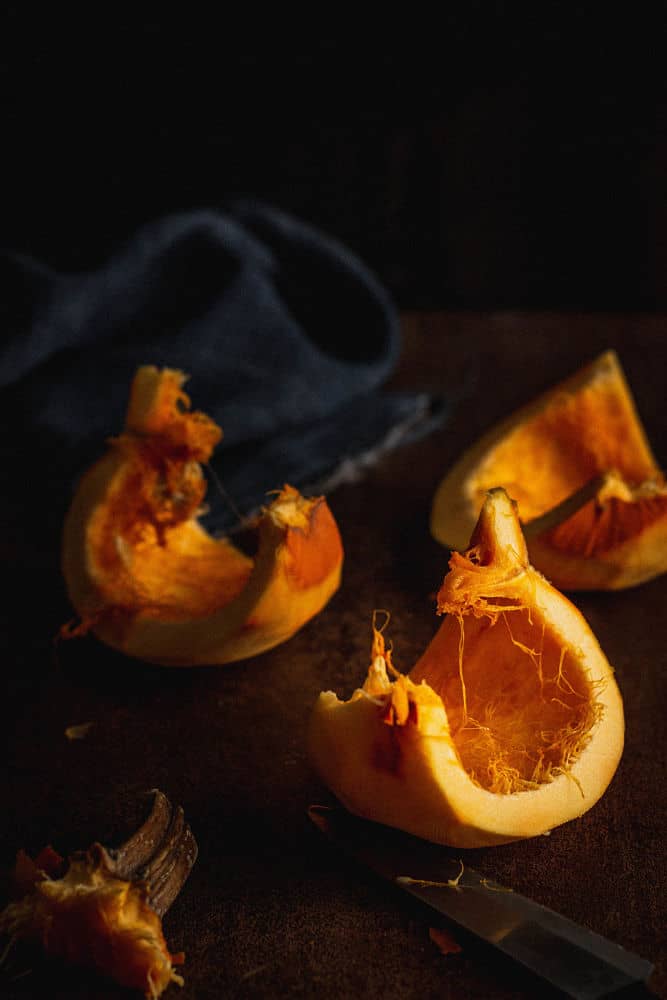 Do you see how easy it is to peel, seed and cut a pumpkin? Without even losing a finger? And the whole operation lasts way less than twenty minutes.
Now, let me tell you about my other obsession.
The richness of pumpkin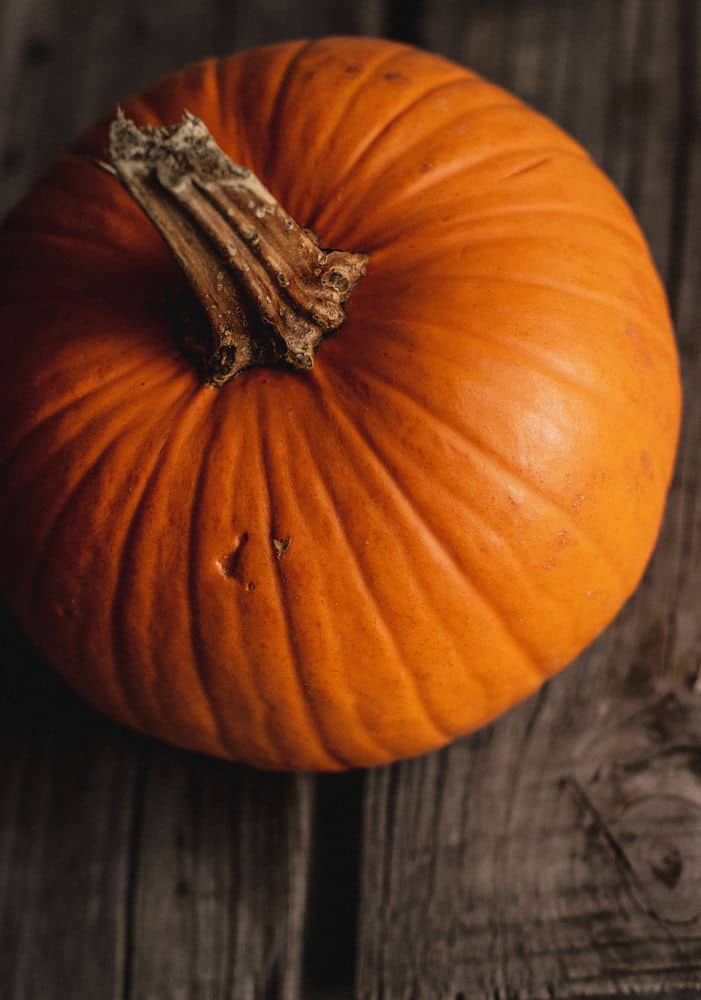 In case you didn't know, my entry into the plant world began with fanaticism related to raw food.
I had a crazy obsession with preserving nutrients as much as possible. Today, I know, well, I'm convinced that a balance between cooked food and raw food is necessary, complementary even, to optimize the assimilation of certain nutrients.
Still, not all cooking methods are equal. For example, steaming denatures less the fragile nutrients of a food than cooking at high temperatures, such as frying.
Mild cooking preserves all the nutritional magic of food.
As for pumpkin, it's packed with antioxidant vitamins such as Vitamin A, Vitamin C, and Vitamin E. In short, these vitamins, respectively, promote your vision, enhance your immune system and the proper functioning of your organs; encourage the growth, development, and repair of your tissues; and protect against degenerative diseases.
By the way, did you know that pumpkin symbolizes abundance, prosperity, and dreams waiting to be realized? Whole, it represents the world we live in now; the seeds represent your dreams—be it evanescent images created overnight or a deep aspiration.
And each seed means a possible realization in your life and a blessing waiting to be granted.
Here's the best part: an average pumpkin can hold about 500 seeds, so you can literally count the number of your blessings!
Oh! How badly I needed to believe it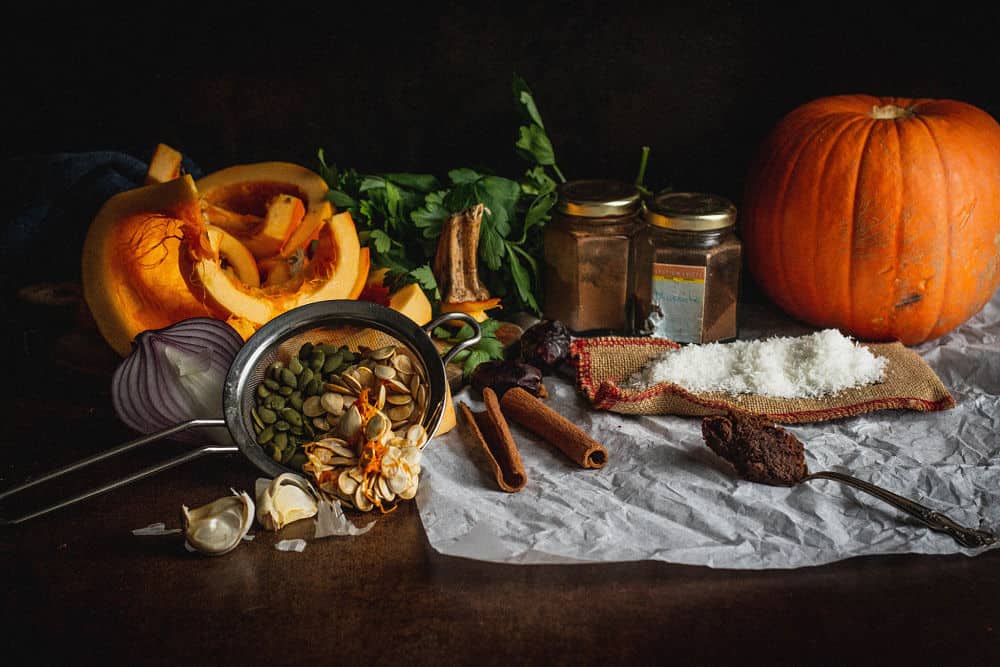 It had been almost three months, if not longer, that my desire to cook had almost vanished, when one evening in October, as I was having my Parisian girlfriend over, I decided to make pumpkin soup. The same one I had prepared exactly a year ago when she was on her way back to the City of Light. She enjoyed it so much that, enchanted, she asked me to give her the recipe and reproduced it many times.
That evening, I consulted my old food blog (in French) to remind myself of it. Then, with apathy and resistance, I tackled the task. In my stainless-steel steamer, placed over a saucepan of boiling water, I threw the previously cut pumpkin (as shown earlier), garlic, and onion. I cooked them for about ten minutes. (Dr. Fuhrman, a doctor in favor of a plant-based diet, recommends steaming garlic and onion as it increases nutrient density.)
Meanwhile, I roasted the scooped pumpkin seeds in the oven, drizzled with tamari. In my blender, I added, without much thought, canned coconut milk (without guar gum), the now softened ingredients and the cooking water. Then came the harmony of flavors with miso (the umami, the savory taste as described by the Japanese), and three excellent pumpkin pairings—maple syrup, nutmeg, and cinnamon.
I finished with salt and pepper and I blended everything. Curiously, despite my apathy, I found myself in a state of maximum concentration, full commitment, and satisfaction. I was in the zone, the flow, the total absorption by my occupation.
When you're in the flow, you open the key to total happiness. You feel alive, connected to yourself and soothed throughout your whole being.
But that moment was short. I came back to reality. I removed the lid from my blender to evaluate the taste of my concoction and when I carried the first bite to my mouth…
I was completely off the mark
The taste was different from the taste that, in my memories, I'd been enraptured by. The miso smothered the other flavors, especially the pumpkin. The savory paste, darker than usual, was more intense in taste, and I'd put too much. Obviously, miso's taste varies depending on the composition.
I decided to go on another tangent. I added ginger, then curry. A Thai-inspired soup, maybe? (I knew that you should never invent a recipe on D-Day.) My perfectionism and my fear of disappointment took hold of me. Obsessed and feverish, I couldn't stop tasting the soup with a spoon and adjusting it as I went, hoping to find the perfect flavor.
But at one point, I had to put a stop to my madness otherwise, I would've stayed in front of the oven all night, even if I was licking my lips with glee. Yes, my licks had, all the same, seized me with an enveloping warmth and aroused an inexpressible well-being inside of me. They had reconnected me with the love of this art that, in normal times, I'd loved to share with my friends. This love, which for months, had been frozen in my veins and had turned into an incapacitating substance.
It was getting late, I had to let go, we had to eat. And that's what we did. Here's what the evening menu consisted of:
Appetizers: roasted pumpkin seeds (oops, no, they burnt)
First course: pumpkin soup
Main meal: sweet potato fries (baked 1 hour ago) and stir-fried teriyaki tofu
Dessert: fresh fruit.
The dinner went well. Although my girlfriend noticed that the soup was different against all odds, she found it good. That was close!
But these small changes made it perfect
When I redid it, to stay on the whole-food theme, I prepared a coconut cream from scratch, made from grated and unsweetened coconut flakes and cooking water (from the boiled pumpkin), of which I reserved a small quantity for finishing. A cashew nut milk works too.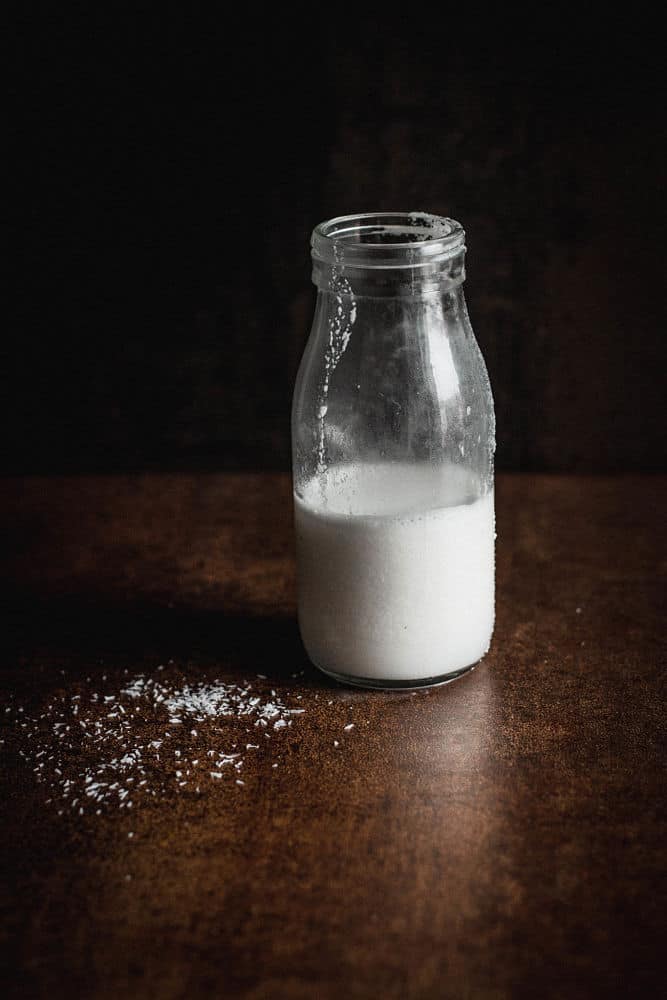 I also replaced maple syrup with dates. Bye, bye concentrated sugar, hello, fiber. (Although better than white sugar, maple syrup still remains refined sugar.) Also, with this change, the maple syrup doesn't sink and stay at the bottom of the saucepan. Finally, to create a contrast of colors and textures, I sprinkled the soup with parsley and homemade roasted pumpkin seeds—this time I was more successful—and green pumpkin seeds.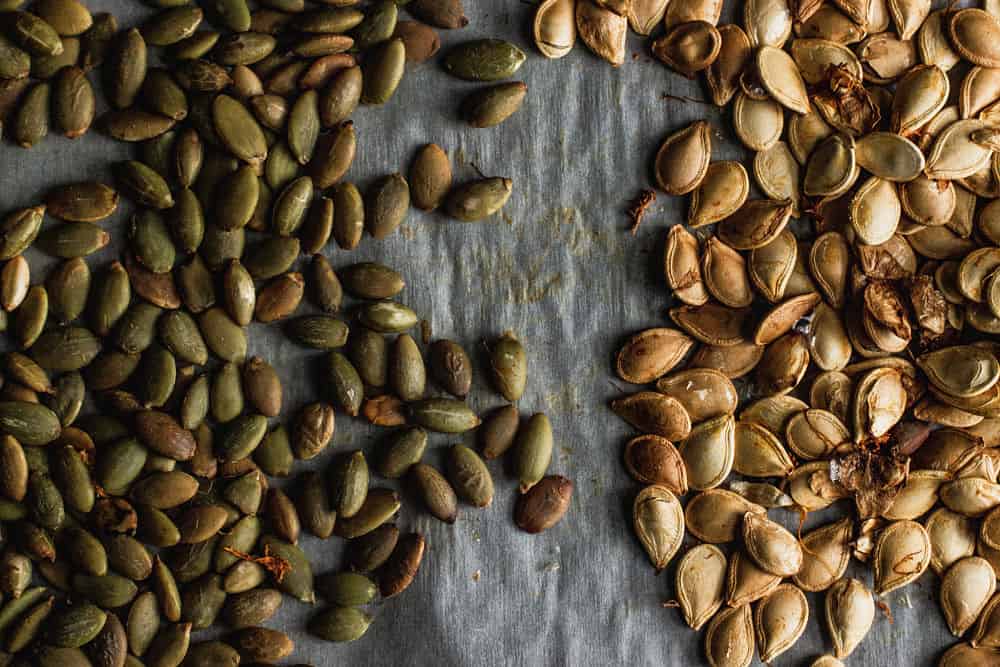 You can also top the soup with roasted pine nuts and sesame seeds. Regardless, the result was exhilarating.
This ocher-yellow soup has it all. Just as the morsel of parsley, coconut milk and seeds touched my palate, I felt comforted by the thick, cozy texture that made me feel like I was wrapped in a velvet sheet. There are notes of coconut, of course, and aromas which recall the warmth of fall.
Be comforted by this radiant soup
Sometimes, you might feel unable to attack what seems unknown or distant to you. So, you hesitate, you procrastinate, you avoid.
But have no fear! As soon as you cross the first barrier of inertia and work on what was falsely threatening, everything becomes fluid.
Cutting the pumpkin, for example, is child's play. You can prepare it as easily as a boss lady.
Now, thanks to your newfound knowledge and techniques, you can concoct a pumpkin soup that is as comforting and soothing as the diffuse atmospheric glow of sunset.
It will bring you warmth, happiness, and a good mood. It will bring you nourishment for your body, your mind, and your soul.
It's just magical.
And it will surely become your favorite fall recipe.
Vegan Pumpkin Soup Recipe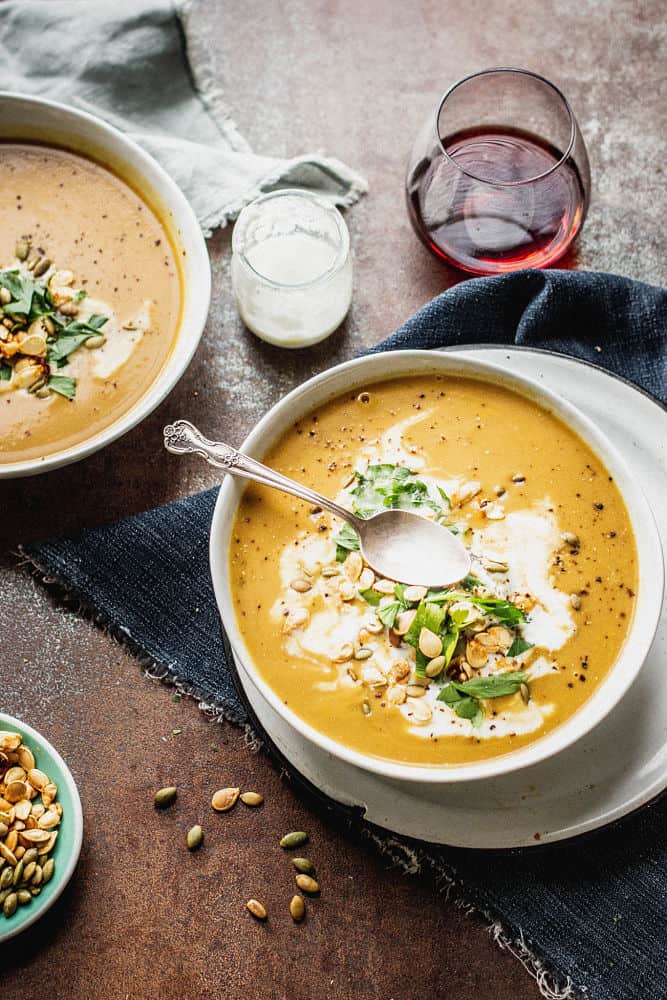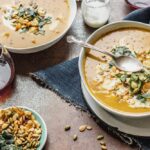 Print Recipe
High-Nutrient and Easy Vegan Pumpkin Soup
This 6-ingredient vegan pumpkin soup has a unique preparation method that will help you save time and increase nutrient density.
Ingredients
4

cups

pumpkin

peeled, seeded and cut into pieces

½

cup

red onion

chopped

3

cloves

garlic

½

cup

grated and unsweetened coconut flakes

plus ¼ cup

2

tablespoons

miso

or 2 cubes vegetable broth

1

Medjool date or 2 small soft dates or 2 tablespoons of maple syrup

½

teaspoon

nutmeg powder

½

teaspoon

cinnamon powder

½

teaspoon

ground black pepper

¼

teaspoon

salt

½

cup

parsley

chopped
Optional garnish:
Roasted pumpkin seeds

Roasted squash seeds

Roasted sesame seeds

Roasted pine nuts
Instructions
In a medium saucepan, bring 8 cups water to a boil. Place the pumpkin, onion, and garlic in a steaming basket. Bake for 10 minutes until the ingredients soften. Put the cooked ingredients aside. You should be left with 6 cups water.

In the blender, transfer 1 cup of the cooking water, add ½ cup of the coconut flakes and blend until smooth and creamy. Scrape the edges from time to time. Take ½ cup of the coconut cream and set aside.

Add 3 to 4 cups of the cooking water, remaining coconut flakes, pumpkin, cooked onion and garlic, date(s), nutmeg, cinnamon, pepper, and salt. Blend until smooth and creamy. To keep warm, transfer the thick liquid into the saucepan and heat on low heat for 5 to 10 minutes. Add remaining cooking water to thin if desired. Divide among bowls and decorate with 1-2 tablespoons of coconut cream. Top with parsley and roasted pumpkin seeds and sprinkle with fresh pepper. Serve immediately.

Placed in an airtight container in the refrigerator, this pumpkin soup will keep for three days.
Notes
Replace coconut flakes with cashews.
If you try this recipe, I want to know about it! Leave me a comment below or share it on Instagram. Tag @biting.into.life with the hashtag #bitingintolife