Do you have a quinoa recipe that is always a winner? One that whenever you make it, people always rave about it?
I have one. It's made with mango, red bell peppers with a cumin-lemon sauce. It never fails. Every time I make it, people ask me for the recipe. One day, I'll post it.
But tell me, do you sometimes get tired of making that same winner recipe? I do. That's why I didn't feel like sharing it now :P. I wanted to make something different.
One thing is for sure, though, I never get tired of making quinoa salads. They're so easy to make and so filling.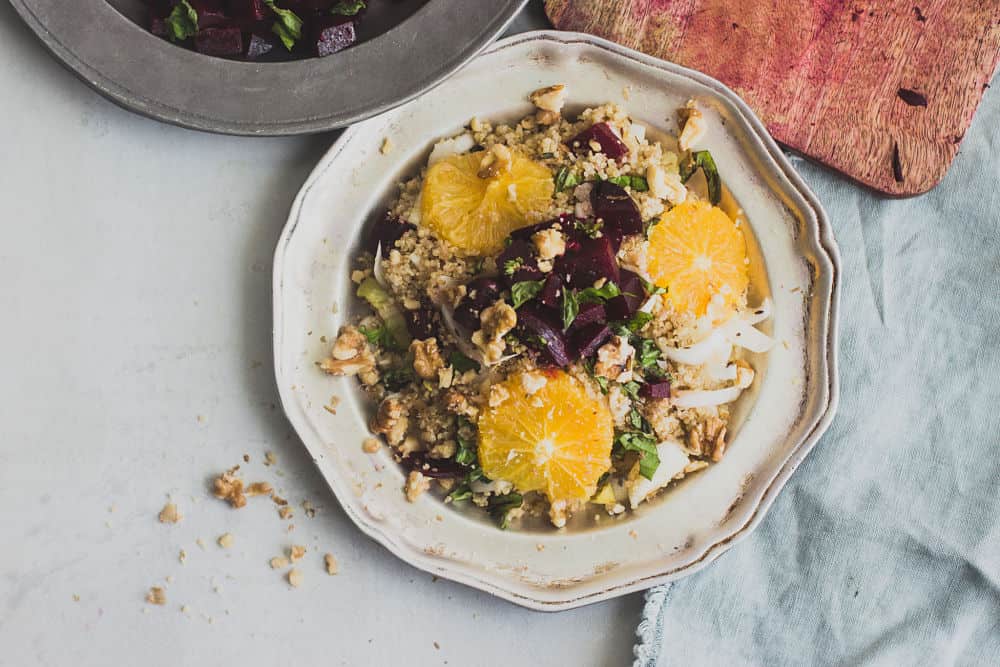 If you're running out of ideas with your quinoa salads, I have just the right one that'll stir things up a little.
This one is made with fresh ingredients like beets and oranges, which make winter meals look so inviting.
Bloody Beets: The Things You'll Do to Avoid Stains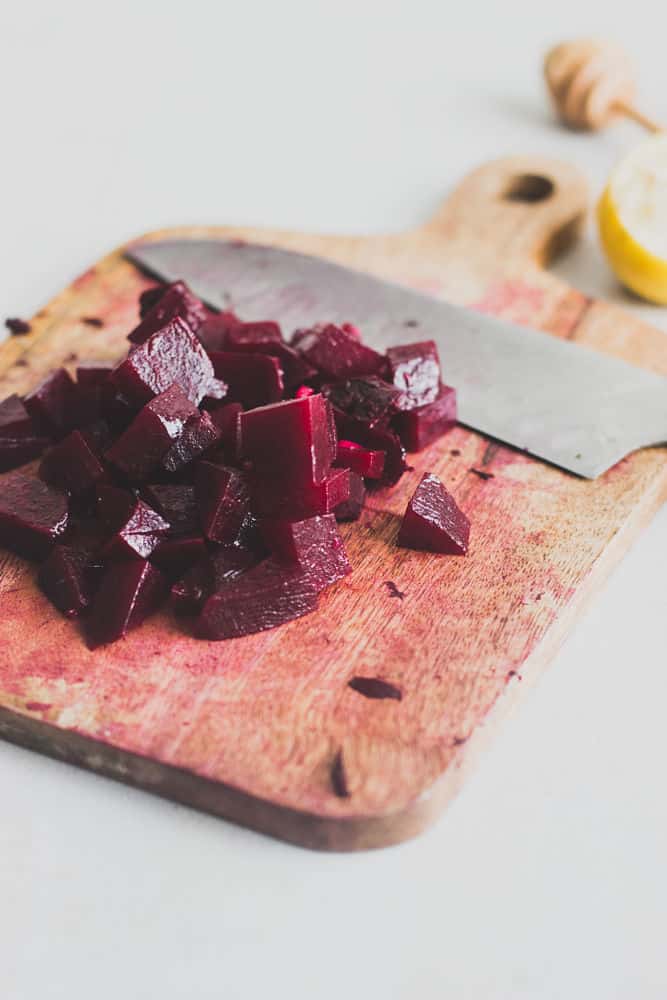 There's no way around it. Beets will stain everything they touch when boiled.
When I thought about making this recipe, I tried to come up with all the ways I could mix the cubed beets into the quinoa salad without it turning purple.
First, I thought I could let the water run on the beets or put them in ice water. Then I thought I should coat them with oil. I tested these different methods with a small sample and none of them worked.
When I dug further, I learned that the best way would've been to bake them in the oven. You wrap them in foil and bake them for about 40 min or more, depending on their size. Then you uncover them, let cool, and run cold running water on them while you peel off the skin. You can tell I'm no beet expert.
When I found out about this, it was too late. The beets were already plunged into hot water, boiling away. Eh.. I'll try it next time.
As for your hands, if you don't want to have any trace of their color, use gloves when you peel them. But if you don't use gloves, don't worry, the color will go away after a few washes.
Anyway, since it was too late to try this no-stain experiment, I figured I would top the quinoa salad with the beets. There. No choice.
Fragrant Combinations
My basic formula for making a quinoa salad is this: cooked quinoa + fine herbs + sometimes fruits + sometimes nuts + dressing + seasoning.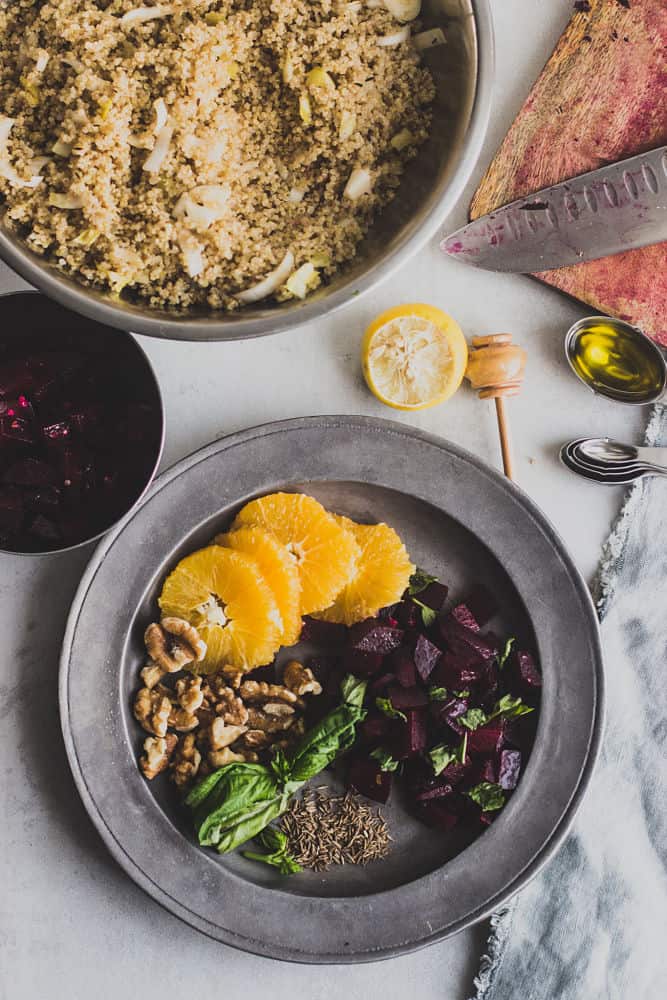 I had two heads of endives in my fridge and I thought it would be a great addition to the quinoa and beet salad. The endives would tone down the salad and bring some freshness.
For the fresh herbs, my most used ones are usually parsley or cilantro, but I wanted something completely different. I could've used dill but I chose basil instead, which also compliments beets well. I was curious to taste the result.
I found that the mix of the purple beets and the beige quinoa lacked cheerful color. So as a contrasting and vibrant color, I added oranges. Plus, oranges work perfectly with beets.
I love cumin with quinoa. I usually grind the seeds and add them to a vinaigrette, but I remembered that once, I cooked the seeds until fragrant and added them in some recipe that I can't remember for the life of me! Augh, does this happen to you? Anyway, I thought it would be interesting to do this here.
For the nuts, I chose walnuts. I don't know… there's something comforting about them. And I'm happy I used them. The salad wouldn't have been the same without them.
If I wanted to bring the salad to a crazy yummy level I could've added some nut ricotta, but I wanted to keep things simple.
Finally, for the dressing, I usually mix lemon juice with olive oil and I add garlic and salt. So that's what I did. Buuut for more sweetness, I added honey.
This salad is so flavorful. I love the finishing touches with the beets, the oranges, and the walnuts. The oranges bring so much freshness to the salad and the beets are just, muah! so sweet and tasty. And finally, the walnuts brought lots of umami.
So there you go. If you follow my quinoa salad formula, it's easy to change the ingredients whichever way you want it. You can eat this salad hot or cold, as is, or in a burrito. Have fun with it.
Quinoa Salad with Beets, Oranges and Walnuts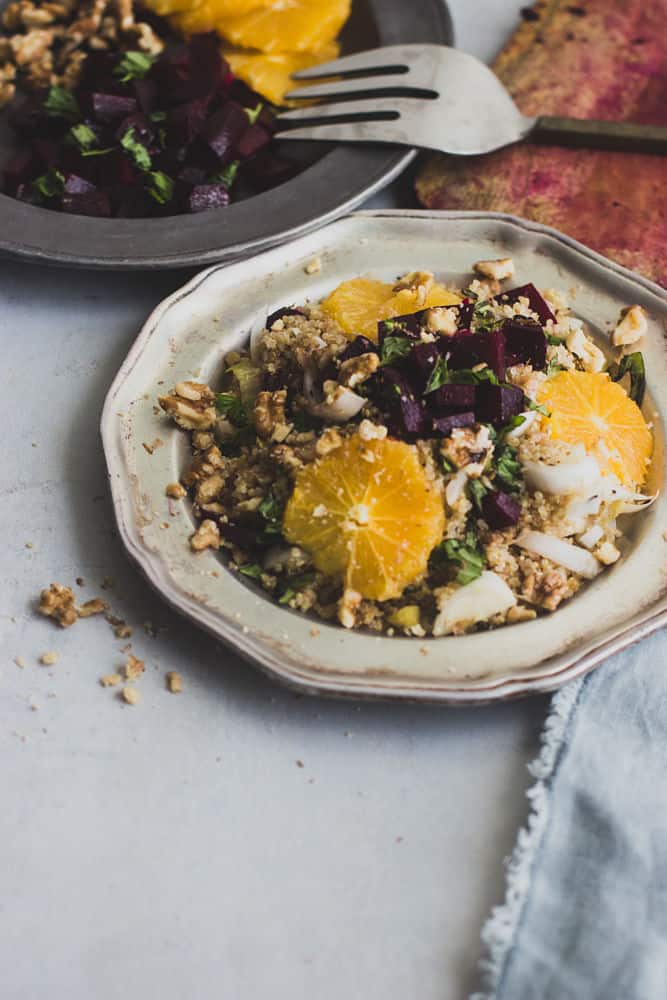 Vibrant Quinoa with Beets, Oranges and Walnuts
If you're running out of ideas with your quinoa salads, here's one made with fresh ingredients like beets and oranges, which make winter meals look so inviting.
Ingredients
4

beets

boiled

1

bunch

basil

minced (about 2 cups)

1 ½

cups

quinoa

2

oranges

2

heads

endives

sliced

2

teaspoons

cumin
Dressing
3

tablespoons

olive oil

3

tablespoons

lemon juice

1

tablespoons

honey or agave nectar

½

teaspoon

garlic

crushed (about 1 clove garlic)

Salt and pepper

to taste
Instructions
Bring a large saucepan to a boil, add the beets into the water and boil for about an hour until fork-tender. Alternatively, you could wrap them individually in aluminum foil, place on a baking sheet, and roast in the oven for 40-70 min, until cooked. Remove from heat and let cool. Peel the skin and cut in about 1-inch cubes. Transfer to a small bowl. Add ¼ cup basil to the beets and mix.

Meanwhile, cook quinoa for about 15 minutes in salted water. Bring to a boil until the water reaches the surface of the quinoa, then cover and cook over low heat. Transfer the quinoa to a salad bowl.

Using a sharp knife, slice off the top and tail of the oranges. Cut down the side of each orange, following its natural line, to remove the skin and the white pith. Cut each orange in slices crosswise.

In a pan, over high heat, cook the cumin seeds until fragrant. Mix the seeds in the quinoa salad bowl. Add the endive and the rest of the basil and mix well.

To make the dressing, combine all the ingredients in a small bowl and mix well.

Pour 1 tablespoon of the dressing onto the beet-basil mix and mix well. Pour the rest of the dressing in the quinoa salad and mix well.
Make This Now
If you try this recipe, I want to know about it! Leave me a comment below or share it on Instagram. Tag @biting.into.life with the hashtag #bitingintolife.
Enjoy!