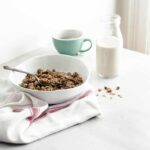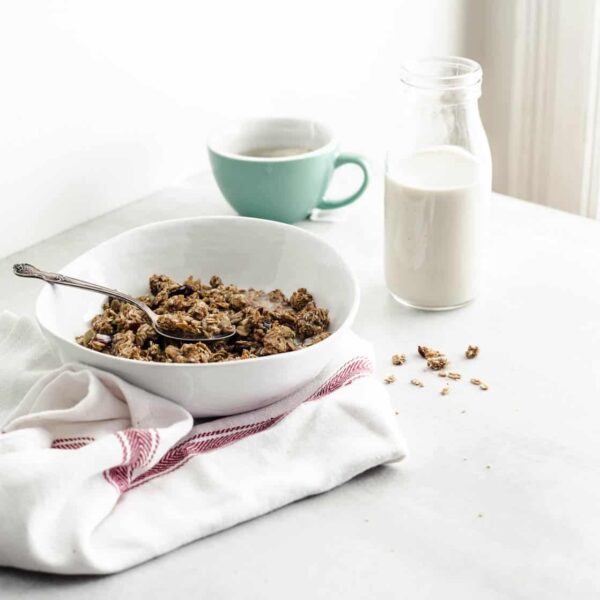 Print Recipe
Cluster granola
Obviously, you can use whatever nuts you like here — or whatever seeds, if you like.  This simple recipe consists of coarsely chopped walnuts with pumpkin seeds. That's the beauty of this granola. It doesn't have to be fancy to show off. For optimal nutrition, combine your nuts and seeds at the very end to keep them "raw."
2

cups

rolled oats

2

tablespoons

almond butter

or peanut butter

½

cup

apple sauce

½

teaspoon

vanilla extract

¼

teaspoon

ground cinnamon

¼

cup

walnuts

coarsely chopped

¼

cup

hemp seeds

or chia seeds

2

tablespoons

flax seeds

ground (flax meal)

2

tablespoons

pumpkin seeds

¼

cup

dried cranberries

¼

cup

raisins

2

tablespoons

coconut flakes

unsweetened and grated
In a large bowl, combine the oatmeal, almond butter, applesauce, vanilla, and cinnamon. Incorporate the rest of the ingredients.

On a baking sheet lined with parchment paper, spread the mixture evenly and bake in the oven center for 25 minutes, stirring very lightly.

Serve ½ cup of granola per person with a dairy substitute of your choice.
For loose granola: combine the dry ingredients, then combine the wet ingredients, and finally combine dry and wet; spread everything out on a baking sheet, bake in the oven, add the dried fruits at the end (because some pieces can be close to combustion).
For cluster granola: add the dried fruit at the beginning. Stir the flax mucilage well, cook the granola at a lower temperature (which helps ensure that the dried fruits do not burn), and then let it cool in the oven off to allow it to have a crispy finish and clump together. Do not stir the granola — or do it very lightly — while it's cooking; otherwise, the clumps will break.
Place the baking sheet in the center of the oven for better cooking.
To make the middle of the granola mixture golden and crisp without the edges scorching, spread it out on the baking sheet with a hole in the middle.
STORAGE: This granola will keep for up to two weeks in an airtight container in the refrigerator. It can also be frozen.
Calories:
230
kcal
|
Carbohydrates:
29
g
|
Protein:
7
g
|
Fat:
10
g
|
Sodium:
3
mg
|
Potassium:
252
mg
|
Fiber:
5
g
|
Sugar:
7
g
|
Calcium:
56
mg
|
Iron:
2
mg