For almost a year, I'd been immersed in a kind of cave, an underground cavern. In this life of a hermit, I didn't act like a good cavewoman at all while my man went out hunting. I didn't prepare any gourmet food. No soul food. Nothing. Nada. Niet. Madness, indeed.
The minutes, the days, the months disappeared under my nose and before I knew it, after long cold and arduous months, the sun shone generously in the sky, the heat finally exhibited itself and my birthday was tiptoeing sneakily behind my back.
And so to make this catch eternal, I organized an evening with friends, an evening that would allow me to get out of my hole, to display this little beast in the public square, and, frankly, to fill a page of my social calendar which had been yawning for far too long.
A potluck was therefore prescribed.
And my dining table was beautifully dressed.
There was a feast of omnivorous and vegan dishes, including my little roasted peppers and my cauliflower "fritters" with lime "yogurt", and more. Why these quotation marks, you ask? You'll see later that these two items will look deliciously misleading, illusory.
The evening began quietly with the arrival of Manue, radiant, with a bottle of rosé, Le Pive Gris, and a brown paper bag with tiropitas in her arms (Greek puff pastry rolls with cheese; mine were vegan). Initially, only red and yellow peppers—slowly roasted an hour earlier in the oven in sunflower oil, then drizzled with red wine vinegar—and a bowl of potato chips lay on the table.
And they were longing to surround themselves with other tasty companions.
I hastily opened the bag partially haloed with grease and slid the tiropitas into the oven on a baking sheet to warm them up. We quickly poured ourselves a glass of wine and sipped it on my back balcony, long and narrow and embellished with a potted gardenia distilling a sweet scent, barely fragrant red and white petunias, and my scarlet pink petal bougainvillea—definitely the focal point. The latter was highly perched and had been bought the same day for the occasion (I love them, thank you Mr. Man!) After a few weeks —no, after a year or two, rather—working on the decor of my balcony I was proud to have finally created something idyllic.
The other guests followed. My neighbor Valentina, tall and slender, arrived discreetly with a gift card to spend in my favorite bookstore; Malak, showing her beautiful toned legs, with a cheese platter (blue, gouda and double cream brie) and red grapes; Julia, a lively brunette, with three dishes from India Rosa restaurant: papadums (very thin fried bean pancakes flour encrusted with cumin seeds), tandoori mushrooms, and a vegan pizza on naan bread; Blondine, reminiscent of Jennifer Lawrence (according to Valentina), with bags of potato chips, salsa sauce, and guacamole.
Shortly after, Fudji arrived crowned with her trilby-styled black hat with a prosciutto tray and a gift that I unpacked instantly, cute little silver jewels. As soon as she arrived, Fudji, always generous with her time and energy, gave me a helping hand in the kitchen to tackle the frying of my cauliflower dough in hot oil. After giving her instructions, I looked fearfully at the contours of the little balls shuddering and sizzling in the golden liquid.
My recipe was a last-minute experiment.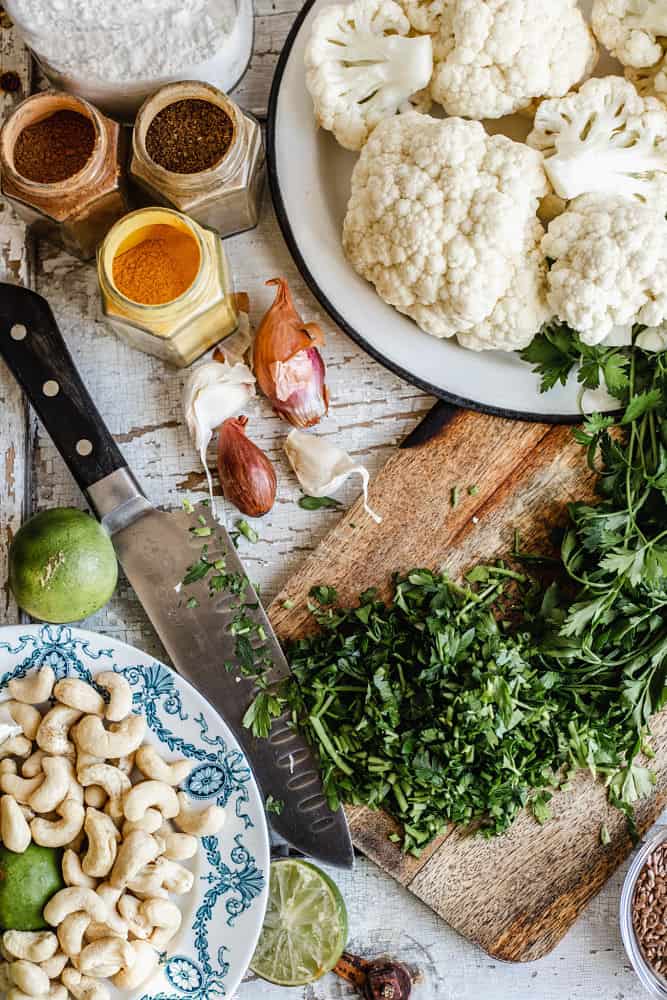 Yes, earlier this week I had flipped through the pages of my new Ottol Ottolenghi cookbook, entitled Ottolengui.
My eyes had stopped on cauliflower and cumin fritters and lime yogurt sauce. The recipe included eggs (in the dough) and dairy yogurt (in the yogurt, of course). I had already guessed that I was going to replace eggs with flax seeds and dairy yogurt with some sort of cashew nut cream.
Yes, I knew what I was going to do in theory, but I also knew that, in practice, things were very likely to go unsmoothly.
Indeed, God knows that we should always use tested and proven recipes for special occasions.
I had already experienced failures, and I would've been stupid to re-experience them. Um yes. This was not the time to experiment. However, my friend, there's something you need to know: I like living dangerously. And sometimes, I'm stupid. So, being the stubborn woman that I am and not afraid to lose face (like a cat has nine lives, I think I have nine faces), I did it anyway.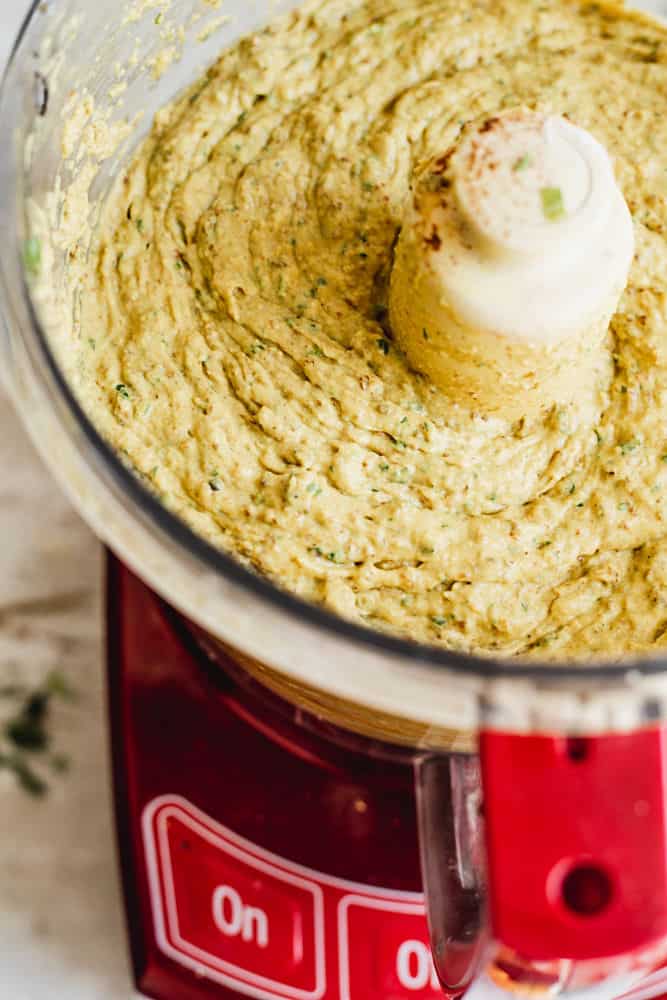 While the cauliflower fritters hardened in little oblong balls and filled the air with their heat and their intoxicating smoke, the other girls spat their ashen smoke on the balcony.
Caro was the last to join us. She arrived with a sleepy look— but that wouldn't last very long (you'll see why later)—with triangle puffs with feta and ricotta cheese and spinach and feta cheese. They were frozen, so I put them in the oven next to the tiropitas. I opened other bottles of white wine (all randomly and conveniently wine), received from the guests, and a bottle of sparkling wine.
I took Caro to join the others who were comfortably settled in my exterior living room and chatting with each other as if they had known each other forever.
During their exchanges, I concocted on the double the semblance of yogurt.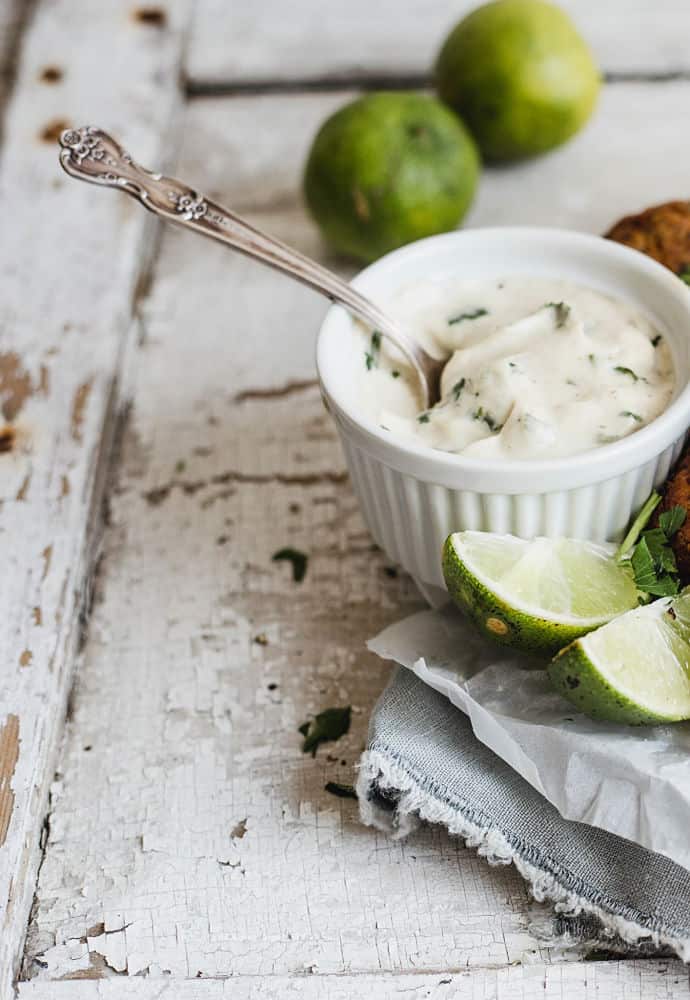 In the end, the small bodies didn't look like the photographed fritters in the cookbook. Too bad, I said to myself. I piled them on a plate, seasoned them with salt and pepper and sprinkled them with parsley. Then, I laid them nonchalantly on the table next to the other dishes, among which were the freshly baked dishes.
We were now ready to begin the carnage.
I called the girls and we sat down to admire the show. There were ohs and ahs. I was jubilant with joy. It had been ages since my table had been so happily set up. We attacked the dishes and scraped our plates with glee, discussing between bites.
I especially licked my lips with the veggie pizza on Naan bread. Its crust was thin but crisp, supple but robust, light but meaty. The taste of Indian spices was round and their flavors went up fondly into the nostrils. A real treat.
But I was also uplifted by my experimental fritters.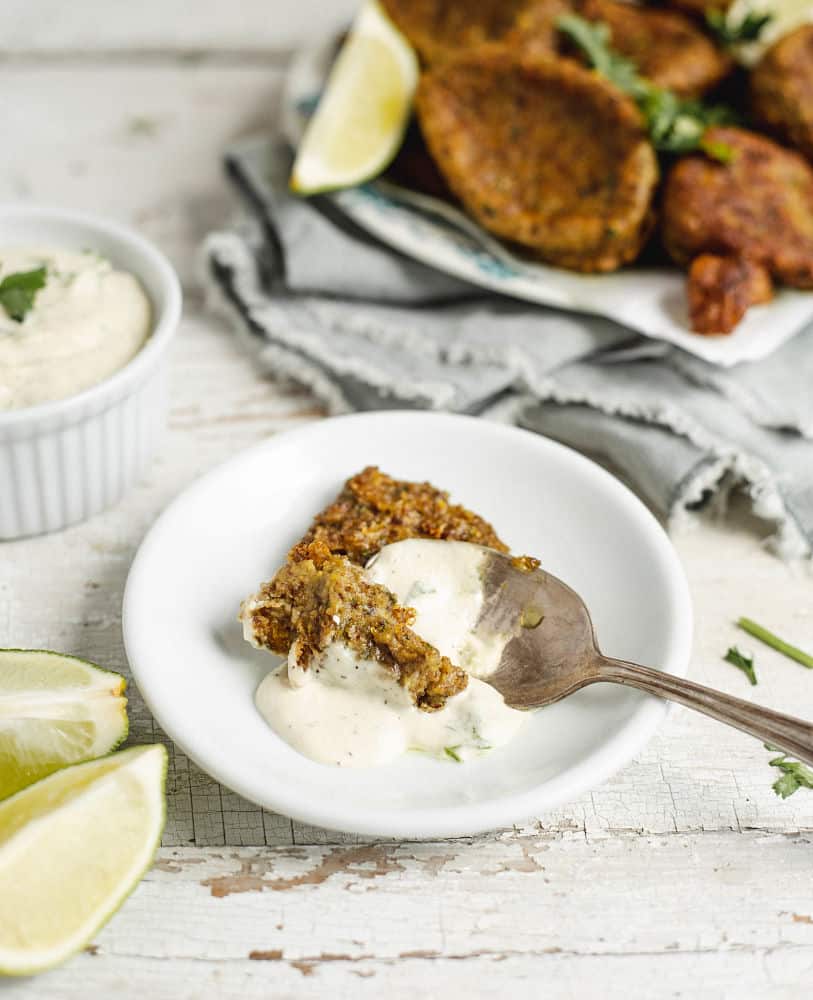 My eyes widened with pleasure when my teeth split and crossed their thin crust. They were admirably light, impeccably soft, and had a pleasant spicy fragrance. The accompanying sauce was the perfect accomplice to refresh the palate and soothe the dance of spices that stirred in my mouth.
It was fabulous. I inadvertently dropped a drop of greasy substance on my new top, a present received from work—oh dear, but I preferred that to a big drop of drool (though that would have been demonstrative of my admiration for these delights). I quickly ignored the event and focused on my next bites.
Aside from this clumsiness, the opinion was unanimous about my fritters. They were a huge success.
Click to view.

Lovely, no ?
There. Hot conversations resulting from sensual bites. As proof, Caro had become very talkative. And so were we all, by the way. All that must've excited all of us too much, indeed.
Maybe, but we had a good reason to be. And me, even more. I had a dangerous experience, I came out of a black hole to celebrate a much pinker one, and the next few days, especially, seemed more promising.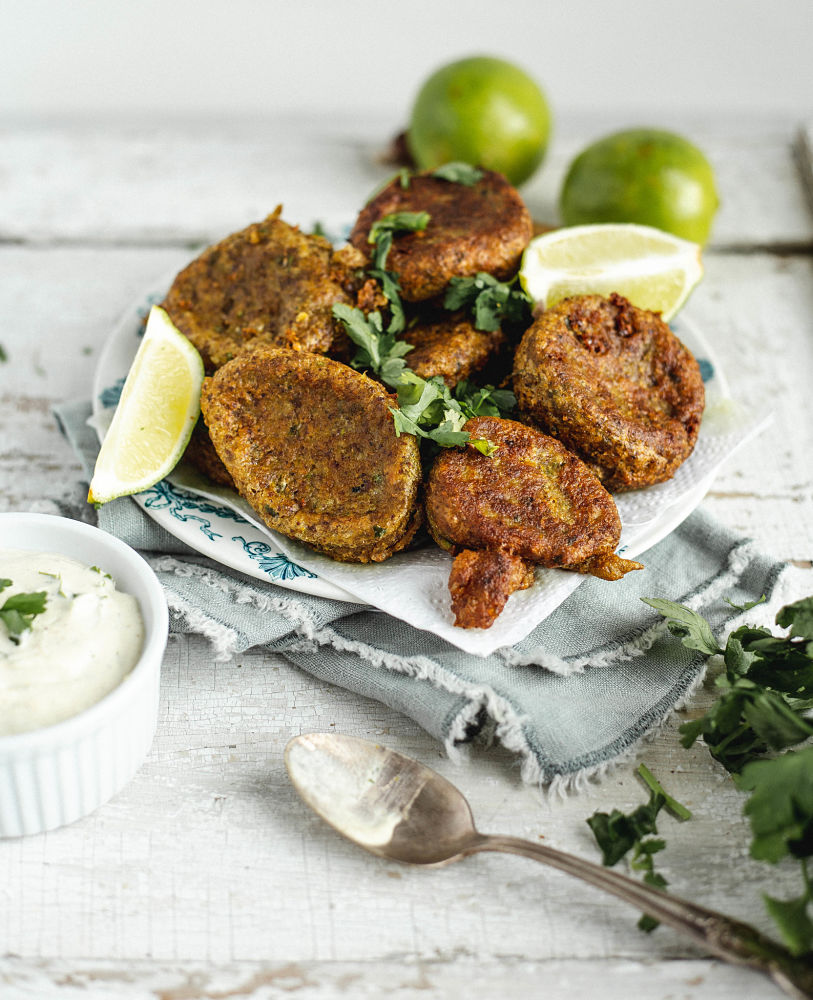 If you try this recipe, I want to know about it! I always appreciate your feedback. Leave a star rating in the recipe card right below and/or a review in the comment section further down the page. You can also follow me on Pinterest, Facebook, or Instagram. Sign up for my email list, too!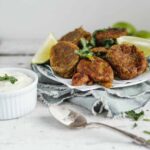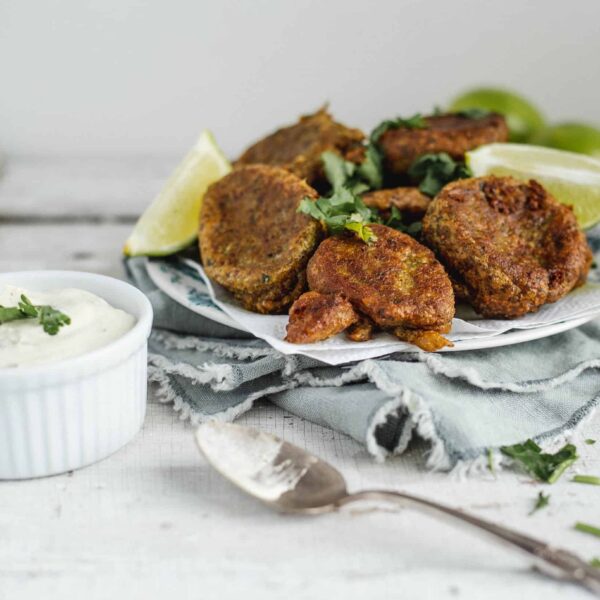 Cauliflower and Cumin Fritters with Lime Cashew Nut Yogurt Sauce
I've never tasted the original version, but even if the addition of flax seeds (the binder) adds a nutty flavor that's more present than initially, I think my version of fritters is just as addictive. Chia seeds would surely have done the trick and would act more lightly behind the scenes. The cashew nut yogurt is one of my creations; it's derived from one of my raw sour cream recipes. These fritters can be enjoyed hot or warm, all by themselves or in pita bread— with yogurt, of course. They are perfect for summer picnics or lunchboxes (add tomatoes to accentuate the freshness). Adults and children alike will love them. In this case, it's worth doubling the recipe to have more to devour or to have some prepared in advance.
Save Recipe
Saved!
Print Recipe
Pin Recipe
Ingredients
Flax Seeds Eggs
4

tablespoons

ground flaxseed

Note

⅔

cup

water
Lime Cashew Nut Yogurt Sauce
1

cup

cashews

soaked in water for 30 minutes

¾

cup

water

plus additional to dilute, if necessary

Zest of 1 lime

2

tablespoons

lime juice

1

teaspoon

onion powder

½

teaspoon

sea salt

Ground pepper

¼

cup

cilantro

minced
Cauliflower Fritters
1

cauliflower

(about 320 g)

1

cup

all-purpose flour

plus ¼ cup for immediate service or to thicken

¼

cup

Italian parsley

chopped, plus a few leaves to garnish

1

clove

garlic

crushed

2

teaspoons

ground cumin

1

teaspoon

ground cinnamon

½

teaspoon

ground turmeric

1 ½

teaspoon

salt

1

teaspoon

black pepper

from the mill

2

cups

sunflower oil

for frying
Instructions
Prepare the flax seeds eggs. In a small bowl, put the ground flax seeds and add the water. Let it sit until the mixture thickens.

Meanwhile, bring a large pot of salted water to a boil. Remove cauliflower leaves, if necessary, and cut into small bunches. Place them in water and cook them for 15 minutes or until tender. Drain in a colander.

Prepare the lime yogurt. In a high-speed blender or small blender, place the water, cashews, zest, lemon juice, garlic, onion powder, salt, and black pepper, and mix until well blended, obtaining a smooth consistency. Taste and check if the cream is tart enough with a pronounced taste of lime. Add more lime if needed. Stir in the coriander and mix briefly.

Prepare the fritters. In a food processor, put the cooked cauliflower, flour, parsley, garlic, shallots, spices, salt, and pepper, and mix until smooth and homogeneous. Add the flax seeds egg and mix well. Let cool in the refrigerator at least 1 hour before serving time until the dough takes. For immediate service, add the rest of the flour.

Pour the oil into a large saucepan so that it covers the walls to about 1 inch (1.5 cm) in height and place on high heat. It is important that the dough balls rest on a surface. (To save sunflower oil, it's possible to do it in a small saucepan but the frying time will be longer). Once the oil is very hot, measure 3 tablespoons (or fill three-quarters of a quarter cup) of cauliflower dough and place in hot oil. Separate the fritters with a spatula. Do not overload the pan. Cook the fritters for 3 to 4 minutes on each side —make sure to ventilate the environment.

Let the fritters drain well on paper towels. Place on a plate, and garnish with parsley leaves. Serve with lime cashew yogurt on the side.

Placed in an airtight container in the refrigerator, the lime cashew yogurt will keep for five days, and the fritters for a week.
Notes
The nutritional values don't include the oil.
It is always best to grind whole flax seeds yourself for the best results. To save time, you can grind a large amount in advance and keep it in an airtight container in the fridge or freezer.
Nutrition
Calories:
379
kcal
|
Carbohydrates:
46
g
|
Protein:
14
g
|
Fat:
18
g
|
Saturated Fat:
3
g
|
Polyunsaturated Fat:
5
g
|
Monounsaturated Fat:
8
g
|
Sodium:
1222
mg
|
Potassium:
809
mg
|
Fiber:
8
g
|
Sugar:
5
g
|
Vitamin A:
404
IU
|
Vitamin C:
78
mg
|
Calcium:
96
mg
|
Iron:
6
mg
Get Your Free Plant-Based Eating Toolkit and More
Subscribe to my newsletter and unlock my plant-based course, nutrition charts, recipe secrets, and exclusive updates to prepare wholesome, varied & balanced meals effortlessly. All you need is a good appetite. Subscribe!