Rich and comforting, this vegan soup, topped with roasted pumpkin seeds, combines butternut squash, carrots, and spicy ginger with coconut milk to create a deliciously smooth soup. You'll be surprised how fast you can prepare this nutritious soup!
Oh yes! It only takes two major steps. It's perfect for weeknights or vacations when you want to relax more than anything else.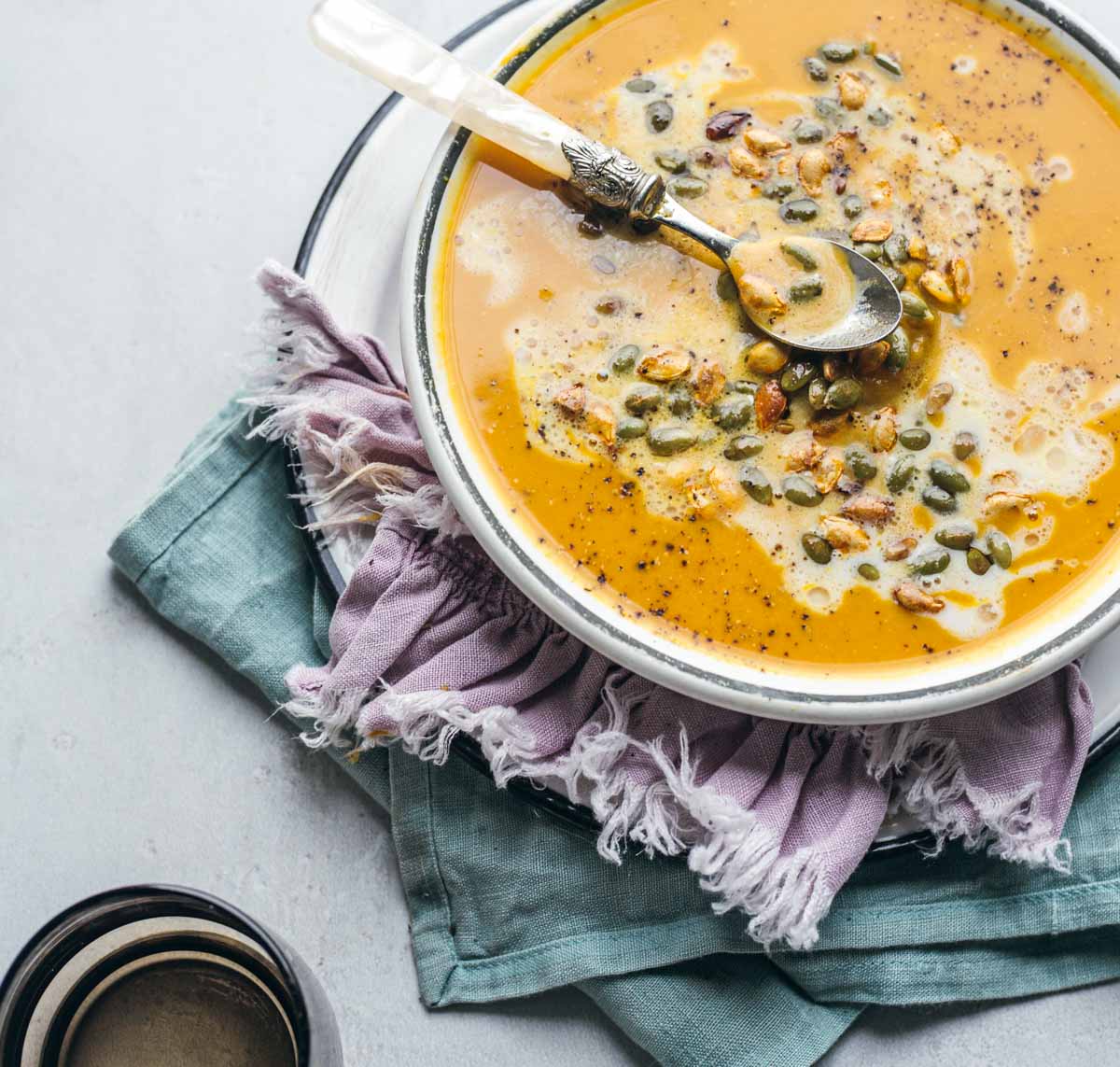 Why this Recipe Rocks
When summer is winding down and fall arrives, it's time to combine the earthy taste of carrot with the intense sweetness of butternut squash. But honestly, you can make it any time of the year.
I love to eat it on Thanksgiving or the winter holidays. It's also great for feeding crowds!
It's very, very simple to do, assuming you're not averse to a bit of cutting and have some mixing device handy. And you can let your creativity run wild when it comes to playing with aromas. It is ultra-versatile.
This succulent, velvety soup is the same color as my pumpkin soup, complemented with a creeping heat—the tang of ginger—that makes your mouth tingle.
It's worth making a big batch and saving some for those lazy nights when you just want to snuggle up on the couch.
What Goes in It?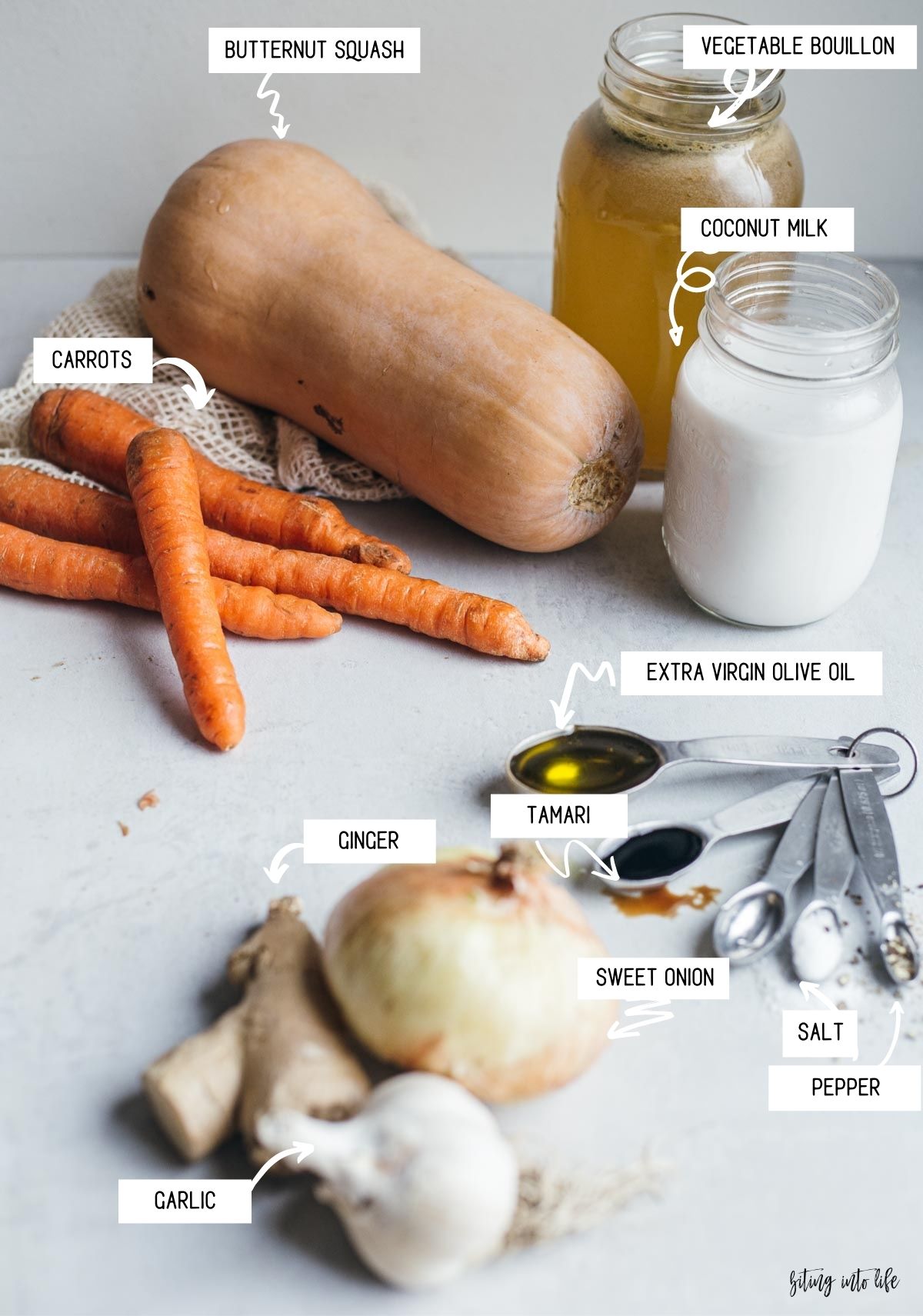 Notes on some ingredients
Butternut squash – choose one that is heavy for its size and has a hard, dark-colored rind and without blemishes and moldy spots.
Carrots – I made this soup once with left-out carrots in the back of the fridge and another time with fresh carrots, and I definitely preferred the latter. But don't discriminate against the forgotten if you have to!
Fresh Ginger – the spicy root is the real star of this recipe with its fresh flavor. You can also replace it with dried ground ginger. In this case, be sure to reduce to a third of the amount of fresh ginger. Bad at math? No worries. So, for 1 tablespoon of fresh ginger, you will put ½ teaspoon of dried ground ginger.
Coconut milk – I like to use whole coconut milk for maximum creaminess.
Vegetable broth – I used it in powder. I love the Canadian brand LUDA.
Tamari – I added some to boost the umami flavor subtly. Or opt for coconut aminos to make the soup gluten-free.
Garlic and onion – I went for a sweet onion. It's larger and slightly flatter than the yellow onion, with a lighter, less opaque skin. Varieties of sweet onions include Walla Walla, Maui, Vidalia, as well as others with the word "sweet" in the name.
Jump to the recipe card for the exact quantities.
Simple Substitutions and Add-ins
Butternut squash – you can use any winter squash in this soup. Fresh pumpkin is a great replacement. In fact, these two ingredients are completely interchangeable! Slightly different result, but never disappointing! Otherwise, acorn squash, delicata, carnival, or kabocha (lazy ones, be warned! It's harder to peel). In short, whatever the variety, peel and seed it before cutting and cooking it.
Carrot – if you want to omit the carrots, you can. The soup will be just as good. Another idea: replace them with another root vegetable like parsnip or even turnip for a little heat. Potato or sweet potato would also work well in this soup.
Coconut milk – omitting this ingredient will not kill the soup's creaminess; it will be just as creamy. It just adds, oh, I don't know… a great je-ne-sais-quoi! If you're not keen on the taste, you could replace it with a plant-based drink, like almond milk, or even better, cashew milk (it's more watery if you use commercial products, for example). Tip: Cashew milk can have a very creamy consistency if you make it cream instead (1 part cashew nuts to 2 parts water).
Tamari – you can opt for soy sauce.
Aromatic herbs – thyme, parsley, or cilantro go well in soup (add them only at the end of cooking if they're fresh).
Other spices – add cinnamon and/or nutmeg, paprika, or more spice with cayenne pepper or sriracha or Thai chili paste.
Lemon – you can garnish the soup with a little juice and zest to finish it off. Choose an unwaxed or organic lemon.
Allergen-Free Corner
Make it gluten-free – replace regular tamari with gluten-free tamari or coconut aminos.
Make it low in FODMAP – replace garlic and onion with my garlic-infused oil and the green part of scallions or leek.
How to Make this Dish Step by Step
There is no need to roast the butternut squash before adding it to the pan; it's a huge time saver! The roasted butternut squash is amazing, it gives a little more sweetness and depth of flavor, but it's not necessary for soup.
Step 1: Cut the squash
First, I transversely cut the squash in half in its middle and the extremities, which I have thrown ①. This makes peeling easier. Then I peel it with a peeler ②. When you do, don't be afraid. Squash is thicker than most other vegetables, and peeling it with this tool will be easy.
Finally, I cut this part again lengthwise to access the seeds in the lower half ③. I remove them with a spoon ④. After that, I have two choices: throw out the seeds or save them for roasting later (I highly recommend it!)
Then, I cut the peeled squash and the carrots into pieces that I set aside until ready to cook.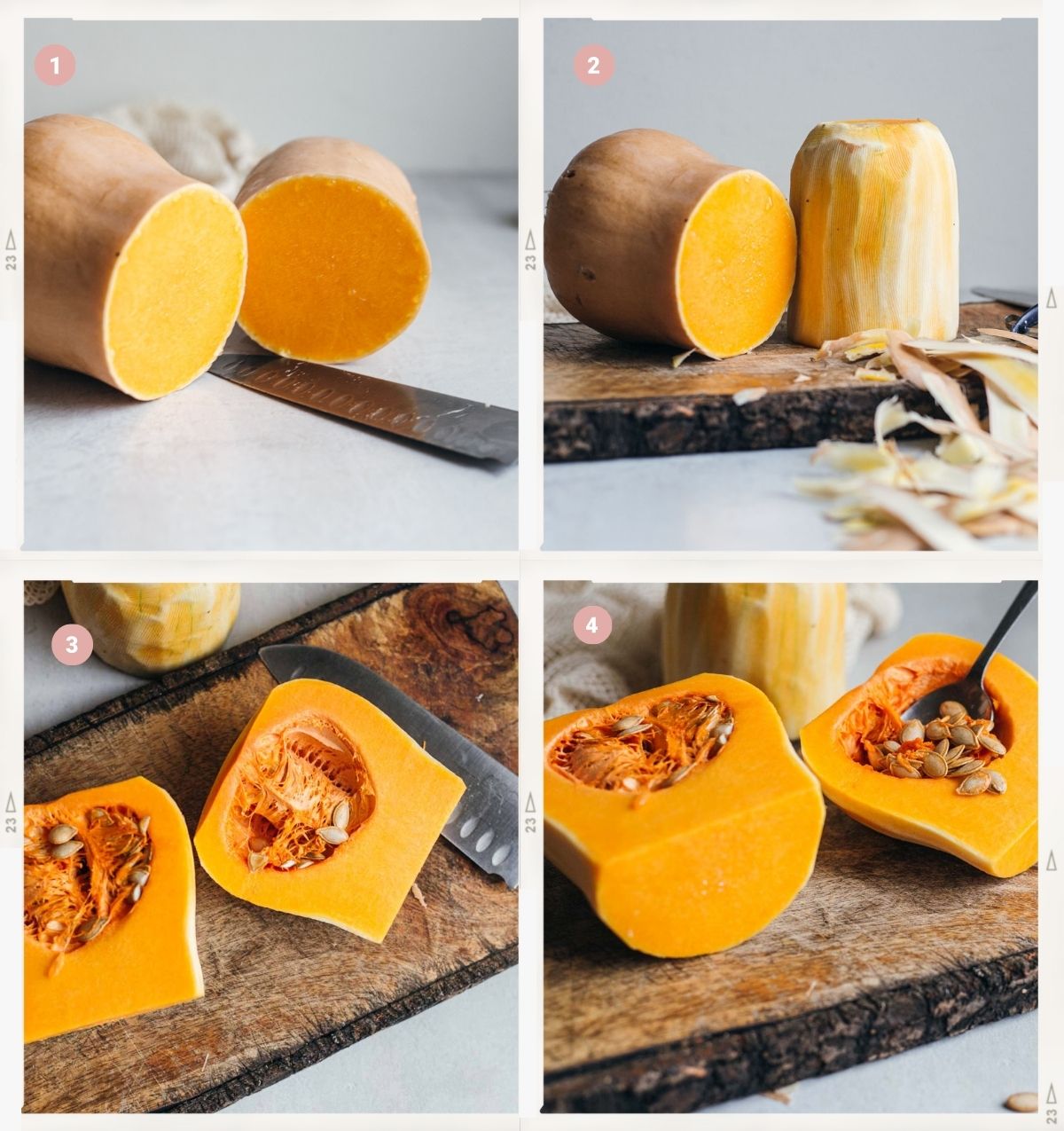 Step 2: Cooking
After the squash and carrots are cut ①, this soup begins with sautéed onions, garlic, and ginger into the saucepan ②. Next comes the chopped butternut squash and carrots ③, then the vegetable bouillon ④, which will gurgle after being turned on to the intense heat. I lower the heat to simmer and cover the saucepan for 30 minutes until the vegetables soften.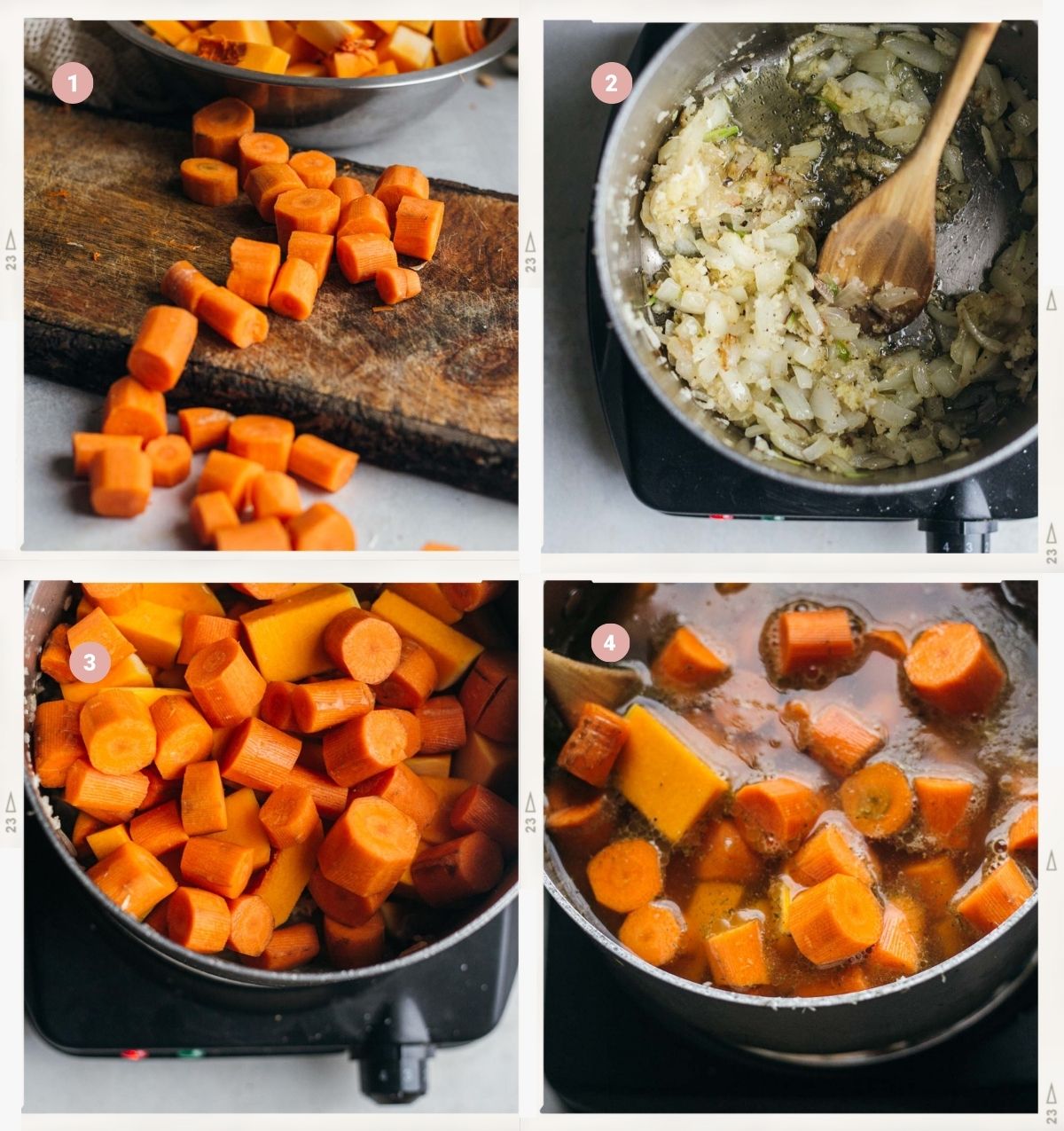 Next, I transfer the ingredients into a stand blender (this can be done using an immersion blender in a salad bowl), then I zizz the whole thing ⑨. I add coconut milk to the pot, making sure to save some, maybe a quarter cup for garnish, then blend again.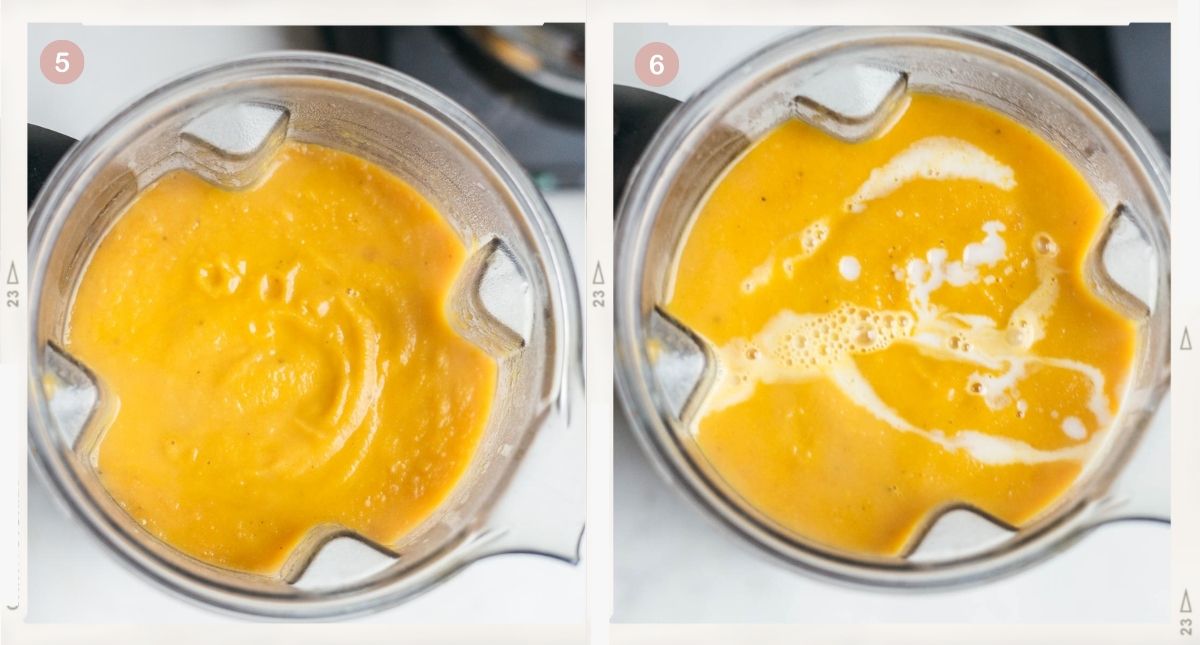 I empty everything into the saucepan and let heat over low heat for a few more minutes.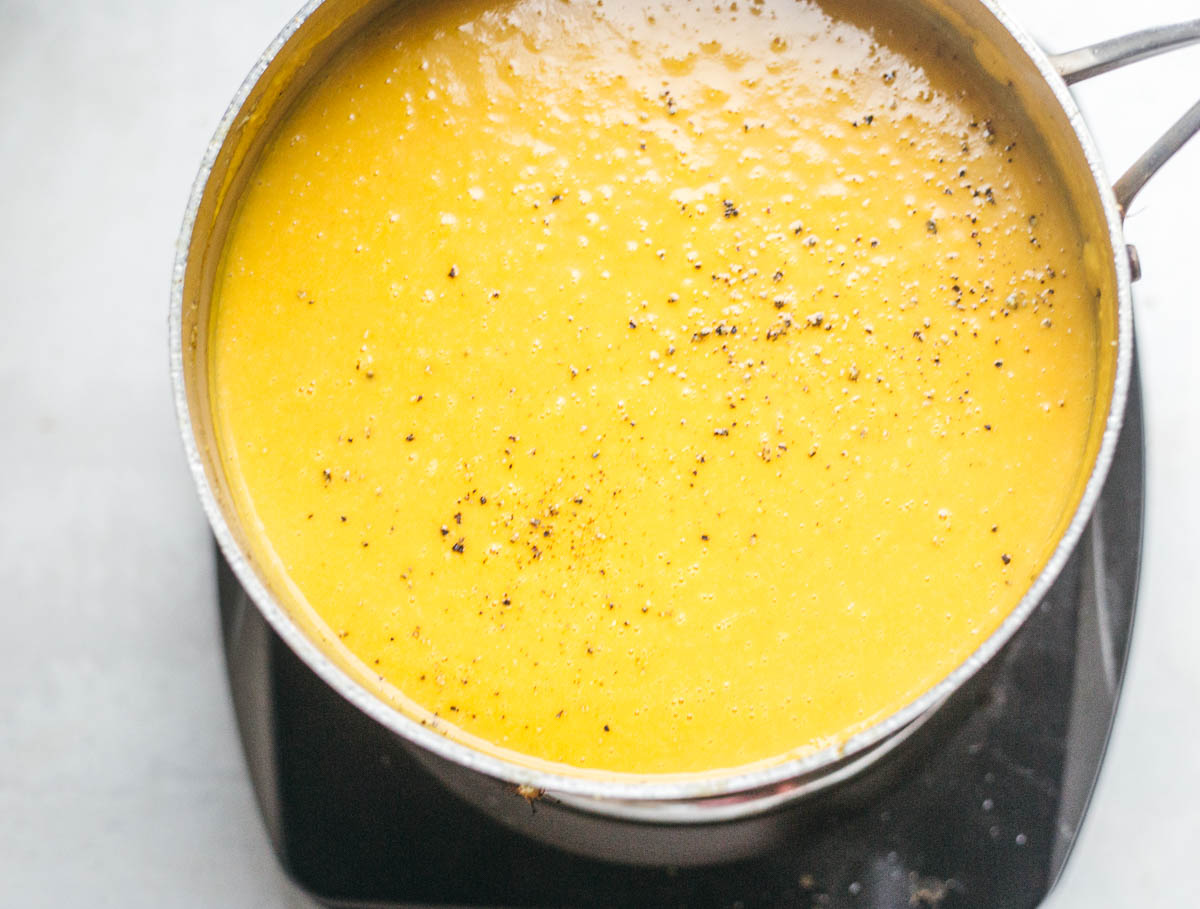 In the end, I top the soup with the remaining coconut milk and optional squash seeds, and voila!
The Keys to Success: My Top Tips
Speed ​​up cooking
The cooking time depends on the size of the vegetable's cut pieces. In other words, the bigger the pieces, the longer the soup will cook.
Forget it for a few days
If possible, prepare this soup a day or two in advance; its flavors will melt and deepen after about a day of standing in the refrigerator.
The Essential Equipment
Knife – a relatively strong and sharp knife counts. I used my chef's knife, and it worked well.
Vegetable peeler – uses a pivoting peeler with super sharp blades or Y-shaped.
Blender – you can use any mixer: stick blender or a regular blender (high or low quality). But I would admit that having a high-quality one, like a high-powered machine, is a game-changer. The texture becomes more velvety. You can even heat it right inside by letting the preparation purée for a few minutes.
How to Serve this Dish
You saw above that you could add a swirl of coconut cream, a wonderful presentation, but there are so many ways to serve this dish:
Vegan yogurt: a spoonful of plain vegan yogurt or lemony complements the fiery heat of ginger.
Vegan Ricotta: play with textures by adding almond ricotta or almond-macadamia ricotta.
Roasted Butternut Squash Seeds: you know those seeds you remove when you cut and peel your butternut squash? Don't throw them away! Save them for roasting later. Wash them and let them dry. Drizzle with a little oil, salt, and any other favorite spices and roast in the oven at 300 °F for 15 minutes or until toasted.
Toasted coconut flakes: here's another way to add a crunchy note.
Aromatic herbs: crispy sage leaves, anyone? It adds more savory notes to the soup and goes well with the flavors.
Lemon zest: it makes a nice refreshing garnish.
Pumpkin Spice: add an extra pinch of nutmeg and/or cinnamon.
Piece of Bread: Dip crusty bread in this thick, smooth, and creamy soup.
More soup recipes
Answers to your burning questions
Can we do this soup in a pressure cooker?

Why not! First, sauté the onions, garlic, and ginger. It can be done on the stove or directly in your pressure cooker if you have the function. Then you add them to the rest of the ingredients. Stir everything well, close the lid, adjust the pressure valve and cook at high pressure (or manual) for about ten minutes. Let the pressure release naturally for about fifteen minutes after cooking. Then, gently rock the pressure valve and release the rest of the pressure using a cooking spoon. After that, you have to puree everything in a blender.
Can the soup be mixed with an immersion blender?

Yes! Also called a hand blender, it's safe, easy, and quick to use. I can understand if you find it annoying or even risky to pour a pot of hot soup into a blender. If not properly secured, the pot can tip over, and you end up with hot soup all over the place! Or, your clumsiness can lead to the same result. Sometimes everything doesn't fit, and you have to do it in batches. By using the hand blender, you don't have this worry.
Can I do without the coconut milk?

Yes, you can. The soup will also be creamy, thanks to the fibers of the carrots and squash. If you're not keen on the taste of coconut milk, you could replace it with a plant-based drink, like almond milk (more watery, on the other hand) or, even better, cashew cream. This can have a very creamy consistency. Make it home if you can with 1 part cashew mixed with two parts water.
Are the seeds in the squash edible?

Why yes! You can easily roast the pumpkin seeds. Just separate them from the membrane while cooking the soup, rinse them, and season them with salt and desired spices. I like to use garlic powder, onion, and smoked paprika. Then spread them out on a baking sheet and put them in the oven on low to 300 °F (150 °C) or simply put them in a toaster oven if you have one for about 5 to 10 minutes, stirring and tasting halfway through cooking until crunchy.
How to Store this Dish
This butternut squash soup with carrots and ginger serves eight people. You can keep it for up to seven days in the refrigerator. I just keep it in an airtight container, like a large mason jar. Put it in a plastic container if you want to freeze it.
To serve it again, reheat it on the stovetop in a saucepan or microwave-safe bowl, if desired. You may need to add a little water if it has become too thick.
Make This Dish Now
If you're looking for a comforting fall meal, here's your recipe! This soup has the double virtue of being delicious and easy. It's smooth and endowed with warm spices.
Of course, the best part is that you can prepare it quickly, put everything in a pot, cover it, and let it cook on its own for half an hour while you recover from your day's work or other energy-intensive occupation. And it only gets better with subsequent meals, as soups do.
So go ahead and let the velvety texture envelop you warmly.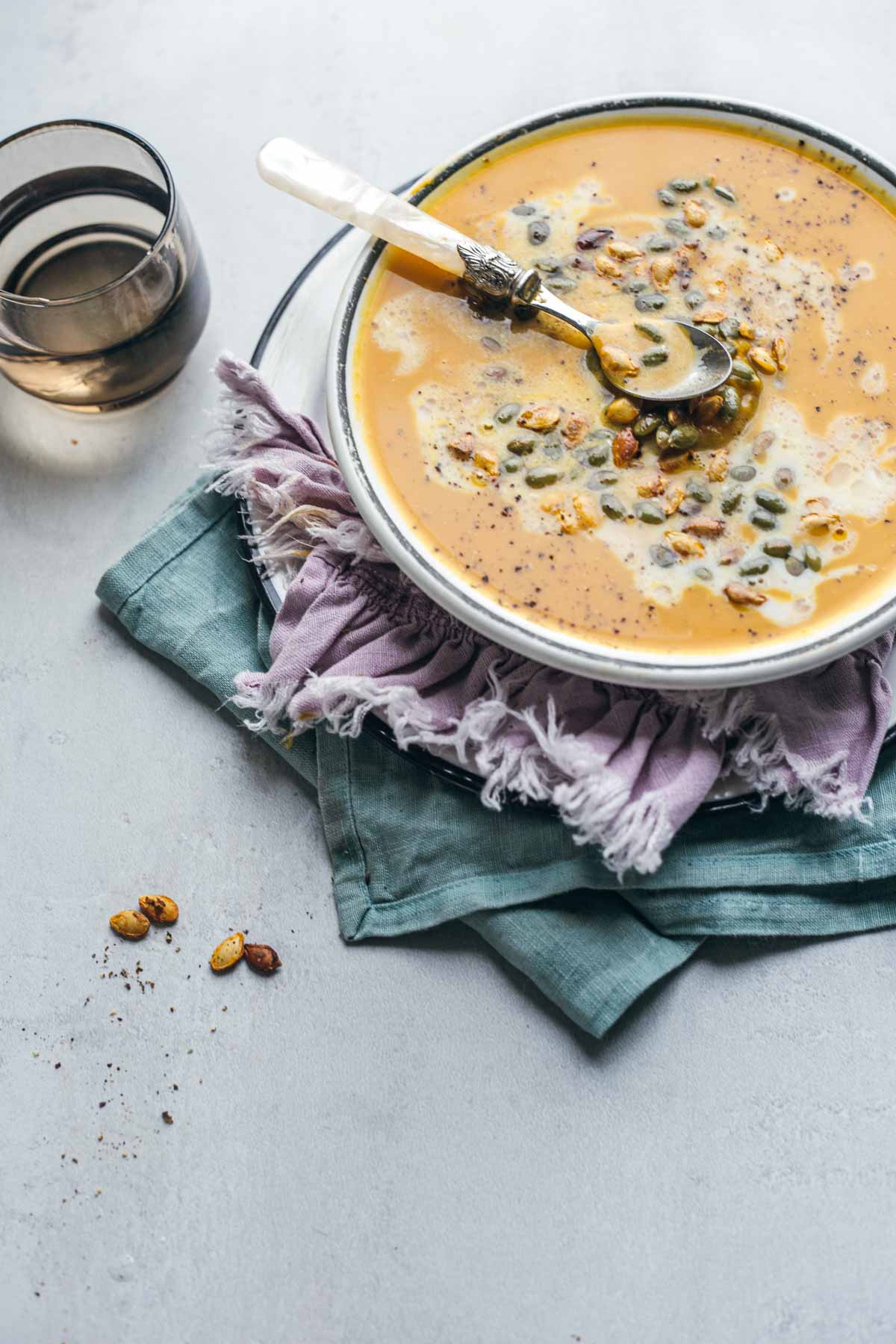 If you try this recipe, I want to know about it! I always appreciate your feedback. Leave a star rating in the recipe card right below and/or a review in the comment section further down the page. You can also follow me on Pinterest, Facebook, or Instagram. Sign up for my email list, too!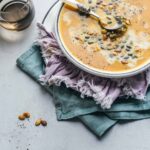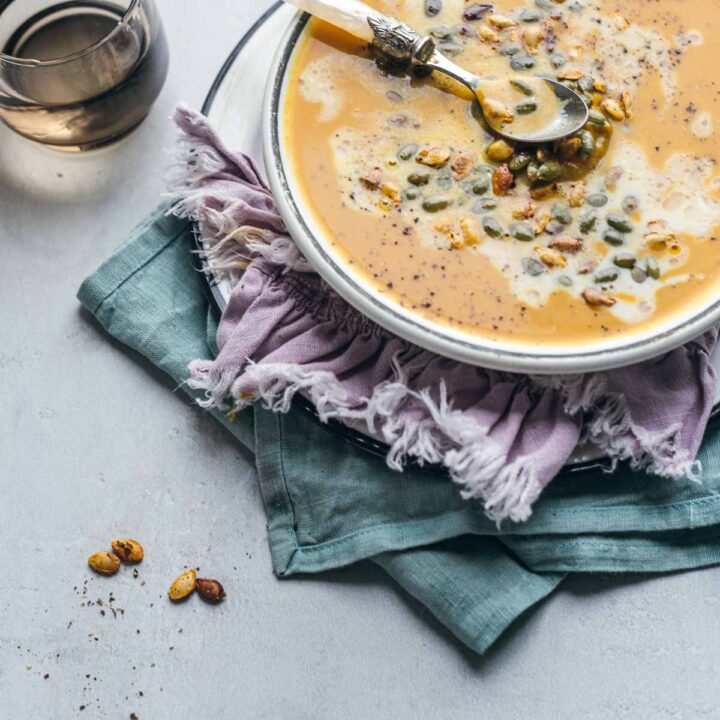 Butternut Squash Soup with Carrots and Ginger
This butternut squash soup is the perfect backup recipe. Flavorful and refreshing, it has delicate flavors of carrot and the crispness of fresh ginger. If possible, prepare this velvety soup a day or two in advance; its flavors melt and deepen after about a day of standing in the refrigerator.
Save Recipe
Saved!
Print Recipe
Pin Recipe
Equipment
Knife

Vegetable peeler

Blender
Ingredients
Olive oil

or coconut oil

1

sweet onion

chopped

4

garlic cloves

minced or crushed (about 2 teaspoons)

3

tablespoons

fresh ginger

grated

4

cups

butternut squash

peeled, seeded, cut into large pieces

2

cups

carrots

peeled and sliced

4

cups

vegetable stock

(or 1 tablespoon powder in 1 cup water)

1

tablespoon

tamari

¼

teaspoon

salt

¼

teaspoon

black pepper

1

can

coconut milk

plus ¼ cup for garnish, divided
Optional toppings:
Vegan yogurt

or vegan sour cream

Roasted butternut squash seeds

Toasted coconut

Fresh herbs

Lemon zest
Instructions
Cover the bottom of a large pot with oil and add the diced onion and a little salt over low heat. Cook, 5 to 10 minutes, until the onion becomes translucent.

Add the garlic and ginger with salt and pepper to taste and cook another 5 min to allow the flavors to blend.

Add the broth and tamari to the pot, then the carrots and squash. Bring to a boil then simmer until carrots are tender, about 20-30 minutes.

In a stand blender or using a hand blender, blend the ingredients to the desired texture. It is possible to mix half, leaving some mashed carrots and squash for a little texture.

At this point, add the coconut milk, keeping ¼ cup for the garnish, and blend. Divide the soup between soup bowls and top with the remaining coconut milk and other favorite toppings.

Placed in an airtight container, this butternut squash soup with carrots and ginger will keep for up to 7 days.
Notes
The cooking time of vegetables depends on the size of the pieces. In other words, the bigger the pieces, the longer the soup will cook.
If possible, prepare this soup a day or two in advance; its flavors will melt and deepen after about a day of standing in the refrigerator.
Variations
Butternut Squash and Coconut Soup: Replace carrots with 2 cups of butternut squash.
Carrot and Coconut Soup: Replace the butternut squash with 4 cups of carrots.
Spicy Butternut Squash Soup with Carrots and Ginger: Add spices like cinnamon and/or nutmeg, paprika, or more spice with cayenne pepper or sriracha, or Thai chili paste.
Nutrition
Calories:
167
kcal
|
Carbohydrates:
19
g
|
Protein:
2
g
|
Fat:
10
g
|
Saturated Fat:
9
g
|
Polyunsaturated Fat:
1
g
|
Monounsaturated Fat:
1
g
|
Sodium:
578
mg
|
Potassium:
532
mg
|
Fiber:
3
g
|
Sugar:
7
g
|
Vitamin A:
13039
IU
|
Vitamin C:
20
mg
|
Calcium:
66
mg
|
Iron:
2
mg
Get Your Free Plant-Based Eating Toolkit and More
Subscribe to my newsletter and unlock my plant-based course, nutrition charts, recipe secrets, and exclusive updates to prepare wholesome, varied & balanced meals effortlessly. All you need is a good appetite. Subscribe!