Thicker than milk (plant-based) but less rich than cream (also plant-based-based), this dairy-free half-and-half (also called coffee creamer) is the real deal. It's exactly what you need to boost your preparations' smoothness. Add it to your soups, Alfredo sauce, whipping cream, ice cream…
They will marry this sweet half without question. All the more as it can be prepared in about 5 minutes.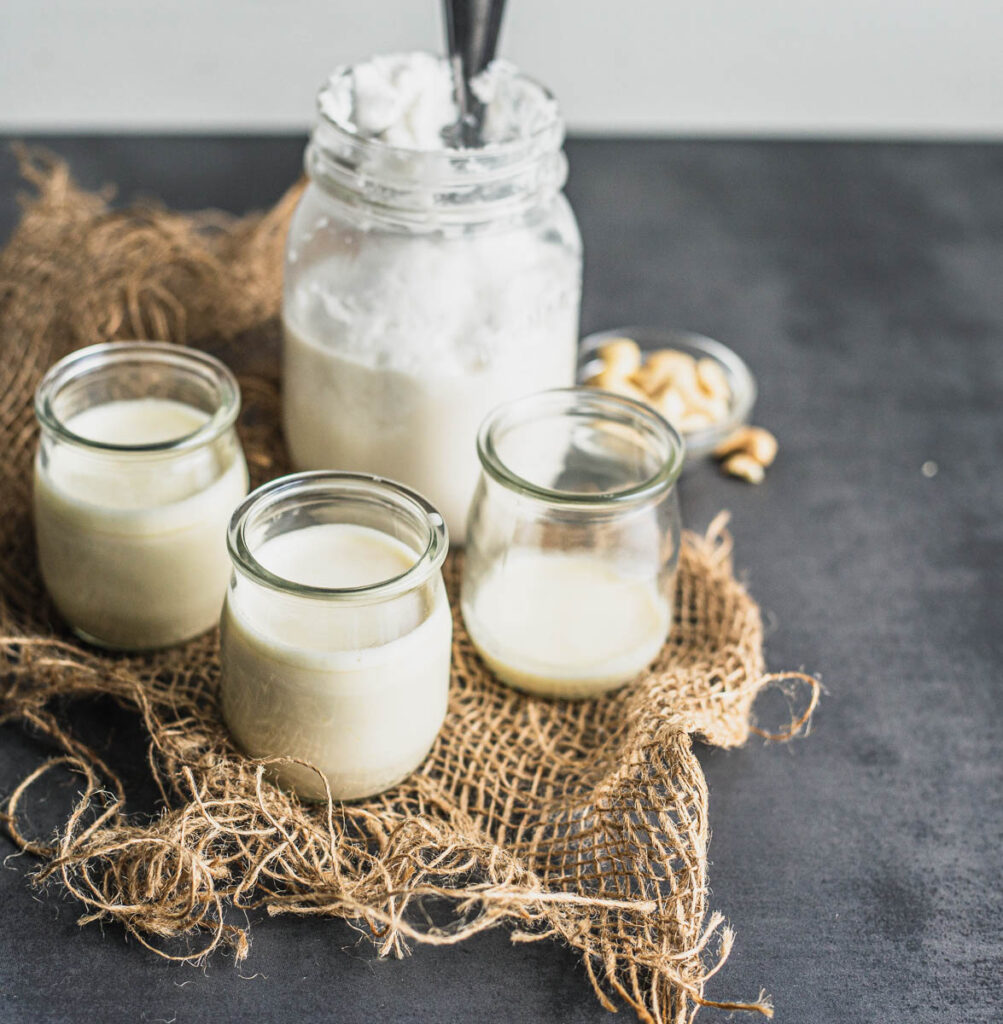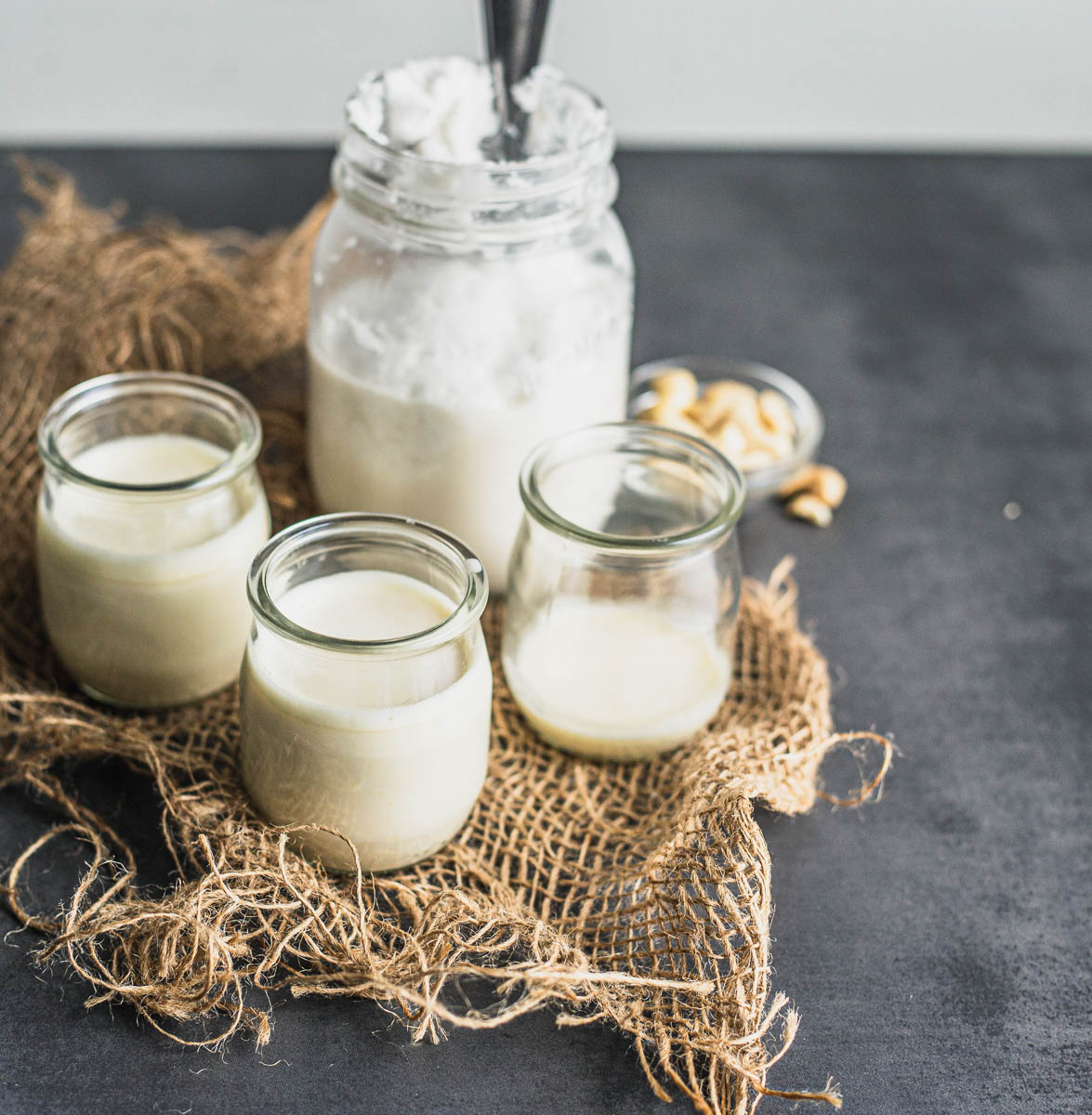 Jump to:
Why This Recipe Rocks
There are some ingredients that we never see or notice until they're brought to our attention. Sometimes they are completely forgotten.
This was exactly the case with half-and-half. Since I don't take a morning cup of coffee, it's not something I'm familiar with.
When I made my lentil cottage pie the last time, which has a filling made from mashed potatoes, the recipe I was inspired by called for this ingredient. Of course, I needed to find good non-dairy alternatives right away, the half-and-half cream being dairy-based.
I stumbled upon a commercial almond-based product, but I was not satisfied with the final taste in my mashed potatoes. There was an almond aftertaste that bothered me. And so, I decided to take matters into my own hands and make a homemade half-and-half substitute recipe.
And that was a good thing. I didn't regret it at all.
Thanks to the coconut cream and cashew milk, I created a silky liquid that could be drunk well alone. Pure and light on the tongue, its richness is just perfect. The coconut flavor is imperceptible, and that of cashews only amplifies our pleasure.
Hold me back, I have a jar left in the fridge, and I'm afraid its safety is threatened.
What Goes in it?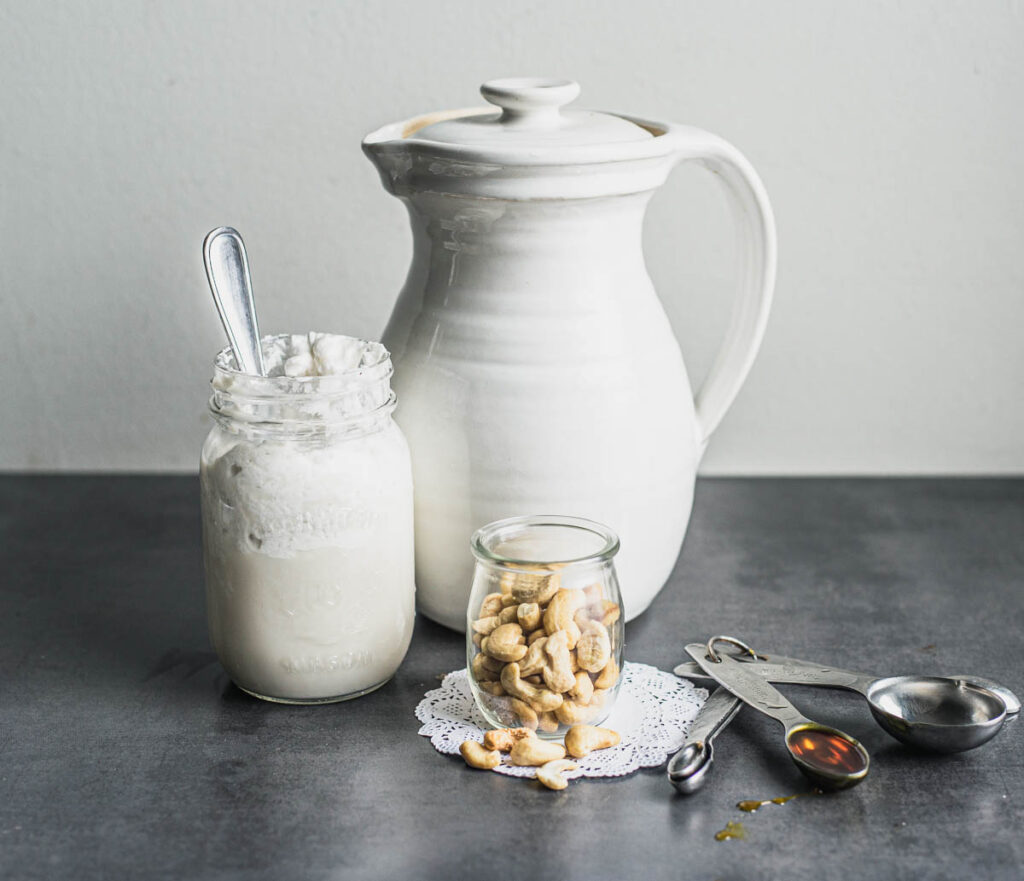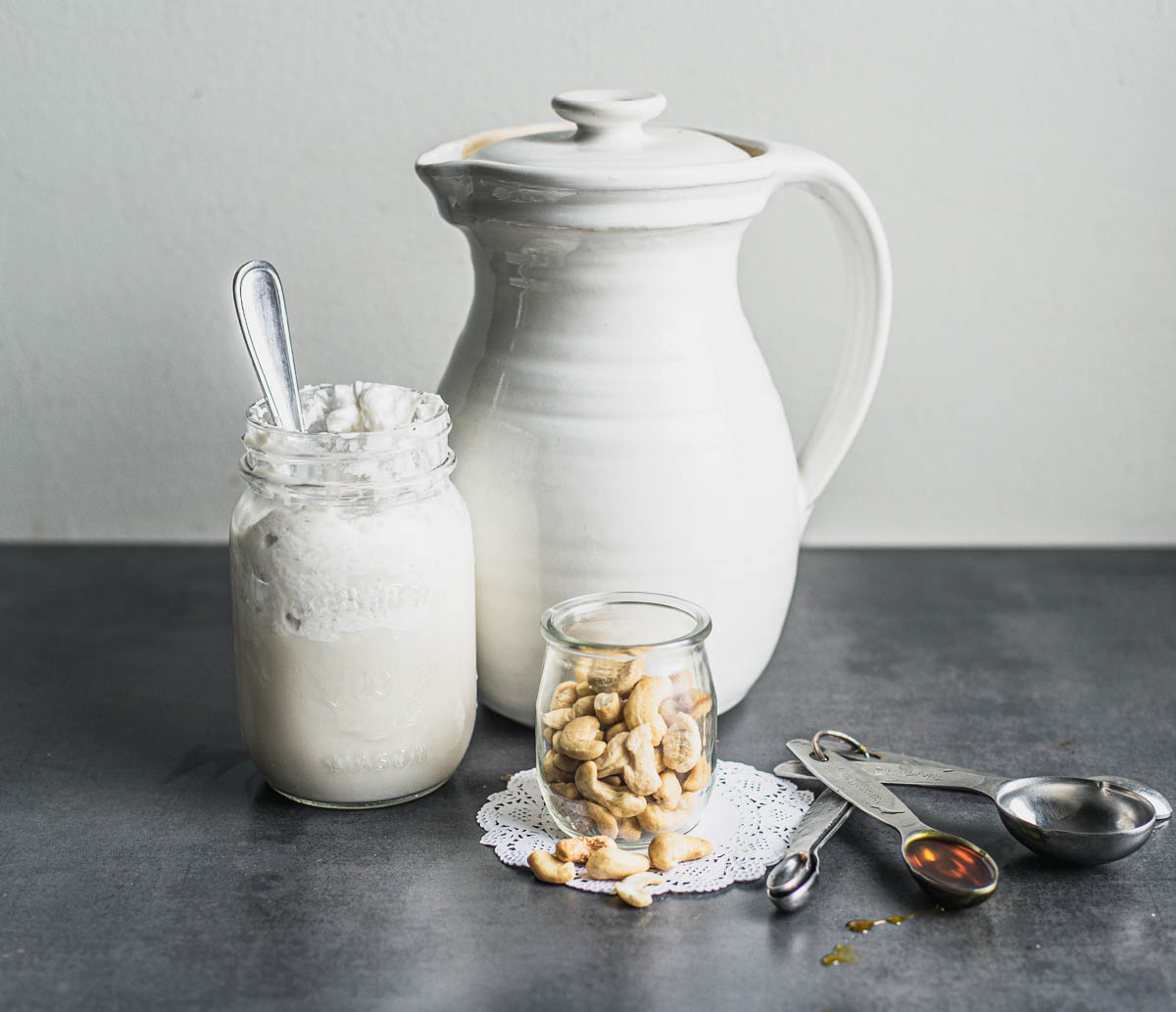 Ingredient Notes
Coconut Cream. Get yourself a product in the grocery store that contains only coconut and water.
Cashews. Mixed in water, you'll get cashew milk or cashew cream. This can be made separately and then added, or the cashews can be combined with other ingredients with water, and the cashew milk will be made automatically from the mixture.
Soy Lecithin. Thick and golden, this liquid consists of phospholipids extracted from soybean oil. It's used to emulsify or homogenize the fatty acids (in general, we put 1 teaspoon for 1 cup of the volume). Sunflower lecithin also works, but it will give a light nutty taste. This ingredient is completely optional.
Simple Vegan Half-Half Substitutes
Play with non-dairy milks. Coconut milk acts as a good heavy cream substitute so I would stick with it. However, you could substitute cashew milk for any of your favorite dairy-free milk. Be it cashew milk for soy milk, rice milk, or oat milk. But you won't get the same smoothness. In this case, you will need to add a thickening agent like xanthan gum. (You might see some products use gellan gum or acacia gum.)

The easiest way is to use non-dairy milks made from nuts, as they contain fat. The fatter they are, the more I like them. It can be:

Macadamia milk (Ooh! That must be to die for);
Brazilian milk.
How to Make this non-dairy creamer Step by Step
This recipe begins by mixing the coconut cream, cashews and water in the blender ①. I optionally add soy lecithin ②. And either I keep it in a jar ③, without I use it in the desired recipes.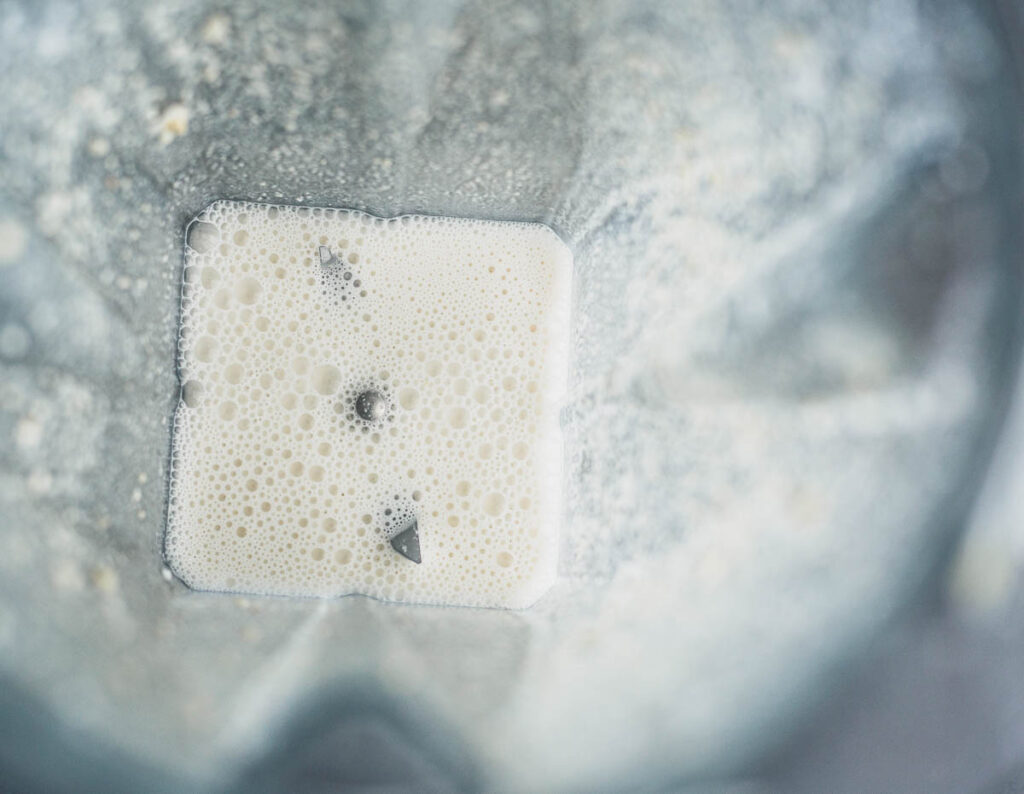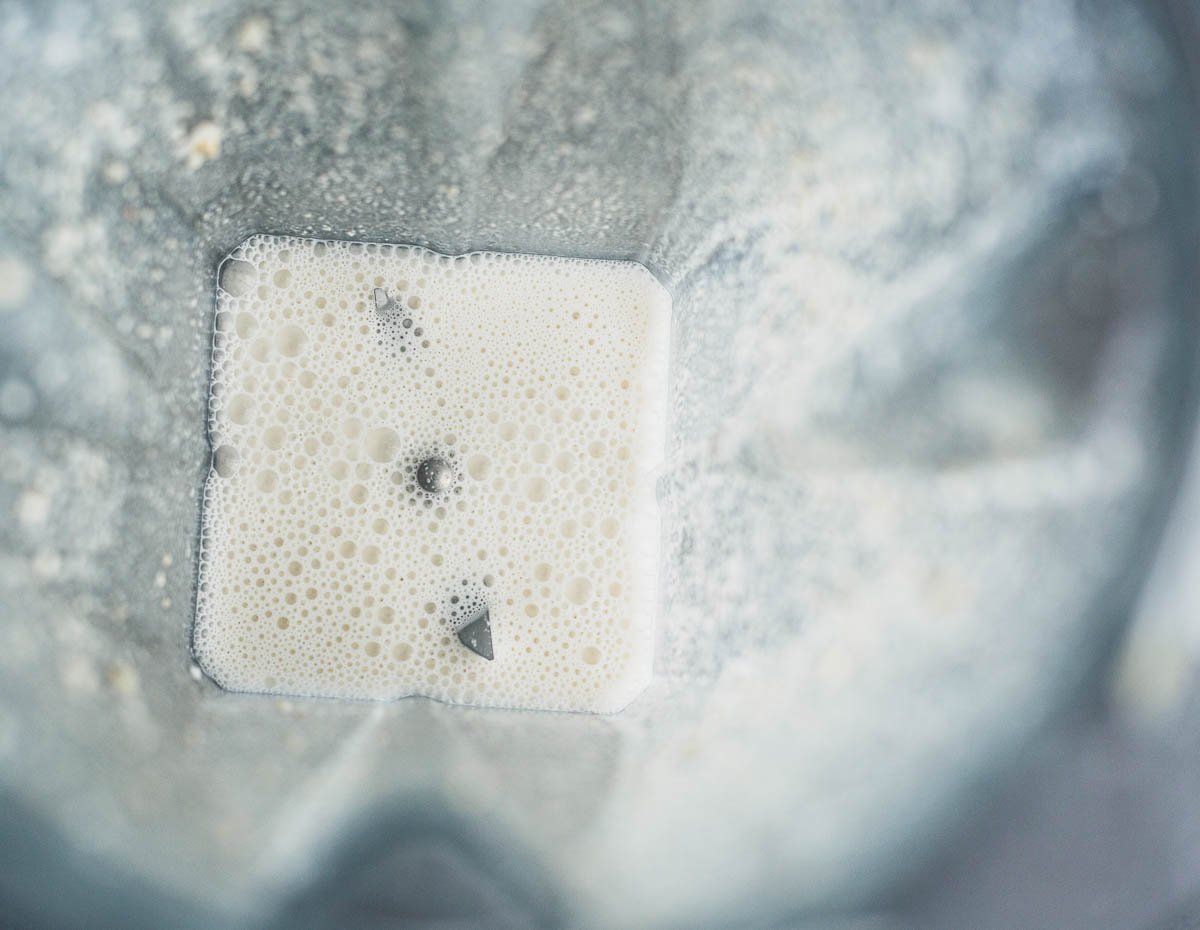 The Keys to Success: My Top Tips
Creates a smooth cream: use a high-speed mixer for an ultra-silky texture. If you don't have this device, pass the liquid through a sieve.
What is half and half cream? What is it made of?
It's so simple! It is an American recipe made up of equal parts milk: half 35 % heavy cream and half whole milk. And wham! You have half and half! The texture is thicker than milk but less rich than cream. I'm not exactly talking about half pastry and half whipped cream, or capitol cream, but we're not far from it.
The featured cream cannot be whipped, but it adds richness without being as heavy as cream on its own. It's the perfect environment.
And the half-and-half plant-based cream? We will follow the same principle and look for a similar rich texture: one part non-dairy milk, one part coconut cream.
On the other hand, it will consist of a blend of coconut cream and half non-dairy milk.
Is Regular Half-and-Half Bad for You?
Let's assume that creams contain a fair amount of fat. Understanding the preferences for fat in fluid milk can potentially inform your efforts to change your fat consumption habits or optimize consumer products. So let's examine its composition and manufacturing process.
The composition
Traditional half-and-half generally contains more fat than any type of cow's milk, with a fat content that usually varies between 10.5 and 18%, depending on its composition.
If it's made from heavy cream, it will have 36% or more fat; made from light cream, it will have 17 to 30%.
Despite the name, fat-free half-and-half still contains fat: about 1.4 grams of fat per 100 grams (3.4 ounces). This is made from skimmed milk, thickened with various additives, such as corn syrup.
The result is a high carbohydrate product containing more sodium than any other regular milk or half-and-half product. (See this comparison table.)
Low-fat Half-and-Half is made from milk and cream like most other products. It contains about a half to a third of the fat content compared to standard half-and-half products.
In contrast, it will vary depending on the nuts used when made from canned coconut cream and plant-based milk. If you hope that it contains less fat, you'll be disappointed to know that its content is around 85%.
Nevertheless, the fats will be whole, healthy, and devoid of questionable additives.
The manufacturing process
Ultimately, this type of product is usually homogenized (i.e., insanely mixed). For physical stability purposes, it is a process by which fat molecules are pulverized and reduced into droplets, including caseins and some whey proteins at the interface thereof.
Some believe that homogenization destroys nutrients and proteins and makes the fat—then healthy—rancid, and causes free radicals in the body.
Others claim that "These nanoglobules of fat reduced to the state of microns pass directly into the lymph and then into the blood without being digested by the intestine which does not recognize them" and that this process, therefore, promotes the development of cholesterol and obesity problems.
True or not, homogenization remains controversial.
Other Answers to Your Burning Questions
Is heavy cream the same as half-and-half?
No. Heavy cream is a thicker, richer cream that contains at least 36% dairy fat, which is almost double that of half-and-half.
Half-and-half combined with butter can be a simple substitute for many recipes that call for heavy cream. You can also use it to replace heavy cream without adding butter in some recipes, such as sauces and soups.
And what about light cream vs. half-and-half?
There is even less difference between light cream and half-and-half than between heavy cream and half-and-half. In the United States, the Food and Drug Administration requires that products labeled as light cream contain between 18 and 30% dairy fat, which means it contains more fat than half-and-half but is not as rich and creamy as heavy cream.
13 speedy and delicious ways to use coconut milk half-and-half (other than vegan coffee creamers)
You may have a quantity of half-and-half left, and you may not know what to do with it other than thinking about vegan coffee creamer options. Before letting it spoil, here are some half-and-half recipe ideas (all plant-based):
Mashed potatoes;
A quiche filling;
Soups, like my broccoli and pea soup;
A white Alfredo-style pasta sauce;
Baked goods, like bread or bread rolls;
A smoothie;
Drinks with chocolate milk or creamy milk;
Cocktails;
Pancakes, like my thin pancakes, waffles, or French toasts;
Ice cream (make it vanilla or chocolate);
Yogurt;
Fudge;
Eggnog.
Now anytime, you see a recipe that uses half-and-half, you'll know what to do for dinner, soup, or dessert recipes that call for it.
Try it in these recipes!
Make this Cream Now
A recipe will call for half-and-half to moderately increase the dish's creaminess without achieving ostentatious richness one day or another.
You'll then think about finding a good non-dairy substitute for half-and-half without animal products.
You'll only have two options: buy a store-bought product or make your own cream.
The first choice implies that you have unwanted elements, while the second choice allows you to control the composition and the manufacturing process. Here, coconut cream and cashew milk will replace cow's milk for your preparations.
And you'll have a finish that won't disappoint you. Close to the real thing.
So, are you ready to get started?
Are you ready to raise the bar on your other recipes?
They're just waiting to mingle with this silky texture until the last drop.
If you try this recipe, I want to know about it! I always appreciate your feedback. Leave a star rating in the recipe card right below and/or a review in the comment section further down the page. You can also follow me on Pinterest, Facebook, or Instagram. Sign up for my email list, too!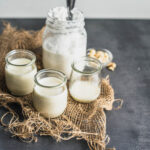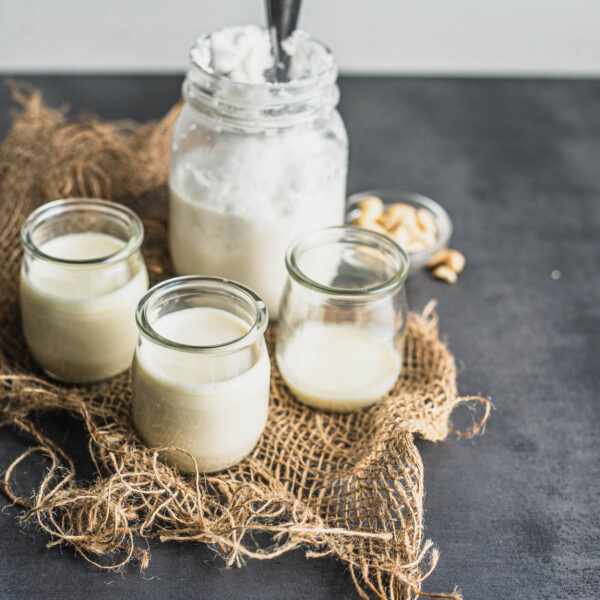 Vegan Half-and-Half
This recipe is my half-and-half replica that you sometimes put in preparations that you want creamy without being too rich. It contains coconut cream and cashew milk and will serve you for many occasions. It is wonderful in mashed potatoes, soup, or happy concoctions.
Save Recipe
Saved!
Print Recipe
Pin Recipe
Ingredients
½

cup

full-fat coconut milk

or coconut cream (Notes)

½

cup

water

¼

cup

cashew nuts

ideally previously soaked 30 min before (Notes)

1

teaspoon

soy lecithin

(Optional)
Instructions
Place all ingredients in a high-speed blender and blend until smooth.

Kept in a tight container in the refrigerator, this vegan half-and-half will keep for up to 5-7 days.
Notes
Coconut cream: Depending on the brand, the cream may stubbornly stay separate from the milk. In this case, it does not matter. Make the recipe with the aqueous liquid.
Soaking cashew nuts: this process makes them. It is not an obligatory passage, but ideal.
Variants
Make it with ½ cup Almond milk, Macadamia milk, or Brazil nut milk.
Nutrition
Serving:
1
cup
|
Calories:
396
kcal
|
Carbohydrates:
10
g
|
Protein:
4
g
|
Fat:
43
g
|
Saturated Fat:
37
g
|
Sodium:
11
mg
|
Potassium:
390
mg
|
Fiber:
4
g
|
Sugar:
1
g
|
Vitamin C:
3
mg
|
Calcium:
17
mg
|
Iron:
3
mg
Get Your Free Plant-Based Eating Toolkit and More
Subscribe to my newsletter and unlock my plant-based course, nutrition charts, recipe secrets, and exclusive updates to prepare wholesome, varied & balanced meals effortlessly. All you need is a good appetite. Subscribe!