Basic, maybe; tasty, absolutely. Making this vegan broccoli and pea soup is quite quick and easy. You put everything in a saucepan, and you blend it all to get something velvety. This soup is perfect as a side dish or for those evenings when you want to cook instantly and healthily.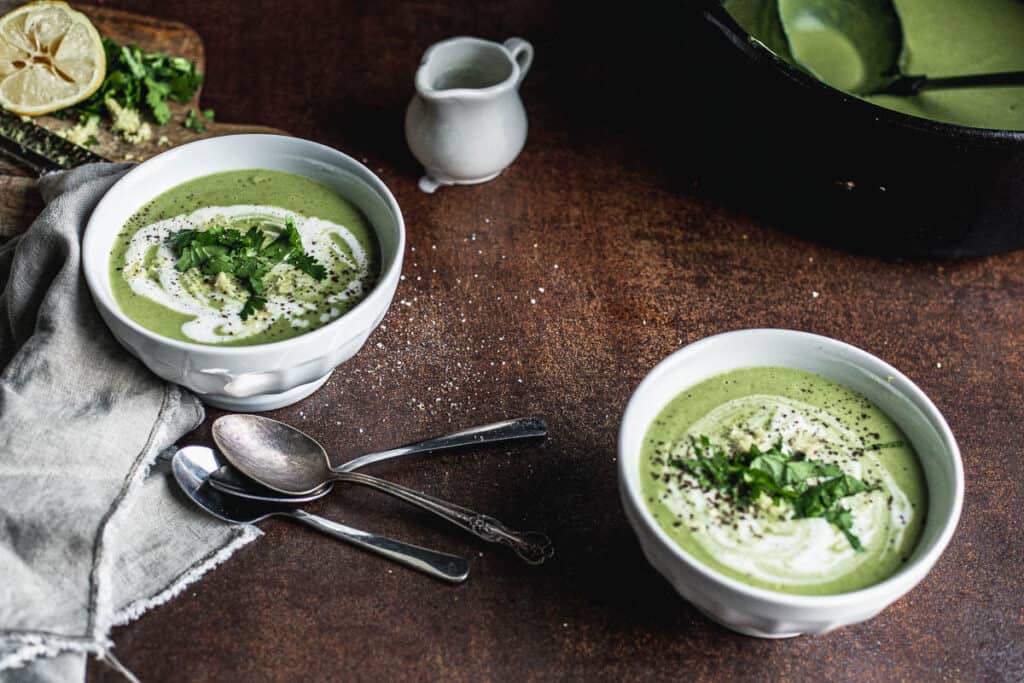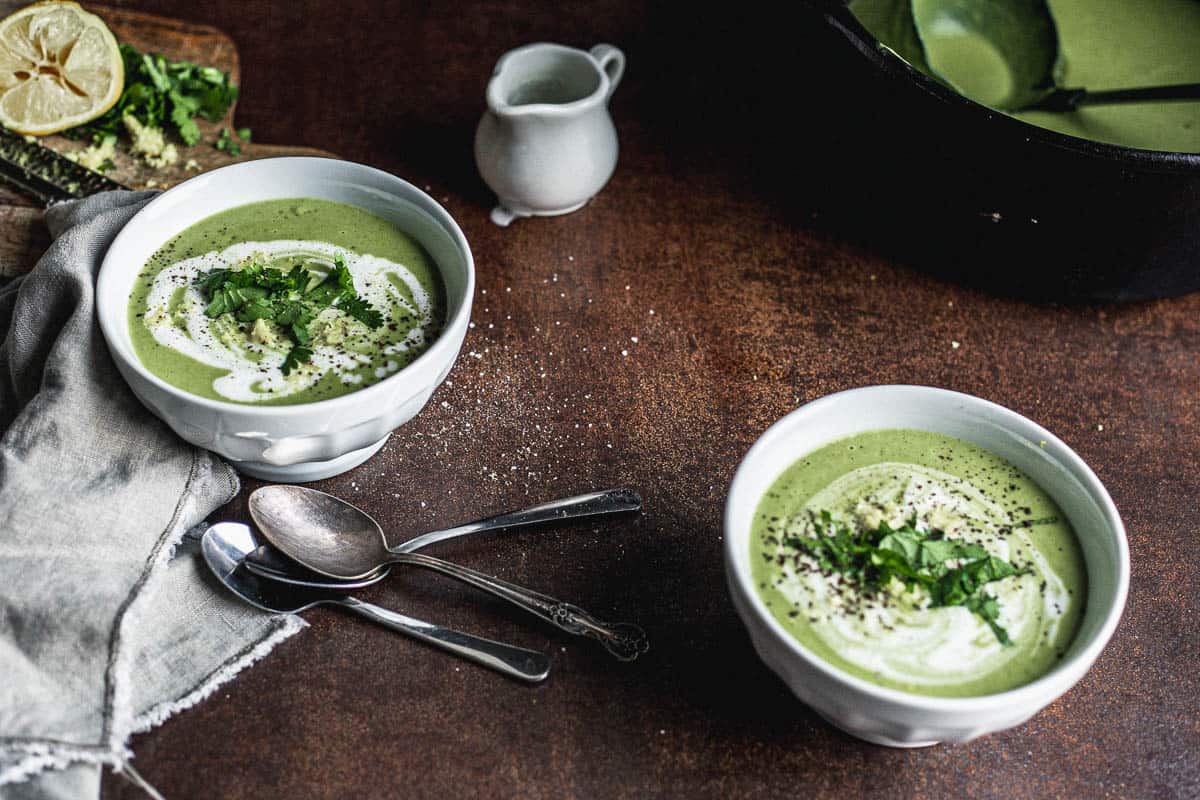 Jump to:
The Perfect Instant Meal
I can always count on green peas whenever I let myself fall into the arms of laziness. And it's funny, it always happens to me during my Sunday evenings. Fortunately, these tiny green protein pearls have the advantage of being cooked in a jiffy and fraternizing with any green vegetable that is on the verge of wilting or looks pitiful in the back of your fridge.
Therefore, peas can form the basis of a wonderful empty-your-fridge recipe.
This soup essentially has 4 elements: onions and garlic (allium vegetables), green vegetables, broth, and plant-based cream. The pan smells fantastic, very tasty, and fragrant. You blend the mixture and pour the liquid into the same saucepan. Just before serving, you add lemon zest to this bright green concoction, and voila!
You get a soup with a sweet and bright taste and a light, rich texture, soothing in some parts and striking in others.
What Goes in it?
This super simple and quick meal contains just three main ingredients with four basic seasonings.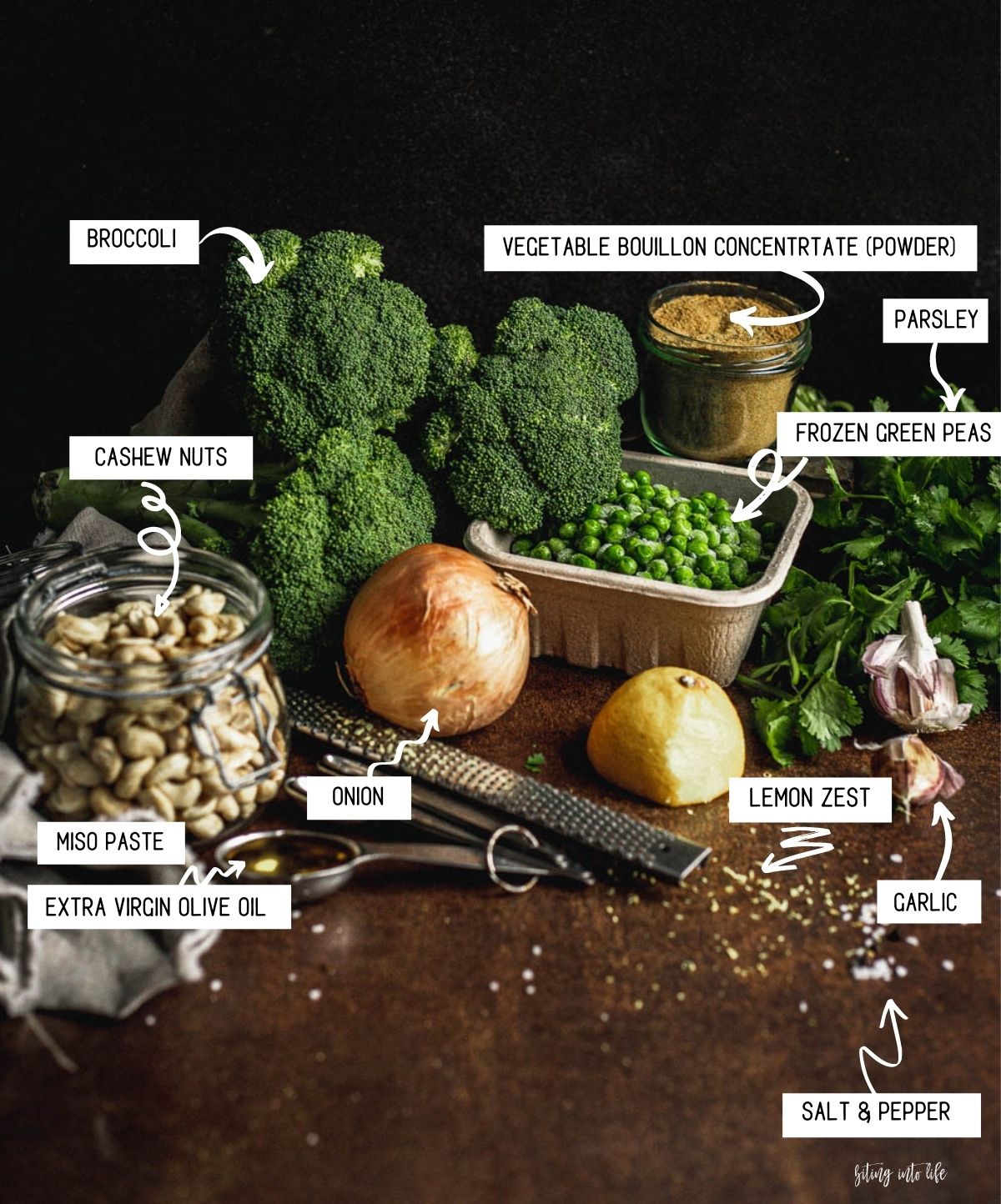 Notes on a few ingredients
Broccoli – the fresher, the better, but don't be afraid to use broccoli that's about to wilt. Frozen broccoli will do too. I did this soup with only the broccoli florets, but you can also keep the broccoli stems.
Green peas – frozen peas were used for this recipe.
Cashew nuts – to provide greater nutritional density, I decided to take natural cashews and make a plant-based cream rather than going with a store-bought product. To obtain a light cream, blend 1 part of these nuts—ideally soaked beforehand 30 minutes earlier to make them more digestible—in 2 parts of water.
For example, you put ½ cup of cashew nuts in 2 cups of water. This provides more smoothness, but any plant-based cream will do. If you can't find one like this, replace that ingredient with any plant-based milk. Your soup will be a little thinner, but that's okay.
Vegetable broth concentrate – you can choose a vegetable broth in liquid, powder (1-2 tablespoons per cup of water), paste (same), or cube (1 cube or 1 ½ per cup of water).
Miso – it's a traditional thick paste from Japan. It's made from the fermentation of chickpeas, rice, barley, soybeans, or adzuki beans (darker color). Light (with a milder flavor) or dark (with a stronger flavor) miso is often used to enhance soups and sauces' taste.
How to Make Broccoli and Pea Soup Step by Step
This broccoli and pea soup starts with soaking cashews in water for 30 minutes to cream from scratch. The nuts will later be placed in the blender to make a cashew nut cream. But this happens while judiciously simmering the soup (see below).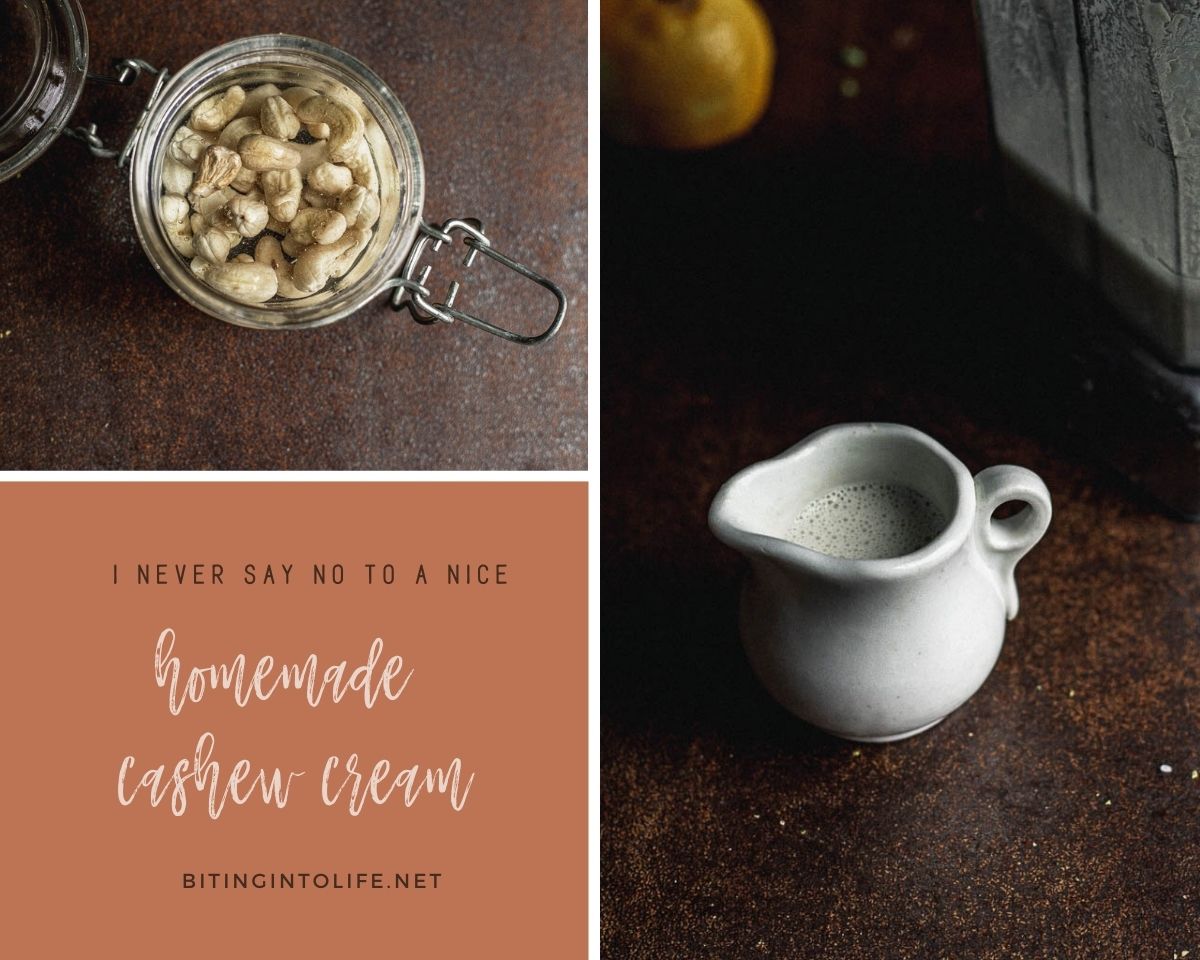 So, I soften the onion and garlic over medium heat ①, then add the broccoli florets ② and broth ③. At this point, you can discard the broccoli stalks or thinly slice them and add them. Then, I incorporate the frozen green peas and let everything simmer ④ (this is when I take care of finishing the coconut cream 👆).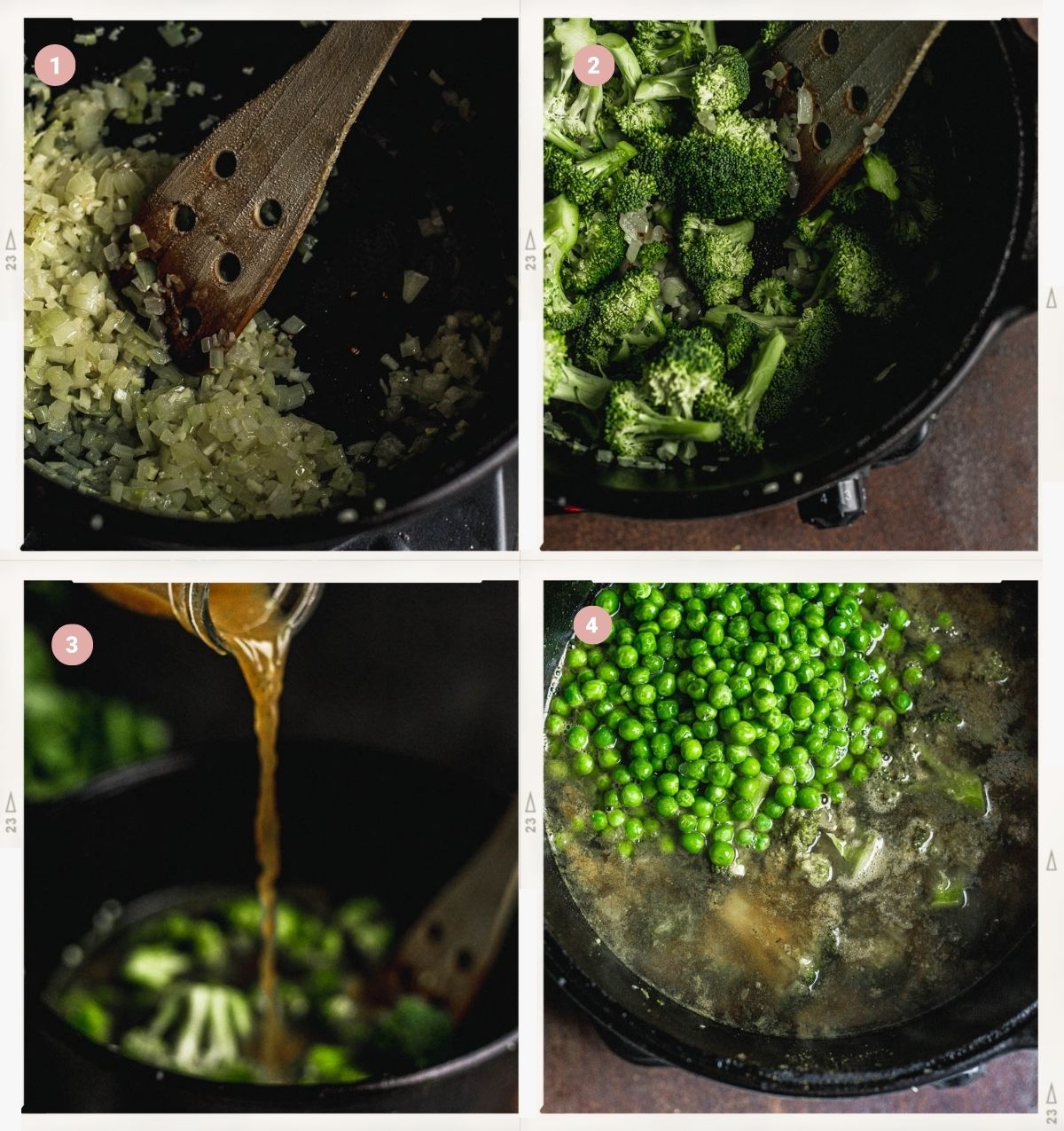 I go on to blend the concoction of broccoli and peas in a high-speed blender, return it to the pan and stir with most of the cashew cream added.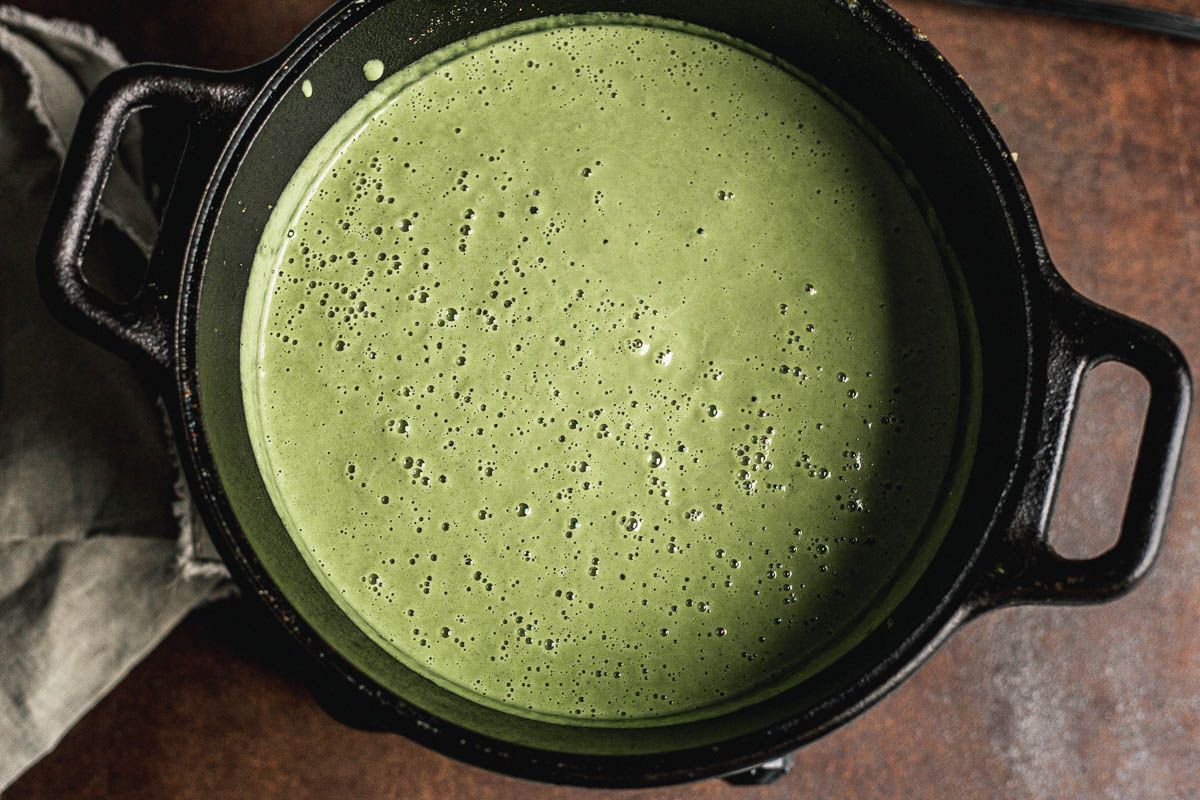 I divide the soup into bowls and finish by combining the cream, seasoning with pepper, and garnishing with chopped parsley, lemon zest, and cream.
The Keys to Success: My Top Tips
Is your soup too salty?
Option # 1: dilute it by adding more unseasoned ingredients. This will increase the total volume of the concoction. Starches (rice or potatoes) and fats (olive oil, cashew cream, coconut cream) are particularly useful in these circumstances. Otherwise, more simply, add water or unsalted broth.
Option # 2: If you think you have more food than you want for the desired meal, divide the soup in half and only dilute the part you think you can eat when diluted. You can refrigerate or freeze the rest until you can dilute it in turn or use it otherwise.
Option # 3: balance the flavors with a little acidity (lemon juice or vinegar) or fat.
Is your soup too thin?
Add more body with broccoli or peas. Their fiber content will muscle your soup.
How to Serve It
Going back to the solutions for over-salting, you could take a quantity of the soup and make a sauce to cover cereals or pseudo-cereals, like rice or quinoa.
Otherwise, coat them on pasta as I have for my High-Protein Parpadelle-Style Pasta and Zucchini, if ever.
As a garnish, you could sprinkle your soup with toasted pumpkin seeds or grated vegan Parmesan cheese.
Answers to Your Burning Questions
Is broccoli and pea soup good for you?
It couldn't be any healthier. This soup is made with a superfood—broccoli, a member of the cruciferous family. This food has been recognized as having anticancer effects.

That's because these vegetables contain several nutrients and phytochemicals with cancer-preventive properties, including folate, fiber, carotenoids, and chlorophyll. Several studies have previously reported that daily consumption of cruciferous vegetables helps prevent this degenerative disease.

As for the peas, according to Web MD :

[They] are a good source of vitamins C and E, zinc, and other antioxidants that boost your immune system. Other nutrients, such as vitamins A and B and coumestrol, help reduce inflammation and the risk of chronic diseases, including diabetes, heart disease, and arthritis.

Also, they are rich in fiber and protein.
What's the difference between green peas and split peas?
In fact, they are one and the same. In other words, you can make split peas with green or yellow peas. Both kinds come from the seeds Pisum Sativum.

The difference between split peas and green peas is the way the peas are processed.

To make a split pea, the green pea is peeled and dried. The skin is removed, and a natural division occurs in the cotyledon. The latter can be further exaggerated manually or mechanically.

Can you make pea soup with canned peas?
From a nutritional standpoint, the canning process is designed to preserve as many nutrients as possible. This maneuver takes place a few hours after picking the fruits and vegetables.

The downside is that the heat of this manipulation decreases some of the water-soluble vitamins, like vitamins B and C. And, of course, the cooking that occurs during this process changes the texture of the vegetables. And to add insult to injury, the salt and sugar added in the process deplete canned foods nutritionally.

Anyway, if you can avoid it, do it and use fresh, or even frozen, foods at best. Recent nationwide testing shows that many canned foods still contain chemicals, such as BPA, linked to cancer and birth defects.
Can you make pea soup without a blender?
Why the hell would you try to do this without it? But if you have the misfortune of not owning one or have no choice but to dig the grave for your broken appliance, your best bet would be to use a food processor.

And if you don't have a food processor, you could go at it with a fine-mesh sieve or an old-fashioned potato masher. This should mash them well enough for the soup. And if you don't have these kitchen utensils, you have to go back to your ancestor's days: cook the peas longer. They will decompose and soften on their own.

Other Recipes with Peas
Other inspirations in my sights include:
Green pea and spinach soup
Pea and coconut milk soup
You could also make this soup with yellow peas or split peas; in this case, you will have to soak them to soften them before cooking them.
Make this Dish Now
When laziness, a lack of time or ideas take hold of a quiet evening, a broccoli pea soup is a perfect standby, especially if the peas are fresh or frozen.
In 30 minutes, you will have a radiant green cream, nutritious, lively, and rich. Plus it's high in protein and gluten-free. So, follow the steps mentioned above and blend away happily.
Your taste buds will thank you for this light and protein meal.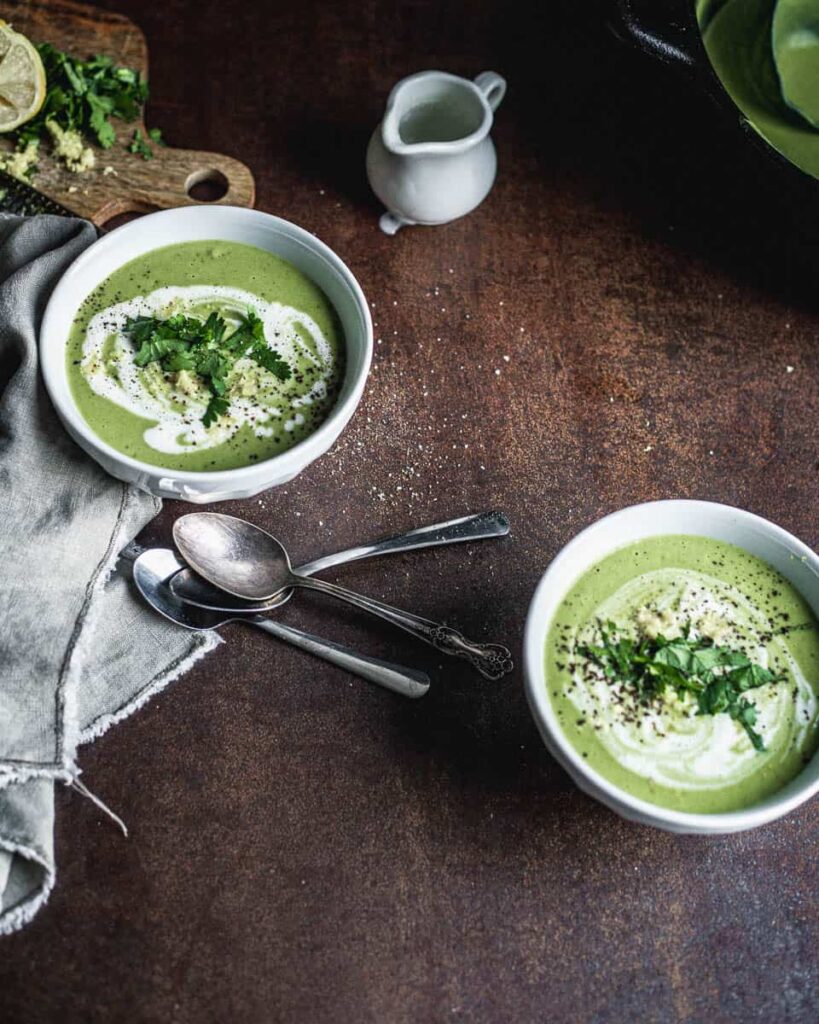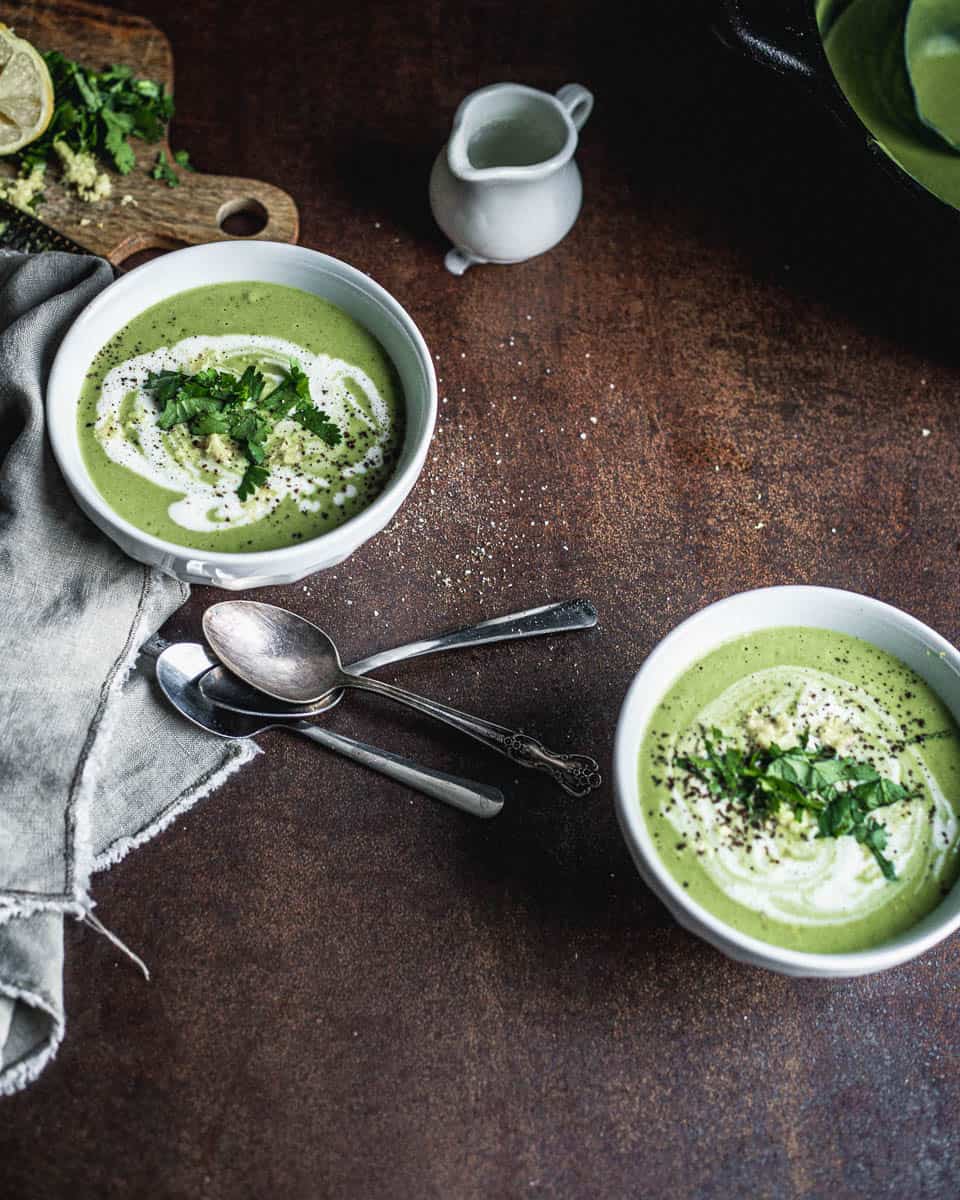 If you try this recipe, I want to know about it! I always appreciate your feedback. Leave a star rating in the recipe card right below and/or a review in the comment section further down the page. You can also follow me on Pinterest, Facebook, or Instagram. Sign up for my email list, too!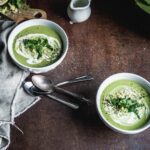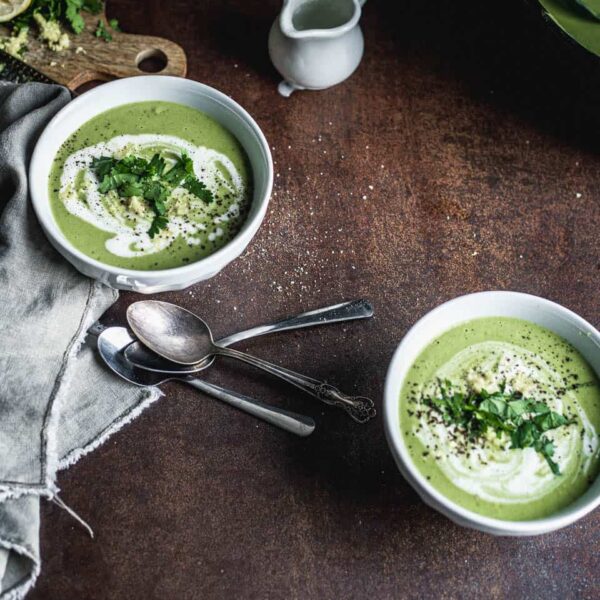 Broccoli and Pea Soup
I like this soup with cream on top, but you could also use plain vegan yogurt; it is also terrific. If you are using plant-based soy yogurt, keep in mind that it contains less fat than cashew cream or coconut-based cream. So you will probably need to add a little olive oil. Don't overlook the lemon zest as a finish. It magically invigorates the soup. And put in small doses so as not to completely change the taste of the soup.
Save Recipe
Saved!
Print Recipe
Pin Recipe
Ingredients
½

cup

cashews

divided (Notes)

1

onion

chopped

2-3

large cloves

garlic

chopped (about 2 tbsp)

2

medium

broccoli

cut into florets (about 3 cups) (Notes)

2

cups

peas

frozen

4 ½

cups

vegetable stock

(powder, paste, or cube) (Notes)

2

tablespoons

miso

light (Optional)

Salt

to taste

Pepper

to taste

parsley

chopped, to serve

Zest of 1 lemon

to serve

Cashew nut cream

or vegan sour cream to serve (Optional)
Instructions
Soak the cashews in water for 30 min.

Heat 1 tablespoon of olive oil in a large pot, add the onion and garlic, and cook, 3 to 5 minutes, or until softened. Add the broccoli and broth and bring to a boil. Reduce the heat and simmer for 30 minutes. Add the frozen green peas and cook until softened, about 2 minutes.

Let the soup cool slightly. In the meantime, discard the cashew soaking water and rinse them. Place them in a high-speed blender, add a cup of water and blend until smooth and creamy. Reserve ¼ cup for garnish and keep the rest in the pot.

Now transfer the container from the pot to the blender and blend until smooth. Return the soup to the pot and add the milk of your choice. Season with salt and pepper. Garnish with chopped parsley, lemon zest, and cream.
Notes
About the cashew nuts: if you'd prefer to skip making cashew cream, get a store-bought cashew cream or milk.
Broccoli: You can discard the broccoli stems or cut them finely and add them.
Vegetable stock concentrate options:
Powdered form: use 1-2 tablespoons, or to taste
Cube form: use 1-2 cubes, or to taste
About the miso: if you can't find any, add two more tablespoons, or to taste, of vegetable stock powder or cube.
Is your soup too salty?
Dilute it with starchy foods (rice or potato) or fat (olive oil, cashew cream, coconut cream) or add water or unsalted broth.
Divide it in half and dilute only the portion to be consumed.
Balance the flavors with a little acidity (lemon juice or vinegar) or fat.
Is your soup too thin? Add more body with broccoli or peas. Their fiber content will muscle your soup.
Nutrition
Calories:
295
kcal
|
Carbohydrates:
44
g
|
Protein:
17
g
|
Fat:
9
g
|
Saturated Fat:
2
g
|
Polyunsaturated Fat:
2
g
|
Monounsaturated Fat:
4
g
|
Sodium:
1482
mg
|
Potassium:
1308
mg
|
Fiber:
13
g
|
Sugar:
14
g
|
Vitamin A:
3020
IU
|
Vitamin C:
303
mg
|
Calcium:
181
mg
|
Iron:
5
mg
Get Your Free Plant-Based Eating Toolkit and More
Subscribe to my newsletter and unlock my plant-based course, nutrition charts, recipe secrets, and exclusive updates to prepare wholesome, varied & balanced meals effortlessly. All you need is a good appetite. Subscribe!