Here's an easy recipe ready in 20 minutes, with no more than five ingredients, and so satisfying. This vegan fettuccine Alfredo sauce will quickly become a staple in your kitchen. It's incredibly delicious and healthy with products at your fingertips.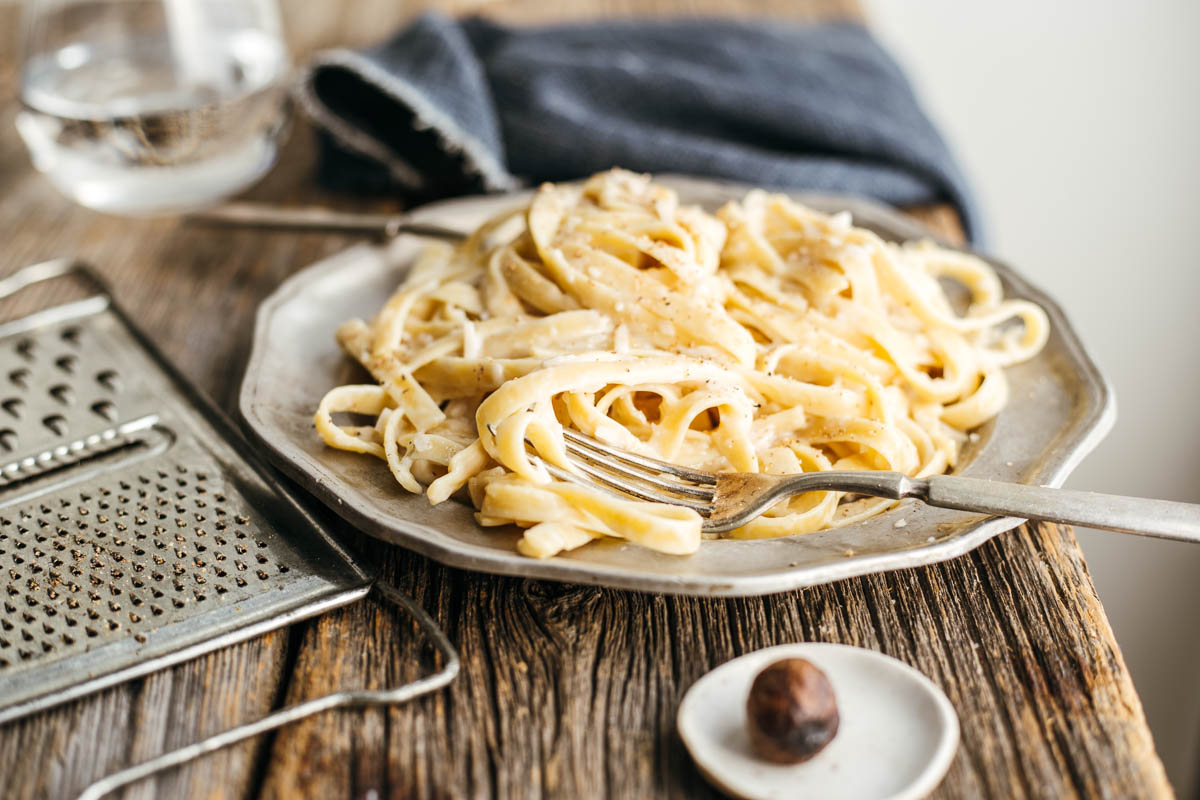 Jump to:
Why this Recipe Rocks
Now that I've introduced Haitian Squash Soup (Soup Joumou) and Haitian Rice and Beans, I think it's safe to say I'm on a wave of West Indian recipes. Or, let's say, rather, that certain ingredients with an exotic connotation inspire me. What's proposed today is not limited to this part of the world. In fact, it draws its inspiration from Italian cuisine.
It's obvious you know Alfredo sauce. You know that creamy, smooth white sauce?
It was popularized by the Roman restaurant owner of the same name. My dairy-free Alfredo sauce recipe is an imitation and is made with coconut milk. It remains just as rich and creamy with just four essential ingredients.
The secret to making this sauce is tapioca starch (or flour). It's the element that thickens the sauce but gives a stretchy cheese texture.
Anyway, I hope you don't mind if this recipe is boringly simple to make and far from being extravagant. Well, yeah, everything is beige.
Admittedly, it's far from being monotonous in the mouth. Each strand of hot noodles slides down the throat with small puffs of nutmeg. The taste of coconut is timid here.
It's a recipe that can be easily dressed up when your free cook spirit arises and is a terribly appreciated recipe when that spirit is dormant.
What Goes in It?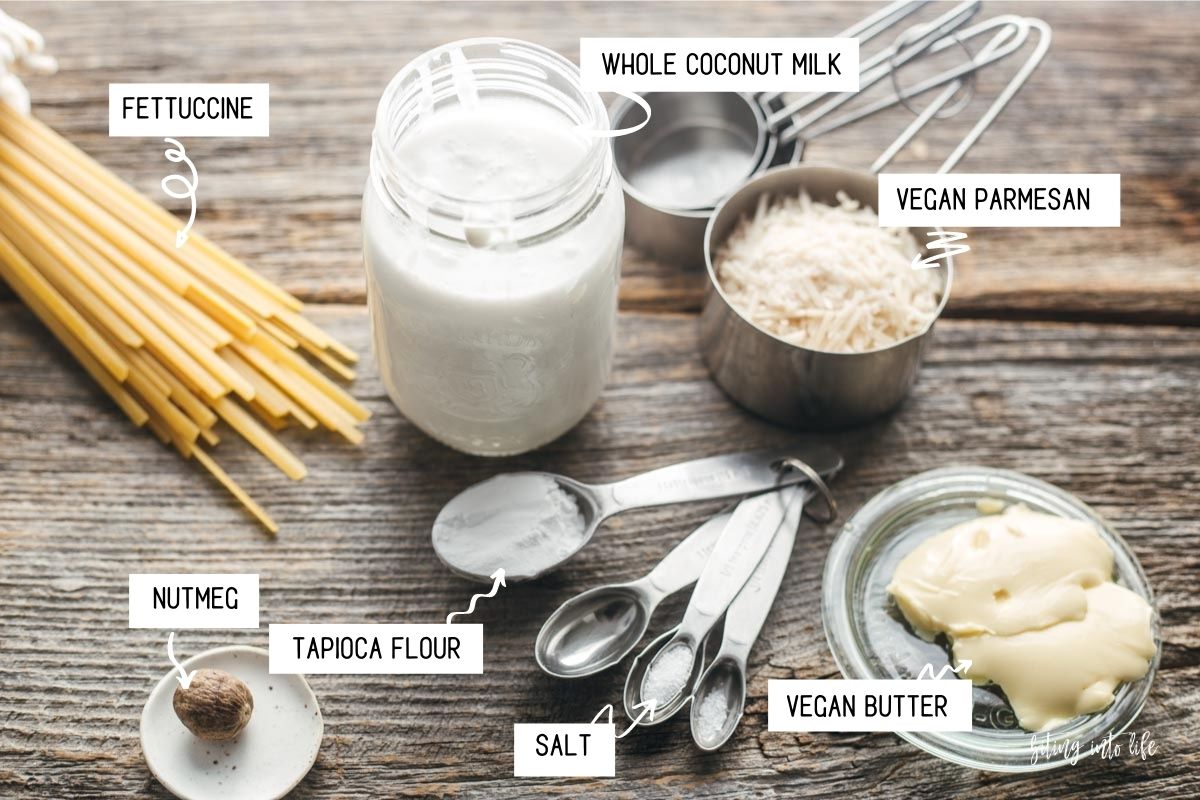 Notes on some ingredients
Unsweetened coconut milk. Canned full-fat coconut milk is creamier and has more flavor than light or carton coconut milk. I like to use Cha's Organic Coconut Milk as the only ingredients are coconut milk and water.
Pasta. You can use any shape of dough: fettuccine or linguine. It can be dry or fresh.
Vegan butter. My favorite brand is Miyoko's Creamery European Cultured Butter for its absence of palm oil and its nutritious side (its product is made from cashew nuts). Yet, many prefer the taste of Earth Balance despite this questionable ingredient.
Tapioca starch. Also called tapioca flour, this powder thickens the sauce, giving it a stretchy, cheesy texture that stays consistent even after it begins to cool.
Vegan parmesan cheese. I'm lucky to have found the Canadian brand Nafsika's Garden, which has the closest salty taste to parmesan, in my opinion. But it's only available in Canada and the United Emirates. This product is made primarily from potato starch, so try to find a similar product, or else, with nutritional yeast.
Nutmeg. I opted for fresh nutmeg.
Jump to Recipe for exact quantities.
Simple substitutions and additions
Coconut milk. Replace it with another non-dairy milk (soy milk or oat milk thickened with corn starch or arrowroot powder). To be honest, homemade cashew milk (homemade) would be preferred. It will give a smoother consistency than the previous types or the commercial product.
Tapioca starch. Instead of tapioca starch, you can use arrowroot (it's the best option for the stretchy effect), potato starch, or cornstarch.
Plant-based parmesan cheese. If you can't find a good one, you can make a nutritional yeast (1 tablespoon) and tapioca starch (flour) mixture.
Chickpeas. Increases protein content by combining them in pasta.
Assorted vegetables. Add color with broccoli, asparagus, peas, eggplant, or red or yellow peppers.
Tomatoes. Incorporate diced fresh tomatoes or sun-dried tomatoes.
Sausages or plant-based meat. Add some to add a meatier texture.
Aromatics. Of course, fresh parsley, basil, and thyme are welcome.
Seasonings and flavorings. Give it more personality with minced garlic or garlic powder, onion powder, Italian seasonings, fresh lemon juice or lemon zest. Hey, why not thrown in some white wine?
Special Diets Corner
Make that coconut milk pasta...
Low FODMAP. Use sweet potato noodles.
Gluten-free. Same.
Fat-free. Simply omit the butter.
How to Make Coconut Milk Alfredo Pasta Step by Step
This great recipe starts with making the vegan Alfredo cream ①. Then the fettuccine pasta strips are tossed into a large pot of salted boiling water ②. Once cooked, but not too much, I drain them and transfer them to the pan containing the cream ③. I finish by adding more coconut milk, vegan Parmesan cheese, and seasoning the pasta to taste ④.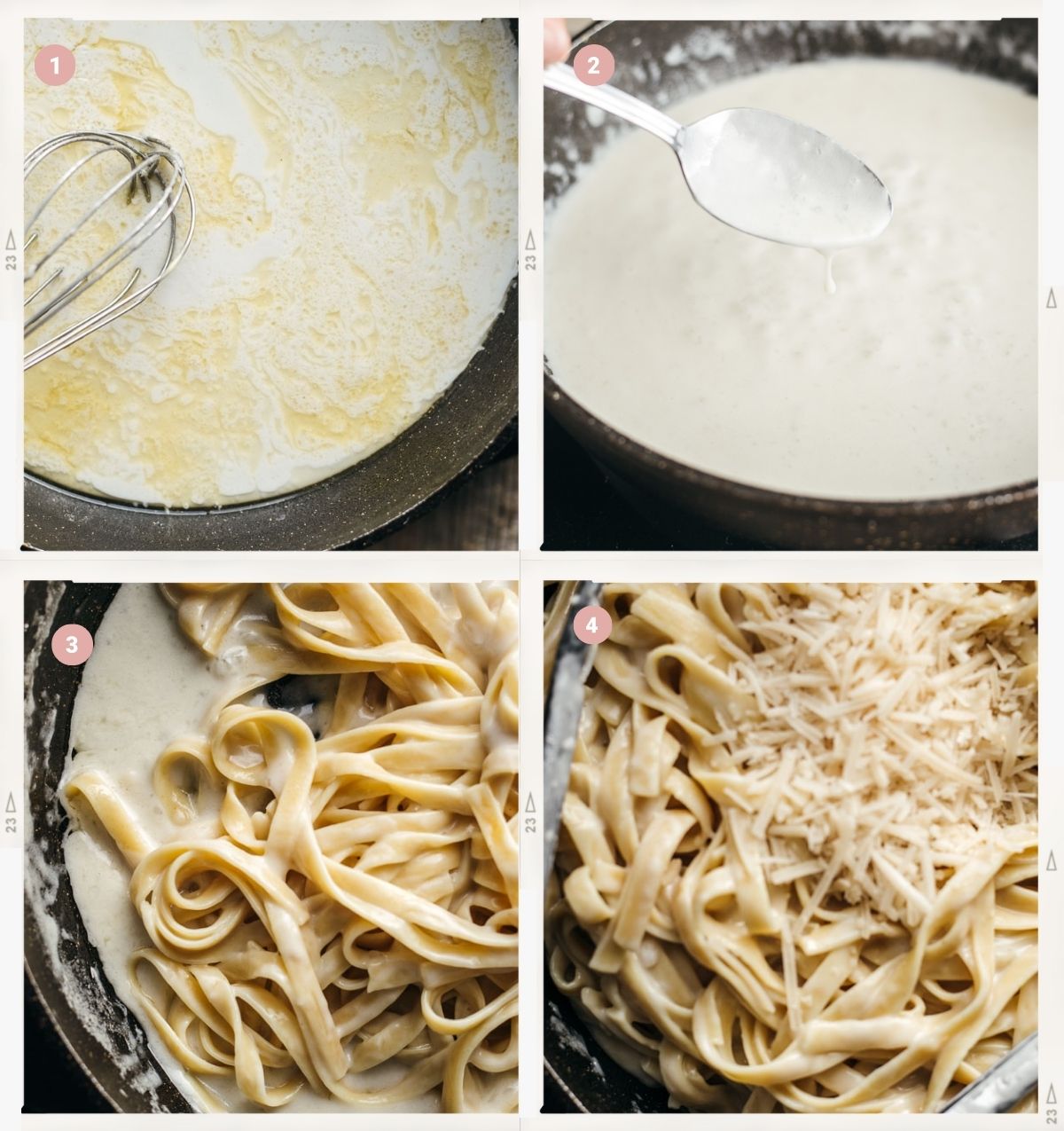 Keys to Success: My Top Tips
Don't discharge the tapioca starch.
Tapioca starch thickens the sauce, giving it a stretchy, cheesy texture that stays consistent even after it begins to cool.
You can use cornstarch or potato starch instead of tapioca starch for a similar effect, but nothing matches the stretchy consistency of tapioca starch. Other types of starch will also thicken and become gooey once the sauce has cooled, while tapioca starch will retain its texture even after the dish has cooled. The closest substitute, I would tell you, would be arrowroot.
Make your vegan Alfredo cream supreme.
Shake the can of coconut milk and mix the liquid well before pouring it in. The solid part might be challenging to mix with the liquid depending on the brand.
To do this, stir the tapioca flour into the coconut milk before it warms up. Starch dissolves better in cold liquid. Another solution would be to sift the tapioca flour if there is a lot of humidity in the air.
Don't overcook pasta.
Since we're on the subject of cooking pasta, it's worth telling you to cook it until very firm and even slightly undercooked, a degree or so firmer than al dente. Fresh fettuccine will only take a few seconds to cook.
Essential equipment
Shallow pan.
Large saucepan.
Strainer.
Tongs.
How to Serve this Dish
This meal is simple, but that doesn't stop you from pairing it with more colorful accompaniments. Here are some side dish ideas:
A green salad;
An assortment of vegetables, such as roasted vegetables;
Roasted broccoli or broccolini.
Mmmh... a cauliflower Alfredo sauce comes to mind.
Answers to your Burning Questions
What if I don't like coconut?
The sauce has a very mild coconut flavor. Some find organic coconut has a stronger flavor than a non-organic brand, so this might be an option.

If the taste still bothers you, you can easily replace the coconut milk with cashew cream (½ cup raw cashews + 1 cup water mixed in a high-speed blender), which also has a creamy consistency. Other plant-based milks such as oat, soy, or almond milk would give a less creamy result. So consider thickening the sauce with thickening powders, such as arrowroot, tapioca, potato, or cornstarch.
What type of coconut milk is best to use for pasta sauce?
Full-fat coconut milk is best. It is creamier and tastes better.

Light coconut milk contains less fat and more water than regular coconut milk. The result is a thinner, creamier liquid with less coconut flavor. The homemade version is similar to canned light coconut milk.

Full-fat cans have a richer flavor with a creamier taste. This is my favorite type to use in pasta recipes. But choose the type according to your personal preference.
Can I make pasta with Alfredo sauce without gluten?
Yes, Alfredo sauce with coconut milk is naturally gluten-free. So you just have to use gluten-free pasta. They can be made out of legumes, quinoa, rice, or sweet potatoes.

They are surprisingly delicious, so feel free to use your favorite gluten-free pasta. Be sure, however, to boil them in a little more water than you would with wheat pasta, at the risk of having foam rising to the top. Drain them in a colander and rinse them well until the water runs clear.
How to Store This Dish
Coconut milk pasta will keep well in an airtight container in the refrigerator for 3-5 days. (I'll doubt you'll have leftover sauce.) And Coconut Alfredo Sauce will keep in the freezer for up to 3 months.
When it's time to eat it, thaw it overnight in the fridge, reheat it in a pan with about 1 tablespoon extra water, and heat it until hot.
Other Coconut Milk Recipes
Make this Dish Now
When you're short on time, whip up a can of coconut milk with thickener to make a creamy Alfredo sauce that you can wrap over any pasta.
You will need more than five ingredients, and it will only take you a few minutes.
Dress it up however you want or rush to slurp each strip.
Whichever you choose, this creamy dairy-free Alfredo sauce will comfort your throat.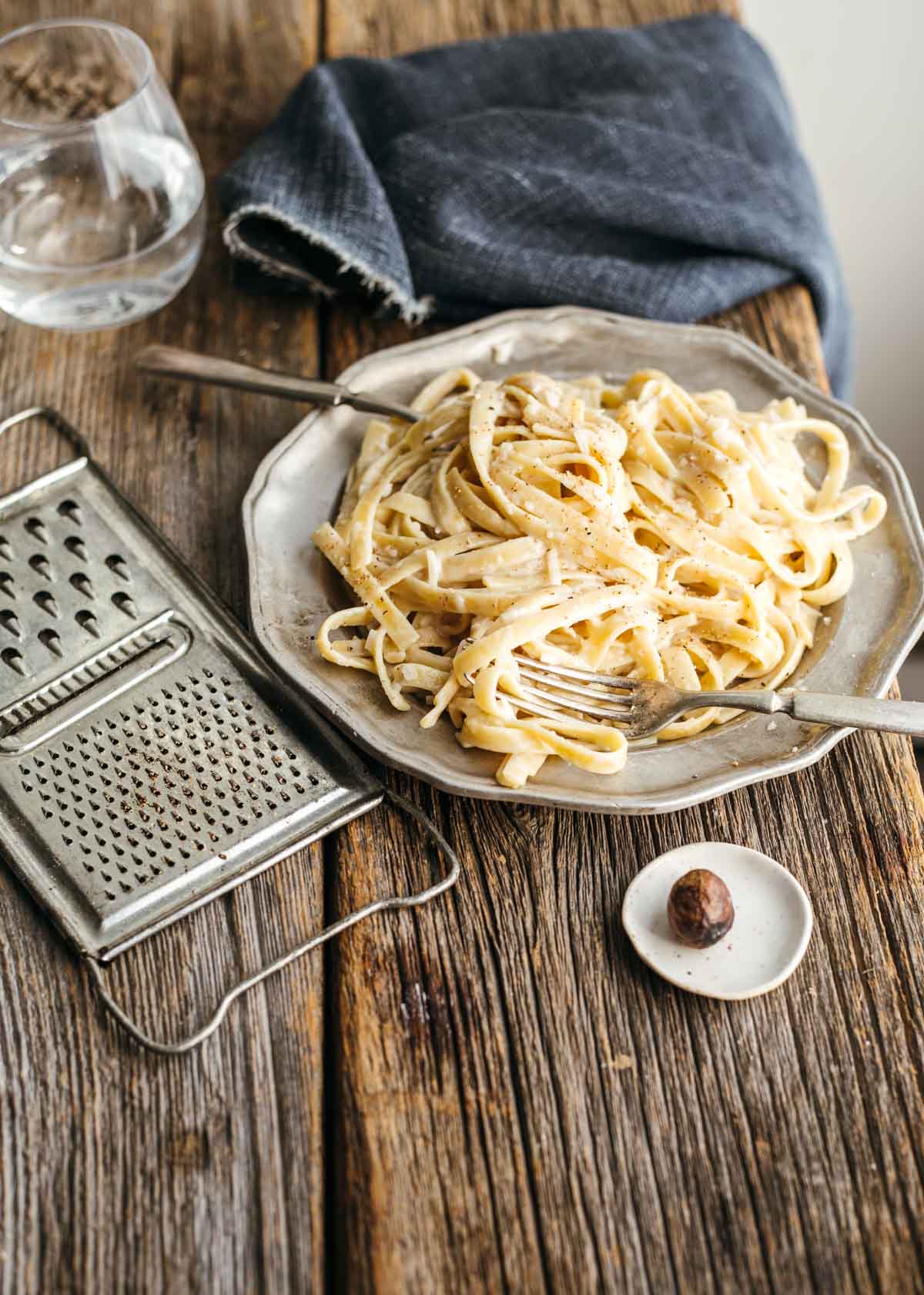 If you try this recipe, I want to know about it! I always appreciate your feedback. Leave a star rating in the recipe card right below and/or a review in the comment section further down the page. You can also follow me on Pinterest, Facebook, or Instagram. Sign up for my email list, too!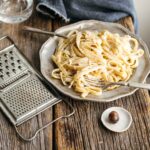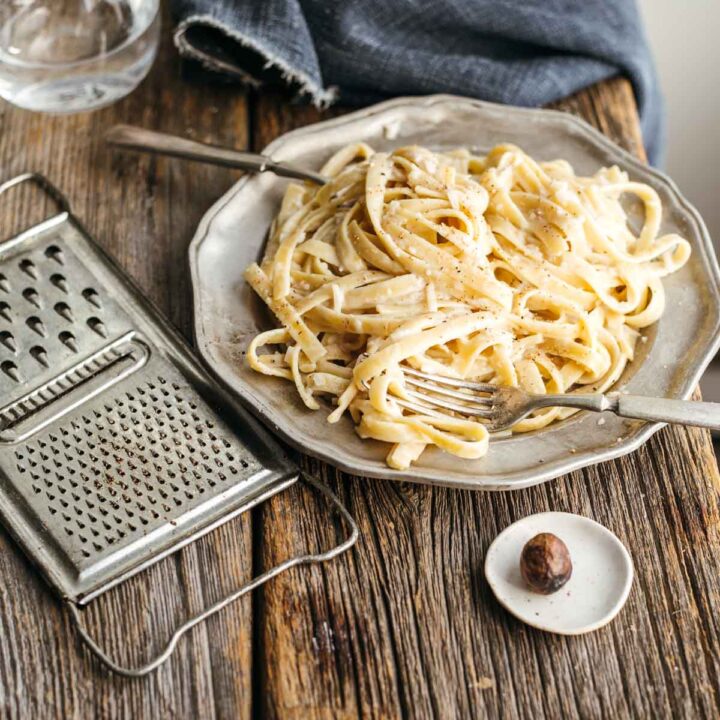 Coconut Milk Pasta
What could be more comforting than sucking on slippery pasta topped with Alfredo cream? This one is vegan and coconut-based for dairy resistants. The amount below is for one serving of pasta, but feel free to double the creamy sauce whenever you want to cook simply.
Save Recipe
Saved!
Print Recipe
Pin Recipe
Equipment
Shallow pan.

Large saucepan.

Strainer.

Tongs.
Ingredients
2

tablespoons

vegan butter

or olive oil

1

14-oz can

whole coconut milk

4

teaspoons

tapioca flour

⅔

cup

vegan parmesan cheese

(notes)

Salt

Fresh ground black pepper

Whole nutmeg

or ⅛ teaspoon ground nutmeg
Instructions
Melt the butter in the pan over medium heat. Add ⅔ of the can of coconut milk and the tapioca flour, whisking quickly until the liquid thickens. Cook for one minute, Turn off the heat.

Cook pasta in salted water until very firm and even slightly undercooked, a degree or so firmer than al dente. Fresh fettuccine will only take seconds to cook. Drain the pasta.

Transfer the drained pasta to the skillet containing the butter and coconut milk, raising the heat to low and toss the pasta well, lifting it up, turning it from the bottom, coating all the strips with the coconut milk sauce and butter.

Add the remaining ⅓ cup coconut milk, vegan Parmesan cheese, a pinch of salt, a little ground pepper, and a dusting — less than ⅛ teaspoon — of nutmeg. Stir again briefly until the fettuccine is well coated with cream. Taste and adjust with salt and pepper.

Serve immediately from the pan, with additional vegan Parmesan cheese on the side.

Placed in an airtight container, this Alfredo sauce made with coconut milk will keep well in an airtight container in the refrigerator for 3 to 5 days and in the freezer for up to 3 months.
Notes
Parmesan cheese: add 1-2 tablespoons of nutritional yeast with 4 teaspoons of tapioca starch instead.
Aromatics. Optionally add parsley, basil, or thyme.
Variants
Chickpea Coconut Pasta : Add 1 cup of cooked chickpeas.
Mixed Vegetables Coconut Pasta: Add 1

½

lb. asparagus or 2 cups broccoli, peas, eggplant, or red or yellow peppers.
Mushroom Coconut Pasta: Add

¾ lb. fresh white or crimini mushrooms.

Tomato Coconut Pasta: Add ⅓ cup sun-dried tomatoes, or 4 cups fresh tomatoes and 2 tablespoons tomato paste.
Coconut Pasta with Sausages: Add

½

lb. vegan sausages with 1

½

teaspoon chopped onions.
Nutrition
Calories:
661
kcal
|
Carbohydrates:
20
g
|
Protein:
6
g
|
Fat:
65
g
|
Saturated Fat:
47
g
|
Polyunsaturated Fat:
3
g
|
Monounsaturated Fat:
6
g
|
Trans Fat:
1
g
|
Sodium:
494
mg
|
Potassium:
530
mg
|
Fiber:
6
g
|
Sugar:
7
g
|
Vitamin A:
535
IU
|
Vitamin C:
6
mg
|
Calcium:
59
mg
|
Iron:
4
mg
Get Your Free Plant-Based Eating Toolkit and More
Subscribe to my newsletter and unlock my plant-based course, nutrition charts, recipe secrets, and exclusive updates to prepare wholesome, varied & balanced meals effortlessly. All you need is a good appetite. Subscribe!