Bursting with flavor, this spicy chickpea stew with curry and coconut will not disappoint. It's filling, nutritious, and relatively easy to make.
The only downside is that you will pass out of pleasure before you finish your last bite.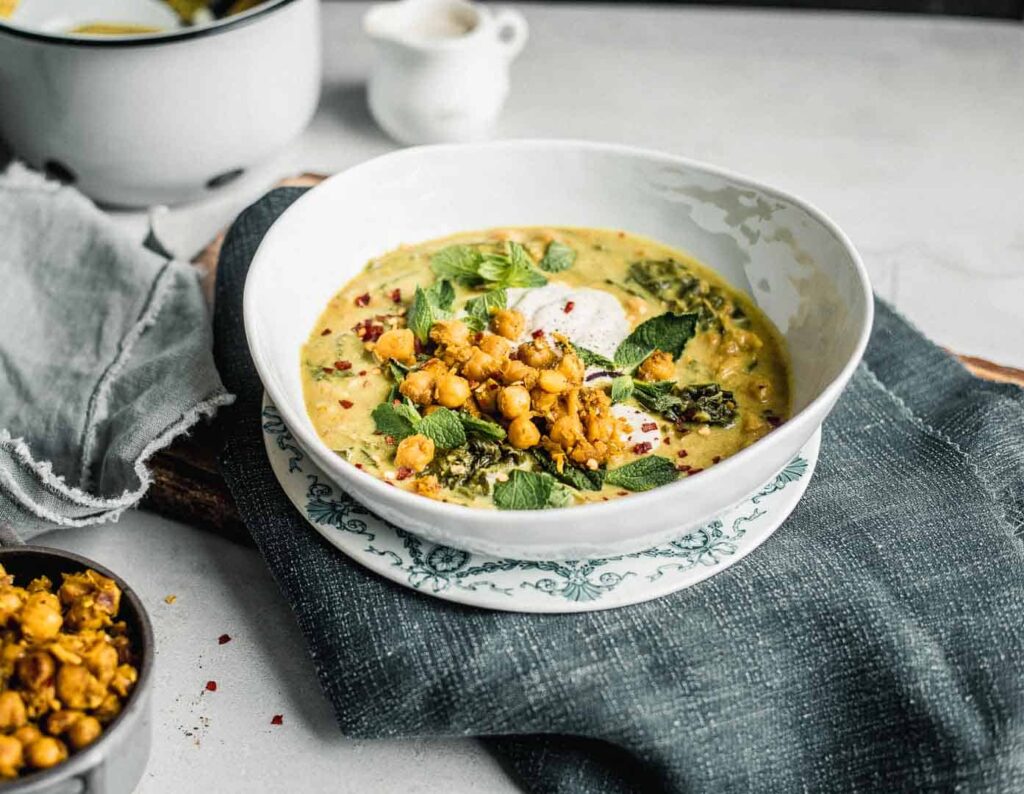 Jump to:
A Perfect Blend of Comforting Ingredients
This stew evokes a lot of the chana masala found in a few areas of South India or the Caribbean—Jamaica, in particular. It combines coconut with Indo-Caribbean spices,
Flamboyant but tasteful, this version testifies to the art of tasting, seasoning, and tasting again.
In fact, during the preparation, I couldn't help myself from taking licks while moaning of pleasure. Divine.
What Do You Put in a Chickpea Stew?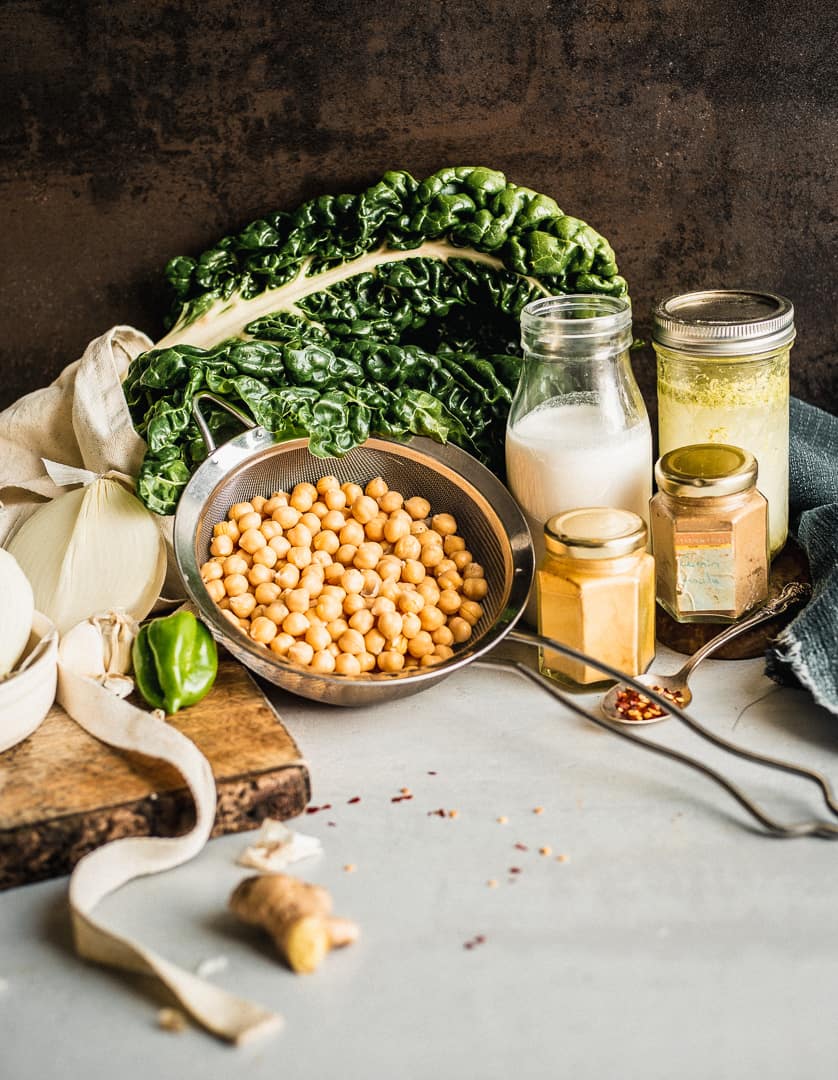 Like many good things, it starts with onions and garlic. Next comes a lively parade of spices. Chickpeas are first added to participate in the carnival, and then a part is removed for the garnish.
After that, the pouring of tasty liquids follows to finish off with fleshy leaves, which quickly soften soon after.
For this recipe, here's what you'll need:
Main ingredients
Chickpeas – I used dry chickpeas soaked in water the day before with two teaspoons of baking soda. I always prefer "fresh" ingredients. Baking soda alkalizes the water, which helps soften the skin of chickpeas faster. But if you forget this step, it's not the end of the world; you can take canned chickpeas instead.
Coconut milk – whole, to bring more flavor. If you fear calories, you can choose the light option, but you'll have more water and less yum.
Vegetable broth – In general, I always use in cube form, because I find it easier to gauge the flavor and because they don't contain all these ingredients that don't interest me. In principle, I put one cube for 1 cup of water.
Swiss chard – Swiss chard and chickpeas make a good duo.
How to Make Chickpea Stew Step by Step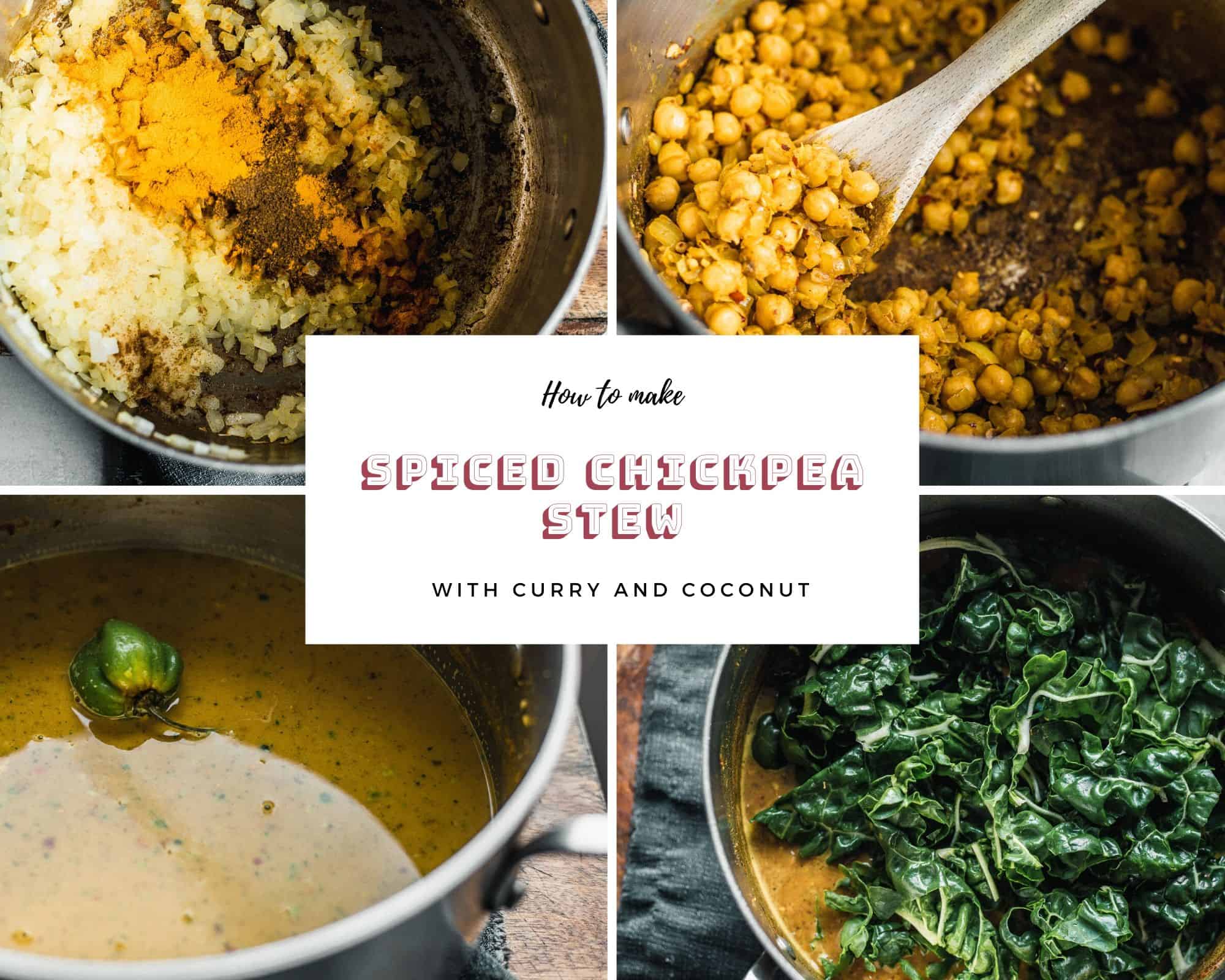 1/ Sauté the garlic, onion, and ginger (5 min).
2/ Add the spices (curry, cumin, and crushed chili), cooked chickpeas and seasonings (salt and pepper), then fry and brown, often stirring (8 -10 minutes).
3/ Reserve half of the chickpeas for garnish and mash the other half to thicken the stew. Add the coconut milk, vegetable broth, and chili and leave to thicken (30-35 min).
4/ Stir in the green leaves and stir (3-7 min).
5/ Divide into bowls and garnish with mint, reserved chickpeas, a pinch of red pepper flakes and a drizzle of olive oil.
6/ Optionally serve with cashew yogurt.
How to Make this Stew a Success?
It's quite simple. Nevertheless, you have to pay attention to the thick texture of this stew.
So, if you ever find that the soup liquid is too watery, you can thicken it in several ways.
Option #1: Reduce the liquid to cooking;
Option #2: Add more whole coconut milk;
Option #3: Inject starch from starch chickpea;
Option #4: Add a powder as a thickener like chickpea flour or the like.
If you want to have something light, I advise you not to add more coconut milk, especially as it's rich in calories. The quickest option is to inject more starch by mashing the chickpeas or adding chickpea flour if you have any—about a tablespoon.
Other variations
Of course, there's the original recipe from Alison Roman from the New York Times, called Spiced Chickpea Stew with Turmeric and Coconut. It's quite popular, so much that it blew up on the Internet and was called The Stew.
I slightly modified her recipe. For hers had more coconut milk. Unfortunately, my belly could not tolerate it well.
And you can put other types of leafy greens instead of Swiss chard—for example, spinach or kale.
Finally, you can add noodles in it, if you feel like it. Like penne or orzo. This addition reminds me of the traditional Haitian yellow soup, which is made from squash.
What to Serve with Spiced Chickpea Stew?
Honestly, you can make it your main meal and accompany it with grilled pita bread. As it contains a good supply of proteins, this stew is very filling.
This stew can be served in two different styles: optionally with a quarter cup of cashew yogurt to sweeten and soften the flavors or without yogurt; garnished with fresh mint or fresh coriander. I loved the fresh mint. It brought an eccentric freshness on the palate. Regardless, this dish is even better on the second or third day.
But if you want to serve it as the main meal, here are some side ideas:
Chickpea stew with rice and vegetables
Chickpea stew with couscous and vegetables
Chickpea stew with polenta and vegetables
These suggestions can be served on another plate or, if your stew is thick enough, it can act as a curry and sit on a bed of rice, couscous, or polenta.
Prepare this Chickpea Stew Now!
You have everything to gain when you plan to cook a meal that includes chickpeas—especially this one—with exotic ingredients.
The richness, consistency, and spiciness make this stew a perfect meal for the cold weather.
Start with aromatics typical of tropical regions and you'll quickly find yourself in front of a homely dish.
Spiced Chickpea Stew with Coconut and Curry Recipe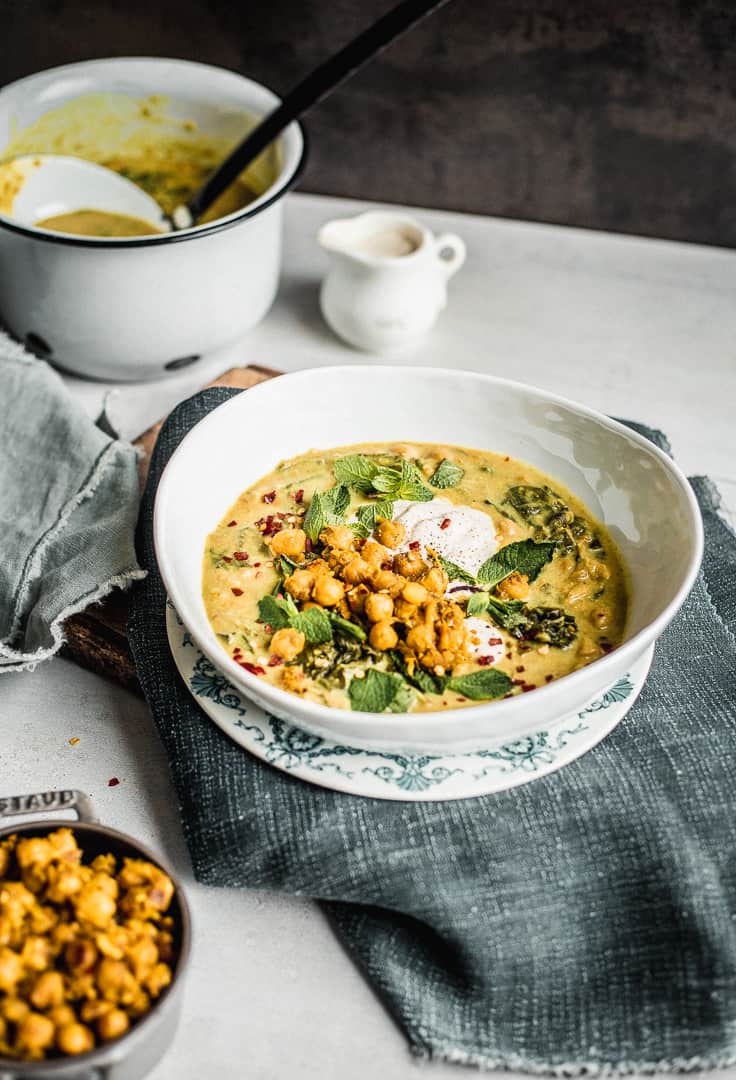 Adapted from Alison Roman the New York Times
If you try this recipe, I want to know about it! I always appreciate your feedback. Leave a star rating in the recipe card right below and/or a review in the comment section further down the page. You can also follow me on Pinterest, Facebook, or Instagram. Sign up for my email list, too!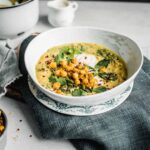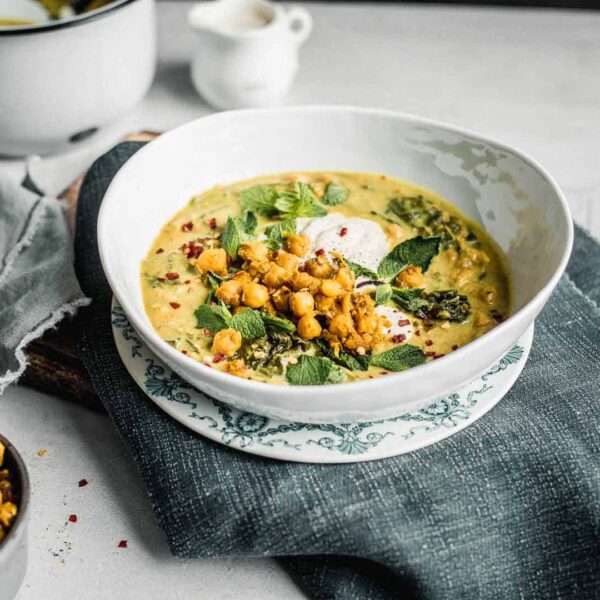 Spiced Chickpea Stew with Coconut and Curry
The following recipe is my attempt to add a little more flavor and to mitigate the richness. Indeed, the original recipe required double the amount of coconut milk. But don't worry, my version is just as smooth and filling.
Save Recipe
Saved!
Print Recipe
Pin Recipe
Ingredients
2

tablespoons

olive oil

and more for serving

4

cloves

garlic

minced

1

large

Spanish onion

chopped (about 1 cup)

2

inches

ginger

freshly grated (about 1 teaspoon)

1

tablespoon

ground curry

1

tablespoon

ground cumin

1

teaspoon

red pepper flakes

and more for serving

1 ½

cup

chickpeas

soaked in water the day before with 2 teaspoons of baking soda (about 3 cups cooked or 2 cans (400 g / 15 oz) chickpeas, drained and rinsed)

1

400-ml can

whole coconut milk

(about 15 ounces)

3 ¼

cups

vegetable broth

1

Scotch Bonnet pepper

or ¼ teaspoon cayenne pepper

1

bunch

chard

kale, or green cabbage, stems removed, leaves torn into small pieces

Salt and pepper

1

cup

mint leaves

for garnish

1

serving

lime cashew yogurt

(optional)
Instructions
Heat the oil in a large saucepan over medium heat. Sauté the garlic for 2 min until it smells fragrant. Add the onion and ginger and stir from time to time until the onion is translucent and begins to brown a bit around the edges, 3 to 5 minutes.

Add the curry, cumin, and red pepper flakes, then the cooked chickpeas. Season with salt and pepper. Let the chickpeas sizzle and fry in the spices and oil, stirring frequently until the chickpeas begin to decompose and become slightly golden and crisp, 8 to 10 minutes. Remove about a cup of chickpeas and set aside for garnish.

Using a spoon, wooden spatula or potato masher, mash the remaining chickpeas a little more to release their starch (this will help thicken the stew). Add the coconut milk (reserve ¼ cup to garnish, if desired) and broth. Bring to a boil, scraping all the pieces that have formed at the bottom of the pan. Stir in the Scotch Bonnet pepper and cook, stirring occasionally, until the stew has thickened and the flavors have started to blend, 30 to 35 minutes. (Taste a chickpea or two, not just the liquid, to make sure they're also tasty.) For a slightly thicker stew, continue to simmer until you get the desired consistency. (Alternatively, you can add a teaspoon of chickpea flour or other thickening powder).

Add the green leaves and stir, making sure they're submerged in the liquid. Cook for a few minutes so that they wilt and soften, 3 to 7 minutes, depending on the type used. Season again with salt and pepper, if desired.

Remove the Scotch Bonnet pepper, if used. Divide among bowls and garnish with mint, reserved chickpeas, a pinch of red pepper flakes (if you can handle the heat) and a good drizzle of olive oil. Serve with coconut milk or cashew yogurt and toasted pita bread if you have on hand.
Notes
Whole coconut milk is tastier than its light version. It contains more water.
If you ever find that the soup liquid is too watery, you can thicken it by reducing the liquid during cooking, adding more whole coconut milk, injecting starchy starch from chickpeas, or by adding a thickening powder like chickpea flour or whatever.
The leaves can be replaced by other green leaves. However, be aware that Swiss chard and spinach wilt and soften much faster than kale.
Stored in an airtight container, this stew will keep for 5 days.
You can even freeze it without any problem.
Nutrition
Calories:
230
kcal
|
Carbohydrates:
31
g
|
Protein:
8
g
|
Fat:
10
g
|
Saturated Fat:
1
g
|
Polyunsaturated Fat:
2
g
|
Monounsaturated Fat:
6
g
|
Sodium:
946
mg
|
Potassium:
677
mg
|
Fiber:
8
g
|
Sugar:
7
g
|
Vitamin A:
5695
IU
|
Vitamin C:
35
mg
|
Calcium:
134
mg
|
Iron:
5
mg
Get Your Free Plant-Based Eating Toolkit and More
Subscribe to my newsletter and unlock my plant-based course, nutrition charts, recipe secrets, and exclusive updates to prepare wholesome, varied & balanced meals effortlessly. All you need is a good appetite. Subscribe!