This Haitian–style rice and beans dish is not only a staple in Haitian cuisine but is particularly tasty. The cloves and the hot pepper give it a unique flavor profile.
It's quick to prepare and needs two essential ingredients: rice and beans. And it can be considered a main course as it's so satisfying!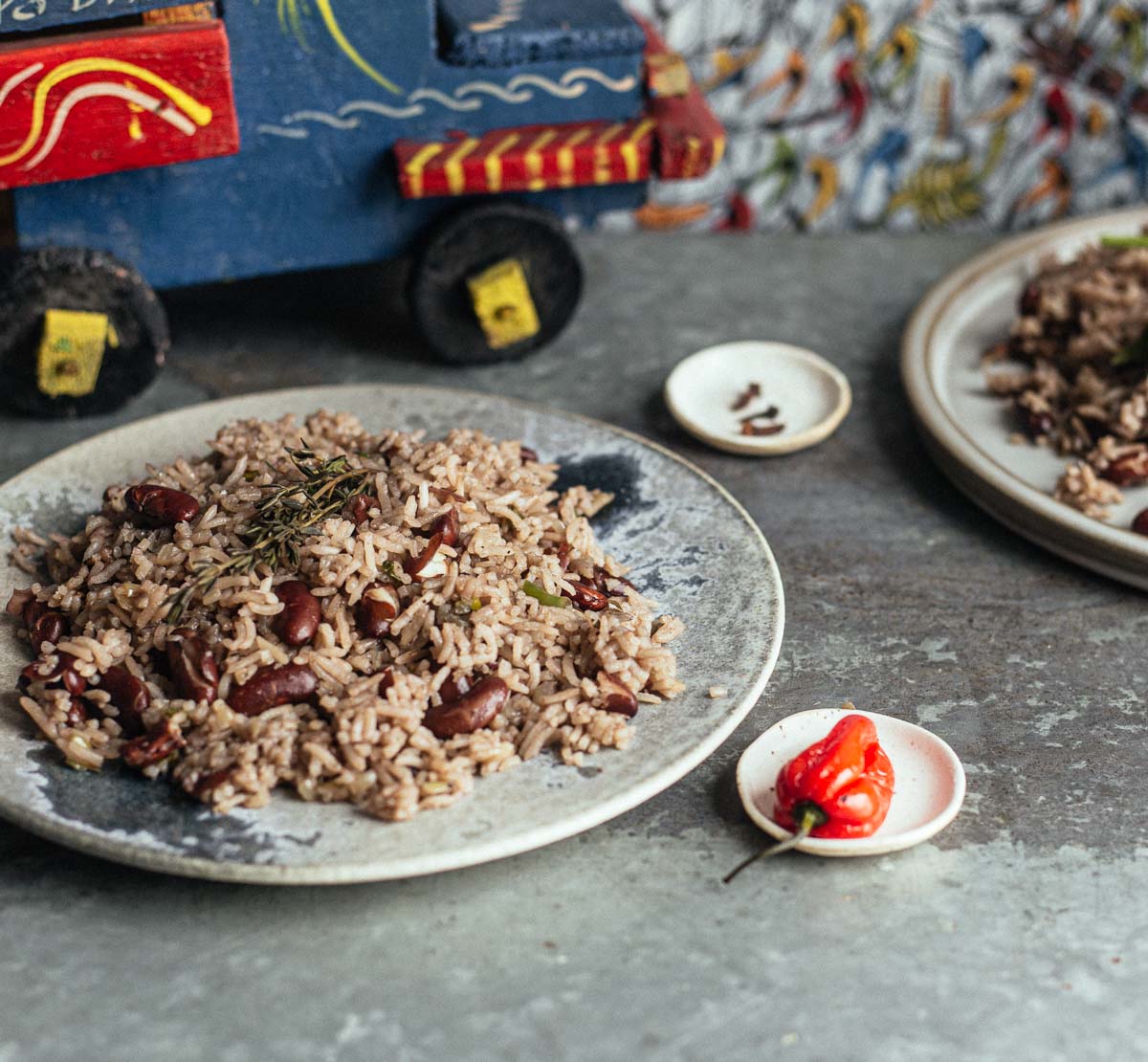 Jump to:
Why this Recipe Rocks
Now that Soup Joumou has been awarded protected cultural heritage status by UNESCO, let's go all the way with other typical Haitian dishes, such as Haitian rice and beans. It makes it a good accompaniment, moreover. It's also worth mentioning that on January 12, 2010 a big earth quake shook the islanders and took the lives of over 230 000 inhabitants. So I wanted to pay tribute to the people of this country.
While researching this recipe, I noticed that many countries had their own version: Dominican, Jamaican, Puerto Rican, Costa Rican, Mexican rice and beans… This is undoubtedly linked to the traditions of West Africa, alas, displaced by the slave trade.
Anyway, I tasted it from different regions of the Caribbean, especially, and I much prefer the Haitian style, diri kole in creole. Just accuse me of being biased; I grew up eating Haitian food.
Haitian rice and beans is a dish that's high in protein, healthy, and filling. It has an enveloping warmth, a heady scent of spices—exhaled by the typical Haitian seasoning and piment bouc (chili goat pepper)—and the occasional subtle coconut flavor.
Piment bouc gives the personality of our cuisine. The habanero pepper fulfills the same function as the former is not always accessible in mainstream markets. Regardless, this variety of chili is potent and daring enough to spellbound all souls. As proof, while cooking, its flavor spread 10 meters away from my kitchen and tickled the nostrils of my little one so much that it distracted him from playing his video game.
And more, it bewitched him to take several plates (even if it was burning hot; the pepper had burst in the pot).
What Goes in It?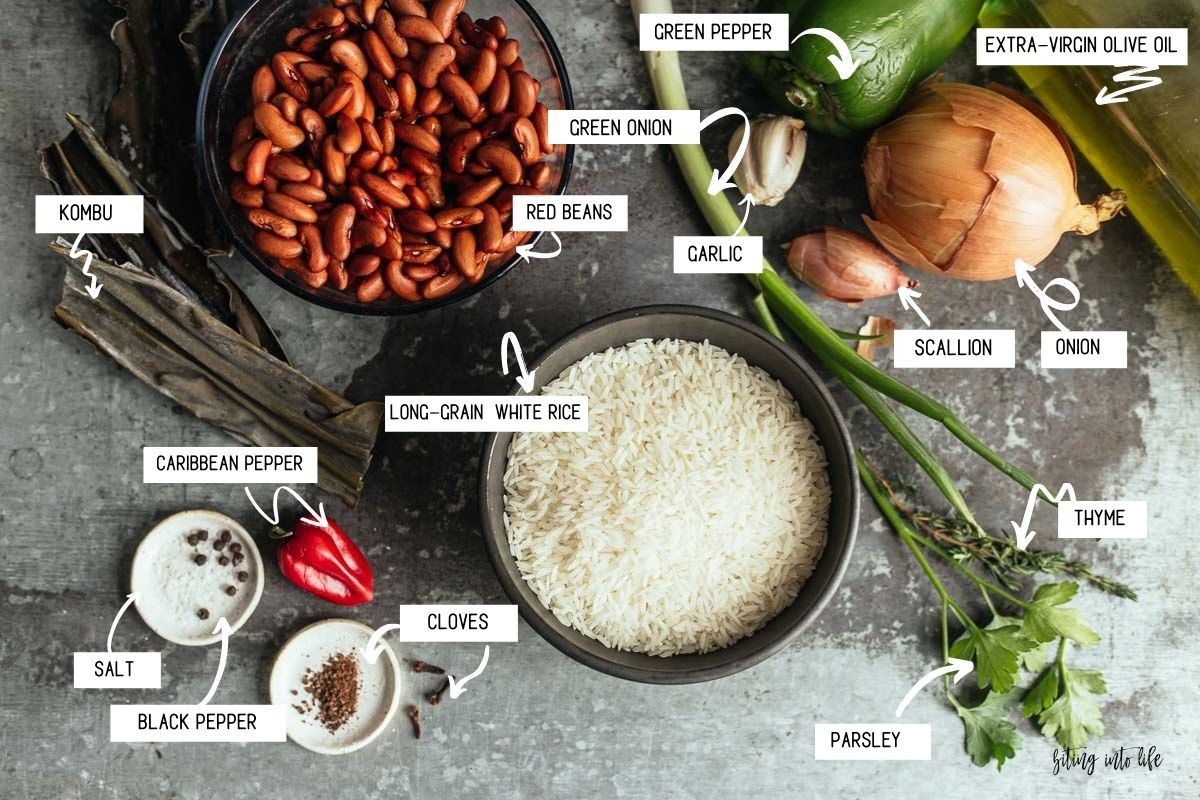 Notes on some ingredients
Red beans – I buy them in bulk, but many Haitians choose the Goya brand.
Kombu – it doesn't usually appear in Haitian recipes, but I added some here to neutralize the gas-forming compounds. It's really optional.
Long-grain rice – my favorite rice is jasmine rice because it gives off a good taste.
Basic Haitian seasoning – onion, shallot, garlic, green pepper, or Haitian green seasoning Epis.
Cloves – they can be whole or ground.
Caribbean pepper – Haitians typically incorporate piment bouc (chili goat pepper). It's very fragrant, with a characteristic fruity flavor, and you might find it in West Indian or ethnic grocery stores. Also called Caribbean pepper or Cabri pepper (on Reunion Island), it's a variety of habanero pepper. That's what I used here. It's related to the Jamaican Scotch Bonnet pepper, which also works.
Herbs – I used typical thyme and parsley sprigs, but some recipes include bay leaves or just a bouquet garni.
Jump to Recipe for the exact quantities.
Simple Substitutions and Add-ins
Play with different types of beans – you can use black beans or whatever. No matter what you choose, it will always be a great recipe.
Boost nutrient intake – opt for brown rice instead of white rice to increase protein or fiber content. However, it will take longer to cook.
Flavor your rice and beans with coconut – replace 1 cup of water when cooking rice with coconut milk for an exotic flavor.
Adds a buttery touch – some recipes call for butter at the end of cooking. Do the same with a vegan product.
Special Diets Corner
Make this Haitian rice and beans...
Fat-free – Sauté the onion and garlic in water or a little broth instead of the cooking medium. Preheat the pan for a minute or two over medium high heat and then add the onion. Add water or broth only one tablespoon at a time, until the onion begins to stick or all the water has evaporated. I recommend using a high quality nonstick skillet if possible.
How to Make Haitian Rice and Beans Step by Step
This traditional Haitian dish is typically prepared by soaking the beans the day before, and the rice begins to cook the next day. It's also possible to make it in an instant pot by boiling them for about twenty minutes. I like to do it the traditional way because by soaking the beans, we swell them in water and make them more edible and digestible. Also, we would get rid of "antinutrients." Maybe the machine pulverizes them; who knows.
In short, this dish begins with the pre-soaking of the red beans ①. I boil them later and optionally, with pieces of kombu and seasonings ② to inject flavor into them. Once the beans are cooked, tender but not mushy, I filter them, reserving the water ③. I continue by sautéing the seasonings ④.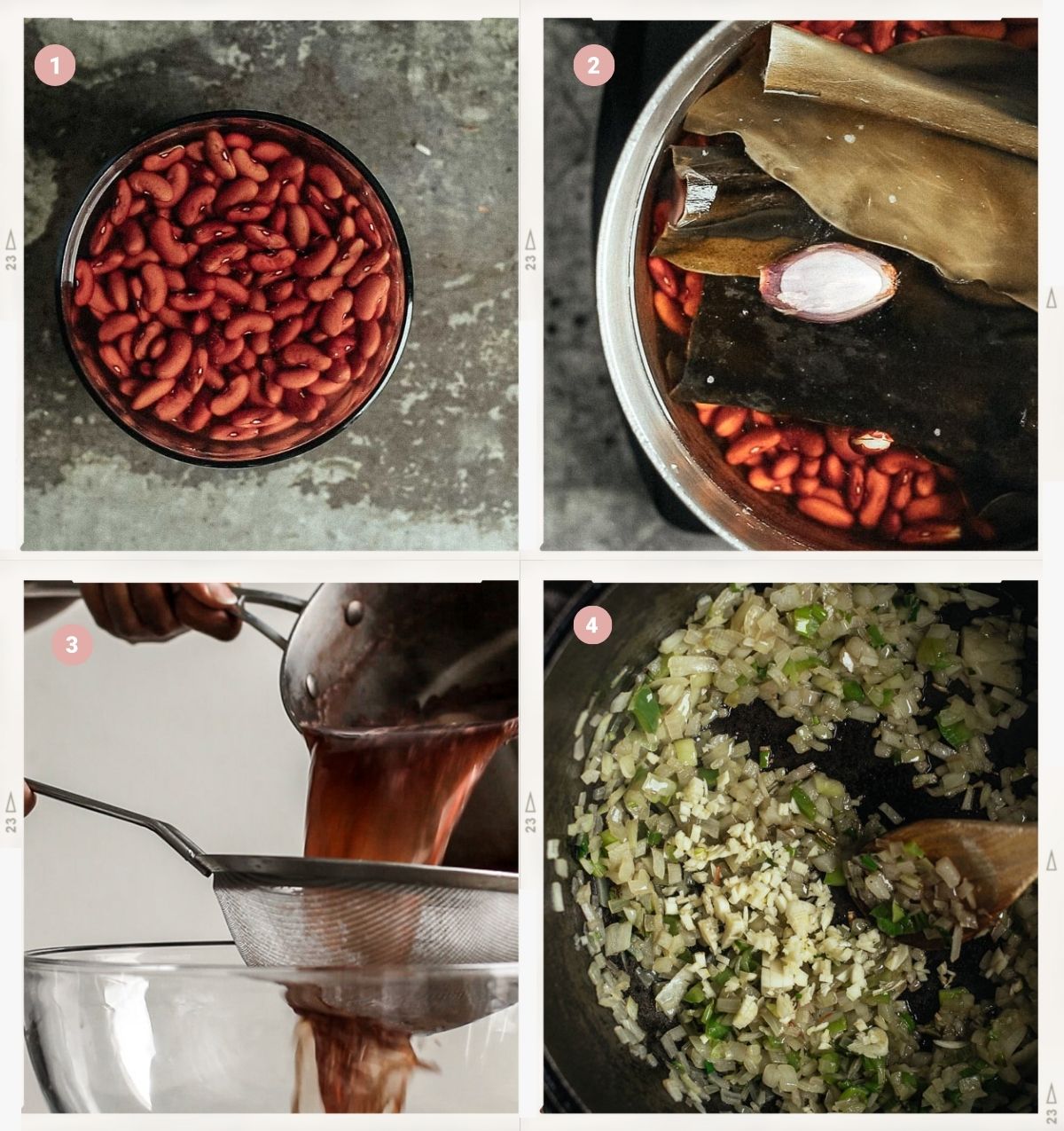 Then I combine and stir the red beans ⑤. I add the bean water, the spices, including the hot pepper, then the rice ⑥. When the water reaches the level of the rice, I finish with the sprigs of fresh leaves ⑦, cover the pan and reduce the cooking to low heat. I fluff them a little with a fork and that's it!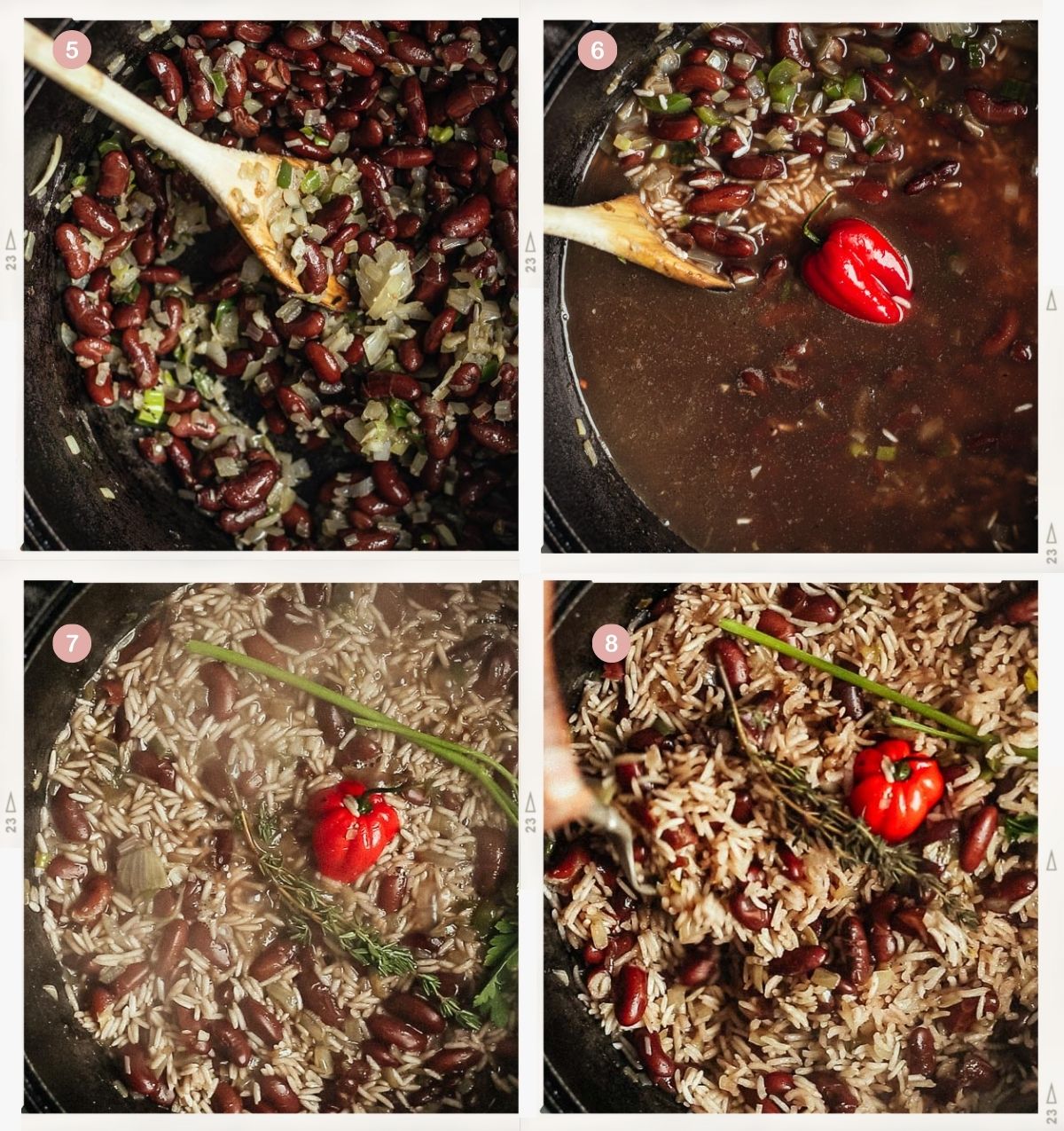 The Keys to Success: My Top Tips
Beans are better when tender
Add a good pinch of baking soda and salt, which will allow you to obtain a more alkaline pH (above 7). You can leave them in the fridge or at room temperature on your counter overnight. Two things happen here: Sodium ions are added to weaken the pectin and break it down into smaller molecules, which tenderizes the beans faster when cooked.
If you forget to do this step, add some (about a teaspoon per cup of dried beans) to the cooking water. This way, beans cook almost half the time than beans that cook without.
Stirring heavily makes ingredient mushy
When it comes to beans, don't stir them too much when you add them to the pot, or the starches may get released and make the rice sticky. In principle, if you opted for dry beans at the start, you reduce this issue.
As for the rice, rinse it until the water is clear, about three washes, to remove excess starch. Another option is to coat the rice with the cooking oil, toast it lightly, and stir it in the pot. Finally, once the rice is in the water, stir it once or not at all.
A final solution is to cover your pot and mold it with foil under the rim facing down to trap steam and prevent condensation. This helps to give a drier and grainier rice texture.
Know how to administer the Caribbean pepper
You can decide the intensity of the capsaicin diffused in your rice and beans. If you want it very low, keep it whole while cooking. If you want it high, make slight incisions (about four in the shape of a cross at the tip) before dipping it into the preparation. But be careful that the seeds do not escape.
Warning! A Caribbean pepper that bursts in the diri kole, or even all your cooking meals, risks having you called the fire brigade!
The essential equipment
How to Serve this Dish
You may be wondering what goes well with rice and beans? Traditionally, this dish is served with vegetable stews, meat stews, seafood, and poultry. However, if the concept of complete proteins appeals to you, know that the combination of rice and beans achieves this objective. (BTW, this concept has been demolished.) This means that it can be eaten as a main course.
But it can be accompanied by soup, boiled or fried plantains, or a salad.
Answers to Your Burning Questions
What happens when you mix Rice with beans?
Beans, of course, are loaded with protein, fiber, and other nutrients. Rice is the main source of energy for most Haitians. It offers vitamin B, iron, protein, and carbohydrates. The advantage is that it does not take much to be full with this Haitian rice and beans.
Can you use canned kidney beans, or does it have to be dry kidney beans absolutely?
Yes, you can use this shortcut without any problem. The only catch is that since you have to throw out the water in the can and rinse the beans, you will not have the red color of the beans that allows the rice to have a reddish-brown tint when it is cooked. In this case, it's possible to sauté tomatoes cut into small cubes. I prefer to use dry kidney beans (keep in mind that 1 part of dry beans will triple when cooked). Sometimes, as a result, it will give a better texture of the rice, that is, drier and grainier.
Should the beans be soaked before making the rice and beans?
Beans take a long time and heat to become tender. They also require a lot of water. This is because they are very rich in starch. So, I recommend soaking them at least 12 hours in advance to swell them with water. Think of this as passive cooking. In addition, it makes them more edible and digestible. Add a good pinch of salt and baking soda, which will result in a more alkaline pH, and thus more tender beans when cooking.
What is the best type of rice for making Haitian rice and beans?
Personally, I prefer jasmine rice. Although basmati rice or yellow rice (aka parboiled/partially cooked brown rice) are sometimes used, it doesn't come out the same.
Do I have to use a Caribbean pepper in Haitian rice and beans?
Haitians typically cook with piment bouc (chili goat), giving this dish its unique personality. You can replace it with habanero pepper, which has a less sweet taste and is a little more pungent than the latter. It's still a great option, though. If you cannot find any, you can leave it out altogether. It will remain tasty.
How to Store this Dish
Rice and beans will last for 5-6 days in the fridge. You can also freeze it in a sealed container for up to 6 months. Try freezing them in individual servings and pulling them out when you need a meal on the fly.
Make this Dish Now
Haitian rice and beans is a meal that speaks for itself. Caribbean islanders love to eat rice and beans because the ingredients are nutritious and inexpensive to grow and produce. There are many different combinations of rice and beans that could be used for this dish. The three most popular types of beans are black beans, pinto beans, and kidney beans.
And there isn't just one way to make this dish. The most important thing to know is that the more you stir the rice and beans, the more starches are released, and the stickier the rice will be. Other than that, no matter how you modify the recipe, your chances of screwing up are virtually non–existent.
So, follow the steps above and let yourself be transported by the tropical aromas.
More Bean Recipes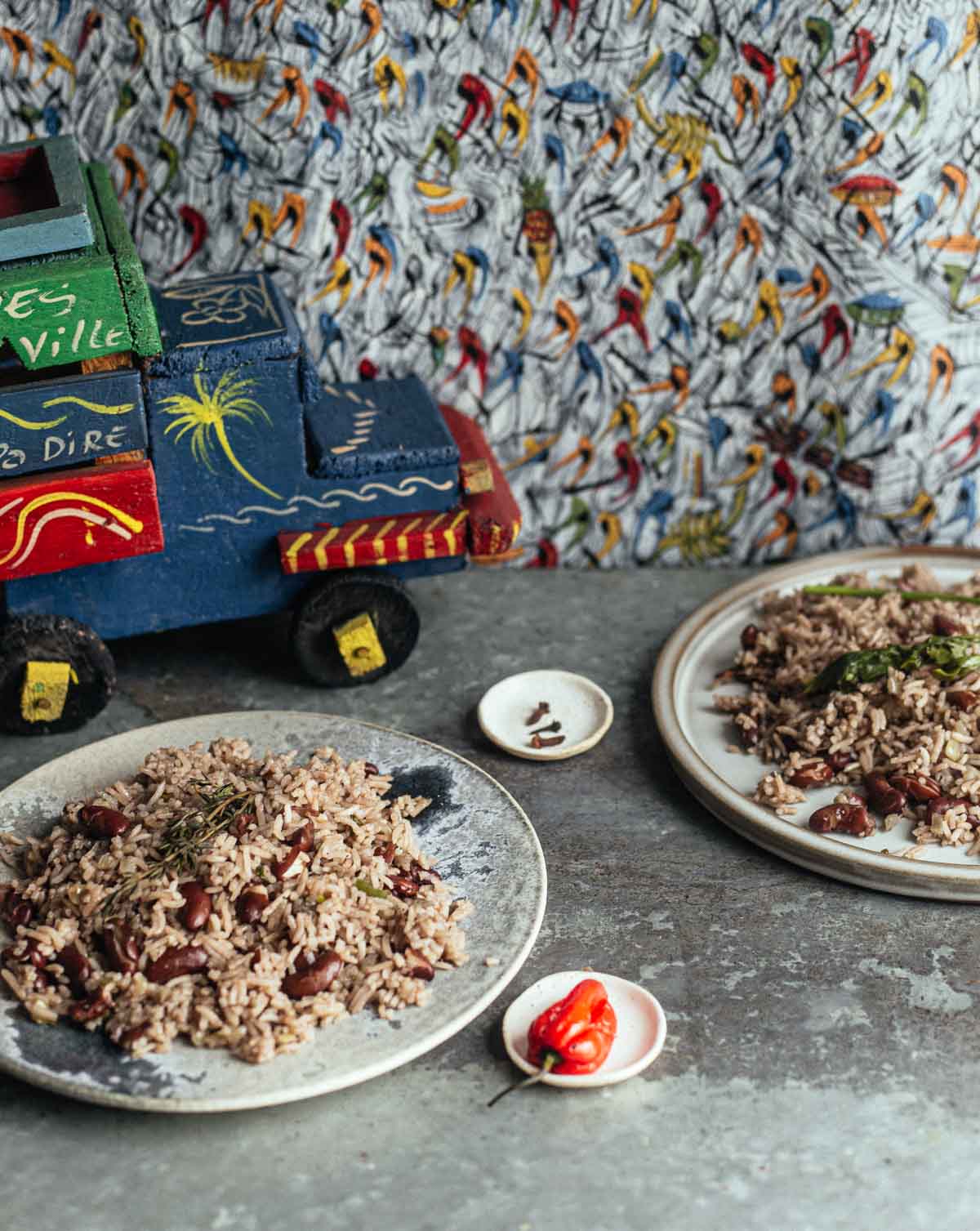 If you try this recipe, I want to know about it! I always appreciate your feedback. Leave a star rating in the recipe card right below and/or a review in the comment section further down the page. You can also follow me on Pinterest, Facebook, or Instagram. Sign up for my email list, too!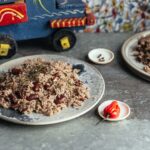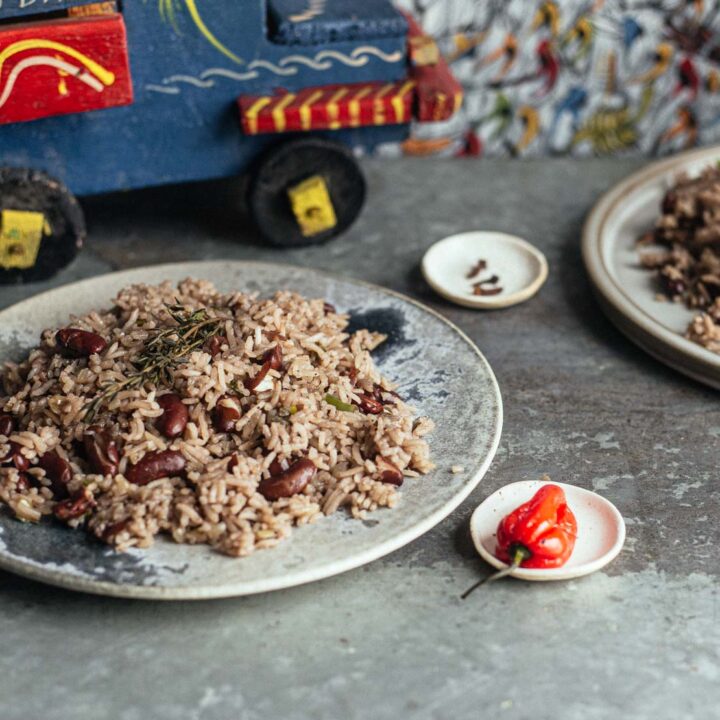 Haitian Rice and Beans
Haitian rice and beans is particularly different and unique in style and flavor due to the spices and other ingredients, like the whole piment bouc (chili goat pepper), often seen in Haitian cuisine. This is what gives this dish its spicy taste. But for the sake of accessibility, Habanero pepper or Scotch Bonner Pepper will do just fine.It's worth making a big batch to eat leftovers for most of a week.
Save Recipe
Saved!
Print Recipe
Pin Recipe
Equipment
1 Dutch-oven

1 Sieve

1 Measuring cup

1 Cutting Board

1 Wooden spoon

Knives
Ingredients
1

cup

dried red kidney beans

3

pieces

kombu

3 to 4 inches long (optional)

6

cups

water

2

tablespoons

olive oil

½

cup

onion

finely chopped

1

bulb

shallot

finely chopped

3

cloves

garlic

finely chopped

¼

green pepper

finely diced

2

cups

long-grain white rice

rinsed

½

teaspoon

salt

½

teaspoon

black pepper

3

whole

cloves

(½ teaspoon ground)

1

habanero pepper

or Scotch Bonnet pepper

3

sprigs

parsley

3

sprigs

thyme
Instructions
Place the kidney beans and optional kombu in a saucepan in 6 cups of water and bring to a boil. Cook until the beans are slightly hard (do not overcook). Strain the beans and reserve about 5 cups of the bean water (add water if there is not enough).

In the same saucepan, sauté the onion, shallot, green onion, and green pepper over medium heat until the onion becomes translucent, about 3 min, then garlic for 2 min. Add cooked beans and stir in the spices. Simmer for 5 minutes to combine the flavors. (Be careful not to mash the beans!)

Add 3 cups of reserved bean water, salt, pepper, cloves and whole hot pepper and stir. Add the rice and bring to a boil. When the water reaches the level of the rice, reduce to low-heat, place the parsley and thyme on top of the rice, cover and simmer for 18–20 minutes.

Remove the hot pepper, parsley and thyme and let stand, covered, for 5 min.

Fluff lightly with a fork and serve immediately.

Placed in an airtight container, this Haitian rice and beans will keep for up to 5-6 days in the refrigerator and 6 months in the freezer.
Notes
Haitian green seasoning Epis –

swap the onion, green onion, scallion, garlic, and green pepper for this special seasoning or add it.

Tomatoes – some recipes include diced tomatoes while sautéing.

Vegetable broth –

add 1 bouillon cube or 1 tablespoon powder for more taste. If possible, choose a broth that mimics the chicken or beef flavor.
Variants
Rice and Black Beans – replaces red beans with black beans.
Brown Rice and Beans – replace white rice with brown rice.
Coconut Rice and Beans – replaces 1 cup of water when cooking rice with coconut milk for an exotic flavor.
Nutrition
Calories:
381
kcal
|
Carbohydrates:
71
g
|
Protein:
12
g
|
Fat:
6
g
|
Saturated Fat:
1
g
|
Polyunsaturated Fat:
1
g
|
Monounsaturated Fat:
4
g
|
Trans Fat:
1
g
|
Sodium:
222
mg
|
Potassium:
533
mg
|
Fiber:
6
g
|
Sugar:
1
g
|
Vitamin A:
84
IU
|
Vitamin C:
7
mg
|
Calcium:
67
mg
|
Iron:
3
mg
If you try this recipe, I want to know about it! I always appreciate your feedback. Leave a star rating in the recipe card right below and/or a review in the comment section further down the page. You can also follow me on Pinterest, Facebook, or Instagram. Sign up for my email list, too!
Get Your Free Plant-Based Eating Toolkit and More
Subscribe to my newsletter and unlock my plant-based course, nutrition charts, recipe secrets, and exclusive updates to prepare wholesome, varied & balanced meals effortlessly. All you need is a good appetite. Subscribe!