Have you ever watched the Biggest Loser? The show where overweight contestants compete to win a cash prize by losing the highest percentage of weight relative to their initial weight?
I remember watching some episodes in the first years it came out. I think in those times, a lot of reality TV series about body transformations were on the air like The Swan. Remember that too? That was the show where women were judged as ugly ducklings and were given an extra makeover to be beautiful with tons of plastic surgery (smh).
Anyway, I stopped watching these types of shows when I rejected watching TV altogether. While surfing the Web, I learned to my surprise that the Biggest Loser went on for 17 seasons! And somewhere during one of those episodes, a former contestant, Ali Vincent, came and demonstrated her mango and black bean quinoa salad, which became really popular. I never knew about her recipe.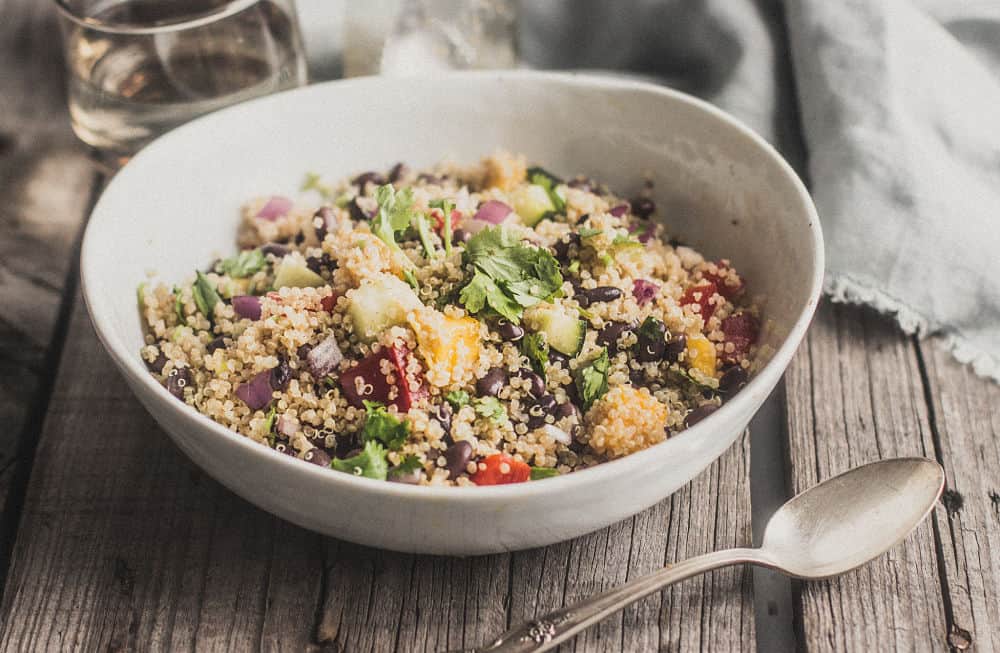 But I had my own mango quinoa salad that was popular among my friends. For years and years — I think 8 years now? — they've been asking for that recipe and I always said I would share it but I never really did. Oops! Sorry!
Well, that day has finally come. It will be public for everyone to see. Even you. Ready to go get your forks?
But first I have to tell you something startling...
How Grains and Legumes Can Hurt Your Digestion
When I decided to eat whole plant-based diet, quinoa and beans were my staples.
Quinoa has got to be my favorite all-time food and is my go-to choice for a quick and easy recipe. I can eat it every day all day. I just add lemon juice and olive oil with a little bit of salt and I'm good to go. As for beans, I knew when I ate some, I was getting my protein requirement, no doubt. Actually, quinoa and beans are both protein-rich and satisfying.
But lately, I've been reading more and more about the link between leaky gut and autoimmune diseases (I'll be talking about this topic more and more) and it seems that quinoa — well, grains in general — and legumes are bad news. Why?
Because they contain constituents that lock onto dietary minerals and block their absorption. That might not be a problem if you have a stellar digestion.
But if you don't, you'd be starving yourself of numerous vital nutrients unknowingly, such as Iron, Zinc, and Selenium.
4 Things that Block Mineral Absorption
Grains and legumes contain the following problematic constituents:
1) Phytic acid (aka phytate): It's the storage form of phosphorus. When phytic acid is bound to a mineral in the seed, it's known as phytate. Once bound, they are then excreted in waste. Most phytate is degraded in the stomach and small intestines. But if you have low stomach acid or a leaky gut, they'll reduce the digestibility of starches, proteins, fats, and minerals. Phytic acid can reduce iron absorption by 50%. But don't panic, if you don't have these conditions, they can be beneficial to preventing the formation of free radicals and excess heavy metals in your body.
2) Prolamins: They are lectins that behave like the proteins in gluten. Lectins are proteins that bind carbohydrate molecules together. It seems that prolamins interact badly with your small intestine, overstress your digestion and provoke an inflammatory response.
3) Agglutinins: They are other types of protein that use natural defense mechanisms to avoid being digested. It seems that agglutinins have been shown to cause leaky gut and disrupt your immune system.
4) Saponins: In high levels, they potentially hinder your gut integrity, lead to leaky gut, and contribute to autoimmunity. Glycoalkaloids, a subset of saponins, could feed unfriendly bacteria and destroy the membrane of red blood cells .
Yikes! All this can be very scary. Like I said earlier, my diet is heavily reliant on those foods. So what's a girl to do?
How to Magically Neutralize the Scum from Grains and Legumes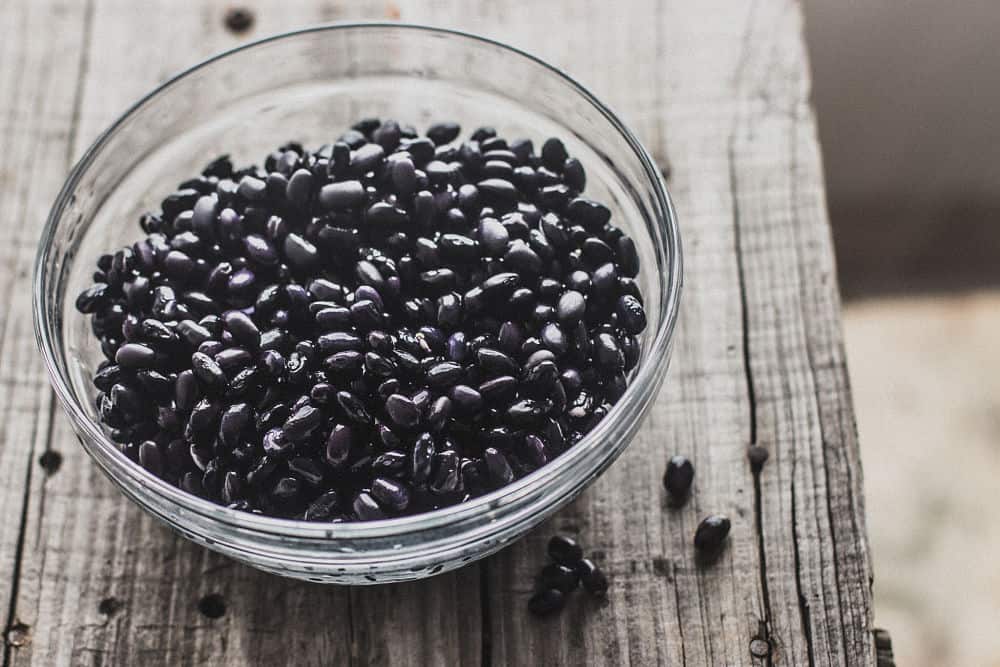 In order to avoid digestive problems and benefit from the health-promoting phytochemicals of grains and legumes, you need to have some tricks up your sleeve to make them more digestible.
For beans, forget about opening a can of beans. I know, I know, this option is much easier. But trust me, your gut and the air will thank you (and me :)) later. We'll use a special technique and we'll do the same for grains too. Which technique is that?
It involves soaking. Soaking will not only break down the problematic phytic acid and the other gangsters, it will cut the cooking time down of grains and legumes substantially. But you'll have to do advance preparation first. We'll also add other magical components.
Here's what you'll do:
For the quinoa:
Put the grains in a sieve, rinse them under warm water, and rub the grains together. Drain, and repeat until the filtered water is clear. Another way to do this is to put the quinoa in a pot filled with warm water and rub, rinse and repeat until the water is clear. But I find you get sticky grains all over your hands.
Then, put the grains in a clean pot, cover with double the amount of warm water and add 1 tablespoon apple cider vinegar or lemon juice. (FYI: For every 1 cup of liquid, you will need 1 tablespoon of acidic medium.)
Stir and let soak for at least 8 to 24 hours on the countertop.
Drain and rinse once more.
Put in a pot, add 1 ½ cups water and ½ teaspoon of salt for every cup of quinoa. Bring to a boil and reduce heat when the water reaches the quinoa level. Cover and cook for about 7 minutes.
For the beans:
Rinse the beans in a colander under cold running water.
Pour the beans in a pot, cover them with a couple of inches of recently boiled water, and add 1-2 tablespoons (2 tablespoons for each 1 cup of legumes) of apple cider vinegar or lemon juice.
Soak for 8 to 12 hours. The water should turn purple or blackish.
Drain, rinse and return to a clean pot.
When it's time to boil, cover the beans with plenty of fresh water — it should reach at least 2 inches above the legumes themselves — and add a piece of kombu, 4-4 inches long, to neutralize gas-producing compounds in beans. Kombu contains enzymes that help break down the raffinose sugars in beans, which are the gas-producing culprits. Once they are broken down, we are able to absorb more of the nutrients, and we can enjoy these legumes without as many intestinal complaints.
Bring the water to a boil and cover. Skim off any foam that might rise at the top. Cook until tender — soft but not mushy (about 20-25 minutes).
Remove from the heat and add salt (at least 1 tablespoon for each cup of beans. Adding salt before this point will prevent the beans from cooking.
Keep the beans covered at least 15 minutes and up to 2 hours.
Drain and rinse to remove any excess salt and loose skins.
I learned these techniques from Sarah Britton in her book My New Roots (gorgeous book, btw. Get it here).
A Gut-Friendly and Satisfying Seed Salad
I seriously don't remember how I created this recipe since it's been so long. I may have looked somewhere on the Internet. Although there's an advance prep component, this recipe is rather easy.
All you have to do is soak your beans the night before (or before going to work) and preferably your quinoa too, cook them both, put them in a big salad bowl and add all the fresh and yummy ingredients.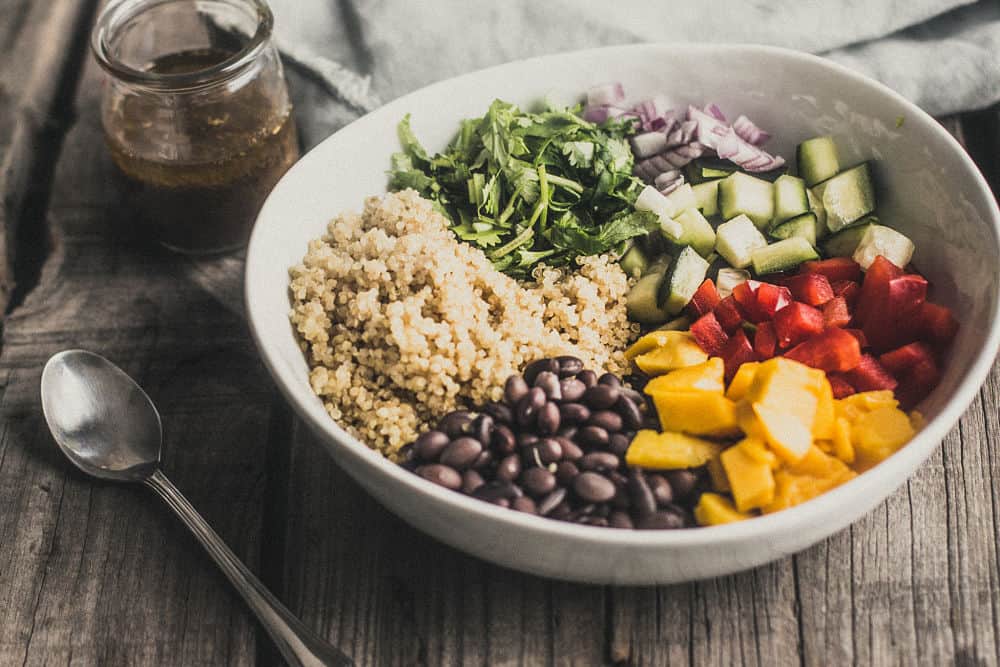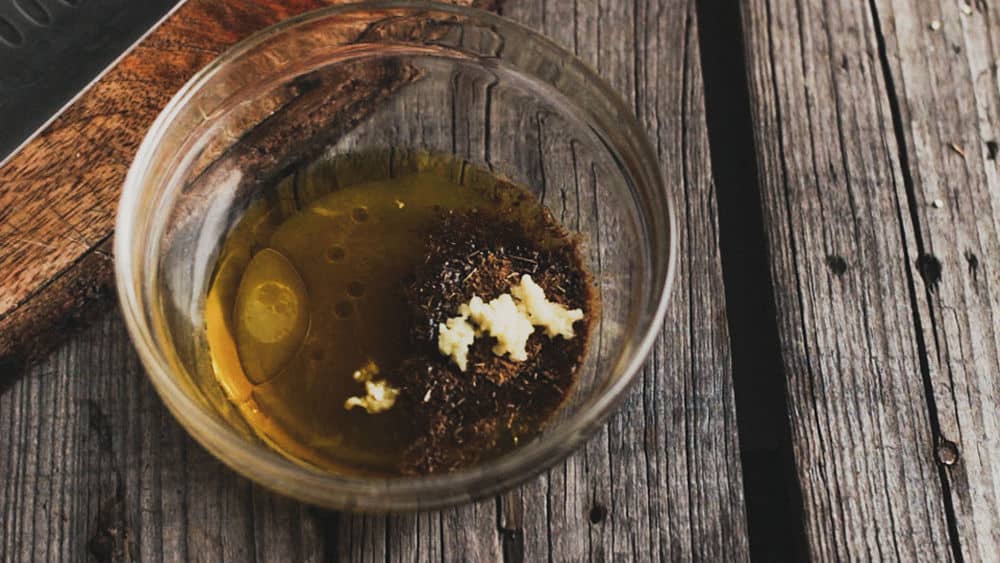 Then you prepare and pour a killer dressing onto the salad, mix, and devour!
I've always done my recipe without beans, but seeing that Ani Vincent's recipe with them was popular, I thought I'd try it too, but with the same personal special touch. In the end, I found that the beans added a color contrast, so it was not a bad idea at all.
After I ate this salad, my tummy was really pleased. There's was no funny stuff going on in there. And my mouth was also pleased! This colorful dish is a mix of slightly tangy, sweet, and hot; it's crunchy and fresh; it's doubly filling and satisfying.
You can eat this salad warm or cold. You can even use it as a filling in a burrito. Anyhow, it's a great dish for potlucks, BBQ's, or picnics. Have fun with this crowd-pleaser!
Make this Now
Quinoa and black beans are the perfect satisfying foods.
But if you have a leaky gut, their digestive enzyme inhibitors may disrupt your gut integrity when you grind them or chew them and keep you from absorbing all the nutrients in the other foods you consume.
So soak them and add anti-nutrient busters to make them more digestible.
Then add some fresh ingredients and yummy salad dressing, and you're good to go. You'll be licking your lips at every bite.
So print this recipe and get cooking!
Watch How It's Done
Mango Black Bean Quinoa Salad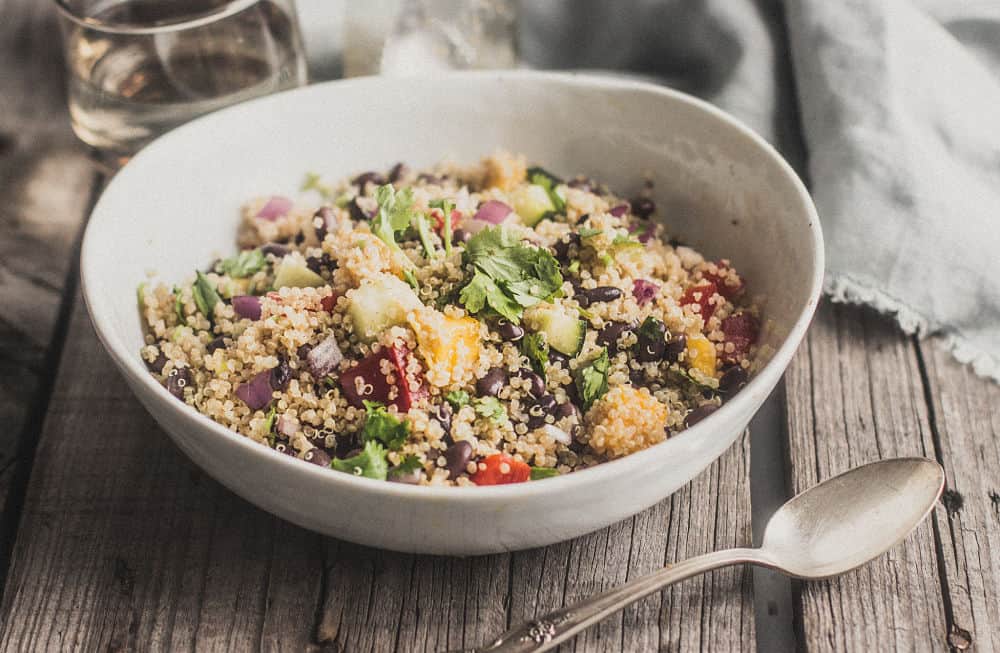 If you try this recipe, I want to know about it! I always appreciate your feedback. Leave a star rating in the recipe card right below and/or a review in the comment section further down the page. You can also follow me on Pinterest, Facebook, or Instagram. Sign up for my email list, too!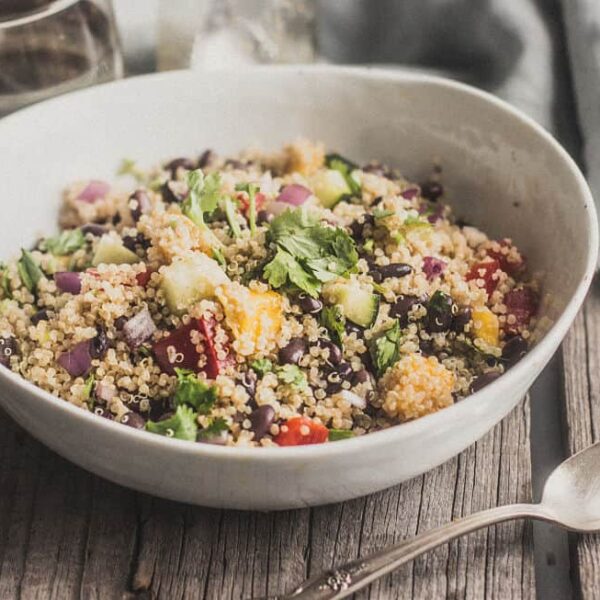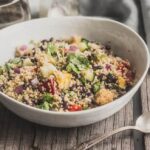 Print Recipe
Mango Black Bean Quinoa Salad
Quinoa and black beans are the perfect satisfying foods.
But if you have a leaky gut, their digestive enzyme inhibitors may disrupt your gut integrity when you grind them or chew them and keep you from absorbing all the nutrients in the other foods you consume.
So soak them and add anti-nutrient busters to make them more digestible.
Then add some fresh ingredients and yummy salad dressing, and you're good to go. You'll be licking your lips at every bite.
Ingredients
Quinoa salad
1 ½

cup

quinoa

cooked from 1 cup uncooked

1 ½

black beans

cooked from 1 cup uncooked

1

cup

mango

diced

1

cup

red bell pepper

diced

½

cup

cucumber

diced

¼

cup

red onions

diced

½

cup

cilantro

minced

Salt to taste
Dressing
3

tablespoons

olive oil

3

tablespoons

lemon juice

1

tablespoon

maple syrup

2

teaspoons

ground cumin

½

teaspoon

garlic

crushed

1

pinch

cayenne pepper

Pinch

salt
Instructions
In a large salad bowl, combine all the ingredients of the quinoa salad, except the cilantro, and toss well. Set aside.

Make the salad dressing: in a small bowl, put all the ingredients and mix well. Pour over the quinoa salad and mix well. Add the cilantro and mix well.

Serve immediately.
Notes
Kept in the refrigerator in a tight container, this quinoa salad will keep up to three days.
Nutrition
Calories:
261
kcal
|
Carbohydrates:
37
g
|
Protein:
7
g
|
Fat:
10
g
|
Saturated Fat:
1
g
|
Polyunsaturated Fat:
2
g
|
Monounsaturated Fat:
6
g
|
Sodium:
6
mg
|
Potassium:
399
mg
|
Fiber:
4
g
|
Sugar:
7
g
|
Vitamin A:
1195
IU
|
Vitamin C:
46
mg
|
Calcium:
40
mg
|
Iron:
3
mg
Get Your Free Plant-Based Eating Toolkit and More
Subscribe to my newsletter and unlock my plant-based course, nutrition charts, recipe secrets, and exclusive updates to prepare wholesome, varied & balanced meals effortlessly. All you need is a good appetite. Subscribe!