Chocolate mousse just might be the ultimate solution for chocolate addicts! Rich and creamy, yet light and fluffy, one serving is satisfying, but I always want more.
Truth be told, this is a vegan chocolate mousse made from silken tofu. If you've never tasted it before, this recipe will completely surprise you!
It can be made in under 15 minutes, tops, with silken tofu and a few ingredients you probably already have on hand.
It's perfect as a light treat after dinner or as a healthy snack.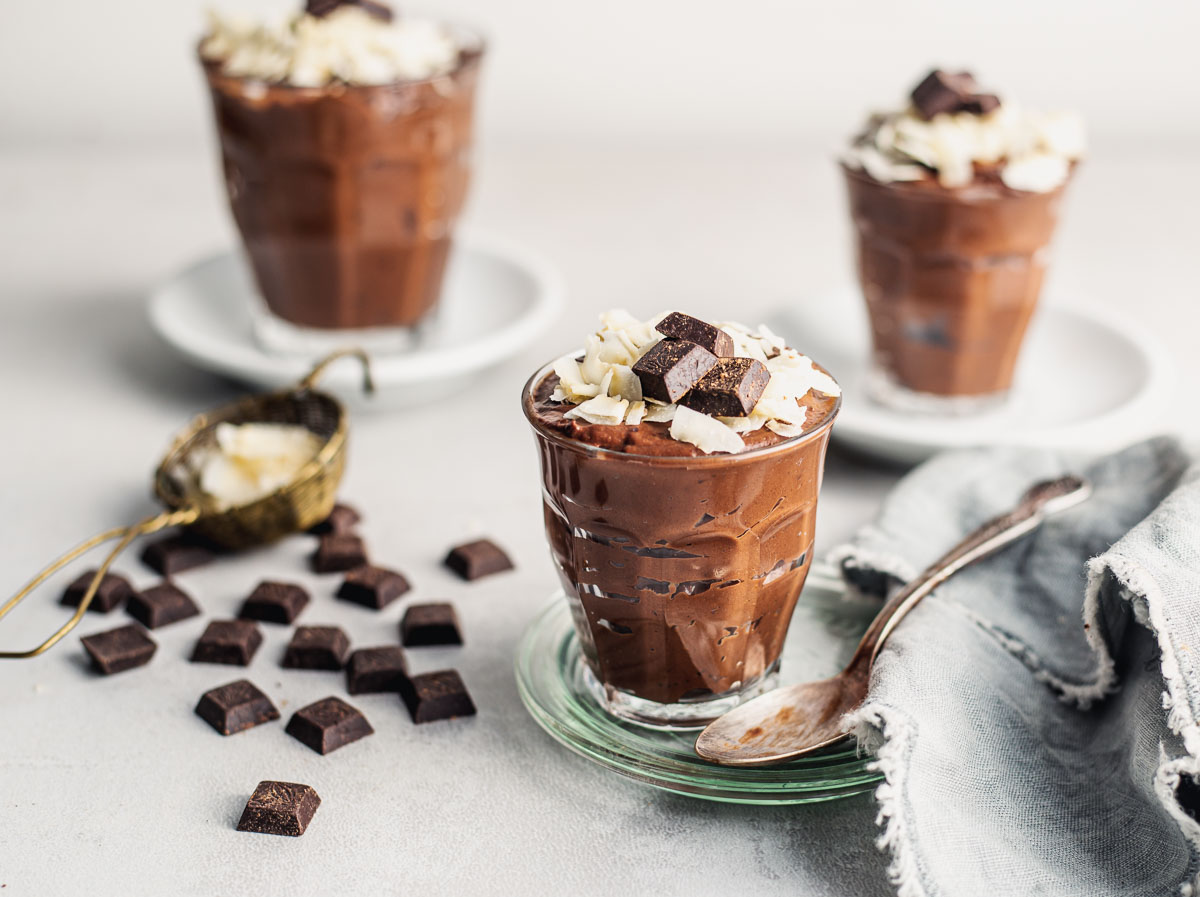 Jump to:
Why this Recipe Rocks
Chilly winter days are the perfect time for recipes rich and tasty, such as chocolate mousse. It's a classic, so it never goes out of style either. It's the Audrey Hepburn of desserts.
Chocolate mousse may seem intimidating, but it's crazy how simple when veganized. Even more than my no-bake brownies that can be prepared in one bowl.
The thing with this mousse recipe, to keep it simple, is that it's perfect. I have to admit I was skeptical about using tofu in a dessert, but I was pleasantly surprised.
It's soft and creamy, light, but substantial; not too sweet, either; deep, dark, and complex, with enough vanilla to complement the chocolate but not compete with it.
What Goes in It?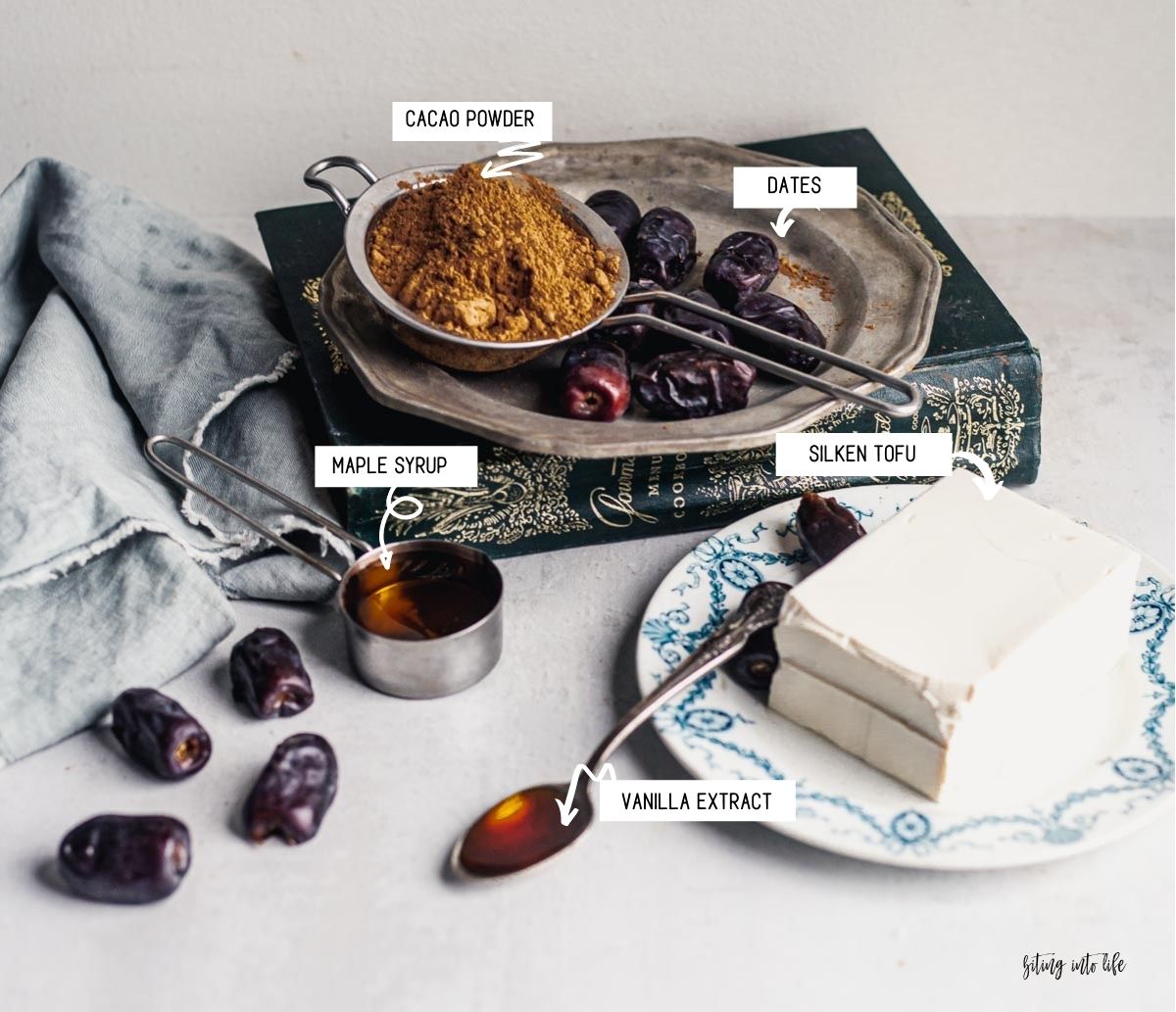 Ingredients Notes
Cocoa powder – choose it raw, if possible, for its antioxidant properties.
Silken tofu – you'll find it up on the shelves in room air, not in the refrigerated section.
Dates – I like to use Medjool dates preferably, as they have a very sticky consistency. In this case, as they are pretty expensive, I replace them with regular dates. Be careful; they must also be soft and not thick skin. Deglet Nour dates will not do this. Also, know that a big Medjool date is equivalent to two regular dates (1 Medjool date = 2 regular dates).
Maple syrup – chose real maple syrup and not this artificial high fructose corn syrup stuff.
Vanilla extract – choose the natural product, not the artificial one.
Jump to the recipe to know the exact quantities.
Simple Substitutions and Add-ons
Intensify the chocolate flavor – make an espresso-infused chocolate mousse.
Make it airier – get an ultra-soft chocolate mousse by adding aquafaba.
Spice it up with fruit – make an orange or cherry chocolate mousse by adding orange zest and cherries or cherry extract, respectively.
Spice it up – add chili pepper (or cayenne pepper) for a chocolate chili mousse.
Make it a dessert for an adult audience – add alcohol like rum, brandy or whiskey.
Special Diets Corner
Make a chocolate mousse…
Low in FODMAP – silken tofu is not allowed in this diet, but plain firm tofu is. I don't know what that would come out, so at your own risk. Otherwise, read the next point.
Tofu-free – replace tofu with avocado and turn it into a vegan avocado-based chocolate mousse.
How to Make this Silken Tofu Chocolate Mousse Step by Step
This recipe starts with dates immersed in water so that they soften ①. Afterward, they are pureed in maple syrup and vanilla ② ③. The next step is to mix the silken tofu in the sweet and vanilla puree, accompanied by the cocoa powder ④.
Once the ingredients are mixed, all that remains is to distribute the mousse in ramekins, verrines (or espresso glasses to make it pretty).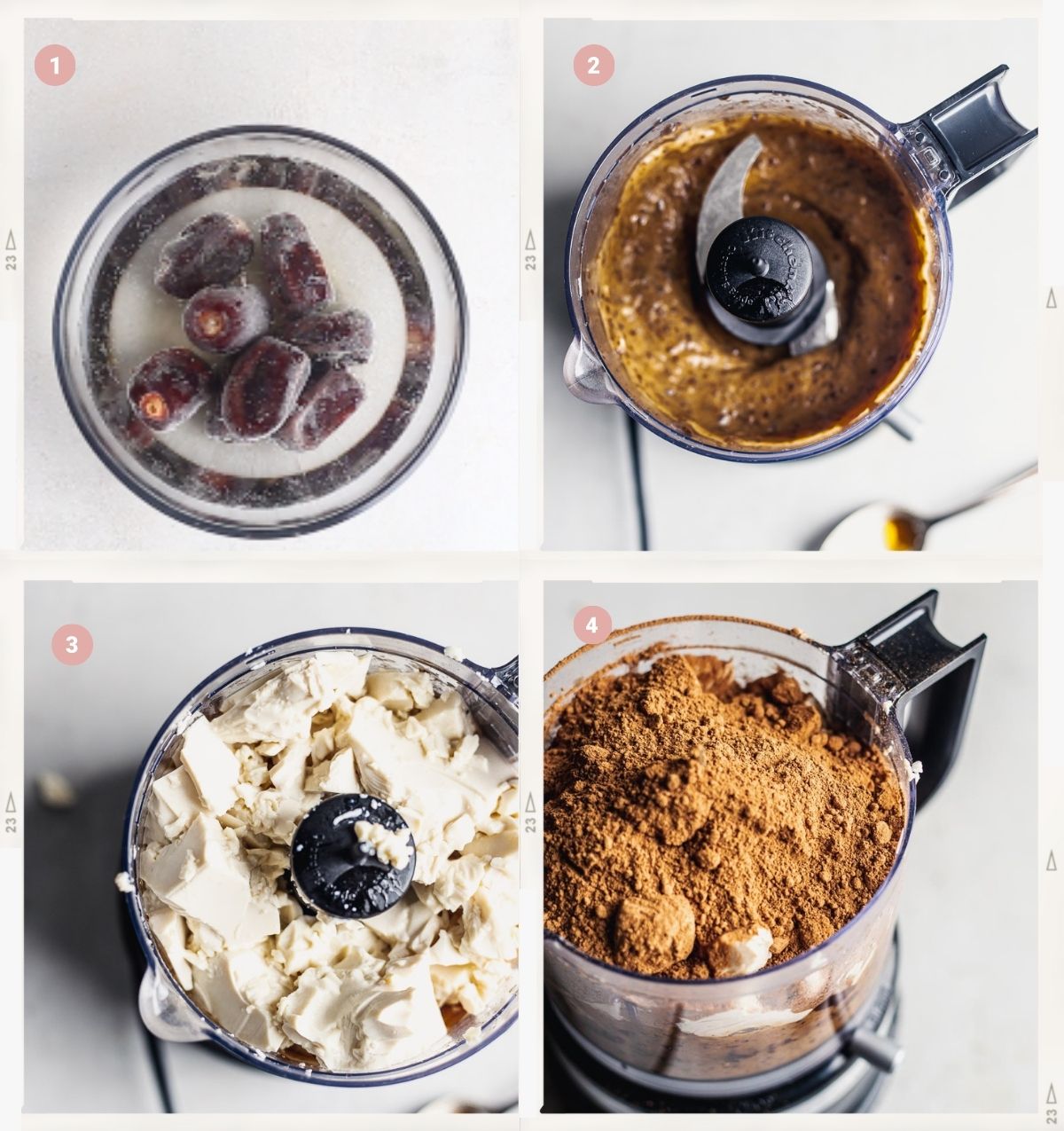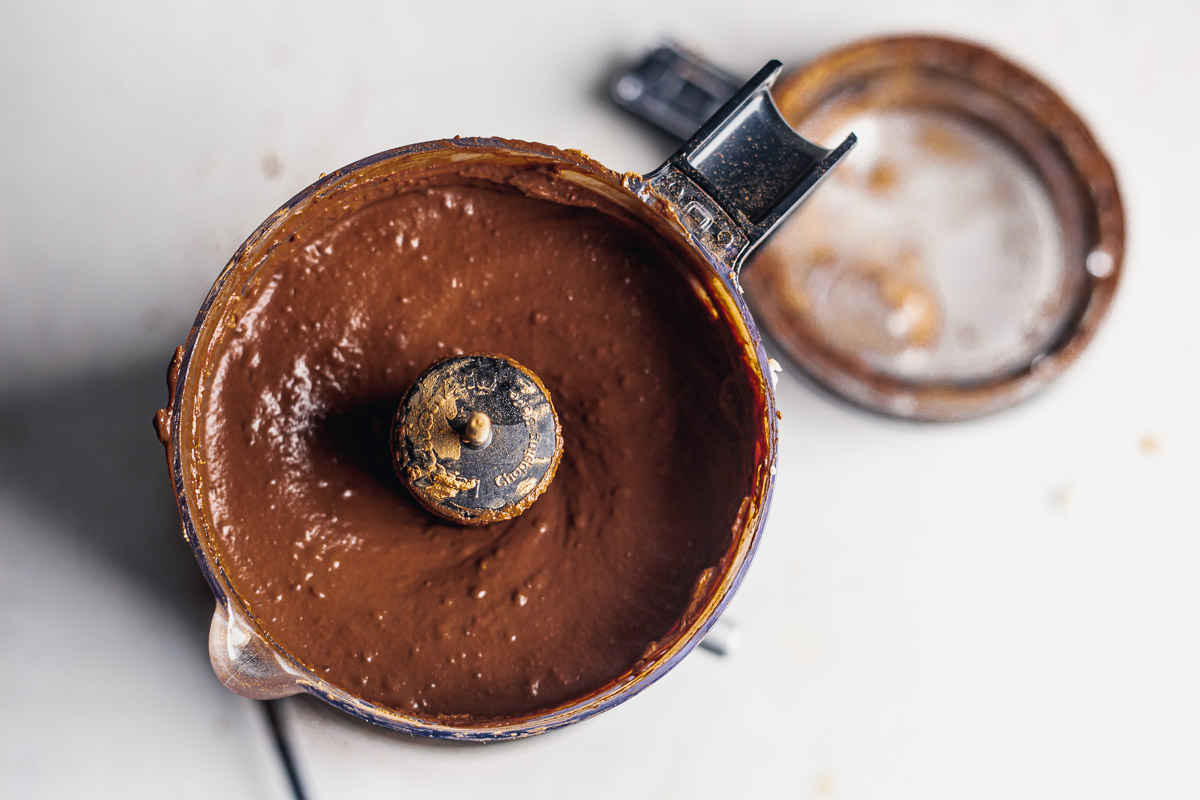 Keys to Success: My Top Tips
Pick the right dates
I usually use Medjool dates because they have a sticky consistency. They're pretty expensive, so you can replace them with regular (small) dates. But in this case, choose ones that are also fluffy and don't have the usually thicker skin (like the deglet nour). Also, know that a big Medjool date is equivalent to two regular dates (1 Medjool date = 2 regular dates).
Provide yourself with the right kind of chocolate
I opted for cocoa powder in this recipe, but if you want to use chocolate, choose good quality, like semi-sweet chocolate without dairy products, 70% dark chocolate, or any chocolate of your choice.
Sift the cocoa powder well
Sometimes the cocoa powder can amalgamate, so if you don't want to have an explosion of dry balls in your mouth, I advise you to sift the cocoa powder with a flour sifter or an ordinary sieve.
Make a smooth date paste
Although the dates have been soaked, make sure to run your food processor long enough to have no pieces of skin in the mixture.
Essential Equipment
What to Serve this Dish with
I like to enjoy it as a dessert or as a snack.
To embellish it, indulge yourself with different toppings. Be creative; the options are endless. Here are some ideas:
Chocolate shavings;
Berries, such as cherries, strawberries, or blueberries;
Raspberry sauce to the bottom, middle, or top of the mousse in each glass;
Chopped roasted nuts;
Flakes of unsweetened grated coconut;
A spoonful of whipped coconut cream. It helps cut through the richness!
More Chocolate Recipes
Assume your chocolate addict title with the following recipes:
Answers to Your Burning Questions
Does dairy-free chocolate mousse contain eggs?
No, it is 100% vegetable. Basically, the eggs are there to give body and texture to the mousse. In a vegan chocolate mousse, they can be replaced with an ingredient that will perform the same role, such as silken tofu, avocado, cashew cream, or whipped coconut cream.
What is the difference between silken tofu and regular tofu?
Silken tofu, aka soft or Japanese-style tofu, has a softer consistency than regular tofu and will fall apart if not handled with care. Unlike regular tofu, silken tofu (soft tofu) is sometimes packaged in aseptic boxes that do not require refrigeration. For this reason, silken tofu is sometimes sold in a different section of grocery stores than regular tofu, which is packaged in water and requires refrigeration.
Both Silken Tofu and Regular Tofu can be found in soft, medium, firm, and extra firm consistencies. They are made with the same ingredients, but they are processed slightly differently and are not interchangeable in a recipe.
Can you freeze this chocolate mousse?
Absolutely! You can freeze the chocolate mousse, and it will last in the freezer for up to two months. When you're ready to use it again, transfer it to the fridge and let it thaw there until you can use a spoon. Or, make a chocolate mousse ice cream!
How to Store this Dish
Covered with plastic wrap, this silken tofu chocolate mousse will keep in the refrigerator for five days and in the freezer for two weeks.
Make it Now
Everyone should have a must-have chocolate mousse.
When you need your chocolate fix, this is the perfect dish. In addition, it will prevent you from having your hands dragging in dangerous corners (unhealthy desserts) because it will keep you full, thanks to its high-protein content.
The best news is, it's done so quickly, you'll have an exquisite lick descending your throat in no time.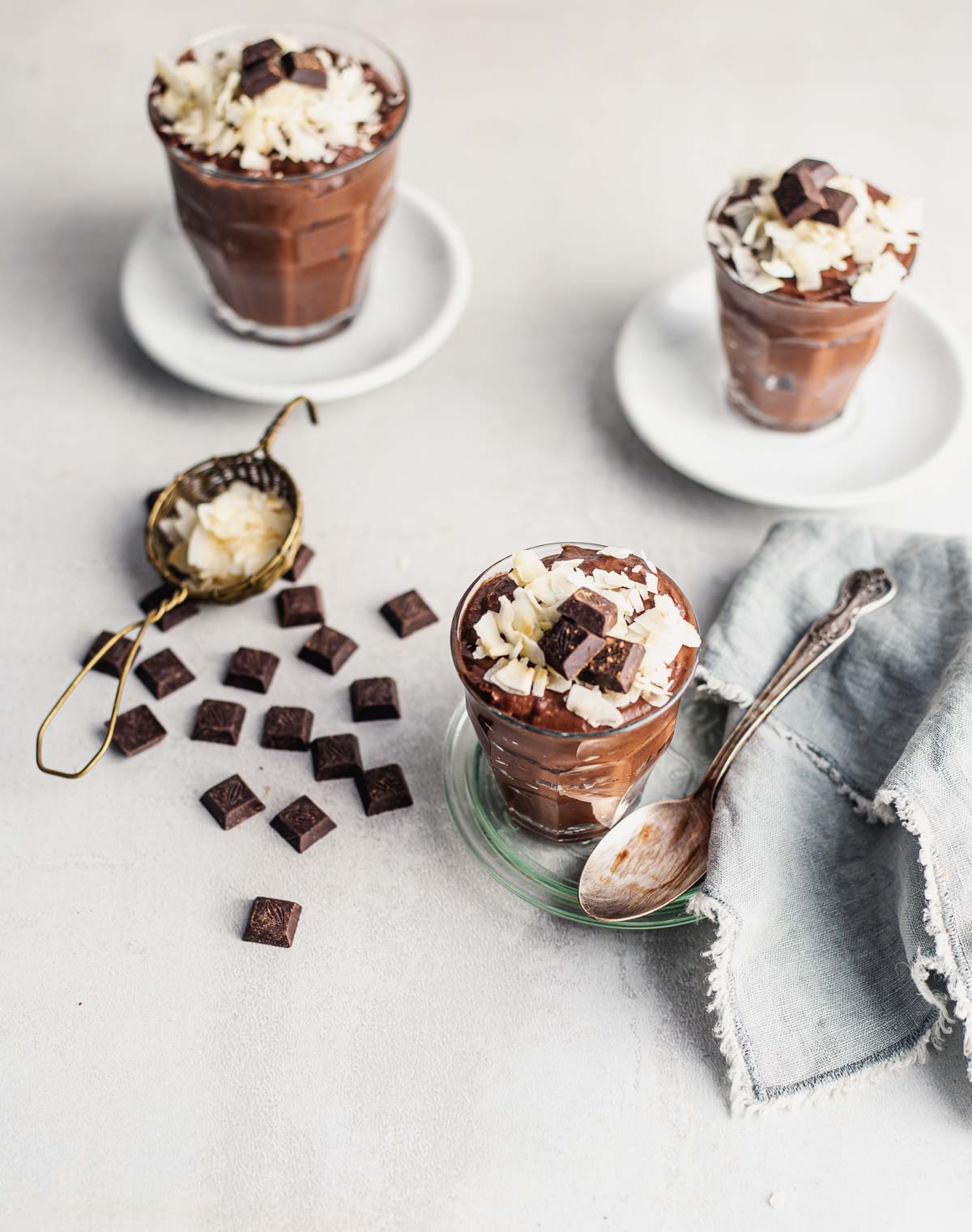 If you try this recipe, I want to know about it! I always appreciate your feedback. Leave a star rating in the recipe card right below and/or a review in the comment section further down the page. You can also follow me on Pinterest, Facebook, or Instagram. Sign up for my email list, too!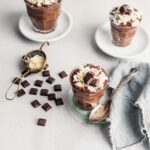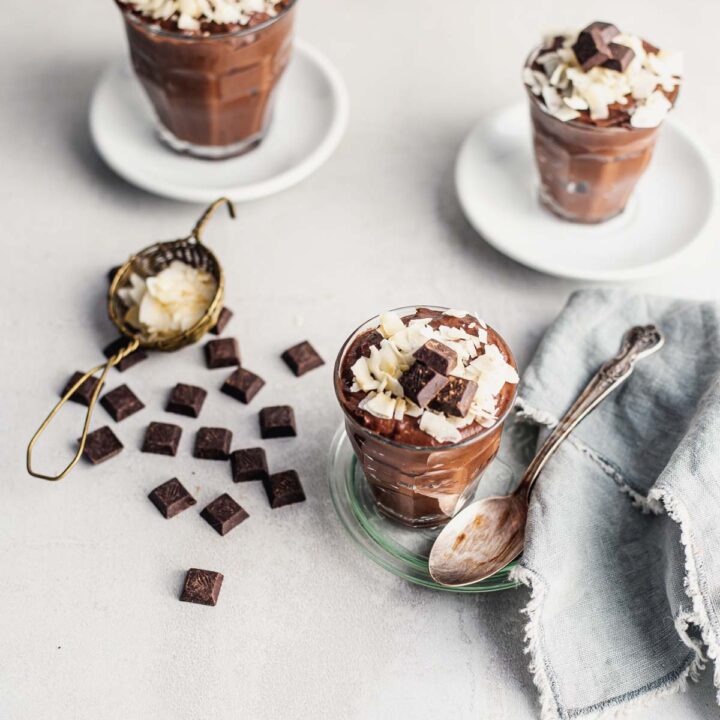 Healthy and Silken Chocolate Mousse
This chocolate mousse is doubly delicious and healthy. Even if you are a chocolate addict, I recommend that you treat yourself to this culpable dessert in small portions. Because it is made from silky tofu and its high protein content will make you hungry. But I don't think anything will stop you from stuffing yourself with it anyway.
Save Recipe
Saved!
Print Recipe
Pin Recipe
Equipment
Food processor or blender
Ingredients
6

Medjool dates

pitted and soaked for 30 minutes and drained

¼

cup

maple syrup

2

teaspoon

vanilla extract

(optional)

12

oz

silken tofu

(340 g)

¾

cup

cocoa powder

(notes)
Optional garnishes:
Fresh berries for serving
Instructions
Place dates and maple syrup in the small bowl of a food processor fitted with an "S" blade and operate the machine until a smooth consistency is obtained.

Tear the silky tofu and place it in a food processor or blender and add the cocoa powder. Trigger the machine until a smooth consistency is achieved, briefly stopping the machine to scrape the edges and underside of the blade, if necessary.

Divide the mousse into serving ramekins. Add your chosen garnish just before serving, if desired.

Placed in an airtight container, this chocolate mousse made from silky tofu will keep for up to five days in the refrigerator and up to two weeks in the freezer.
Notes
Dattes:

it is possible to replace them with ordinary pitted dates, but soft (not deglet nour). 1 Medjool date = 2 regular dates.

Cocoa Powder :

sift it to avoid having clumps.

You can replace this ingredient with semi-sweet, dairy-free chocolate, 70% dark chocolate, or any good quality chocolate
Nutrition
Calories:
243
kcal
|
Carbohydrates:
53
g
|
Protein:
8
g
|
Fat:
5
g
|
Saturated Fat:
2
g
|
Polyunsaturated Fat:
1
g
|
Monounsaturated Fat:
1
g
|
Sodium:
10
mg
|
Potassium:
698
mg
|
Fiber:
8
g
|
Sugar:
38
g
|
Vitamin A:
54
IU
|
Calcium:
92
mg
|
Iron:
3
mg
Get Your Free Plant-Based Eating Toolkit and More
Subscribe to my newsletter and unlock my plant-based course, nutrition charts, recipe secrets, and exclusive updates to prepare wholesome, varied & balanced meals effortlessly. All you need is a good appetite. Subscribe!