These chocolate blueberry muffins are a joy to eat if you love blueberries and chocolate chips. Moist, fluffy, and tender, they're perfect for a quick breakfast or snack.
This recipe requires only a few ingredients and is ready in 25 minutes.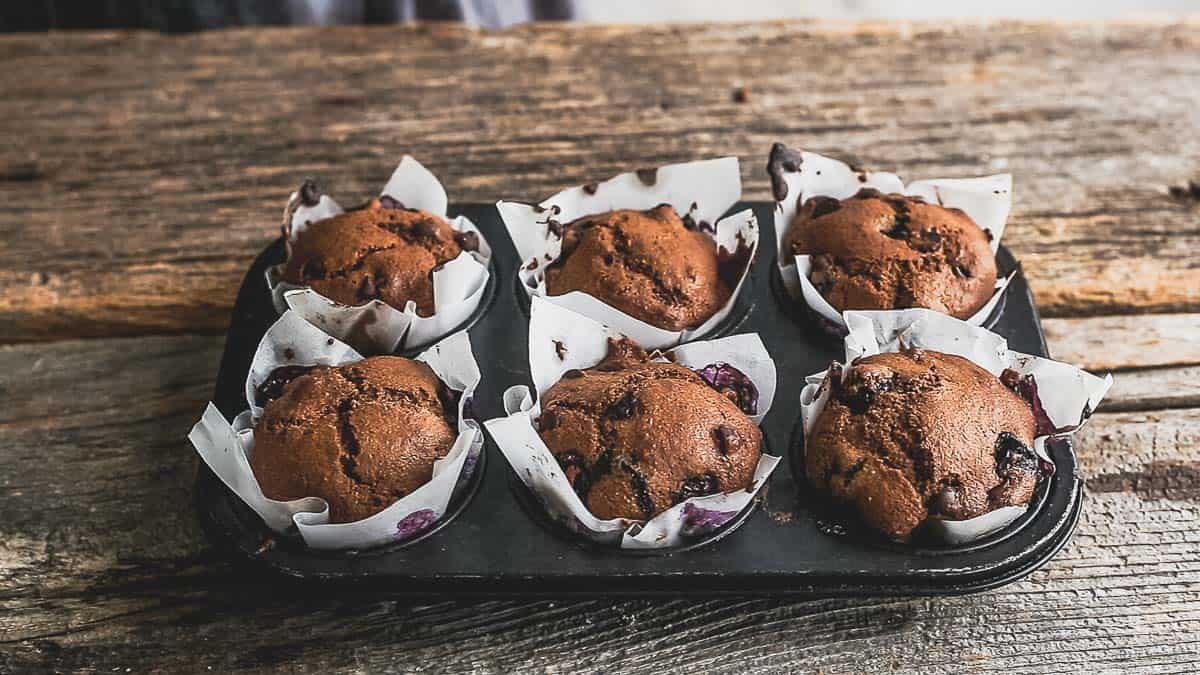 Jump to:
Why this Recipe Rocks
Making a batch of blueberry muffins is ideal if you've got a surplus of blueberries lying around and you're in the mood for some easy baking. They are plentiful and cheap in August and September, so it's time to stock up and freeze them afterward. This is how I was able to make my blueberry cobbler any time of year.
Although... you could eat it in the morning. Nah, not in the morning, come on. Truth be told, poking my fork into pancakes spread with berry jam every day would thrill me.
But when you're half late, as I am so often, practically every morning, muffins win the day. You can bake them in a half-sleep and easily snack on them on the go.
I'm not presenting you with a bland blueberry muffin recipe. The addition of chocolate chips makes them oh, so desirable! Mainly containing healthy ingredients, they provide just the right amount of energy.
These healthy blueberry muffins have a nice chew despite the whole-grain flour. The crumb is not too sweet and has a slight caramel taste. It's impossibly soft, moist, and solid but not heavy. And if you eat them while they're warm, you'll find their golden dome, pierced with burst juicy blueberries and brown chocolate, is glistening and smooth.
Then there's the chocolate that melts on your tongue like the snow does under the burning sun and each berry that releases its juice only when it meets your teeth. How pleasant!
And they fit nicely in my mouth and purse, all wrapped up when I run to work.
What Goes in Them?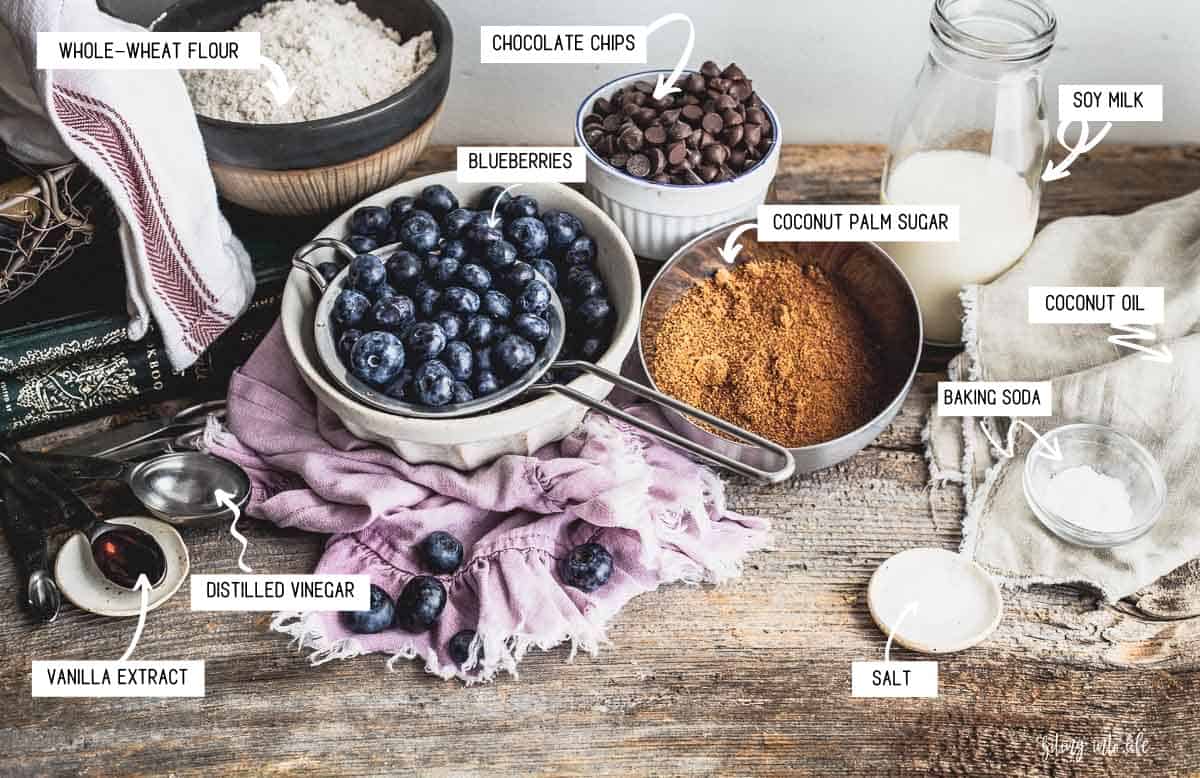 Notes on some of the ingredients
Whole wheat pastry flour. I preferred this one for the high fiber and other nutrients.
Coconut palm sugar. This is the direct substitute for white granulated sugar, which usually makes the crust color lighter, a hue people are accustomed to. This healthier sugar alternative is made from the sap present in the flower buds of the coconut palm. Considered a natural sugar, it involves minimal processing, and no chemicals are used.
Non-dairy milk. I chose unsweetened soy milk for its protein content. In this case, any other vegetable drink will do (unsweetened almond milk, oat milk, etc.).
Vanilla extract. Please, please, get the natural stuff, not the essence or artificial stuff.
Vegetable oil. I used melted coconut oil, but if you prefer something neutral, opt for canola oil or sunflower oil (not the horrible cottonseed or soybean-based vegetable oils, like Crisco, most likely genetically modified). Olive oil works great.
Chocolate chips. I like 70% chocolate.
Blueberries. I got fresh blueberries, but frozen blueberries work too. Organic or not, I don't mind. Although most berries sold in stores are covered with residues, namely insecticides, blueberries have the least.
See the recipe sheet for exact amounts.
Simple Substitutions and Add-ins
Make the crumb even lighter with white flour. This isn't always my best choice, as it's stripped of nutrients, but if you prefer it, it will give a fluffier texture, and the muffins will be a lighter color.
Dope the caramelized flavor with another dark sweetener. I'm not talking about brown sugar, which is white sugar disguised by molasses, but something like Turbinado or Moscovado sugar or evaporated cane juice, for example. Maple syrup is a good idea.
Swap blueberries for other berries. Raspberries, strawberries, or cranberries would work well in place of blueberries.
Flavor the dough with a little lemon zest, lemon juice, or lemon extract. The lemon flavor works very well with blueberries, so add some to make lemon blueberry muffins.
The Special Diet Corner
If you have food restrictions or intolerances, here are some ideas to make this dish...
Low-FODMAP vegan. Replace:

Wheat flour with spelt flour or gluten-free flour. This has yet to be tested, but other types of flour are acceptable such as corn, sorghum, rice, teff, buckwheat, millet, quinoa, yam, and green banana.
Blueberries with FRESH cranberries.
Coconut sugar by xylitol or erythritol.
70% chocolate by dark chocolate or cocoa nibs.

Gluten-free. Preferably use gluten-free flour blend, gluten-free oat flour, or almond flour.
Oil-free. For an oil-free version, try using ripe bananas.
How to Make Blueberry Chocolate Chip Muffins Step by Step
Like many baking recipes, I start by mixing the dry ingredients in a separate bowl ①. After that, I follow the same cadence with the wet ingredients②. I pour the wet mixture into the dry mixture and gently combine the two. In the end, I fold the chocolate chips, then the blueberries ③. I finish by evenly distributing the batter in the muffin cups lined with paper liners ④.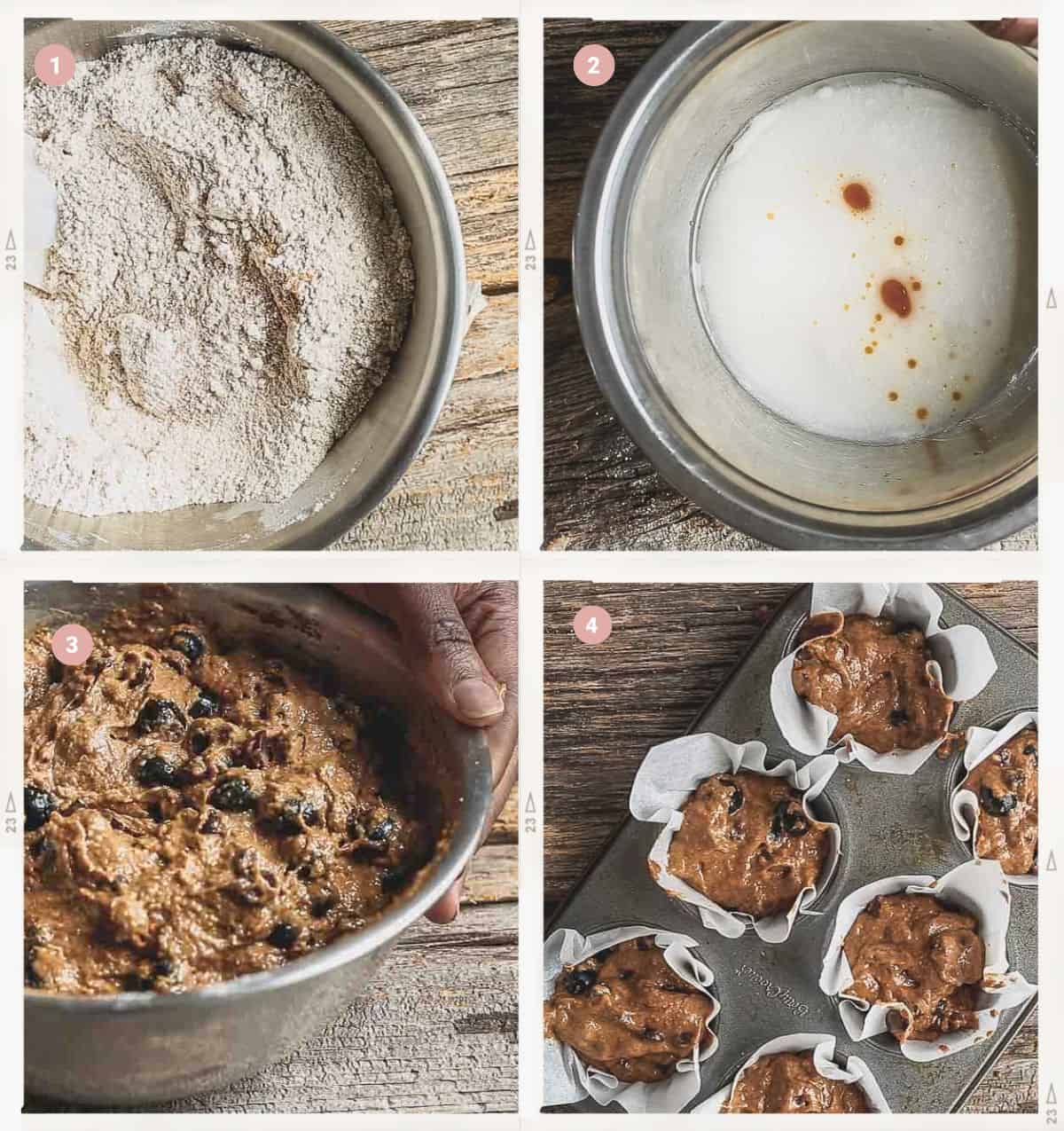 All that's left to do is bake them until they're puffy; actually, 15-20 minutes or until a toothpick inserted into the center of one of these dairy-free muffins comes out clean.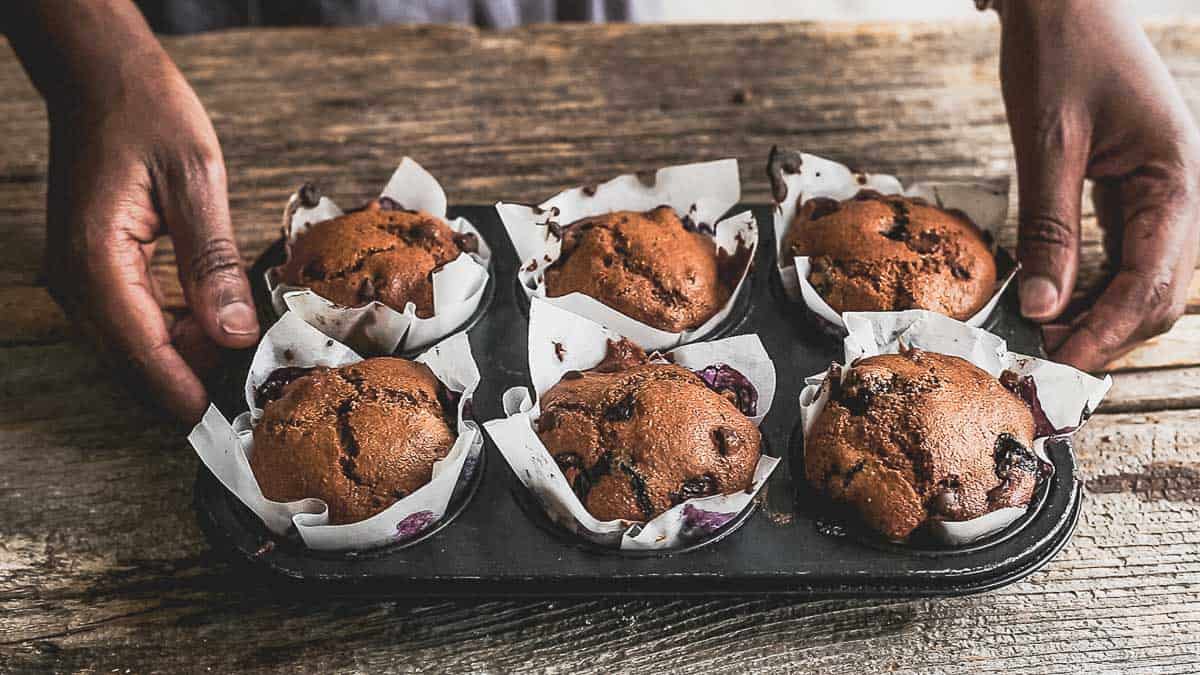 Keys to Success: My Top Tips
Discard ugly blueberries
Choose blueberries that are round, firm, and blue-black in color. Discard any that are slimy, wrinkled, or old. They can be stored in the refrigerator for 6 days but cannot be washed until used.
Blueberries should be the last to go
These berries can burst in the mixing process. So, incorporate them into the dough after it is well uniform.
Watch out for overfilled wells
To get the plumpest, most tender, and the best muffins, don't fill the muffin cups all the way, but only two-thirds full.
The best guide to a moist texture
The leading cause of dry, hard muffins is over-mixing the batter and over-baking the muffins.
So, firstly, mix the batter gently and sparingly—not with great effort or 15 times! If you can do this in one sitting, you deserve a trophy. In other words, incorporate the ingredients, i.e., combine them gently without stirring or beating. Make gentle movements with a rubber spatula in one hand while rotating the bowl with the other hand. Secondly, don't cook for more than 20 minutes.
Another simple secret to beautifully tender and moist muffins is to have the right fat: oil.
Here's what Samin Norsrat, author of Salt, Fat, Acid, Heat, has to say about it:
"The oil coats the proteins in the flour and prevents strong gluten formation [...]. [T]his oil barrier significantly inhibits its formation, leading to a soft rather than elastic texture. As a bonus, less gluten means more water in the dough and, ultimately, a fluffy cake."
Essential Equipment
Muffin pan. This can be a non-stick pan or any other pan that needs to have the wells lined.
Paper liners. I cut them out myself. All you need to do is take parchment paper (parchment paper) and cut it into 12 x 12 cm (5 x 5 inch) squares. This can help make the vegan muffins fluffier.
Mixing bowls.
Rubber spatula. Not to be overlooked, as mentioned earlier! The whisk won't work: the batter will get stuck inside the whisk, and the top of the muffin won't come out smooth when baked.
Measuring cups and spoons.
Wire rack.
What to Serve this Dish with
These blueberry chocolate chip muffins are great on their own, but enjoying them with a glass of non-dairy milk is even better.
A cup of tea could also accompany these little delights.
More Fall Fruit Recipes
Answers to your Burning Questions
Why are commercial blueberry muffins unhealthy?
The average coffee shop blueberry muffin is far from what you'd call healthful: it contains nearly 470 calories, about double what you'd get from a chocolate glazed doughnut, and most of those calories come from refined carbohydrates, primarily white flour and sugar.
What is a vegan muffin made of?
A vegan muffin mainly consists of flour, non-dairy milk, sugar, and vegetable fat. An acidic substance, such as white vinegar or apple cider vinegar, is usually mixed with baking soda to replace eggs and make the batter rise. Some recipes call for a flax eggs, egg replacer, or other egg substitute
Is it better to use fresh or frozen blueberries for these vegan blueberry muffins?
Both are fine. However, if you can find fresh ones during peak season, take advantage of the opportunity to get them cheaply and freeze them if you have an abundance.
Are muffins healthy to eat in the morning?
They are if they are homemade and especially if they contain nutrient-rich, whole foods.
How to store this dish
Once completely cooled, these dairy-free blueberry muffins can be stored in an airtight container, covered with a paper towel, on the counter for up to 3 to 4 days. The paper towel will absorb moisture and keep them from getting too wet. They can also be worn loosely covered for 1 to 2 days. Or store them in the refrigerator for up to a week.
Make this Dish Now
Late summer heralds blueberry picking, so if you have a lot of blueberries and are wondering what to do with them, muffins are the best option. Plus, they make a perfect breakfast to eat when you're in a hurry.
These blueberry muffins are not bland. Encrusted with chocolate chips, they're magically moist and fluffy on the inside with a soft golden dome.
For the best results, follow my tips above. Once you make them, you'll never look at another blueberry muffin recipe the same way!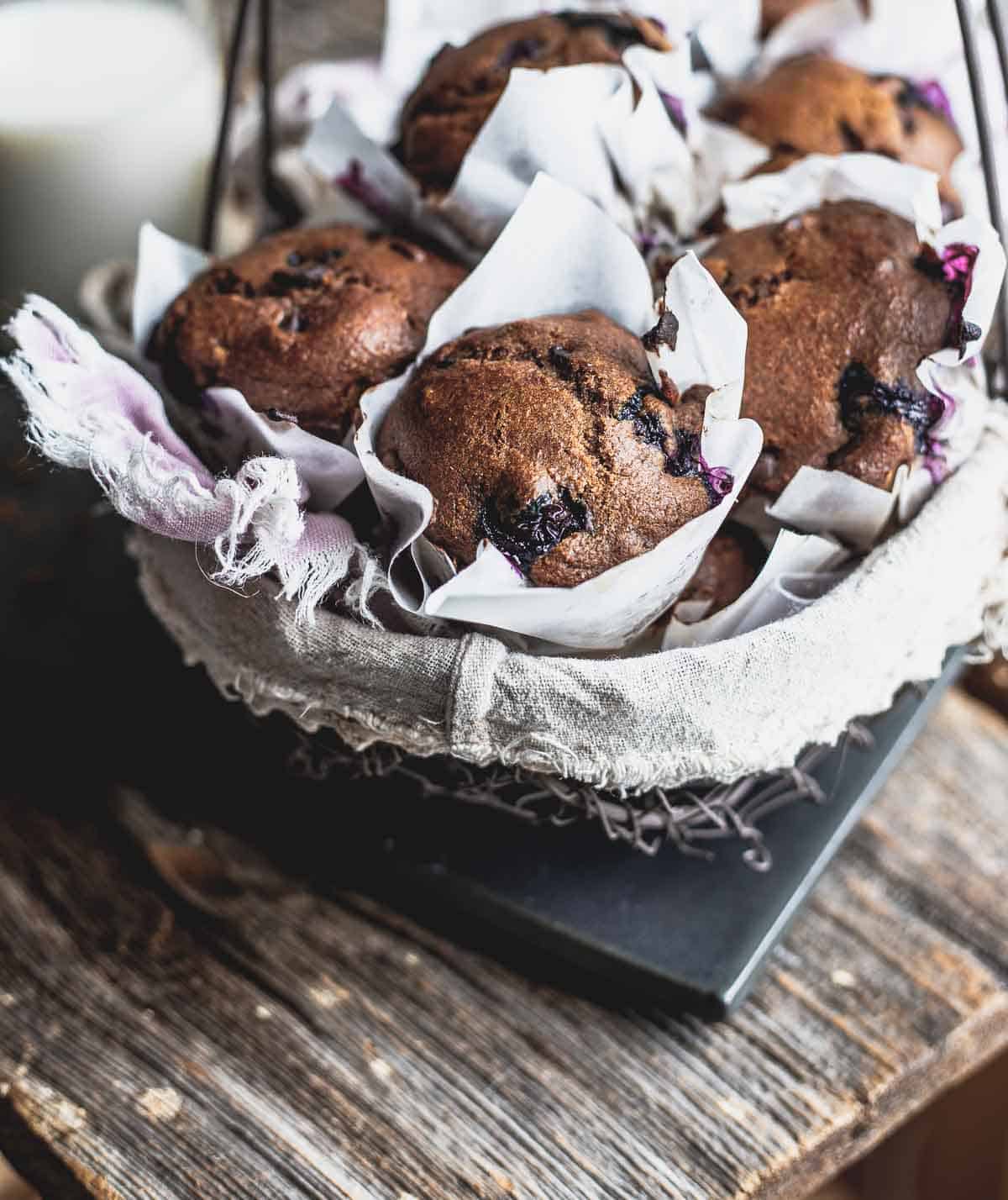 Watch How it's Done
Watch the recap in the Dairy-Free Blueberry Chocolate Chip Muffins Web Story. It's done in a flash!
Or take the time to make it your own with the video below.
[Video to come.]
If you try this recipe, I want to know about it! I always appreciate your feedback. Leave a star rating in the recipe card right below and/or a review in the comment section further down the page. You can also follow me on Pinterest, Facebook, or Instagram. Sign up for my email list, too!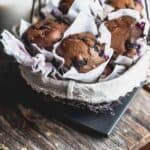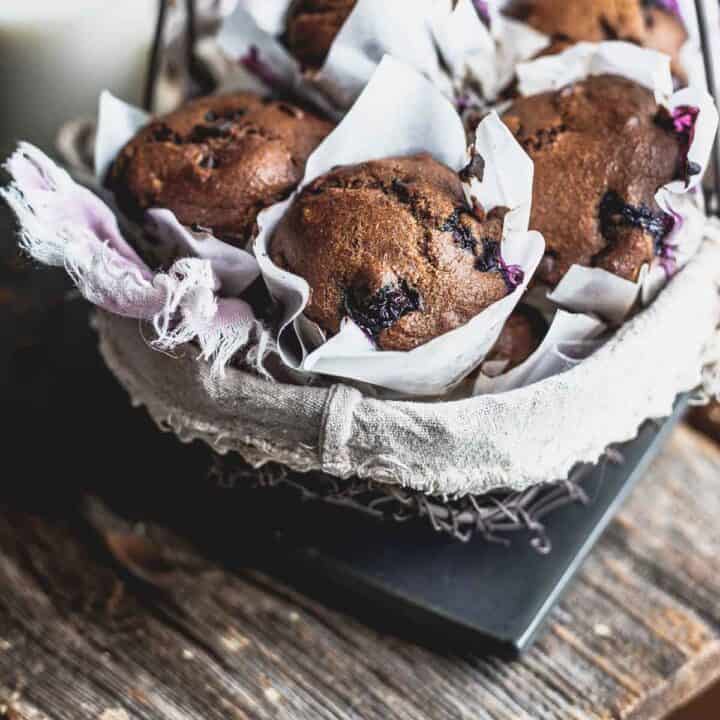 Dairy-Free Blueberry Chocolate Chip Muffins
These muffins use simple everyday ingredients and come together quickly, especially if you mix the dry ingredients the night before. Once baked, they really do taste better on the first day. I know many recipes say that, but I don't really agree here. I've eaten them after two or three days at room temperature on the counter, and not without joy (maybe the sweltering summer humidity has something to do with it). They stay soft, but if you want, just pop them in a toaster, microwave, or regular oven to heat them up. Anyway, they're now my go-to recipe for quick breakfasts.
Save Recipe
Saved!
Print Recipe
Pin Recipe
Equipment
Muffin tin.

Mixing bowls

Muffin liners.

Rubber spatula

Measuring cups and spoons.

Cooling racks.
Ingredients
2

cups

whole wheat flour

1

cup

coconut sugar

1½

teaspoons

baking soda

½

teaspoon

salt

1

cup

non-dairy milk

⅓

cup

coconut oil

or canola oil

1

teaspoon

vanilla extract

1

tablespoon

distilled vinegar

1 ½

cups

blueberries

fresh or frozen

1

cup

chocolate chips
Instructions
Preheat oven to 200°C (400°F or gas oven marked 6).

Line 12 wells of one or two muffin tins or lightly grease them if using anti-adherent tins.

In a medium bowl, mix the whole wheat flour, sugar, baking soda, and salt.

In another large mixing bowl, combine non-dairy milk, oil, vanilla, and vinegar. Mix well.

Pour the wet mixture into the dry mixture and combine the two smoothly. Stir in chocolate chips, making light motions with a rubber spatula, and follow with blueberries, still gently. The batter should be shiny.

Fill the muffin tin two-thirds full. Bake until lightly browned and a toothpick inserted comes out clean, about 20 minutes. While the muffins are baking, lick the bowl until clean. No egg means no salmonella!

Remove from oven and let stand for 5 minutes. Remove muffins from pans and let rest on a cooling rack.

Stored in an airtight container, these blueberry chocolate chip muffins will last up to 4 days.
Notes
Blueberries: Choose round, firm, and dark blueberries in color. Discard any that are wrinkled or old. They can be stored in the refrigerator for 6 days but do not wash until ready to use.
Maximum tenderness: mix the dough gently and sparingly and make sure the dough is well coated with oil.
Variations
This is a versatile recipe. Play with the ingredients to make the following blueberry chocolate chip muffins:
Using with white flour.
Ultra caramelized: replace the coconut palm sugar with Turbinado or Moscovado sugar or evaporated cane juice.
Lemony taste: add lemon zest or extract.
Low FODMAP vegan: Possibly replace :

Wheat flour with spelt or gluten-free flour (made with corn, sorghum, rice, teff, buckwheat, millet, quinoa, yam, buckwheat, and green banana).
Blueberries with FRESH cranberries.Coconut sugar with xylitol or erythritol.
70% chocolate with dark chocolate or cocoa nibs.

Gluten-free muffins: use gluten-free flour or almond flour instead.
Vegan chocolate chip muffins: remove the blueberries.
Berry and chocolate chip muffins: substitute raspberries, strawberries, or cranberries for blueberries.
Nutrition
Serving:
1
muffin
|
Calories:
288
kcal
|
Carbohydrates:
43
g
|
Protein:
3
g
|
Fat:
12
g
|
Saturated Fat:
8
g
|
Polyunsaturated Fat:
0.2
g
|
Monounsaturated Fat:
2
g
|
Trans Fat:
0.03
g
|
Cholesterol:
2
mg
|
Sodium:
288
mg
|
Potassium:
77
mg
|
Fiber:
1
g
|
Sugar:
23
g
|
Vitamin A:
47
IU
|
Vitamin C:
2
mg
|
Calcium:
24
mg
|
Iron:
1
mg
Get Your Free Plant-Based Eating Toolkit and More
Subscribe to my newsletter and unlock my plant-based course, nutrition charts, recipe secrets, and exclusive updates to prepare wholesome, varied & balanced meals effortlessly. All you need is a good appetite. Subscribe!