I never thought that a dairy-free and eggless zucchini bread could be so delicious! It's super moist and has a lot fewer calories than the popular versions. It only takes 10 minutes to prepare, and after that, forget it in the oven for 1 hour and swallow a good slice or two.
Zucchini and tomatoes aren't the only happy marriage. These cucurbits also mix with marvelous treats. You'll be amazed when you have tasted this delight.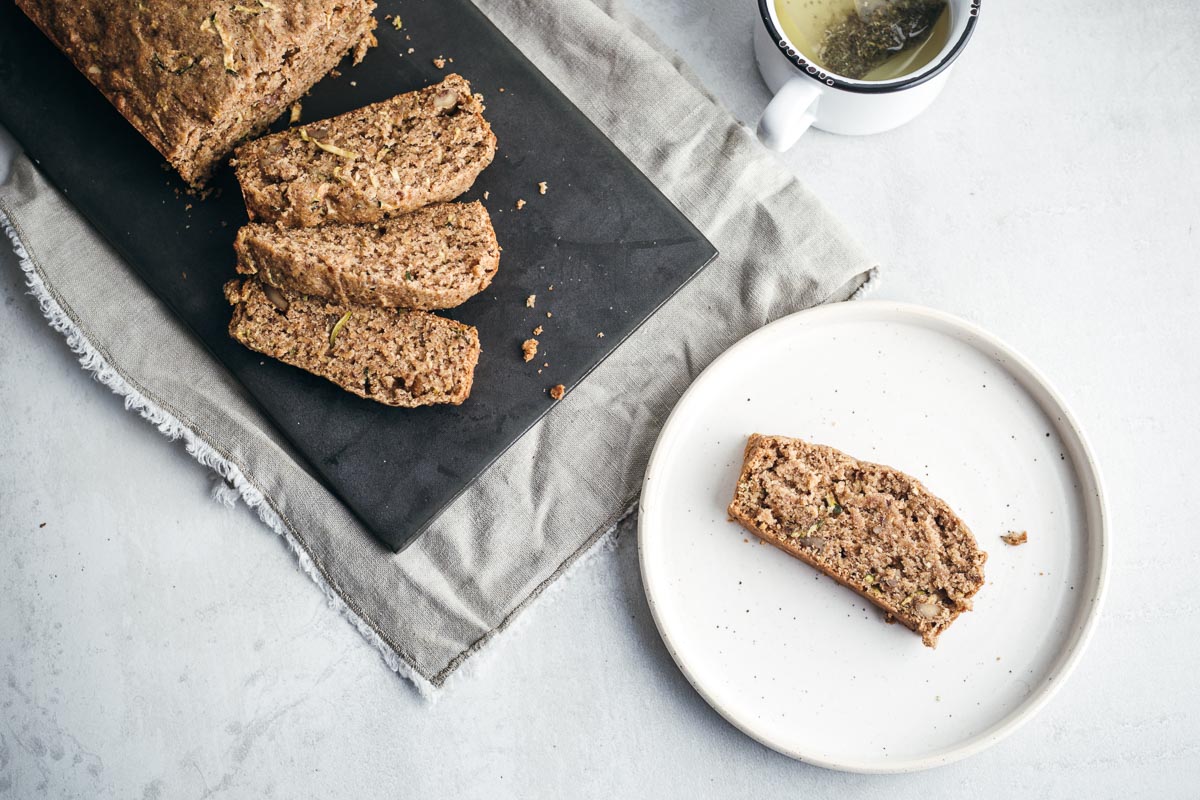 Jump to:
Why this Recipe Works
Zucchini bread has been tormenting my mind for a few years, but I never got down to it. This unique recipe is taken from James Beard, an American chef, cookbook author, teacher, and TV personality, named "Dean of American Cuisine" by the New York Times in 1954.
I first learned about this dish a few years ago while surfing the web. When I saw this name appear before me on the screen, a strange, indescribable sensation came over me, a sensation that I can only associate with the following words: confusion, seduction, revelation. What? You can hide zucchini in a pastry!
You can imagine the loud chorus of bells ringing in my head. It was deafening, like when you find yourself in a large echoing cathedral while the organist is rehearsing.
This healthy zucchini bread isn't that different, really, from classic banana bread.
But it's a healthier, slightly denser version—given the use of whole flour rather than white flour—without sacrificing tenderness. It's with mostly zucchini, coconut palm sugar, and cinnamon mixed into the dough to make it more interesting. The latter also gives a slightly nutty flavor. In addition, it provides a large batch: twin loaves, fluffy, with a golden top showing ripples of zucchini, with the crumb closer to a cake.
That doesn't mean, of course, that you can't eat it for breakfast because you can.
However, this does mean that it is particularly well-suited to the afternoon, nap time, for example, a weekend at the end of summer.
Truth be told, I only have half of the two parts left, so if I were you, I'd go ahead and preheat the oven now.
What Goes in It?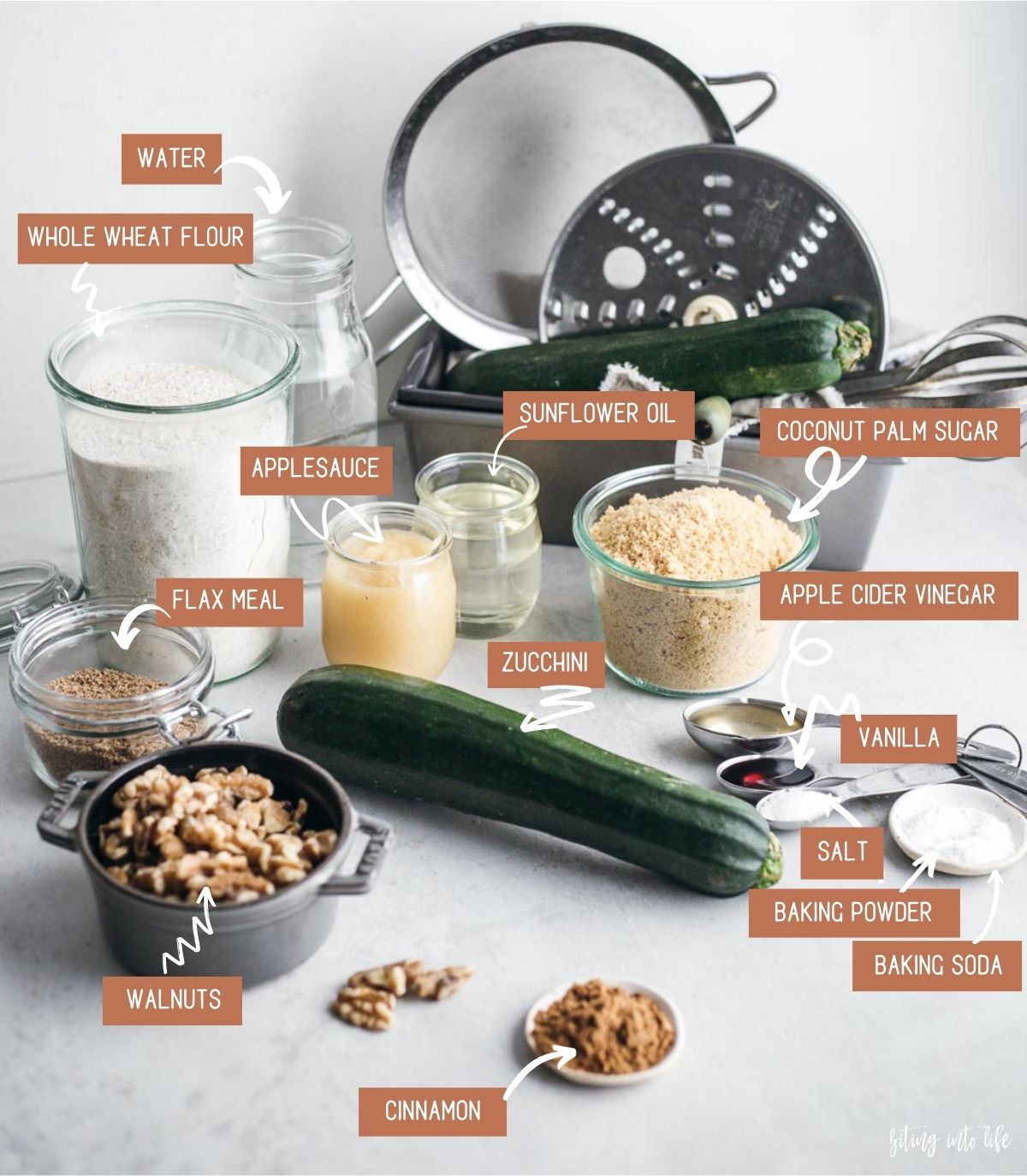 Notes on some ingredients
Whole Wheat flour. It can be regular flour, pastry flour, or spelt flour. Or even all-purpose flour, but know it's devoid of nutrients.
Coconut sugar. This sort of brown sugar is the direct substitute for white granulated sugar, which usually makes the crust color lighter, a hue people are accustomed to. It is made from the sap present in the flower buds of the coconut palm. Considered a natural sugar, it involves minimal processing, and no chemicals are used. Maple syrup will also work to get the same depth of flavor. I prefer not to use white sugar.
Flax seeds. You can choose either brown or golden flax seeds. It won't change anything. Buy them whole to keep them longer (you'll mold them afterward) or already ground (aka flax meal). When mixed with water, it acts as an egg replacer. Chia seeds will do the same thing.
Vegetable oil. I'm not talking about the low-grade stuff with all kinds of oils mixed in it. Here I mean a neutral-tasting oil, like sunflower, grapeseed, or canola oil (rapeseed).
Zucchini. Take them not enormous (not miniature either), shiny, and without blemishes. Something less than 6-7 inches (15-17 cm) long and about 1 inch (1.5 cm) in diameter is ideal. Young zucchini, having grown well, are usually more desirable because of their compact skin, tiny seeds, tenderness, and softness.
Cinnamon. For an exceptional taste, take Ceylon cinnamon.
See the recipe card for the exact quantities.
Simple Substitutions and Add-ins
Water. You can add non-dairy milk, such as rice, oat, soy milk, or even homemade almond milk, pecans, or walnuts.
Oil. Vegan butter can also be used. In this case, soften it. Melted coconut oil works too. Some people replace the oil completely with applesauce, but it's good to have a mix of a liquid fat such as oil to bring more tenderness.
Coconut sugar. Replace it with maple syrup, agave syrup, cane sugar, brown sugar, or a lower calorie sweetener like erythritol or xylitol. Those ones tend to be less sweet, though. You can also mix two types of sweeteners.
Whole wheat flour. Make gluten-free vegan zucchini bread by putting gluten-free flour, oat flour, or almond flour instead. Or make it fluffier with all-purpose unbleached white flour.
Cinnamon. It decrease the amount of cinnamon and compensate with nutmeg.
Walnuts. Pecans go great with this recipe too.
How to Make this Zucchini Bread Step by Step
This recipe starts with the preparation of the flaxseed egg. While it's taking, you grate the zucchini ①. You mix the wet ingredients in a large mixing bowl ②, then you add the grated zucchini ③ that you have to stir well ④.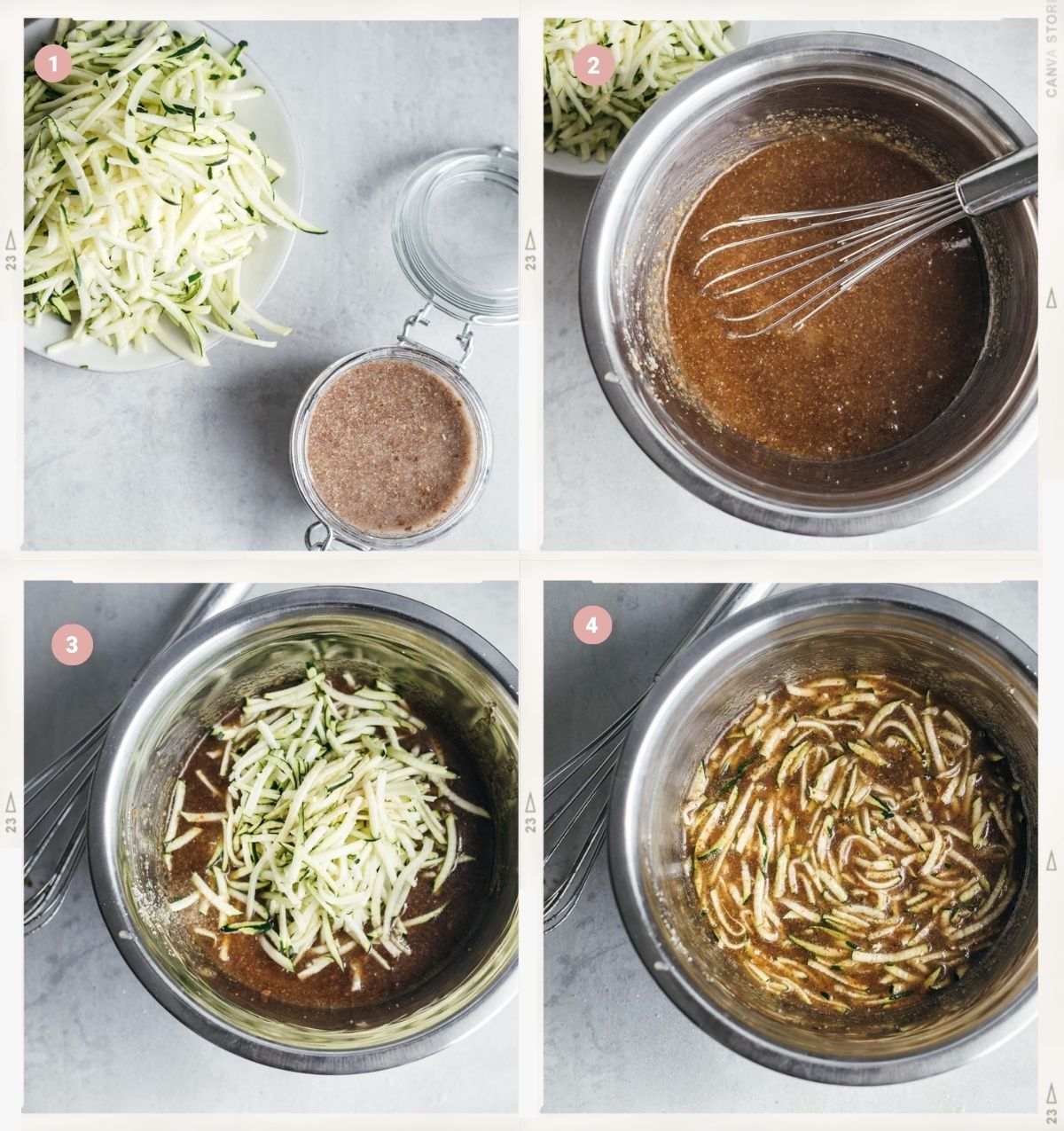 The next step is to sift the flour ⑤.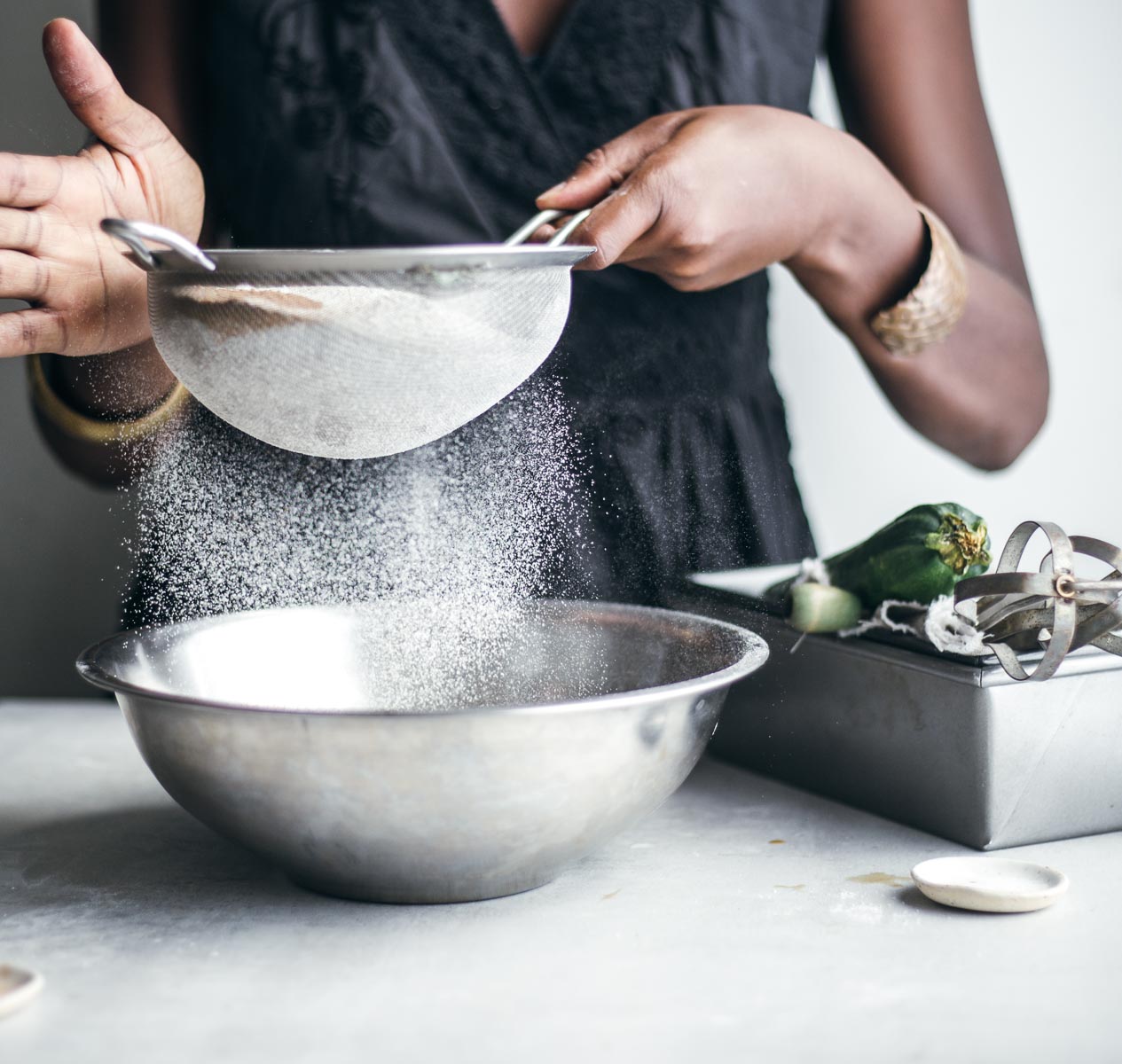 Finally, you mix the dry ingredients in another mixing bowl ⑥. Of course, all of the above can be done in one bowl. In short, you add the dry ingredients to the wet ingredients ⑦ to form a dough ⑧. You transfer the dough into a loaf pan ⑨.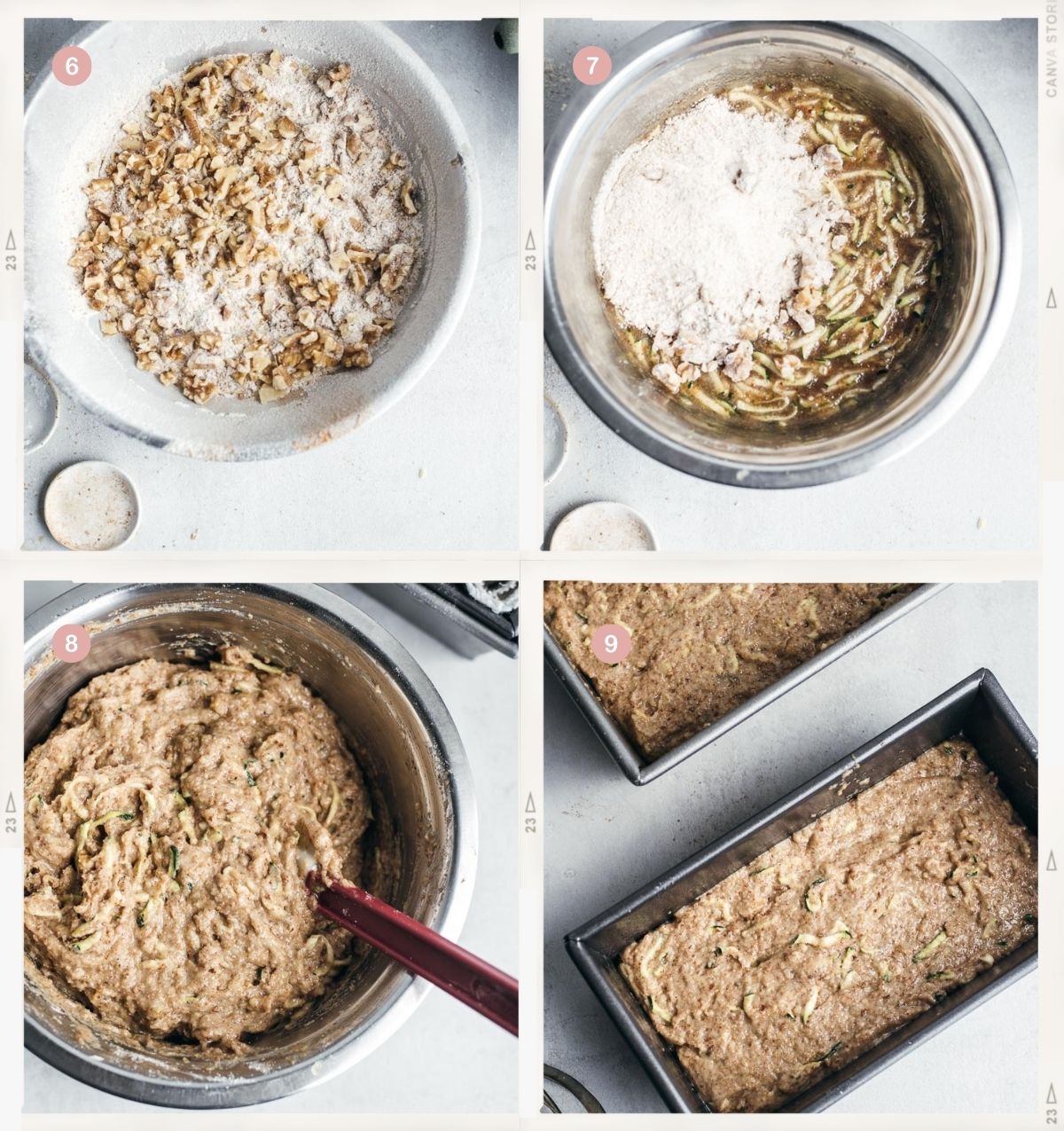 Finally, you put it in the oven until it's done.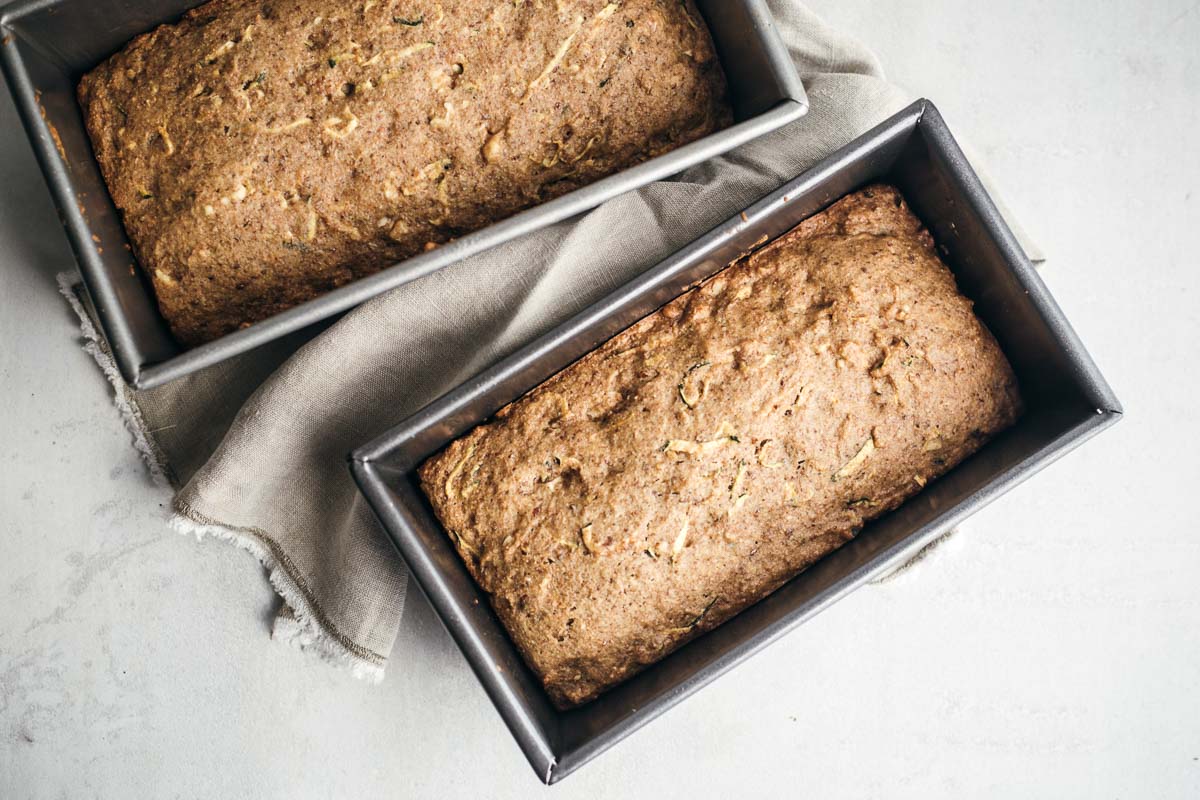 Keys to Success: My Top Tips
Filter the powder
Sifting the flour promotes uniformity of the crumb by removing larger particles that could result in a dense or even runny texture in the middle.
You have three ways to sift the flour:
With a flour sifter: it's a mesh screen fixed inside a large stainless steel cylinder with a crank on the side.
With a fine-mesh sieve: it's a sieve with a long handle. You put the flour in it, and you hit the edge so that the flour falls out.
With a whisk: it's easier to clean than the two objects mentioned above.
With a fork: yes! What could be simpler when you don't have any of these things.
Resist the wrist
Over-mixing your dough creates a gummy, dense, or tough texture because the wheat proteins and gluten are overdeveloped.
The idea here is to give the dough lightness. To do this, you need to create enough air bubbles in it. The baking soda and baking powder will help you with this.
If you go to great lengths to trap air in the fat (oil), then mix it all at once without precaution with the dry and wet ingredients of the quick bread, you'll lose all the air you have accumulated by whipping.
The watchword here is to incorporate. It involves combining the ingredients gently without stirring or beating. Use light movements with a rubber spatula in one hand while rotating the bowl with the other hand.
Scan your pans
Dark-colored bread pans absorb heat more and are likely to increase the baking process. Check for doneness 10 minutes before the suggested time. Light-colored pans reflect heat and may require the total cooking time indicated (or even a little longer). But it's worth inspecting your preparation a bit before anyway.
Make it even, Steven
Place your loaf in the center of the oven, where the heat circulates more evenly. The cooking will be the same on all sides. Make sure the temperature is the right one.
If you're wondering why your zucchini bread is raw in the middle, your temperature was too high.
To find out if it's ready, insert a toothpick in the center after 50 minutes of cooking. It should come out clean and dry or have just a few scabs clinging to it.
If the dough sticks to the toothpick, consider baking it longer.
Also, the top, sides, and bottom should be a golden brown and have a hollow sound when you tap it.
Essential Equipment
Grater. The fastest way to grate zucchini is to use a food processor. Otherwise, use the four-sided grater. It is also easily done.
Grinder. I used my mini blender for grinding whole flax seeds. You can try with the food processor, but I'm not sure the seeds come out powdery enough. You can also use a spice or coffee grinder.
Measuring spoons and cups.
Mixing bowls.
Rubber spatula.
Sifter, fine-mesh sieve, or whisk.
Loaf pans x 2. I used 5 x 9 x 3 inch sized loaf pans. Mine are dark-colored.
How to Serve It
You can serve this delicious vegan zucchini bread cold or hot. A slice or two with a cup of tea makes for a hell of a breakfast. Also, eat it as a snack or dessert.
I love it with a cup of tea in the morning or a nice glass of lemonade in the afternoon.
Other Creative Variations
To make a real fruitcake (a fruitcake is a rectangular cake containing raisins, candied fruits), reduce the quantity of pecans to ½ cup and put ½ cup of raisins.
To increase your pleasure, add chocolate chips to turn it into vegan chocolate chip zucchini bread or cocoa powder for a vegan chocolate zucchini bread.
Change the shape by putting the dough in a mini loaf pan or muffin pan to make vegan zucchini muffins—irresistible gifts for your friends, neighbors, or coworkers.
More Quick Breads
Answers to Your Burning Questions
Do we peel the zucchini before making the zucchini bread?

No. You don't have to peel the zucchini. In fact, you would be wasting your time doing it. When grated, zucchini melts into bread and helps impart a fluffy texture. Also, I think it would be worth keeping the skin on. Its green color screams: "Packed with nutrients!"

How do you grate zucchini to make zucchini bread?
There are two ways to grate zucchini: by hand with a four-sided grater or a food processor with a circular grater. I prefer the second method. It gets the job done faster and without damaging the zucchini strings.

Here's how:

•By hand with a four-sided grater: cut off the ends of the zucchini and rub them against the grater side of a grater to get a perfectly sized bunch of strings for baking zucchini bread.

•In the food processor: cut it in two or three pieces and place it vertically in the upper mouth of your food processor. Turn it on by pushing the piece of zucchini down.

How many zucchini do I need to grate to get 2 cups?
It depends on the size of the zucchini. When sliced, an average of 6 to 7 inches (15 to 17 cm) zucchini makes about 1 to 1¼ cups. A medium zucchini can give you 2 cups.

What to replace the oil in zucchini bread?
You can replace the oil with applesauce. It makes low-fat, low-calorie zucchini bread. In fact, if you want to know the truth, it replaces oil and eggs in vegan baking.

What are my replacement choices for zucchini?
The best substitutes for zucchini are squash, cucumber, eggplant, carrots, apple, beetroot, and sweet potato.

How to Store It
Zucchini bread will keep for at least two or maybe three days at room temperature. After hanging out on the counter for three days, it's best to refrigerate it. It will keep there for at least a week, or even a few more days.
To maximize its shelf life, cover it with foil or plastic wrap or place it in a plastic bag to prevent it from drying out.
Make it Now
If you ask me: "What is the point of baking zucchini bread?" I'd tell you that zucchini is an ingredient similar to a banana in baking. So, why not do something similar to the banana bread?
Zucchini adds terrific texture and moisture to baked goods and not only helps puff up quick breads but cakes and muffins with a nutritional boost!
Accompanied by applesauce, this vegan quick bread is more rounded.
This fruit vegetable has such a sweet flavor that it pairs wonderfully with everything from cinnamon to chocolate.
This treat has everything to charm you.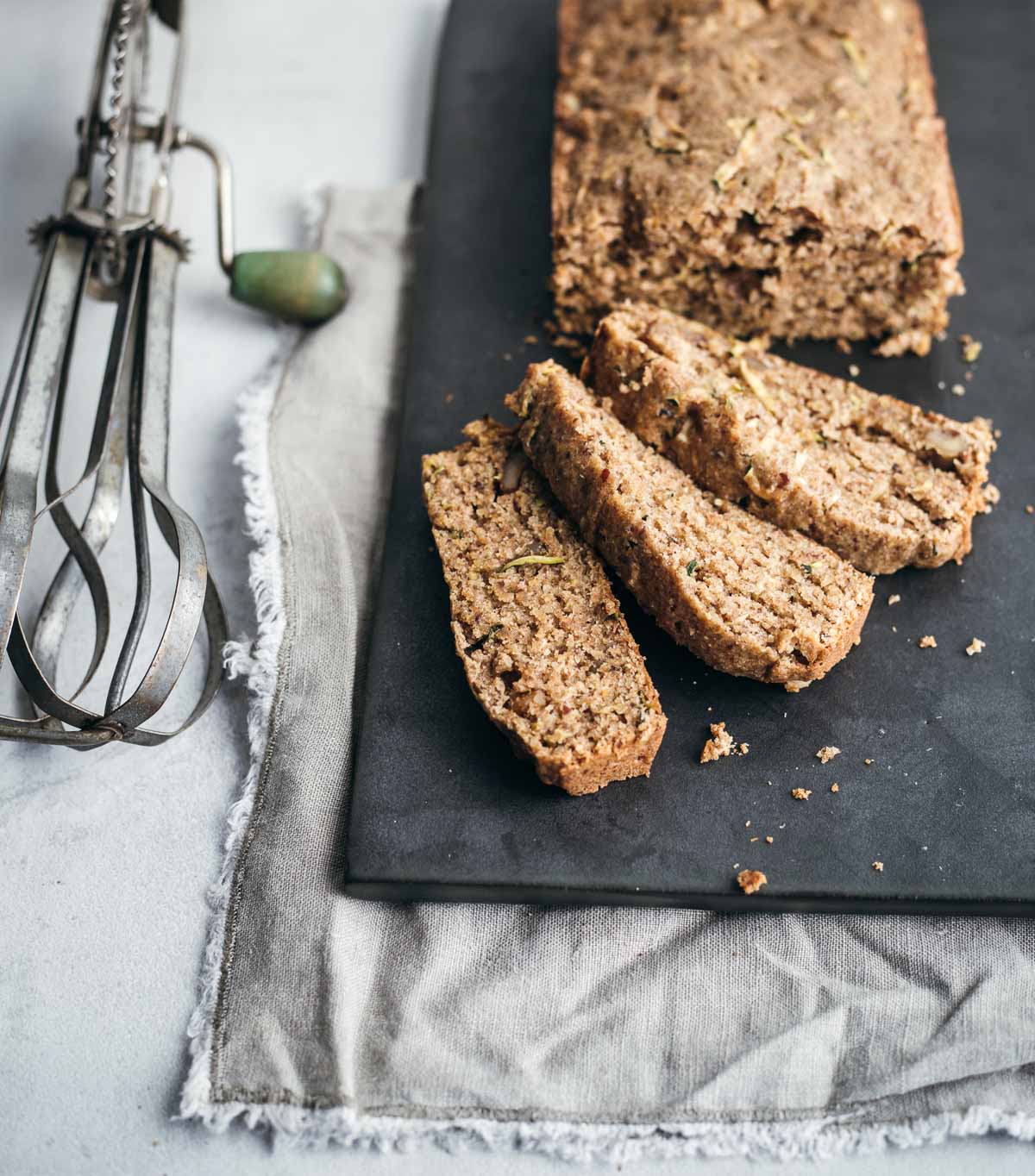 If you try this recipe, I want to know about it! I always appreciate your feedback. Leave a star rating in the recipe card right below and/or a review in the comment section further down the page. You can also follow me on Pinterest, Facebook, or Instagram. Sign up for my email list, too!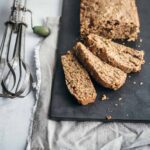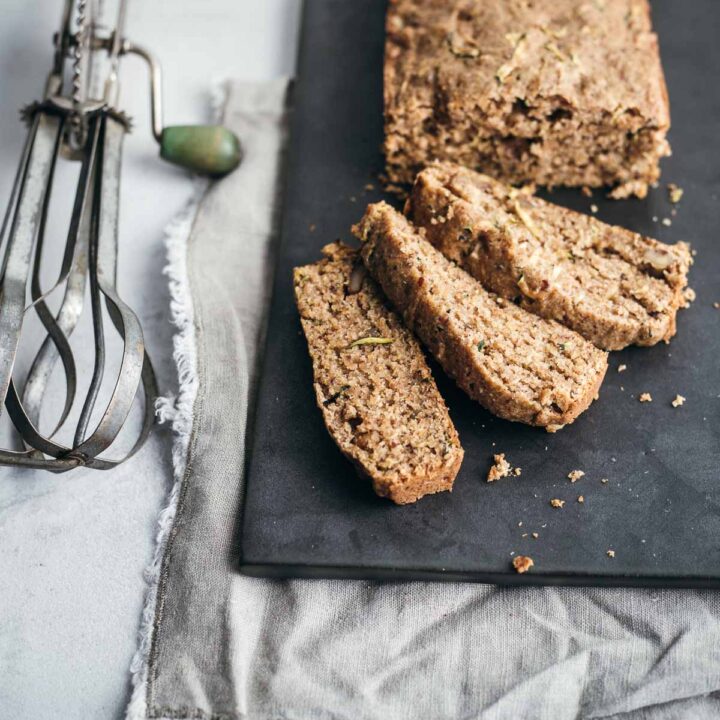 Zucchini Bread with Walnuts
My version is much less sweet than the original version. This may be because coconut palm sugar is more intense than regular sugar. These pretty things can be made in 70 minutes, including cooking time. And unlike more conventional quick breads, which are best when cooled completely before slicing, this one doesn't suffer when eaten hot. This makes for a perfect last-minute dessert or afternoon treat.
Save Recipe
Saved!
Print Recipe
Pin Recipe
Equipment
Food processor or grater

Measuring spoons and cups

Mixing bowls

Rubber spatula

Fine-mesh sieve or sfiter

Loaf pans, 8 x 4 x 2 inch (20 x 10 x 5 cm) or 9 x 5 x 3 inches
Ingredients
3

tablespoons

ground flax seeds

or 2 tablespoons whole

½

cup

water

½

cup

vegetable oil

like canola, sunflower oil, seed oil

½

cup

applesauce

1

tablespoon

apple cider vinegar

or distilled white vinegar, lemon juice

1 ½

cup

coconut palm sugar

2

cups

grated zucchini

2

teaspoons

vanilla extract

3

cups

whole wheat flour

or unbleached all-purpose white flour, gluten-free flour,

3

teaspoons

ground cinnamon

1

teaspoon

kosher salt

or fine sea salt

1

teaspoon

baking soda

¼

teaspoon

baking powder

1

cup

walnuts

or pecans, coarsely chopped (Optional)
Instructions
Preheat the oven to 325 ° F (170 ° C). Lightly grease two loaf pans, four mini cake tins, or two muffin tins.
Make the flax egg:
In a mini blender or a spice grinder, reduce the flax to powder if whole. In a small bowl, combine the ground flax seeds and water. Whisk until thick and creamy, about 2 minutes. Transfer the "flax egg" to a mixing bowl.
Prepare the wet ingredients:
In the mixing bowl, add the oil, apple cider vinegar, and sugar to the flax egg and combine.

Stir the zucchini and vanilla.

Prepare the dry ingredients:

In a separate bowl, using a sieve, sift together the flour, cinnamon, baking soda, baking powder, and salt.

Optionally add the walnuts to the sifted ingredients.
Make the dough:
Stir the dry mixture into the wet mixture until combined. Do not overmix.

Divide the dough into the prepared pans and bake for 60 to 70 minutes for standard loaves, 40 to 45 minutes for mini loaves, or 30 to 45 minutes for muffins.

Check if it's ready by inserting a toothpick in the center.

Let cool completely on a cooling rack or serve immediately.

Placed in an airtight container, this zucchini bread will keep for up to 2 to 3 days at room temperature or a week in the refrigerator.
Notes
Sift the flour using a sieve, fine-mesh sieve, whisk or fork to promote uniform crumb results by removing larger particles.
Do not overmix the dough, which will result in a gummy or hard texture. Instead, gently combine the ingredients without stirring or beating, with light movements and a rubber spatula.
Check for doneness 10 minutes before the suggested time if dark-colored loaf pans are used. Suggested full cooking time may be longer if light-colored pans are used.
Place the loaf pans in the center of the oven, where the heat circulates more evenly.
The loaves' top, sides, and bottom should be golden brown and have a hollow sound when tapped.
Variations
Vegan zucchini bread with raisins: reduce the walnuts to

½ cup and add ½ cup raisins.

Vegan chocolate chip zucchini bread: reduce the walnuts to

½ cup and add ½ cup chocolate chips.

Vegan chocolate zucchini bread: reduce the flour to 2

½

cup and add

½ cup cocoa powder.
Nutrition
Serving:
2
loaves
|
Calories:
1917
kcal
|
Carbohydrates:
254
g
|
Protein:
30
g
|
Fat:
99
g
|
Saturated Fat:
49
g
|
Polyunsaturated Fat:
17
g
|
Monounsaturated Fat:
28
g
|
Sodium:
2010
mg
|
Potassium:
1012
mg
|
Fiber:
29
g
|
Sugar:
87
g
|
Vitamin A:
70
IU
|
Vitamin C:
1
mg
|
Calcium:
188
mg
|
Iron:
9
mg
Get Your Free Plant-Based Eating Toolkit and More
Subscribe to my newsletter and unlock my plant-based course, nutrition charts, recipe secrets, and exclusive updates to prepare wholesome, varied & balanced meals effortlessly. All you need is a good appetite. Subscribe!