Here's a zucchini recipe that will not leave you indifferent. Coated with a succulent enveloping flavor of unique Italian tomatoes, they are cooked in the set-it-and-forget-it fashion (speaking of the preparation of the ingredients).
Yeah! It requires minimal effort: a few minutes of cutting and 10 minutes of simmering, and the dish is ready to be put in the oven and cooked to tasty perfection.
Jump to:
Why this Recipe Works
If you have summer zucchini in your local market or are one of those people overwhelmed by an overabundance of them in your own backyard—a problem I wish I have one day—cop this recipe right now.
This recipe, taken from the queen of Italian cooking in North America, Marcella Hazan, celebrates this cuisine beautifully and is very simple. There's nothing but olive oil, onions, garlic, tomatoes—and not any kind of them, on top of it—zucchini and basil.
Although zucchini is not the most exciting vegetable, under the spell of the tomato, it succeeds, cleverly, to seduce the palate.
The zucchini is almost melty in its sweetness and, coupled with the depth of the tomato flavor, is enough to make you moan with pleasure.
Cooked as such, I could eat it every day until nature ran out.
What Do We Put in It?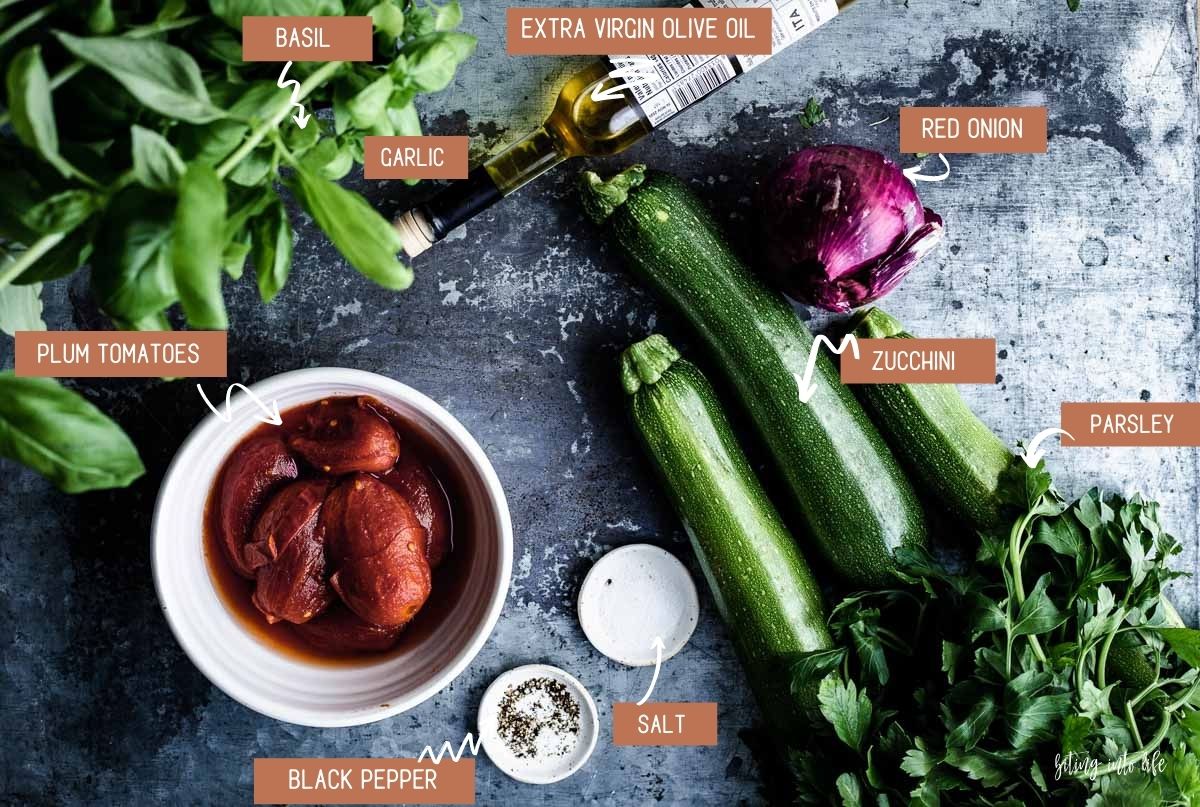 Ingredients Notes
Zucchini – don't take them enormous (not miniature, either), but medium-sized, glossy, and with no blemishes. Something less than 6, 7 inches (15, 17 cm) long and about 1 inch (1.5 cm) in diameter is ideal. Young zucchini, well-developed, are usually more desirable because of their compact skin, tiny seeds, tenderness, and softness.
Plum tomatoes – I used the famous San Marzano tomatoes, which are considered the best tomatoes in the world, crème de la crème, the gold standard, even canned—it cannot be found fresh in North America. To know which brand is the best, you should see no pieces, no sauce, just whole, firm-fleshed tomatoes with a bit of their juice. But you'll only know after opening several.
Onion – I really like cooking with red onion, as I find it tastier than traditional yellow onion (or maybe I'm imagining things). Hazan thinks it gives a pretty pungent aftertaste, but I don't know, it's up to you.
Garlic – if you can find any, I repeat if, choose the Georgian Fire varieties for a rich, harmonious, and warm flavor or Rocambole for a deep and round taste.
Herbs – take flat-parsley and Genoese basil.
Jump to Recipe for the exact quantities.
Simple substitutions or add-ins
Zucchini – feel free to add yellow zucchini.
Canned plum tomatoes – uses fresh heirloom tomatoes.
Onion + Garlic – if you have poor digestion or need to follow a low-FODMAP diet, use the green part of scallions and my garlic-flavored oil.
Herbs – experiment with oregano or Italian herbs.
How to Make this Dish Step by Step
It starts with a drizzle of olive oil, minced onion, and garlic. Next come the parsley, tomatoes, and their juice ①. Finally, the zucchini mix into the sauce so that they are entirely coated ②. After about 20 minutes of cooking on the stove, you put the Dutch oven/cast-iron casserole dish in the oven and let it cook until the zucchini is very soft—almost soft enough to fall apart, but not quite ③. Finally, you garnish with basil and voilà ④.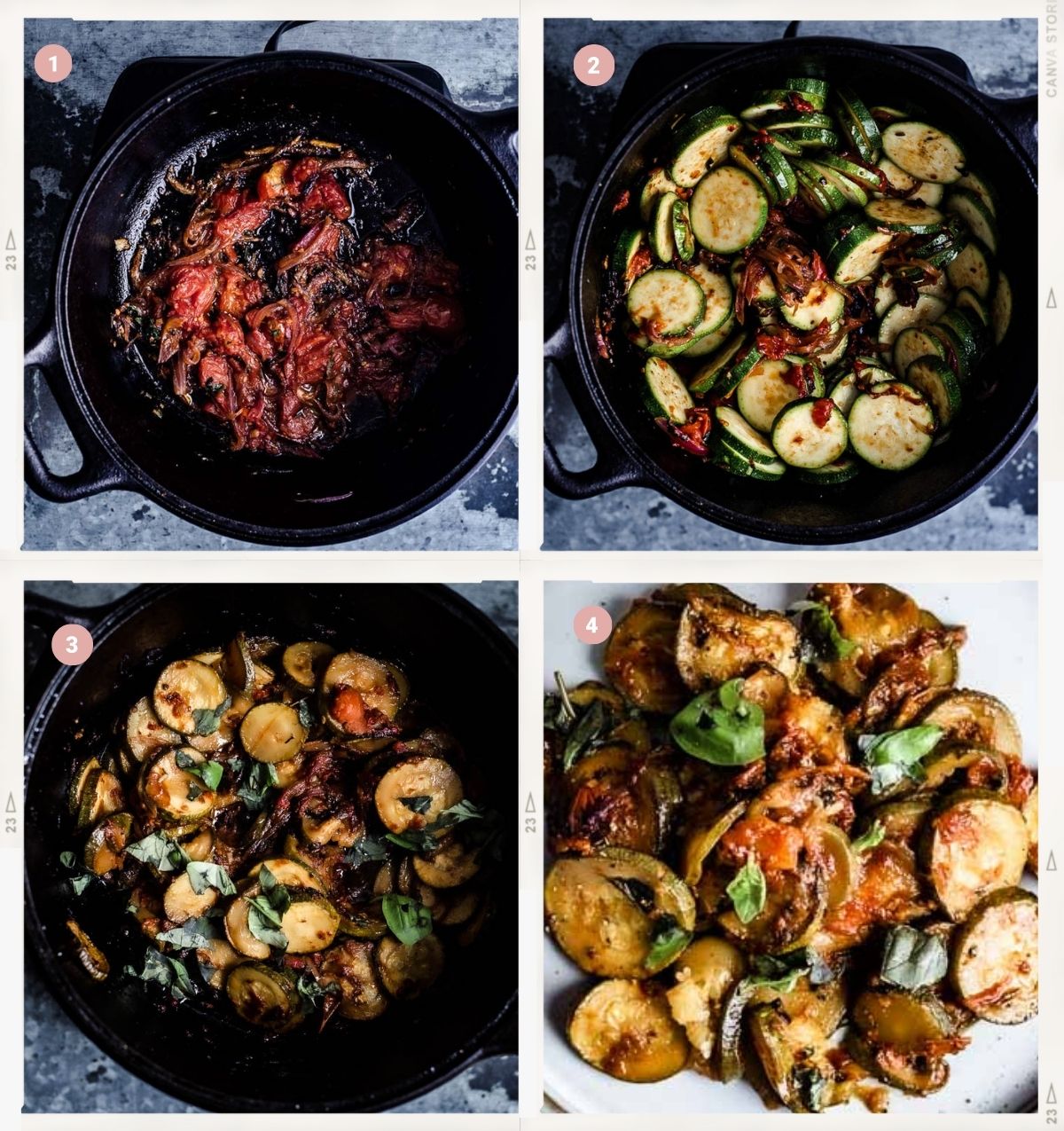 The Keys to Success: My Top Tips
Clean the zucchini well
The zucchini's thin skin is easily penetrated by soil, which is difficult to detect until the sound scrotch resonates between your two temples. Although the zucchini is occasionally free of grit, the more careful thing to do is to assume some is embedded in the skin. Therefore, you have to free the zucchini from it and remove it as described below:
In a large bowl, soak the zucchini in cold water for 15 to 20 minutes.
Rinse the zucchini from top to bottom under cold running water, rub it quickly with your hands or rough cloth to remove any soil still encrusted in the skin.
Cut both ends of the zucchini and cut it as directed in the recipe.
Bank on ripe tomatoes
Hazan suggests taking plum tomatoes that are really ripe and fresh, narrow, and elongated. They give the dish a dense flavor, with a fruity sweetness and mouth-filling sensation rather than an acid taste. These can be San Marzano tomatoes (available canned only) or Italian tomatoes called Roma.
They have much fewer seeds, their flesh is firmer, and their juice is less watery than any other variety. As this type contains less liquid to boil, it cooks faster, giving that fresh, clean flavor so characteristic of Italian sauces.
If you cannot find any, attribute the same criteria for the other varieties. It doesn't matter if they are big or small, delicately rounded or ribbed (for example, heirloom tomatoes).
What matters is that their flesh is dense and ripe and that in the Dutch oven/pot they produce a tomato sauce and not tomato juice.
Don't overcook the zucchini
This paragraph is much less verbose. The watchword: we do not want the zucchini to decompose. You'll know that zucchini are cooked when it becomes very soft. Some will be slightly translucent; others won't.
Don't skimp on the quality of olive oil
Okay, that's a given. All oil grades may well be marketed as olive oil, but to have an authentic Italian recipe, the only one that should be considered is one with the "extra virgin" label.
There is an array of aromas and flavors—delicately fragrant, nutty, tangy, grassy, ​​fruity, etc.)—so sample several until you select the one you like.
Avoid olive oils at all costs that feel too fatty, sticky, and have an earthy or rancid smell.
Essential equipment
How to Serve this Dish
This dish is a side dish, but you can turn it into something richer or more filling. Enjoy this zucchini dish with tomatoes and basil:
Topped with vegan cheese, like my macadamia ricotta or almond ricotta or any grated plant-based cheese;
Mixed with seasoned tofu;
Mixed with quinoa or other pseudo-cereals, such as millet or buckwheat or cereals such as barley, rice (white, brown, or black);
Incorporated into regular, gluten-free, or high-protein pasta;
Stirred in lentils;
Garnished on a pizza dough crust, like my gluten-free cauliflower pizza crust;
Accompanied with crusty bread.
Answers to Your Burning Questions
What to do with lots of zucchini?
It's such a prolific vegetable; it wins the Palme d'Or for its versatility! Since zucchini retains its firmness and freshness longer than any summer vegetable, use it every possible way (as a side, in bread or muffins, salads, soups and stews, instead of noodles, etc.) and shapes (noodles, coins, half-moon, batons, etc.).

Firm enough to withstand all cooking methods, enjoy grilling, sautéing, or even quick cooking in the microwave. Quite tender, eat them raw, like noodles.


Should you peel the zucchini before baking it in the oven?
Not at all! It's not necessary to peel zucchini. In fact, the skin is an excellent source of nutrition (the dark green color obviously shows you that), and by doing this, you would be getting rid of essential nutrients.


What goes well with zucchini?
Eggplant, pesto, sour cream, nuts (especially walnuts and pecans), all kinds of vinegar.


How do you know if the zucchini is cooked?
Cooked in a Dutch oven, you'll know that zucchini is cooked when it becomes very soft without falling apart.

How to Store this Dish
I'd be surprised if you had any leftovers, but even if an emergency suddenly arose and forced you out of the table after painfully taking three bites, keep it in an airtight container in the refrigerator for at least five days.
Make this Dish Now
In appearance, zucchini may seem the most uninteresting.
However, it's likely to seduce your palate in endless ways. It's amazing how pleasantly it pairs well with tomatoes. Especially if the latter comes from, let's put it like that, the most award-winning variety.
Together, they cook languidly on the stove and in the oven for a simple, tasty side dish while you indulge in other activities at the same time.
Anyway, you'll never get tired of this dish.
I guarantee it.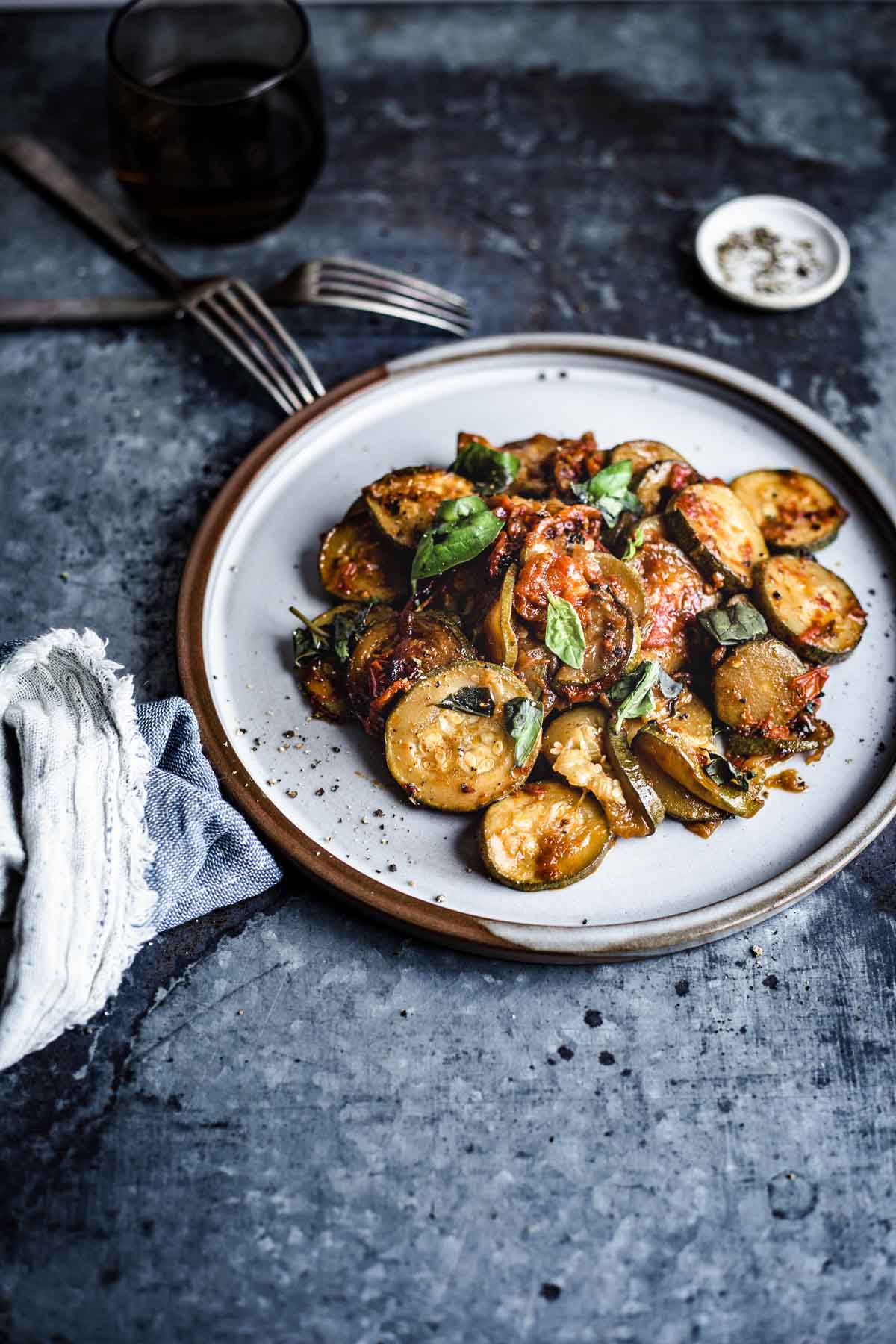 If you try this recipe, I want to know about it! I always appreciate your feedback. Leave a star rating in the recipe card right below and/or a review in the comment section further down the page. You can also follow me on Pinterest, Facebook, or Instagram. Sign up for my email list, too!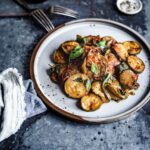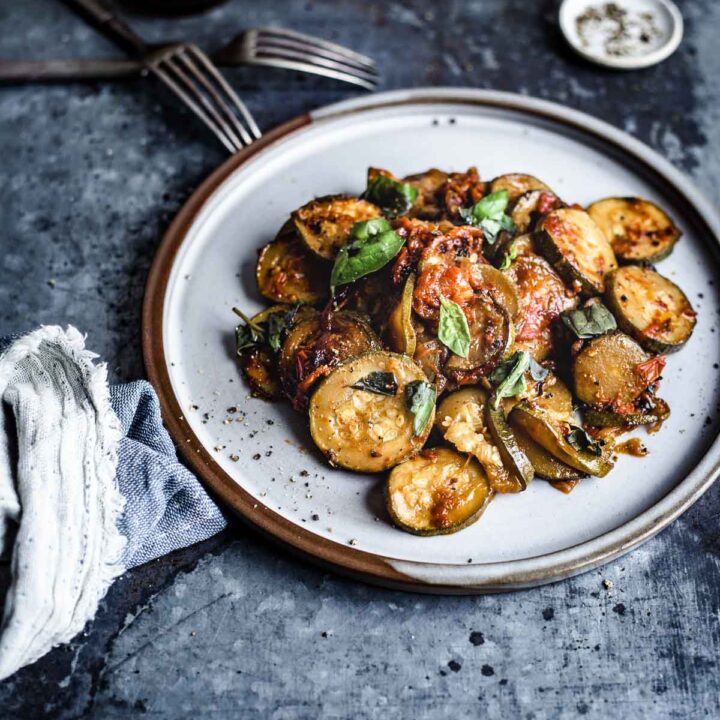 Zucchini with Tomatoes and Basil
I have never been so excited to bring pieces of zucchini to my mouth. They practically cook themselves, and we greedily swallow them thanks to the plum tomato, its faithful partner. Eat them topped with vegan cheese or with another more filling dish.
Save Recipe
Saved!
Print Recipe
Pin Recipe
Equipment
Cutting Board

Chef's knife or pairing knife

Cast-iron casserole dish/Dutch oven
Ingredients
680

g

zucchini

fresh (about 1 ½ lb or 6 medium zucchini) soaked in cold water for 20 minutes, ends removed and cut into 1 inch-thick coins (note)

2

tablespoons

olive oil

extra virgin

½

cup

red onion

finely chopped

1 ½

teaspoon

garlic

coarsely chopped

2

tablespoons

parsley

chopped

⅔

cup

plum tomatoes

coarsely chopped, with their juice

Kosher salt

Black pepper

freshly ground

6

basil leaves

fresh, or more
Instructions
Preheat the oven to 350 ° F.

In an enameled cast-iron casserole dish, put the onion and oil and put on medium heat. Cook and stir the onions until they turn lightly golden, then add the garlic. Once golden, add the parsley, stirring once or twice, then add the tomatoes with their juice. Cook broth at low, steadily, until the oil, floating, comes off the tomatoes, about 20 minutes.

Add the zucchini coins, salt, and pepper, and turn the zucchini once or twice so that they're well coated. Cook for 5 minutes on the stove.

Transfer the casserole dish to the upper rack of the preheated oven. Cook until the liquid released by the zucchini dries up and the vegetable slices are tender.

Remove the casserole dish from the oven. Wash the basil in hot water, tear the leaves into one or two pieces by hand, distribute them over the zucchini and serve immediately.

Kept in a tight container in the refrigerator, this zucchini with tomates and basil will keep for up to 5 days.
Notes
Zucchini:
Cleaning: Soak the zucchini in a bowl filled with cold water for at least 20 minutes, and prepare the zucchini, removing its ends and cutting it into slices as 1 inch thin
Cooking: Do not let the zucchini fall apart. Zucchini is cooked when it becomes very soft. Some rounds will be slightly translucent; others won't.
Tomatoes:
Fresh: select the variety of plum tomatoes that are narrow and elongated (called Roma tomatoes) or heirloom tomatoes.
Canned: select San Marzano Italian tomatoes for a deep flavor.
Make-ahead: This dish can be made several hours earlier on the day of service. Do not refrigerate. Reheat in a hot oven before proceeding with garnishing with basil.
Nutrition
Calories:
434
kcal
|
Carbohydrates:
37
g
|
Protein:
11
g
|
Fat:
31
g
|
Saturated Fat:
5
g
|
Polyunsaturated Fat:
4
g
|
Monounsaturated Fat:
21
g
|
Sodium:
71
mg
|
Potassium:
2335
mg
|
Fiber:
10
g
|
Sugar:
25
g
|
Vitamin A:
3476
IU
|
Vitamin C:
162
mg
|
Calcium:
167
mg
|
Iron:
4
mg
Get Your Free Plant-Based Eating Toolkit and More
Subscribe to my newsletter and unlock my plant-based course, nutrition charts, recipe secrets, and exclusive updates to prepare wholesome, varied & balanced meals effortlessly. All you need is a good appetite. Subscribe!