This lactose-free ricotta cheese is almost similar in texture and flavor to the real thing. And it's very easy to make.
All you need are nuts as your main ingredient and a little of your imagination.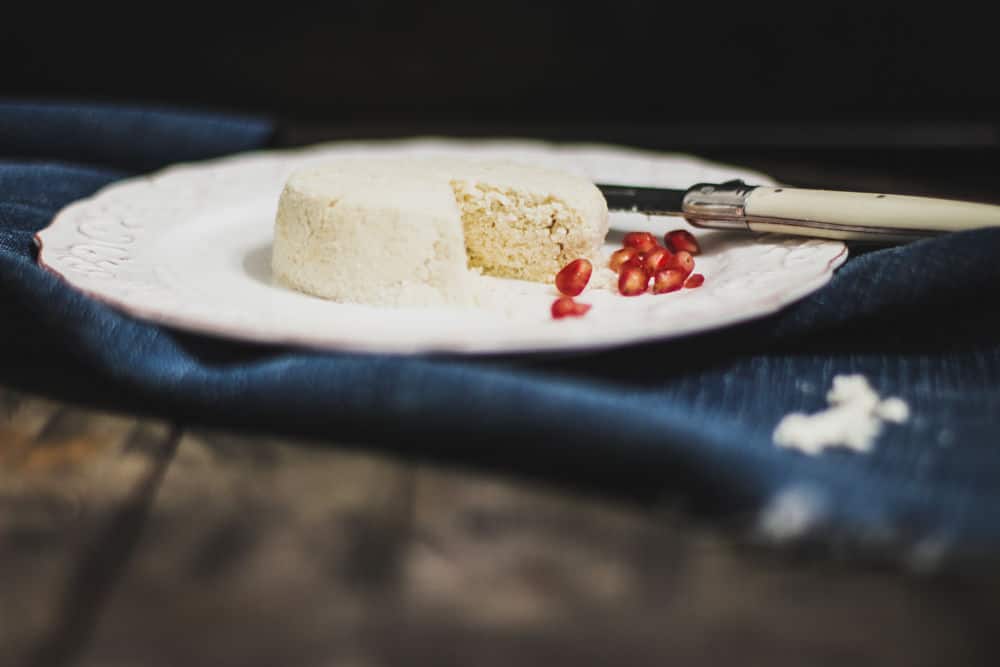 Living without cheese... a difficult, if not an impossible task?
If you talk to anyone who has made the transition to a vegan diet or is thinking about it, most of the time, that person will say that cheese is their weakness.
This weakness can be so great that it causes some people to feel ecstatic when they eat it. They enjoy creamy Brie on a crispy baguette with apple slices and a glass of wine and… Mmmh! They're on cloud 9!
So, if you too are bewitched, it's not your fault. There's something in cheese that makes you crave it.
Why You're Addicted to Cheese
How can you ignore this exquisite treat? Its tangy flavor? Its creamy texture? How can you ignore all its interesting shapes? Sliced, saucy, crumbled... How can you forget your childhood memories or gourmet evenings with friends?
For most people, cheese has so many varieties, each more sensual than the next, that they find it difficult to abstain from it, to eliminate it. Do you want to hear something crazy?
Some have cheese cravings in the wee hours of the night. The wee hours of the night!!
Want to know something? There's a reason for this addiction. Because it is an addiction!
Researchers have found that casein — a milk protein — breaks down into casomorphins during digestion, producing opiate effects, the same as heroin and morphine.
According to Dr. Neal Barnard, Chair of the Physicians Committee for Responsible Medicine (PCRM):
"Since cheese is transformed to express all the liquid, it is an incredible source of casomorphins. So to speak, it's dairy crack. In other words, cheese is a concentrate of casomorphins."
Ah! This explains the effect of this accentuated pleasure!
Fall in Love with "Cheese" All Over Again
I agree. Nut cheeses will never be comparable to real, dairy cheese.
But the flavors of nut cheeses are just as sensual.
And what's great about nut cheeses is that you can create a myriad of varieties. It depends on the chosen nuts: almonds, cashews, macadamia nuts, hazelnuts (for a sweeter flavor)... As long as they have a high-fat content.
In this recipe, I wanted to recreate some kind of ricotta.
So I used almonds to replicate the same white color. For this, I had to peel them.
Oh! Man! This took me way back to when I started the raw food diet. It reminded me of the pain I was going through the first time I prepared almond milk. Imagine! I would peel all the almonds beforehand.
I didn't know that it made no difference if I peeled them or not. I didn't know it would change neither the color nor the taste of the milk.
Fortunately, this time, peeling almonds was effortless.
Once soaked or blanched, you can remove the skin very easily.
The traditional ricotta recipe contains lemon juice. So I kept it in my dairy-free cheese version to make it tangy, which naturally results from the fermentation process. Then, since all cheeses are salty, I added a little salt too, and to give it taste, I added garlic.
In short, making this almond lactose-free ricotta is very simple.
Simply drain a mixture of creamy almond, previously processed in the food processor. Use a cheesecloth (or gauze) and apply a light pressure.
My version is a quick version. To have even more nutrition, some ferment the whole thing. But I didn't. If I wanted to do so, I would've used probiotics or a fermented ingredient, like Rejuvelac — a solution of fermented grains — or miso. This works great to accentuate the taste of cheese.
Depending on the desired texture, you may decide to have a drier or wetter ricotta. This would depend on the dewatering time or applied pressure.
Wetter ricotta can be added to pizzas, noodles, lasagna, or wraps, for example. Drier ricotta can be crumbled into salads or soups.
So there you go! Let's get to it!
Quick Almond Ricotta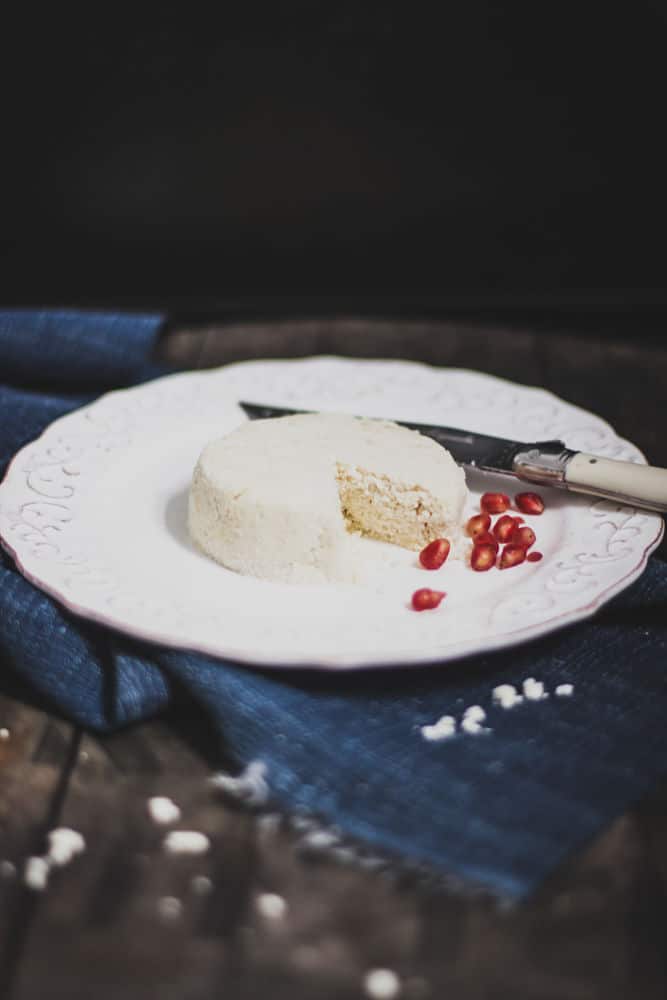 If you try this recipe, I want to know about it! I always appreciate your feedback. Leave a star rating in the recipe card right below and/or a review in the comment section further down the page. You can also follow me on Pinterest, Facebook, or Instagram. Sign up for my email list, too!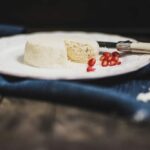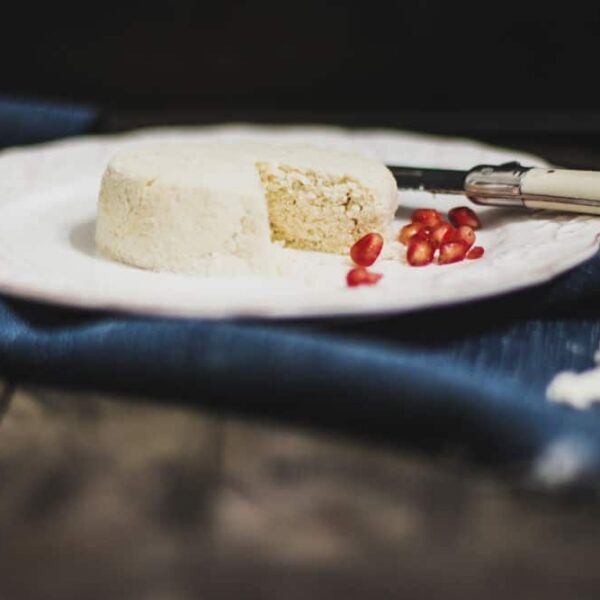 Lactose-Free Ricotta
This lactose-free ricotta cheese is almost similar in texture and flavor to the real thing. And it's very easy to make.
Save Recipe
Saved!
Print Recipe
Pin Recipe
Ingredients
1

cup

almonds

soaked for 8-12 hrs, drained and peeled or blanched for a few seconds (Notes)

¼

cup

water

2

tablespoons

lemon juice

1

clove

garlic

crushed (about ½ teaspoon)

¼

teaspoon

salt
Instructions
Place all ingredients in the food processor and process until creamy. Add more water for a wetter consistency.

Place the nut mixture in a nut milk bag or strainer lined with gauze (or cheesecloth) and let the cream mixture drain into a bowl. Or, press it lightly without completely filtering all the liquid coming out.

Put the nut cheese in a jar or shape it with your hands, then put it in the refrigerator for 8-12 h to firm or use immediately.

Serve in your favorite dishes.
Notes
If you forget to soak the almonds, you can fast-forward to 30 min.
Add fresh herbs such as basil or rosemary, pitted olives and sun-dried tomatoes to create new flavors.
Placed in an airtight container, Quick Almond Ricotta will keep for up to four or five days.
Nutrition
Calories:
833
kcal
|
Carbohydrates:
34
g
|
Protein:
31
g
|
Fat:
71
g
|
Saturated Fat:
5
g
|
Polyunsaturated Fat:
17
g
|
Monounsaturated Fat:
44
g
|
Trans Fat:
1
g
|
Sodium:
587
mg
|
Potassium:
1051
mg
|
Fiber:
18
g
|
Sugar:
6
g
|
Vitamin A:
4
IU
|
Vitamin C:
13
mg
|
Calcium:
387
mg
|
Iron:
5
mg
Get Your Free Plant-Based Eating Toolkit and More
Subscribe to my newsletter and unlock my plant-based course, nutrition charts, recipe secrets, and exclusive updates to prepare wholesome, varied & balanced meals effortlessly. All you need is a good appetite. Subscribe!