This dairy-free and eggless blueberry cobbler touches all the sweet spots of gourmets. It has a biscuity topping, chewy, slightly crispy on top, with a buttery taste and a delicious mix of juicy blueberries.
This healthier version only takes 10 minutes to prepare, and I'm sure you'll be gobbling up chunks of it in under two minutes.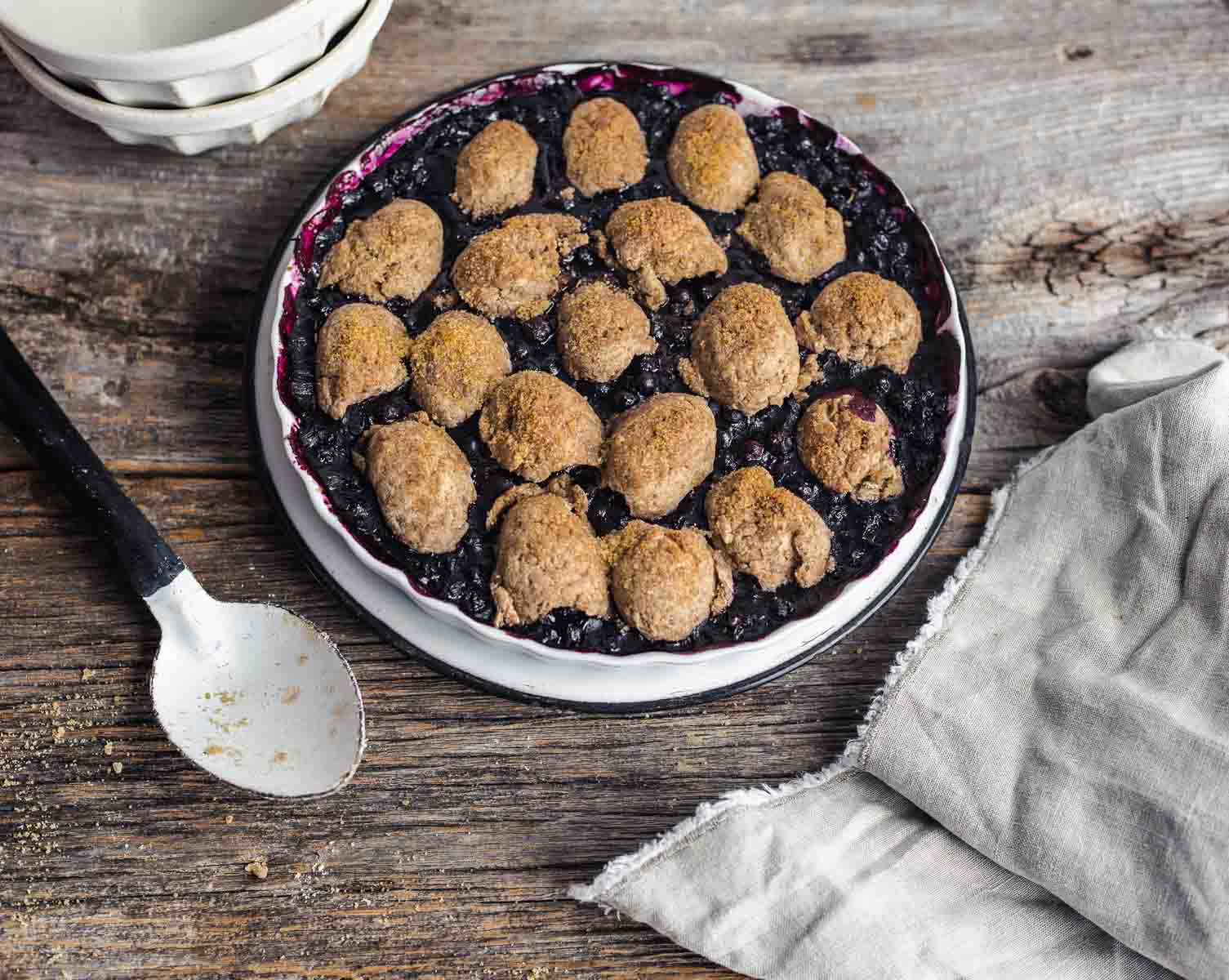 Why this Recipe Rocks
Before the summer ends, I urge you to escape to the countryside to pick a ton of blueberries. This is the most paramount recipe to make after plum crumble.
Otherwise, this easy dessert is easily eaten with frozen blueberries during the winter holiday season or any other occasion.
If you love American biscuits or British scones, plus berries, you'll love mixing the two in a fruit cobbler!
Fruit Cobbler is an American dessert that usually has a biscuit-like dough topping. It's a little crumbly on the outside and soft on the inside.
This topping is perfect for hot blueberries, reduced to a compote.
I know there are a million recipes for homemade blueberry cobbler on the interwebs, and people probably want a different take on the concept, but that's not the point of this recipe. This cobbler is unassuming, it doesn't reinvent anything, it doesn't tie up your sneakers' shoelaces for you.
It's only supposed to do one thing: be a great cobbler. And it is besides having a healthy dimension.
The topping is light and rich at the same time, just like a good biscuit should be. Its fruits are only moderately sweet, its juice barely bound by a spoonful of flour. It's perfect.
I love its simplicity and that it can be spooned, à la bonne franquette (casually without any fuss), no matter where you are. If you stand at the counter and eat it out of the pan, like I did, I won't judge you.
What Goes in It?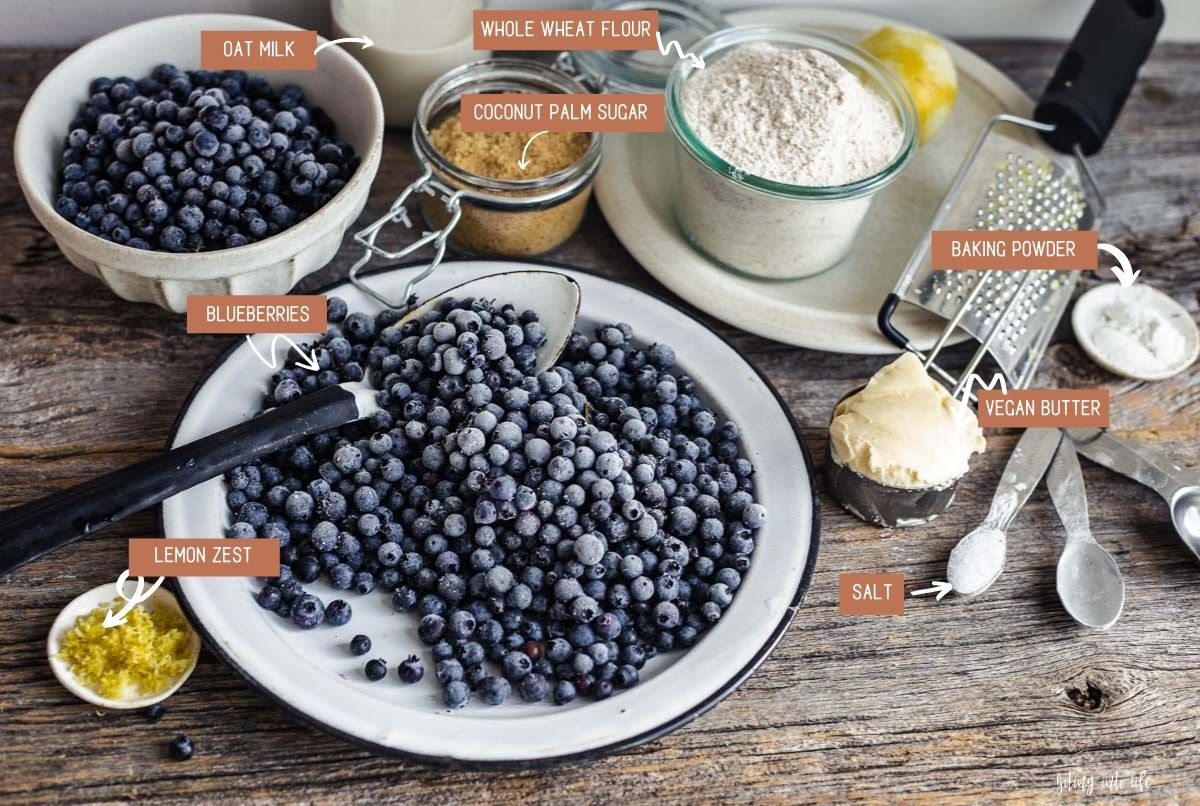 Notes on Ingredients
Blueberries – I took them fresh, firm, and ripe. Check for mushy or slimy fruit in the container. If there are any, throw them away.
Whole-grain flour – this is to increase nutrient density. Usually, unbleached white flour is used.
Vegan butter – I like the Earth's Balance or Miyoko's Creamery Vegan Butter brand.
Plant-based milk – choose the one you want: almond, oat, coconut, or soy milk.
Baking powder – it helps to raise the dough. Some people use cornstarch or potato starch, arrowroot, or tapioca flour. The goal is to absorb any extra liquid to avoid a runny cobbler.
Coconut palm sugar – it's a direct replacement for white sugar, which usually makes the color of the crumb paler, a color people are accustomed to.
Lemon Zest – lemon goes extraordinarily well with blueberries. Orange zest would also work.
See the recipe sheet for the exact quantities.
Simple Substitutions and Add-ins
Play with fruit – you can make a combination of berries. Reduce the amount of blueberries and compensate with blackberries, raspberries, or cherries, for example.
Make it gluten-free – use gluten-free flour to make gluten-free vegan blueberry cobbler. Try your luck with almond or coconut flour, but at your own risk.
Give it a more tangy flavor – you can add a little lemon juice to the plant-based milk to turn it into a kind of buttermilk.
Change the source of fat – coconut oil works well here too.
Try other sweeteners – other types of brown sugar (cane sugar, Demerara, Muscovado) or maple syrup go well for this recipe. To make the blueberry cobbler sugar-free, use erythritol or xylitol (if you are used to it, as some people may have mild discomfort at first).
Make it spicier – spruce up this cobbler with some vanilla extract or cinnamon, if you like.
How To Make This Dish Step By Step
Making this vegan blueberry cobbler basically takes three steps. Let me walk you through the process quickly.
The first step is to prepare the biscuit-like dough (flour, coconut palm sugar, baking powder, flour, salt, butter, and plant-based milk) ①; the second step is to combine the fruit filling ingredients (blueberries, sugar, flour, and lemon zest) ②.
To assemble, you spread the mixture evenly in the greased baking dish ③, which you cover with dollops of dough. It doesn't have to be perfect. You just have to place large spoonfuls of cookies all over the place to look like a sort of "cobblestone road" ④.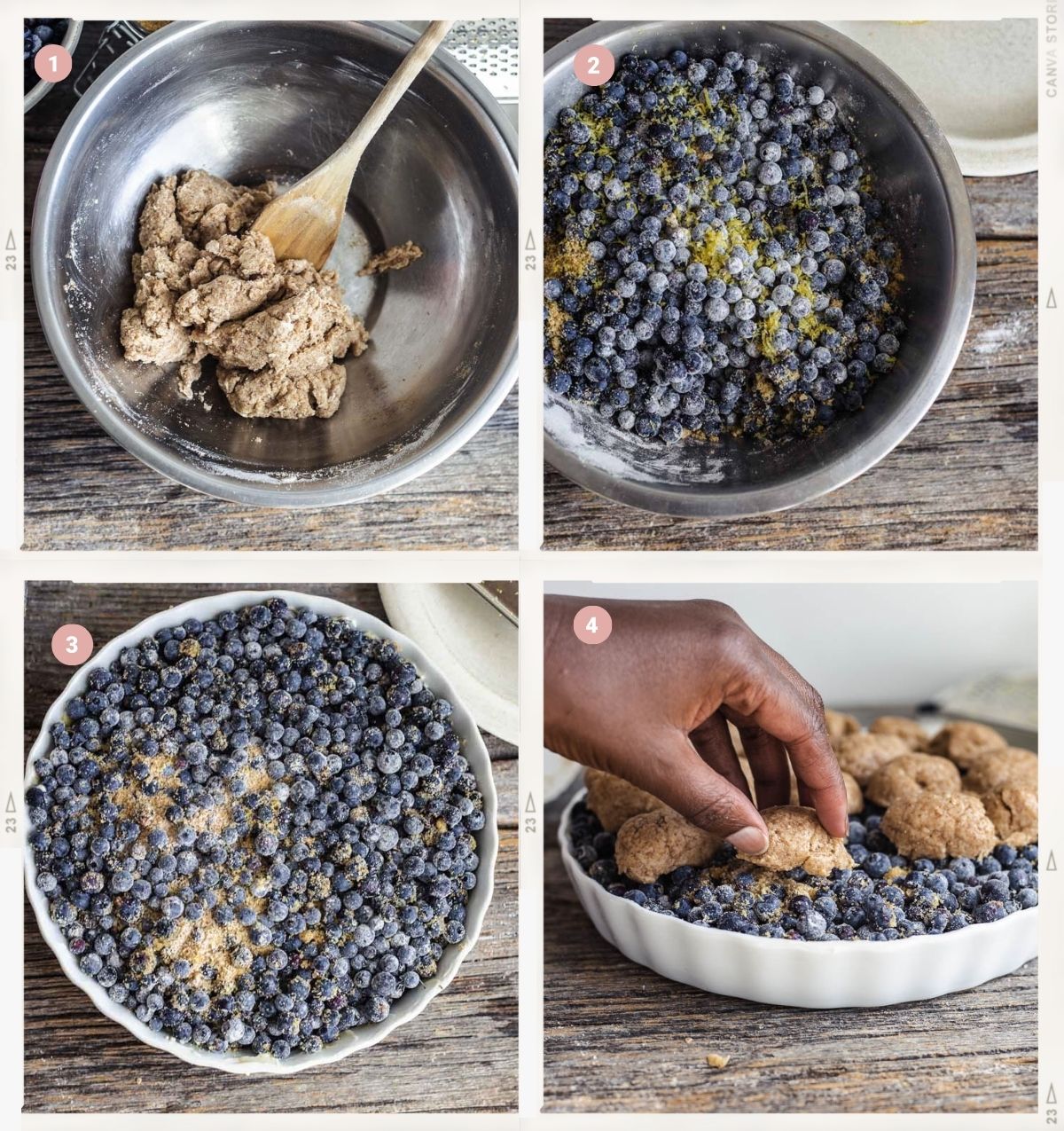 Finally, you brush the top of the dough with a little milk or vegetable butter ⑤. You put it in the oven and you cook it all ⑥.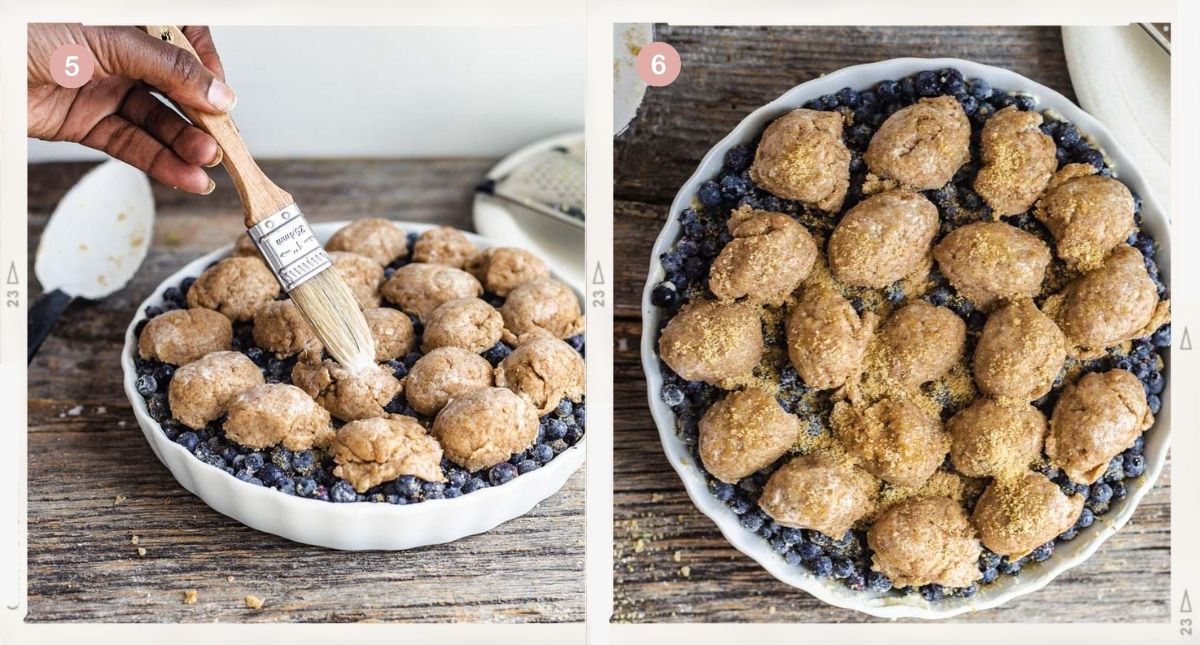 Keys to Success: My Top Tips
Don't go cutting corners with fruits.
Don't use canned fruits. They contain added sugar or colorings that are undesirable. In addition, they're soaked in liquid which will make the result too runny.
Be patient and chill.
I know you're going to want to dip your spoon in the cobbler but be patient! As the cobbler cools, the interior begins to thicken, creating a melt-in-the-mouth texture we all love! Ignore this advice, and your preparation will be too runny.
Customize the crust to your liking.
The butter should be cold and cut until the dough resembles coarse breadcrumbs to have a more flaky dough.
Essential Equipment
How to Serve this Dish
Before going wild with this dessert, don't forget to let the cobbler cool down at room temperature for 20 minutes before serving. This allows the berry juice to thicken and form a jam-like texture.
Then take chunks of cobbler with a spoon or pour them into a shallow bowl and garnish with your choice of plant-based toppings:
A scoop of vegan vanilla
Coconut ice cream
Coconut whipped cream
Coconut yogurt
Coconut flakes
Chocolate chips or cocoa nibs
Nuts, such as walnuts, pecans, slivered almonds
Answers to Your Burning Questions
What's the difference between a crumble, a cobbler, and a crisp?
A lot of people get confused about the terminology. Oftentimes it happens between crumble and cobbler. Perhaps this is because they all have this in common: pieces can easily be spooned out and transferred to the plate without needing a sophisticated presentation.

However, both are made with a juicy layer topped with almost identical ingredients, but they have very different textures.

• Crumble: it's a satiating dish of British origin, containing a fruit compote topped with a crumbly filling (fat, flour, and sugar). It's baked until the topping is crisp. The most common fruits used in crumbles include apples, blackberries, peaches, rhubarb, currants, and plums.

• Crisp: it's a relatively new American dessert consisting of cooked fruit (apples, pears, peaches, berries, or rhubarb), topped with a crispy crust often made with rolled oats, nuts, cinnamon, and sugar.

• Cobbler: it's a traditional American dish, consisting of a filling, usually fruit, covered with a layer of pastry as a crust. While the crumble and crisp have crumbly toppings that resemble muesli/granola, the cobbler's crust looks like pieces of biscuit dough, chewy, with a buttery taste. It evokes a paved road. The name also refers to a cobbler who 'pieces' things together, like in this easy-to-make dessert.
Can I use other types of fruit for this recipe?
Sure! It's not just berries that make great cobblers. Usually, apples, peaches, and berries are the most popular but go ahead with rhubarb, although it's more often found in crumbles. Cobbler is very versatile!
Can I use frozen blueberries for a blueberry cobbler?
Yes, you can totally make a blueberry cobbler with frozen berries. In this case, thaw them a little before using them in the recipe or simply skip this step (cooking will take longer, though).
How to Store this Dish
Place this vegan blueberry cobbler in a sealed container or keep it directly in the baking dish, covered with foil or wrap. It will keep for up to three or four days in the refrigerator.
You can serve the leftovers of this cobbler cold or warm them slightly in the oven before serving in a preheated 325 °F (150 °C) oven until the crispy topping and topping are warm.
Make This Dish Now
This easy-to-make dessert calls for fresh blueberries, but as mentioned above, adding any berries medley in this cobbler recipe works wonderfully.
Use seasonal or frozen fruit and make this cobbler recipe that doesn't take forever to make and can be made any time of the year.
This vegan blueberry cobbler, healthier than traditional recipes, is done in three essential steps; 10 minutes of physical effort.
Your palate will rejoice in this delicacy that is slightly crumbly on the outside and soft on the inside.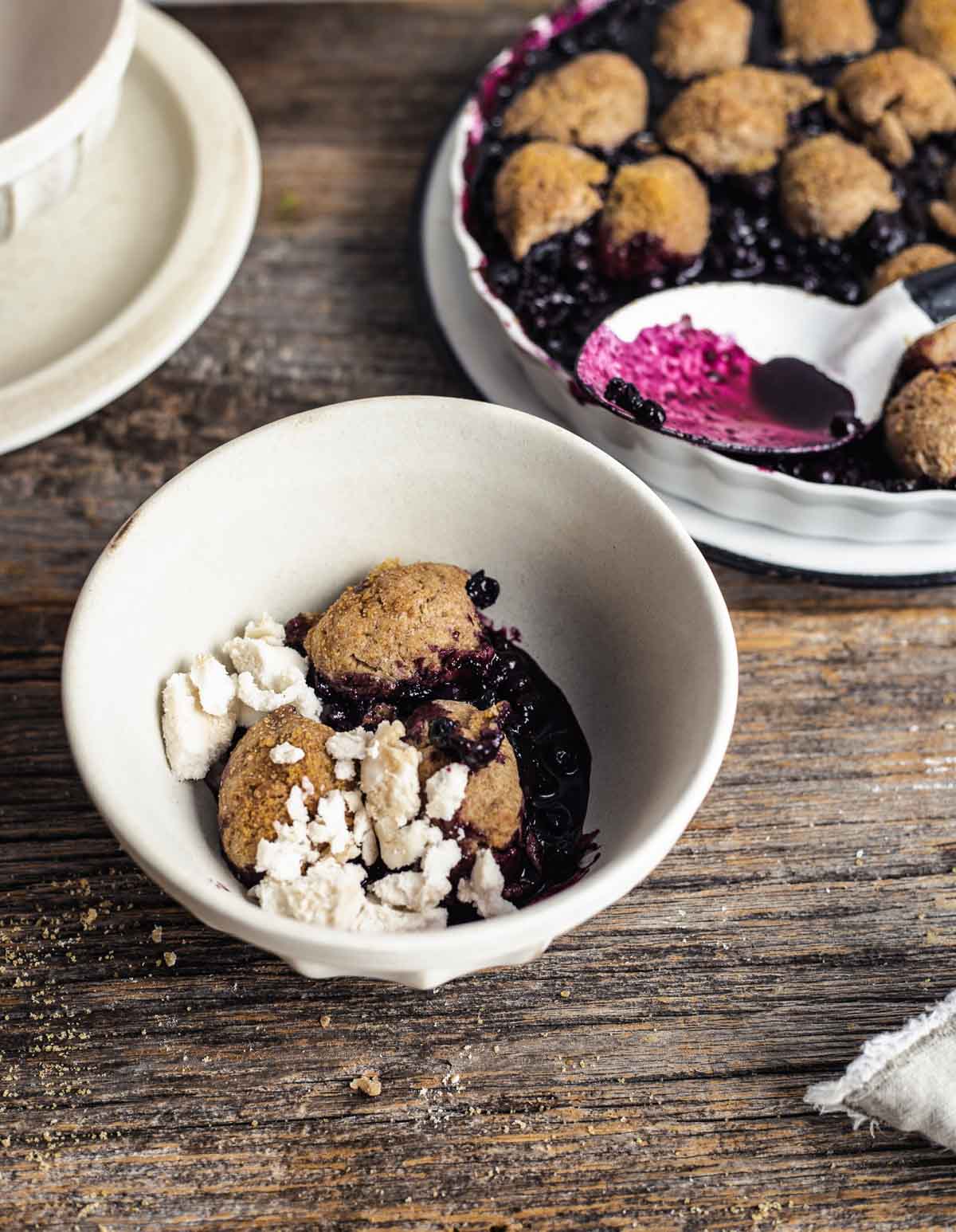 If you try this recipe, I want to know about it! I always appreciate your feedback. Leave a star rating in the recipe card right below and/or a review in the comment section further down the page. You can also follow me on Pinterest, Facebook, or Instagram. Sign up for my email list, too!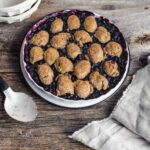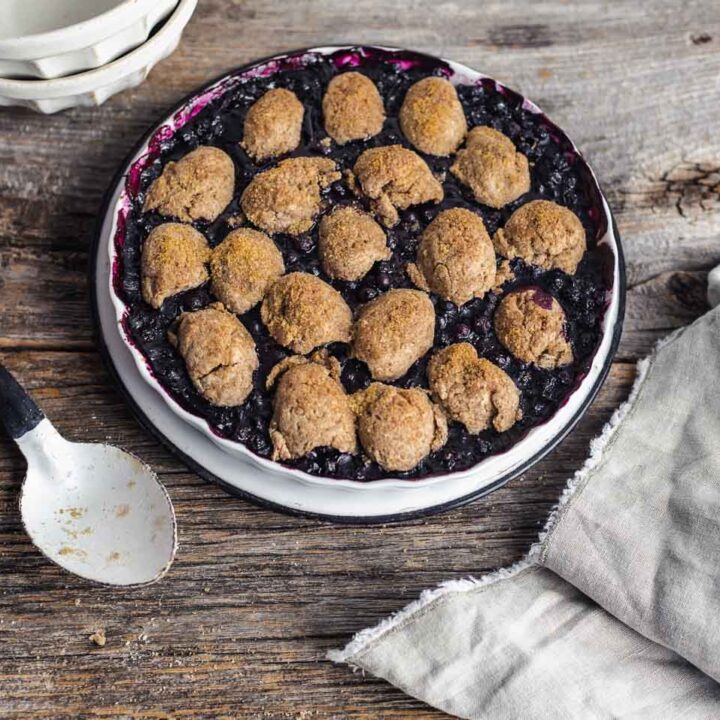 Vegan Blueberry Cobbler
This Vegan Blueberry Cobbler isn't a flashy type of dish at all. It's simply a dessert with a biscuity-like crust, baked with not too sweet berries. Serve it with a scoop of coconut vanilla ice cream or coconut whipped cream.
Save Recipe
Saved!
Print Recipe
Pin Recipe
Equipment
8 or 9-inch (20 or 23 cm) square baking dish or rectangular 8 x 10 inches (20 x 25 cm) at least 2 inches (5 cm) deep.
Ingredients
For the cobbler's biscuit dough:
1⅓

cups

whole wheat flour

or unbleached all-purpose white flour

3

tablespoons

coconut palm sugar

divided

1½

teaspoons

baking powder

½

cup

plant-based milk

almond, oat milk, or soy

1 to 2

tablespoons

vegan butter

melted, to brush the top of the pastry
For the fruit filling:
4 to 5

cups

blueberries

fresh or frozen

½

cup

coconut palm sugar

2

tablespoons

whole wheat flour

or unbleached all-purpose white flour

1

teaspoon

lemon zest

or lime zest (optional)
Instructions
Preheat the oven to 375 ° F (190 ° C).

To make the cobbler dough, combine the flour, 2 tablespoons of coconut palm sugar, baking powder, flour, and salt. When thoroughly combined, add the vegan butter and plant-based milk. Stir until the mixture is just a sticky dough. Put aside.

To make the filling, wash the blueberries and pat them dry. In a large bowl, combine them with the sugar, flour, and lemon zest, if using. Spread evenly throughout the baking dish.

Using a tablespoon, scoop the dough and place it on the fruit. There will be just enough to cover them. Either leave the dough in misshapen pieces on the fruit or spread them.

Brush the top of the dough with the remaining tablespoon(s) of plant-based milk or butter and the remaining tablespoon of sugar.

Cook until the top is golden brown and juices have thickened slightly about 40 to 45 minutes.

Let stand for 15 minutes before serving.

Placed in an airtight container, this vegan blueberry cobbler will keep for up to 3-4 days. (The texture of the filling may change.)
Notes
Allow the cobbler to cool, so the inside thickens.
To have a flakier dough, the butter should be cold and cut until the dough looks like coarse breadcrumbs.
Variations
Vegan Lemon Berry Cobbler or Buttermilk Blueberry Cobbler: add 2 tablespoons lemon juice to the cobbler's biscuit dough.
Vegan Berry Cobbler: replace blueberries with strawberries, raspberries.
Vegan Apple Blueberry Cobbler, Pear, and Blueberry Cobbler, etc.: replace blueberries with any fruit, such as apple, pear, or peach.
Vegan Blueberry Cobbler with Oats (Crisp): Replace flour with rolled oats.
Nutrition
Calories:
183
kcal
|
Carbohydrates:
41
g
|
Protein:
4
g
|
Fat:
2
g
|
Saturated Fat:
1
g
|
Polyunsaturated Fat:
1
g
|
Monounsaturated Fat:
1
g
|
Trans Fat:
1
g
|
Sodium:
128
mg
|
Potassium:
144
mg
|
Fiber:
4
g
|
Sugar:
18
g
|
Vitamin A:
140
IU
|
Vitamin C:
8
mg
|
Calcium:
78
mg
|
Iron:
1
mg
Get Your Free Plant-Based Eating Toolkit and More
Subscribe to my newsletter and unlock my plant-based course, nutrition charts, recipe secrets, and exclusive updates to prepare wholesome, varied & balanced meals effortlessly. All you need is a good appetite. Subscribe!