Noodles are comforting in more than one way.
They bring a sense of joy when swirling them around with a fork or chopsticks. And they have this way of picking up sauce and broth as you slurp, who could do without them? Especially soba noodles.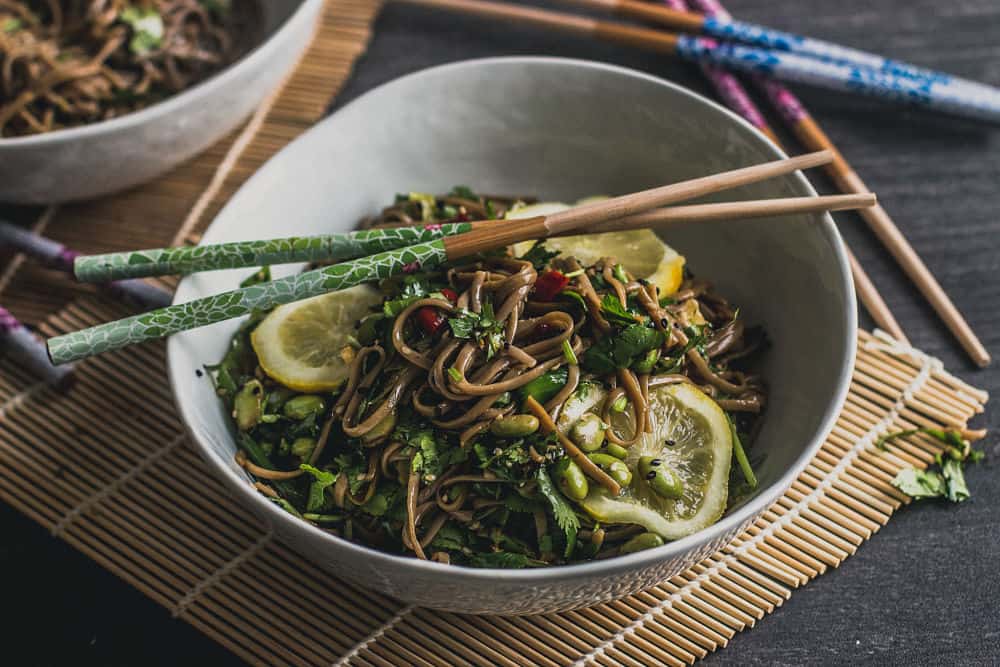 You'll probably find me weird but I've never been a fan of traditional pasta. I know some people can't get over it but I certainly can. Moreover, once I learned more about nutrition and how refined pasta is, I was convinced to give them the cold shoulder forever.
But hey! I understand if traditional pasta is people's go-to dish when they are looking for a quick comfort food.
That said, there are risky. They are highly refined and devoid of their key nutrients.
Soba noodles, on the other hand, are another story. They're very nourishing, mental clarity enhancers and energy boosters. They're quick and easy, gluten-free, and lighter on the stomach. They can be served hot or cold. And finally, they cook faster than traditional pasta (half the time). Yippie!
The recipe I'll be sharing explodes with flavors. It's the kinda dish that you can cook up in 15 minutes (if you prep right) and have your friends and family think you're a noodle goddess.
Did I get you pumping yet? Let's do this!
How to Keep Your Noodles from Being a Mushy Mess
Bland sauces and overcooked, mushy noodles seem more the norm than the exception, particularly with quick recipes like this one. I've done quite a few flops myself.
But it's not entirely my fault. Err… actually, yes it is. Every time I make some sort of noodles, suddenly I'm drawn away by the Pied Piper. I start doing something else and completely forget the poor things. Or I cook them in a medium saucepan and my gas-burning oven burns the tips that are sticking out of the rim.
But I learned from my mistakes. While on the hunt for preparing the best soba noodles, I learned quite a few tricks.
Rule #1: They'll need your full and undivided attention, like when your kid comes to you to tell you about his or her new drawing masterpiece… on the wall, nonetheless, or when you're driving. So no multitasking.
Rule #2: They'll have to be cooked in pots they deserve to be in.
Rule #3: The cooked noodles will have to be served quickly. Why? Because their subtle flavor is ephemeral and evaporates into the air over the course of mere minutes.
Here are the crucial steps for this recipe:
We'll prepare all our ingredients in advance (this is called mise en place)
We're going to make sure our noodles are cooked perfectly al dente — bouncy and stretchy. The noodles themselves will be cooked alone floating loosely in ample boiling water so that their stickiness doesn't become a problem if they aren't cooked properly.
We'll rinse our cooked soba TWO TO THREE TIMES in lukewarm water. This is the most important step of them all. After pouring the noodles into a colander, transfer them to a bowl of cold water and whirl them around. Or simply rinse them under running water. Keep them moving in or under water for a minute or so to remove the excess starch that creates a gummy texture.
May your noodles never be mushy or clumpy again! Then we'll pack them with flavor bombs, like mirin, tamari sauce, toasted sesame oil, and chile pepper for a little heat.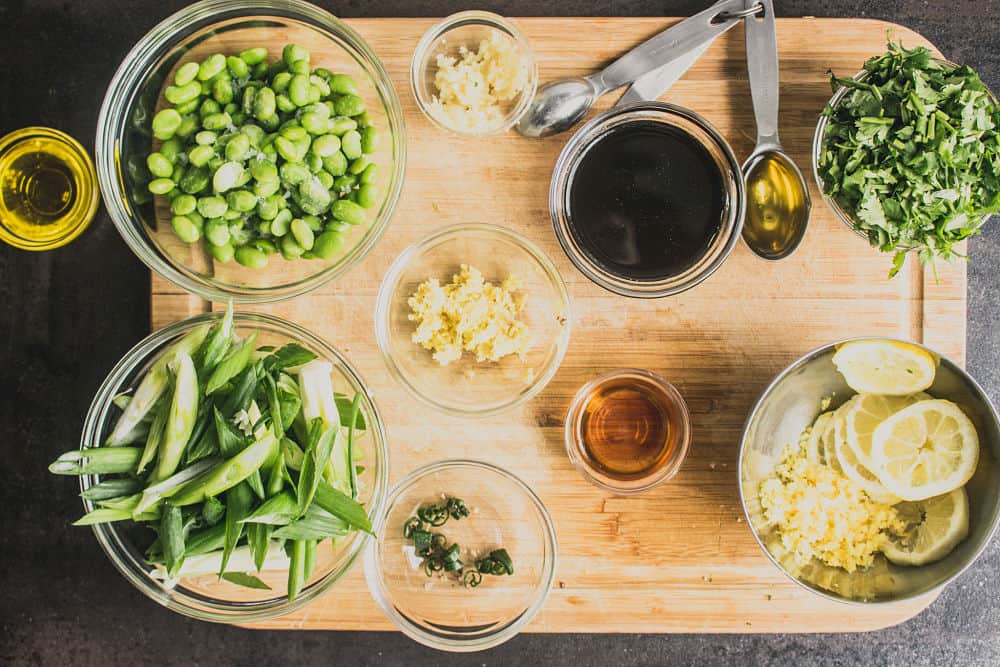 And let's not forget: Do not add salt to the water—the noodles stay plain until they meet their sauce or broth, all right?
Simple, Speedy and Smarter Noodles
One day, my man bought soba noodles when I specifically told him to buy bean noodles. Does this happen to you? You tell your beloved to do one thing and s/he does something else? (Sigh)
Anyway, since I didn't know how to prepare them, I turned to Yottam Ottenlighi's book Plenty More for some inspiration.
Traditionally, soba is served either chilled with a dipping sauce or in hot broth as a noodle soup.
Soba is a better noodle alternative to traditional pasta. Made from buckwheat, it has a hearty flavor and a texture that absorbs the flavor of any sauce you cook them with. Sometimes they're made out of 100% buckwheat but they tend to be brittle (that kind is the only one I have found in my part of town). Usually, they'll be mostly made out of 80% buckwheat with 20% wheat flour — which might not be a problem to the most gluten-sensitive person.
Buckwheat noodles contain a variety of nutrients that are natural and healthy additions to one's diet. Not only are they excellent for mental and digestive health, they are also believed by many around the world to have properties that prevent diseases.
Indeed, they are high in protein and contain various types of amino acids, such as lysine and arginine. These are essential building blocks for child development, growth, and stamina.
Anyway, it's a great year-round comfort food.
I wanted to have them stir-fried.
I started off by cooking the dried buckwheat noodles, I sautéed the accompanying ingredients in a wok (a skillet will do too), then added the veggies to the noodles. To season up the finished dish, I added a tamari sauce for a salty umami boost, a splash of mirin for sweetness — you can swap the mirin for rice vinegar or a mix of lemon juice and maple syrup —, a drizzle of sesame oil for its rich, toasty aroma, a sprinkle of lemon zest for a soft tanginess, and ginger and chile for hotness (Cayenne pepper works well too).
I've made it with lime before, but I found it to be a bit bitter. But it doesn't taste too bad If you want to call it a day, you can finish the dish right there and just serve it with lemons at the table. But if you're willing to add more scrumptiousness and chewiness, some sliced mushrooms go nicely stir-fried into the noodles. Enoki mushrooms cook quickly and bulk up the dish to make it filling.
You can sprinkle seaweed on top like wakame for more minerals or add tofu or seasoned tempeh for more protein. But you'll have more than enough in this simple dish.
In the end, you'll have a toasty, nutty flavor that'll give you lasting memories.
4-Step Soba Noodles
Okay, there are actually more steps if I count prepping all the veggies. But once done, you do have 4 main steps. This recipe is easy, I swear!
Make this Now
Soba noodles are so underrated. People will mostly choose traditional pasta when they're looking for a quick noodle dish.
But you can switch to a more nourishing noodle, like soba. They're a quicker, healthier, and lighter alternative. Plus, their hearty, toasty, and nutty flavor and texture will leave a lasting impression.
Did I mention they're high-protein and gluten-free? Now that's some good news.
Give them your complete attention.
Cook them to perfection and season them with flavorful ingredients.
Devour them right away.
And most importantly, don't forget to slurp to show your appreciation.
Watch the cooking video!
If you try this recipe, I want to know about it! I always appreciate your feedback. Leave a star rating in the recipe card right below and/or a review in the comment section further down the page. You can also follow me on Pinterest, Facebook, or Instagram. Sign up for my email list, too!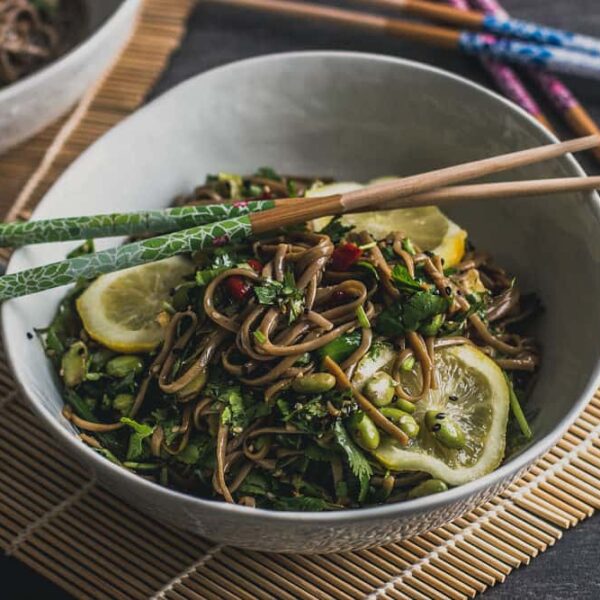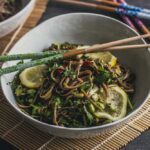 Print Recipe
Soba Noodles with Green Onions and Edamame
Forget traditional pasta or ramen. These high-protein soba noodles dish will give you complete satisfaction with their bursting flavors and healthy nutrients.
Ingredients
1

pack dried buckwheat noodles

about 250 g

2 ½

tablespoon

sunflower oil

½

lb

green onions

white and green parts, trimmed and cut to the diagonal into 1 ¼-inches long (about 225 g/2 cups or 16-18)

1

teaspoon

garlic crushed

1 clove

2-

inch

ginger

fresh, peeled and grated

2

red chiles

or pinch of Cayenne pepper

1 ⅔

cup

shelled edamame

frozen, blanched for 3 minutes, refreshed (about 250 g)

1

tablespoon

sesame oil

3

tablespoons

sesame seeds a mix of black and white

¼

cup

tamari

2

tablespoons

mirin

Notes

1

cup

cilantro

coarsely chopped

1

lemon zest

finely grated and then cut into slices

Salt to taste
Instructions
Bring a large pot of water to a boil and cook the noodles as instructed on the package (about 5 minutes), until al dente. Drain well, rinse under lukewarm water, and set aside in a large bowl with 1 ½ teaspoon of sunflower oil stirred through. Cover the bowl and set aside somewhere warm.

Heat the remaining 2 tablespoons sunflower oil in a large wok or sauté pan over high heat. Add the green onions, garlic, ginger, and chiles and cook for 2 to 3 minutes over high heat, stirring frequently, until the onions soften a little. Add the edamame and heat them for about 30 seconds.

Give the noodles a quick rinse under warm water two to three times if they have become stuck together and then, when drained, pour the contents of the wok over them, followed by the sesame oil, sesame seeds, tamari, vinegar, cilantro, and ⅓ teaspoon salt. Stir well, sprinkle the lemon zest over the top, and serve immediately, with the slices alongside.
Notes
You can swap the mirin for 2 tablespoons lemon juice and 1 teaspoon maple syrup or rice vinegar.
Nutrition
Calories:
620
kcal
|
Carbohydrates:
61
g
|
Protein:
21
g
|
Fat:
38
g
|
Saturated Fat:
5
g
|
Polyunsaturated Fat:
9
g
|
Monounsaturated Fat:
21
g
|
Trans Fat:
1
g
|
Sodium:
179
mg
|
Potassium:
1415
mg
|
Fiber:
15
g
|
Sugar:
30
g
|
Vitamin A:
2121
IU
|
Vitamin C:
127
mg
|
Calcium:
332
mg
|
Iron:
8
mg
Get Your Free Plant-Based Eating Toolkit and More
Subscribe to my newsletter and unlock my plant-based course, nutrition charts, recipe secrets, and exclusive updates to prepare wholesome, varied & balanced meals effortlessly. All you need is a good appetite. Subscribe!