This vegan pumpkin risotto is healthy, gluten-free, comforting, perfect for a holiday meal or just a quick weeknight favorite. It can essentially be prepared in one pot and about 20 minutes.
Here's another reason to designate it as such: no one will be able to resist its magnificent, bright, and warm color.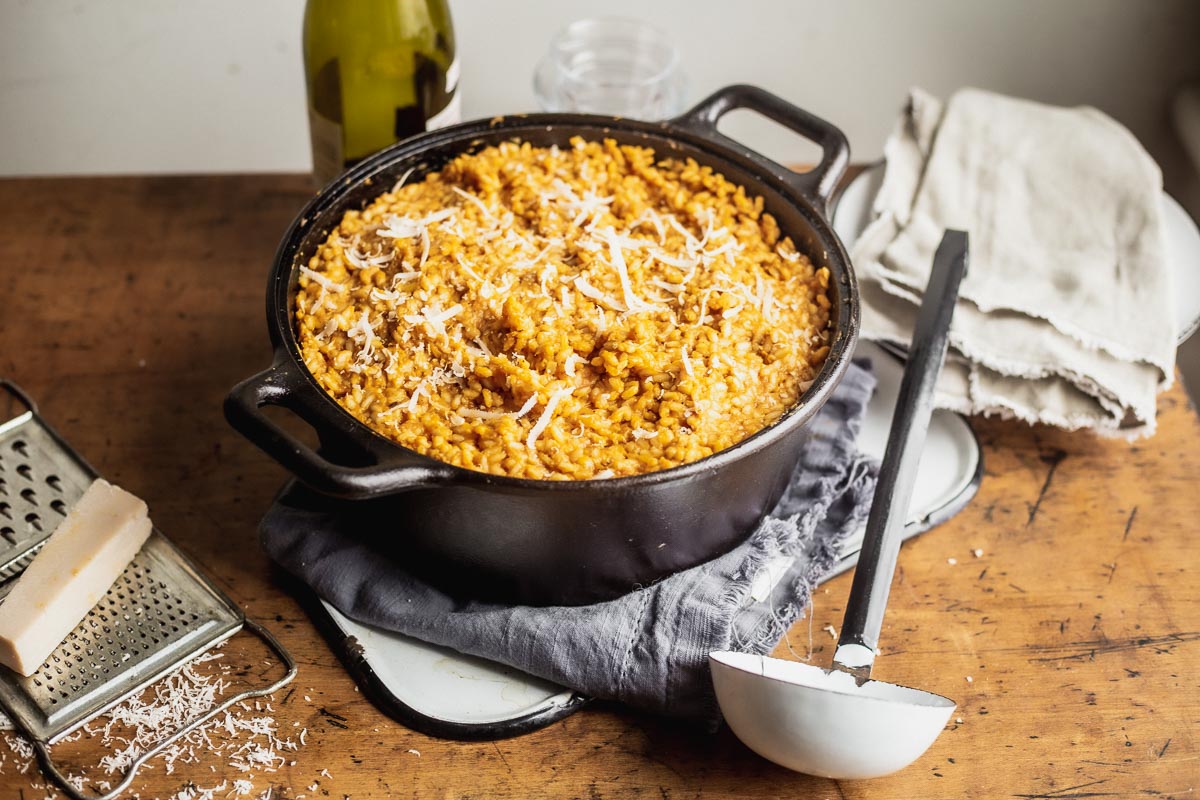 Jump to:
Why this Recipe Rocks
There's no doubt that pumpkin has been popular here for some time. It starred in my pumpkin soup, had the supporting role in my pumpkin brownies, and is now showing all its splendor in the following recipe. Either way, it was the quintessential fall star ingredient, and it's going out with a bang just before the end of the year in this Italian-inspired dish.
Risotto should be buttery and light with unique Italian flavors and sometimes white wine. It's an excellent container for all kinds of flavors. Usually prepared with Arborio rice, short-grain white rice, it becomes ultra-creamy and smooth with a light chew.
I relied on the original cooking method (see below). Yes, it took a lot of stirring—I stayed stationed in front of my stove the whole time—but the result was worth it.
The pot diffuses an opulent fragrance that makes our mouth water. Upon tasting, my whole mouth and throat were filled with the richness of pumpkin cream, buttery and enveloping. The grains are sparse; the consistency is runny, but not too much, just wet enough.
This easy pumpkin vegan risotto makes a luxurious, satisfying and comforting meal.
It makes me feel like I'm in a fancy restaurant when I'm enveloped in the warmth of my home and deaf to outside threats.
What Goes in It?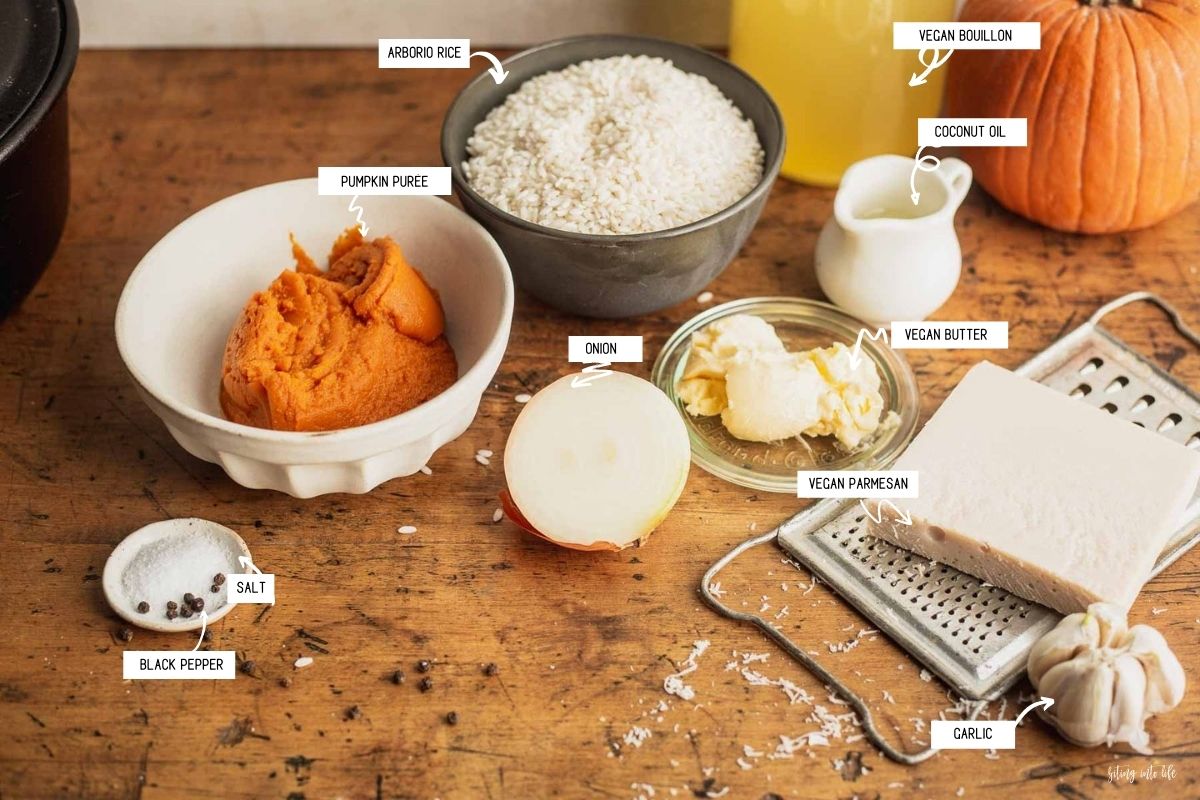 Notes on some ingredients
Arborio Rice – this Italian rice has plump grains high in amylopectin. The starch dissolves during cooking, producing a sticky risotto. It's the preferred rice for the more compact styles of risotto popular in Lombardy, Piedmont, and Emilia-Romagna.
Pumpkin purée – it comes from a canned pumpkin purée. If you want to use fresh pumpkin, you can cook it until tender, blend it, and use a cup and a half to replace this one. Be careful not to buy pumpkin pie filling.
Vegan parmesan cheese – the best product I've found that most closely resembles Parmesan cheese is a Canadian brand named Nafsika's Garden. I tried the Earth Island brand, and it wasn't great.
Vegan broth – I've been fortunate enough to find a superb no-beef broth, but you can easily use no-chicken or vegetable broth.
Vegan butter – my go-to brand is Myoko's Creamery because it doesn't contain palm oil. Still, most people prefer the Earth Balance brand for its taste despite having this questionable ingredient. The choice is yours. This can be replaced by coconut oil.
Jump to Recipe for the exact quantities.
Simple Substitutions and Add-ins
Play with varieties of Italian rice – Arborio rice can be replaced by other types of the same kind, such as Vialone Nano or Carnaroli rice. For the non-purists, brown rice will work, but it will take a little longer to cook. Either lower the heat or add more liquid. Well, hey, in the same vein, a pearl barley pumpkin risotto would lend itself well to this kind of preparation.
Swap the orangy purée – interchange pumpkin puree with butternut squash puree.
Intensify the umami in the flavor base – you could add miso for a more rounded taste.
Spice up your risotto with other seasonings – if you like, don't hesitate to add aromatic herbs, such as thyme, parsley, sage, or whatever (fresh or dried). Lemon juice or zest also goes well with this dish.
Boost the creaminess – this risotto is pretty creamy on its own, but a little coconut cream or cashew cream won't hurt. Warning! Plant-based milk from cartons doesn't work because they are too watery.
Special Diets Corner
Make this risotto…
Low in FODMAP – use the scallions' or leek's green part instead of onion and garlic-infused oil instead of garlic.
Fat-free – sauté the onion and garlic in water or a little broth instead of the cooking medium. Preheat the pan for a minute or two over medium-high heat, and add the onion. Add water or broth only one tablespoon at a time until the onion begins to stick or all the water has evaporated. I recommend using a high-quality nonstick pan if possible.
How to Make this Vegan Pumpkin Risotto Step by Step
This recipe starts with a broth that I simmer in a saucepan over medium heat and color with pumpkin purée ①.
In the meantime, in a dutch-oven placed nearby, I sauté the onion in vegan butter and vegetable oil until the onion slowly fades away, aware of the arrival of the most senior characters ②. Then, I add the rice and stir it vigorously and well until the grains are well coated, shiny, and even lightly golden ③.
I add ½ cup of the pumpkin broth, constantly stirring with a long wooden spoon, scraping the edges and bottom of the cast-iron casserole dish to keep the rice from sticking to it until the liquid is gone. Then, I repeat this maneuver each time the liquid evaporates ④.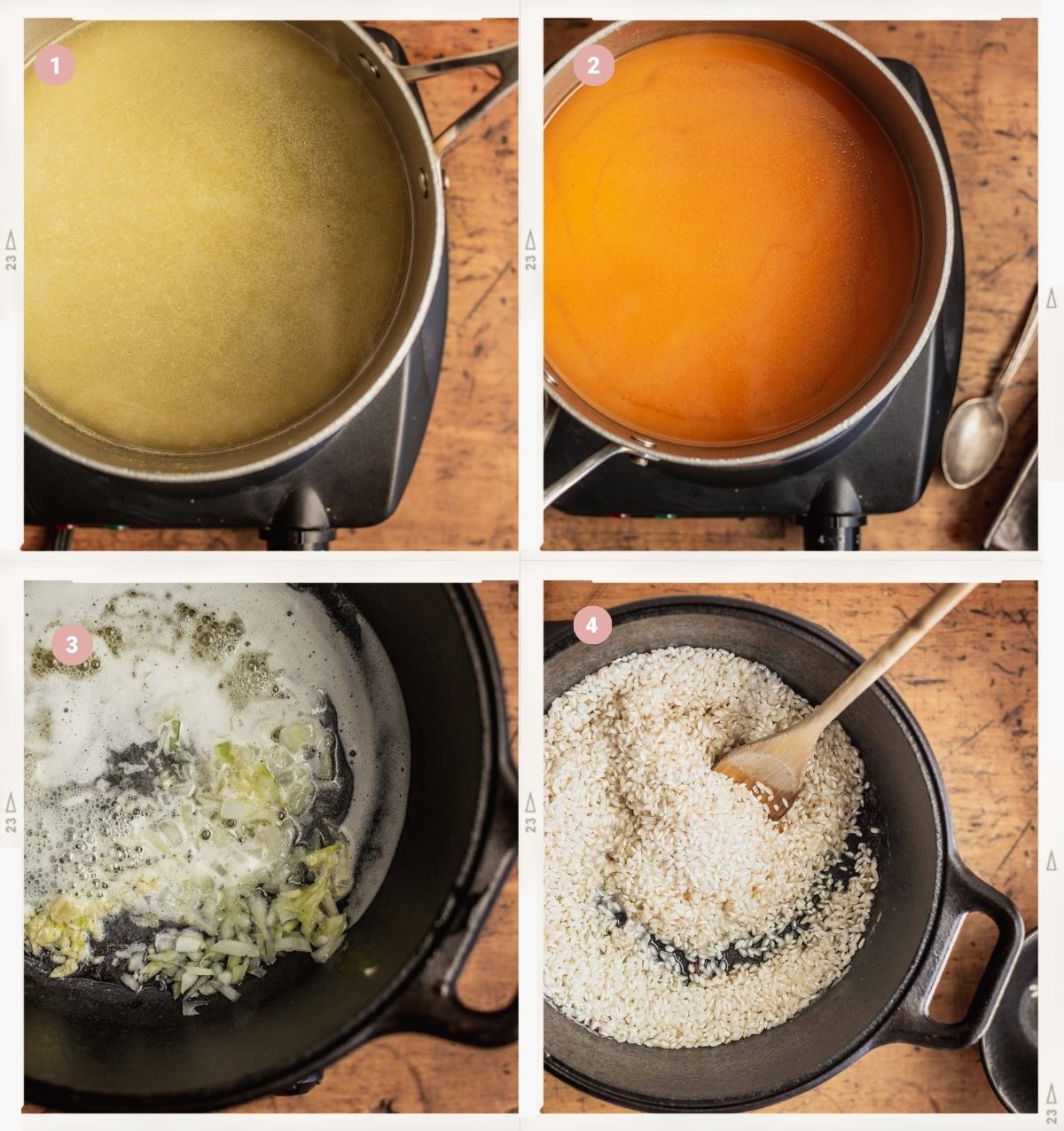 After 20 minutes of cooking, I taste the rice to see if it's ready, tender, but firm to the bite. As it gets closer to this point, I gradually reduce the amount of liquid to add so that it is slightly moist and not liquid when it is fully cooked.
Two or three minutes before the end of cooking, when the rice is tender, and the risotto is thick, steamy, and reassuring, I stir in some vegan Parmesan and the rest of the butter ⑤. I constantly stir to melt the cheese to wrap around the grains. In the end, I remove from the heat, taste, and adjust the taste with salt, still stirring ⑥.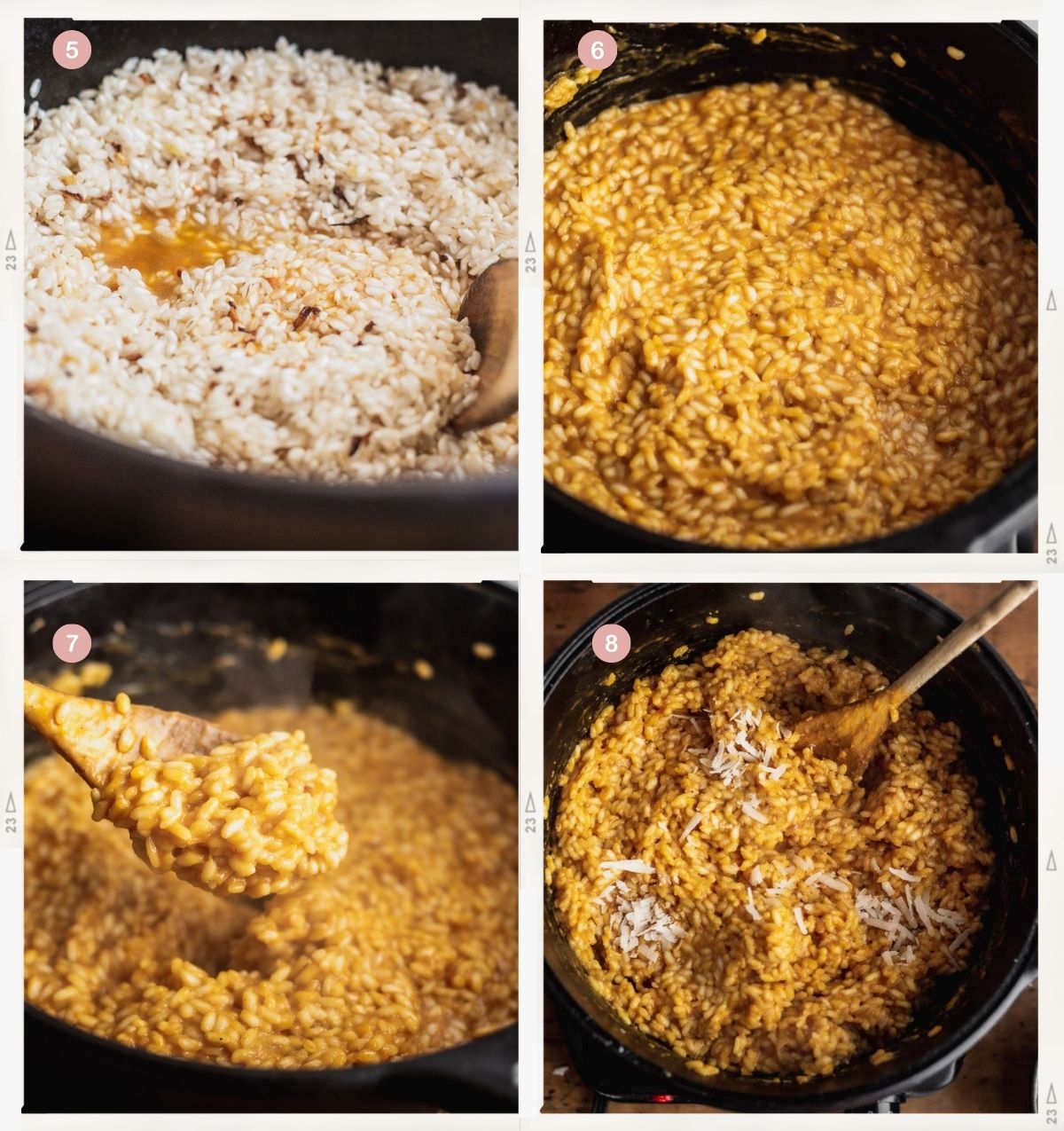 The Keys to Success: My Top Tips
Make a good base
The ingredients for the flavor base of risotto are usually chopped onions and sautéed in butter. In rare cases, olive oil replaces butter, and you can add garlic, which I've done here. In fact, you can add almost any ingredient to it—like puréed pumpkin, in this case—to help add flavor and texture. The flavor should be tied to the rice while the soft starch in the grains dissolves during cooking. In most cases, it's put before the rice.
To perfect the flavor base, chop the onion as finely as possible so that it "disappears" in the creaminess of the risotto. Ditto for garlic. Use a garlic press if a) you hate chopping garlic; b) you are not good at chopping garlic; c) you want to save time, or d) all of the answers above. Then add it at least three minutes after the onion, or it will burn.
Make it authentic
Raw, unwashed Italian rice is added to the hot cooking pot where it's lightly browned. Immediately afterward, a ladleful of cooking liquid is poured into the pan. The rice is stirred until the liquid disappears, partially by absorption, partially by evaporation. More fluid is added, and the process repeats until the rice is ready.
It is only by the gradual administration of a small amount of liquid, simultaneous absorption and evaporation, and constant stirring that the soft starch in rice is transformed into a sticky agent, pulling the kernels together and fastening them to the taste of the flavor base.
According to the matron of Italian cuisine, Marcella Hazan:
"Rice that is not stirred, that stews in too much liquid, that is cooked in a covered pot may turn into a perfectly agreeable dish, but it is not risotto, and it will not taste like risotto."
(I underlined the words.) What would she say to people preparing a pumpkin risotto in a Thermomix, mmh?
Add more water if it's not over
You may need to add more or less fluid as required. If all the liquid is used in the broth before the rice is totally cooked, continue with water.
The right variety is the best, undeniably
Rice varieties imported from Italy are the only ones you can trust to make an authentic risotto. Of these, the best are Arborio, Vialone Nano, and Carnaroli.
The right pot means a lot
Your pot should transmit and retain enough heat to cook the rice at a lively pace without scorching it. Pure aluminum and other light metal materials won't do for this. In contrast, heavy-bottomed pots made from stainless steel are the strongest for professional cooking.
But for the home, something like the one from the Le Creuset brand would work just fine, for example. And if you don't have one, you'll have fun cooking with a very simple cast-iron dutch-oven.
Seize a good mock cheese
The product's taste will make or break your risotto. Indeed, it will literally change the taste of the whole dish if it is not great. Obviously, nothing can replace the acidity and freshness of real parmesan. But if we want to pretend it does, we might as well do it well, in my opinion.
The Essential Equipment
How to Serve this Dish
You can make this risotto a complete meal on its own or serve it with a meaty or high protein centerpiece, such as something made from seitan, tofu, or the like. Otherwise, it would also be delicious with mushrooms or steamed or grilled vegetables, like broccoli or green beans. A fall salad would compliment this dish well.
Other Creative Variations
This vegan pumpkin risotto is quite impressive with its few ingredients, but you can go one step higher by adding the following components:
Coconut milk or cream: add ¼ cup to boost the smoothness.
Porcini Mushrooms: Stir in a bundle to create textural contrast.
Haricots verts or peas: this gives a color contrast.
Fall vegetables: To make it even more interesting, add spinach, zucchini, or tomatoes, for example.
Vegan sausages: another contrast in texture, but above all, to increase a touch of comfort.
Answers to Your Burning Questions
What is risotto?
The risotto technique exploits the unusual properties of certain varieties of Italian rice whose grains are coated with a starch known as amylopectin. When this rice is subjected to a proper cooking method, the starch dissolves, creamily binding the grains together and simultaneously merging with the vegetables, meat, fish, or any other ingredient in the flavor base. The resulting dish is risotto.
What consistency should the risotto have?
Risotto can be grouped into two main categories, differing according to the targeted consistency. The compact consistency is very tight, a little more sticky in the style of Piedmont, Lombardy, and Emilia-Romagna. And there's the scattered, more liquid Veneto-style style known as all'onda, "wavy." The first is obtained by evaporating all the cooking liquid as the rice finishes cooking. And the last is obtained by bringing the rice to the desired degree of consistency while still quite wet.

Piedmontese/Milanese/Bolognese style is more compatible with substantial flavor bases based on cheese, sausages, game, and wild mushrooms. On the other hand, the Venetian risotto achieves an excellent delicacy with seafood and spring or autumn vegetables.
Can we make risotto without wine?
Yes, of course. The wine acts as an additional flavorful liquid, but it is unnecessary.
How long should I cook the risotto?
Some Italian cooks like the grains in risotto to be exceptionally firm and suggest cooking times between 18 and 20 minutes. At this point, the center of the grain is hard with a chalky sensation. If that doesn't appeal to you, just like me, expect to cook the rice 5-10 minutes longer, bringing the cooking time to a total of 25 minutes to half an hour.

The rate at which the risotto cooks can vary widely, however. This is affected by the moisture receptivity of the specific rice used, by the amount of liquid added at a time, by the rate at which the liquid evaporates.

It's safer to start tasting the rice after 20 minutes of cooking to begin judging the total cooking time and the amount of extra liquid needed.

Never cook rice until its center is soft. It should be tender but still firm to the bite.
At what temperature should the risotto be served?
Among the myths associated with risotto, one says it should be eaten piping hot after taking it out of the pan. Unlike pasta, risotto tastes best when left to sit on your plate for a minute or two. When the Italians are served this dish, they often spread it out on their plate, from the center to the rim, to let some of its vapor dissipate.
How to store this dish
Honestly, I prefer risotto when served promptly. But if that doesn't bother you, you can refrigerate leftovers in an airtight container for up to five days or freeze them in a freezer-safe container for up to three months.
Rice can still be enjoyed when it thaws after being frozen. I recommend adding a tablespoon of water to the rice before reheating it.
Make This Dish Now
If you love pumpkin and risotto, the combination of the two in this recipe is for you.
Thanks to no more than seven ingredients and the quick cooking process of Arborio rice, you'll have a one-pot pumpkin risotto that is luxurious, creamy, and warm without using a single drop of cream!
If cooking risotto is new to you, even if this recipe is a bit fancier, you'll see how easy it is if you follow the steps and expert advice above. You just needn't be reluctant to stir up a bit.
But in the end, you'll have deserved it, I assure you.
And you will be very proud to have concocted such a delightful and exquisite dish.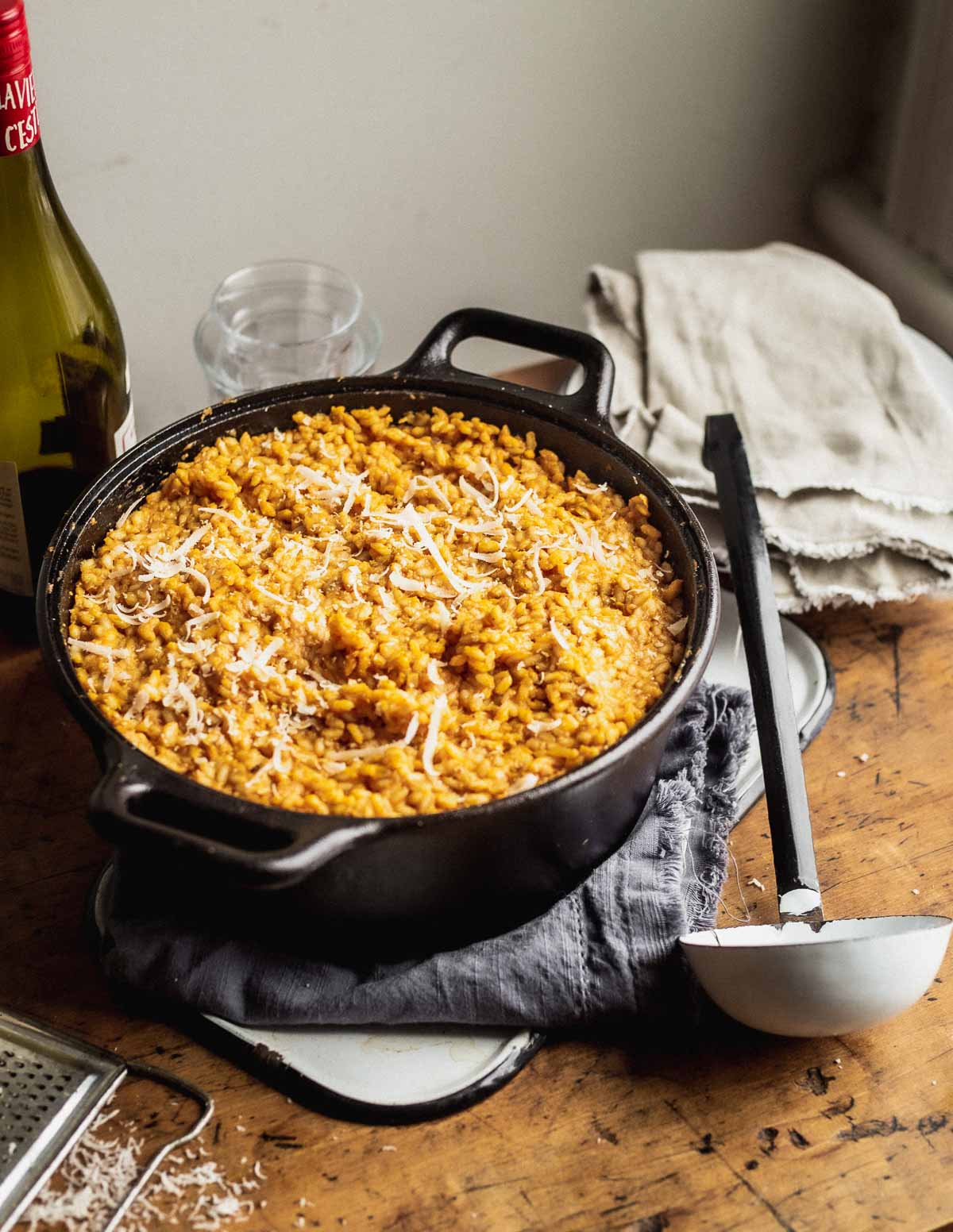 If you try this recipe, I want to know about it! I always appreciate your feedback. Leave a star rating in the recipe card right below and/or a review in the comment section further down the page. You can also follow me on Pinterest, Facebook, or Instagram. Sign up for my email list, too!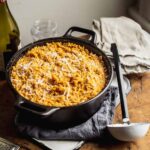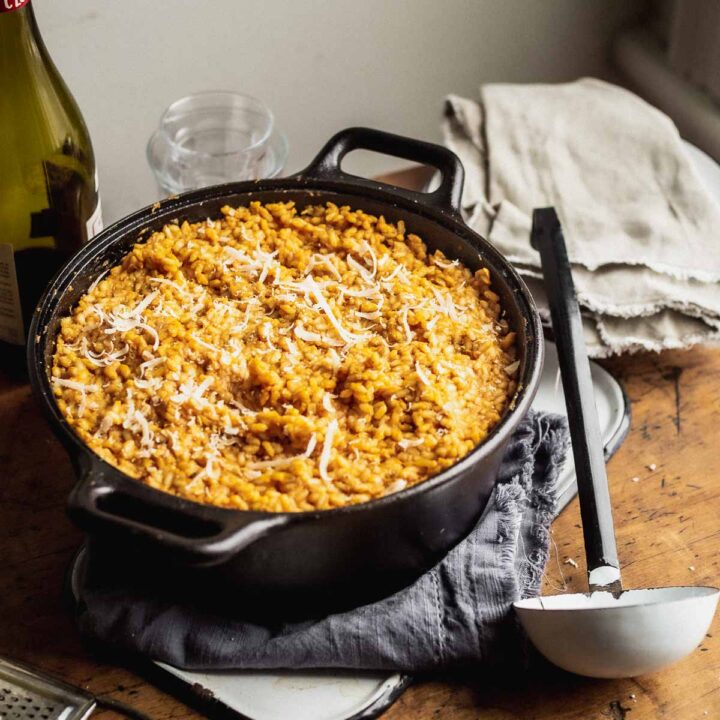 Vegan Pumpkin Risotto
This creamy vegan risotto makes for a chic and super comforting meal while remaining healthy and straightforward. You can cook it in 20 minutes if you like harder grains or in 30 minutes if you want them softer.
Save Recipe
Saved!
Print Recipe
Pin Recipe
Equipment
Cutting Board

Chef's or vegetable knife

Cast-iron casserole dish

Wooden spoon
Ingredients
5

cups

vegan broth

(no-beef, no-chicken, or vegetable broth )

2

cups

pumpkin puree

3

tablespoons

vegan butter

2

tablespoons

coconut oil

sunflower, canola, or walnut

2

tablespoons

onion

finely chopped

2

cups

Arborio rice

½

cup

vegan Parmesan

grated or ¼ cup powdered
Optional Toppings:
Parsley

crispy sage, or thyme leaves

Microgreens
Instructions
Bring the broth to a steady simmer over a fire near where the risotto will be cooked. Add the pumpkin puree.

Put 1 tablespoon of butter, vegetable oil, and onion in a large, solid saucepan and raise the heat to medium-high. Cook and stir the onion until it becomes translucent; add the garlic and unwashed rice. Stir quickly and well until the grains are well covered and lightly browned.

Add ½ cup of the simmering pumpkin concoction, constantly stirring with a long wooden spoon, scraping the edges and bottom of the pot as you stir until the liquid is gone. You should never stop stirring, and be sure to scrape the bottom of the dutch oven thoroughly, or the rice will stick.

When there is no more liquid in the pot, add an additional ½ cup of the bubbling pumpkin concoction, following the directions above. Keep the fire at a lively pace.

Start tasting the rice after 20 minutes of cooking. It's ready when it's tender but firm to the bite. As it nears this stage, gradually reduce the amount of liquid added so that it is slightly moist and not liquid when fully cooked.

Two or three minutes before the end of cooking, add the vegan parmesan and the rest of the butter. Stir constantly to melt the cheese and wrap it around the grains. Remove from heat, taste, and adjust for salt, stirring after adding.

Transfer to a serving dish and serve immediately.

Placed in an airtight container, this vegan pumpkin risotto will keep in the fridge for up to 5 days and up to 3 months in the freezer.
Notes
Rice can still be enjoyed when it thaws after being frozen. I recommend adding a tablespoon of water to the rice before reheating it.
The amount of liquid suggested in this recipe is approximate. When cooking, be prepared to use more, or sometimes less, depending on the requirements of the risotto. When cooking with the broth, continue with water if all of the broth has been used up before the rice is fully cooked.
Variations
Low-FODMAP Vegan Pumpkin Risotto – use the scallions' or leek's green part instead of onion and garlic-infused oil instead of garlic.
Fat-free Vegan Pumpkin Risotto – sauté the onion and garlic in water or a little broth instead of the cooking medium. Preheat the pan for a minute or two over medium-high heat, and add the onion. Add water or broth only one tablespoon at a time until the onion begins to stick or all the water has evaporated. I recommend using a high-quality nonstick pan if possible
Vegan Pumpkin White Truffle Risotto: Add ½ oz (or more if affordable) of fresh or canned white truffle. Shave it over the risotto using a truffle cutter or a peeler.
Vegan Pumpkin Coconut Risotto: Add ¼ cup coconut milk or cream.
Vegan Risotto with Pumpkin and Porcini Mushrooms: Add 1 oz of dried mushrooms soaked in filtered water, which will be poured into the broth.
Vegan Pumpkin Risotto with Zucchini: Add 2 cups zucchini cut into ½-inch slices.
Vegan pumpkin risotto with vegetables (spinach, celery, or others): add 2 cups of vegetables.
Nutrition
Calories:
254
kcal
|
Carbohydrates:
47
g
|
Protein:
4
g
|
Fat:
5
g
|
Saturated Fat:
2
g
|
Polyunsaturated Fat:
1
g
|
Monounsaturated Fat:
1
g
|
Trans Fat:
1
g
|
Sodium:
108
mg
|
Potassium:
169
mg
|
Fiber:
3
g
|
Sugar:
2
g
|
Vitamin A:
9733
IU
|
Vitamin C:
3
mg
|
Calcium:
23
mg
|
Iron:
3
mg
Get Your Free Plant-Based Eating Toolkit and More
Subscribe to my newsletter and unlock my plant-based course, nutrition charts, recipe secrets, and exclusive updates to prepare wholesome, varied & balanced meals effortlessly. All you need is a good appetite. Subscribe!