How can you make amazing brownies during fall and winter celebrations (or anytime)? By adding pumpkin! The taste of the pumpkin is dainty, and the texture has been carefully respected: soft, super fudgy, very chocolatey, but marbled with a swirl of spicy pumpkin cream. And it's healthier than traditional brownies, too!
Prepared without an electric mixer, and incredibly delightful, these vegan pumpkin brownies are child's play and ready in under an hour.
Make a big batch and freeze them for later, but honestly, they'll be eaten up long before then.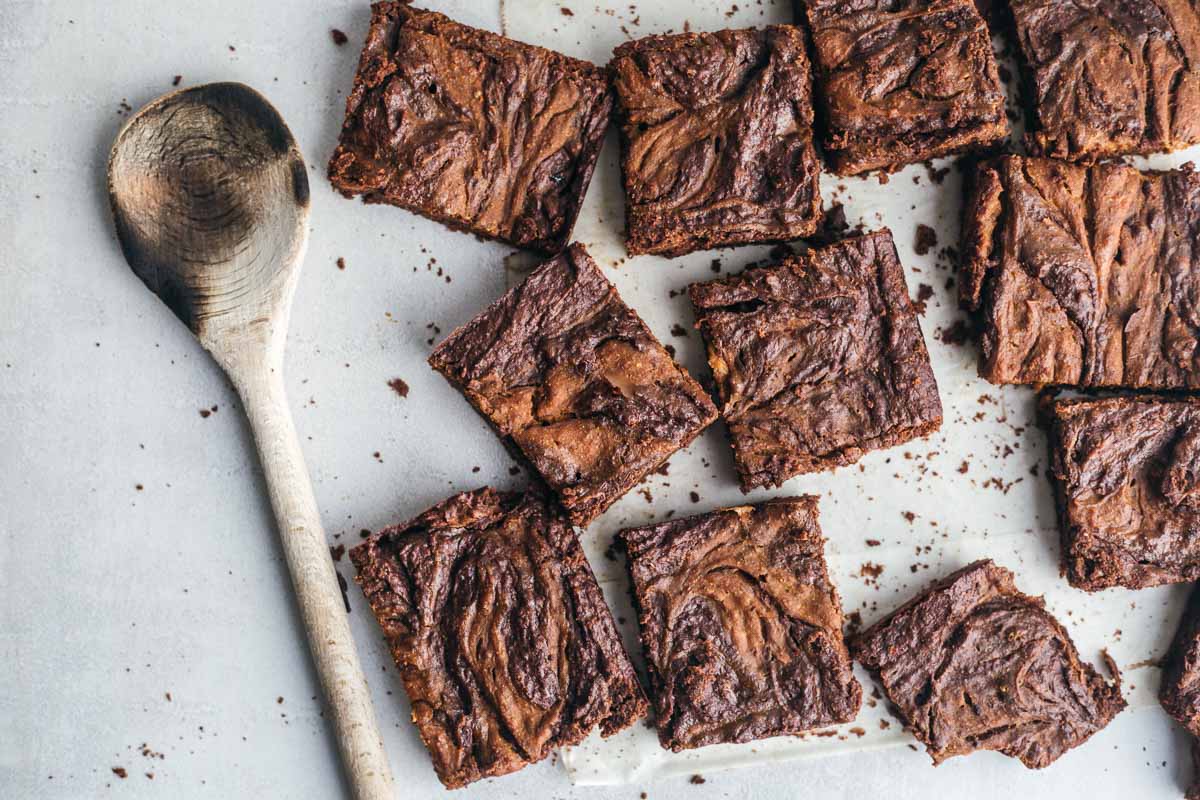 Jump to:
Why this Recipe Rocks
As the fall slowly begins to strip off, it's worth putting pumpkin in desserts rather than making a soup out of it. Honestly, I'm a better cook than a pastry chef, so when I came up with the idea of ​​venturing into an eccentric dessert, it had to be as immediate as slipping my feet into wide booties with no laces or zippers.
Okay, I'm not going to spark a debate on the texture of these brownies, whether they should be cake-like or fudgy (I'll save that for another day), but I'd say they lean more towards the latter. They're as delicious as my no-bake brownies with dates, which mimic the beautifully gooey classic texture.
In any case, these vegan brownies are presented in a disconcerting yet lovely way.
The pumpkin cream streams, frozen, snugly nestled in the brown crust, quickly activated my salivary glands. Later, I understood why these small square cakes made my mouth water at sight.
Each bitten piece melts on the tongue with a flood of buttery chocolate, with a hint of coffee. The brownie is rich, fudgy, and with the perfect touch of spices, evoking the warmth of the Caribbean. Intensely chocolatey, it drives our hands to grab other squares as if we were under the thumb of a puppeteer.
I ain't complaining; the intrinsic will is there too, I assure you.
What Goes in It?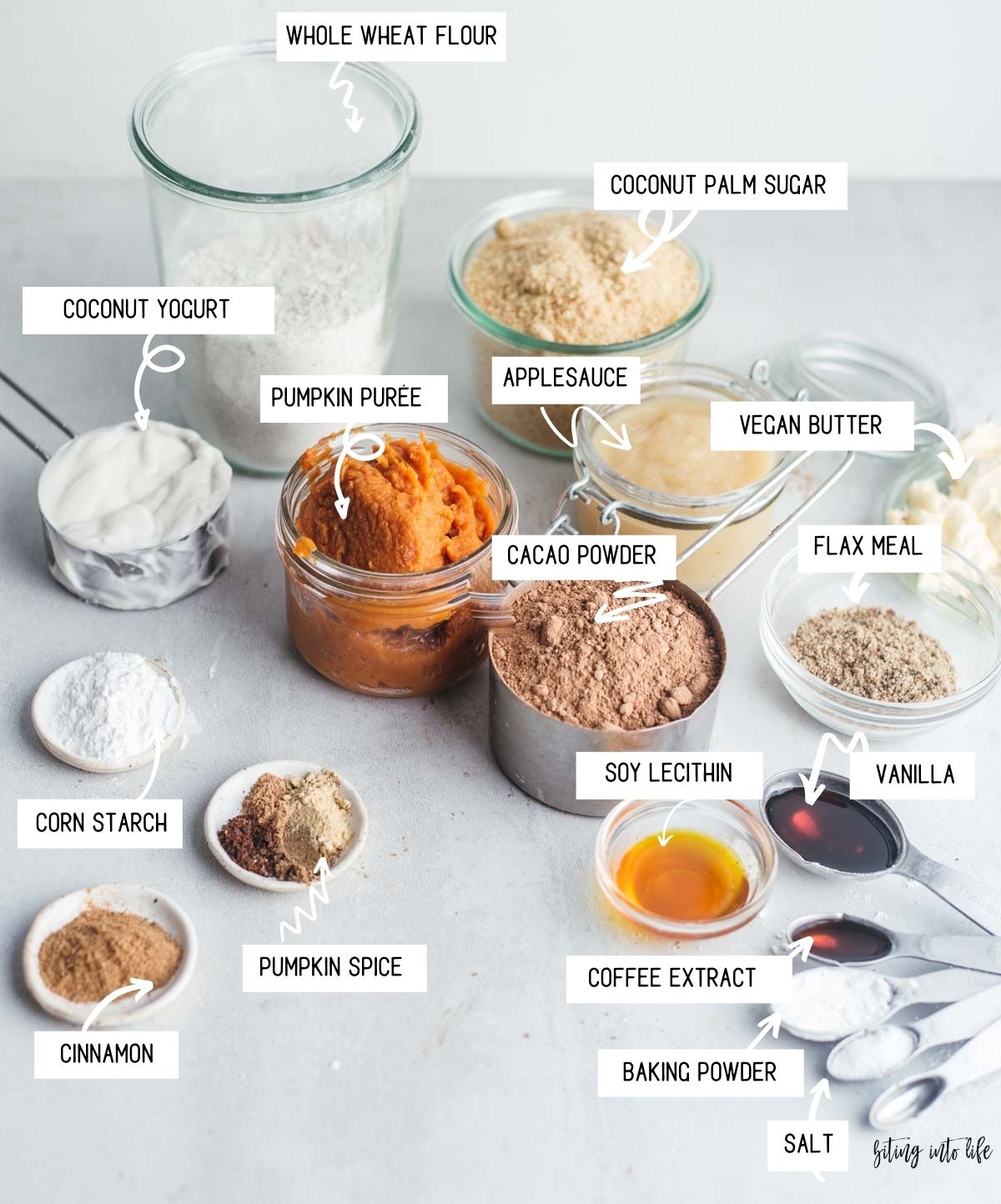 Notes on some ingredients
Whole Wheat flour. It can be regular flour, pastry flour, or spelt flour. Or even all-purpose flour, but know it's devoid of nutrients.
Coconut sugar. This sort of brown sugar is the direct substitute for white granulated sugar, which usually makes the crust color lighter, a hue people are accustomed to. It is made from the sap present in the flower buds of the coconut palm. Considered a natural sugar, it involves minimal processing, and no chemicals are used. Maple syrup will also work to get the same depth of flavor. I prefer not to use refined sugar.
Vegan butter. my go-to brand is Miyoko's cultured vegan butter (I consider it more eco-friendly because it doesn't contain palm oil), but I know many prefer the taste of the Earth Balance brand. You can also use margarine or coconut oil.
Pumpkin puree. I got this canned just for the sake of speed. Make sure it's not pumpkin pie filling, and it's just pure pumpkin. Otherwise, making homemade pumpkin puree is very possible. You boil the pumpkin flesh after peeling it or roasting it whole, remove the flesh, then puree it (butternut squash or Hokkaido squash can also be used for this purpose).
Vanilla extract. make sure it's natural (no artificial stuff).
Unsweetened cocoa powder. I love it for its nutritional properties (superfood rich in magnesium, among others). You can also use melted chocolate. Carob powder will also do the trick. Psst! Carob powder can cut the bitterness of cocoa if you find it too intense.
Soy lecithin. You can find it in liquid form or in powder. I used it in the first form. Sunflower lecithin is a good alternative, but it might impart a sunflower taste. That ingredient is optional, but don't ignore it. It made the brownies exceptionnaly fudgy.
Vegan yogurt. I used coconut yogurt. Plain or vanilla, it doesn't matter.
Pumpkin Pie Spice. You can purchase this assortment of premixed spices for convenience. I preferred to make my own to remind myself of Caribbean flavors, with cinnamon, ginger, nutmeg, allspice, and cloves. I recommend doing a 4: 1 ratio with the cinnamon in the foreground as she's the lead singer; the other spices are the backup singers!
Jump to Recipe to see the technical sheet for the exact quantities.
Simple Substitutions and Add-ins
Bake two cakes for the price of one. Encrust vegan cream cheese or cashew cream instead of yogurt. It lends a creamy and tangy element and will produce a kind of pumpkin cheesecake brownies.
Increases the level of enjoyment. Yes, yes! Add 1 cup of chocolate chips, and you have chocolate chips pumpkin brownies.
Add crunch. Add 1 cup chopped walnuts or crushed peanuts.
The Special Diets Corner
Concoct gluten-free brownies. Replace whole-wheat flour with gluten-free flour, oat flour or almond flour (the texture will be pleasantly less dense).
Make low-calorie brownies. To do this, replace the fat portion with applesauce.
Relieve your digestion with low-FODMAP brownies. 1) replace coconut palm sugar with xylitol or erythritol; 2) remove the applesauce and make up for its portion with pumpkin puree; everything should work. Anyway, the latter doesn't appear in most of the recipes that I have compared on the interwebs.
How to Make this Dish Step by Step
Before getting to the heart of the matter, we must go through the preliminary phases. I add water to the ground flax, mix it well and let it sit for a few minutes to thicken. Finally, to make the pumpkin cream, I stir all the ingredients in a mixing bowl until smooth and creamy ① ②.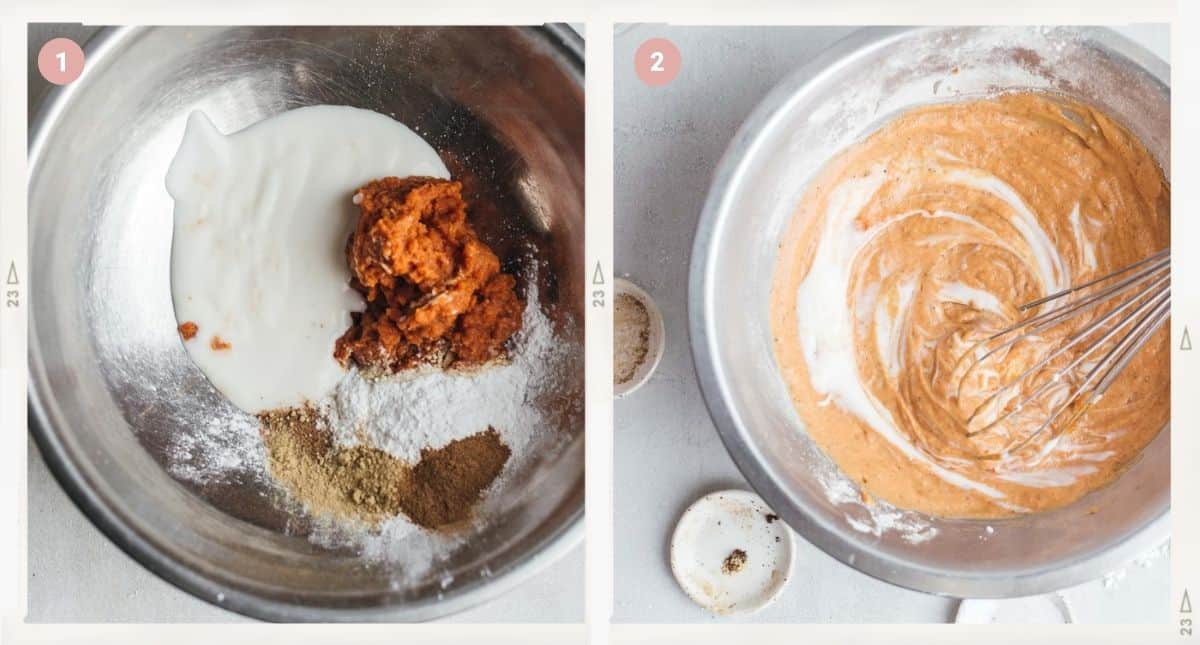 To prepare the brownie dough, I mix the sugar and the softened butter in a separate bowl ①. Then add the wet ingredients (including the flax egg) with spices in the dry mixture ②, and I whisk everything ③.
Using a flour sieve or a simple whisk—the idea is to make sure there are no clumps in the dry ingredients—I sift the flour, cocoa powder, baking powder, and salt above the pumpkin mixture ④.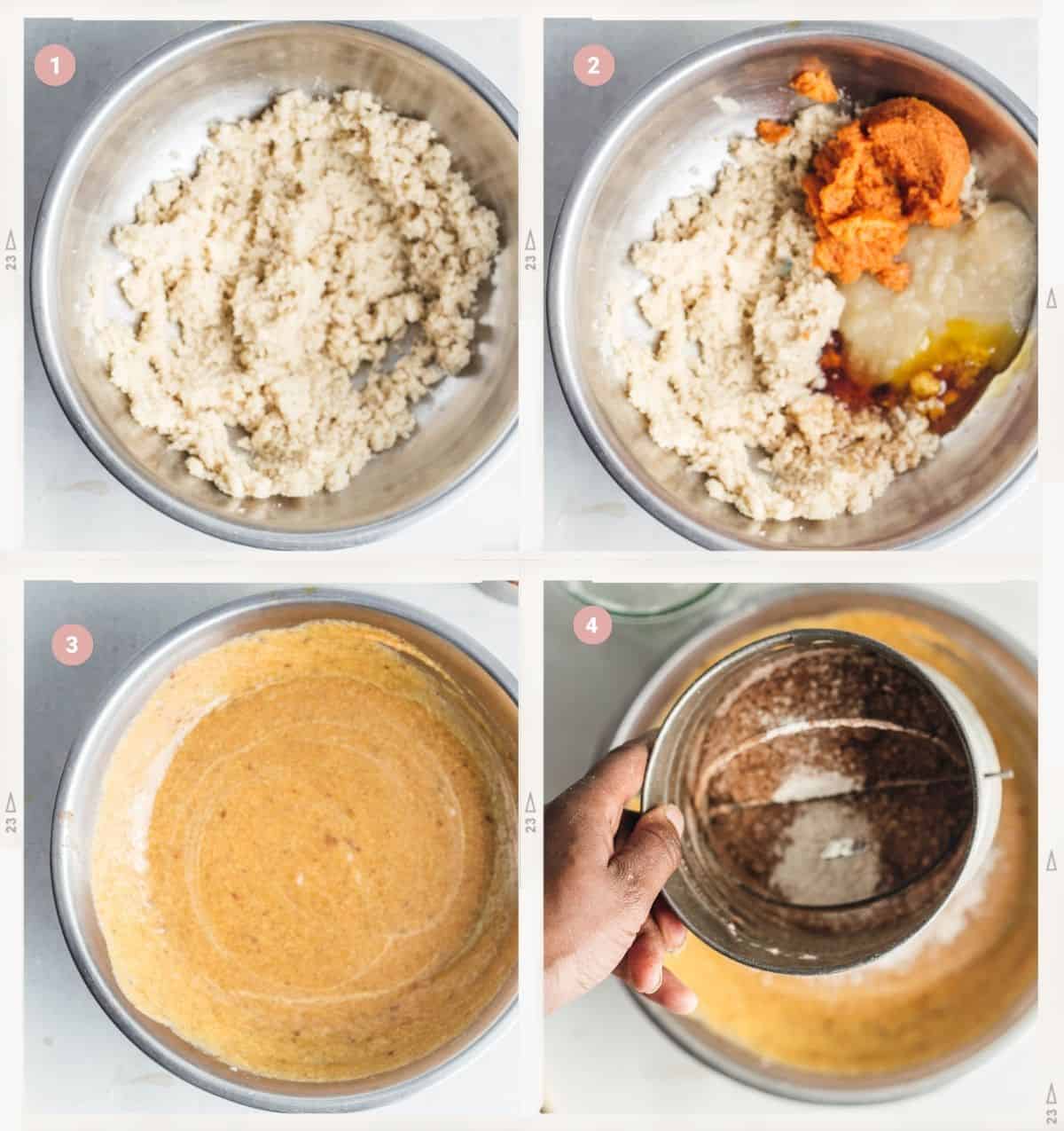 After that, I gently mix ⑤. Then I pour the dough into the previously prepared baking dish. Using a spoon, I create "beds" or wholes, if you will, to house the pumpkin cream ⑥. After that, I just take a spoonful of the pumpkin cream and nestle it in the ditches ⑦. I put the removed dough aside. Then, with a chopstick, I make vertical traces crossing each pocket from top to bottom, or I do it freely, creating swirls. I retransfer the removed brownie dough into the pumpkin swirl and swirl away!
Once the humble work of art is done, I put it all in the oven, cooking it for 35 to 40 minutes. To find out if the mega brownie is ready, I insert a toothpick after taking it out of the oven and check that moist crumbs come out attached but not raw. If so, I let it cool on a cooling rack for a few minutes, then after that, I move on to the exciting part! I cut the cake in tic-tac-toe ⑧.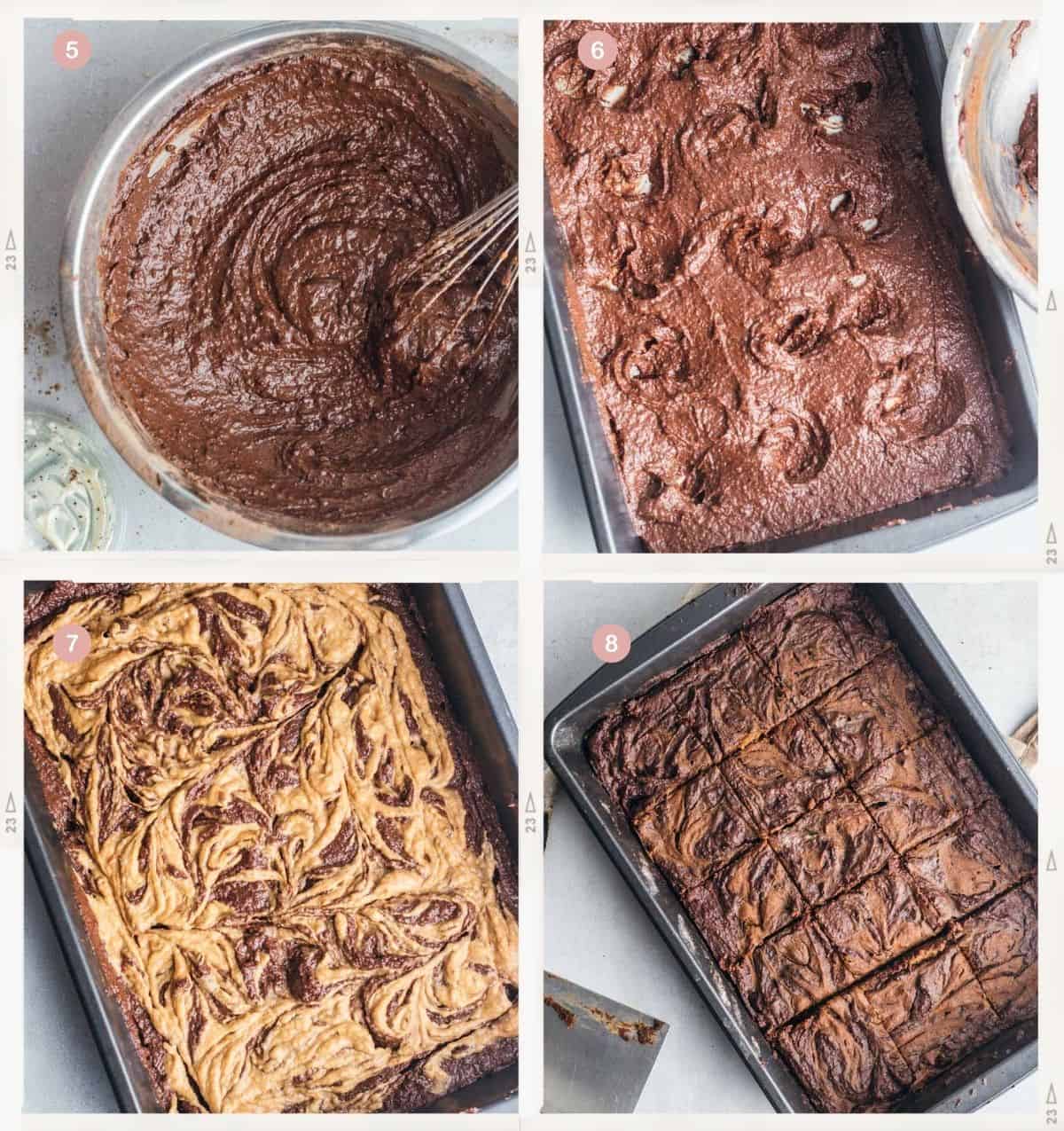 The texture is sublime and the brownies are ready to be engulfed in your mouth!
Keys to Success: My Top Tips
Be tight with the cooking time
Overbaking a brownie recipe can spoil it and make it dry and crispy. That's not the idea.
The good fat is where it's at
For the smoothest brownies, use solid fats at room temperature rather than liquid vegetable oils, producing a spongy cake texture. If you're from this school of thought, I'll let you do what you want. But if you like a brownie that melts on your tongue, then the following paragraph is for you.
Maneuver the butter
Soft to the touch and easily spreadable, softened vegan butter makes rich, tender brownies. To do this, you can simply leave the butter on the counter for about an hour. We can also speed things up (I know, we're all in a hurry in another way. Are you the type to collect kitchen accessories that ordinary people hardly ever use? If so, you can soften the butter in a double boiler or something do-it-yourself, with the same function (metallic bowl resting in a saucepan filled with boiling water, for example).
If patience or grace is not your strong point, melt the butter outright over low heat in a small saucepan (it shouldn't brown!). It will be easier to mix into the pumpkin brownie batter anyway.
Note: if you are using margarine, it won't need to be softened. In coconut oil, it must be heated until it has a liquid consistency (it will harden at a cooler temperature).
Measure the flour
To ensure fudgy brownies, weigh the flour for accuracy to 184 g. If it's not well measured, you could get a cake-like brownie!
Baking powder makes everything better
Even though these brownies are pretty dense and tender, a little baking powder helps achieve a nice texture. So, it's worth not snubbing it.
Essential Equipment
This dessert can be made without the use of an electric mixer. You'll only need basic tools, such as:
Baking dish. The recommended size is 9 x 13 in (23 x 32 cm).
Parchment paper. White or brown, it doesn't matter. You can also use a silicone baking mat.
Whisk.
Wooden spoon or spatula.
As mentioned earlier, a double boiler is an optional tool for slowly melting butter, but it can be replaced with a saucepan filled with boiling water and topped with a metallic bowl.
How to Serve this Dish
I promise you'll melt in front of these egg-free and dairy-free pumpkin brownies. But if you get carried away with audacity, enhance them by serving them with a scoop of vegan vanilla ice cream or coconut whipped cream.
I like to enjoy them as a dessert, snack, and even breakfast with a good cup of green tea.
Answers to Your Burning Questions
What's a brownie, and what texture is it supposed to have?
It's a small fudgy chocolate cake, in a rectangular or square shape, usually garnished with pecans or walnuts in North American cuisine.
What's the difference between traditional brownies vs. vegan brownies?
Traditional brownie recipes use eggs and butter to emulsify and bind, giving brownies their dense texture. To veganize them, we will attribute the function of the binder to a flax or chia egg or an assortment of starches; we will replace the dairy butter with vegan butter. If some recipes call for milk, we will use plant-based milk.
Can I use any egg substitutes?
Here, the egg property we're only looking for is as a binder. So chia egg (same preparation process), one of the commercial starch blends (like Bob's Red Mill, Orgran, Neat Egg, or Ener-G Egg Replacer), or aquafaba would probably work just fine.
By the way, aquafaba helps achieve that classic brownie texture while also releasing the characteristics of cocoa powder. It is recommended to boil it before adding the rest of the ingredients.
Can we put other vegetables other than pumpkin in brownies?
You can put vegetables from the same family in the brownie batter, such as zucchini or sweet potato.
Can I spread the pumpkin cream instead of swirling it?
Yes, of course. If your hands are lazy, nervous, or clumsy, it's also possible to spread all the cream on top.
How to Store this Dish
Once the brownies have cooled, simply transfer them to a resealable plastic bag or airtight container. Then, leave them on the counter at room temperature for up to a week, or place them in the fridge for up to two weeks. This recipe freezes great too! They can be put in the freezer for up to four months.
When ready to serve, thaw them in the refrigerator overnight or reheat in the microwave on a lower power/defrost setting to heat more evenly to the center.
Make this Dish Now
This rectangular or square-shaped dessert is perfect for Halloween, Thanksgiving, Christmas, or anytime in fall. Its extravagant side will attract all eyes.
Obviously, these healthy pumpkin brownies won't be the dreary brownies you see on the tables during these celebrations.
The best part? They're simple to make. You combine the dry ingredients with the wet ingredients, spread your dough, and forge pumpkin cream swirls in it.
In less than an hour, splendid, chocolatey goodness will appear between your fingers, variegated with a spicy pumpkin cream that you will swallow with glee.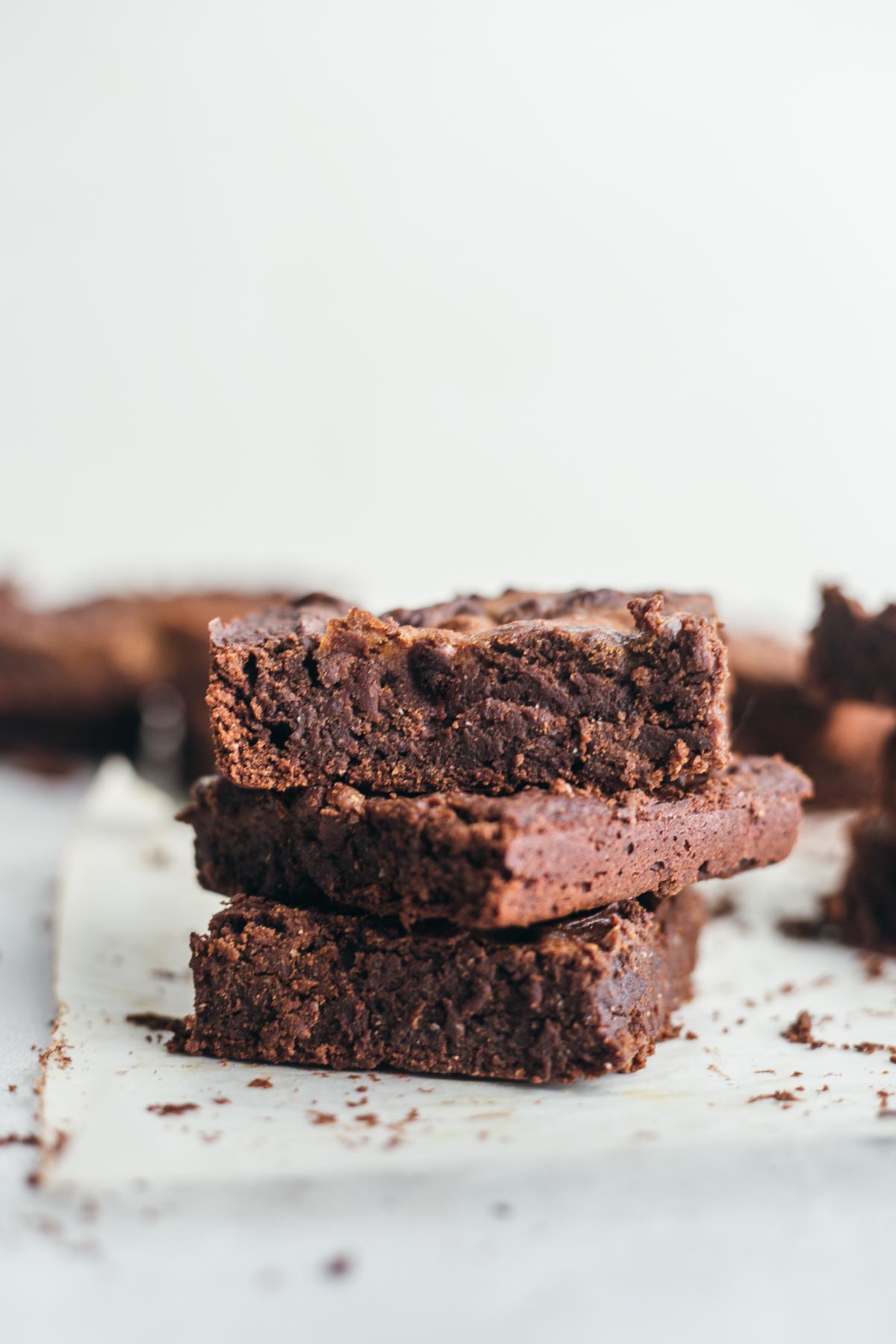 If you try this recipe, I want to know about it! I always appreciate your feedback. Leave a star rating in the recipe card right below and/or a review in the comment section further down the page. You can also follow me on Pinterest, Facebook, or Instagram. Sign up for my email list, too!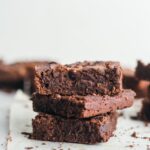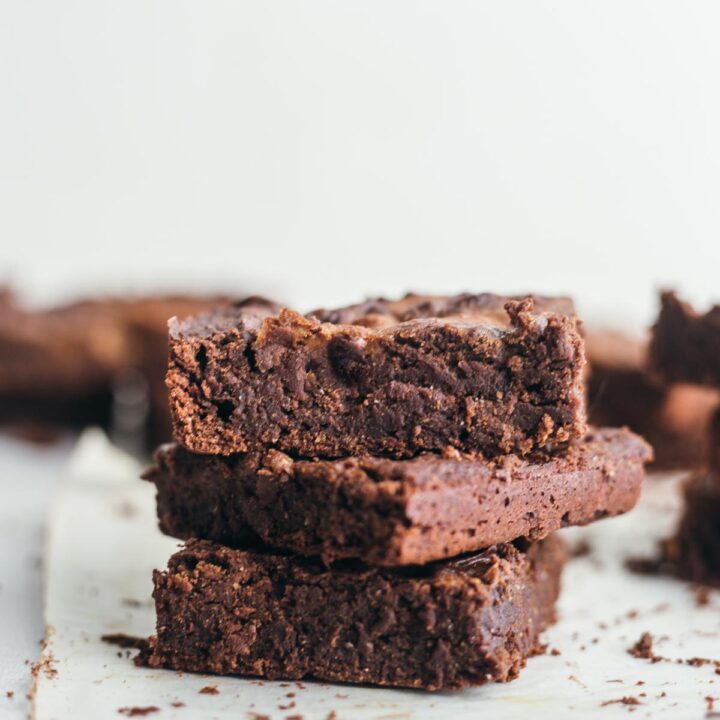 Vegan Pumpkin Brownies
These dark, intensely chocolatey, gooey little things aren't your typical specimen—they're marbled with a swirl of pumpkin puree with a soft, melt-in-the-mouth and rich, buttery, and very sophisticated interior. If you keep them in the fridge, they will be even fudgier.
Save Recipe
Saved!
Print Recipe
Pin Recipe
Equipment
9"x 13" baking dish

Parchment paper or silicone baking mat

Whisk

Mixing bowls

Wooden spoon or spatula
Ingredients
Pumpkin cream swirl
½

cup

puree pumpkin

½

cup

coconut yogurt

or dairy-free yogurt

2

tablespoons

cornstarch

or tapioca starch/arrowroot starch

2

tablespoons

coconut palm sugar

2

teaspoons

pumpkin pie spice
Brownie dough
2

tablespoons

ground flax

or chia

6

tablespoons

water

1 ½

cup

coconut palm sugar

½

cup

vegan butter

previously softened (or vegetable oil)

⅓

cup

pumpkin puree

½

cup

applesauce

1

tablespoon

soy lecithin

or sunflower lecithin (Optional)

2

teaspoons

vanilla extract

1

teaspoon

coffee extract

or instant coffee granules(Optional)

1½

cup

whole-wheat flour

1

cup

cacao powder or cocoa powder

natural unsweetened

1

teaspoon

baking powder

¼

teaspoon

salt
Instructions
Preheat the oven to 350 ° F. Grease a 9 x 13 inch (22 x 32 cm) baking pan and cover it with parchment paper or a silicone baking mat.

Combine all the ingredients for the pumpkin cream swirl until smooth and creamy. Put aside.

Add the water to the ground flax and mix. Put aside.

In a large bowl, add the sugar and melted butter and mix well. Add the pumpkin puree, applesauce, vanilla extract, coffee extract, and the flax egg, and blend with a wooden spoon.

Sift the flour, cocoa powder, baking powder, and salt over the pumpkin mixture and blend gently with a wooden spoon.

Pour batter into pre-prepared pan and bake for 35 to 40 minutes or until a toothpick inserted in the center comes out with moist crumbs attached, but not raw.

Take out of the oven, let cool.

Placed in an airtight container, these vegan pumpkin brownies will keep for up to two days on the counter, up to five or seven days in the refrigerator, and up to four months in the freezer.
Notes
Egg Replacement: Chia Egg (same manufacturing process), one of the store-bought mixes (like Bob's Red Mill, Orgran and Neat Egg, Ener-G Egg Replacer, for example) or aquafaba would probably work just fine.
Fat: soften the vegan butter on the counter 1 hour before, in a double-serve boiler or something DIY with the same function (cul-de-poule resting in a saucepan filled with boiling water, for example) or on low heat.
Cocoa powder: cut the bitterness if desired with carob powder.
Variations
Pumpkin Brownies with Coconut Oil – replace vegan butter with coconut oil.
Pumpkin Brownies with Chocolate Chips – add 1 cup of chocolate chips.
Pumpkin Nut Brownies – add 1 cup chopped walnuts or crushed peanuts (peanuts)
Gluten-Free (or flourless brownies – replace wheat flour with oat or almond flour (the texture will be less dense).
Low-Calorie brownies – replace the fat portion with applesauce or pumpkin.
Low-FODMAP Brownies – 1) replace coconut palm sugar with xylitol or erythritol; 2) remove the applesauce and compensate for its portion with the pumpkin puree.
Nutrition
Serving:
1
g
|
Calories:
237
kcal
|
Carbohydrates:
40
g
|
Protein:
4
g
|
Fat:
10
g
|
Saturated Fat:
4
g
|
Polyunsaturated Fat:
2
g
|
Monounsaturated Fat:
3
g
|
Trans Fat:
1
g
|
Sodium:
193
mg
|
Potassium:
242
mg
|
Fiber:
5
g
|
Sugar:
17
g
|
Vitamin A:
3013
IU
|
Vitamin C:
1
mg
|
Calcium:
46
mg
|
Iron:
2
mg
Get Your Free Plant-Based Eating Toolkit and More
Subscribe to my newsletter and unlock my plant-based course, nutrition charts, recipe secrets, and exclusive updates to prepare wholesome, varied & balanced meals effortlessly. All you need is a good appetite. Subscribe!