Half-soup and half-sauce, pappa al pomodoro is little more than ripe tomatoes, olive oil, and stale bread. Think of this staple Tuscan dish as a warm salad with tomatoes and bread, or maybe a savory, ultra-sexy porridge oozing sensuality. These red fruits aren't shy to show you their best assets. Exhibitionists, they are!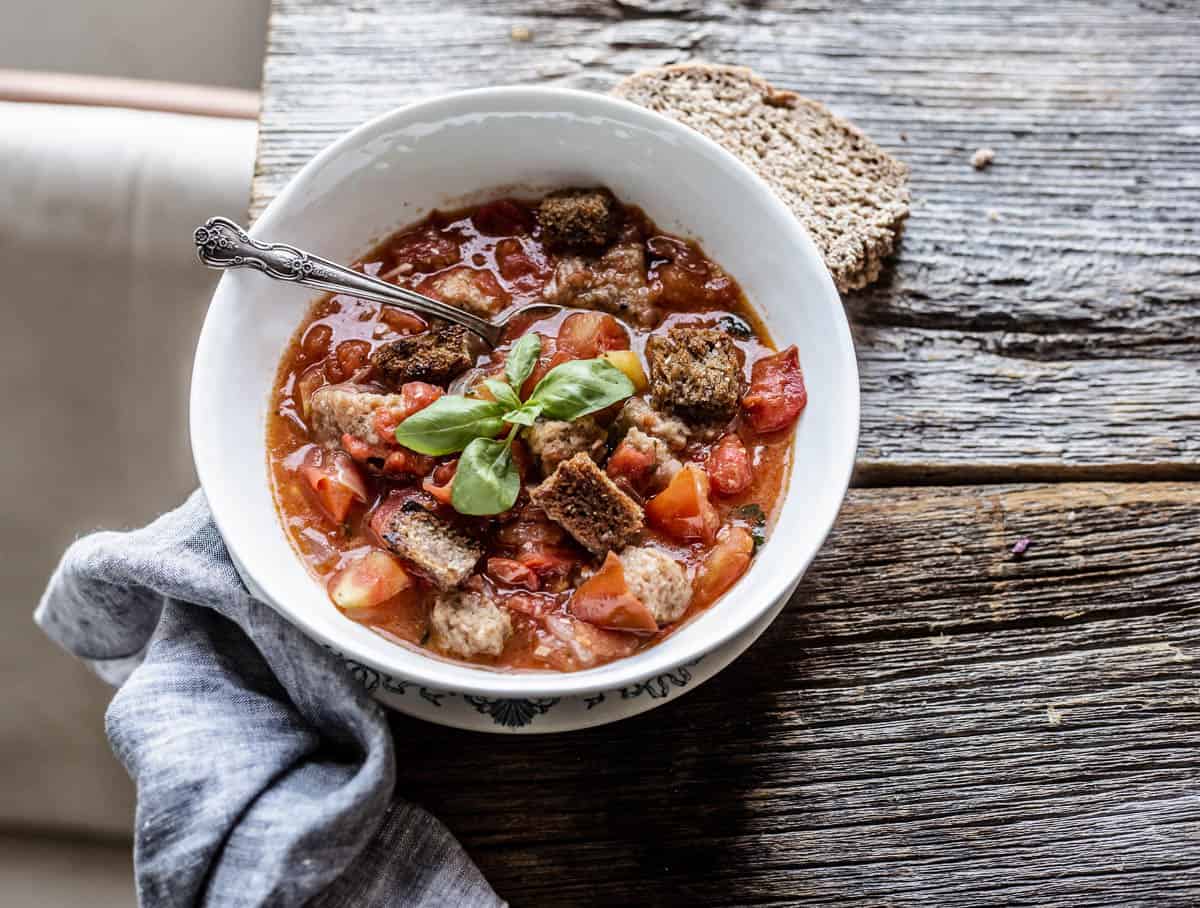 Jump to:
The Best Veggie Soup at the Cusp of Autumn
When the last tomatoes of the season fall to the ground ripe, bumpy, and ugly, it's time to turn them into something savory.
And at the cusp of autumn, pappa al pomodoro is perfect for a windy, gusty night. You won't have to feel bad about staying stuck at home, inhaling its heady aromas.
If you can't do without bread, I'm sorry for you, you'll find that the best thing since sliced ​​bread is a piece of bread that is soft like a cushion in a bowl of tomato soup.
I love this dish for its simplicity, as it has around five ingredients. Anyhow, I read somewhere that you shouldn't joke around with Italians and their traditional cuisine. They don't tolerate variations in the preparation of this soup. Variations like adding any non-Tuscan bread, any herbs other than sweet or Genoese basil, cheap olive oil, canned tomatoes, or any cheese.
Hold up! We have a 100% vegetable dish here! 🙌
Tuscan people, I understand y'all. It reminds me of my food fundamentalism way back when I was vigorously opposed to cooked food and called the ayatollah of food. I understand this rejection of modernity. I understand this plea of ​​strict compliance with the authentic recipe. This is why I will not tell you that I departed from the tradition by adding in my soup primo, fresh bread, and secondo, sourdough bread rather than Tuscan bread.
No, you won't know this. Not even that it was scrape-the-bowl amazing.
A Six-Ingredient Tuscan Soup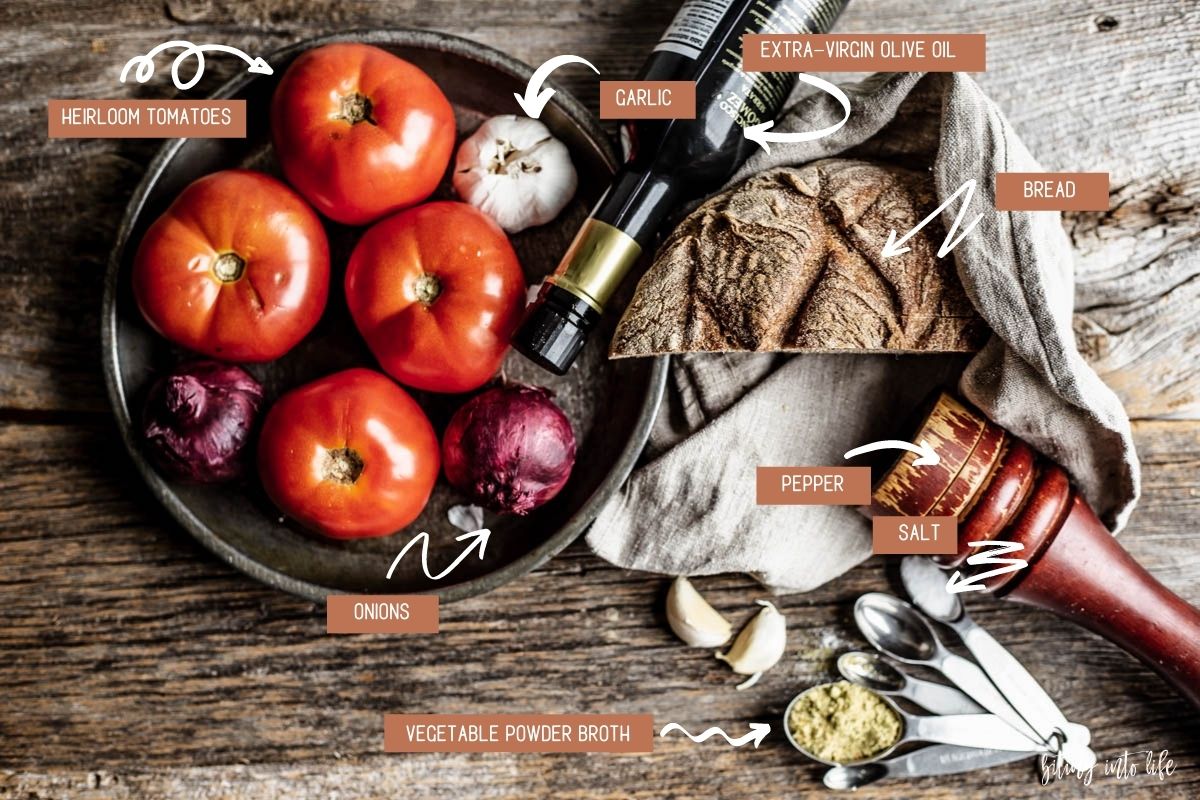 Main ingredients
Tomatoes – I used heirloom beef heart tomatoes (real heart-shaped, i.e., with a baby belly button-like tip sticking out) bought at the farmers market. To make an authentic pappa al pomodoro, you need a particular variety of tomatoes, called pisanelli or costoluto fiorentino. Made from various heirloom Italian tomatoes, they have a distinct flattened shape and are heavily ribbed.
Obviously, it's not always easy to find this variety, even in Italy. In this case, you can use canned San Marzano tomatoes found in specialty grocery stores. They are considered the best of their kind in the world by many chefs. If you want to use fresh ones, Roma tomatoes are a good option. They come from a cross between a San Marzano and two other varieties of tomatoes.
Warning! I don't know if this practice is common in North America, but there is a whole scandal of fake beef heart tomatoes in France. Nicely ribbed fakes are said to be sold under the name "beef heart-type tomato" and at a price 30% higher than regular tomatoes, on top of that! According to the National Association of Consumers and Users, the major brands are the instigators of misleading labeling to maintain confusion among consumers and take advantage of high prices.
Bread – The authentic recipe calls for stale bread, but I used fresh bread (shhh!). Dried bread works great here too. If we want to get closer to the authentic recipe, the latter is, in fact, better than stale bread (don't say that to the die-hard Italian cooks).

The difference between the two seems insignificant, but it may be helpful to know that staling and drying are two different processes, though often simultaneous. Staling refers to the recrystallization of starch from bread, while drying describes moisture loss through evaporation. Staling leads to a hard, firm bread, while drying (in the absence of staling) leads to a light, crunchy texture, like that of a fresh crouton.
Onions – They're not in the authentic recipe, but in this recipe to add sweetness and compensate for the tomatoes' natural acidity. I almost always use red onions in my recipes because their bright color is a testament to their antioxidant power.
Garlic – I use it to enhance the taste.
Olive oil – It should be extra-virgin and of good quality. And if we wanted to stick to the authentic recipe, Tuscan. Before serving the soup, pour the last raw drops, and you'll go to the next level!
Seasonings
Basil – The best basil to use for this dish is Genoese or sweet basil; standard basil might taste too minty. Everything about this plant was used: the stem to enhance the taste and the leaves, of course.
Vegetable broth – As the tomatoes alone aren't juicy enough to bring you to the end result, you have to add a little more liquid to the pot to completely soften the bread. I used a vegetable broth for my extra liquid, which adds flavor (water + powder broth).
Salt – I used very little of it since the vegetable broth was sufficiently salty.
How to Make it Step by Step
For this dish, the goal is to completely reduce the bread to mush, with no crispness. Adding a liquid to the saucepan, such as vegetable broth, will help you achieve this. On the other hand, if you use already fresh bread rather than stale or dried out, you will be even closer to the finish line.
1 / Brown and sweat the onion and garlic.
2 / Add the tomatoes, the reserved juice, and the basil stems to the onion and garlic mixture and simmer for 15 minutes.
3 / Add the cut bread and the broth to the tomato mixture and simmer for about 40 minutes.
4 / Season the soup with salt and pepper.
My Top Tips for Having an Ultra Comforting Soup
Choose top-notch ingredients
Given its simple and few ingredients, they must be of high quality. Traditional pappa al pomodoro requires ripe tomatoes, unsalted country bread (Tuscan or otherwise), and the best extra-virgin olive oil.
Don't use sweet, hard greenhouse tomatoes. At the beginning of September, farmers' markets are full of wonderful fresh heirloom tomatoes. In the winter, I understand that it's difficult to find fresh tomatoes, so canned tomatoes of good quality will do. The addition of oven-roasted cherry tomatoes will perhaps improve the taste.
Cook your "porridge" in the right pot
Traditionally, pappa al pomodoro is cooked in a clay pot. In principle, clay cooking is a great choice for slow-simmered meals like soups, stews, legumes, among others. This cooking method is also a good, healthy solution to toxic non-stick cookware. If you don't have one—which I can well imagine—a large saucepan, a cast-iron Dutch-oven (this is what I used), or an enameled or earthenware casserole dish are also suitable options.
What to serve it with?
Whether served hot, warm, or chilled like a Spanish gazpacho, pappa al pomodoro is a versatile dish. It can be served as a main course or as a side dish with a green salad, other dishes of vegetables, or vegetable protein, such as a few green beans drizzled with lemon and olive oil. For a contrast of textures, add croutons.
This soup is also a satisfying meal if you add a little vegetable protein, such as soft tofu (don't worry, your secret is safe with me).
Everything You Need to Know about Pappa al Pomodoro
What is pappa al pomodoro?
Pappa al pomodoro is a traditionally made soup with ripe and tasty tomatoes, stale bread (ideally Tuscan and without salt), basil, and lots of extra-virgin olive oil.
How do you say pappa al pomodoro in English?
The Italian word pappa translates to porridge or baby food and pomodoro to tomatoes. So pappa al pomodoro literally means "tomato porridge."
What's the origin of this dish?
This frugal tomato soup is a dish from so-called "poor" cuisine(cucina povera). Of peasant origin, it is typically Tuscan, from the region of Siena.
What is the history of this dish?
It comes from the age when wasting a single piece of bread, even if it was stale, was a kind of blasphemy. In the 12th century, Pisa's rulers disagreed with Florence's rulers and cut their supply lines from the coast. This made salt banned. The Florentines, unwilling to give in to the pressure, simply started baking their bread without salt. This is how Pana Toscano was born, Tuscan bread that was later added to tomato soup. This dish was widely popularized by the 1911 publication of Il Giornalino di Gian Burrasca and its television version, in which Rita Pavone sang the well-known song Viva la pappa col pomodoro.
What are the best tomatoes for making pappa al pomodoro?
The tastiest tomatoes will make this dish a hit. In Florence, the tomatoes used to make the sauce are called Pisanelli or Costoluti, but Roma tomatoes are a great substitution. Other heirloom varieties such as beef heart tomatoes are also very suitable.
Can we prepare it with fresh bread?
This soup is just as good made from fresh bread. The advantage is that fresh bread softens much faster, which speeds up the preparation of the soup. In this case, opt for country bread, sourdough if possible.
Make This Soup Now
The Italian word pappa may mean porridge or baby food, but this healthy, digestible, and tasty tomato soup can be eaten at any age.
Thanks to amazing tomatoes, country bread, high-quality olive oil, and fresh basil, the flavor is anything but bland!
Stick to the traditional recipe for an authentic Italian soup or modernize it a bit for even more comfort.
And above all, let yourself be seduced by the best that seasonal tomatoes have to offer.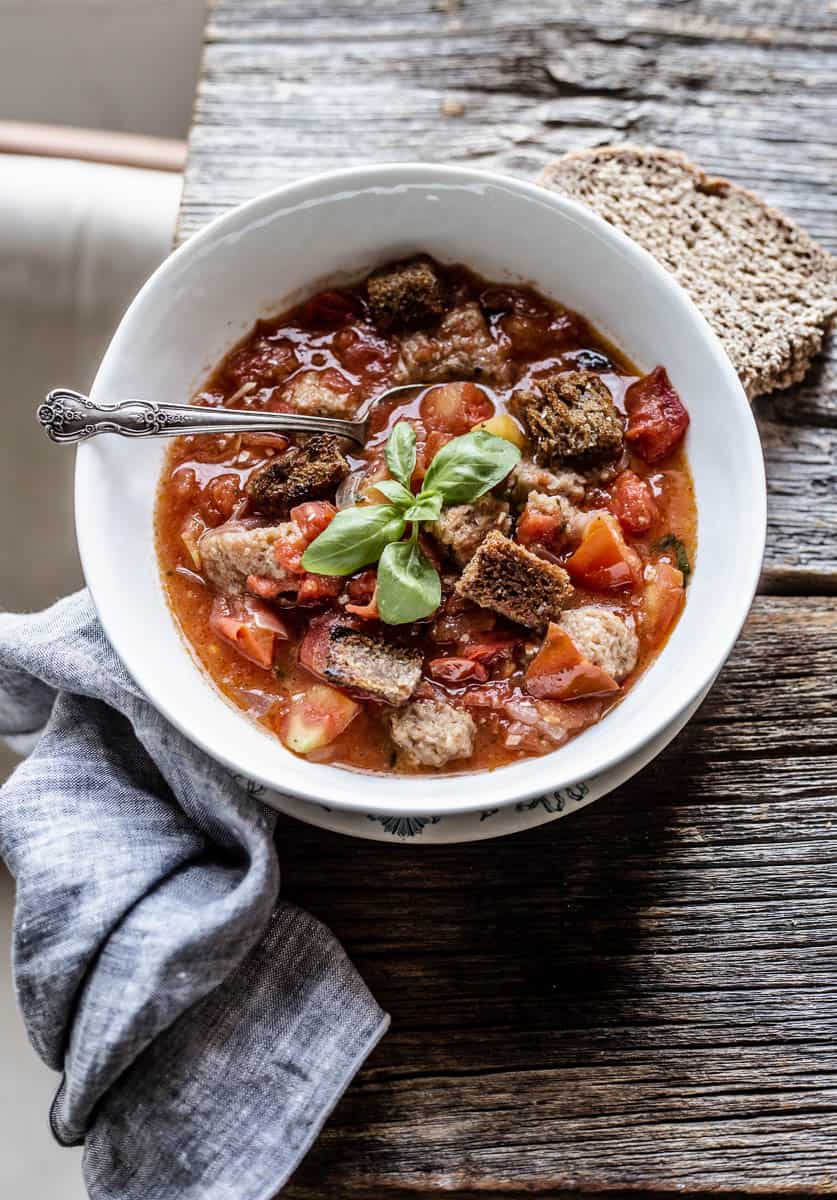 If you try this recipe, I want to know about it! I always appreciate your feedback. Leave a star rating in the recipe card right below and/or a review in the comment section further down the page. You can also follow me on Pinterest, Facebook, or Instagram. Sign up for my email list, too!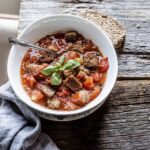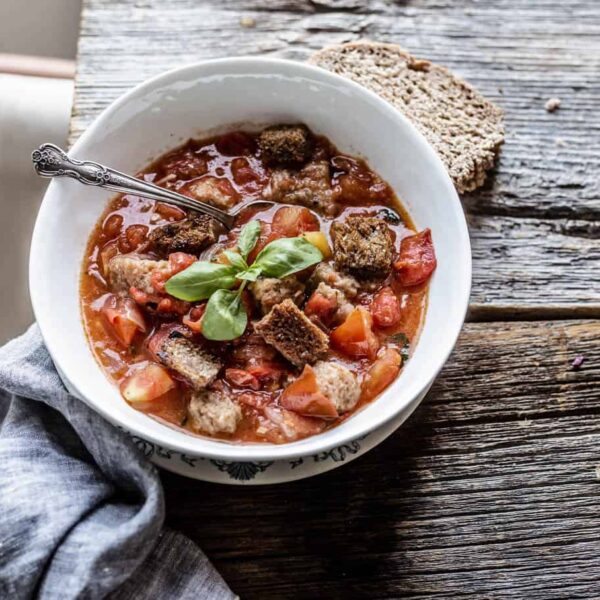 Pappa Al Pomodoro
This warm, homemade soup makes a delicious main course, served with nothing more than a bright green salad or a few green beans drizzled with lemon and olive oil. But you can pass it off as a side dish. For those like me who don't like the hassle of preparing lunches for work, you'll be happy to find that leftovers—quickly reheated in the microwave or preheated to put in a Thermos—make very happy meals.
Save Recipe
Saved!
Print Recipe
Pin Recipe
Ingredients
1

medium

onion

3

cloves

garlic

3

tablespoons

olive oil

1

kg

Italian tomatoes

quartered and quartered or a 28-32-ounce can of organic tomatoes

4

sprigs

basil

¼

loaf

Italian bread

rustic or country bread, stale or fresh, crust removed, and crumb cut into 2-in cubes (about 1 ½ cups)

3

cups

vegetable broth

or 3 cups of water + 1 tablespoon/1 cube vegetable broth powder
Instructions
Finely chop the onion and mince the garlic. In a large 4-liter saucepan or casserole, heat oil over moderately high heat until heated through, but without smoking and sauté onion and garlic, stirring, until that they are softened. Stir the tomatoes and their juices into the onion mixture and simmer, stirring occasionally, for 10 to 15 minutes. Increase the heat and bring the mixture to a boil.

Select the leaves from the basil sprigs, set the leaves aside and add the stems to the tomato mixture. Cook the mixture long enough for the tomato to melt and break down a bit, about 5 to 10 minutes or until the tomato mixture turns the orange-red color characteristic of cooked tomatoes.

While the tomato mixture is simmering, discard the crust on bread and cut enough bread into 1 inch (2.5 cm) cubes to measure 2 cups.

Back to the tomato mixture, remove and discard the basil stalk. Using kitchen scissors, cut the basil leaves into coarse strips and add them to the casserole dish.

Add the bread and broth to the tomato mixture and simmer with a lid, stirring occasionally, until the bread has absorbed the liquid and the soup is thick, about 40 minutes. Season the soup with salt.

Remove the casserole dish from the heat and let it sit for about 15 minutes in a warm place, so that the bread can soften and absorb the liquid.

When ready to serve the pappa, stir it roughly to break the bread and taste it again. Adjust if necessary by stirring another drizzle of olive oil to enrich the finished dish. Serve hot with freshly ground black pepper.
Notes
Choose top-notch ingredients:
Go for very ripe tomatoes, such as heirloom tomatoes such as heart beef or Roma. At worst, take some canned tomatoes, like San Marziano or good quality. Or add oven-roasted cherry tomatoes to regular canned tomatoes. As for the bread, select unsalted country bread (Tuscan or other) and the best extra-virgin olive oil.

As for the bread, select unsalted country bread (Tuscan or other) and the best extra virgin olive oil.
Cook the porridge in the right pot: if possible, simmer the soup in an enameled cast-iron pot or in an earthenware pot for a most comforting dish.
Counter acidity, if necessary: ​​add a pinch or two of sugar if the mixture is too acidic.
Whether served hot, warm, or chilled like a Spanish gazpacho, pappa al pomodoro is a versatile dish. It can be served as a main course or as a side dish with a green salad, other dishes of vegetables or vegetable protein, such as a few green beans drizzled with lemon and olive oil. For a contrast of textures, add croutons (as in the photo).
Nutrition
Calories:
319
kcal
|
Carbohydrates:
30
g
|
Protein:
5
g
|
Fat:
21
g
|
Saturated Fat:
7
g
|
Polyunsaturated Fat:
3
g
|
Monounsaturated Fat:
10
g
|
Trans Fat:
1
g
|
Sodium:
824
mg
|
Potassium:
709
mg
|
Fiber:
5
g
|
Sugar:
18
g
|
Vitamin A:
2564
IU
|
Vitamin C:
37
mg
|
Calcium:
39
mg
|
Iron:
1
mg
Get Your Free Plant-Based Eating Toolkit and More
Subscribe to my newsletter and unlock my plant-based course, nutrition charts, recipe secrets, and exclusive updates to prepare wholesome, varied & balanced meals effortlessly. All you need is a good appetite. Subscribe!