Nutritious ingredients, a succulent sauce, a bit of adventure, and delicious pasta reminiscent of pappardelle. I'm sure you will languidly gobble them up. These high-protein pasta twist and intermingle with zucchini noodles cut into ribbons to celebrate the late summer harvest.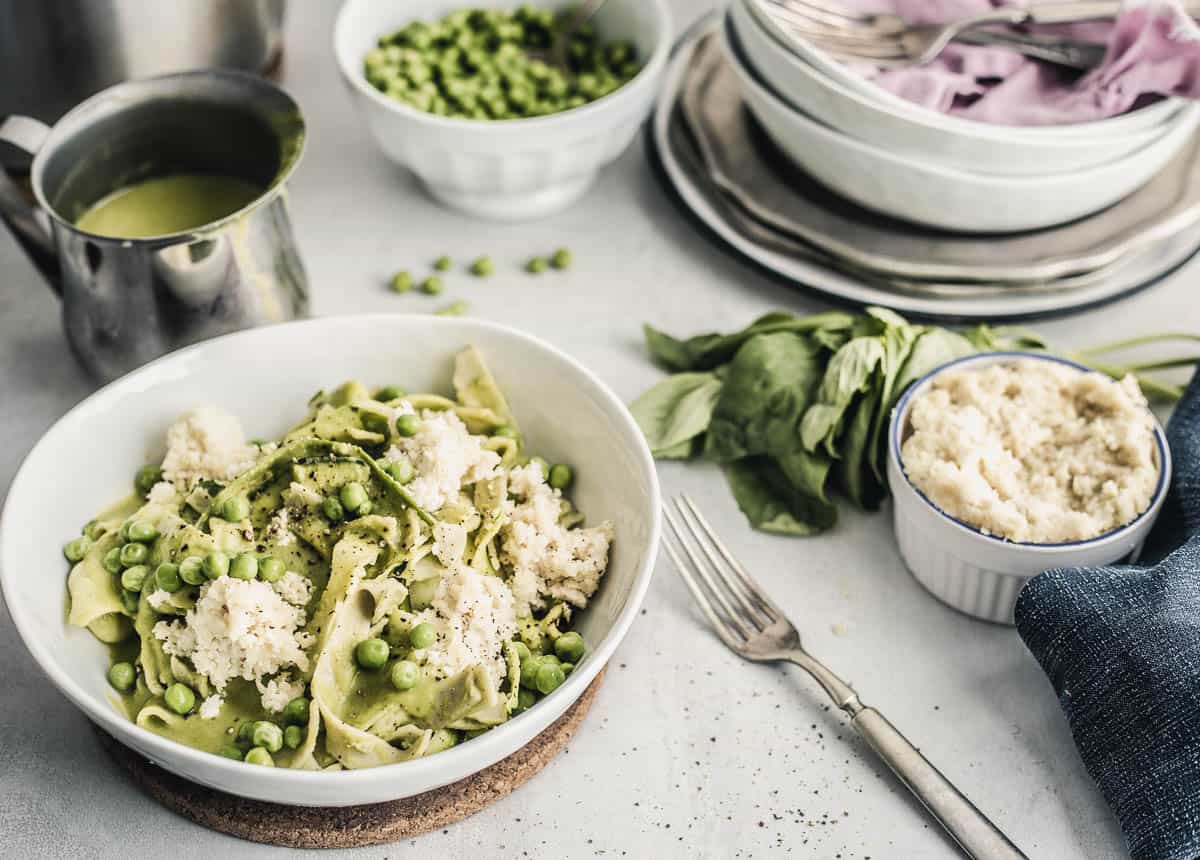 Jump to:
The Perfect Recipe for an Elegant Dinner
I have a weakness for pretty things, and I fell in love with pappardelle the first time I saw it. There is no more elegant pasta than this. It's her look that attracted me so much.
Indeed, its broad, flat, and wide shape give it an excellent surface on which a light sauce, or even rustic, can cling on. To avoid gluten and increase your protein intake, I chose pasta that deceptively mimics its ribbon shape and gives the same effect. (I'll give you the details later.)
The noodles are topped with a green pea sauce, a sauce unlike anything I had tasted before: delicate but rich, earthy but somehow also ethereal.
Lastly, just because it's light doesn't mean it won't make you delirious. I couldn't help but lick my fingers off the blender jar before pouring it over the pasta.
Satiating and heartwarming, this Tuscan-inspired pasta cut is everything you could want from a meatless dish. It will elicit a lot of sighs and plate-scraping around your table.
What Goes in High-Protein Pappardelle-Style Pasta?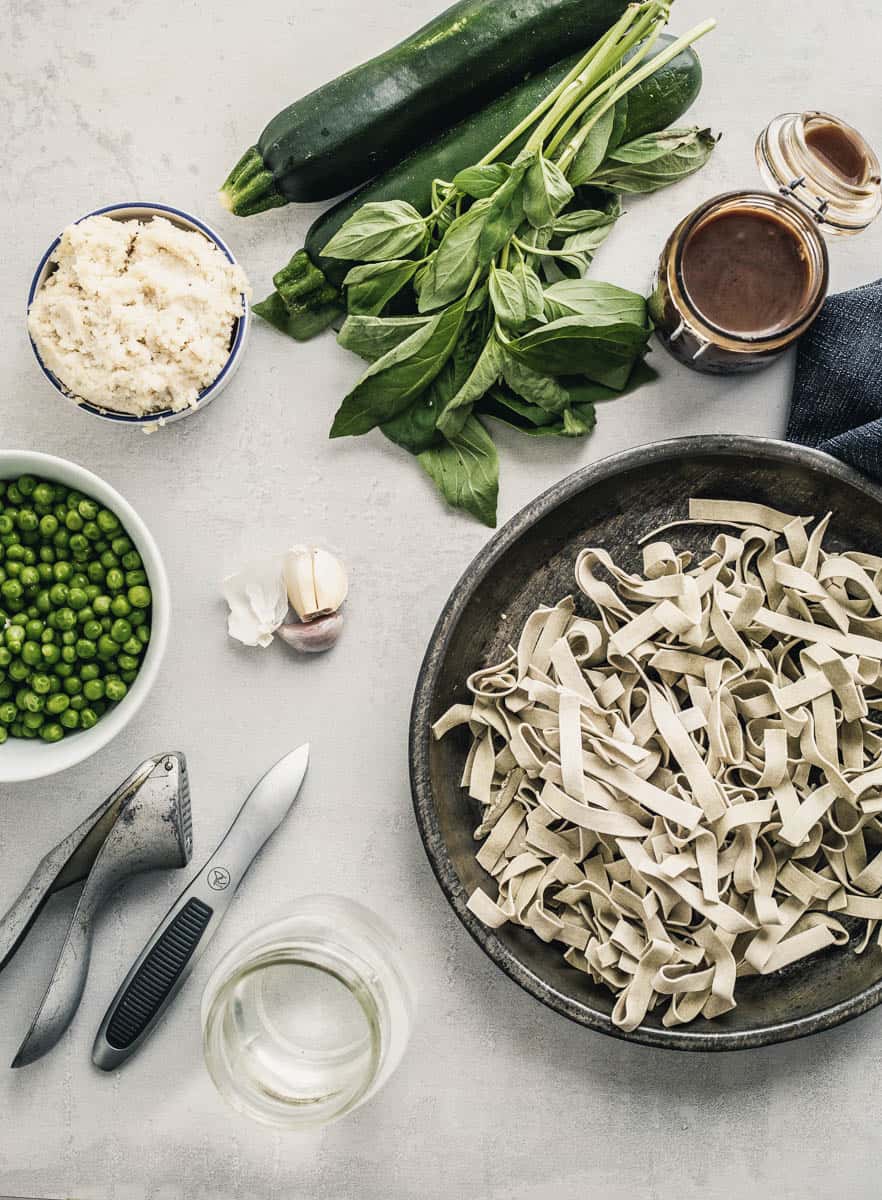 Main ingredients
High-protein pasta – I used pasta-shaped ribbons made of artichoke. I agree that it's probably difficult to find this kind. So I offer you three options if you want to stay in the vegan realm:
Fettuccine made from legumes for the protein side,
High-protein lasagna that you will then have to cut in ribbons (good luck), or
Real pappardelle with durum wheat and without eggs (more rustic and firmer than those including eggs).
Peas – fresh or frozen, any of them will do.
Zucchini – raw, they're added to bring some freshness.
Macadamia-almond ricotta – This dairy-free ricotta brings a little liveliness in terms of color and mouthfeel. It's good to concoct it beforehand. It'll take away some prep time. At worst, it's done relatively quickly and will add about ten to fifteen minutes to the total preparation time.
Seasonings
Demi-glace – Traditionally, robust, meaty, and rich sauces usually pair well with pappardelle. So demi-glace serves this role very well if we continue in the same vein (remember we have fake pappardelle). If you don't have any, opt for a vegetable broth. It's also delicious.
How to Make High-Protein Pappardelle-Style Pasta Step by Step
1 / Cook the pasta and the peas.
2 / Make the pea sauce.
3 / Pour the sauce over the pasta.
4 / Divide into bowls and add almond-macadamia ricotta and peas.
Note: if the almond-macadamia ricotta is not already prepared, do so before starting the above steps.
My Top Tips for Surefire Success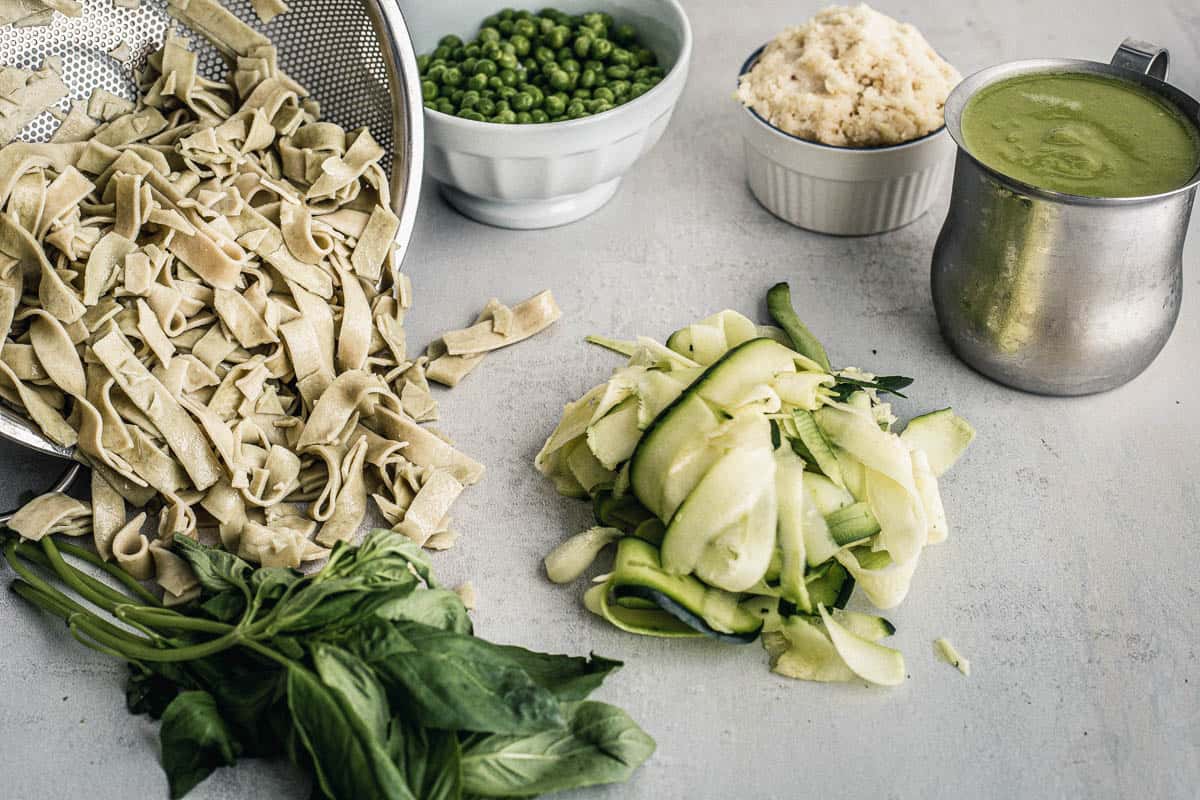 Start preparing the pea sauce before the pasta. The sauce will hold well while the pasta cooks. If you are using fresh peas, check them every minute or so throughout cooking; they can take anything from 4 minutes too much longer to become tender. It all depends on their age and size. If you are using frozen peas, they should be done in four to five minutes.
You can make a similar sauce with broad beans. There are more starchy than peas, so be prepared to add a little more demi-glace/water mixture or vegetable broth while mixing.
What to Combine High-Protein Pasta with?
Here are some ideas for high-protein pasta meals that you can make with:
Pesto and bruschetta
An Alfredo-type sauce
Kale
Portobello mushrooms
Other High-Protein Alternatives to Ordinary Pasta
I really try to find accessible ingredients for most of my recipes. Still, sometimes I admit, I want to venture out with unusual ingredients. But don't worry: I always keep in mind which replacement ingredient is accessible, though. The main idea here is to use high-protein pastes.
May I remind you of the different substitution options:
Bean-based fettuccine: they are thinner, but you will still have a flat pasta effect. Choose those made with chickpeas or red lentils for a taste that evokes ordinary pasta.
Bean-based lasagna: I tried to cook the legumes to cut them afterward, but it was an impossible task. The pasta was so sticky that I would have had to separate it with a crowbar. The solution would be to cook a few of them a few inches apart in several saucepans at a time. But seriously, who has time for that?
If you don't care about the high-protein side, use pappardelle made from durum wheat, as mentioned above. Tagliatelle is the closest, but these contain eggs. It's up to you. I wouldn't hold it against you.
Everything You Need to Know about High-Protein Pasta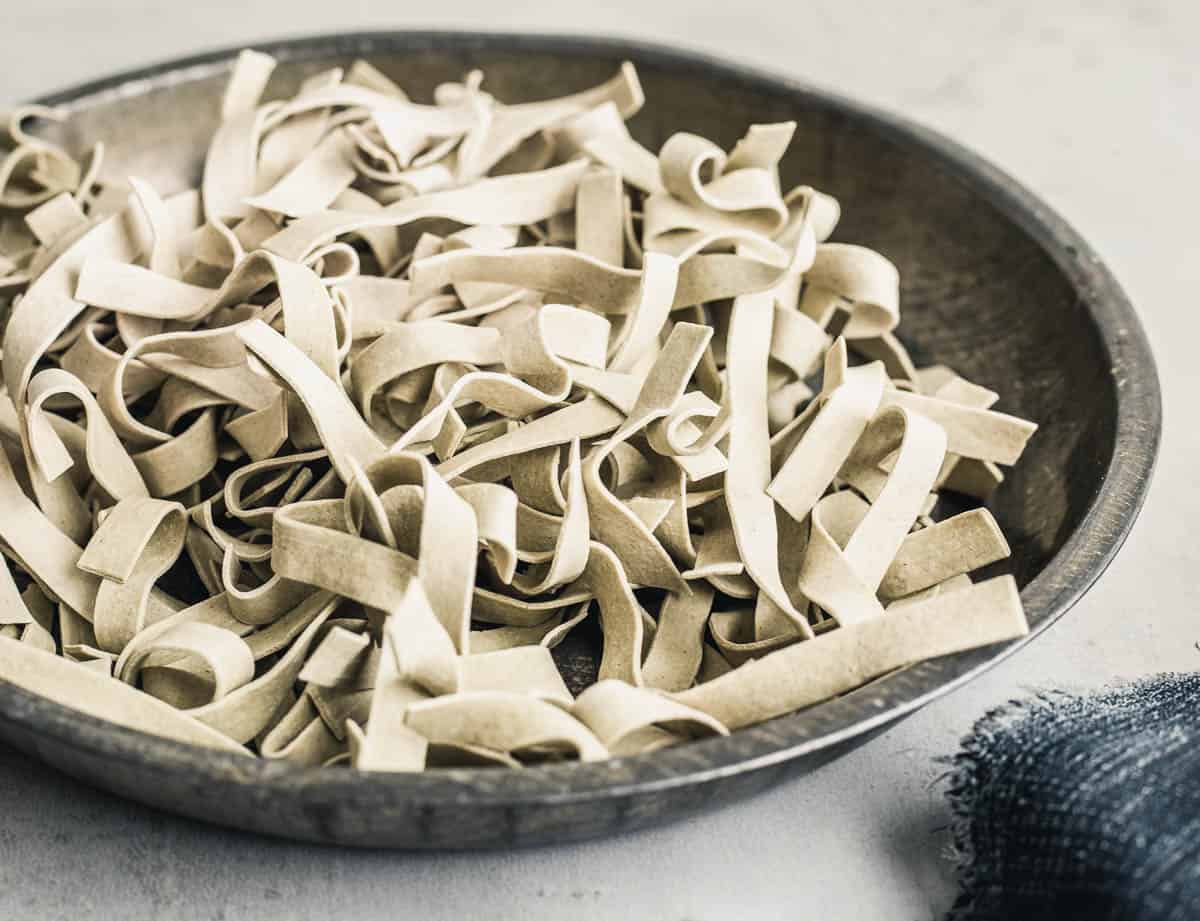 If you are a vegetarian or vegan, it's important to choose plant foods higher in protein, such as beans and legumes. And high-protein pasta offers many advantages over regular pasta.
What is high-protein pasta?
It's pasta that contains between 14g and 25g of protein per serving. How does it translate? Typically, it's recommended to consume 0.8g per kilogram of your body weight per day to meet your nutrient intake. If you weigh 60 kilos (132.2 lbs), theoretically, you should be consuming 48g of protein per day. Let's say they are divided evenly, that equals 12 g of protein per meal. Thus, even by consuming only bare naked pasta, you would meet your intake requirement without adding anything else!
What is in high-protein pasta?
When it comes to the ingredients, there's pasta made from mung beans, soybeans, edamame, lentils (red, green, or black), chickpeas, among others.
Is high-protein pasta better for you?
There's nothing evil about eating regular pasta. And you don't have to give it up royally to be healthier except for the following reasons:
1) You have a gluten intolerance
2) You are celiac, or
3) You nod off after consuming regular pasta.
In these cases, they are better for you. That said, I personally prefer them to regular pasta. They are low in calories, high in protein, and contain zero refined flour.
Is it gluten-free?
Yes! This is precisely another of their significant advantages. For this reason, high-protein pasta is an excellent choice for replacing regular pasta.
How to cook high-protein pasta?
You cook them in boiling water for the time indicated on the package, about 8 to 12 minutes. After this, I advise you to rinse them under water after draining them as they are very starchy and tend to stick. Finally, you splash oil on them to really, really avoid that last fact.
Where to buy high-protein pasta?
First of all, know that not all high-protein pasta is created equal. In my opinion, those made from chickpeas or lentils taste better or closer to typical pasta. You can find it in some healthy grocery stores or online. I was introduced to the brand Explore Cuisine, and this is what I use at the moment. Sometimes I buy Tolerant. A 200g box costs around $4 CDN at retailers with warehouse prices or close to $6 CDN elsewhere. I heard that the American brand Banza is excellent or if not the best, but I have never found it in my hometown.
Make this Dish Now
High-protein pasta gives you many benefits, as it's gluten-free, low in calories, and obviously high in protein. And besides, they have a sexy allure, with their pretty ribbons which meander in your dish in all directions.
Here you have the secret to a successful meal for an elegant evening.
Suppose you already have vegetable ricotta made in advance. In that case, you really only need four main ingredients to make this dish: pasta, zucchini, peas, and an exuberant pea sauce.
So, embark on this adventure, and you will have a comforting dish in one fell swoop.
Hurry!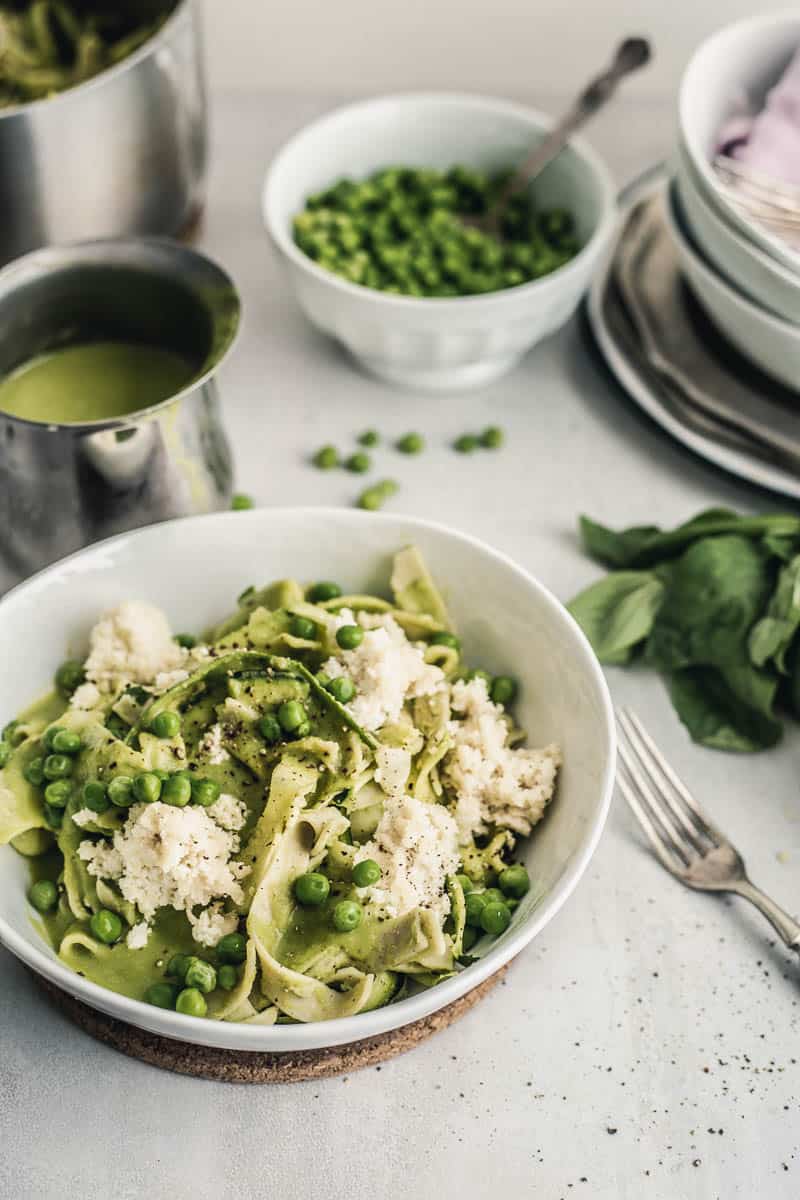 If you try this recipe, I want to know about it! I always appreciate your feedback. Leave a star rating in the recipe card right below and/or a review in the comment section further down the page. You can also follow me on Pinterest, Facebook, or Instagram. Sign up for my email list, too!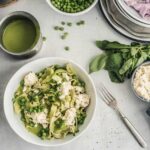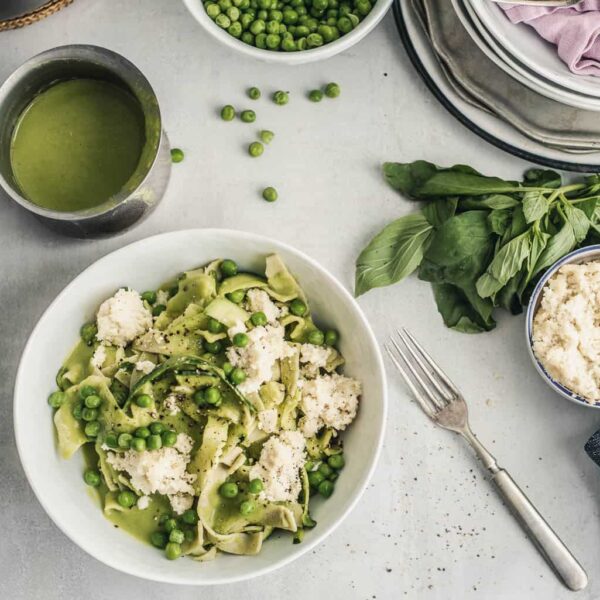 Pappardelle-Style Pasta and Zucchini with Green Peas and Almond-Macadamia Ricotta
I call for asparagus ribbons here, but you could really use any high-protein pasta that mimics pappardelle. I was inspired to use this style not only because I find it awfully pretty, but because its big, flat, wide shape makes a lovely surface for the light sauce to cling to. I could also envision using high-protein fettucine. But feel free to use the real thing (the durum kind). If eggs aren't an issue for you and can't find pappardelle anywhere (eggs or sans), tagliatelle is the closest substitution. I chose the Eden brand for this recipe, but Explore Cuisine is also a good one.
And about the demi-glace: use vegetable broth if you don't have one handy. And homemade if you can. If you must use a store-bought broth or stock, be fussy and prefer an organic one. The canned or boxed stuff will be sub-par here; instead, ask if your local specialty store carries a good frozen or refrigerated stock. The better it is, the better your pea sauce will taste.
Save Recipe
Saved!
Print Recipe
Pin Recipe
Ingredients
1

medium

zucchini

shaved into ribbons

4

cups

green peas

fresh or frozen (about 300 g)

1

package

protein pasta

in ribbons, fettuccine or pappardelle (about 200 g)

¼

cup

vegetable demi-glace

or 2 ½ cups of vegetable broth (about 30g)

Kosher salt and pepper

1

tablespoon

basil

1

cup

almond-macadamia ricotta
Instructions
Using a swivel peeler, shave the zucchini into ribbons. Set aside.

Bring 2 ½ cups of water to a boil, then add the demi-glace. Otherwise, use vegetable broth. Keeping a handful of raw peas aside, cook the rest in the boiling liquid for 5 to 7 minutes, depending on their size.

While the peas cook, boil the pasta according to package directions in generously salted water. (For pappardelle, aim for seven to eight minutes.)

Place the peas and 150ml of their cooking water in a blender and mix until smooth, adding the basil and more broth if needed to produce a thin, flavorful sauce.

Drain the pasta, return to the pot and drizzle with a drizzle of oil to prevent them from sticking. Carefully incorporate the zucchini ribbons and stir gently as to not brake them apart.

Pour in three-quarters of the pea sauce and stir. Check the seasoning.

Divide between two or three soup plates and pour in the rest of the sauce. Break the ricotta into large chunks, sprinkle it over the pasta with the reserved raw peas (but thawed or slightly warmed), pepper, and serve.
Notes
Start preparing the pea sauce before the pasta. The sauce will hold well while the pasta cooks. If you are using fresh peas, check them every minute or so throughout cooking; they can take anything from 4 minutes too much longer to become tender. It all depends on their age and size. If you are using frozen peas, they should be done in four to five minutes.
You can make a similar sauce with broad beans. There are more starchy than peas, so be prepared to add a little more demi-glace/water mixture or vegetable broth while mixing.
Nutrition
Calories:
423
kcal
|
Carbohydrates:
41
g
|
Protein:
24
g
|
Fat:
20
g
|
Saturated Fat:
1
g
|
Polyunsaturated Fat:
1
g
|
Monounsaturated Fat:
1
g
|
Sodium:
404
mg
|
Potassium:
474
mg
|
Fiber:
14
g
|
Sugar:
14
g
|
Vitamin A:
1514
IU
|
Vitamin C:
77
mg
|
Calcium:
128
mg
|
Iron:
5
mg
Get Your Free Plant-Based Eating Toolkit and More
Subscribe to my newsletter and unlock my plant-based course, nutrition charts, recipe secrets, and exclusive updates to prepare wholesome, varied & balanced meals effortlessly. All you need is a good appetite. Subscribe!