This vegetable demi-glace will enhance your dishes. This brown sauce, slightly thicker than water, is incredibly tasty. And it takes a third or a quarter of the time of the traditional recipe. It has a rich and meaty flavor without the need to add meat.
Well preserved, it will last for months. As long as you don't use it lavishly.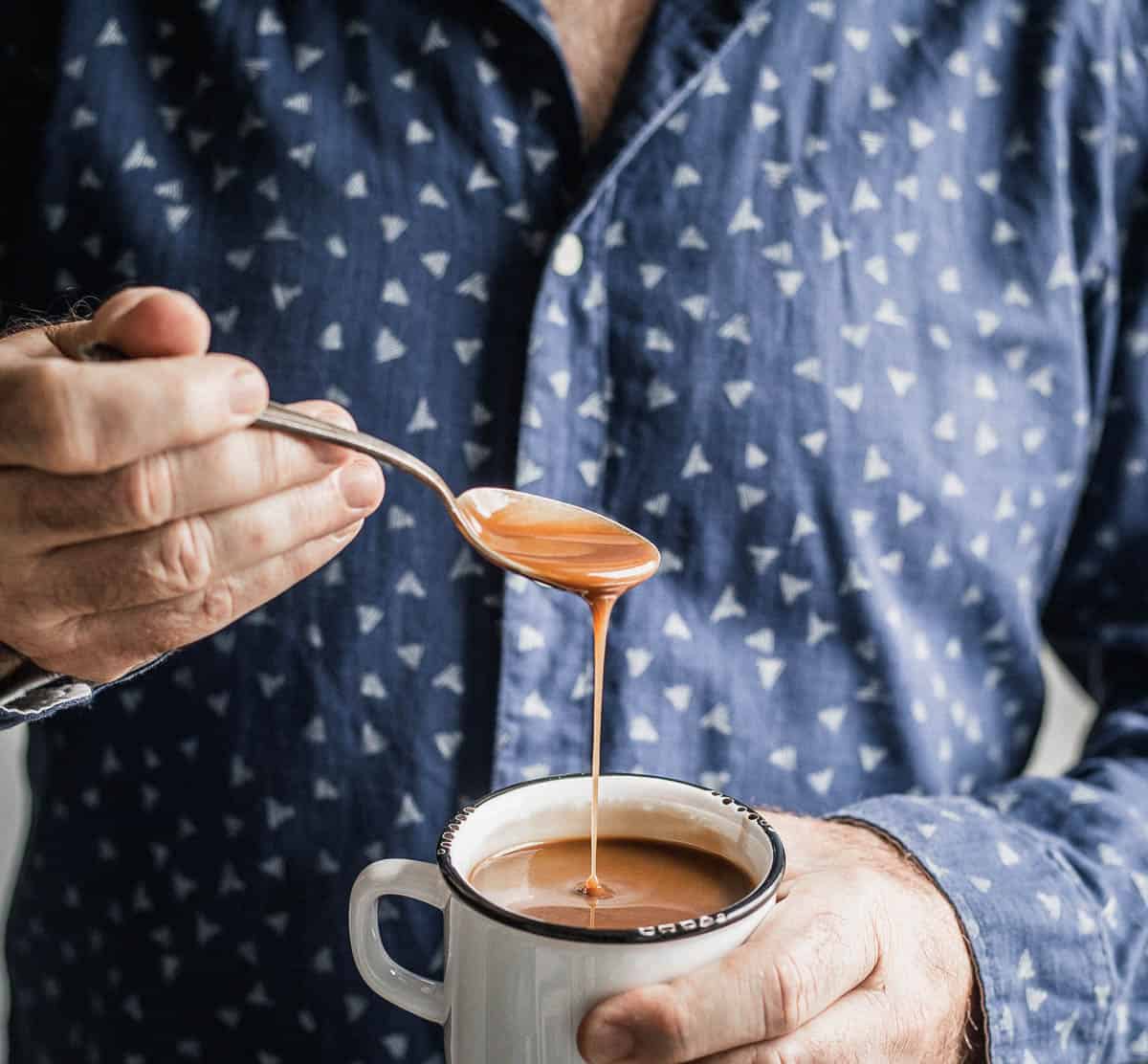 Jump to:
Why You Should Make this Recipe
Usually, traditional demi-glace sauce can take 6 to 8 hours to make.
This only takes about two.
This recipe is straightforward. The cooking time is long, but not the prep.
Why does it take a third or a quarter of the time?
The mere fact that you don't incorporate bones and cartilage considerably reduces your cooking time. Besides, you won't have to remove the solid fat layer that consequently forms on the surface.
In any case, it's not just the meat that gives the flavor. You just have to choose ingredients that contain what is called umami.
Umami is the flavor resulting from the amino acid L-glutamate. And they're mostly found in meat.
It's the pleasant taste of "broth" or "meat" with a lasting sensation, appetizing, and covering the whole tongue. It's the round, comforting, and invigorating taste.
Moreover, this sauce includes an ingredient that gives almost the same effect to evoke the umami of meat: a rich flavor with body. Which one? The shiitake mushroom.
The shiitake mushroom has a rich, buttery, and earthy flavor quite different from that of other varieties of mushroom in its raw form. In its cooked form, it's steamy, woody, and meaty.
That's why this vegan demi-glace sauce is so cheerfully complex. Tasty, you know.
And you'll be amazed by inhaling its scent, which perfumes all your kitchen.
What is Vegetable Demi-Glace Made of?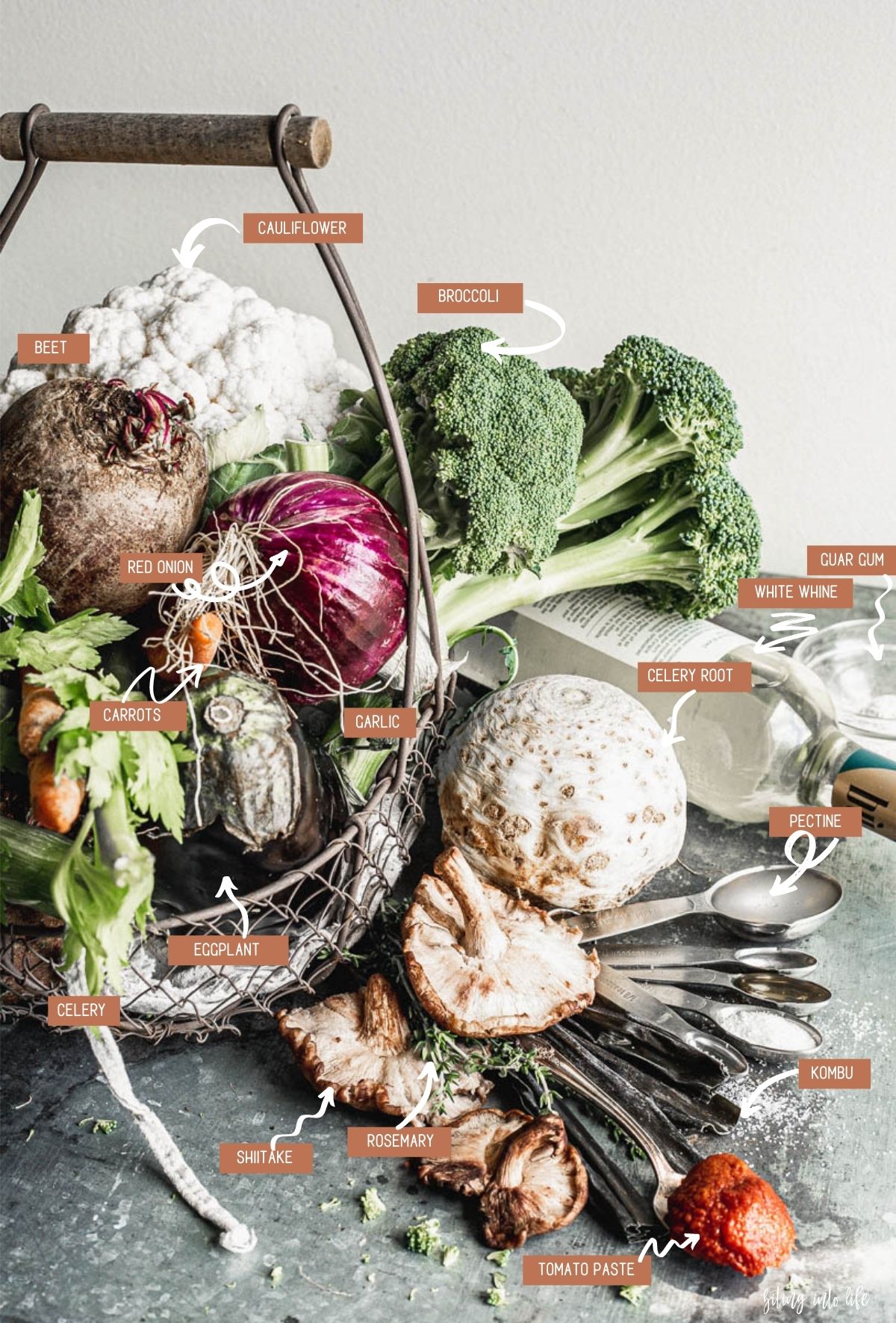 In short, you can make a crazy vegetarian demi-glace with any vegetables. The most important thing is to balance the flavors: you have to add ingredients that emanate from sweet, salty, bitter, sour, pungent, and tasty vegetables (which give umami). I've broken down the ingredients for this recipe below so that you understand the main points. Sometimes a vegetable can have a primary and a secondary flavor.
Sweet
Carrots – They add a nice sweet touch. For a more earthy flavor, don't peel them.
Beets – These red jewels add an earthy sweet flavor and a lovely dark color. To have more tannins, wash them thoroughly and don't peel them.
Salty
Celery – This is natural salt.
Celery root – Optional ingredient. It brings even more natural salt and an earthy note.
Kombu – In strips, it serves a double function: it brings the salty flavor simultaneously as the umami.
Bitter
Usually, aromatics (bay leaf, thyme, parsley) are added. You can splurge on other bitter vegetables, such as eggplant, broccoli, cauliflower, kale, cabbage, or something dark, green, and leafy. Moreover, when these vegetables are roasted, they add a pleasant bitter note.
Acid
Tomatoes or tomato paste – Tomatoes also give umami. Depending on them, they add a little citric acid and/or a sweet flavor to the final sauce. The tomato paste offers a more concentrated flavor.
White wine – It will intensify the flavor and aroma of the sauce and impart a fruity flavor. The alcohol in the wine evaporates while the food is cooking, and only the flavor will remain. For added richness and robustness, use red wine instead.
Pungent (considered a flavor)
Red onions - They offer the pungency and, when finely chopped, a sweet note to the mixture. They also bring a spicy flavor. Red onions are tastier than the yellow ones.
Garlic - It's a cornerstone of many sauces. Garlic adds its own salt and tangy flavor.
Umami
Fresh shiitake mushrooms - Definitely the essential ingredient. They reinforce the umami in the final sauce and give it a perfect round, earthy and meaty taste. Dehydrated ones taste much more pronounced than fresh ones, so if you use those, cut the amount in half. Portobello mushrooms or other tasty mushrooms will do the trick too.
How to Make it Step by Step
I'm not gonna lie. There's a lot of cutting involved. But once that's done, it's smooth sailing.
All in all, you take a lot of vegetables, cut them into strips, and roast them in the oven until they brown ① ②. Then you produce the vegetable broth: You add water and let it simmer ③ ④.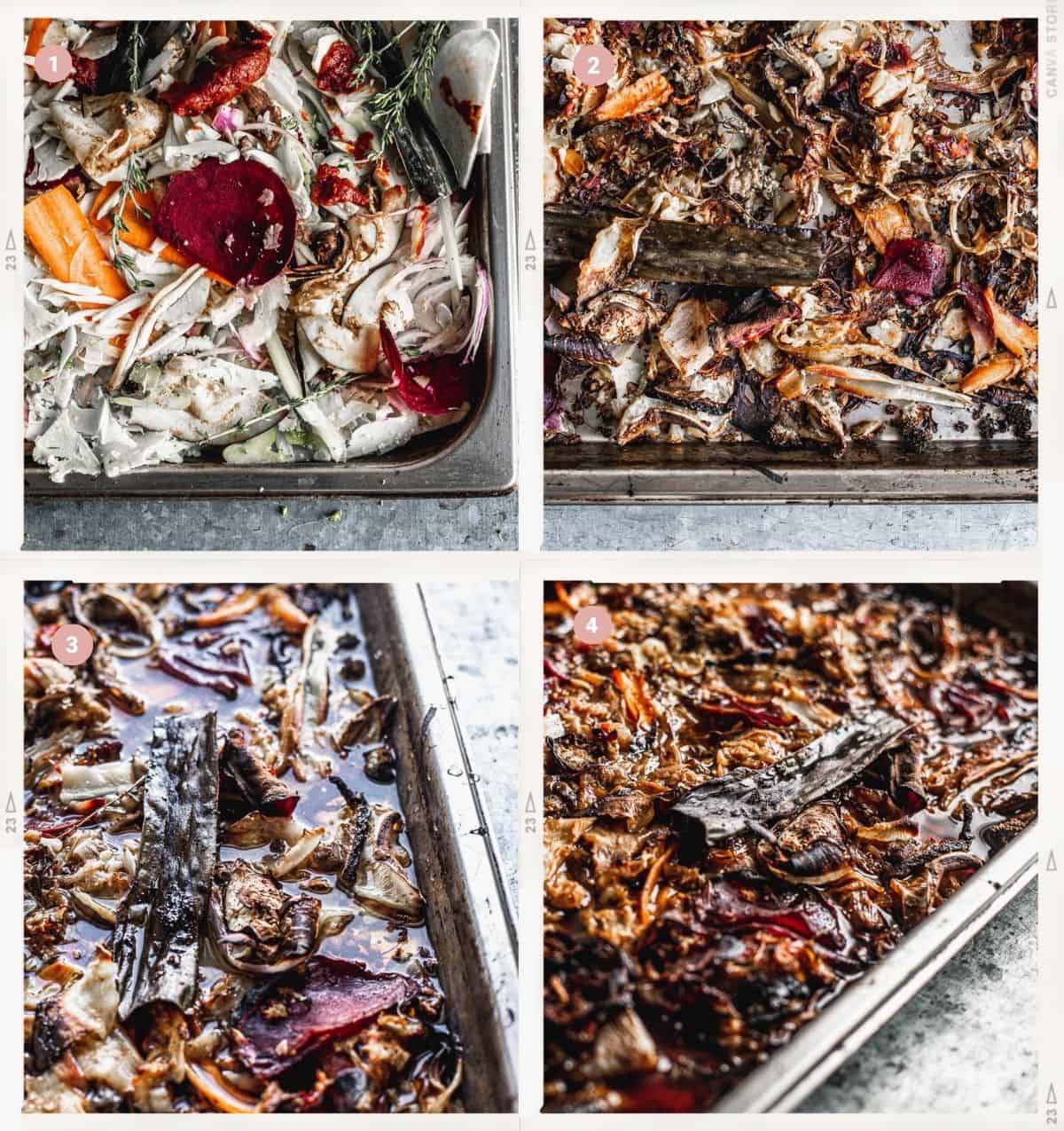 Afterward, you drain the liquid ⑤ and thicken it ⑥ ⑦.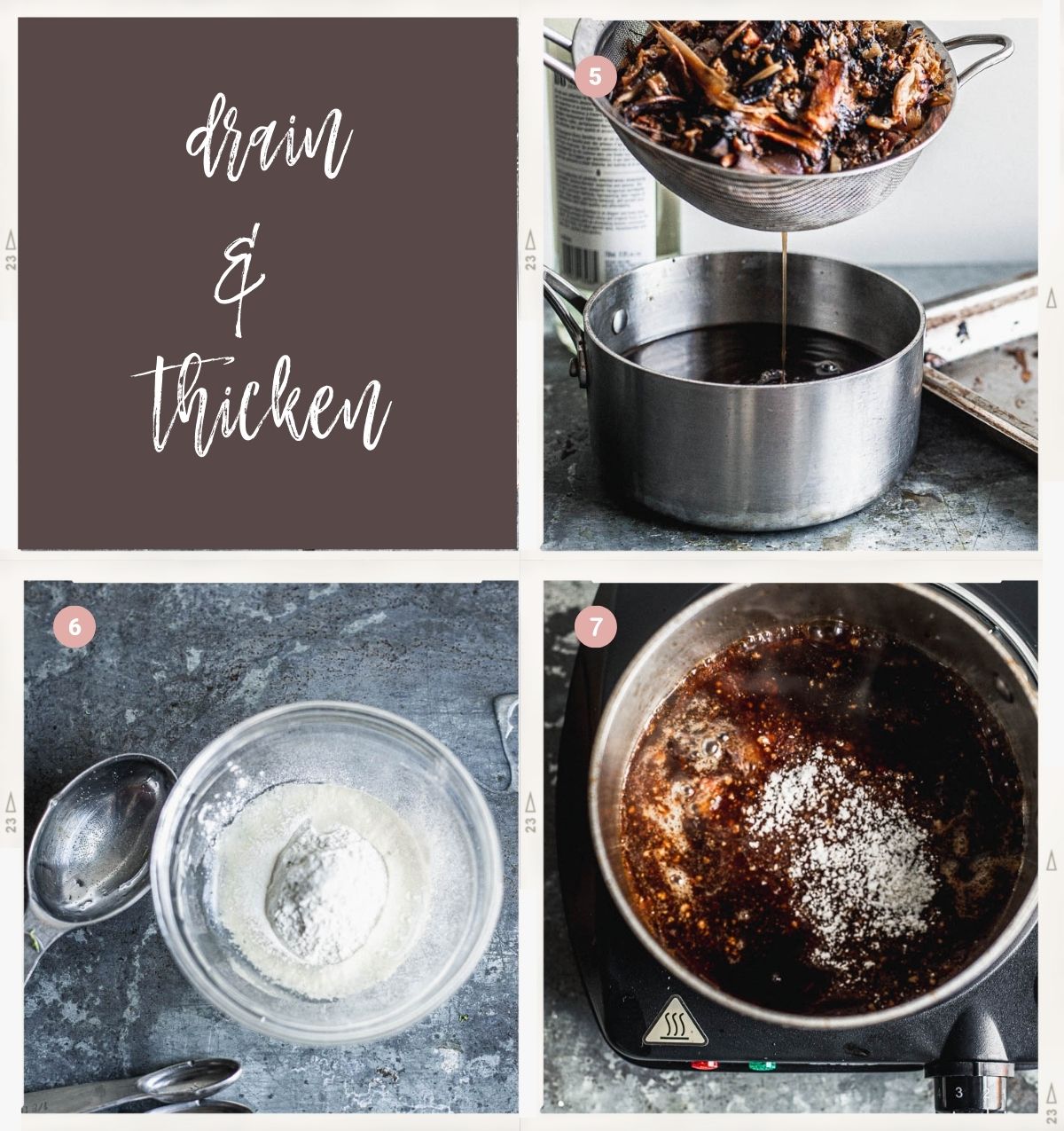 My Top 6 Tips for Making an Ultra-Tasty Demi-Glace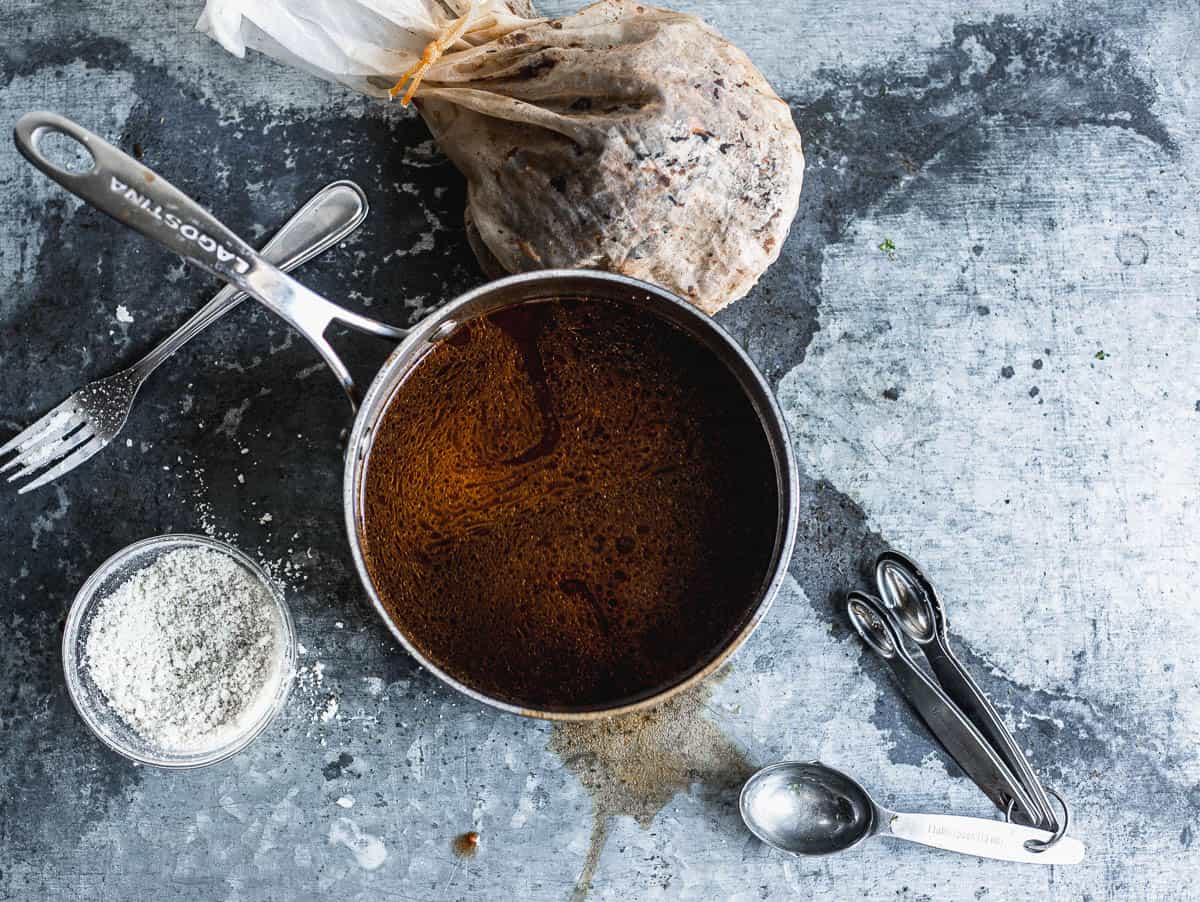 Cut the vegetables very thinly
This will allow you to have a sweeter sauce. The mandoline is your best tool for that, but that doesn't stop you from using the food processor or doing it by hand.
If you're going to use the mandoline, here's some tricks to accelerate the process:
Slice many carrots or celery stalks together;
Slice the whole garlic head. Even if garlic skins go into the mix, you'll end up expressing only the liquid.
Warning: Unless you stubbornly want to go back to the traditional recipe for thickening your sauce with an inanimate component of a living being, use the mandolin's hand protector. This will prevent you from slicing your thumb into strips.
Alleviate the flavor of the tomato paste
If time permits, warm the tomato paste a little to reduce its acidity. For example, you can also add a little baking soda (ratio: 1 cup of tomato paste to a ¼ cup baking soda).
Simmer gently, uncovered
To get a good veggie demi-glace, use the same tips for preparing a meat stock: simmer gently.
But you may avoid letting it boil. Why? Apparently, the agitation caused by the boiling prevents the particles from rising to the surface.
Drain with a fine mesh
I used my nut milk mesh bag to express the liquid to the maximum. (Let the mixture cool so as not to cook your hands on the bag). If you don't have this accessory, a fine-mesh sieve will do.
Blend the preparation before draining it
This will allow you to get maximum flavor. But if you're like me and don't like messing up too much cookware, you can definitely skip this step. (I definitely skipped this step).
Mix your thickeners really well
You have two options: stir in the thickening powder and pectin separately or mix it with the pectin until you meticulously break up the lumps.
No lumps should get into the thick sauce. Otherwise, you'll find yourself crushing them with the back of your spoon to make them disappear forever, like when you untwist the tangled threads of a yarn ball.
Answers to Your Burning Questions
What is Demi-Glace Exactly?
In classic cuisine, demi-glace is a reduced sauce. It's made from brown stock, usually veal bone, and sometimes beef or poultry carcasses and vegetables (celery, onions or leeks, carrot, etc. tomato paste). Thus, it derives its gelatinous texture from the marrow of the bones used in the brown background. And it derives its color from the caramelization of meats and bones before wetting. Sometimes tomatoes and herbs (bay leaf, thyme, parsley, pepper) are added.

Demi-glace is the base for many sauces.

Depending on the level of reduction, it has different names. When its reduction level is less, it's called Spanish sauce. And when its reduction level is very high, it's called meat ice cream, hence its name demi-glace.

In classic French gastronomy, demi-glace is considered the queen of sauces. And in vegetarian gastronomy, she will gladly keep her crown 👑.
How to Get a Very Sticky and Gelatinous Consistency
To do this, thickening agents are used so that the sauce can stick well to the ingredients to season.

It could be guar gum, xanthan gum, or other thickening powders. As long as it's something that thickens sauces and soups. Or, just add unbleached all-purpose flour. Finally, the recipe calls for pectin to evoke the gelatinous texture.

As mentioned earlier, demi-glace is a reduced sauce, made from a brown stock. This gives it its body thanks to the extraction of collagen from bones and cartilages. In other words, the collagen turns into gelatin, which provides the stock with its gelatinous consistency. Gelatin is also the factor that sets stock in a jelly consistency once cooled.

Thus, in the plant-based version, bones and cartilages are replaced with pectin.
This step is possibly optional. But hey, why not let the sauce keep her highness status? 👑
What to Do with the Leftover Vegetables?
Here are some solutions to avoid waste:

1 / Dehydrate them

If you have a dehydrator, dehydrate the vegetables for 12-16 hrs, or until they're dry, reduce them to a powder in a blender to make a powdered broth. If you don't have this appliance, bake them in a 100 ° F (38 ° C) oven with the door open until they're dry.

2 / Turn it into a purée
Blend them with a little water. Put one part in the freezer and keep the other in the fridge to enhance your dishes' flavor.

3 / Feed the earth

Finally, put them in the compost for your garden or the city.
Other Creative Variations
For a less pronounced vegetarian demi-glace, try other types of mushrooms, such as white mushrooms, coffee, or portobello.
Tomato paste works well here to provide a concentration of tomato flavor. It can also act as a thickener after the liquid has been filtered. However, it will change the taste (more acid and more umami). It can be replaced by Passata.
For even more umami, add a little tamari or nutritional yeast.
You can also make sweet demi-glace sauce using strawberries, berries, or apples.
What to Combine it with?
As mentioned earlier, demi-glace is excellent for adding depth of flavor to your preparations. Incorporate it into the following dishes:
Pasta, all kinds;
Risotto, rice or barley;
Soups and stews;
Stir-fried vegetables;
Potatoes, baked or mashed;
Stir-fried tofu and tempeh.
It's very versatile, so experiment!
However, keep this in mind: demi-glace will enhance the flavor of a finished dish when incorporated at the end of cooking. If it is intensely tasty, before adding the demi-glace, dilute it with a few teaspoons of hot water until it reaches dense cream consistency. This will make its integration more straightforward and faster.
Use it in these recipes!
Make this Sauce Now
A little know-how is all it takes to make a homemade demi-glace.
It's enough to make commercial preparations jealous, with their unwelcoming additives.
There's nothing colorful about the finished product, but you get a creamy, light sauce that's ready to stick on any dish for which you want to enhance the flavor.
You'll see, your simple dishes will turn into magical meals with the addition of demi-glace.
Now that the demi-glace has no secrets for you, you're ready to make your homemade versions!
If you try this recipe, I want to know about it! I always appreciate your feedback. Leave a star rating in the recipe card right below and/or a review in the comment section further down the page. You can also follow me on Pinterest, Facebook, or Instagram. Sign up for my email list, too!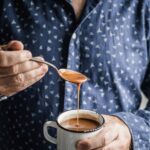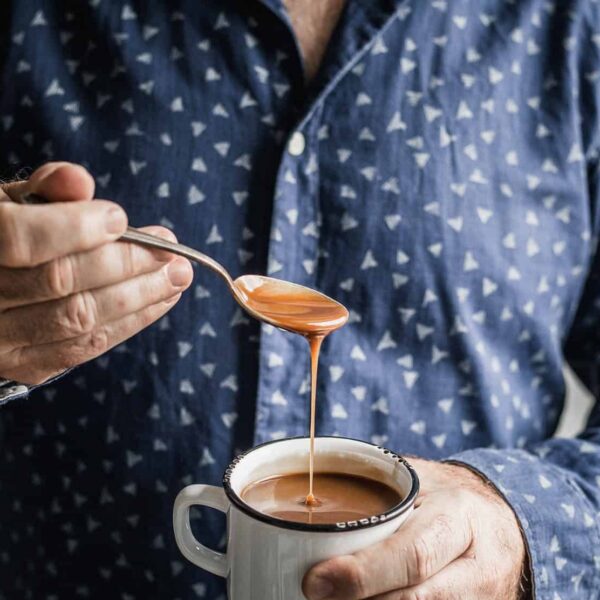 Vegetable Demi-Glace
This delicious sauce is perfect for dressing vegetables, flavoring mashed potatoes, or enhancing any dish's flavor. Quite sophisticated, it contains more than 10 ingredients. However, if you want something simpler, omit the ones where you see "optional" marked. It will still be tasty. The advantage of a demi-glace is to give a tasty flavor, umami, to your preparations. Your friends will love the meaty taste it evokes. You can cut the ingredients' quantity in half, but you might as well make a large amount of sauce if it's going to take that long to prepare. What's more, no one will hold it against you if you want to perfume your kitchen more than once.
Save Recipe
Saved!
Print Recipe
Pin Recipe
Ingredients
1

medium

eggplant

1

small or ½ large

cauliflower

½

medium

celery root

1

beet

1

whole

broccoli

4

medium

carrots

2

onions

or leeks

8

shiitake mushroom

fresh (Notes)

4

stalks

celery

1

bulb

garlic

¼

cup

white wine

(Optional)

2

tablespoons

tomato paste

(Notes)

8

strips

kombu

(Optional)

8

sprigs

thyme

3

L

water

(12 cups)

2

teaspoons

pectin

(Notes)

2

teaspoons

guar gum

or xanthan gum

1

teaspoon

salt
Instructions
Preheat the oven to 450 °F / 230 °C.

Using a mandolin or vegetable peeler, finely chop or grate the vegetables and transfer them to a large and deep baking sheet.

Add the tomato paste and, if desired, the kombu. Stir to combine.

Toss the vegetables with oil to prevent them from sticking. Transfer to the oven and roast for about 45 minutes. Check them every 20 minutes or so, stirring and turning as needed to keep the edges from burning.

Add water to the vegetables and return to the oven for 30 to 40 minutes.

Filter the broth into a saucepan. Optionally, scrape and peel off the remaining vegetable pieces on the baking sheet with the wine, then filter carefully into an empty corner of the sieve to not lose the wine in the pile of vegetables. (A thin layer may form at the surface when let to cool for a few minutes.)

Over medium heat, reduce broth to about half of its original volume. Remove from heat.

Whisk the the pectin in the demi-glace. Incorporate the guar gum until there is no lumps and the liquid thickens.

Serve with your favorite dishes.
Notes
Vegetables: you can add as many vegetables as you want. Ones that wilt easily will do well. Make sure there are saltier than sweet veggies; otherwise, the sauce may be syrupy and sickening.
Mushrooms: shiitake really add flavor. Dehydrated mushrooms taste much more pronounced than fresh ones, so if you use those, halve the amount and soak them in water to rehydrate them. If you don't like this kind of mushroom, replace them with white or coffee mushrooms or four portobello mushrooms.
Tomato paste works well here to provide a concentrated tomato flavor. It can also act as a thickener after the liquid has been filtered. However, it will change the taste (more acid and more umami). It can also be replaced by Passata. Sauté the tomato paste to alleviate its flavor.
Salt: There is little salt in this recipe, but add some if you don't include enough salty ingredients like celery, celeriac, or kombu.
Thickeners: If you think you'll rarely be using guar gum or xanthan gum in the future, you can opt for cornstarch or unbleached all-purpose flour instead (much cheaper, too).
Variants
For an easy vegetable demi-glace, you can omit the cauliflower, celery root, and/or beet.
Conservation
Placed in an airtight container, this vegetable demi-glace will keep for up to two weeks in the refrigerator. For longer conservation, keep 1 cup in the fridge and freeze the rest in small releasable bags.
Nutrition
Calories:
1025
kcal
|
Carbohydrates:
214
g
|
Protein:
49
g
|
Fat:
8
g
|
Saturated Fat:
1
g
|
Polyunsaturated Fat:
2
g
|
Monounsaturated Fat:
1
g
|
Sodium:
3859
mg
|
Potassium:
8217
mg
|
Fiber:
73
g
|
Sugar:
79
g
|
Vitamin A:
46283
IU
|
Vitamin C:
916
mg
|
Calcium:
960
mg
|
Iron:
16
mg
Get Your Free Plant-Based Eating Toolkit and More
Subscribe to my newsletter and unlock my plant-based course, nutrition charts, recipe secrets, and exclusive updates to prepare wholesome, varied & balanced meals effortlessly. All you need is a good appetite. Subscribe!