This lentil, pearl barley, and roasted sweet potato salad is a creative way to enjoy salads that don't just consist of green leaves. It also contains juicy cherry tomatoes and crunchy broccoli that add a colorful touch to this dish.
Enhanced by the warm taste of cumin and topped with a mustard dressing to accentuate the flavors, this lentil salad is perfect for lunches and all occasions. For instance, potlucks, picnics, barbecues, and celebrations around the pool.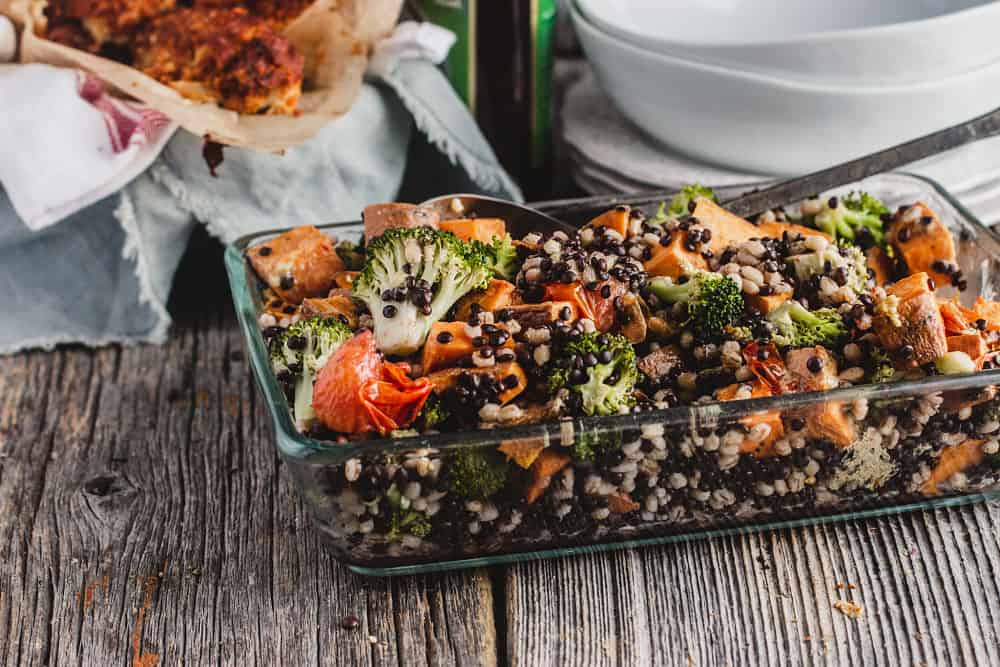 Jump to:
Is Lentil Salad Healthy?
Oh, yes! Lentils are great! They have good nutritional value and are among the most protein-rich plants.
Yep! When boiled, these seeds contain about 18 g of protein per cup. Well, maybe you can't evaluate how good that is, so let me explain it to you.
To find out how much protein you need a day, you take your weight in kilograms, then multiply it by 0.8. You change the units from kilograms to grams, and that's your daily need. If you want to stay in pounds, multiply your weight by 0.36.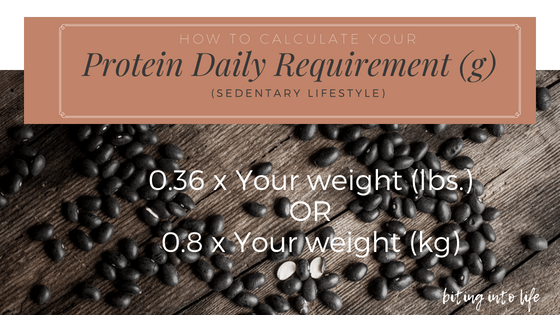 You usually eat three times a day, don't you? Divide what you just calculated by three, and it's your daily need per meal if you want to have an equal number each time. As an illustration, let's pretend I weigh 54 kg (120 pounds) (I said let's pretend). That was my weight in my Skeletor era when I was diagnosed with hyperthyroidism (I'm 5 ft 7, I was skinny).
So to meet my daily protein needs, I would need 43.2 g. And if I had to divide that by 3 meals, I would need 14.4 g of protein per meal.
Important note! Dividing your protein requirement by meal is just to give you an idea. That's not the rule. You could have a meal with less or no protein and catch up with other meals.
So now, if I have a healthy weight of 54 kg (120 pounds) and I eat a cup of lentils, I would fully meet my protein requirement because they provide 18 g of protein/cup. Isn't that great? I told you lentils were great.
Don't overlook this small detail: it's actually great only if you absorb your nutrients well. And that's hard to measure, so try to exceed the minimum daily needs.
What Goes Well with a Lentil Salad?
First of all, know that there are several varieties of lentils. There are green lentils, red lentils, beluga lentils, Puy lentils... you're not going to get bored. They vary in shape and taste.
Then, plenty of other ingredients blend beautifully with the lentils. My salad is a mixture of lentils, pearl barley, and sweet potatoes.
Here are the ingredients for my lentil salad:
Main ingredients
Pearl barley – it's a cereal made of a grain, and its fibrous envelope has been removed to make it edible. We also remove its outer layer of bran, polish it to give it the lustrous appearance of a pearl. This process strips the barley of the nutritional values of the bran. But this makes it aesthetically more interesting, and above all, makes its cooking process much faster. Its taste is similar to brown rice, but with a harder texture (but less hard than whole barley). It has a nutty-like taste.
Beluga or Puy lentils (French lentils) – Beluga lentils are black lentils, native to Canada, whose sweet flavor is similar to hazelnut and chestnut
Lemon
Sweet potatoes – cooked with the skin for a rustic taste
Broccoli
Cherry tomatoes
Seasonings
Dijon mustard
Apple cider vinegar
Extra-virgin olive oil – good quality olive oil will make all the difference, that's for sure
Ground cumin – if you have a spice grind, freshly ground or ground cumin a few days ago always tastes better than cumin that's been staying in your cupboards since your move in your first apartment
Fresh garlic
Salt (sea or kosher) and freshly ground black pepper – kosher salt sticks better to food
How to Make Lentil, Pearl Barley and Sweet Potato Salad Step by Step
1/ Roast the sweet potato and cherry tomatoes in the oven.
2/ Cook the pearl barley and lentils separately.
3/ Steam the broccoli florets and cool under cold water.
4/ Mix the steamed broccoli, grains, roasted veggies with olive oil, lemon, salt, and pepper.
5/ Whisk mustard, vinegar, cumin, garlic, and olive oil.
6/ Pour over salad, stir well, and serve.
How to Make the Best Lentil Salad in Little Time
That's how this recipe starts. I started by roasting sweet potatoes — with the skin to make it more rustic — with cherry tomatoes. Use organic rather than conventional sweet potatoes, which tend to taste blander.
Meanwhile, I boiled the pearl barley and lentils separately. The types of lentils I used were cute Beluga lentils that I had left from another recipe.
If you use other types of lentils, they may not hold their shape as well — especially red lentils. Stay away from them for this recipe unless you want a porridge. You can get away with Puy lentils (French lentils).
In the end, I steamed broccoli on one of the boiling pans to save time and cleaning. If there's one thing I hate to do the most, that's it. So I always try to find smart ways to avoid this, like putting the cover of my food processor in a clear plastic bag. Ha! Did you know this trick? What?? Call me lazy, I don't care. 😜
To finish the dish, I prepared a mustard dressing, mixed everything, and voila! Too easy, isn't it? You can do all this in 30 minutes.
What Does this Lentil Salad Taste Like?
Colorful cherry tomatoes, broccoli, and sweet potatoes provide a warm contrast to the earthy tones of lentils and pearl barley. They bring this seed salad to life. It's not a salad with a great personality that 'be like: "Look at me!" You will first notice the simplicity of balanced flavors.
The light dressing gives the dish liveliness. You'll have more bites of slightly hard lentils and pearled barley and bites of sweet potatoes. Then from time to time, a roasted tomato will surprise you by bursting and releasing all its juice in your mouth.
Other Ways to Make a Lentil Salad
Lentils are so versatile. Here are some other lentil salad ideas that I've already prepared, or have in my sights:
Lentil salad with beets and spinach (recipe from Yotam Ottolenghi)
Lentil salad with pomegranates and pomegranate dressing
Lentil salad with quinoa and spinach
Lentil salad with zucchini
In addition to salads, you can put lentils in soups, salads, vegetarian patties, etc.
This dish is a good salad for lunch at work! You can eat it hot or cold.
You can also put it in burritos, mix it in green salads — if you really miss them — like spinach, or add it to a simple tomato soup.
Make this Now
Sometimes you can get bored with the same boring green salads that have the same boring ingredients.
But you can get very creative with your salads. They don't have to be green only.
You can make colorful salads with other veggies. They can be somewhat crunchy salads with grains. Comforting salads with legumes.
And most of all, they can be very filling just like the one I showed you.
Now go ahead and mix things up a bit!
Enjoy!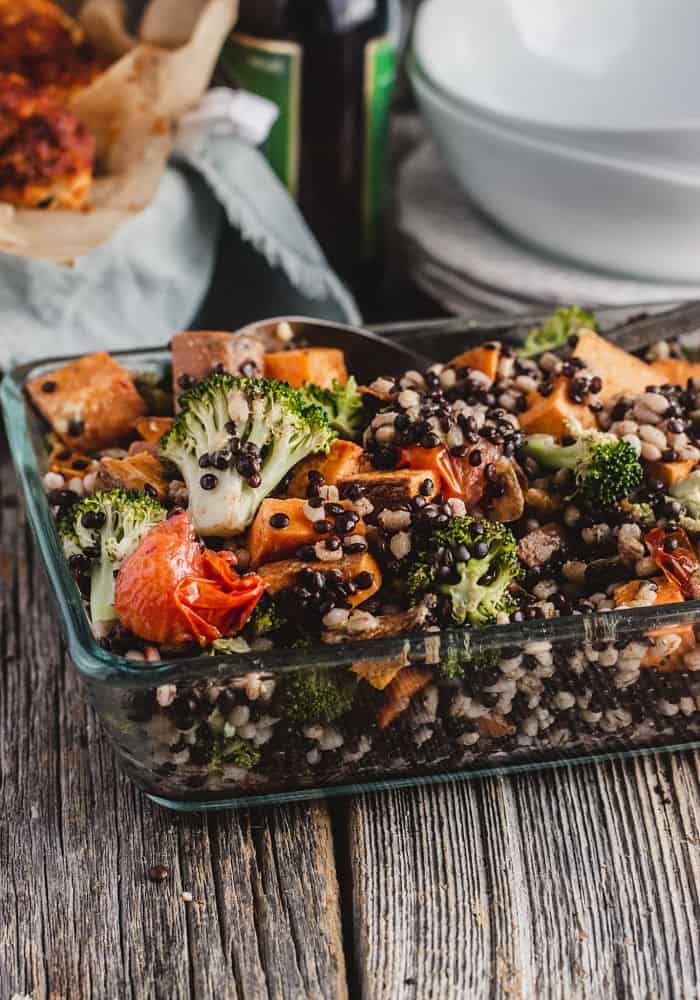 If you try this recipe, I want to know about it! I always appreciate your feedback. Leave a star rating in the recipe card right below and/or a review in the comment section further down the page. You can also follow me on Pinterest, Facebook, or Instagram. Sign up for my email list, too!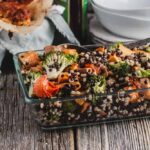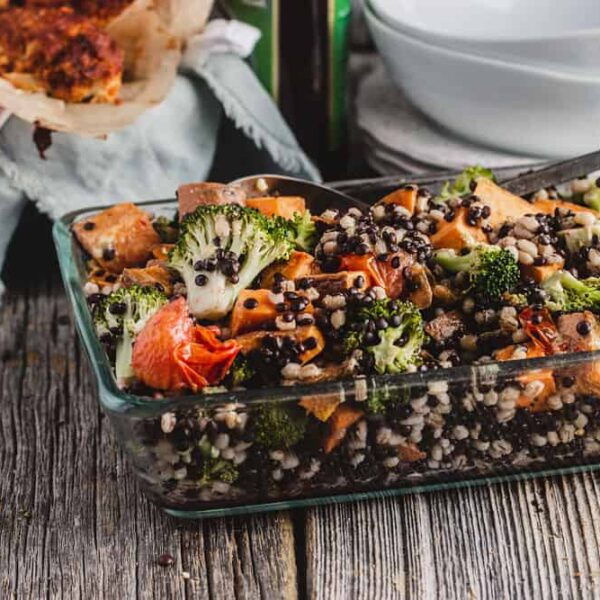 Lentil, Barley and Sweet Potato Salad
Salads don't have to be boring! Here's a high-protein veggie salad that's light, comforting and filling. Perfect all year-round.
Save Recipe
Saved!
Print Recipe
Pin Recipe
Ingredients
½

cup

Pearl barley

½

cup

Beluga

or Puy French lentils

Juice of 1 small lemon

2

cups

sweet potatoes

scrubbed, skin on, cubed (½ inch thick)

1 ½

cup

broccoli

head cut into small florets (a small head)

1

pack

cherry tomatoes

1

tablespoon

mustard

1

tablespoon

apple cider vinegar

1

tablespoon

extra-virgin olive oil

1

teaspoon

ground cumin

½

teaspoon

garlic

crushed (1 clove)

Salt and freshly ground black pepper
Instructions
Preheat oven to 375° F.

Place the sweet potato onto one half of a non-stick baking tray, and the cherry tomatoes onto the other half. Drizzle both with a little olive oil and season with salt and black pepper. Roast in the oven for 20 minutes or until potatoes are soft in the middle when tested with a small sharp knife. Set aside.

Place Pearl barley in a small saucepan along with 1 ½ cup water and cook for 15-20 minutes or until all the water is absorbed and lightly cooked. You'll know when it's cooked when the texture is soft but still a little nutty with it still has a little bite to the barley.

At the same time, cook the lentils in another saucepan with 1 ½ cup water according to your packet's instructions.

Rinse both the barley and lentils in cold water and drain thoroughly before adding both into a large mixing bowl.

Drizzle olive oil and squeeze over the juice of 1 small lemon. Season generously with freshly ground black pepper and add a pinch of salt.

Using one of the same saucepans used to cook the barley or lentils, cook the broccoli florets in a steamer on top of the saucepan. Alternatively, half fill another saucepan with cold water, bring to the boil over high heat then add the broccoli in a steamer. Cook over high heat for 2-3 minutes then drain and plunge into a bowl of iced water. This helps the broccoli to retain its bright green color when cooked and cooled. After 2 or 3 minutes of cooling in the iced water, drain broccoli again and add to barley mixture along with the roasted tomatoes and cubed sweet potato.

In a small bowl whisk together the mustard, vinegar, cumin, garlic, and olive oil and pour over salad, tossing well to coat everything evenly.

Stored in an airtight container in the fridge, this salad will keep up to 5-7 days.
Notes
Clean the skin of the sweet potato well. I keep it to give a rustic taste. You can peel it if you prefer.
Stick to Beluga lenses. If you use other types of lenses, they may not hold their shape as well — especially red ones. You can get away with Puy lenses (French lenses).
Uses organic rather than conventional sweet potatoes, which tend to taste blander.
Stored in an airtight container in the refrigerator, this lentil salad will keep for up to 5 days.
Nutrition
Calories:
280
kcal
|
Carbohydrates:
50
g
|
Protein:
11
g
|
Fat:
4
g
|
Saturated Fat:
1
g
|
Polyunsaturated Fat:
1
g
|
Monounsaturated Fat:
3
g
|
Sodium:
102
mg
|
Potassium:
544
mg
|
Fiber:
12
g
|
Sugar:
5
g
|
Vitamin A:
9939
IU
|
Vitamin C:
46
mg
|
Calcium:
72
mg
|
Iron:
4
mg
Get Your Free Plant-Based Eating Toolkit and More
Subscribe to my newsletter and unlock my plant-based course, nutrition charts, recipe secrets, and exclusive updates to prepare wholesome, varied & balanced meals effortlessly. All you need is a good appetite. Subscribe!