I don't know about you, but cooking the day after the big Christmas or New Year celebrations becomes an impossible mission almost every year. I develop a kind of cookingitis, a shiftlessness in the kitchen. At times likes this, stuffed cabbage rolls come to my rescue.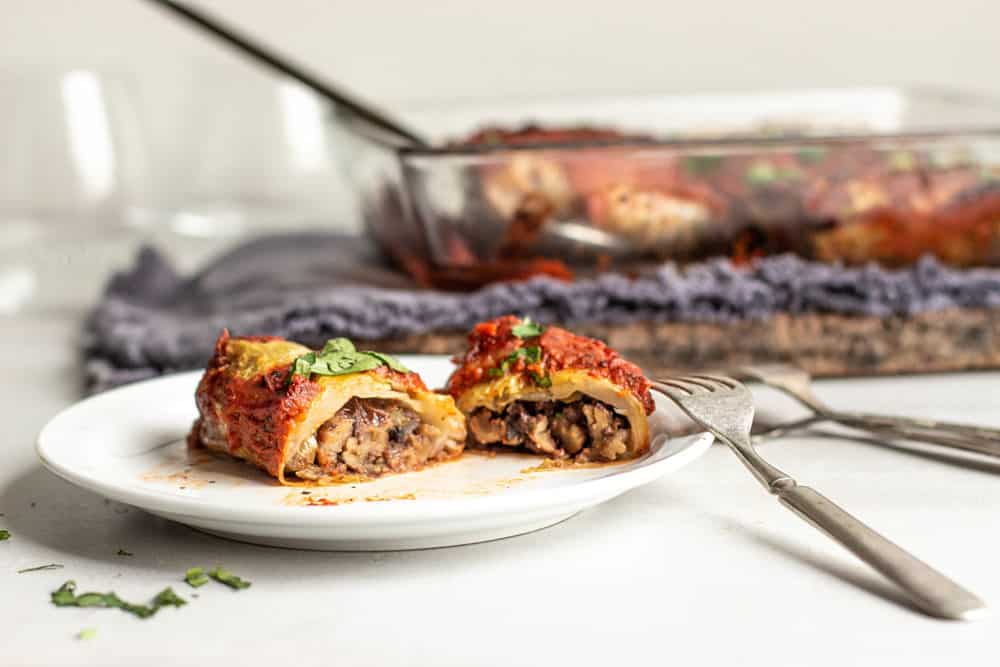 Yes. The day after an evening of great grub, wine drinking and serious booty shaking, I just want to stay wrapped under my thick blankets and nap all day.
When, finally, I manage to get out of bed and walk through the kitchen, I'm generally struck by an impressing scene, the scene of my kitchen exposing, like an exhibitionist, everything that should be hidden. A real disaster. A battlefield. Total chaos.
I hate any object piercing my skin, but if a foul, ferocious animal ran through my kitchen and an emeritus hunter chasing it had shot it and inadvertently touched me with his poisoned arrow, I would've thanked him. I would've thanked him for taking me back to Morpheus.
It's obvious that I don't aspire to cook under such conditions.
Fortunately, I always come back from these festive meals with enough leftover dishes. Because I always make too much food for these kinds of occasions.
Which is good for you. I'm going to show you how to save stuffing leftovers (the one I published last week) and turn them into stuffed cabbage rolls.
It's an effortless recipe that you can concoct the day after the winter festivities when the lazy bugs have taken over you.
I assure you it will be simple (if you have already prepared the stuffing in advance). It takes less than five steps and, look at the ingredients, you only need three.
It starts with cabbage.
3 simple ways to separate cabbage leaves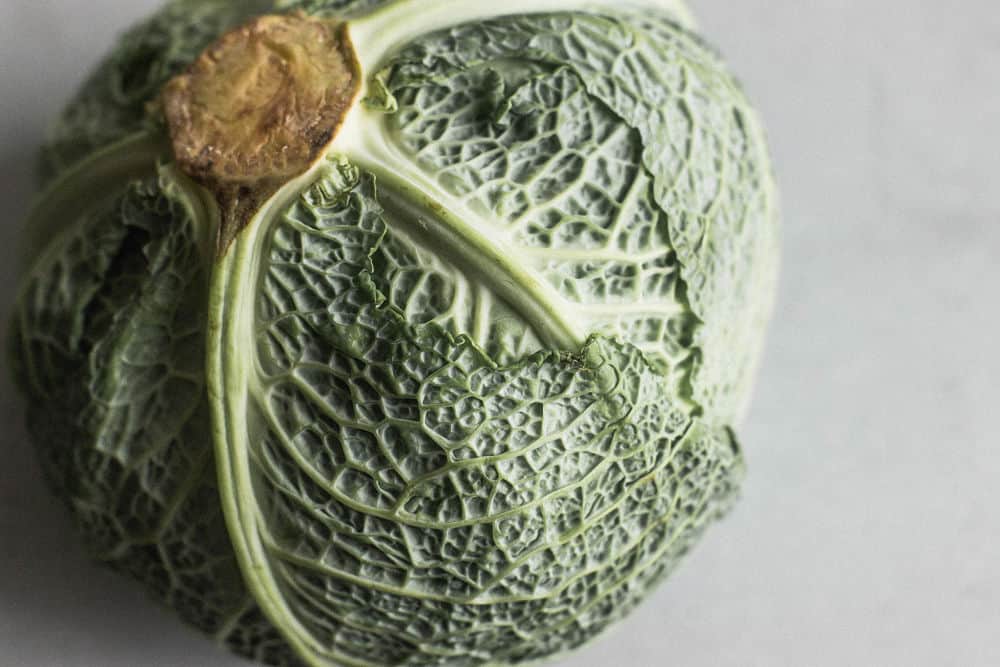 Stuffed cabbage rolls are particularly popular in Central and Eastern Europe, but are found in other types of cuisines as well. Regardless of the origin, to make them, you must first soften and separate the cabbage leaves firmly and closely to the head.
Here are three ways to go about it.
Method # 1: Push the head into the water
The head of the cabbage, that is. This is the most common way of separating the leaves. You remove the base first by cutting an angled circle around the heart of the cabbage.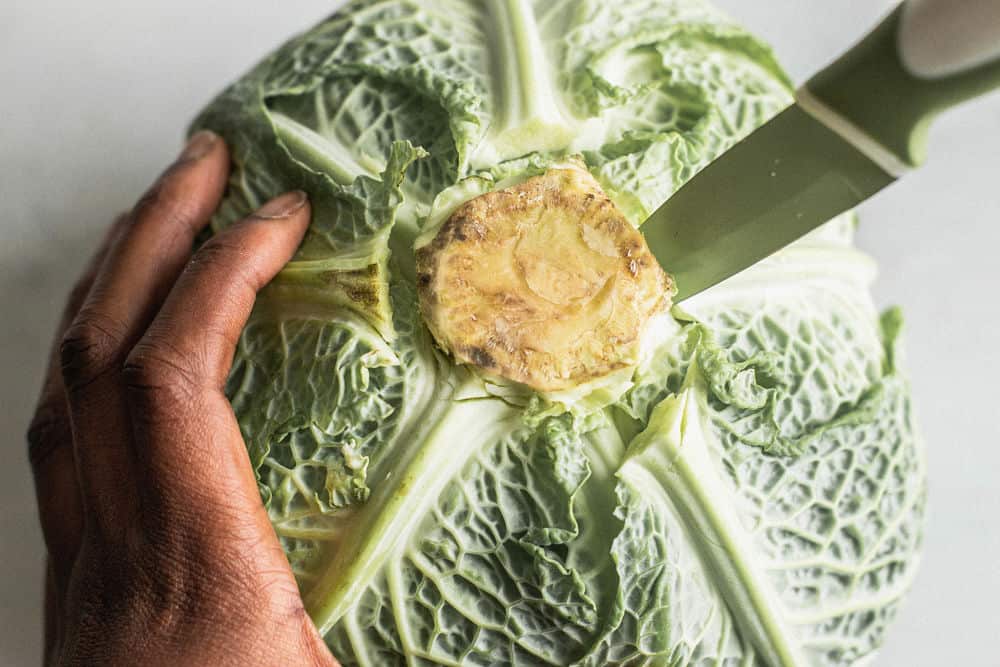 After, with a large serving fork, you stab the heart of the cabbage and you cook (blanch) the whole head of the cabbage. Know that it takes a minute or two for the outer leaves to soften; the inner leaves take longer. So, you'll have to take out the cabbage head with boiling water repeatedly to remove the softened layers until you reach the heart.
My shortcut! I detached the leaves of the cabbage before even blanching them. It's much faster and less annoying.
Method # 2: Put a bag over its head and electrocute it
Mmmh... it sounds a little macabre, right? Even criminal.
With a little water, the microwave oven acts as a steamer. You just have to put the cabbage head in a microwave-safe dish, plus ½ cup of water. You cover the dish and program the appliance to 10 minutes of cooking at maximum power. Then, using a serving fork or sturdy tongs, you turn the head of the cabbage so that the heart is turned upward.
Remove the microwaved head and allow it to cool until it can be safely handled. To make sure the interior is well cooked, remove some leaves. If this is not the case, return the cabbage to the microwave for additional cooking time.
Method # 3: Throw the body in the freezing cold
No comment. But really, I wonder what lies in the depths of my undoubtedly disturbed soul. My dear cabbage, who or what do you really represent?
Here, you use the effect of cold to your advantage rather than that of heat. The first step is to remove the tough and damaged leaves from the cabbage. Then, after having rinsed it and sponged it well, you put it in a plastic resealable bag. You freeze it overnight.
When you're ready to use it, you thaw it, and the leaves will come off easily. This is because cabbage retains water. Thus, when frozen and thawed, it releases water to wilt the leaves.
I opted for the shortened version of method #1 because, well, let's see, blanching cabbage leaves is less confining and doesn't require that I prepare in advance. Believe me, I'm not the type to remember such details, like putting cabbage in the freezer, after the stress I put on myself to perfect exceptional dishes. In these moments, I get lost in time and space and often Mister Man brutally brings my feet back onto the ground.
Then, once back to reality, that's when I see what time it is and I leave in a hurry, leaving behind the famous chaotic scene. A real crime scene.
But order can be born out of chaos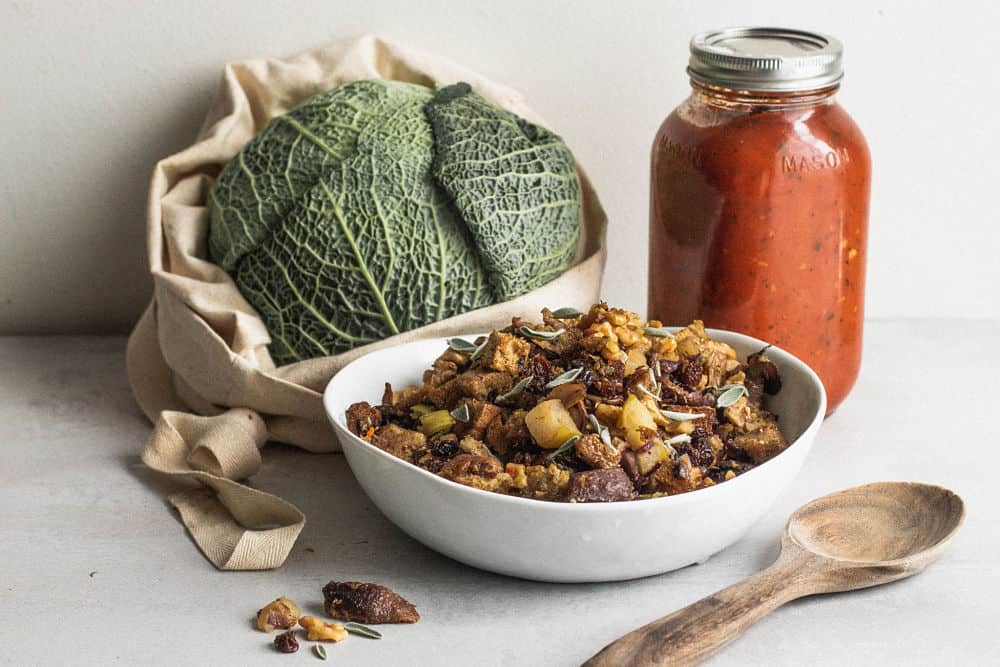 Sometimes, wonderful things emerge from disordered moments. Stuffed cabbage, for example, I dreamt of making this recipe for ages. And this is the perfect opportunity. I still have this image in my head, a fresh image, in close-up, a quarter of an entire stuffed cabbage with, between its superimposed green and triangular leaves, a soft preparation reminiscent of a meat pâté.
But it was a meat pâté. So, more precisely, I dreamt of veganizing this recipe for ages.
Initially, I wanted to advance in this adventure, really, with a whole cabbage. But after that, I changed my mind. When we're in a chaotic kitchen, my friend, do we really want to embark on an extravagant endeavor? This operation requires more steps than a lazy bum can tolerate.
In addition, after reflection, leftover stuffing would not have been enough for a recipe as majestic as this one. So, I had to cut corners. I replaced this utopian idea with stuffed cabbage rolls, a dish that can be prepared in no time. Oh ! Whole Stuffed Cabbage! You who have haunted me since the dawn of time, one day we shall meet.
So, after loosening the cabbage leaves with the traditional method, I just assembled my rolls, and that's all there is to it!
As stuffed cabbage rolls are traditionally made with tomato sauce, I spread them below and above the rolls, placed in a row in a baking dish. My bottled tomato sauce came from my local grocer.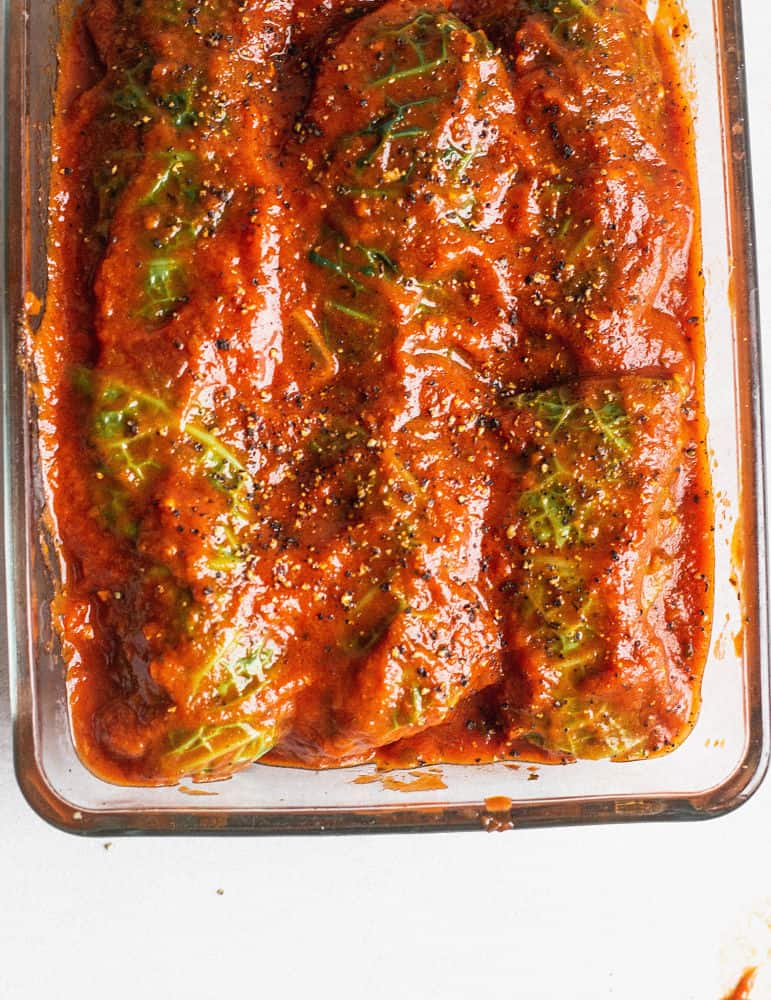 I put it all in the oven with aluminum foil on top for 20 minutes, then removed it to brown the top for a few minutes.
I was longing to sink my teeth into this dish that perfumed the room with its tomato scent during cooking. When I finally opened the oven door, my eyes widened with happiness, my voice whispered "oh" and "ah" and my body almost melted as I was contemplating my cute creations, snuggled against each other like little kittens.
Look at the brood of my whole stuffed cabbage!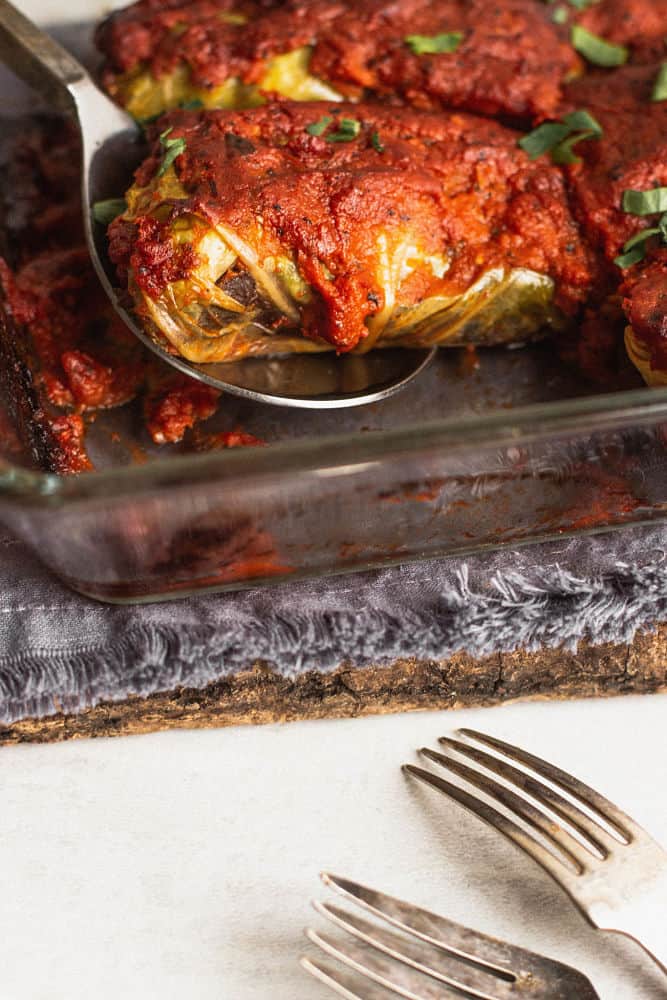 These stuffed cabbage rolls were as beautiful as my dream. The stuffing, if you remember, slightly brightened with the sweetness of the raisins, the acidity of the Granny Smith apples and the crunchy toasted walnuts, doesn't shy away from the rich, round and voluptuous taste of the tomato sauce. My satisfaction was such that I devoured my bites until the last crumb.
By themselves, these rolls won't fill you up, so pair them with mashed potatoes, quinoa, tofu or a green salad, for example. Otherwise, you can make them more filling by mixing quinoa, brown rice or soft tofu into the stuffing.
Simplify your life after Christmas celebrations
After putting a lot of energy into preparing food for your big celebrations, cooking the next day may seem difficult.
But you can take that lightly and be clever. For this recipe, be sure to come back with leftover stuffing — which you must've prepared in large quantities obviously — to create something simple.
Make sure you also have a whole cabbage and tomato sauce at your disposal. Follow the instructions below and roll to the adventure.
Then, savor the veggie cigars that will give you the joy of attacking your future tasks.
But before you do that, relax and close your eyes.
And take the time to roll in pleasure.
If you try this recipe, I want to know about it! I always appreciate your feedback. Leave a star rating in the recipe card right below and/or a review in the comment section further down the page. You can also follow me on Pinterest, Facebook, or Instagram. Sign up for my email list, too!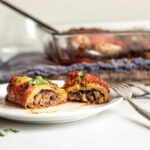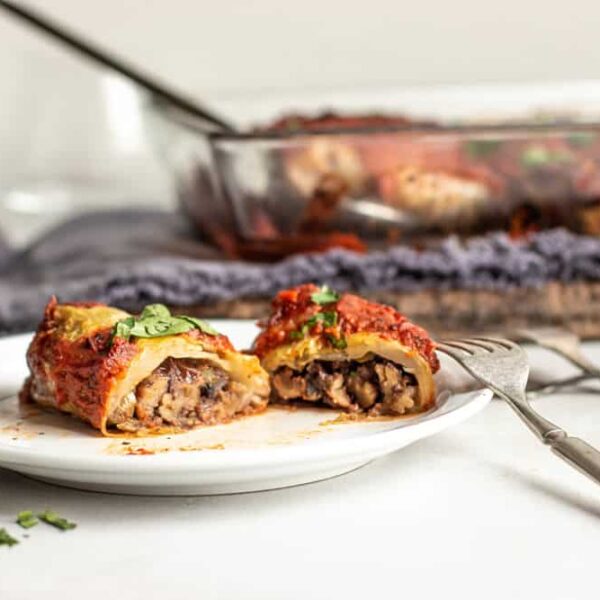 Stuffed Cabbage Rolls
When you have all your three ingredients at hand, stuffed cabbage rolls are an effortless dish that you can concoct the day after your big winter holiday festivities, especially when you're not feeling full of energy.
Save Recipe
Saved!
Print Recipe
Pin Recipe
Instructions
Preheat the oven to 350 °F/180 °C.

Bring a large pot of water to a boil and cover.

Meanwhile, use a small sharp vegetable knife to remove the heart from the cabbage. To do this, cut a circle at an angle around the heart of the cabbage. Shred the heart of the raw cabbage and mix it with the stuffing. Discard the outer leaves that are browned or damaged and detach 12 leaves of the cabbage. With a knife, shave the spine thin of the leaves. Add the leaves to the boiling water and cook (blanch) until softened for 2 to 4 minutes. Work in batches as needed.

While the cabbage leaves are blanching, place a large bowl of ice water next to the pot. Using tongs, transfer the leaves to the ice water. This helps to harden the cabbage leaves. Drain and pat dry. Let cool.

To assemble, place 3 tablespoons to ¼ cup stuffing mixture in the center of each sheet. Roll by folding the sides firmly. Secure with toothpicks. Repeat the process until all the stuffing mixture is used up. Put aside.

In a 9 x 13-inch baking dish, spread tomato sauce. Place the rolls on the sauce in a row, seams down and cover with more sauce. Add pepper.

Cover with foil and bake for 20 minutes.

Uncover and leave under the grill (broil) for 5 to 7 minutes to brown the top. Garnish with parsley.

Serve 2 or 3 rolls per person with the tomato sauce and serve with quinoa, mashed potatoes or green salad.
Nutrition
Calories:
6
kcal
|
Carbohydrates:
1
g
|
Protein:
1
g
|
Fat:
1
g
|
Saturated Fat:
1
g
|
Polyunsaturated Fat:
1
g
|
Monounsaturated Fat:
1
g
|
Sodium:
7
mg
|
Potassium:
55
mg
|
Fiber:
1
g
|
Sugar:
1
g
|
Vitamin A:
240
IU
|
Vitamin C:
7
mg
|
Calcium:
8
mg
|
Iron:
1
mg
Get Your Free Plant-Based Eating Toolkit and More
Subscribe to my newsletter and unlock my plant-based course, nutrition charts, recipe secrets, and exclusive updates to prepare wholesome, varied & balanced meals effortlessly. All you need is a good appetite. Subscribe!