Some say there's no real Thanksgiving dinner without a turkey. I say, there's no real Thanksgiving dinner without stuffing.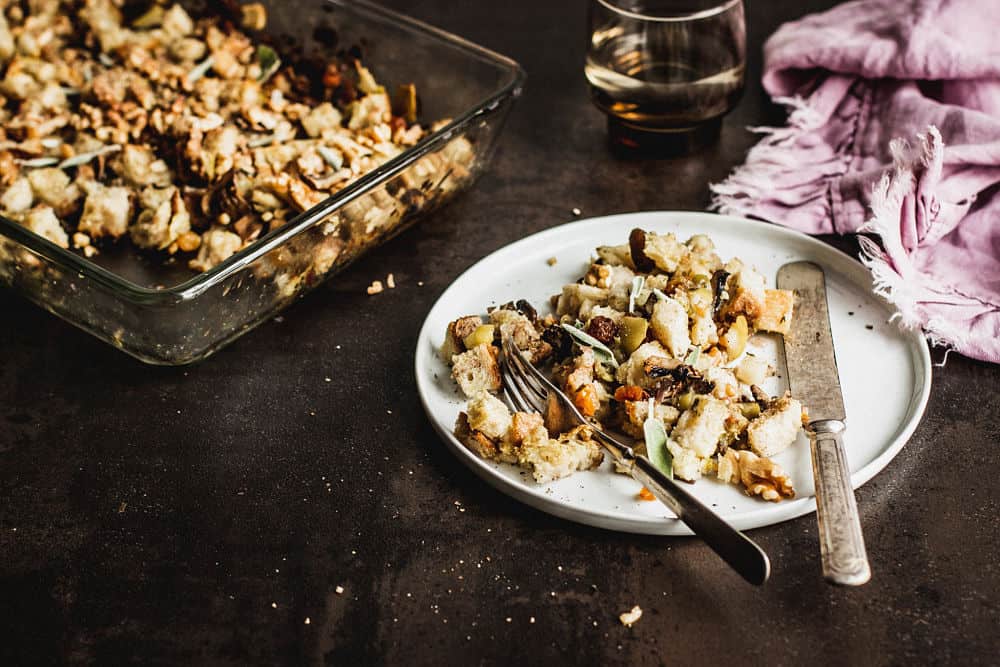 In Canada, this holiday has been over for well over a month now, but I can imagine Americans who took their time to prepare their big meal for the big day.
I know how difficult it can be to deprive yourself of stuffing, a delight that brings so many festive memories and happiness.
Do you think that I'd do without it or that I'd just look at it out of the corner of my eye like an animal watching its prey?
Hell no! If you're anything like me, you wouldn't want to feel sidelined or deprived of this traditional dish.
Well, you know what? I found a way to veganize it, my friend! You won't stuff the turkey with it; nah uh, you'll stuff your mouth with it.
And it'll be served as a side dish instead.
You'll see, it'll be as tasty and rich in flavor as the traditional recipe.
Here's how to make your bread a winner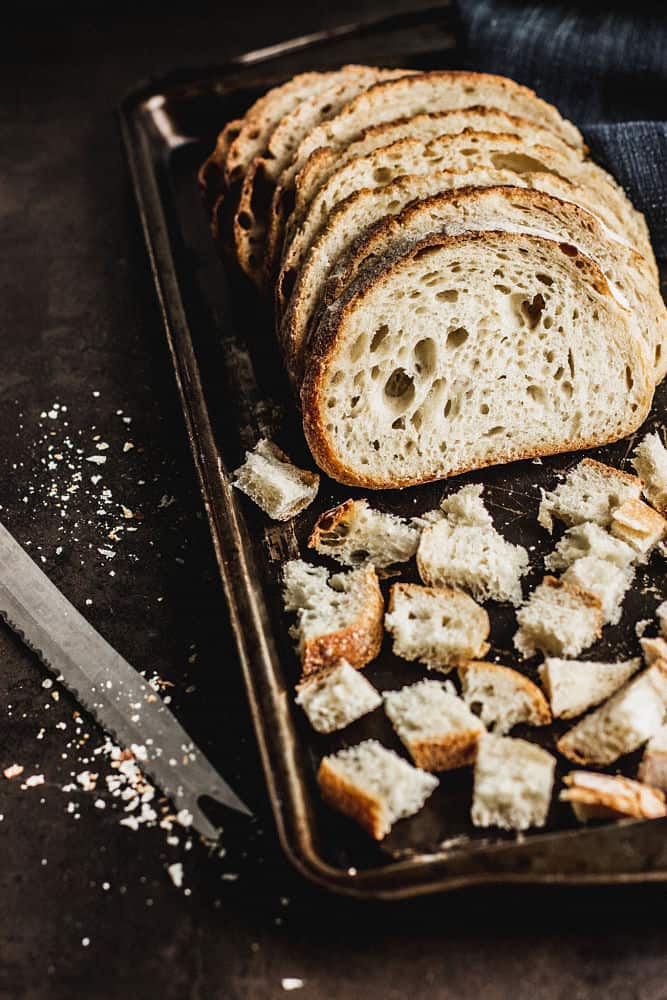 To have a good stuffing, it starts with the main ingredient: bread.
Another thing, if you don't want to end up with a pasty disaster in your mouth, you'll have to follow the next steps. So, you'll need:
1 / The right type of bread: white bread will soften and lose its shape when diced and after baking. So you'd better choose a firmer bread. I decided on sourdough bread. But wheat bread and ciabatta bread, apparently, will also do the trick.
2 / A dry bread: the idea is to turn bread into breadcrumbs. You can dry your bread by letting it sit on the counter all night or by putting it in the oven for a few minutes. I even think you could put it in your toaster at a low intensity—an even faster method (oh yes! I'm all for it 🙋‍♀️).
3 / "Enough space" between your bread pieces: once the bread is cut into pieces, I advise you to spread them over a large surface of a baking dish. This will help them finish with a crispy texture when baking.
Once you understand this, you can enliven your stuffing with other ingredients no problem.
And it's really not complicated
You know, I tried to dive deep into my memories to recollect the first time I tasted this delicacy and I came back empty-handed. As empty-handed as an unfortunate pirate returning from a treasure hunt.
It doesn't matter, though. My first impression is now engraved in my memory and, in recent years, I've seen roasted turkey accompanied by stuffing often enough to be inspired to recreate it—on its own, as a side dish.
Wondering how tantalizing it'll be, huh?
As a rule, turkey juice acts as a flavor enhancer. In fact, that's what gives the umami taste (a Japanese term meaning tasty). I'll cover this later.
Anyway, since I never prepared stuffing before—neither animal-based nor plant-based—I had to go do some research on the Interwebs.
After reviewing several recipes, I understood you could easily make a vegan stuffing in four simple steps (see step-by-step guide below).
But I'll give you the details of my creation right away.
Because my stuff is very tasty
To concoct my stuffing, I first cut my bread into pieces and I dried them into breadcrumbs (croutons) with the baking method.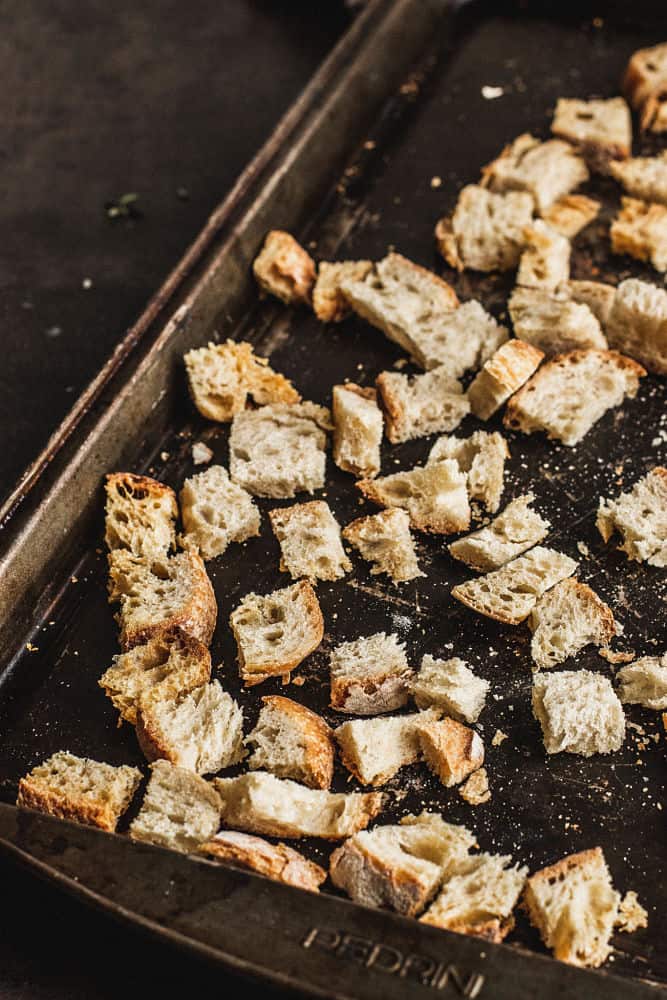 Then I sautéed onion and garlic in oil (I could've also done it in a little bit of broth if I wanted to avoid fats). Several recipes include celery, but I didn't do it here because, I don't know, I wanted to be a little different. I preferred adding sautéed cremini mushrooms instead and for a specific reason (stay tuned).
After that, I combined the breadcrumbs with the sautéed vegetables, plus other affinities.
As many stuffing recipes contain a mixture of sage and thyme, I followed suit. Anyway, I totally agreed with this combination of herbs. They add a depth of aromas that go well with any type of poultry—hey! mine is invisible.
I think they are the preferred herbs in the traditional recipe. And I understand why.
As the dish was baking, they perfumed my kitchen with such a pleasant scent.
Now let's talk about the broth. Earlier, I mentioned turkey juice. In this vegan recipe, the broth (a vegetable broth, obviously) will be the one that recreates the "meaty" taste, the umami.
Remember my sautéed mushrooms? I gave them the role of intensifying it precisely, in taste and texture.
But I didn't stop there! I sophisticated and harmonized my recipe with green apples—for a slightly acid taste—and golden raisins—for a slightly sweet taste.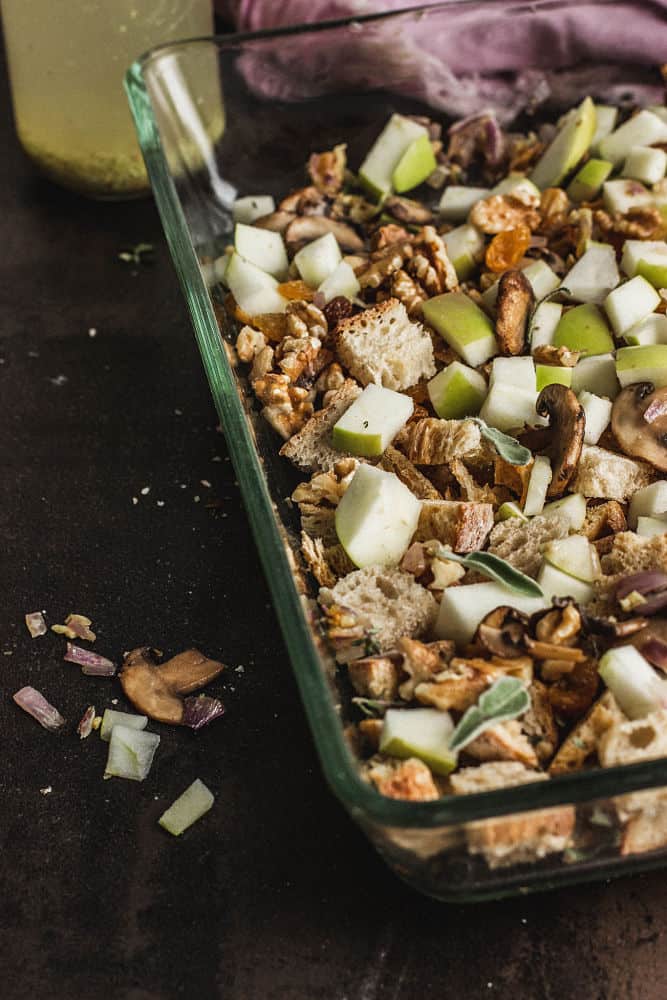 I mixed everything and made sure that the breadcrumbs, well everything, soaked in the broth long enough before baking the dish.
Finally, just before the end, I sprinkled crushed walnuts on top, which roasted for a few minutes. Know that the apple, raisins, and walnuts are optional.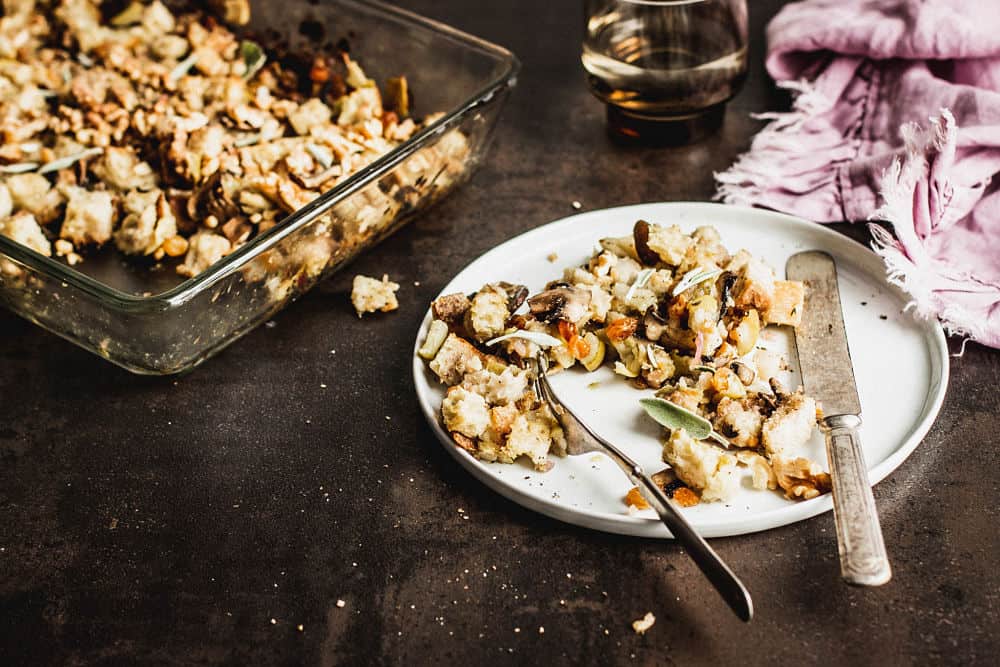 When I took my dish out of the oven, I could not wait to dig my fork in there. At the first bite, your teeth break a crispy surface and then sink into a moist dimension, brought by the softness of the inner part of the breadcrumbs and the melting flesh of the mushrooms. The flavors explode in your mouth. The pleasant and savory taste of the broth and the roasted aromas of the nuts invade the palate and caress the cheeks with a comforting, festive warmth.
How to Make Vegan Stuffing Step-by-Step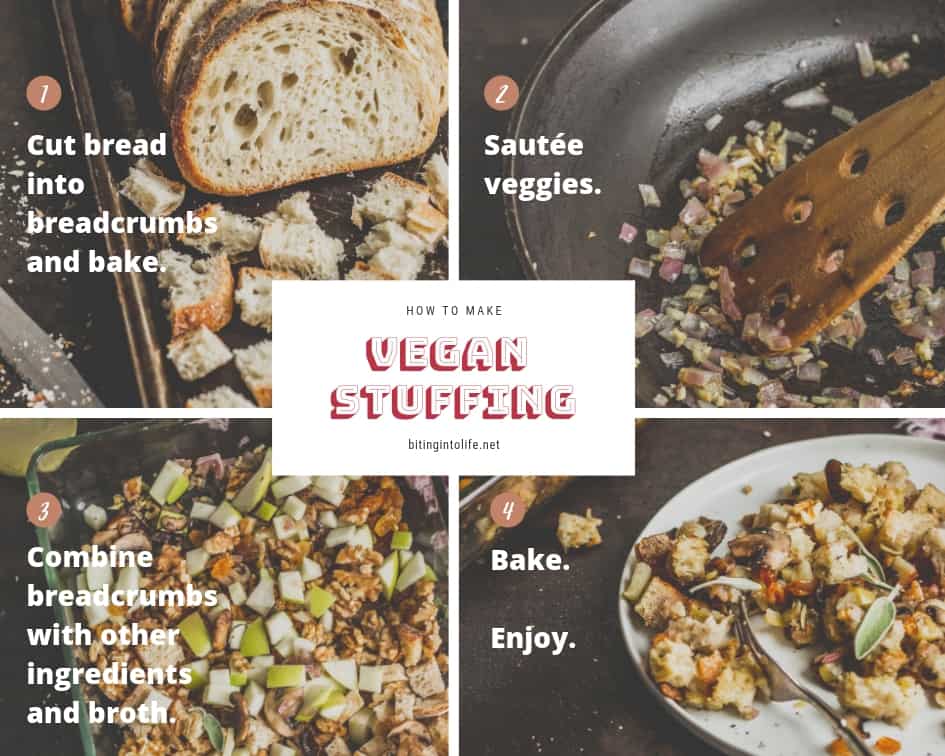 1 / Turn the bread into breadcrumbs (as mentioned before).
2 / Sautée vegetables.
3 / Combine breadcrumbs, sautéed veggies, and herbs with broth and optional ingredients (e.g. nuts and/or fruits).
4 / Bake in a baking dish covered with foil and then, uncovered to brown the top.
Prepare this Vegan Stuffing Now!
During the holidays, the traditional stuffing may seem inaccessible to you. Because it's often made with or out of meat.
And when this happens, you're ready to ring the death knell of your tasting.
But it doesn't have to be this way.
You can turn traditional stuffing into an enjoyable dish of the same caliber. You don't need much. Essentially, breadcrumbs, sautéed vegetables, and a tasty broth.
Follow the instructions below to prepare it as soon as possible.
You won't be disappointed. This vegan stuffing will awaken your taste buds and those of other guests.
Even unshakable meat eaters will love this version too.
Enjoy!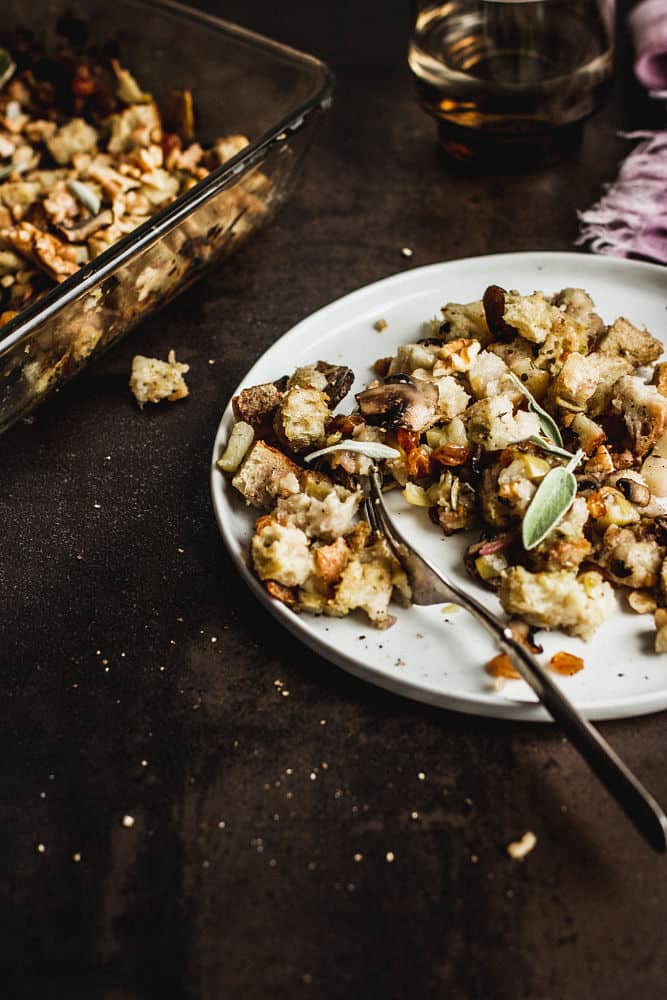 If you try this recipe, I want to know about it! I always appreciate your feedback. Leave a star rating in the recipe card right below and/or a review in the comment section further down the page. You can also follow me on Pinterest, Facebook, or Instagram. Sign up for my email list, too!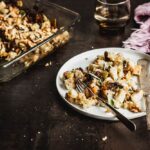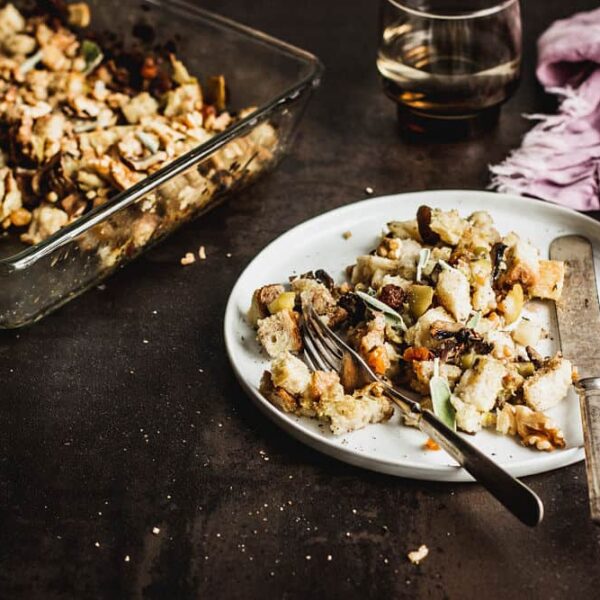 Vegan Apple, Sage and Onion Stuffing
A tasty and rich side dish that won't leave others indifferent for your holiday dinners.
Save Recipe
Saved!
Print Recipe
Pin Recipe
Ingredients
1

loaf

sourdough bread

cut into 1-inch dice (about 8 cups)

2

tablespoons

olive oil

1

red onion

chopped

2

tablespoons

garlic

chopped

8

oz

cremini mushrooms

minced

2

Granny Smith apples

diced

1

cup

golden raisins

(optional)

1

tablespoon

sage leaves

fresh, chopped

1

tablespoon

thyme leaves

fresh

3

cups

vegetable broth

or 2 bouillon cubes dissolved in 3 cups water

1

cup

walnuts

crushed (optional)

Salt and ground pepper

to taste
Garnish:
Sage leaves and thyme sprigs
Instructions
Preheat the oven to 350 °F.

Make the breadcrumbs: bake the bread pieces on a baking tray for 10-15 minutes.

Meanwhile, in a skillet, sauté onion and garlic in 1 tablespoon olive oil over medium heat for 5 minutes until onion becomes translucent. Put aside. Sauté the mushrooms in the remaining oil for 5 minutes until the water evaporates. Put aside.

In a 9 x 13-inch baking dish, place bread and remaining ingredients except for walnuts. Mix well. Incorporate the broth and stir well. Let everything soak up the liquid. Cover the dish with aluminum foil and bake for 30 minutes.

Remove the aluminum foil and sprinkle with walnuts. Increase the heat to 400 °F and bake for 15-20 minutes or until golden brown.

Remove from oven and let cool. Garnish with sage leaves and thyme and serve immediately.

The stuffing is better when served the same day, but it will keep for up to 3-4 days, placed in an airtight container in the refrigerator.
Nutrition
Calories:
779
kcal
|
Carbohydrates:
119
g
|
Protein:
21
g
|
Fat:
29
g
|
Saturated Fat:
3
g
|
Polyunsaturated Fat:
16
g
|
Monounsaturated Fat:
8
g
|
Sodium:
1297
mg
|
Potassium:
969
mg
|
Fiber:
10
g
|
Sugar:
38
g
|
Vitamin A:
514
IU
|
Vitamin C:
12
mg
|
Calcium:
144
mg
|
Iron:
7
mg
Get Your Free Plant-Based Eating Toolkit and More
Subscribe to my newsletter and unlock my plant-based course, nutrition charts, recipe secrets, and exclusive updates to prepare wholesome, varied & balanced meals effortlessly. All you need is a good appetite. Subscribe!