This easy granola is loose with a bit of cluster. You can dress it up however you like, but this recipe is designed to be unpretentious and let the essential ingredients shine.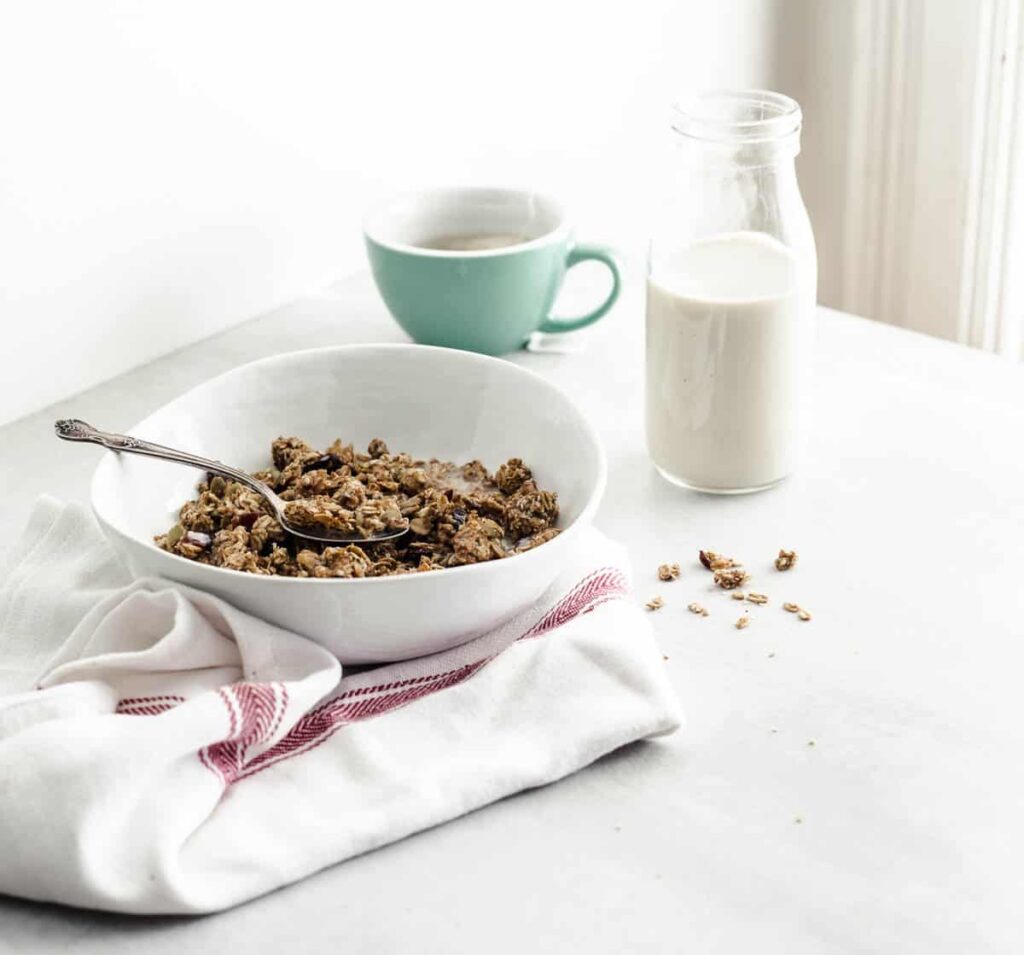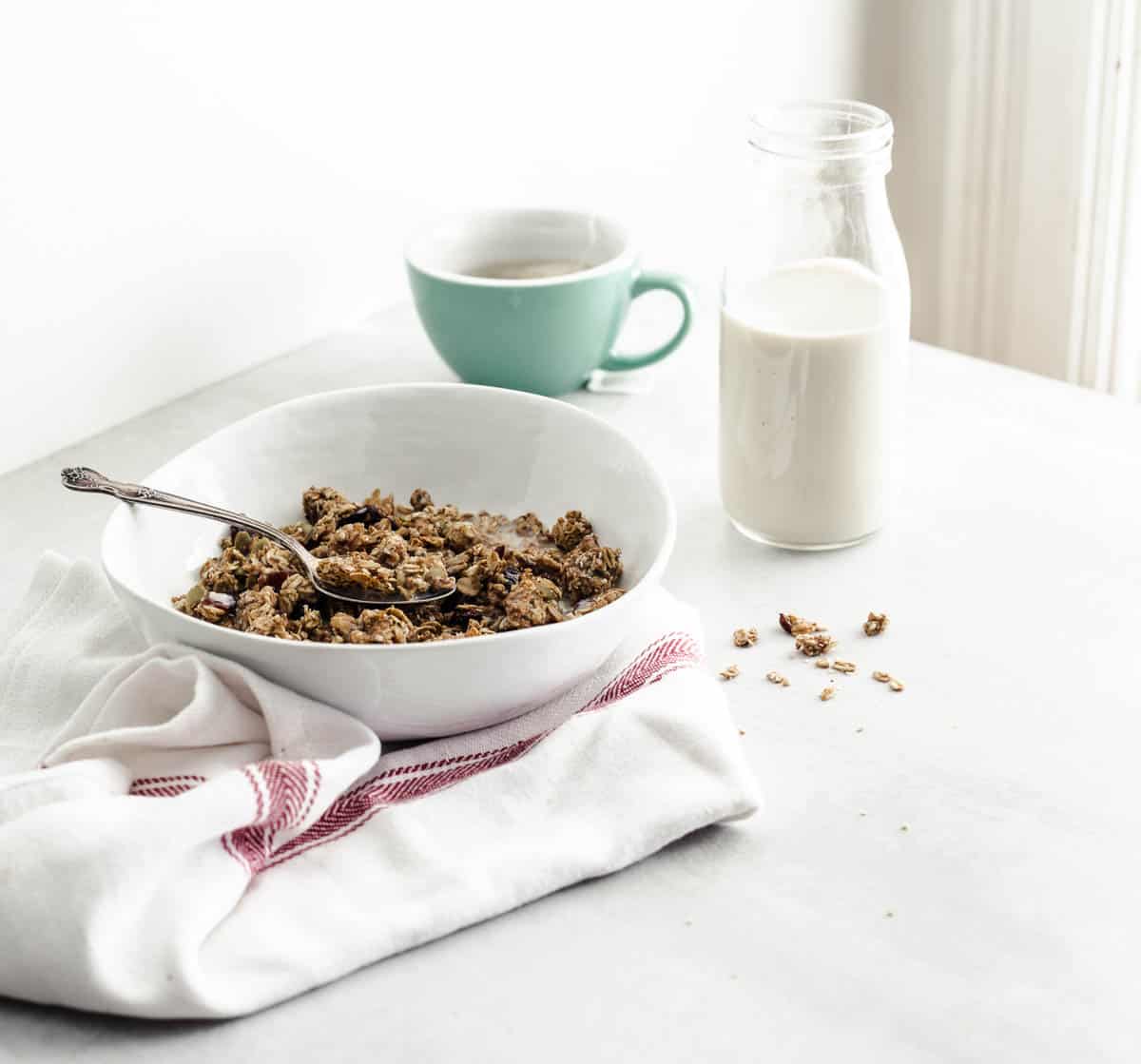 Jump to:
A Granola Triple Rich in Omega-3
I'll be honest with you: I never made granola before. But sometimes, after a hundred days of routinely-made green smoothies, I want something else. And my men aren't always as fond of them as I am.
A while ago, laziness clouded my mind, and I started buying store-bought granola—but healthy, locally made granola, nonetheless.
However, making it at home is so advantageous: it's much less cloying (you can measure the amount of sugar) than that in the store-bought one and on the other hand, it's much cheaper! But really cheaper.
Okay, I'm not kidding when I say this granola is super simple. It's close to being butt naked.
There's no fluid oil, no quirky spice, no syrupy sweetener.
It's a humble and shy breakfast, but one that's confident enough to make room for the warm flavors of toasted nuts and oats.
Its extravagance is absent, but its nutritional richness in omega-3 (walnuts, flax, and hemp) will nourish your brain to "uncloud" your mind and help you start the day well.
Is Granola Vegan?
Not straight up. Sometimes it is, sometimes it is not. Basically, granola (sometimes called muesli) is usually made from oatmeal, nuts, and dried fruits held together by a binder.
This binder is often honey (non-vegan) but can be a vegan sweetener like maple or rice syrup, for instance, or on its darker side, corn syrup (hyper-rich in glucose). Also, if you want to give it a texture with small clusters, it's possible to add egg whites.
Finally, if it includes chocolate, it could be white chocolate—cocoa butter, or worse, hydrogenated fats—mixed with milk powder or milk chocolate.
What Goes in this Easy Granola?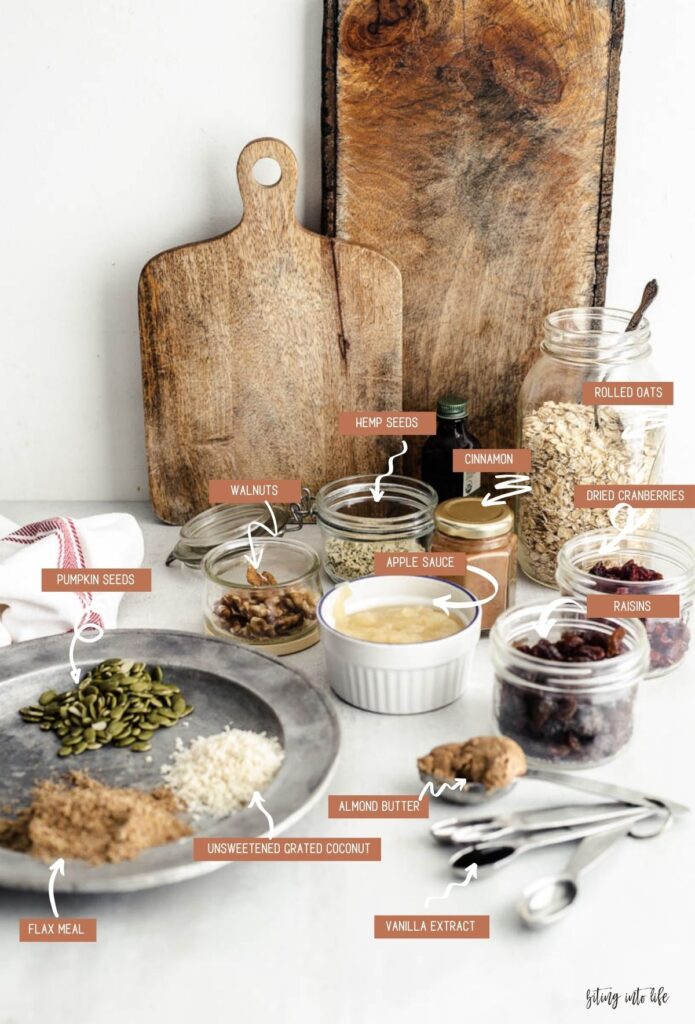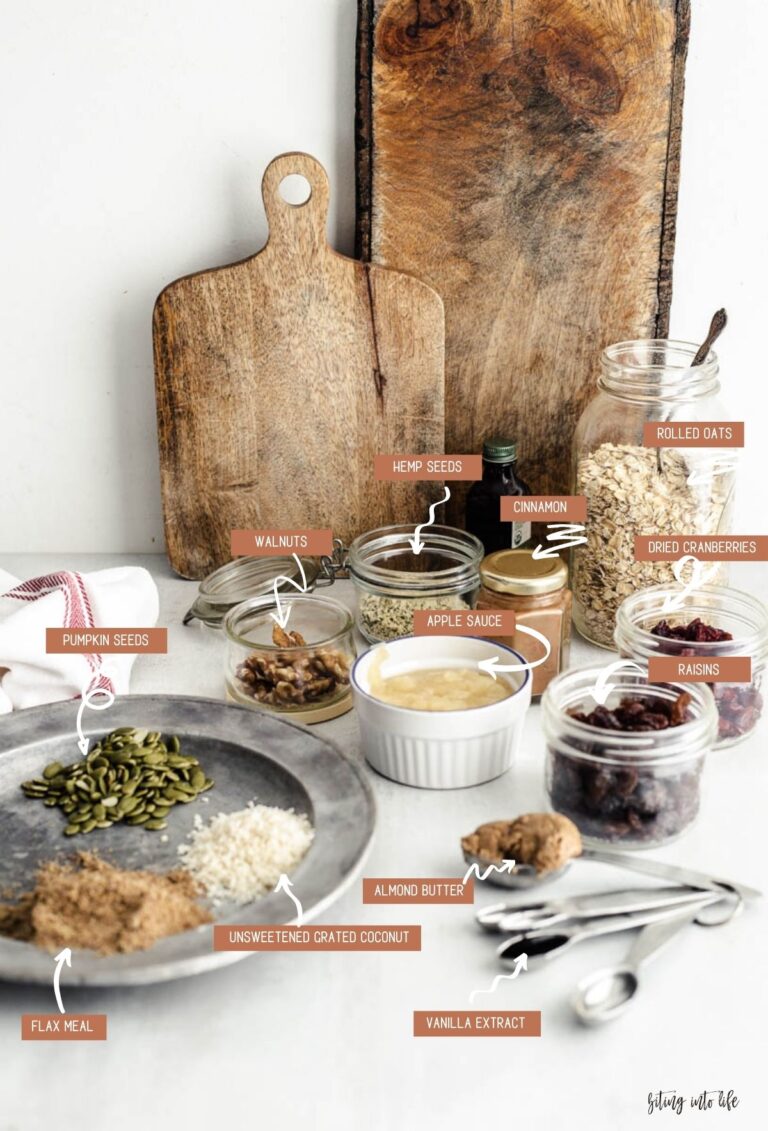 Main Ingredients
Oatmeal – I put regular, rolled oats oatmeal. Choose gluten-free if you have an intolerance.
Walnuts – that's your dose of omega-3. You can certainly add other nuts. You can combine them from the start or at the end to keep them "raw," but you'd miss their toasty taste.
Pumpkin seeds – the only sophisticated side of granola. It brings a little touch of green color and zinc.
Hemp seeds – they are real little powerhouses. Although small, they provide protein (much more than nuts would for the equivalent volume) and your second dose of omega-3. Chia seeds are of the same caliber.
Dried cranberries – okay, this granola has another sophisticated side to pigment it a little red, but more importantly, to give it a tangy touch and sweetness. It's possible to add other dried fruits, of course.
Raisins – ditto.
Unsweetened grated coconut – uh… yes! This granola is enhanced with a little exoticism 🤗🙈😝. Your flakes can be small or large (for a crispier texture).
Ground flax seeds – this will feed you with the same nutritional strength as hemp seeds (so, your third dose of omega-3). Usually, I grind the flax seeds to keep them fresh, but you can buy them pre-ground if you want to save time or don't have a spice grinder or mini blender to reduce them that way. Once wet, the mucilage obtained will serve as a binder and contribute powerfully to the oatmeal agglomeration.
Almond butter – another glue, in a way, to form small clumps. Peanut butter is also a good choice.
Applesauce – this contains pectin and will perform the same function as the two ingredients above. On the positive side, this food is light, softening, and healthy.
Vanilla extract – this granola might be straightforward, but it likes to be minimally flirtatious, all the same. It's good to perfume it.
Seasonings
Ground cinnamon – I endowed this unassuming thing with a little spice.
How to Make Simple Granola Step by Step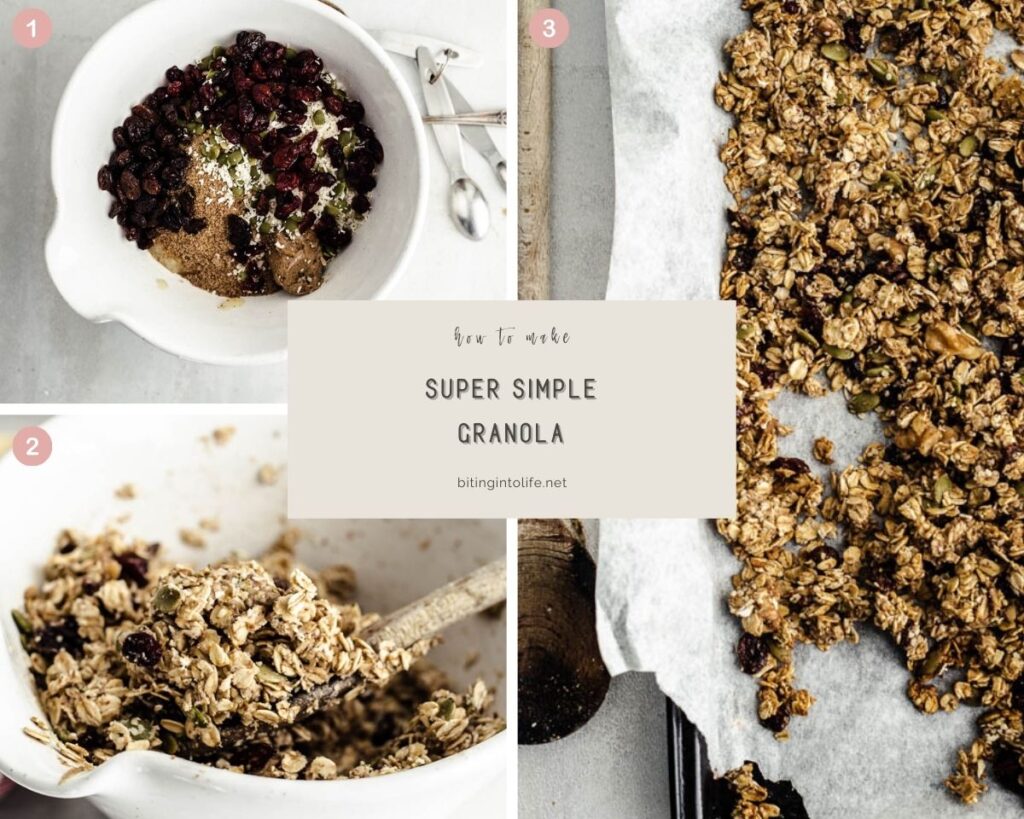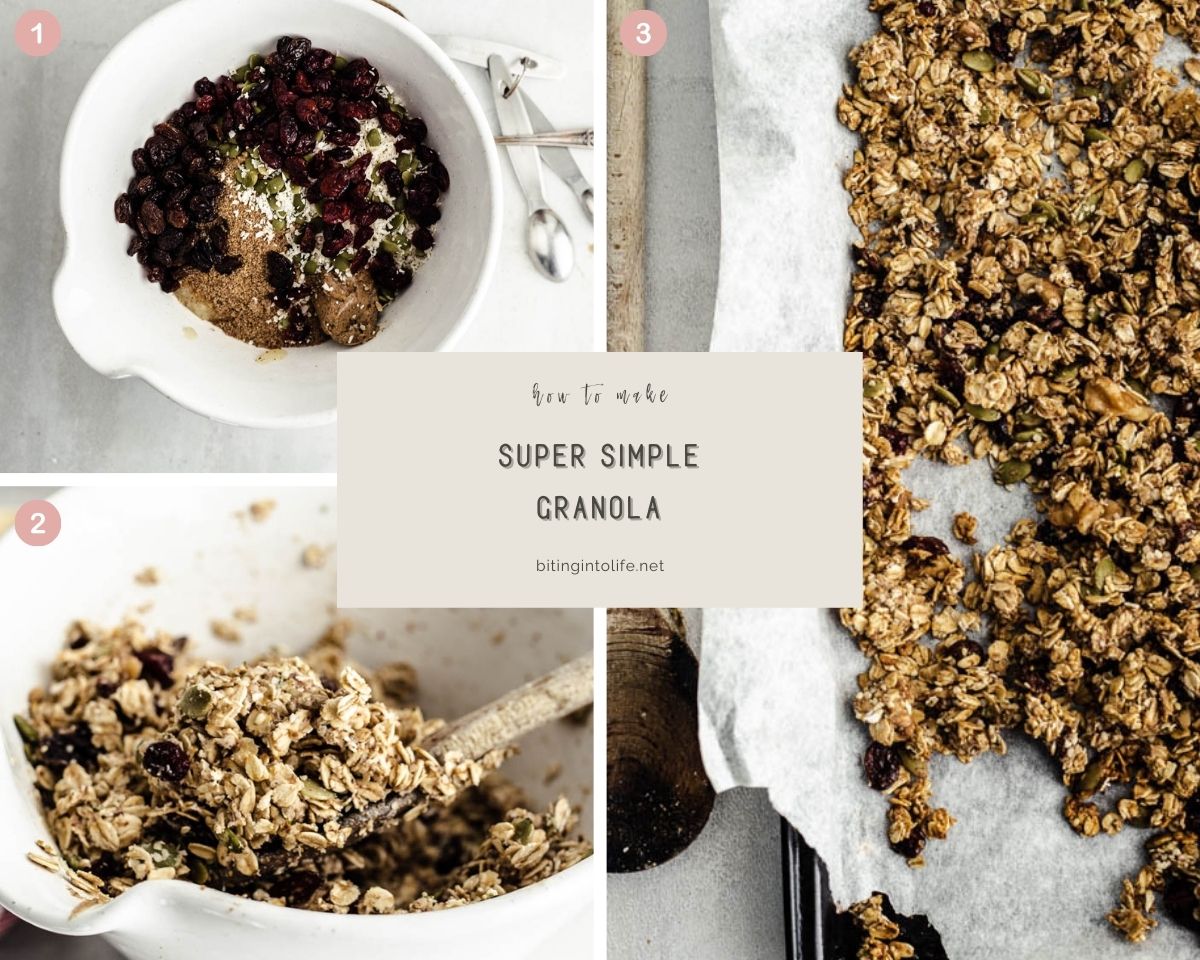 Normally, granola's basic formula is to combine the dry ingredients (oats, nuts, and/or seeds) with the wet ingredients (oil and/or liquid sweetener).
Here I mixed everything, given the simplicity of the ingredients.
1 / Combine all the ingredients.
2 / Stir them well.
3 / Spread out on a baking sheet
4 / Bake in the oven.
The Keys to Success: My Top Tips
Depending on your tastes, you can play with the texture to obtain granola, either loose or clumpy. In this case, the steps and cooking method will differ.
For loose granola...
Combine the dry ingredients, then the wet ingredients together, and finally the dry and the wet; spread everything out on a baking sheet, bake in the oven, add the dried fruits at the end (because some pieces can be close to combustion).
For clumpy granola...
The order of the steps is a little different. Add the dried fruits at the start. Flax mucilage—the translucent, viscous gel resulting from pre-soaking whole or ground flax seeds in water should be stirred well. It will act like egg whites, the ultimate edible glue.
So the gum is added so that the ingredients stick together.
The granola is baked at a lower temperature (which helps ensure the dried fruit does not burn), then allowed to cool in the oven to clump and have a nice crispy finish.
Do not stir the granola—or you do it very lightly—while it's cooking; otherwise, you will break up the clumps.
No matter what texture you choose, place the baking sheet in the center of the oven.
Also, I learned this super awesome tip from another food blogger. If you want to make sure that the middle of the granola mixture is golden brown and crisp without the edges burning, spread the mixture on the baking sheet with a big hole in the middle (make it look like a ginormous Cheerioh).
Other variations
Mix, spice up, and build your own granola using the ingredients you love and have on hand.
Prepare a gourmet granola with...
Other nuts: almonds, pecans, or macadamia nuts;
Other dried fruits: figs, apricots, apples, bananas, mangoes, etc.;
Chocolate chips or cocoa nibs;
Other exotic spices: nutmeg, cardamom, star anise, ginger, etc.
Make it nut-free if you are allergic to those.
Add maple syrup, agave syrup, or molasses to soften it.
Add canola, nut, coconut, or even olive oil for a more grassy taste.
Serve this recipe with...
Normally, we serve granola with dairy products, but not in our case! Here are some alternatives:
Almond, oat, or soy milk (politically correctly called a plant-based beverage). Not everyone likes soy beverage (🙋‍♀️), but it's worth selecting it for its high-protein content and added calcium and vitamins, especially vitamin D and B12.
Plant-based yogurt. You can make it with cashews, coconuts, soy, whatever rocks your boat.
Fresh fruits. Add sliced ​​fruit (apples, bananas, mangoes, etc.) or berries on top of it.
Make this Cluster Granola Now
When you're looking for a little crunchy bite, granola will make you happy.
You can make it in different ways, but nutritionally-focused granola will only focus on the essential ingredients: those that are high in protein and omega-3 along with other thought out, essential nutrients.
Plus, when it's unsweetened, it's easier to limit your sugar intake.
Then, decide on your texture, loose or clumpy, mix your ingredients, put everything in the oven, and enjoy your cheerful breakfast accompanied by your dairy-substitute of your choice.
You will see that simplicity also tastes very good.
Super Simple Cluster Granola Recipe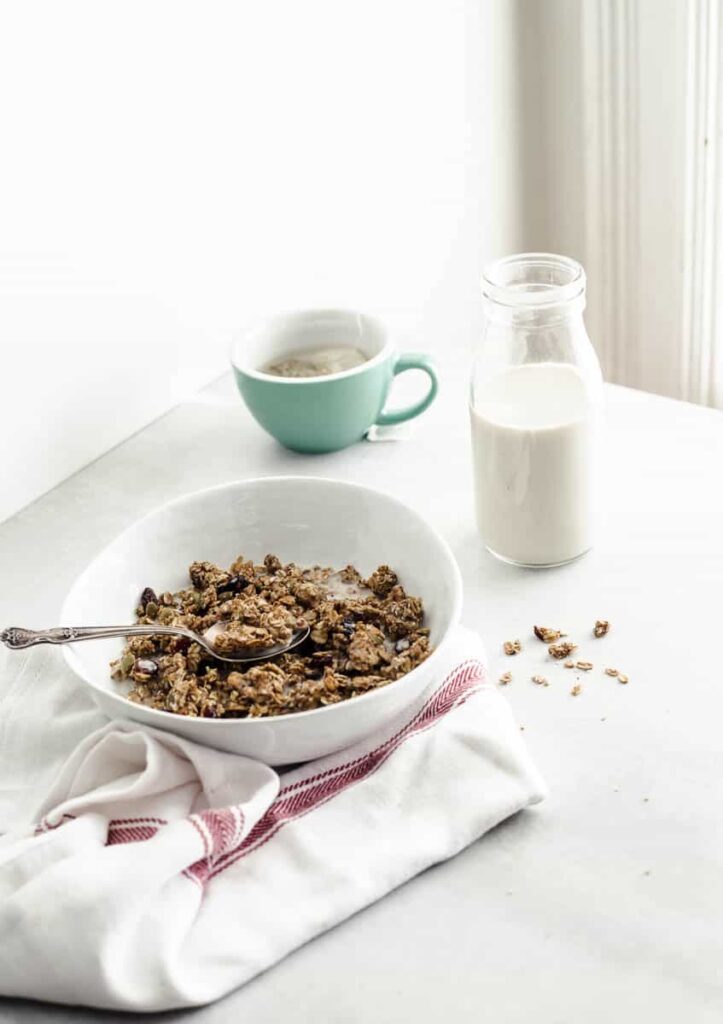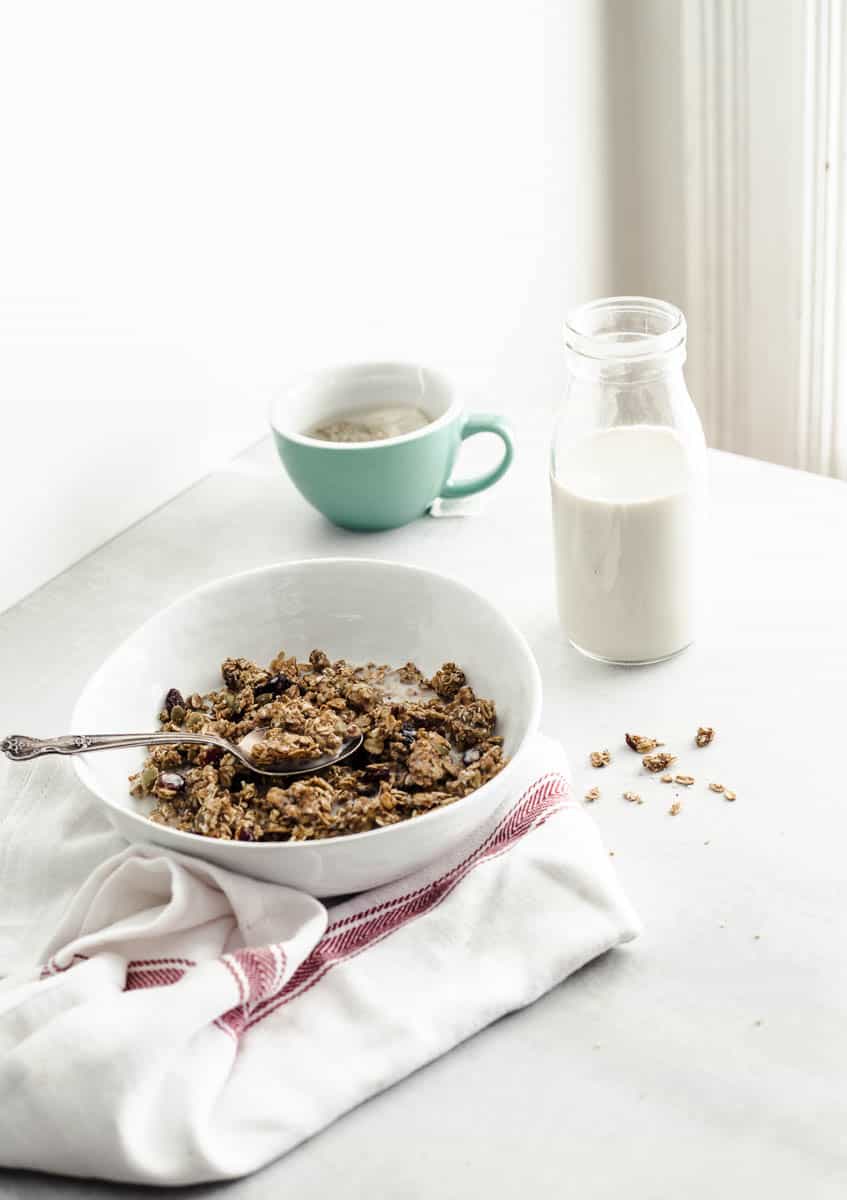 Si tu essaies cette recette, je veux le savoir ! J'apprécie toujours tes commentaires. Laisse une note dans la fiche de recette juste en dessous et/ou un avis dans la section des commentaires plus bas sur la page. Tu peux également me suivre sur Pinterest, Facebook, ou alors Instagram. Inscris-toi à ma liste de diffusion aussi !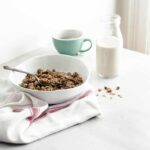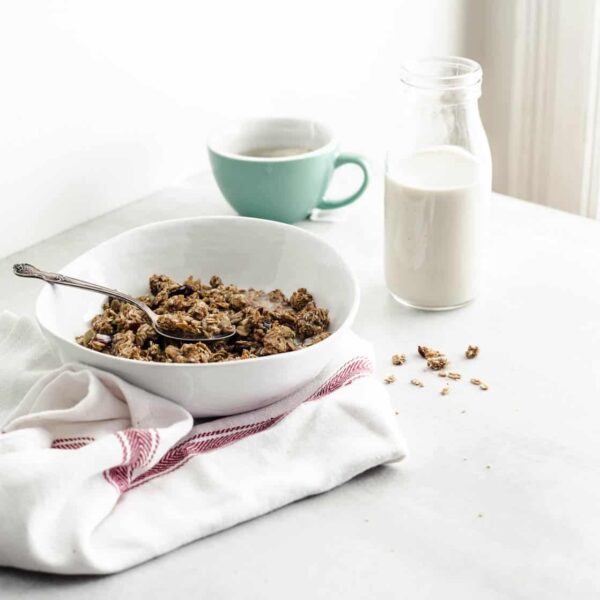 Cluster granola
Obviously, you can use whatever nuts you like here — or whatever seeds, if you like. This simple recipe consists of coarsely chopped walnuts with pumpkin seeds. That's the beauty of this granola. It doesn't have to be fancy to show off. For optimal nutrition, combine your nuts and seeds at the very end to keep them "raw."
Save Recipe
Saved!
Print Recipe
Pin Recipe
Ingredients
2

cups

rolled oats

2

tablespoons

almond butter

or peanut butter

½

cup

apple sauce

½

teaspoon

vanilla extract

¼

teaspoon

ground cinnamon

¼

cup

walnuts

coarsely chopped

¼

cup

hemp seeds

or chia seeds

2

tablespoons

flax seeds

ground (flax meal)

2

tablespoons

pumpkin seeds

¼

cup

dried cranberries

¼

cup

raisins

2

tablespoons

coconut flakes

unsweetened and grated
Instructions
Preheat the oven to 350 ° F/180 ° C.

In a large bowl, combine the oatmeal, almond butter, applesauce, vanilla, and cinnamon. Incorporate the rest of the ingredients.

On a baking sheet lined with parchment paper, spread the mixture evenly and bake in the oven center for 25 minutes, stirring very lightly.

Serve ½ cup of granola per person with a dairy substitute of your choice.
Notes
For loose granola: combine the dry ingredients, then combine the wet ingredients, and finally combine dry and wet; spread everything out on a baking sheet, bake in the oven, add the dried fruits at the end (because some pieces can be close to combustion).
For cluster granola: add the dried fruit at the beginning. Stir the flax mucilage well, cook the granola at a lower temperature (which helps ensure that the dried fruits do not burn), and then let it cool in the oven off to allow it to have a crispy finish and clump together. Do not stir the granola — or do it very lightly — while it's cooking; otherwise, the clumps will break.
Place the baking sheet in the center of the oven for better cooking.
To make the middle of the granola mixture golden and crisp without the edges scorching, spread it out on the baking sheet with a hole in the middle.
STORAGE: This granola will keep for up to two weeks in an airtight container in the refrigerator. It can also be frozen.
Nutrition
Calories:
230
kcal
|
Carbohydrates:
29
g
|
Protein:
7
g
|
Fat:
10
g
|
Sodium:
3
mg
|
Potassium:
252
mg
|
Fiber:
5
g
|
Sugar:
7
g
|
Calcium:
56
mg
|
Iron:
2
mg
Get Your Free Plant-Based Eating Toolkit and More
Subscribe to my newsletter and unlock my plant-based course, nutrition charts, recipe secrets, and exclusive updates to prepare wholesome, varied & balanced meals effortlessly. All you need is a good appetite. Subscribe!