This vegetarian burger is firm but moist, simple but tasty and is done quickly.
It's firm enough that you can place it between all your favorite toppings. But it's tender and tasty enough for your palate to be fooled by the fleshy texture. Goodbye, traditional burgers; hello, veggie burgers of the future.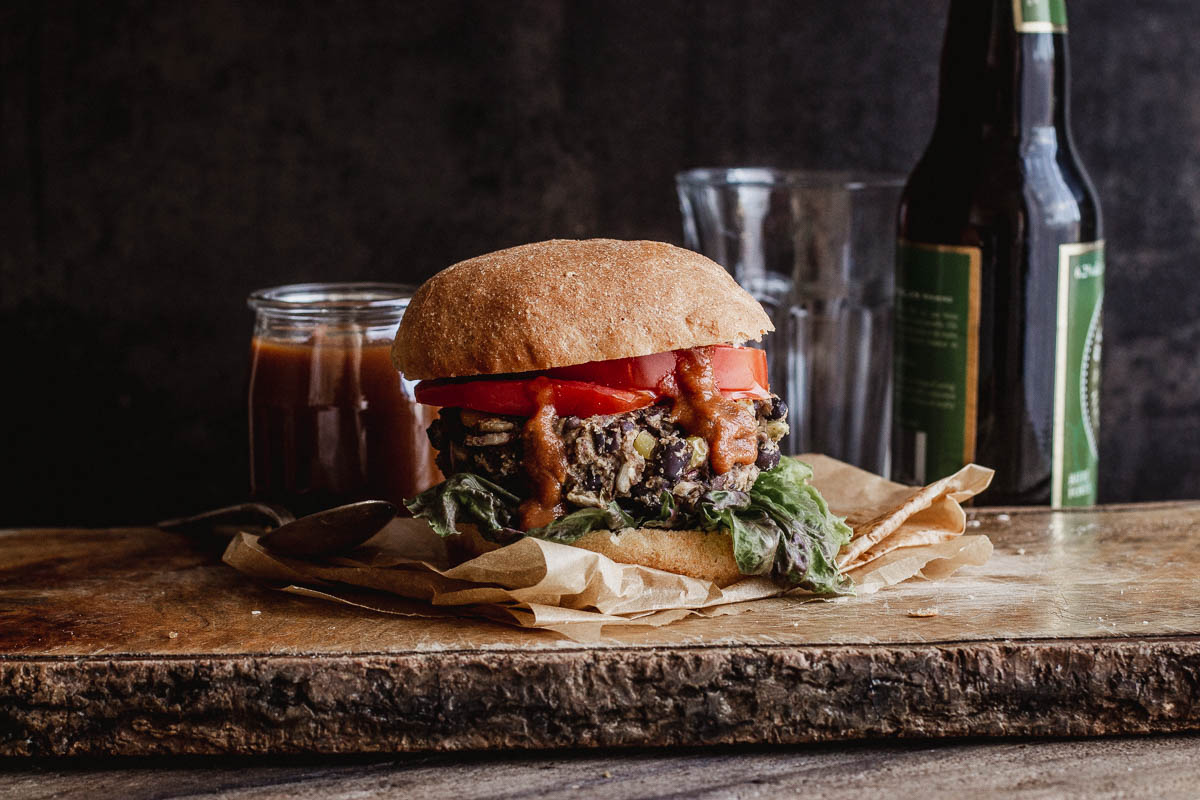 Jump to:
An Easy Black Bean Veggie Burger
Many recipes require so many steps that they seem as fun as assembling complicated Ikea furniture.
Of course, you could go for the ease of pulling a commercial frozen vegetarian burger out of the freezer and microwave it in less than two minutes.
But most of the time, these burgers are a total disappointment.
They're either stale or weird-tasting.
Ok, I exclude the brand Beyond Burger. Its patties are still delicious. But have you seen the prices? $9 (tax-free) for two patties.
Regardless, whether they are yucky or tasty, burgers should not be that expensive.
That's why I'm going to show you how to make vegan black bean burgers that don't take long to make.
What's in a Black Bean Veggie Burger?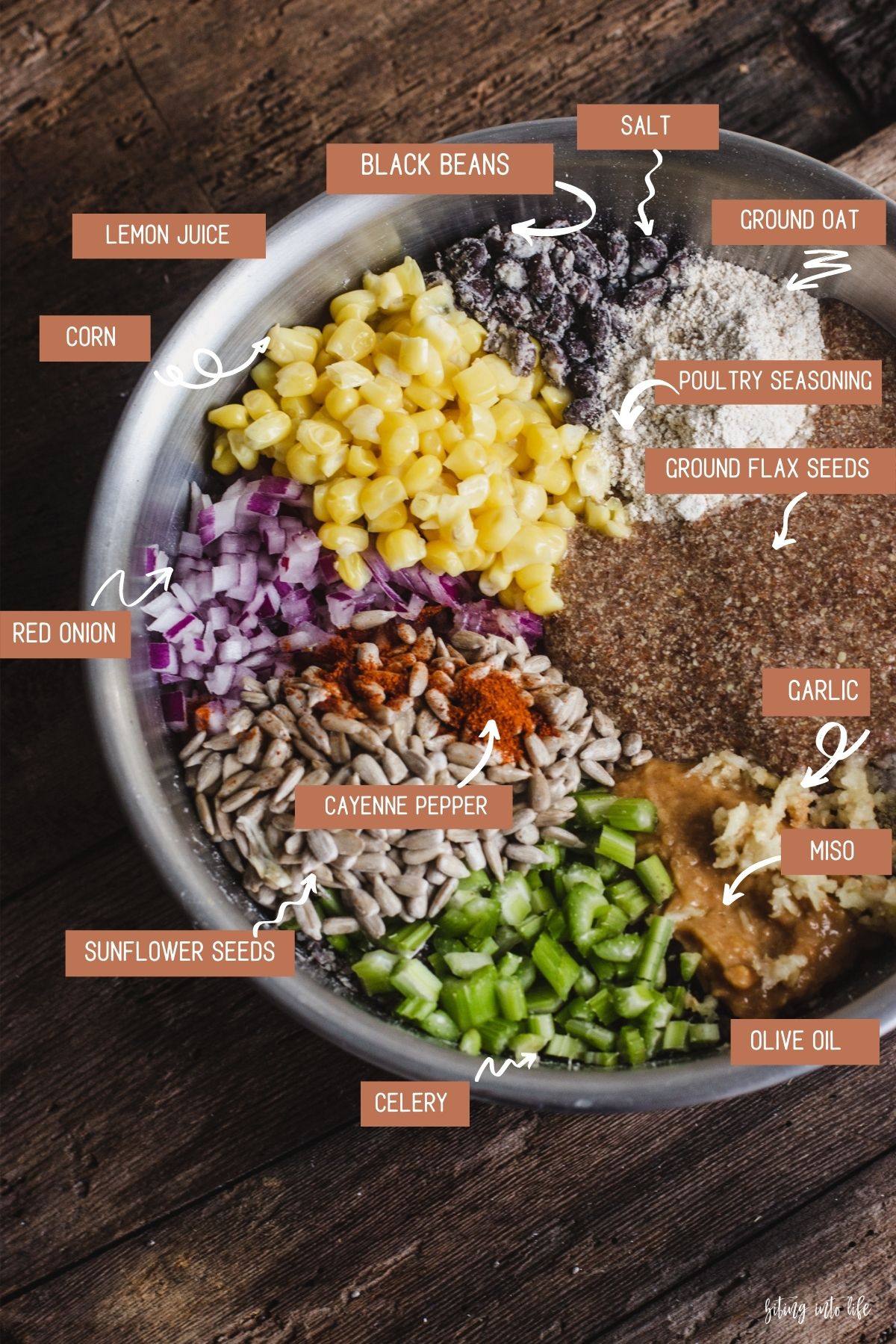 Here's what you'll need:
Main ingredients
Black beans – use dried beans for a firmer texture.
Corn – you can use frozen or fresh.
Rolled oats – I grounded them in a spice/coffee mill.
Sunflower seeds – for even more protein.
Celery – natural salt.
Onion – yellow or red. However, red gives more taste.
How to Make a Black Bean Veggie Burger Step by Step
My recipe starts with soaking black beans overnight and then cooking them. Meanwhile, you grind the flax seeds and the rolled oats ①. Once the beans are cooked, you crush them in a bowl ② and add the binding agents (flax egg and ground oats), chop vegetables, add spices ③, and you mix everything ④.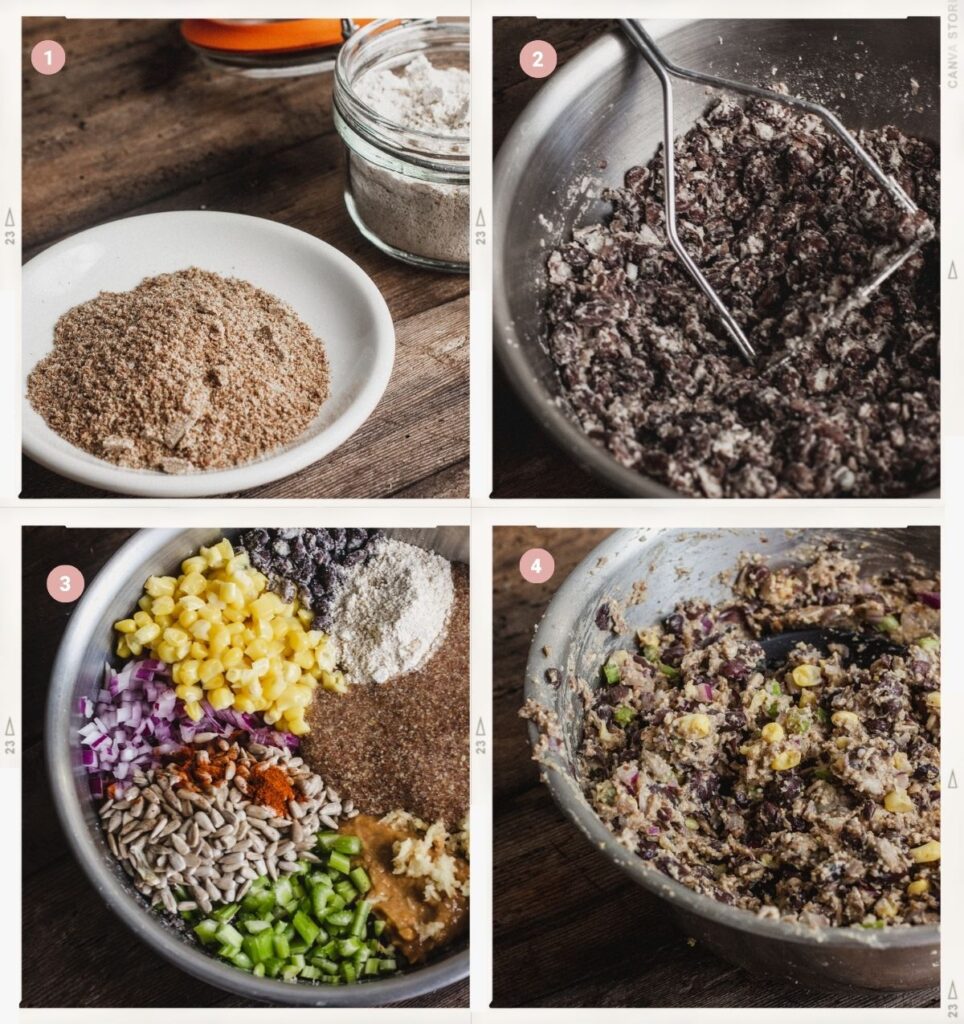 Finally, you shape the "ground meat" into a ball with ½ cup, place them on a baking sheet lined with parchment paper and spank them until they flatten into a patty. ⑤⑥
You bake them and voilà! ⑦
[I would like to take this opportunity to say that in Quebec, the patties are called "boulettes" in French-Canadien as in "meatballs", although they are flat.]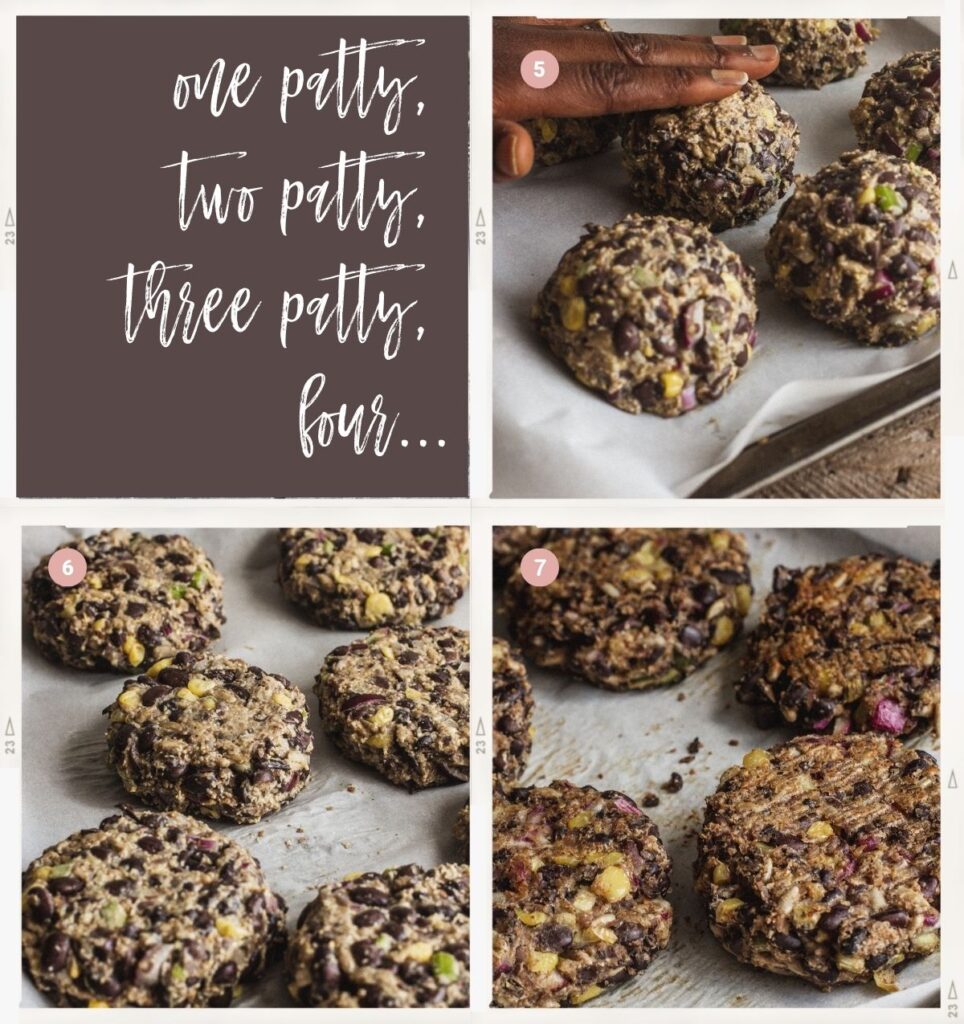 Keys to Success: My Top Tips
To save time, you can cook a large number of black beans in advance if you wish and freeze them so that you can be ready at any time. Of course, if they're frozen, don't forget to thaw them in advance too.
And what happens if you forget to do all that? Mmmm... I'd tell you to watch out for the pressure cooker! Of course, this appliance speeds up the cooking process of dried beans in less than an hour and can be a game-changer, but you could miss out on cooking them too much.
Besides, does it really take out the bad guys away? I don't know. I haven't seen any literature on the subject...
At worst, use canned beans 😞 (no! I did not just say that after my argument above). If this should happen, let them drain long enough to remove as much water as possible. However, the results are out of my hands.
Another thing, make black bean burgers without a food processor.
Some people use it to chop all their ingredients super finely, but you won't need it. Well, you won't have to do it at all. You're just going to dice a few vegetables, and the potato masher will do.
To make sure the patties aren't crumbly, we'll use a drying agent like oat flour.
I made mine homemade by just grinding the oats in my mini blender (you can also use a spice grinder or coffee grinder). It's possible to do this in advance and store it in a cool place or to buy flax and oat flour.
But be aware that grains of all types stay fresh longer whole form rather than ground.
How to Keep Your Black Bean Burgers from Falling Apart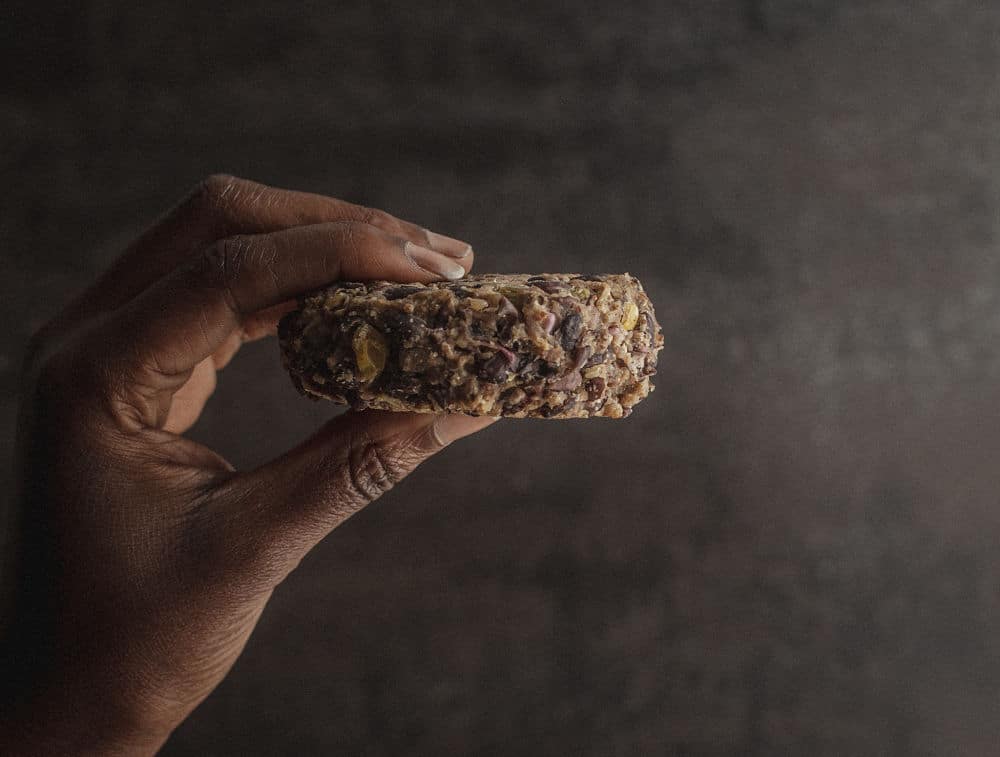 Okay, let's start by getting this out of the way.
Don't use canned black beans! They won't do it for this recipe.
First, the texture varies from brand to brand. Second, some are really, really soft, and make your burgers mushy.
I know this for a fact. Well, ahem, putting the batter in the food processor didn't help, but I don't think that was the only problem. You see, since canned beans are soaked in liquid for who knows how long they tend to absorb too much water when boiled.
So we're going to use dried black beans for this recipe.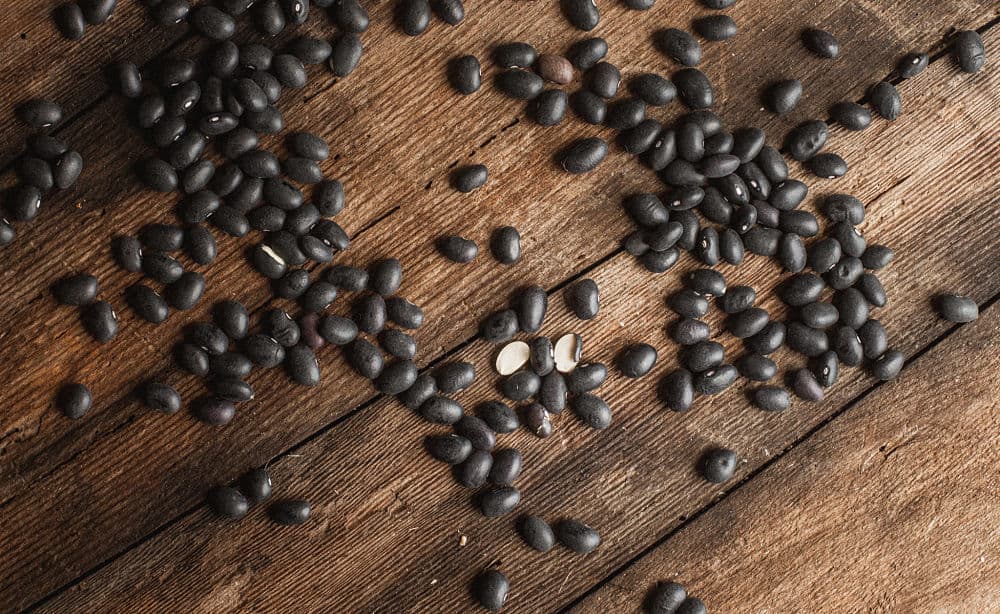 Also, to make sure the patties are not crumbly, we'll use a drying agent like oat flour.
I made mine homemade by just grinding the oats in my mini blender (you can also use a spice grinder or coffee grinder). It is possible to do this in advance and store it in a cool place or to buy flax and oatmeal flour.
But just so you know, seeds keep fresher in whole form rather than ground.
Now, to make sure they fit together, you'll also need binding agents. Binding agents such as "flax egg" or "chia egg." This simply means ground flaxseed or chia seeds, which are soaked in water for a few minutes until a gelatinous substance forms.
These plant-based "eggs" and oat flour will act as your glue.
Other Creative Variations
Here in Montreal, I teach a plant-based culinary workshop through Airbnb Experience, where I show people how to make mouth-watering vegan meals. When I created it, teaching people how to make an easy vegetarian burger was at the top of the list.
Inspired by my raw food experience and one of Angela Liddon's recipes from her blog Oh! She Glows, I made lentil burgers.
So you can easily replace black beans with lentils, and it's super good! Use all the other varieties of beans: red kidney beans, pinto, chickpeas, you name it!
Update (April 2020): I'm not giving the course at this time.
Serve this Black Bean Burger with...
This burger settles well on a lettuce leaf or hamburger buns with slices of vegetables and condiments.
These vegetarian burgers go well with:
As for what to eat them with, have black bean burgers with sweet potato, quinoa, couscous, brown rice... Heck, any type of grains!
Other black bean recipes!
Answers to your Burning Questions
Are Black Bean Veggie Burgers Healthy?
As for commercial burgers, who knows what's in them to keep forever. In my opinion, homemade burgers are certainly healthier, as you avoid dubious ingredients.

On the other hand, not all black beans are created equal.

I don't know about you, but it makes me a little paranoid to see food that's been soaked in viscous liquid for 100 years. Yes, technology has something to do with it, but these products seem frighteningly less nutritious.

I suspect that the nutrients from canned products leach into the liquid.

I know canned products are convenient, but seriously, preparing dried beans is really easy. Just soak them the day before to remove anything that encourages your tush to ring out like the sound of a trumpet and your digestive system to provoke severe nervous tics.

Black beans are high in protein. They contain about 60 g/cup. What's great about the plant-based egg (flax or chia) mentioned above is that it includes an extra dose of protein. Aaaannd! You get a little omega 3, which is excellent for brain health.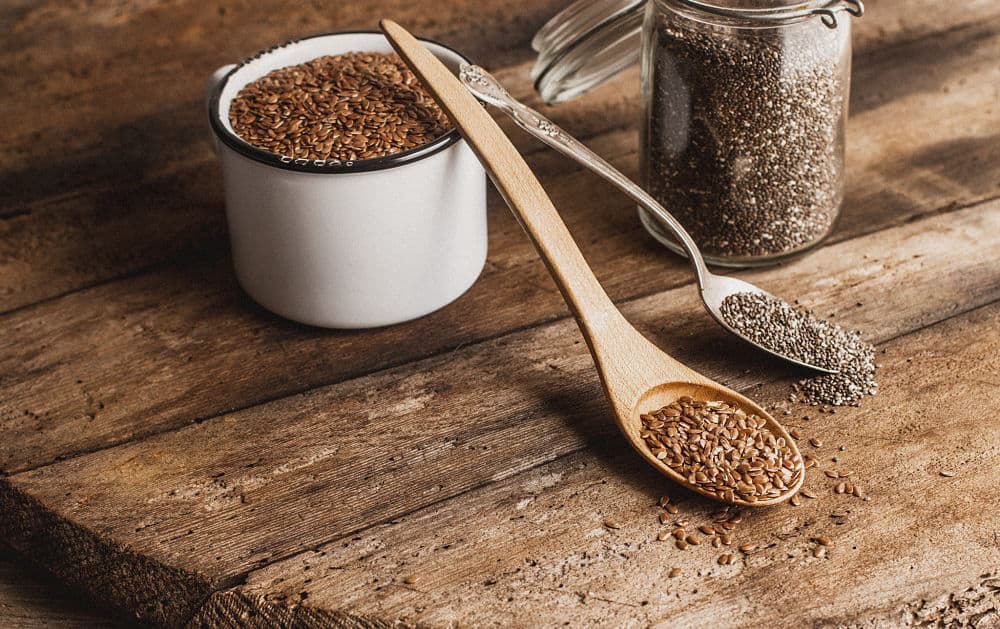 Dry beans contain phytic acid and other foods that make it difficult to absorb nutrients. They can be called "antinutrients". The downside with these types of antinutrients is that they prevent you from absorbing iron and other precious minerals.

So, to disarm them further, I called in a squad. Apple cider vinegar to the rescue! And to be even more efficient, I added some kombu algae when they boiled to enrich them with trace elements.

Paranoia at its climax. Or is it orthorexia (obsession with healthy eating)🤔? Anyway, I talked about it all in my Mango Black Bean Quinoa recipe.

Of course, you don't have to do all that. I'm showing you how to increase the nutrient density of black beans here.

Finally, in most recipes, the burgers are fried in oil, but mine are baked. You may lose the beautiful golden crust, but they will always be tasty and much healthier.

How Do They Taste Like?
It depends on whether you buy it at the grocery store or if you make my recipe.

As for my recipe, I used corn for sweet taste. I kept a small portion of sunflower seeds from a lentil burger recipe I'd made a while back. And I incorporated celery for the crunchy texture. Lemon juice was added for acidity and miso paste for umami. As for onion powder and poultry seasoning, they were used to give the depth of taste. The real winners here are miso paste and poultry seasoning.

Miso paste brings a full and savory taste, just like broth does. The flavors really carry out with those herbs. Make it a staple in your spice list!

But poultry seasoning won't be the only staple in your kitchen.

These black bean veggie burgers will be too!
Make these Veggie Burgers Now
You want veggie burgers that hold their shape and are easy to make. And you want them to be your go-to recipe whenever your burger craving pops up.
Making firm burgers seems impossible, but it's achievable when you know exactly what to do.
Never neglect the power of flax eggs and oat flour.
So grab your ingredients and potato masher and have a smashing party.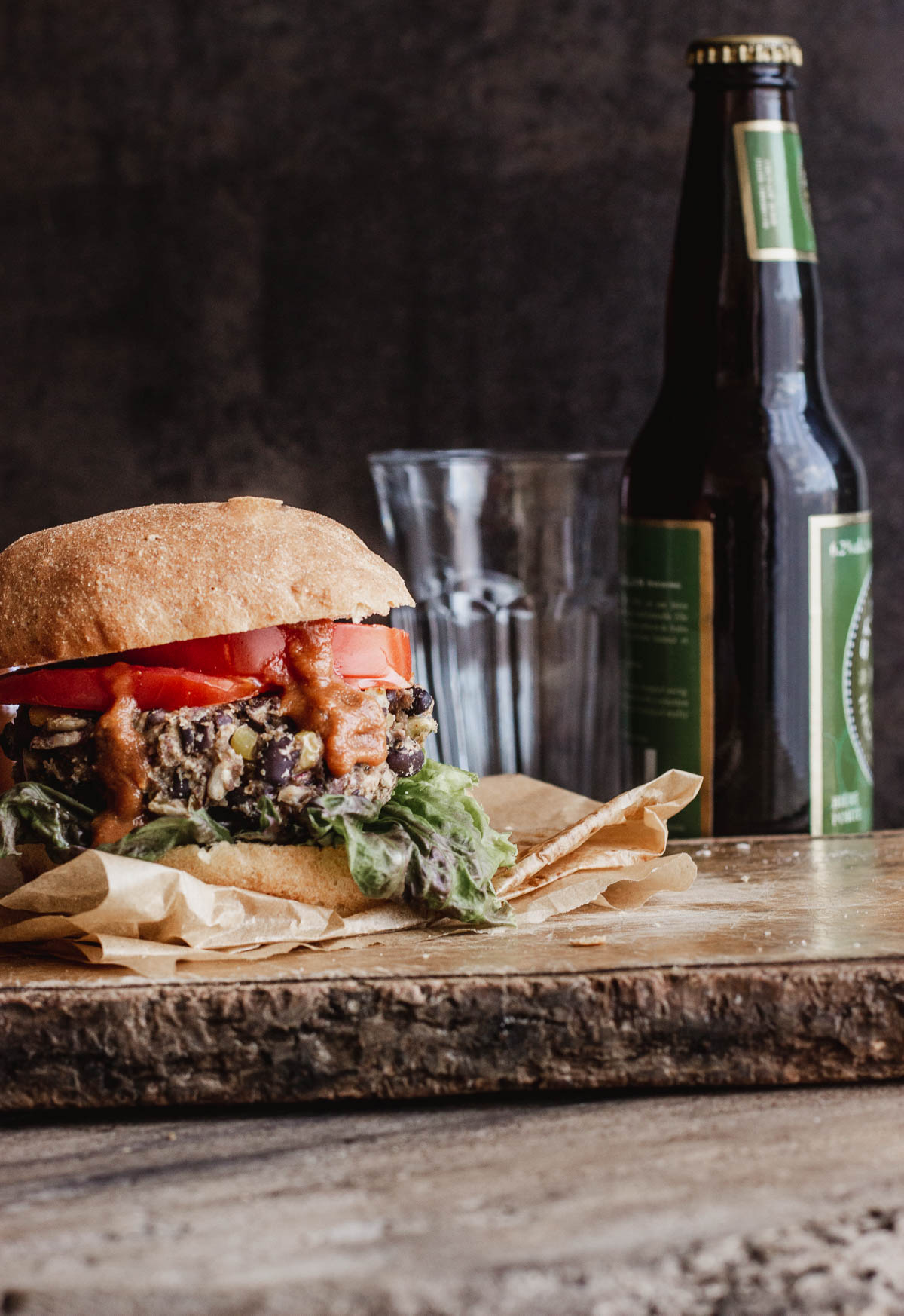 If you try this recipe, I want to know about it! I always appreciate your feedback. Leave a star rating in the recipe card right below and/or a review in the comment section further down the page. You can also follow me on Pinterest, Facebook, or Instagram. Sign up for my email list, too!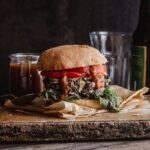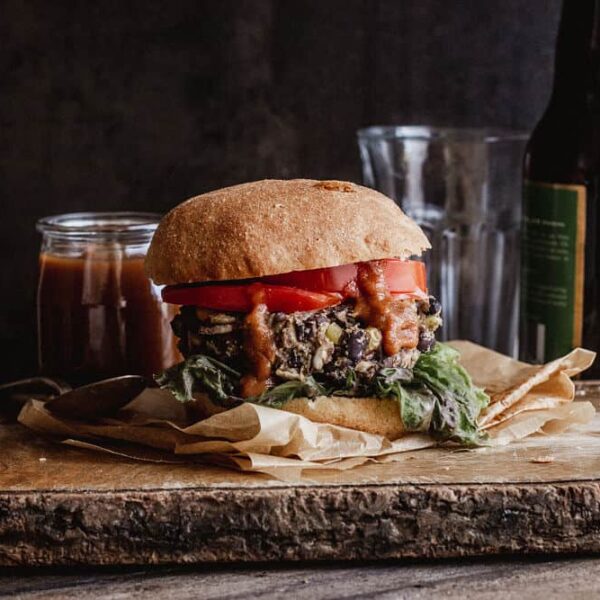 Black Bean Veggie Burger
Finally, a vegetarian burger that's firm and easy! Perfectly moist and tender, this black bean burger is as satisfying as a meat burger. Try it for yourself.
Save Recipe
Saved!
Print Recipe
Pin Recipe
Ingredients
2

tablespoons

flaxseed ground

Note

2

tablespoons

miso

2

tablespoons

water

1

cup

black beans

cooked (Note

1

cup

corn

frozen or fresh

½

cup

oats

ground into flour

½

cup

sunflower seeds

(Note)

½

cup

celery

chopped

½

cup

yellow

or red onion, chopped

2

tablespoons

lemon juice

2

tablespoons

extra-virgin olive oil

2

teaspoons

poultry seasoning

1

teaspoon

garlic

crushed (about 2 cloves)

½

teaspoon

sea salt

⅛

teaspoon

cayenne pepper
Instructions
Mix the ground flaxseeds in 6 tablespoons of water in a small bowl and set aside for 5 minutes, until it thickens, making sure the water is completely absorbed.

Preheat the oven to 400 degrees F.

In a large bowl, mash the black beans with a potato crusher. Add corn, oatmeal, sunflower seeds, celery, onion, lemon juice, olive oil, poultry seasoning, garlic, salt, and cayenne pepper.

In a small bowl, use a fork to mix the miso and water together to form a loose paste.

Stir in the paste and stir well until the batter comes together. It is possible to mix the mixture with a large spoon or the potato masher while mixing at the same time.

Using half a cup, remove the batter, press firmly, and shape into a ball. Place on the baking sheet lined with parchment paper and form a 1 inch (2 cm) patty, tapping over it. Repeat until the batter runs out. If your hands get too sticky, wash and dry them before you continue. Bake the patties and cook for 20 minutes. Turn over and continue cooking for 10 minutes, until the desired texture is reached.

Serve on a lettuce leaf or hamburger buns with slices of vegetables and condiments.
Notes
You can also use ground chia seeds
Use dried beans, preferably, soaked 8 to 12 hours earlier! To increase their nutritional value, you can optionally dip them with 1 tablespoon of apple cider vinegar and cook them with kombu strips. I explain the principle in my quinoa recipe with mango and black beans. Prepare them in advance without a problem.
Speaking of nutrient density, use sunflower seeds preferably soaked for at least 30 minutes to 2 hours (to have better digestion)
You can make oat flour yourself by grinding it in a spice grinder or coffee grinder. But you can use it already made too.
Red onion gives more taste
Don't use a food processor! Otherwise, the batter will become too soft.
Stored in a sealed container, these vegetarian burgers will keep in the refrigerator for up to 5 days and in the freezer without any problems.
Nutrition
Calories:
1406
kcal
|
Carbohydrates:
143
g
|
Protein:
49
g
|
Fat:
79
g
|
Saturated Fat:
9
g
|
Polyunsaturated Fat:
28
g
|
Monounsaturated Fat:
36
g
|
Sodium:
2496
mg
|
Potassium:
2083
mg
|
Fiber:
39
g
|
Sugar:
17
g
|
Vitamin A:
918
IU
|
Vitamin C:
30
mg
|
Calcium:
283
mg
|
Iron:
13
mg
Get Your Free Plant-Based Eating Toolkit and More
Subscribe to my newsletter and unlock my plant-based course, nutrition charts, recipe secrets, and exclusive updates to prepare wholesome, varied & balanced meals effortlessly. All you need is a good appetite. Subscribe!