There's no doubt. To make the best guacamole, you need great ingredients. Starting with a good ripe avocado. Then come the onions, cilantro, chili, and lime juice. From there, we can add red tomatoes, as we commonly do.
But we can also have other variants.
In fact, there are as many variations as there are versions of a pop song. To give a twist to the popular American recipe, we're going to enhance the acid flavor of guacamole with exquisite tomatillos, which flavor combines perfectly with the other ingredients.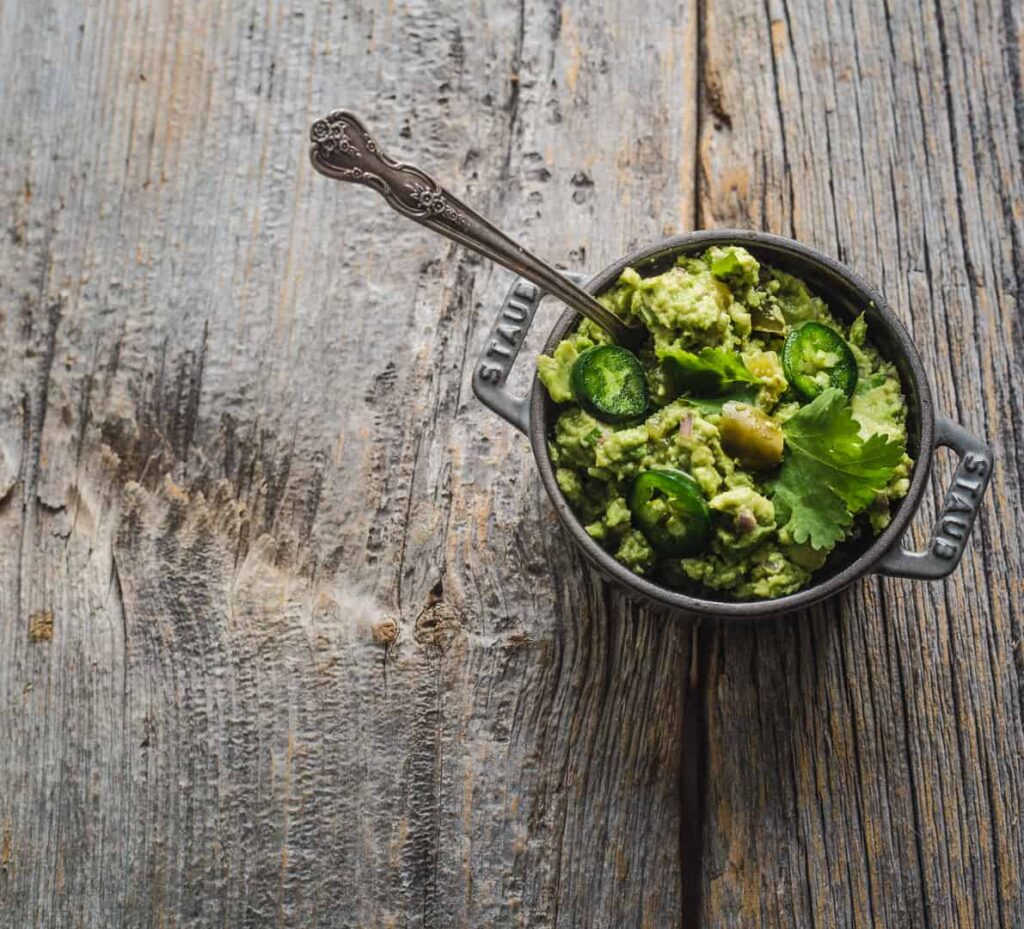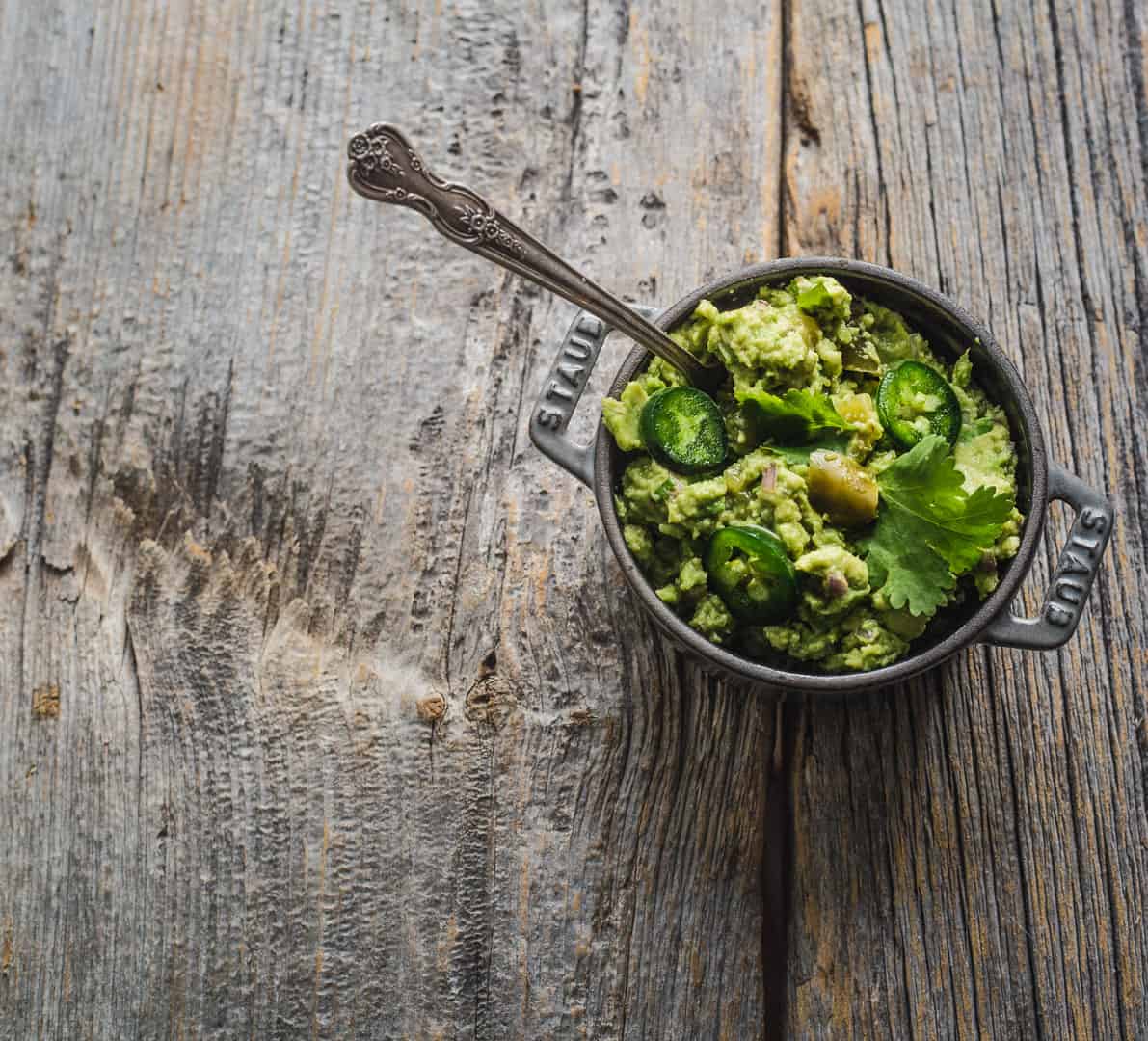 A Unique Guacamole Recipe
We can agree on this: guacamoles differ from one end to the other, from one restaurant to another, from one house to another. There's the standard guacamole, and there's the lick-your-lips guacamole.
If we're looking for an additional flavor, something tastier, we'll add ground cumin. Thus, cumin guacamole.
Then, when we want to contrast the textures, we tend to add tomatoes.
In my recipe, I replaced these with tomatillos.
Tomatillos are green tomatoes that bring tartiness. This is amplified by lime, which gives this sauce a refreshing taste.
This cumin guacamole with tomatillos is enriched with a good amount of aromatics, bringing roundness and warmth. It also has relatively large pieces. Finally, it stands well on a potato chip.
What Do You Put in a Cumin Guacamole?
Here's everything you need: ripe avocados, coriander, onions, jalapeño or Serrano peppers, lime, and salt. These are the basic ingredients. Popular optional additions include garlic, tomatoes, and ground cumin.
I went that road. I just made a few small changes.
I put French shallots for sweetness and tomatillos instead of tomatoes to make it different.
If adding tomatillos is strange for us in North American, it's certainly not Mexico. To make this recipe a reality, as I didn't find fresh tomatillos in this winter weather, I bought them in cans, something I like to do less. I don't like to do that at all, actually. I prefer all of my ingredients to be 100% fresh.
But I wasn't disappointed.
In the end, you get guacamole with three shades of green: the light green of the guacamole, the olive green of the tomatillos, and the forest green of the jalapeño. In any case, I can't wait to taste it with fresh tomatillos.
Main ingredients
Avocados – by default, in North America, we use Haas avocados.
Tomatillos – due to winter weather, they are in cans but use fresh ones as soon as you can find some.
How to Make Cumin Guacamole with Tomatillos Step by Step
1/ Coat the avocado pulp with lime juice
2/ Drain and reserve the lime juice.
3/ Crush the avocados well.
4/ Add the seasonings, then add the chopped onions, diced tomatillos, chopped cilantro, and chopped garlic.
5/ Add 1 tablespoon of the reserved lime juice.
6/ Let stand at room temperature for 1 hour before serving.
My Best Advice for Keeping Guacamole Bright Green
Avocado turns brown when it's in contact with air (called oxidation). So start by preparing all your ingredients beforehand by cutting the avocados in half. Once the avocados have been cut and the pulp removed, coat them with lime juice.
So, to prevent the preparation from browning, do this: put it in an airtight container. Tap it to remove air bubbles. Cover it with a thin layer of olive oil or warm water. The avocado is so dense that it will not absorb it. It will stay green for two full days in the refrigerator.
To serve, pour the liquid from the container and stir the guacamole well. Add a little lime if necessary, and that's it, it's ready.
Other Creative Variations
The flavor variations are unlimited. You don't have to hold on to the traditional recipe. You can do whatever you want. For example, I added French shallots, cumin and tomatillos to make it different. Usually, it's best to have fresh ingredients. But if you don't have some on hand — speaking of tomatoes — well, you won't die if you put canned tomatoes.
Here are other ways to prepare guacamole for inspiration:
Types of onions – all kinds are good. White, green, or red onion, sweet, French shallot, spring onion, etc. The whole family of Alliaceae is welcome.
Types of tomatoes – greenhouse, Roma (makes the preparation less watery), heirloom, cherry... Dice them and stir them. If you don't have any on hand or want to save time, use canned tomatoes (not my first choice).
Coriander substitute – does it taste like soap? Instead, use chives. It will be delicious too.
With large pieces or smooth? I like mine with a few large pieces to have a little more texture. But I can make it smooth, depending on the people I serve it to. In my parents' country, in Haiti, there's a kind of avocado puree with large pieces too. I wouldn't be surprised if it had a consistency not so different from Mexico.
Practical and Technical Details
How to pronounce the word guacamole?
Before diving into the details, we'll make sure that this word is well pronounced. You say it in four syllables like this: / gua-ka-mol-e /. Now that I have settled this question let's continue...
What do we make guacamole with?
What are the ingredients in guacamole?
The basic ingredients are avocado, onions, cilantro, chili, lime juice, and salt. Afterward, you can flavor it with tomatoes, garlic, or ground cumin.
Can I prepare it in advance? How long does it last?
It will keep for up to 2 days without browning if it's stored as follows: place the guacamole in an airtight container. Tap it a bit to remove air bubbles. Cover it with a thin layer of oil or warm water, seal it and refrigerate it. To serve, pour the liquid, stir it well and add a little lime if necessary.
What can you eat guacamole with?
Dip some corn chips! It's the most popular choice. The texture contrast is just sublime. But you can also eat it with tortillas, vegetable sticks, or crackers. It's my favorite choice to accompany most Mexican dishes. We use it as a dip or put a large spoonful in burritos, enchiladas, tacos, nachos, and fajitas. Do as you please: eat it with what you want!
What's the origin of the word "guacamole"?
To get a short answer, "guacamole" simply means "avocado-based sauce" and not, ground testicle sauce (long story). This translation is a semantic misinterpretation of a literal and figurative meaning, perpetrated by bad translators. (Go here to find out about the origin of guacamole.)
Prepare this Guacamole Now!
No need to wait until game day to prepare this dip. It lends itself easily for all kinds of occasions.
A basic guacamole without frills would be a rougher version, but decorating it with whimsy gives you as much pleasure. Enough pleasure to excite your palate and pinch your cheeks with freshness.
So add exotic ingredients and get carried away.
If you try this recipe, I want to know about it! I always appreciate your feedback. Leave a star rating in the recipe card right below and/or a review in the comment section further down the page. You can also follow me on Pinterest, Facebook, or Instagram. Sign up for my email list, too!
Adapted from Arlton Brown from the Food Network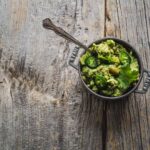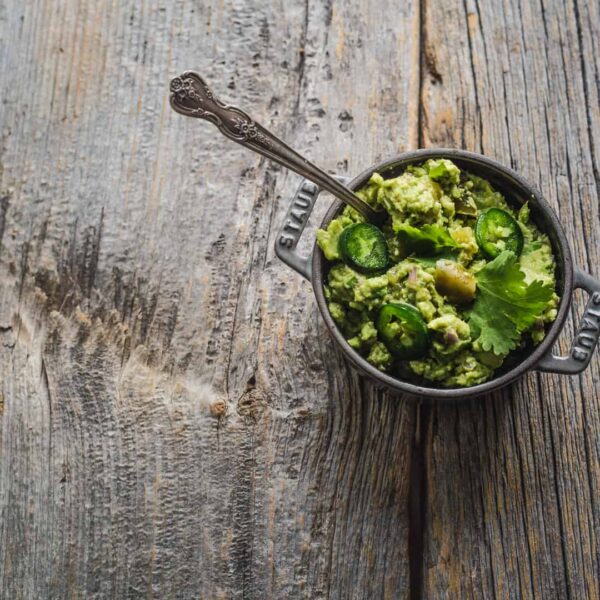 Cumin Guacamaole with tomatillos
A unique guacamole different from traditional guacamoles. The tomatillos bring tartiness, amplified by lime. Lime gives this sauce a refreshing taste. This cumin guacamole with tomatillos is enriched with a good amount of aromatics, bringing roundness and warmth. It also has fairly large pieces. Finally, it stands well on a potato chip.
Save Recipe
Saved!
Print Recipe
Pin Recipe
Ingredients
3

Haas avocados

halved, seeded and peeled

1

lime

juiced

½

teaspoon

kosher salt

½

teaspoon

ground cumin

½

teaspoon

Cayenne pepper

2

shallots

diced (or ½ medium onion) (about ¼ cup)

½

jalapeno pepper

seeded and chopped (optional)

2

tomatillos

seeded and diced

1

tablespoon

cilantro

chopped

1

clove

garlic

minced
Instructions
In a large bowl, place the avocado pulp and lime juice, mix to coat. Drain and reserve the lime juice, once all the avocados are coated.

Using a potato masher, add the salt, cumin, cayenne pepper and mash. Then add the onions, tomatoes, cilantro and garlic. Add 1 tablespoon of the reserved lime juice.

Let stand at room temperature for 1 hour then serve.
Notes
For the preparation of guacamole, obviously, ripe avocados are ideal. It is worth buying several avocados so as not to come across unpleasant surprises, like knotty spots or brown flesh.
If only some of your avocados are ripe, don't despair. Take the unripe fruits, put the flesh in a food processor, add a drizzle of olive oil, and mix it until they are creamy. In a way, mixing them like that with oil deepens their flavor. It makes them richer, more ripe, unsweetened, and not starchy like the usual unripe avocados. Then, you can take this puree and incorporate it into cubes of well-ripened avocado and make guacamole from there.
To avoid the avocado from browning fast, prepare all your ingredients beforehand by cutting the avocados in half.
Stored in an airtight container, this cumin guacamole will keep up to two days.
Nutrition
Calories:
176
kcal
|
Carbohydrates:
12
g
|
Protein:
2
g
|
Fat:
15
g
|
Saturated Fat:
2
g
|
Polyunsaturated Fat:
2
g
|
Monounsaturated Fat:
10
g
|
Sodium:
203
mg
|
Potassium:
569
mg
|
Fiber:
8
g
|
Sugar:
2
g
|
Vitamin A:
254
IU
|
Vitamin C:
17
mg
|
Calcium:
23
mg
|
Iron:
1
mg
Get the story behind the recipe
Get Your Free Plant-Based Eating Toolkit and More
Subscribe to my newsletter and unlock my plant-based course, nutrition charts, recipe secrets, and exclusive updates to prepare wholesome, varied & balanced meals effortlessly. All you need is a good appetite. Subscribe!