Like anything shady or that doesn't appeal to me at first, I was taken aback when I started to really love avocado.
No, no, I'm sorry, I'm fooling you, as I have been fooled myself, by the way. In fact, the avocado in question was concealed, like a wolf in sheep's clothing, in a raw chocolate mousse. I admit, dear guest, it's a cheating scheme on behalf of a faux gourmet, it's no way to appreciate food if it's not in its raw, natural state, but still, it was a good prelude.
I was in my early thirties, becoming a raw food neophyte when I discovered the recipe of a certain Jennifer Cornbleet on YouTube. My palate was still a stranger to this unsweetened pear and, needless to say, I didn't expect it to amaze me under the guise of a decadent dessert. You can imagine my surprise when I brought to my lips a caress of creamy avocado mixed with chocolate, dates and maple syrup, a sweet and velvety bite more deceptive than any secret.
Admittedly, I didn't get exposed to the true nature of avocado, but this fruit intrigued me seriously. It intrigued me enough for me to examine, as I was removing the frills, what was really going on under there. Over time, my taste buds have improved, my wisdom broke through and it didn't take long before I really appreciated the taste of avocado.
Now, I found myself spreading it on toasts, slipping it into green salads–or fruit salad–, and even, imagine, eating it raw directly with a spoon. Talking about evolution.
But my evolution sometimes has limits.
Last weekend was the 54th edition of the Super Bowl, the pinnacle of American football, and images of avocados invaded my mind. More specifically, images of guacamole. This year, we were entitled to something unique–we were witnessing the victory of a team with our very own, Laurent Duvernay Tardif (originally from Quebec).
And this is where my evolution has limits: I don't watch football at all–even less the Super Bowl. Okay, sometimes the halftime show piques my curiosity, I anticipate any gossip-rich event, but otherwise, you won't see me in front of my TV for that sort of thing.
On the other hand, I'm sure that my visions foreshadowed the tide of supporters nailed to their couch, somewhere in their men cave, to taste Buffalo wings — perhaps cauliflower to be trendy —to dip nachos or bread in guacamole, in other words, ground testicle sauce?
Quite a semantic chaos exists regarding the origin of the word guacamole and its meaning.
Ground testicle sauce is what circulates on the Internet, like an ugly indelible rumor. There are beliefs that the word "Avocado" comes from the Spanish "aguacate", itself derived from the word "ahuacatl" in the Nahuatl language which means "testicle", by analogy to the shape of this organ. I think Wikipedia claimed this before but corrected its entry. (Only English. In French, this erroneous meaning still remains).
But from the very beginning, this word has always meant nothing other than "avocado".
It seems that nahutlphones, if I may say so, were making an euphemism by calling their genitals "avocado" just as people say in French slang "fried eggs, watermelon, grapefruit, melons, pears, coconuts, mandarins, walnuts, strawberries, hazelnuts" to denote "breasts"; "Sausage, noodle, carrot, cucumber, baguette, andouillette, sausage, eggplant, leek, nem, banana" to designate "penis".
Although these words are deliciously cute analogies, that doesn't make them primary meanings. Besides, in all cultures and since the dawn of time, our jewels have always evoked gastronomy. As an illustration, in English, we say "weiner" (sausage) for "penis"; the Hispanophones say " huevos" (eggs) for "testicles".
On this note, I will quote a specialist in Nahuatl culture who says:
[...] we would not generally consider as "partly correct" to say that "schnitzel wiener" means "penis schnitzel" or that "nut case" means "testicle box". Spanish speakers would also not think it sensible to say that "torta de huevo" means "testicles sandwich".

So the Nahuatl word "ahuacatl" (pronounced / a: wakatl /) does not mean "testicle", but due to the evocative form of the fruit, it can be used metaphorically in this extended sense.
I love it. I also love Google Translate's translation from English to French of "nut case" for "nut" as the metal fastening. Like, you really have to trust writings that are considered authorities.
All this is fascinating, and I must undoubtedly devote a whole historical article on avocado and guacamole, but just like everyone else who stops more at the gastronomic dimension than the historical dimension, I'll settle with tasting it thoughtlessly as the properly said nut-based avocado sauce.
And it was quite special.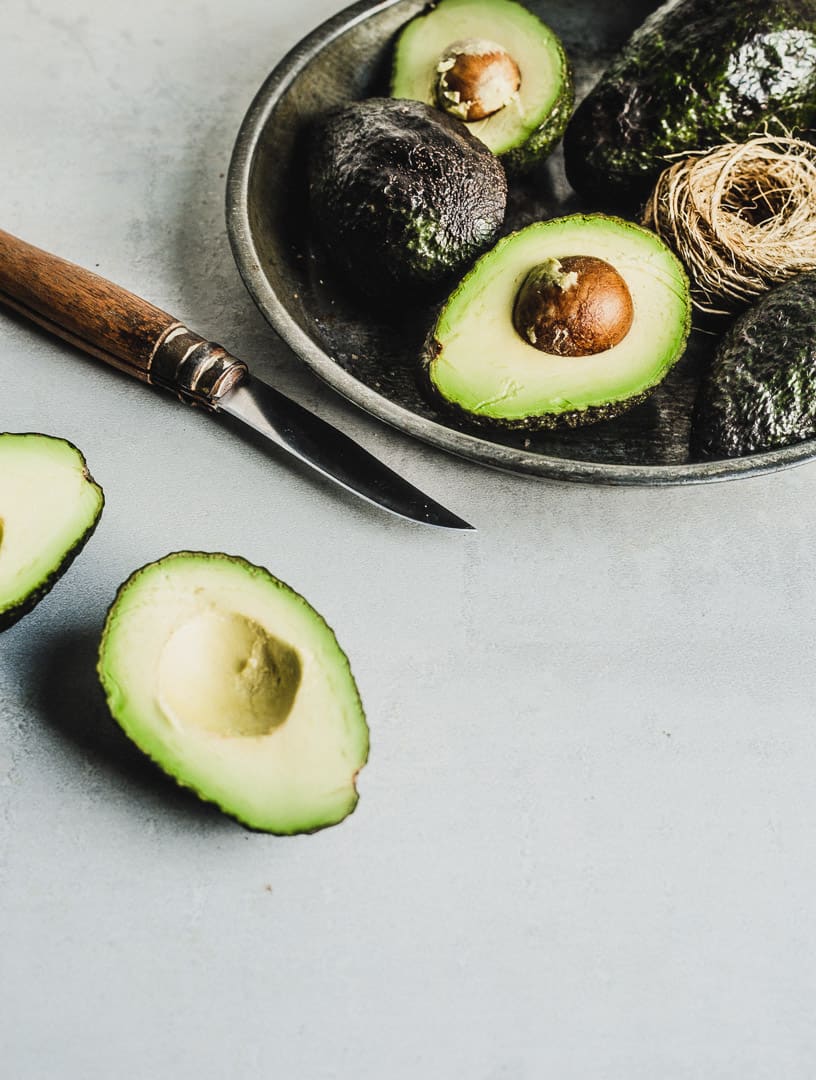 It seems like I could never get away from my first misleading connection with avocado, and so I have to disclose another deception. For this blog, my mission is to share with you dishes containing accessible ingredients, but caught up in my own madness–who knows–I added a rarely used and out of the ordinary ingredient (in American culture): tomatillos. In a can, on top of it.
I don't know what took me over me, but lo and behold, I went overboard. I hope you will forgive me. This is something quite correctable, you'll just have to replace them with red tomatoes.
In short, it was quite an experience.
If you try this recipe, I want to know about it! I always appreciate your feedback. Leave a star rating in the recipe card right below and/or a review in the comment section further down the page. You can also follow me on Pinterest, Facebook, or Instagram. Sign up for my email list, too!