I fell down the rabbit hole of baking.
My curiosity was sparked by treats when, on the one hand, I had a power outage at the beginning of April — thankfully, I had time to enjoy my sweet potato gnocchi; on the other hand, I was able to save my cartons of plant-based milk.
Well, the result is that I am now stuck in the confection of "petits gâteaux" (small cakes, i.e. cookies), like the French say. What? I had to find something to accompany this sweet liquid, damn it! I certainly wasn't going to eat all this deliciousness straight from the pot with a spoon!
Anyway, if there's one thing I'm not, it's a baker. No, I don't bake. I-don't-bake. You'll never see me in front of my stand mixer making those heavenly treats. This dusty thingy my partner bought is sitting above my kitchen cupboards. Forget taking a candid photo of me with a whisk in hand and cheeks powdered with flour (although it would contrast beautifully with my chocolate skin).
OK, I admit I tapped into this universe with blueberry and chocolate muffins, chocolate mousse (silken and no-bake), and plum crumble. Hmm... Does zucchini bread or pumpkin bread count? They contain vegetables 🫥.
Anyway, since I made vegan condensed milk, I don't know, I've developed a taste for indulgence, and oatmeal cookies appeared on my baking sheet as if by magic. The rest was catastrophic.
Like a thief in the night, I saw myself sneaking into the kitchen several times to slip my hand into the glass jar. I saw myself leaving miniature and compromising evidence of tastings on my desk. I saw myself... 🫢 staying in my hideout to savor each bite in peace.
Anyway, I don't remember ever liking oats. Oatmeal and I usually don't get along. As a child, I threw oatmeal porridge in the toilet bowl when my parents weren't looking. The texture, both sticky and pointed, made me gag. Later on, muesli or granola changed my mind.
And now, without fail, oatmeal chocolate chip cookies have won me over.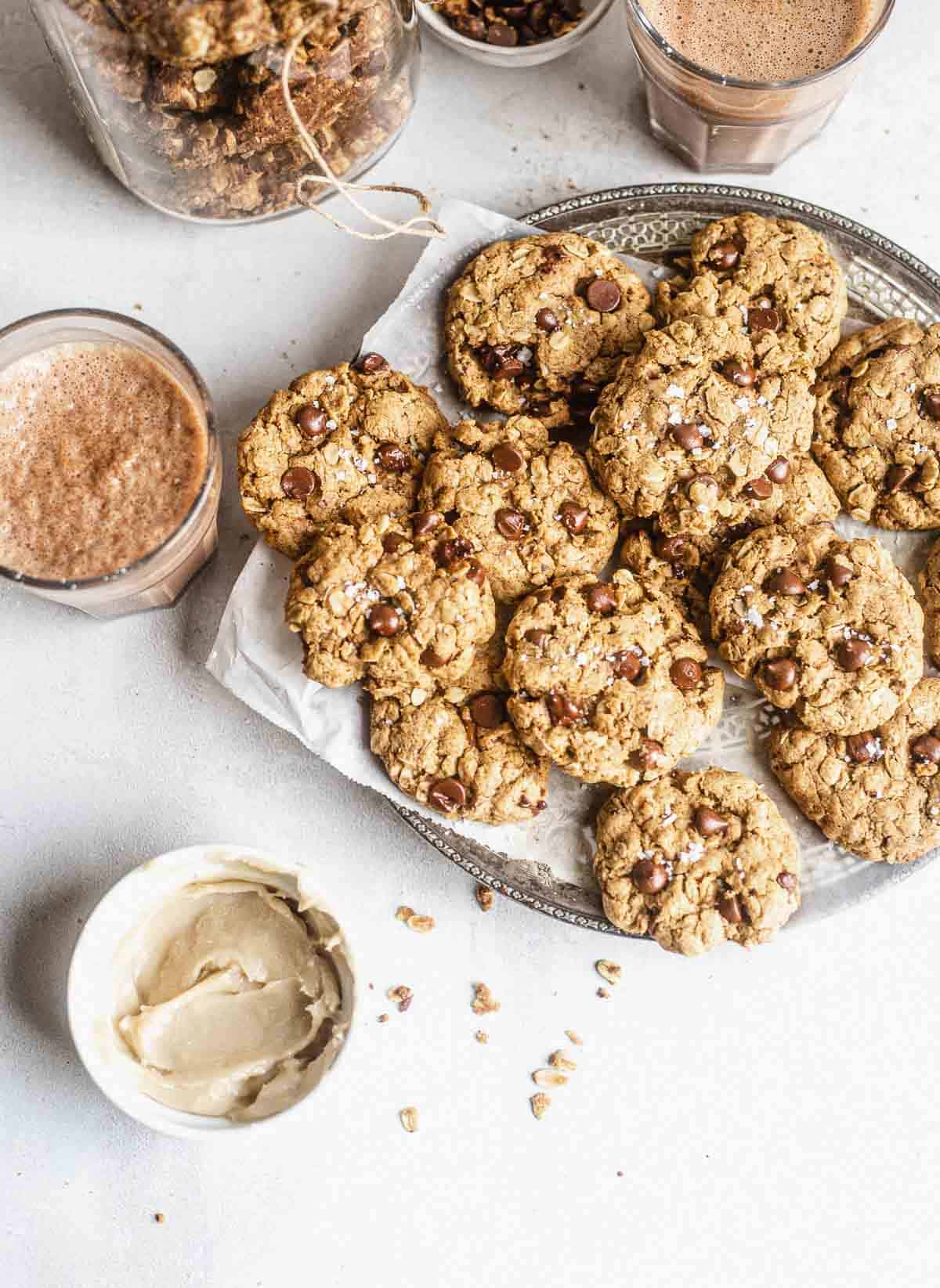 These cookies are effortless. They're perfect for staying in my recently adopted theme, "cooking with simplicity." If desired, you can do it in two stages. You can mix the dry ingredients first and return to the recipe later.
And if you're in a rush, you can also make the cookie dough 24 hours before. However, I advise you to leave it at room temperature and not in the fridge, especially if it's resting in a not-so-tight recipient. You may end up with cookie dough that's too hard, dull and floury balls, chocolate chips all faded in the cookie dough, and ultimately, crumbly cookies before and after baking. Trust me. I've been there.