No matter how hard I try, I tend to start my projects with a bang, high-spirited, joyful, and excited, but I struggle to finish them. I am comparable to a well-inflated balloon, which goes awkwardly pfff-fff because it has not been tied. Over time, my initial enthusiasm fades.
For example, I've been sharing recipes online since my son learned to stand on his own two legs. Maybe 11 years old today? I start strong and pfff. I'm coming back strong, and again pfff. I go again strong and… do you see the trend?
But maybe, it will be different this time. Last week, we witnessed something magical: last week, the date was 03-23-2023. _3, _3, _3. I wanted to write to you then, but I missed the opportunity. Pfff… Today, it's 03-30-2023, and here is my second chance!
In numerology, it is said that good things happen in a loop of 3 elements: the birth-life-death cycle, the mind-body-soul connection, the 3 acts of a typical story… Wherever the number 3 appears in our life, it is usually an omen of curiosity, optimism, communication, and creativity.
Let's see, let's see.
Curiosity: I developed desires to read stuff outside of what I was used to and to learn new software despite my flaccid brain like a jellyfish washed up on the beach;
Optimism: I screwed a dish of stuffed peppers with tasteless, overcooked rice in too raw peppers after 45 minutes of cooking. My sweet potato gnocchi was… well, too rubbery. But I thought it was wonderful. I learned good lessons from it. Oh! I just got my Instagram account suspended, but life is good.
Communication: I am writing to you a week after my Vegan French Onion Soup recipe! 👏
Creativity: I abound with new ideas and let myself be inspired by my environment. Take last week. We witnessed all kinds of weather: last Friday, we had mild weather (I saw a guy, unaware of what to expect, walking around in a T-shirt in the street); and the next day, we had a heavy snowfall (mmh! hmm! I told you he was wrong). So it occurred to me that it wouldn't be too crazy to create a recipe that included root vegetables in early spring (my excuse for introducing this dish late).
After all, Nantes carrots and parsnips are still on the shelves, preparing for their seasonal way out here in Quebec. So giving them their last moment of glory before the end of the month is only fitting.
These earthy veggies end up in a humble, far from epic dish. But since my high ambitions tend to lead me into decision-making meanders and then idleness, I hope the path of modesty — unpretentious culinary projects — will be my salvation.
In any case, it is a small dish that leaves a strong impression in the mouth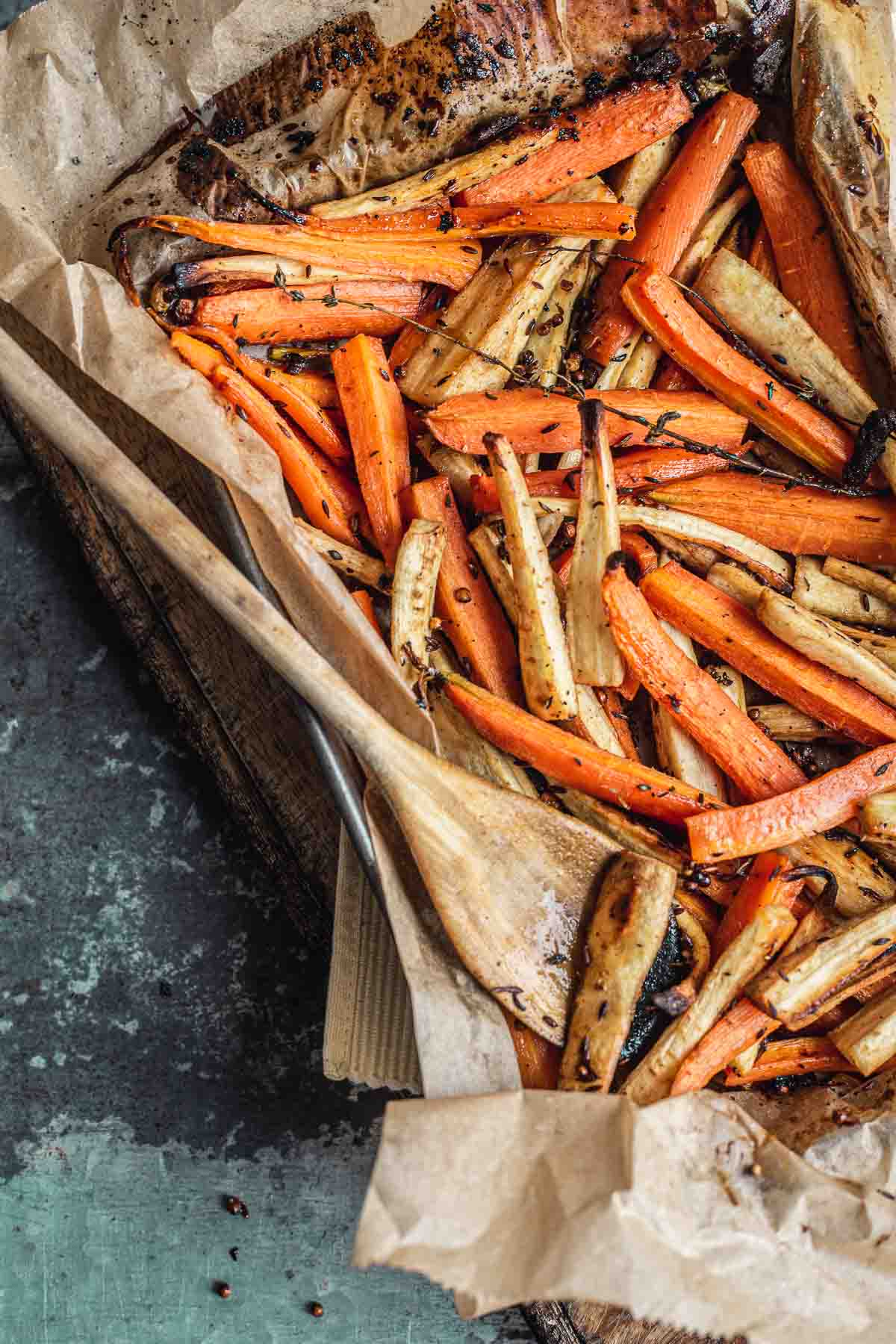 Ok, listen, this recipe is not strictly vegan.
It contains honey. In my defense, I have never eliminated it from my diet because I have always believed that it is full of benefits (anti-many-bad-things properties). Of course, I know about the naughty, naughty beekeepers. But I am also aware of conscientious ones who feed their bees well and only take excess honey. Anyway, I don't want to get into this debate. I don't want to fall into activism.
If you do your best to eat healthier and consume better products, I respect you.
In any case, many other I-dunno-what-type-of syrups are less nutritious and comparable. When MeliBio, this honey without bees with fermented ingredients, will come to town, we'll bring up this subject again.
One thing is for sure: I should not be waiting before the fateful pfff and before the cycle of (re)starting-slowing down-disappearing haunts me.
For now, this side dish is the beginning of my momentum… continued momemtum.
Get the recipe →