The sweet potato gnocchi were a hit, if I may say so. Thank God I was able to enjoy them before the icing rain that covered all of Montreal, leaving us with no electricity since Thursday! What an Easter weekend !
Anyway, I spent the weekend taking care of it, a bit like my Vegan French Onion Soup. No, no, I assure you. It doesn't take long to do, really. It's just that now that I'm trying to relaunch myself in this culinary blog, I've also split myself into a video director and an editor, you see.
(Sigh) I have loads of videos of my latest recipes waiting on my hard drive, but I get lazy when it comes to editing. (Ôôôm… Do things modestly and little by little.)
Anyway, I made the sweet potato dough on Saturday, which was much more docile than last time. I used the hard method so as not to miss the consistency again. Like Ellie in an episode of The Last of US on Netflix, I went wild on the sweet potatoes with a fork (the Ôm quickly disappeared here), I put them in the oven and waited for them to soften to mash them.
I shaped the dough into a ball, starving it severely of excess flour; I slapped it two or three times on its plump butt cheek to prevent it from acting stupid like the other time; I split it into four pieces, then rolled it into sausages, pressing it hard. Ultimately, I cut each roll into small sections, which I locked in my refrigerated dungeon.
The next day, I scolded them through the lid of their airtight container. I didn't want to see any misconduct. The pieces had softened a bit but were nothing like last time's big, catastrophic, compact, sticky lump. I started cooking by sautéing them in… OMG 😱, butter, THE vegan butter from Miyoko's Creamery, which I have been looking for for a long time! 🎇
So, like I said, I tossed the cheeky gnocchi into the buttered skillet, mixed with some crispy sage. The pieces tried to make me regret my savage roughness and repressive authority by looking exquisite. Their orange color, as in my roasted carrot recipe, became vivified, and their backs were radiantly golden.
We tasted them joyfully, and everyone was delighted that these little cushions of happiness were soft to the bite.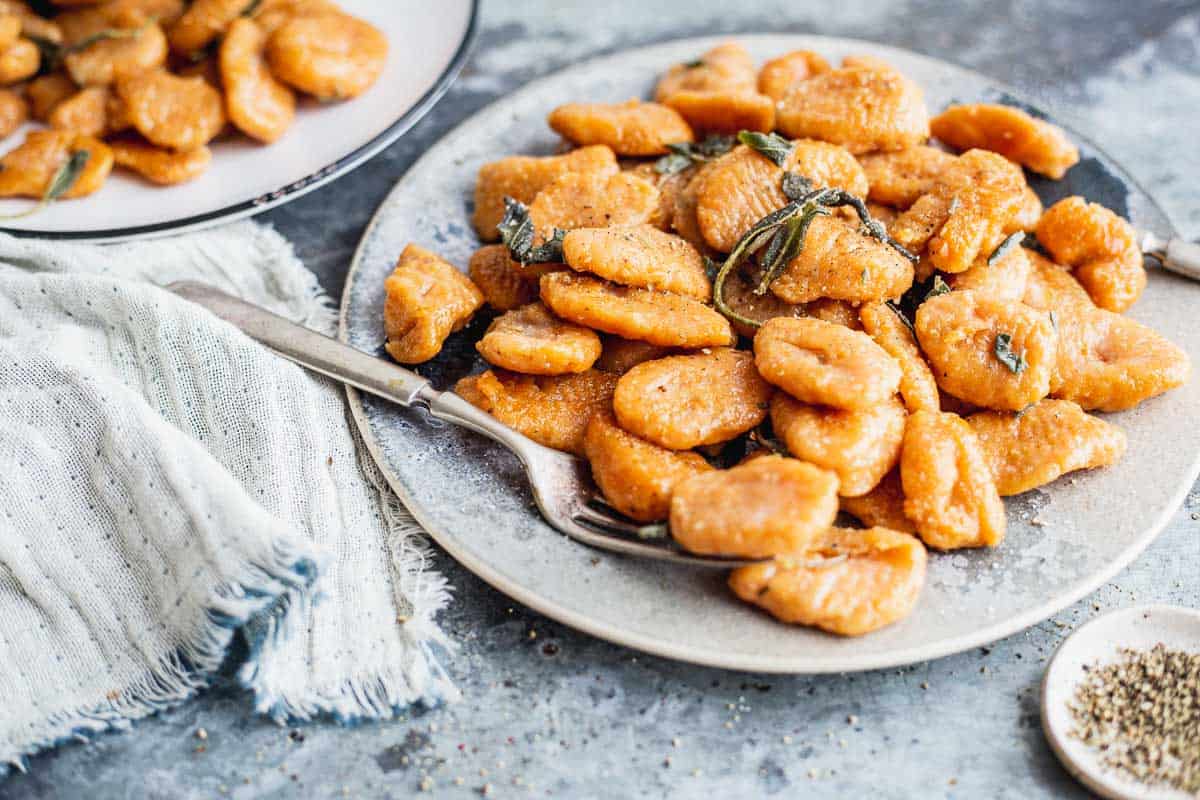 In Italian, the word gnocco (gnocchi in its plural form) means a small lump, such as one that could be raised by suddenly hitting your head against a hard object. Gastronomically, however, gnocchi shouldn't be hard little lumps at all. Whether it is made from potatoes, semolina flour, spinach and ricotta or, as here, sweet potatoes, their main characteristic remains unchanged: good gnocchi must be soft and light as clouds.
As they are in my recipe.
---
PS Compared to the bacterial culture vegan butter from the Miyoko's Creamery brand, I remembered that I had seen it once at the Jean-Talon market, and I was convinced that this gnocchi would be tastier with this kind than with Earth Balance brand non-dairy butter. So, I went to the place 45 minutes before the closing time—just after checking out the Librairie Gourmande, of course—and I got four packs at $10.95.
PPS. Another topic, I gave up my battle with Instagram and had to start over. I need to plan content posting, and there won't be anything anytime soon. In the meantime, could you subscribe to my account? Since the French one has also been eliminated, it will be bilingual. Click here now.