Are you ready for a dose of dairy-free goodness? Vegan condensed milk answers all your dessert dreams. Whether you're whipping up a batch of fudgy brownies or perfecting your pumpkin spice latte game, its creamy texture has your back.
In addition, it requires only two ingredients and with 5 minutes of prep time!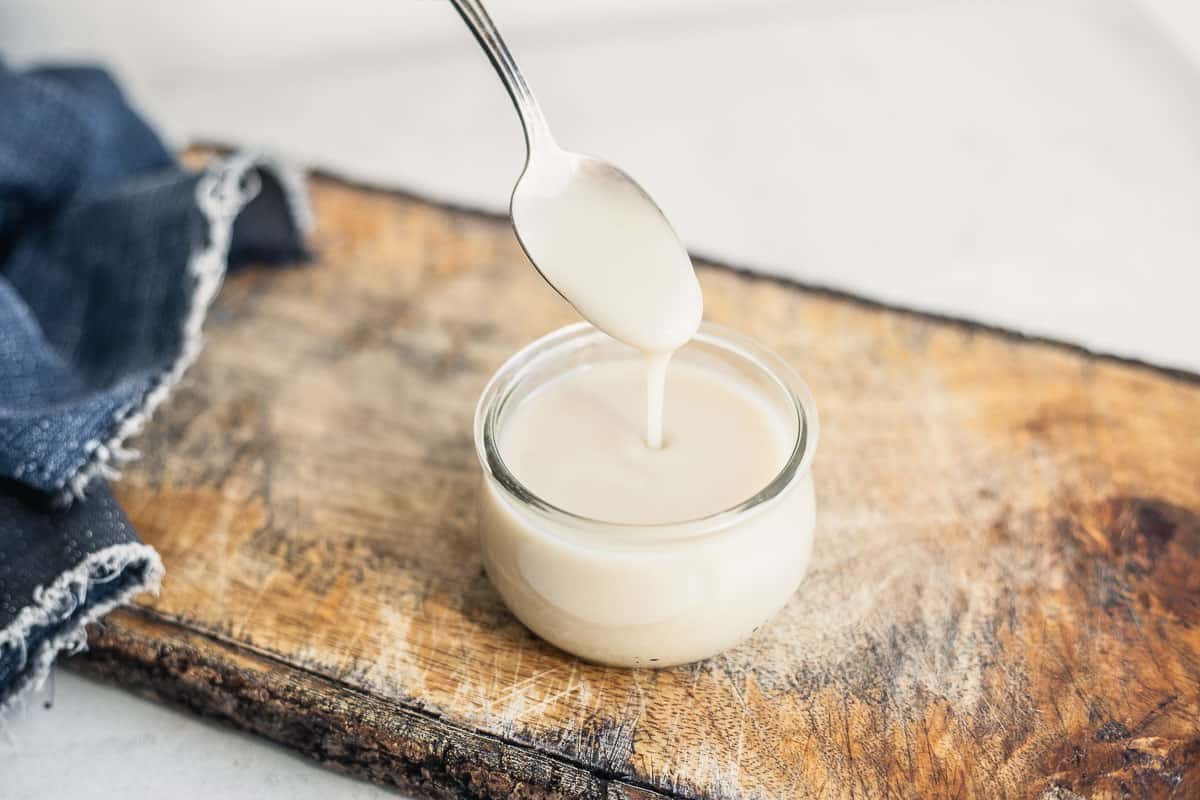 ---
Watch How it's Done
Watch the recap with this Vegan Sweetened Condensed Milk Web Story. It's done in the blink of an eye!
Jump to:
Why this Recipe Rocks
Who says basic recipes are less important than elaborate ones? After my Coconut Whipped Cream and Half-and-Half, it's time to switch to a condensed milk vegan substitute. Of course, you can try store-bought vegan version (such as Carnation since 2020, Let's Do Organic, or Nature's Charm in North America) at health grocery stores or online. Or, you can save some money by making it yourself.
Like the traditional recipe, it uses non-dairy milk and sugar to create a vegan twist with the same texture and taste. By the way, my recipe is healthier. First, it's low fat and low calories. Second, it does not contain refined white granulated sugar (or brown sugar, which is actually white sugar disguised and colored with molasses). I opted for organic cane sugar. I agree sugar is sugar. But who can blame a girl for trying to do better?
And it gives a good result.
This sweetener's and coconut milk's aroma creates a sweet and comforting smell. The smooth and creamy texture is pleasing to the eye and catches the eye of dessert junkies. But the true pleasure comes when you taste that creamy smoothness. The sweet and light taste goes perfectly with classic desserts without sacrificing taste.
Gone are the days of missing out on all the creamy goodness that need sweetened condensed milk.
What Goes in It?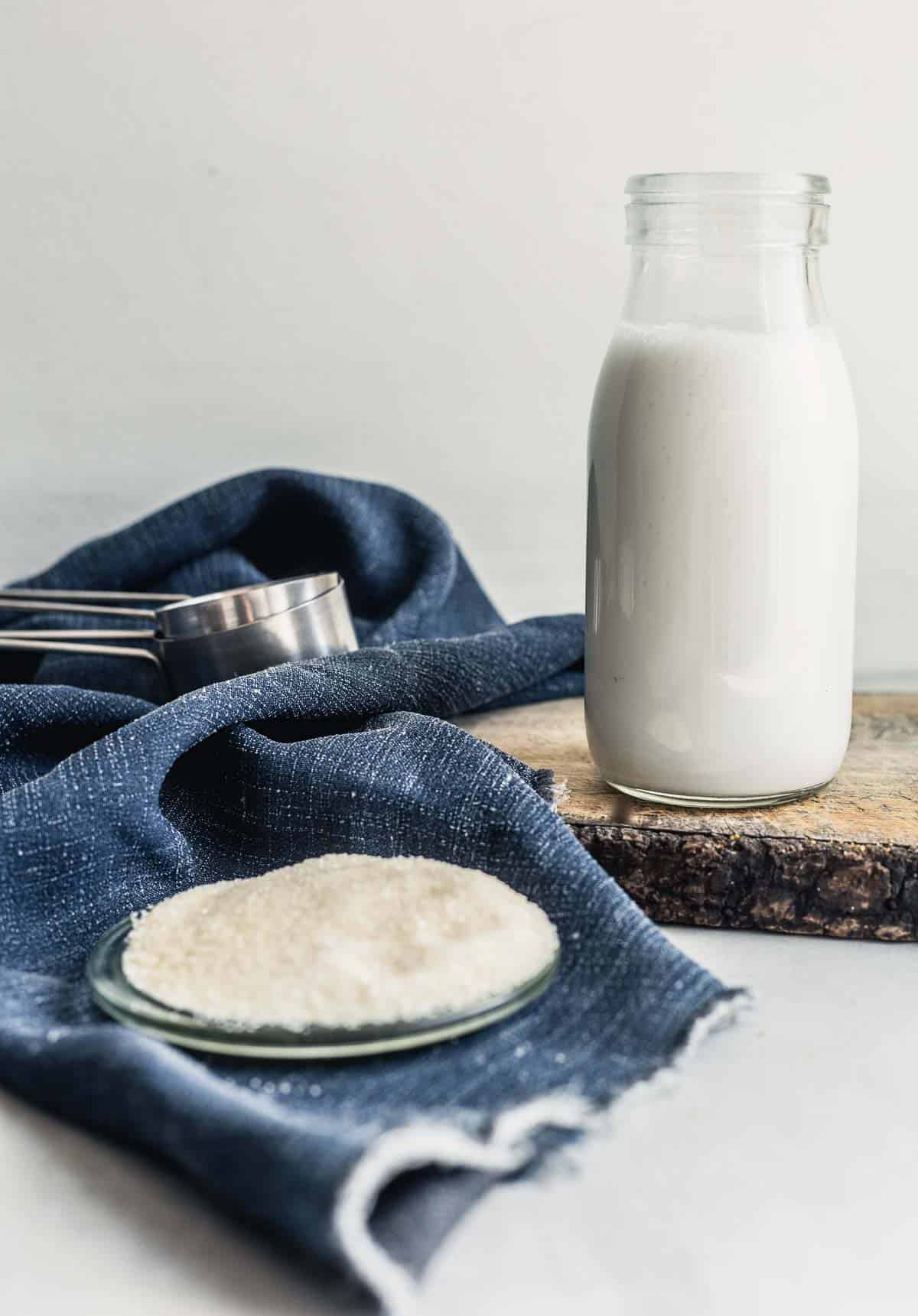 Notes on some ingredients
Full-fat coconut milk. Take canned coconut milk and without an emulsifier such as guar gum. It imparts a thick, creamy consistency. Forget lite coconut milk and the kind that comes in cartons. Coconut cream works too.
Golden canne sugar. Take it organic if you can.
Click here to see the exact quantities in the recipe card.
Simple Substitutions and Add-ins
Give it a floral note. Add a teaspoon of vanilla extract for an extra splash of flavor.
Play with sweeteners. Use maple syrup or coconut palm sugar for a stronger taste.
Lighten the texture. For a less creamy sweetened condensed milk (but why, oh, why?), instead of coconut milk, use any milk substitute, such as almond milk, oat milk, or soy milk—if you don't have an intolerance— or cashew cream (mix 1 cup cashews + ½ cup non-dairy milk + ½ cup sweetener in a high-speed blender ).
Double your pleasure. Add a tablespoon of unsweetened cocoa powder for sweetened condensed chocolate milk.
The Special Diets Corner
If you have food intolerances, here are some ideas for making this dish...
Low-FODMAP vegan. Replace sugar with xylitol or erythritol (not tested yet, though).
Get Your Free Plant-Based Eating Toolkit and More
Subscribe to my newsletter and unlock my plant-based course, nutrition charts, recipe secrets, and exclusive updates to prepare wholesome, varied & balanced meals effortlessly. All you need is a good appetite. Subscribe!
How to Make this Vegan Condensed Milk Step by Step
Just heat the coconut milk and sugar in a small saucepan ① and let it simmer for 45 minutes on medium to low heat, occasionally stirring until it has the same consistency as the traditional version ②. The thick liquid should reduce by about half ③ and turn from white to caramel beige (it will be darker if using coconut sugar or maple syrup).
Once it has cooled, pour it into an airtight jar ④ or use it immediately in your favorite vegan recipes.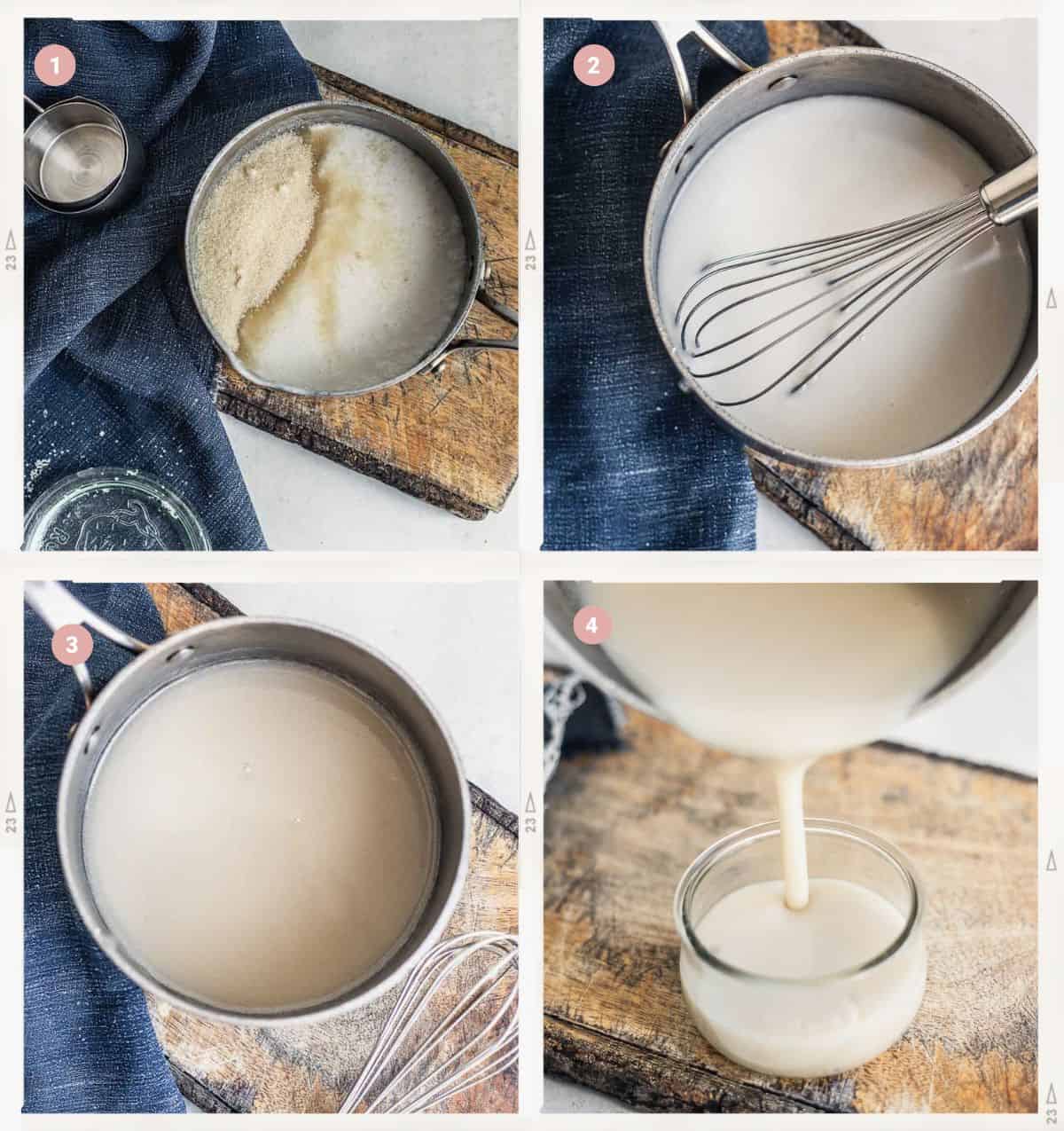 The Keys to Success: My Top Tips
For great sweetened milk, choose coconut milk wisely. Use a can of whole coconut milk instead of low-fat coconut milk for a rich, creamy texture. This will also ensure a higher healthy fat content.
Stir well for a texture that's swell. Mix the coconut milk and sugar properly. Use a whisk or an immersion blender to ensure the sugar is dissolved in the coconut milk.
If it boils quickly, turn down the heat instantly. Monitor the cooking process and cook the vegan condensed milk over low heat and stir regularly to prevent it from burning or sticking to the bottom of the pan.
For true appreciation, follow the cooking time's indication. Don't let it reduce too much, or it may become too thick and harden as it cools. This brings me to my next point.
If it's too dense, add water; the result will be immense. Condensed milk with too much water evaporated will create a hard magma-like mass. Anyway, the denser it is the more caramel-like color it has.
Essential Equipment
A medium saucepan to mix the ingredients.
And whip to homogenize the ingredients.
And airtight storage jar.
Answers to Your Burning Questions
What is sweetened condensed milk?
Traditional sweetened condensed milk is made from regular cow's milk, where more than half the water content (60 %) has been eliminated. Therefore, it's not vegan. The thick, creamy mixture is sweetened with sugar before being canned and sold. It's a common ingredient in making non-vegan puddings and pies and can also be used as a sweetener in coffee.
What is sweetened condensed milk vegan is it made of?
Vegan condensed milk is made from non-dairy milk and sweetener. In the same way as the traditional version, its water content is reduced to obtain a syrupy concoction.
What is the difference between evaporated milk and condensed milk?
They are similar but quite different ingredients. Both are created by exposing whole milk to heat to reduce it to a thicker consistency. It is technically condensed milk. The main difference is once about 45% of sugar has been added to the mixture, it becomes sweetened condensed milk.
Can we turn sweetened condensed milk vegan into caramel?
Yes, you can. Cook it with non-dairy butter and brown sugar.
How to Store this Dish
Vegan sweetened condensed milk can be stored in an airtight jar in the refrigerator for up to 10 days.
How to Use Vegan Condensed Milk
You can use it the same way as regular condensed milk in many traditional baking recipes, such as:
Cakes and pies like vegan pumpkin pie or pecan pie;
Ice creams ;
Flans;
Puddings;
Rich and indulgent vegan sauces like dulce de leche.
You can also:
Add it to the coffee;
Cook it into fudge or caramel;
Mix it into a milkshake or smoothie.
Also, enjoy it as is with fresh fruit or cookies.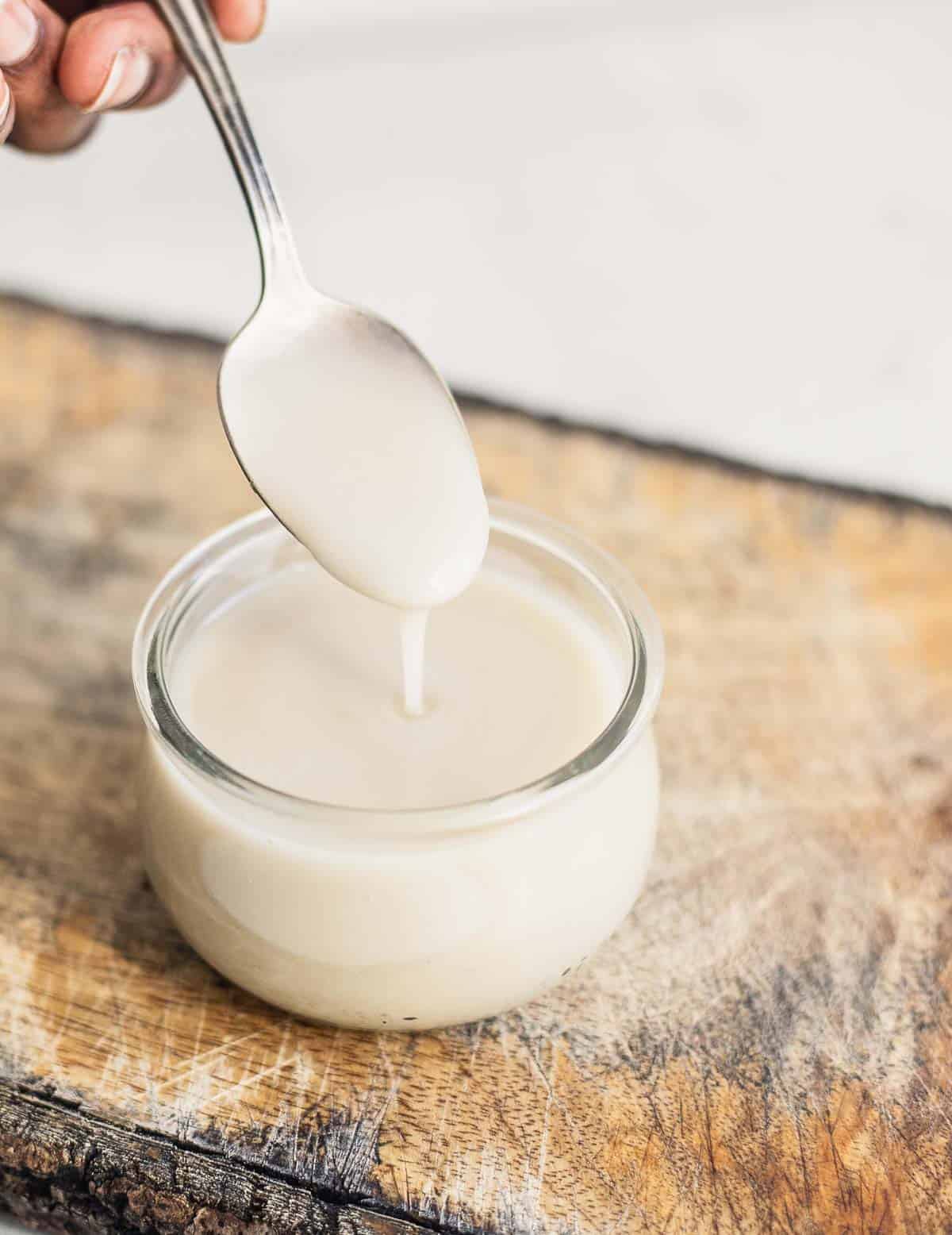 More Basic Vegan Recipes
Make this Dish Now
Are you ready to start preparing this creamy sweetened condensed milk vegan recipe?
It's a delicious, dairy-free substitute that tastes just as good as the real thing. Now, you'll never have to compromise on taste again.
Pour it over your favorite desserts, swirl it in your coffee, or even sneak a spoonful straight from the can (I won't judge!) Use it as a sweet, creamy drizzle on fruit, in baked goods, or anywhere traditional condensed milk is needed!
So go ahead. Put on your apron and get cooking!
And treat yourself to all the treats you want. After all, thanks to vegan condensed milk recipe, the possibilities are endless and guilt-free!
If you try this recipe, I want to know about it! I always appreciate your feedback. Leave a star rating in the recipe card right below and/or a review in the comment section further down the page. You can also follow me on Pinterest, Facebook, or Instagram. Sign up for my email list, too!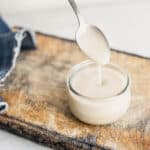 Vegan Condensed Milk Recipe
This magic elixir comprises coconut milk and sugar, creating a rich and velvety texture, perfect for all your baking needs. Whether you're preparing fudgy brownies or delicious pies, vegan sweetened condensed milk has what you need.
Save Recipe
Saved!
Print Recipe
Pin Recipe
Equipment
1 medium saucepan

1 Whip.

1 airtight storage jar
Ingredients
1

400-ml

can full-fat coconut milk

(about 13.5 oz)

⅓

cup

organic cane sugar
Instructions
In a medium saucepan, add the coconut milk and cane sugar. Mix well.

Bring it to a boil over medium heat.

Reduce heat to medium-low and simmer for about 40 minutes, stirring occasionally, until mixture thickens and turns a light caramel color. Stir also helps prevent it from overflowing the pan.

Remove from heat and let cool to room temperature. It will thicken further as it cools.

Transfer to an airtight container and store in the refrigerator until use.

Placed in an airtight container, this vegan sweetened condensed milk will keep for up to 10 days in the refrigerator.
Notes
Coconut sugar can be replaced with maple syrup or coconut palm sugar for a stronger taste or quite simply, by brown sugar.
If sweetened condensed milk is too thick, add a tablespoon of coconut milk to make it thinner.
Variants
Vegan Vanilla Sweetened Condensed Milk: add a teaspoon of vanilla extract for an extra splash of flavor.
Vegan Sweetened Sweetened Condensed Milk without Coconut Milk (lighter): substitute coconut milk with any milk alternative and create condensed almond milk, condensed oat milk, condensed soy milk, or condensed cashew milk (mix 1 cup cashews with ½ cup of non-dairy milk and ½ cup of sweetener in a high-speed blender).
Vegan Sweetened Condensed Chocolate: add a tablespoon of unsweetened cocoa powder.
Nutrition
Calories:
227
kcal
|
Carbohydrates:
68
g
|
Protein:
0.02
g
|
Fat:
0.2
g
|
Saturated Fat:
0.2
g
|
Monounsaturated Fat:
0.01
g
|
Sodium:
0.1
mg
|
Potassium:
25
mg
|
Sugar:
68
g
|
Vitamin C:
0.01
mg
|
Calcium:
0.2
mg
|
Iron:
0.03
mg
Get Your Free Plant-Based Eating Toolkit and More
Subscribe to my newsletter and unlock my plant-based course, nutrition charts, recipe secrets, and exclusive updates to prepare wholesome, varied & balanced meals effortlessly. All you need is a good appetite. Subscribe!