Disclaimer: all the information provided below is taken from the Monash University website. Please seek professional help if you're looking to follow the following diet.
I'm not ashamed to say this: food has been vigorously upsetting my stomach for some time now. I know; it's not the ideal situation since my hobbies are based on my passion for cooking and good food.
It was really bothersome. Three bites of my prepared dishes were enough to make my stomach expand as hastily as an airbag escaping from a car steering wheel.
Fortunately, only the bloating was present. Flatulence, alternating constipation, diarrhea, or even extra-digestive symptoms like fatigue or difficulty concentrating, are sometimes part of the gang. The source of this unpleasantness? Small intestine bacterial overgrowth (SIBO).
My digestive problems have haunted me since the beginning of my long diet journey in 2006, and I wanted to put an end to it. Last fall, I sought the help of a functional medicine practitioner. I was ordered to have a breathing test to analyze my intestinal gases.
After this, I learned that an excess of hydrogen and methane was nonchalantly pumping air into my gut. Fascinating.
This is how I was prescribed this special but quite effective diet to calm all this intestinal turbulence: the low-FODMAP diet.
And the start of a new food era had just begun.
→ Subscribe and Download Now: Free FODMAP Food List and so Much More!
Jump to:
CHAPTER 1 - INTRODUCTION
What are FODMAPs?
FODMAPs are a group of sugars that are not fully digested or absorbed in our intestines. When they reach the small intestine, they move slowly, attracting water. And when they pass through the large intestine, they are fermented by intestinal bacteria, thus producing intestinal gas.
The extra gas and water cause the intestinal wall to stretch and expand. As people with irritable bowel syndrome (IBS) have a very sensitive bowel, this causes exaggerated sensations of pain and discomfort.
Info: What is irritable bowel syndrome (IBS)?
It is characterized by recurring chronic symptoms, including lower abdominal pain and discomfort, bloating, gas, distension, and altered bowel habits (ranging from diarrhea to constipation) but without abnormal pathology. One in seven adults suffers from IBS.
What is the low-FODMAP diet?
It is an emerging therapeutic eating plan that may help manage gastrointestinal disorders like irritable bowel syndrome. Preliminary research also suggests that this dietary approach could benefit people with inflammatory bowel disease (e.g., Crohn's disease) and small intestine bacteria overgrowth (SIBO).
This diet relieves the SIBO symptoms but does not eliminate them. It is best to do this diet short-term only since it is very low in fiber.
Who invented it?
Sue Shepherd created a highly successful form of the fructose malabsorption diet in 1999 in her private diet practice. After this, she became a research team member who developed the low-FODMAP diet. Her doctoral research and other studies in which she participated have proven that foods high in FODMAP can trigger irritable bowel syndrome symptoms (IBS).
Therefore, limiting these foods is an effective treatment for people with symptoms of IBS.
The low-FODMAP diet has been published in international medical journals. It is now accepted and recommended as one of the most effective dietary therapies for IBS.
What does the acronym FODMAP stand for?
This is what this acronym refers to:
F for fermentable
O for oligosaccharides
D for disaccharides
M for monosaccharides
A for "and"
P for polyols
These are complex names for a collection of molecules found in food, which may be poorly absorbed in the small intestine of the digestive tract by some people. When this happens, these molecules then continue their journey up the digestive tract to the large intestine. This is where they act as a food source for the bacteria that usually live there. The bacteria then digest/ferment these FODMAPs and can cause irritable bowel syndrome symptoms (IBS).
These symptoms include bloating and abdominal distension, excess wind (gas), abdominal pain, nausea, changes in bowel habits (diarrhea, constipation, or a combination of the two).
Here's a brief description of the modalities of FODMAPs: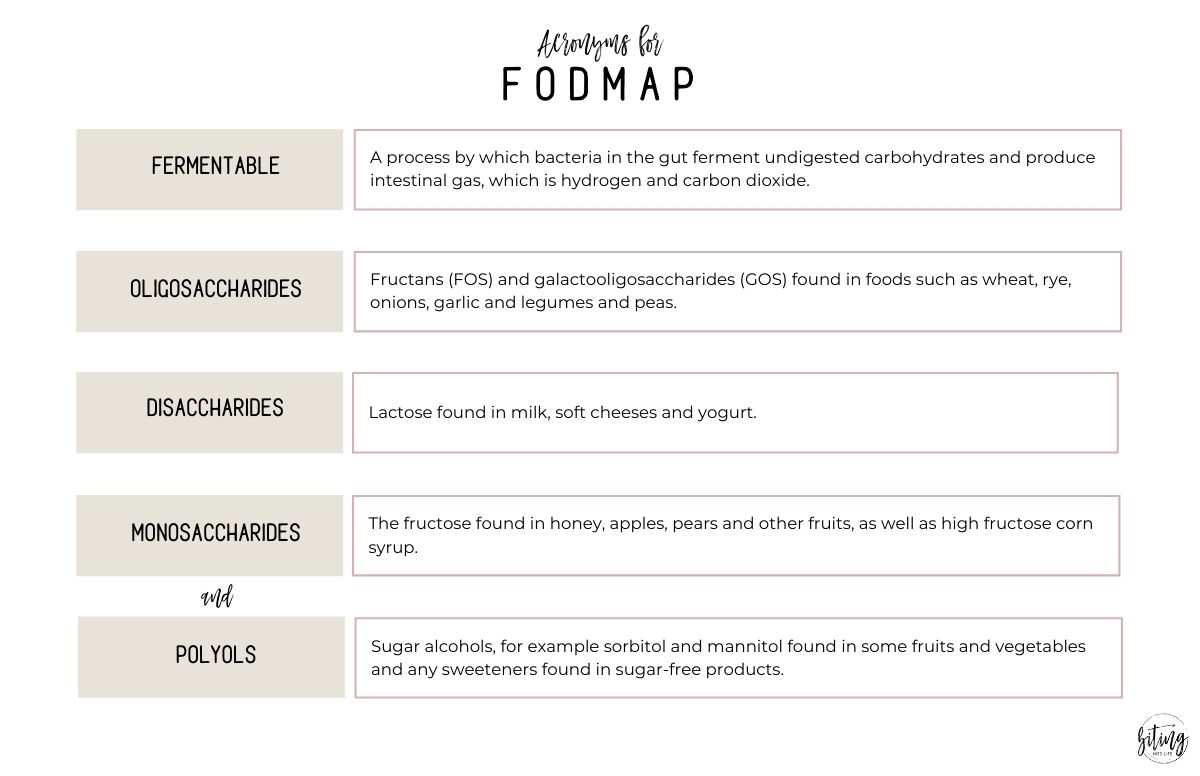 CHAPTER 2 - ADOPTING THE DIET
How do you know if you need to follow this diet?
This diet is for you if a doctor has diagnosed your gastrointestinal symptoms with IBS or if a healthcare professional recommends it. Otherwise, you should not follow this diet.
Many conditions have symptoms similar to IBS, such as celiac disease, inflammatory bowel disease, endometriosis, and bowel cancer.
We're all too familiar with that time you see a strange pimple in a weird place of your body. You start to check the Internet, and all of a sudden, you're diagnosing yourself with skin cancer or whatnot.
All that to say: don't try to self-diagnose yourself with IBS.
Instead, see a doctor who will assess your symptoms, perform the necessary tests to rule out other conditions, and give you a precise diagnosis of IBS before starting this diet.
Is this diet effective?
A low-FODMAP diet has been shown to:
Reduce pain and discomfort
Reduce bloating and distension
Improve bowel habits (diarrhea or reduce constipation)
Improve the quality of life.
These benefits are typically seen within two to six weeks of a low-FODMAP diet.
Of course, the diet does not cure the symptoms of IBS. It just helps people cope better with their digestive disorders.
A diet low in FODMAP also does not improve symptoms in ALL people with IBS.
In fact, one in four people with IBS finds that their symptoms do not improve with diet. In these people, other dietary therapies may be needed in addition to or as a replacement for a low FODMAP diet. Other therapies for IBS relief to consider include stress reduction, bowel-directed hypnotherapy, over-the-counter medications such as laxatives, fiber supplementation, or prescription medications.
Talk to your healthcare professional to learn more about other therapies to try.
What does this diet consist of?
The low-FODMAP diet has two phases. It is recommended to consult an experienced dietitian specializing in teaching this special diet for these two phases. Why? FODMAP intolerances are different from other conditions that have a single cause and have a simple solution. They affect people differently and therefore require an individualized approach.
Generally, both phases are described below, but be aware that there is no one-size-fits-all approach.
The low-FODMAP diet is most effective and nutritionally adequate when a dietitian adapts it to your needs. You mustn't rely on reading information on the Internet (even mine), books, and other literature to diagnose yourself and follow the diet on your own. I strongly recommend that you first see a doctor who can diagnose you with a digestive disorder like IBS.
After studying your symptoms, a registered dietitian trained by Shepherd Works' teachings can recommend this diet and make sure it is suitable for YOU.
What follows is just a sharing of what I'm going through. Now that this is clear, let's move on to the following paragraphs.
Phase 1
The first phase of the low-FODMAP diet usually involves strictly restricting all foods high in FODMAP for four to six weeks. The dietitian identified these foods and offered options to ensure the diet is nutritionally adequate. I need to keep a food diary and note the reaction to symptoms during this time. Later, a review appointment will follow with her to provide me with advice on the second phase.
Phase 2
The second phase is where the restricted foods in the first phase are gradually reintroduced, and the diet is relaxed to suit me. This is where the type and amount of FODMAPs I can tolerate is spotted to establish a long-term diet. It is essential to determine the level of FODMAP that can be well-tolerated. In doing so, the prebiotic effects of FODMAPs can be enjoyed, and the diet is not too restricted.
The dietitian will advise the reintroduction process to minimize symptoms and ensure maximum variety in the diet. The end result should be a long-term diet that contains less problematic FODMAPs for me than what was initially consumed, but which is not as FODMAP restricted as the first phase of the diet.
Is this diet good for weight loss?
Just because you see the inclusion of the word "diet," it doesn't mean you should understand it literally as a weight loss diet. Basically, "diet" means "lifestyle in terms of food, hygiene. "
So, a low-FODMAP diet approach is not intended as a weight loss plan.
Additionally, this is a low-FODMAP diet, not a no-FODMAP diet. Long-term elimination of these foods is neither desirable nor recommended. Again, I highly recommend that you consult an experienced professional who has followed Shepherd Works' teachings to guide you through all aspects of this diet.
CHAPTER 3 - A DEEPER LOOK AT FODMAPs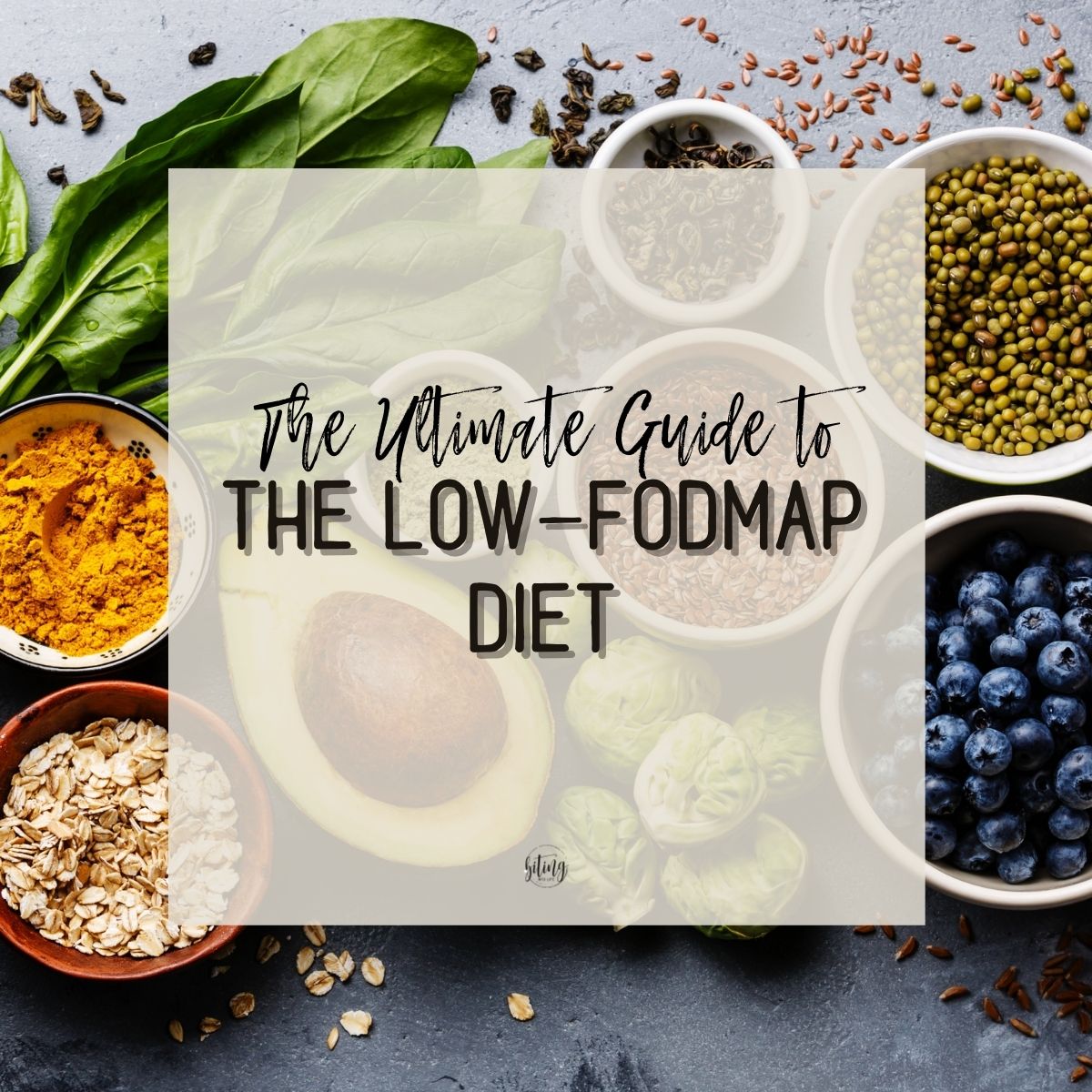 Where are FODMAPs found in food?
They are found in various foods, including fruits and vegetables, grains and grains, nuts, legumes, lentils, dairy products, and manufactured foods. This makes following this diet a bit tricky, as you can't just guess which foods will be high or low in FODMAPs.
Having a basic understanding of foods containing FODMAPs makes it easier to follow this diet. It helps you avoid unwanted symptoms of IBS.
Although many people rely on the FODMAP food lists found on the Internet to treat IBS, they are often inaccurate.
The list of foods below is taken from laboratory studies conducted by the Monash University team, published in the scientific literature. All information is publicly available through FODMAP Diet Monash University's app.
Their app uses a simple traffic light system to rate foods as low, moderate, or high in FODMAP.
When you click on each food, you will also see which FODMAPs are present. For example, the main FODMAPs found in pears are fructose and sorbitol, while those found in cashews are fructans and GOS; in cow's milk, it's lactose.
Free FODMAP Foods List
Fill out this form to access my FODMAP food list, plus all my other my nutritional charts and my plant-based diet course.

What to eat on a low-FODMAP diet?
The information below will help you understand which food groups typically contain which FODMAPs. However, for the most complete information on the FODMAP content of foods, consult the Monash FODMAP app.
Meat, poultry, and fish
Protein foods such as meat, poultry, and fish are naturally FODMAP free. However, processed and marinated meats may contain FODMAPs due to the addition of high FODMAP ingredients such as garlic and onion.
Low-FODMAP choices include plain cooked meats, poultry, seafood, eggs. In contrast, high-FODMAP options include marinated meats, processed meats (e.g., sausage/salami), and meats served with gravy/sauces. This may include high-FODMAP ingredients.
Dairy products and their substitutes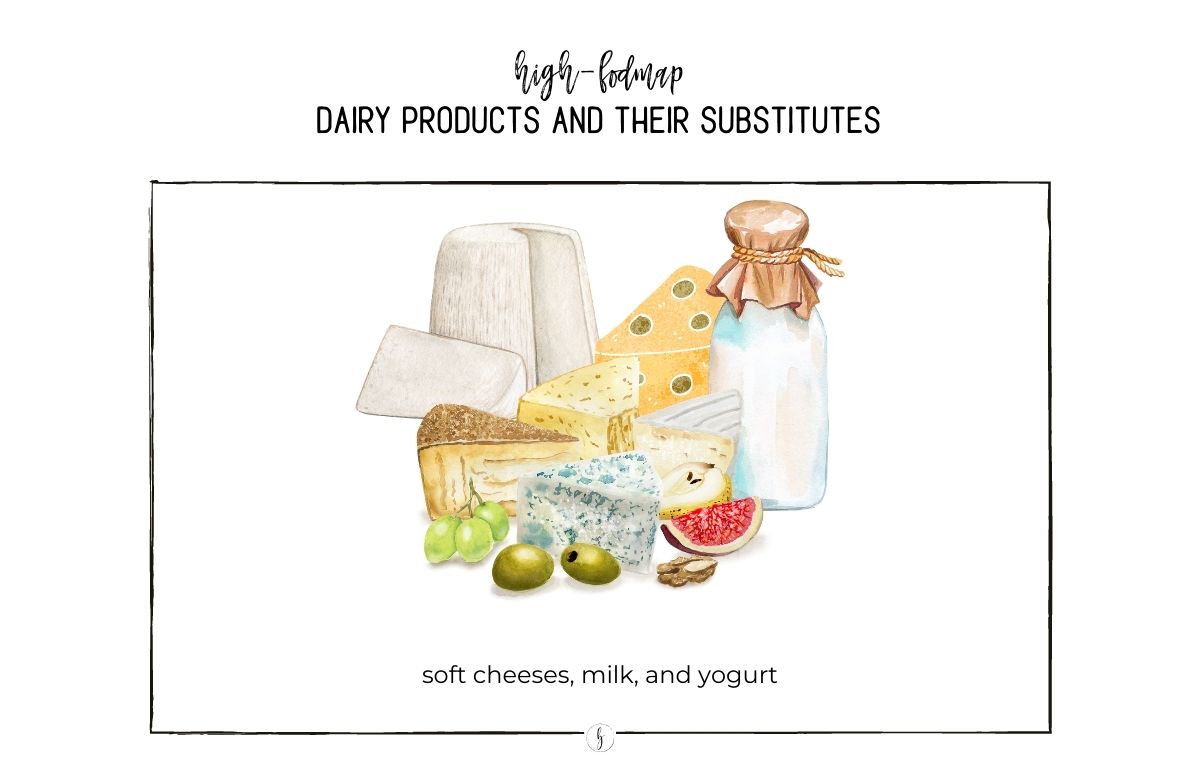 The main FODMAP found in dairy products is lactose. Dairy products high in lactose include soft cheeses, milk, and yogurt. Many dairy products are naturally low in lactose, for example, butter and cheese. For this reason, dairy products are not radically excluded from a diet low in FODMAP.
Many plant-based milk alternatives are also low in FODMAPs, for example, soy milk (made from soy protein), almond milk, and rice milk. However, milk substitutes do not naturally contain calcium, so choose varieties fortified with calcium (containing> 120 mg of calcium per 100 ml).
Fruits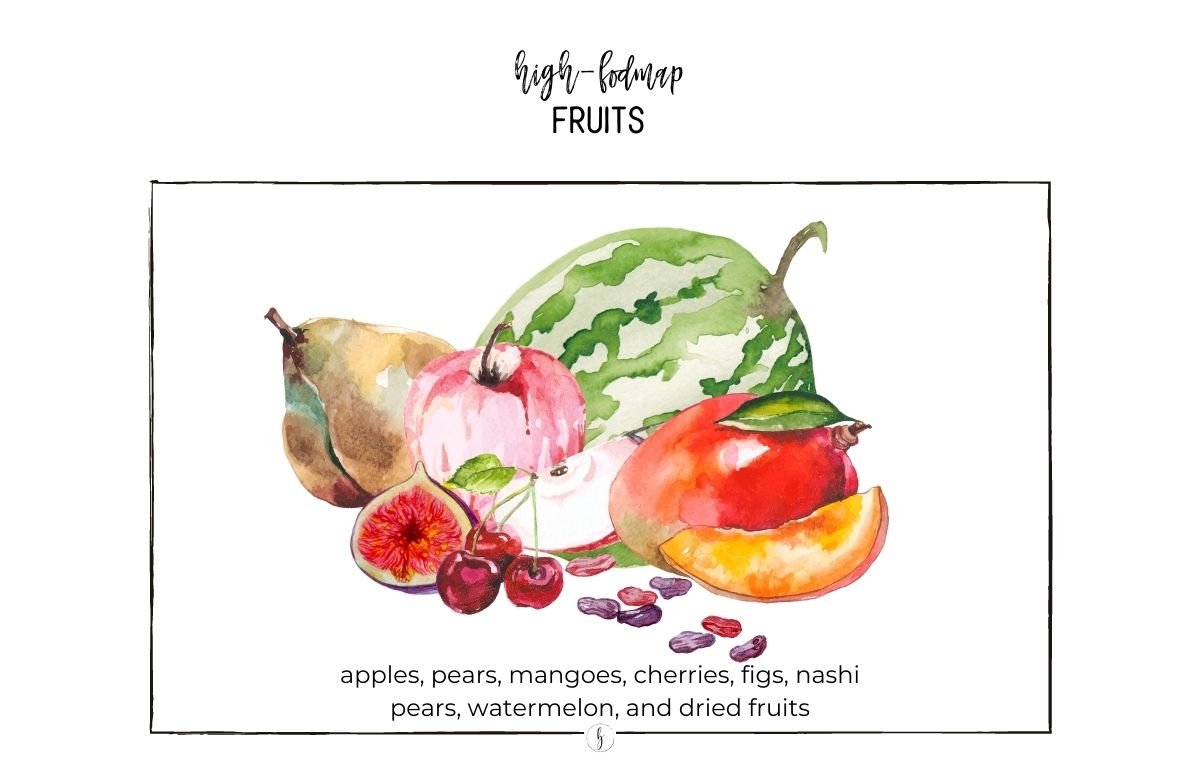 The main FODMAPs found in fruits are sorbitol and excess fructose. Fruits particularly high in excess fructose include apples, pears, mangoes, cherries, figs, nashi pears, watermelon, and dried fruits.
Fruits particularly high in sorbitol include apples, blackberries, nashi pears, peaches, and plums. Many fruits contain both fructose and sorbitol, for example, apples, pears, and cherries.
Vegetables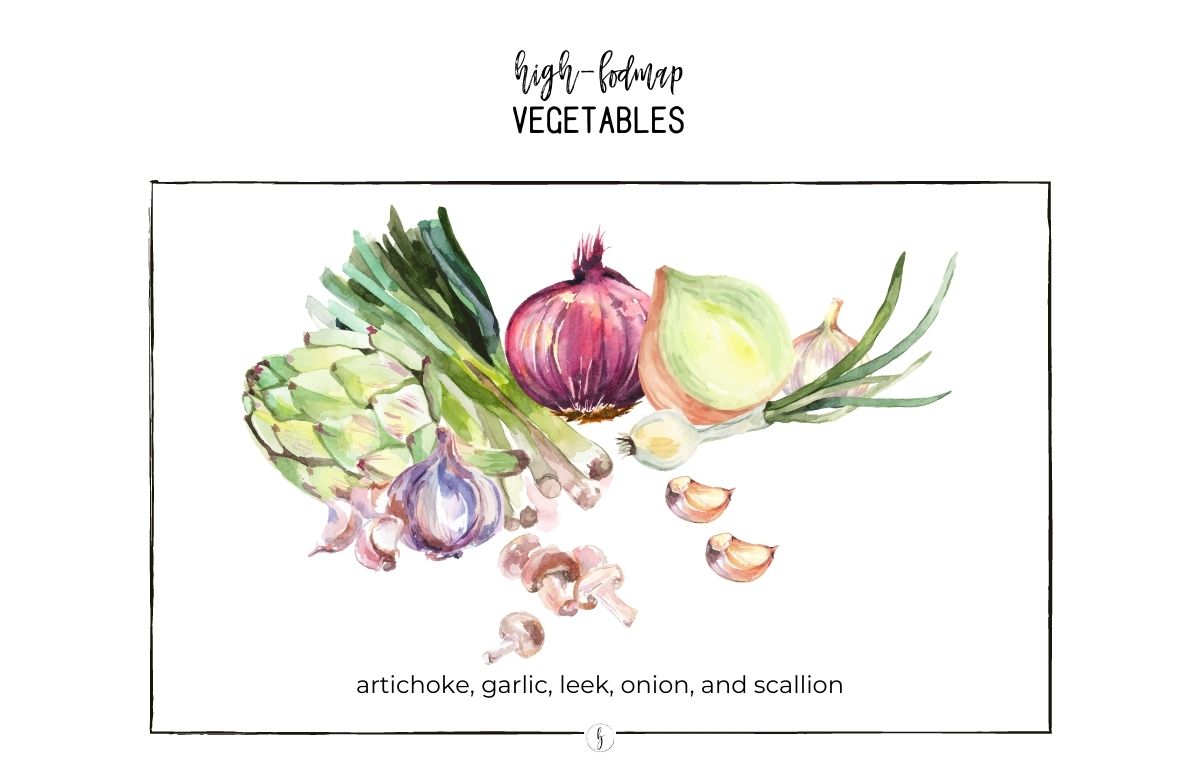 The main FODMAPs found in vegetables are fructans and mannitol. Vegetables particularly high in fructans include artichoke, garlic, leek, onion, and scallion. The ones that are particularly high in mannitol include mushrooms, cauliflower, and snow peas.
Grains and cereals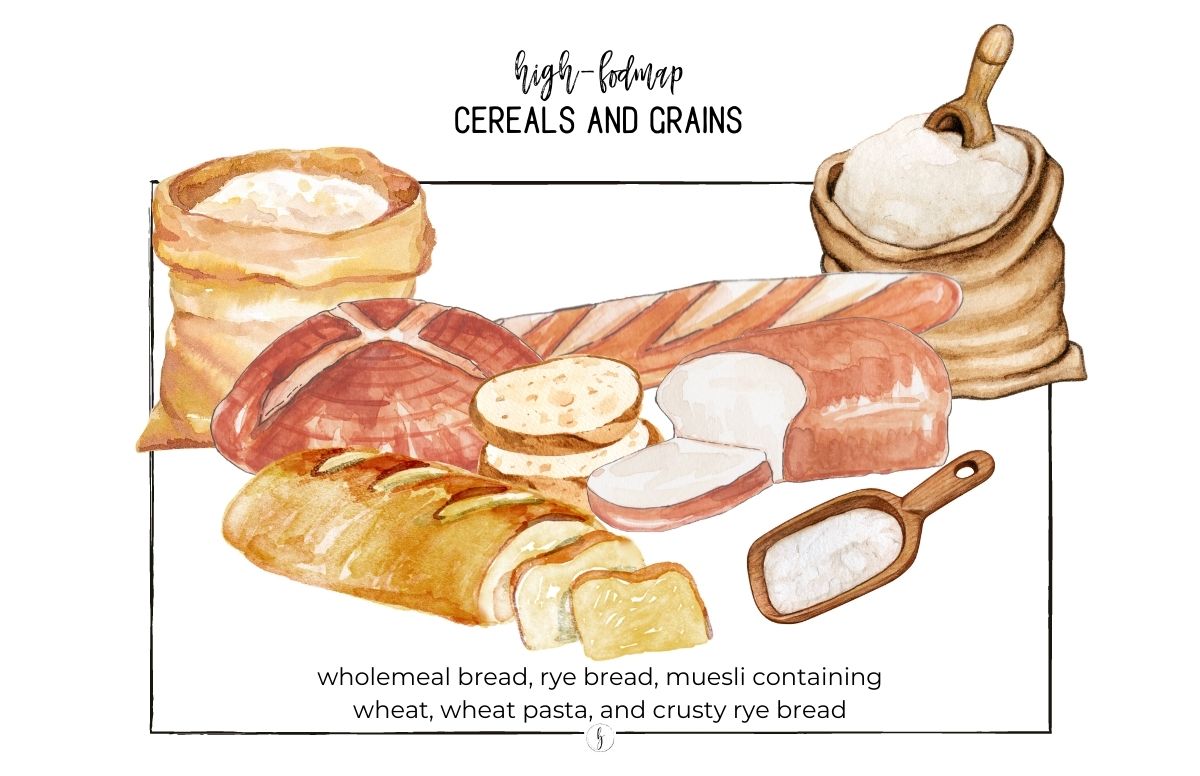 The main FODMAPs found in cereals and cereal foods are fructans and, to a lesser extent, GOS.
Grains and foods that are particularly high in fructans include wholemeal bread, rye bread, muesli containing wheat, wheat pasta, and crusty rye bread.
Legumes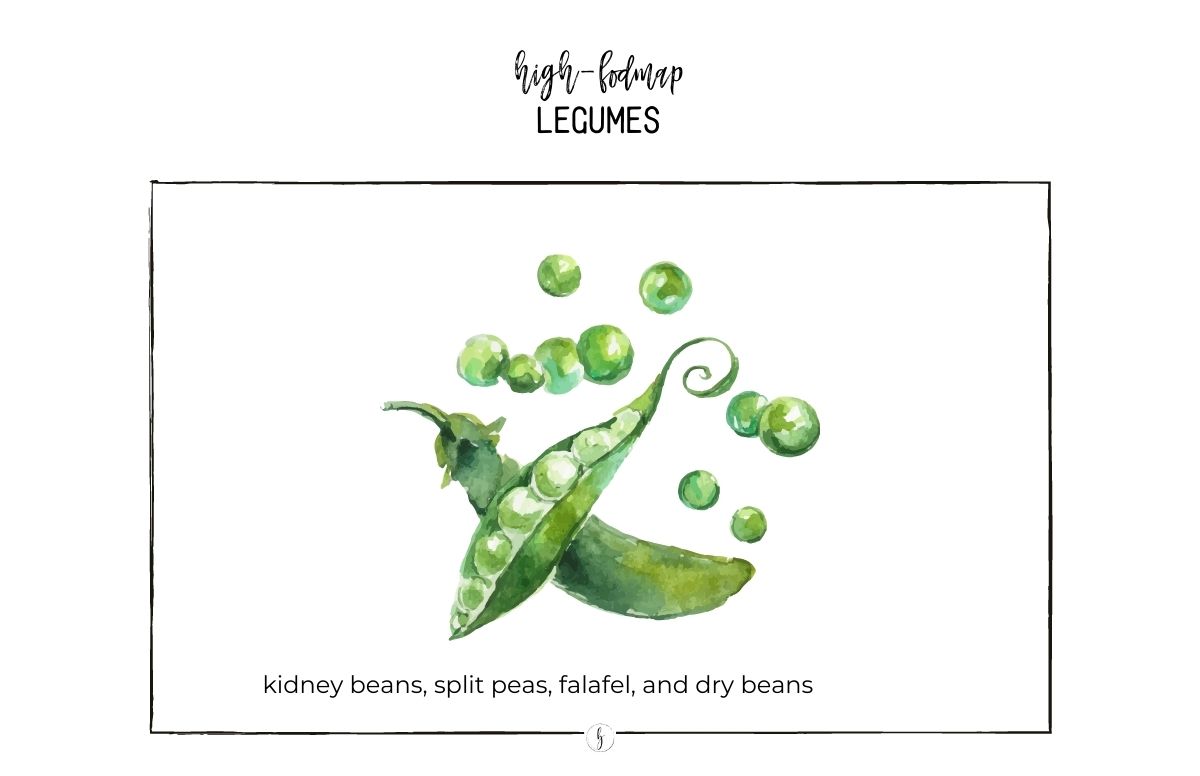 The main FODMAP present in legumes is GOS. The ones particularly high in GOS include kidney beans, split peas, falafel, and dry beans.
Nuts and Seeds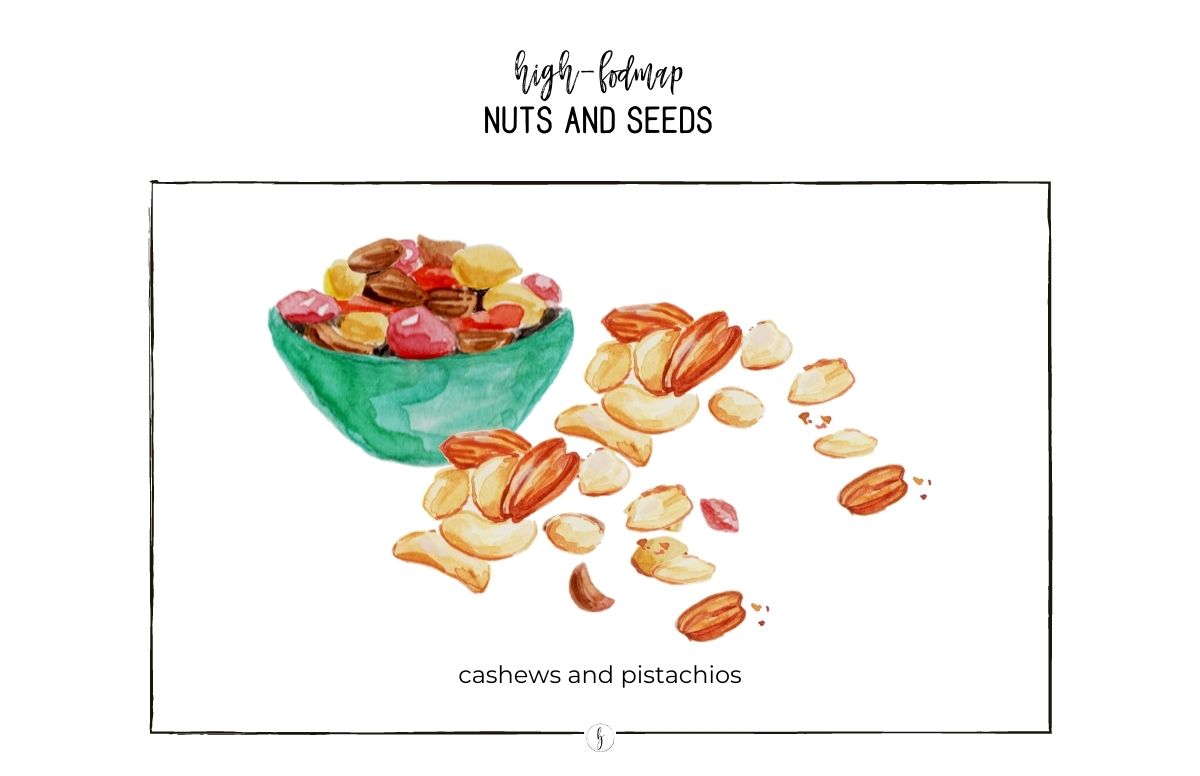 Most of the seeds are low in FODMAP. The main FODMAPs found in nuts are GOS and fructans. Nuts high in FODMAP include cashews and pistachios, while nuts with low FODMAP content include macadamias, peanuts, and pine nuts.
Sugars and Sweeteners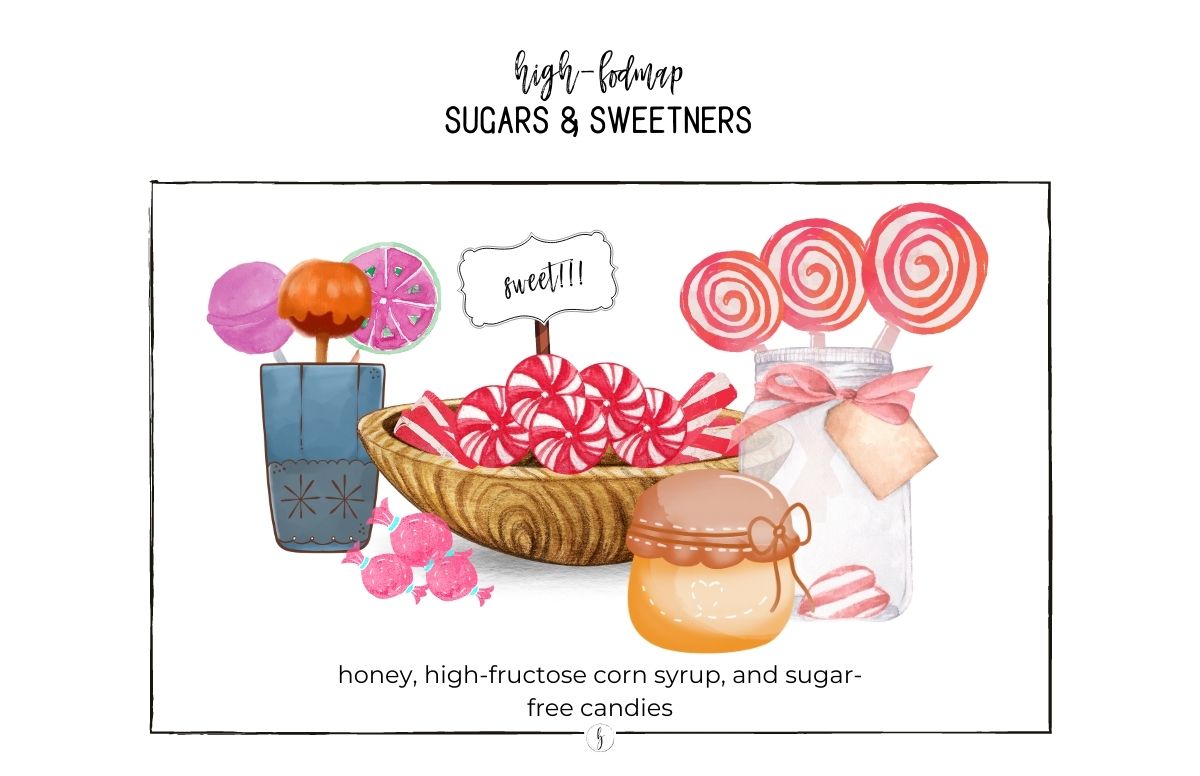 The main FODMAPs found in sugary foods and drinks are fructose and sugar polyols (e.g., sorbitol, xylitol, erythritol). It's a good idea to read food labels to identify sugars high in FODMAP, especially on artificially sweetened drinks and sweets.
Sugars high in FODMAPs include honey, high-fructose corn syrup, and sugar-free candies. Low-FODMAP options include dark chocolate, table sugar, maple syrup, and rice malt syrup.
Condiments and sauces
Some dips, condiments, sauces, and marinades contain garlic and onion. Ask for them separately or alongside if you are unsure of their FODMAP content.
High-FODMAP options include garlic/onion marinades and sauces, vegetarian minced meat. Low-FODMAP options include barbecue sauce, mayonnaise, soy sauce, chutney, cranberry juice.
The Complete FODMAP Food List
This sample food list highlights some key examples of foods high and low in FODMAP. It is essential to consult a dietitian before starting such a diet (I know, I sound like a broken record).
For the world's most comprehensive FODMAP food information database, check out Monash University's FODMAP diet app.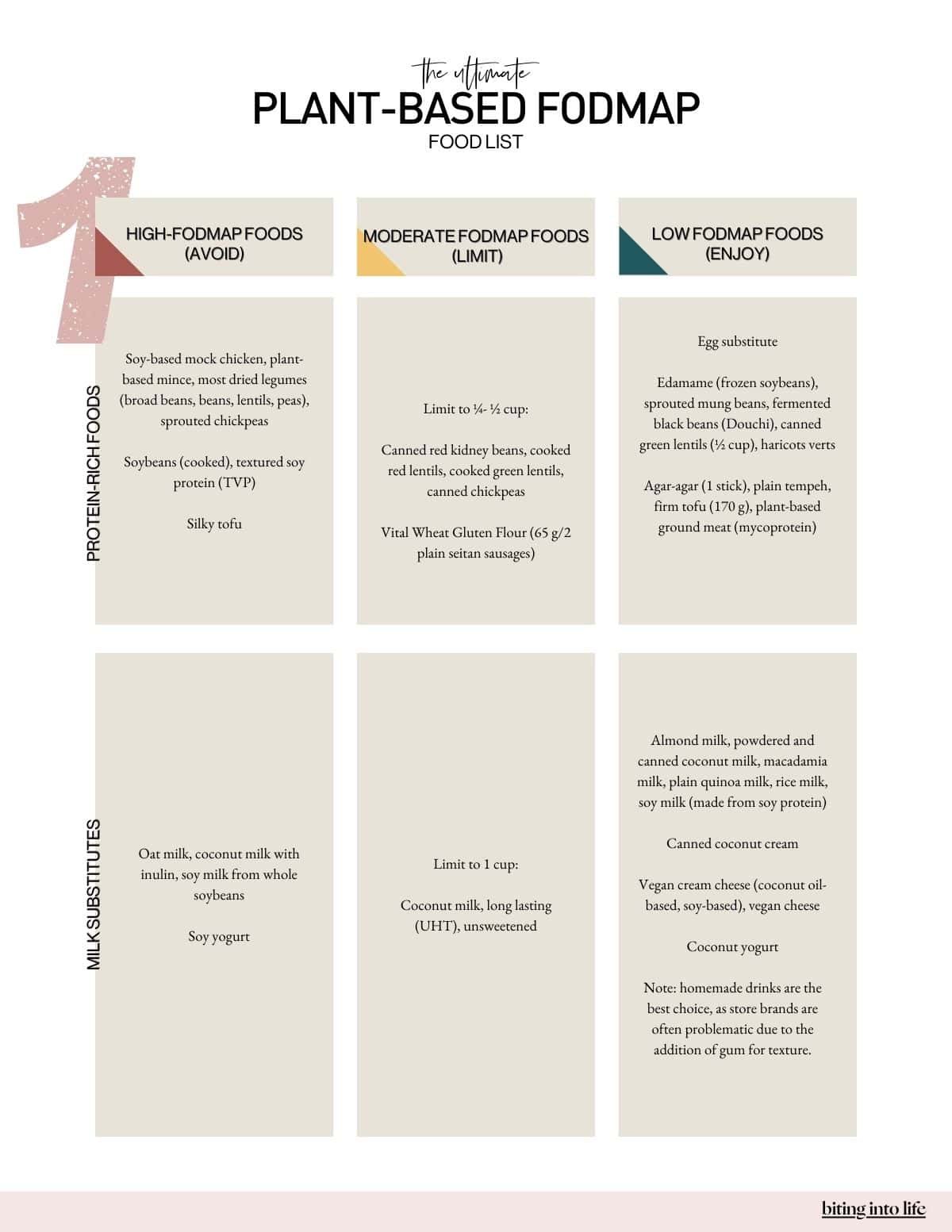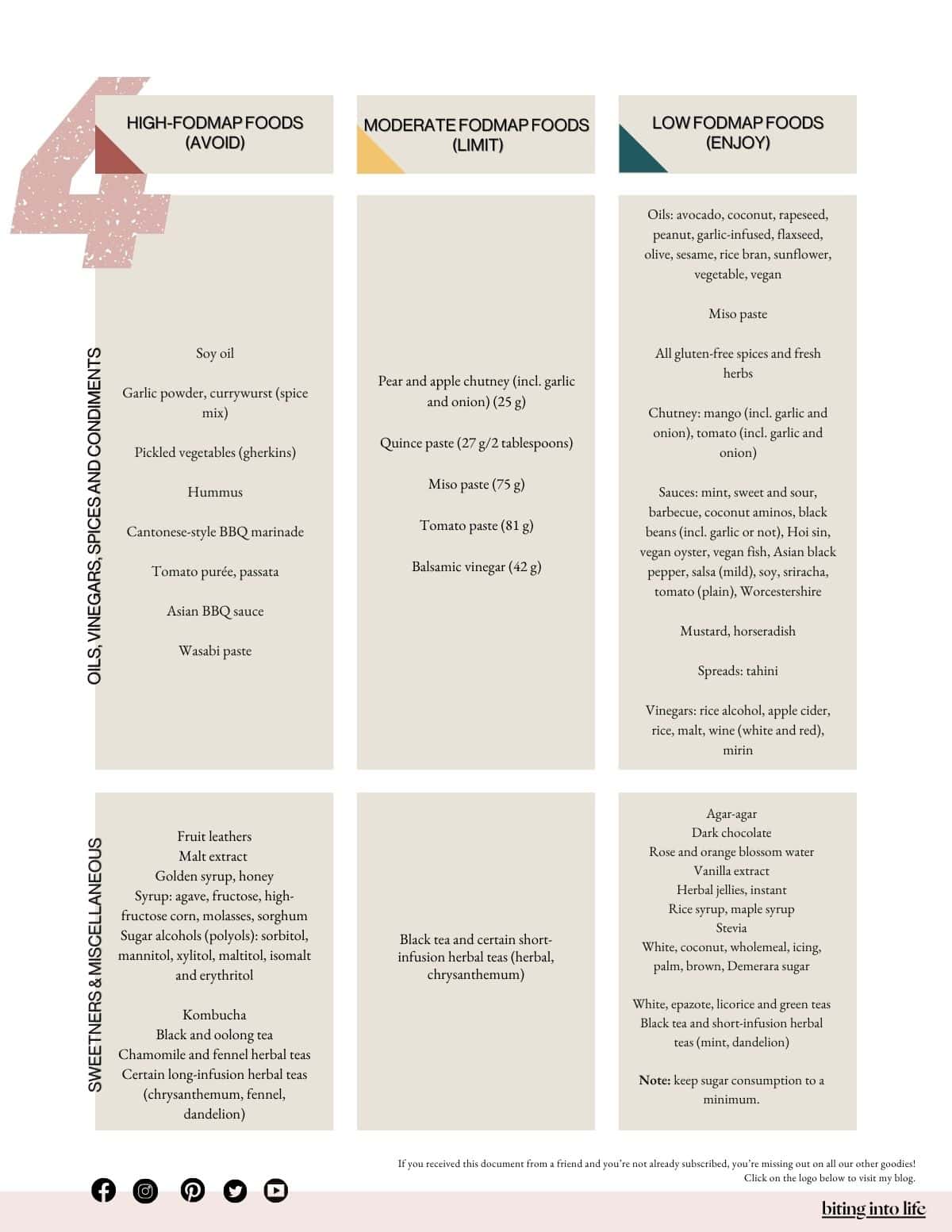 → Subscribe and download your free printable FODMAP food chart here and so much more!
The low-FODMAP diet in short
Simply put, FODMAPs are a collection of short-chain carbohydrates (sugars) that are not absorbed properly in the gut. These can trigger symptoms in people with irritable bowel syndrome (IBS).
These components are found naturally in many foods and food additives. Each person has their own "tolerance threshold": the higher the FODMAP load, the more likely the presence of symptoms.
The elimination of FODMAPs makes it possible to limit foods that are highly fermentable in carbohydrates. The low-FODMAP diet, developed by researchers at Monash University, limits foods shown to worsen the gut.
It is best to follow the Monash University diet under the supervision of a qualified dietitian or healthcare professional with experience in this specialized area. The diet begins with a high restriction period of two to six weeks, then moves on to a more relaxed diet where certain foods are gradually reintroduced.
Successfully Eat a Low-FODMAP Diet Fuss-Free
At first glance, a diet low in FODMAP can seem restricting. And I won't lie to you that you'll have to relearn how to cook.
But that doesn't mean you're doomed to eat bland food. Eating low in FODMAP can be pleasant. Yes, it's possible!
Thanks to the information provided in this article, you are now armed with knowledge. You know what to do, to the very least, to relieve your symptoms. You know who to contact. And you have access to a good list of foods that are high, medium, and low in FODMAPs to help you eat the right foods. (The database in Monash University's FODMAP diet app is still the most comprehensive, up-to-date, and most reliable.)
All that's left for you to do is take action.
Are you ready to put an end to all this intestinal fuss? Ready to adopt a new diet for a while and get relief from these very bothersome symptoms? Ready to cook and enjoy your first and numerous low-FODMAP dishes?
To support you in your efforts, I'll share my best recipes to show you that, even with dietary restrictions, the foodie in you has no reason to shut down.
So let's make this journey together.
Get Your Free Plant-Based Eating Toolkit and More
Subscribe to my newsletter and unlock my plant-based course, nutrition charts, recipe secrets, and exclusive updates to prepare wholesome, varied & balanced meals effortlessly. All you need is a good appetite. Subscribe!