When I look for something hearty in the morning, chia pudding is always my go-to dish. It's easy and quick to make. Because I'm not going to lie to you, I'm lazy. Yes, I swear!
And it's perfect if you want to eat something comforting, cheerful, and enjoyable for breakfast.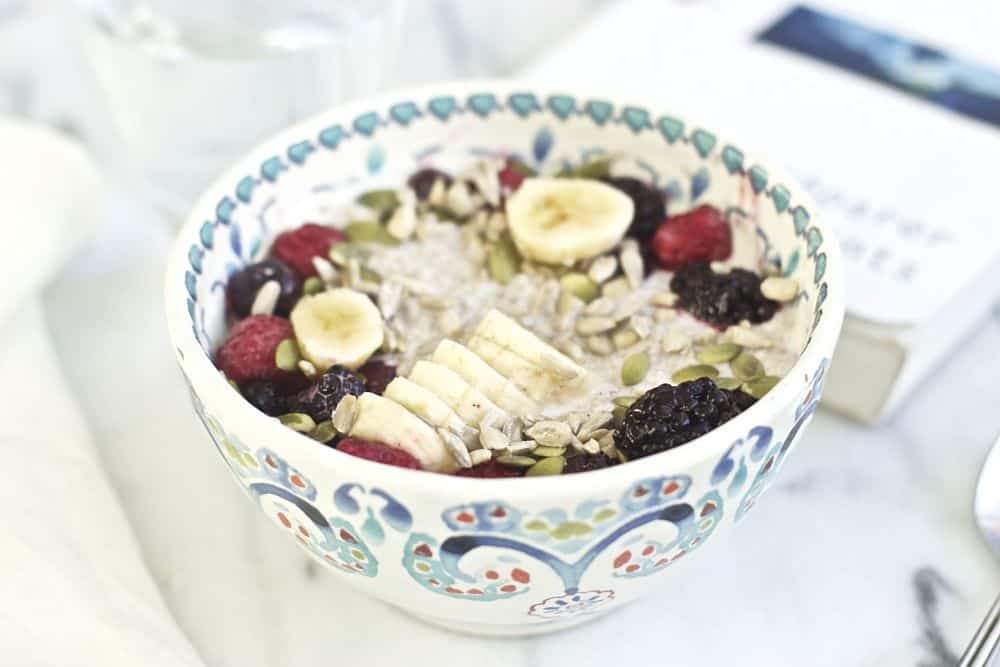 How to Make Chia Pudding
Making chia pudding is very simple. It contains only the following main ingredients: water, almonds, vanilla, a sweetener, and chia seeds. Nothing complicated.
But this time, I wanted to put more colors, more textures, and more contrasts. So, I remembered a breakfast I enjoyed during my short stay in New York during the holiday season. My man and I went to a small Australian style cafe in the West Village, called the Bluestone Lane Café.
In this lovely cafe with colors reminiscent of the beach, I chose a quinoa porridge with fresh fruits and nuts. I liked it so much that I wanted to recreate it in my own way.
I changed the ingredients a bit, and frankly, it was also effortless and quick to make.
Why Chia Seeds Are the Perfect Superfood
Ch-ch-ch-chia! Do you know the famous ad for the Chia Pet? I don't remember when exactly it was broadcasted on American channels — I must've been too young. The ad showed how to grow the pet's green "hair". All you needed to do was this: dip the animal-shaped figurine into the water, spread the chia seeds on the terracotta body with a spatula, water it from time to time, and admire the hair, as in the sprouts, grow.
And to enhance your experience, you could also purchase a whole collection of animals: the bear cub, the puppy, the kitten, the ram, and the ox. You could even add a tree to keep them company. Yeah, really.
Instead of praising their luxurious "fur", they should have suggested eating the sprouts too!
I love chia seeds because they're so filling.
And these tiny seeds seem to bring so many benefits for good health. I say "seem" because the trials on humans are limited, as is often the case with food research.
But anecdotal evidence of the positive effects of chia is numerous.
Dr. Coates is chia seeds' main advocate and researcher. According to him, chia seeds can increase your energy, stabilize your blood glucose level (by slowing the absorption of sugars), improve your digestion, and reduce "bad" cholesterol (total cholesterol, triglycerides, LDL). Chia seeds can protect you against cardiovascular disease, reduce the risk of type 2 diabetes and obesity, and relieve constipation.
Of all the seeds, chia has the highest protein content. On top of it, it's a complete protein. It's also rich in omega 3 (8 times more than salmon), magnesium (15 times more than broccoli), calcium (6 times more than cow's milk), vitamin C, iron… Yeah! Full of good things!
But beware! There's a way to eat chia seeds. It's essential to soak the seeds before consumption as they absorb 10 times their volume of water.
This means that if this happens in your digestive system, you could find yourself on your elimination throne in pain reading the latest gossip in People magazine.
But it won't happen. I'll show you how to enjoy chia seeds in this satisfying breakfast.
The Little Secret that'll Give You Double the Benefits
Before, I always used to strain the nut liquid from the pulp. That's how I learned to make nut milk. I would discard the pulp and hope to use it for another occasion. I noticed that I would always end up wasting it because I'd forget I had any.
But one day, I thought to myself: What if I kept and used everything? What if I didn't strain the liquid?
The rationale was that the pulp would act like added fiber in the pudding. So I tried it, and I noticed something. Instead of putting my usual ⅓ cup chia seeds in 1 cup milk, I would put less. The quantity would amount to ¼ cup instead!
Ok, not a super big difference but still. That's about 2 teaspoons less. Over time, it adds up, you know. Chia seeds cost too much for my taste. Where I live, a pack can easily go for $8 + 14% tax (CAD).
And I discovered something else too.
By not straining the milk, not only do you save money, but you save time.
Now, you're talking!
Mighty Chia Pudding with Berries, Banana, Sunflower and Pumpkin Seeds
This pudding is really versatile and perfect for winter. The basic recipe is almond milk with chia seeds, which turns into a pudding-like consistency. Then you add whatever toppings that rock your boat.
The advantage of this dish is that you can prepare a larger quantity in advance and put it in an airtight container in the fridge. In this case, make sure the chia seeds and the almonds portions are the same. To tell you the truth, I prefer adding chia seeds into the nut milk the day I'm eating it. I find that when it's done a few days prior, the mix becomes too dense. But that's just me.
Anyway, you can get really creative with the toppings. I changed them so many times that I've lost count. Here, I added nuts for the crunchy side and fruit for the mellow side. This is to create contrast. I could've also put granola, buckwheat seeds, fruit puree, dried fruit, or nut butter.
And for the almond milk, you can also flavor it as you wish. With cinnamon, cardamom, ginger, lemon zest, or orange. Whatever makes you happy!
If you try this recipe, I want to know about it! I always appreciate your feedback. Leave a star rating in the recipe card right below and/or a review in the comment section further down the page. You can also follow me on Pinterest, Facebook, or Instagram. Sign up for my email list, too!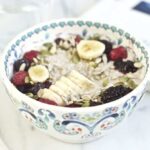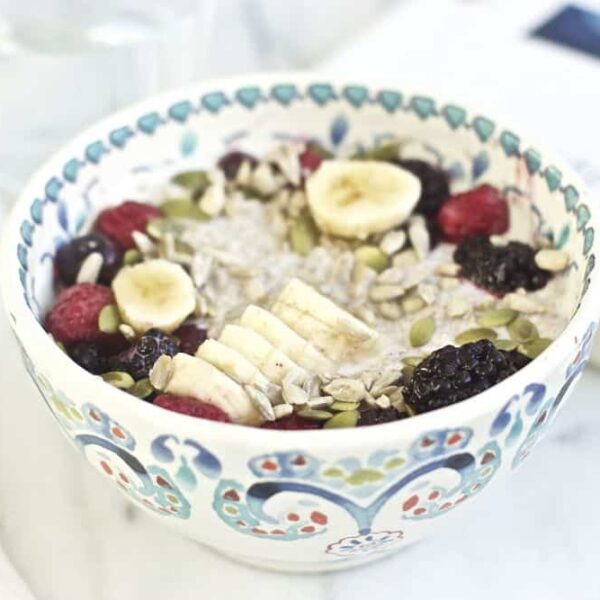 Chia Porridge
Are you looking for a hearty and comfort breakfast? Enjoy this chia pudding with fresh fruit and nuts, perfect for the winter season.
Save Recipe
Saved!
Print Recipe
Pin Recipe
Ingredients
1

cup

water

¼

cup

almonds

1

tablespoon

vanilla extract

1

Medjool date

or 2 regular dates

¼

cup

chia seeds
Toppings
½

banana

cut into slices

2

tablespoons

berries

frozen, warmed in lukewarm water

2

tablespoons

pumpkin seeds

2

tablespoons

sunflower seeds
Instructions
In the blender, put the water, almonds, vanilla, dates and blend well. Transfer the unfiltered almond milk to a jar for other uses.

In each bowl, transfer 1 cup of unfiltered almond milk and add the chia. Let stand until the preparation reaches a thick consistency.

Place the fruits and nuts.
Notes
By not filtering milk, first you save time and secondo, you save in chia — which already costs too much for my taste — thanks to the remaining pulp of almonds.
Nutrition
Calories:
812
kcal
|
Carbohydrates:
69
g
|
Protein:
26
g
|
Fat:
51
g
|
Saturated Fat:
5
g
|
Polyunsaturated Fat:
23
g
|
Monounsaturated Fat:
19
g
|
Trans Fat:
1
g
|
Sodium:
24
mg
|
Potassium:
1129
mg
|
Fiber:
26
g
|
Sugar:
30
g
|
Vitamin A:
124
IU
|
Vitamin C:
7
mg
|
Calcium:
417
mg
|
Iron:
8
mg
Get Your Free Plant-Based Eating Toolkit and More
Subscribe to my newsletter and unlock my plant-based course, nutrition charts, recipe secrets, and exclusive updates to prepare wholesome, varied & balanced meals effortlessly. All you need is a good appetite. Subscribe!