After two good weeks of well-deserved rest, it's time to get down to business.
Gone are the days of being served in Costa Rican restaurants on the Caribbean coast. Gone are the days when I fell back into my cave in idleness. Yes, it's time to get busy in the kitchen.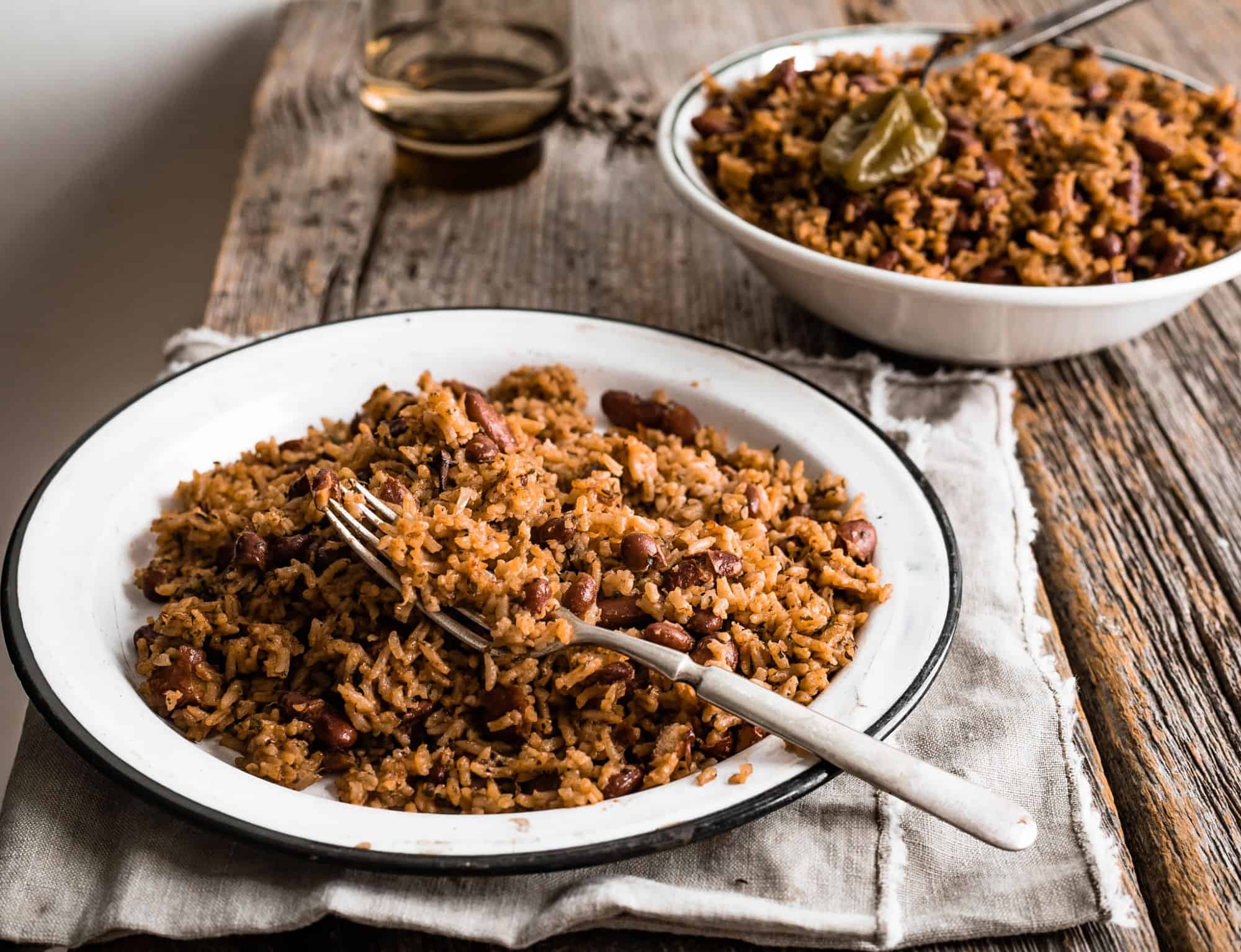 I can already feel the heaviness of back to school—and not only that. While cooking light has been my favorite activity, I won't let myself be intimidated by my homeland's cuisine (I mean, my parents', rather).
Because I won't lie to you, Haitian cuisine has always seemed tedious to me.
The hours spent preparing vegetables: cabbage, turnip, eggplant; squash, carrots, mirliton (chayote); potatoes, cassava, malanga; yam and plantain, which should then be washed with lemon so that they don't oxidize quickly; green beans that are cut into strips (a while back, they were razor-cut!); onions, French shallots, fines herbs that are cut finely…
Then, there is the languorous cooking of meat, soups, and some typical simmered dishes.
Ah yes! I forgot about dried beans.
Usually, you have to soak them for a long time. This removes the triggers for the not-so-sexy releases puffs or pffs. But I think my ancestors had no idea about that. They did it simply to speed up cooking.
Although familiar and customary, this last operation is quite bearable. Truth be told, you'll never see me handling them with a mournful air. Immersed in water, dried beans just wait patiently in a bowl until they are boiled and mixed with other foods such as, say, quinoa or, as is customary in the Caribbean, rice.
In fact, when I think about it, bah! given the ease of the task, I would soak them anytime without any problem. Ah! My sweet, sweet beans.
If you have a stellar and reliable memory like mine (hum, hum), you just have to remember to do it the day before or if you're well equipped, to cook them in a pressure cooker.
This is how—I suspect—most of the Caribbean restaurants in Costa Rica, even modern cooks, prepare them. (Brief summary: during my vacation on the Caribbean coast of Costa Rica, I dared to ask the head of the restaurant Lidia's Place to give me a cooking class, which she kindly accepted).
One thing is certain, Lidia Palmer prepares them this way before slipping them into the rice.
In any case, we never get tired of this typical dish.
Red rice and beans, I ate it almost every day during my vacation. This reminded me of my Caribbean roots, those moments when my mother prepared them. To this day, she makes big portions for the whole family, in case the laziness of cooking takes hold of me. Fortunately for me, these are my back-up dishes.
And luckily for my little man, he loves it. In my ancestors' country, we call this dish Di ri ak pwa colé in Creole, but in Central America, we say Rice and Beans in English. Not Arroz con pintos in Spanish, but Rice and Beans.
The Costaricanos prepare it like us, the Haitianos, with the only difference that they add coconut milk—which certain regions in Haiti also do, but not typically.
And I, well, I hardly ever prepare it. But thanks to my stay, I was inspired to do so upon my return to Montreal to remember my moments in the South and my childhood.
But I cooked my rice and beans recipe my way.
My rice combines a combination of Jamaican origin and Haitian spices. It includes coconut milk with cloves. Also, I added tomato paste, as some Haitians do, but it's really optional (my family would send me to hell for this addition). It was to simulate the orange color observed during my private cooking class in Costa Rica.
I really played with the ingredients to add more flavor and after a few tries, my little one and I determined that adding a cube of (natural) broth really enhanced the taste. I used red onions because they taste better than white onions. Smaller than typical onions, shallots are used to give a milder or sweeter taste.
And I got a very satisfactory result. My little monster has given its seal of approval.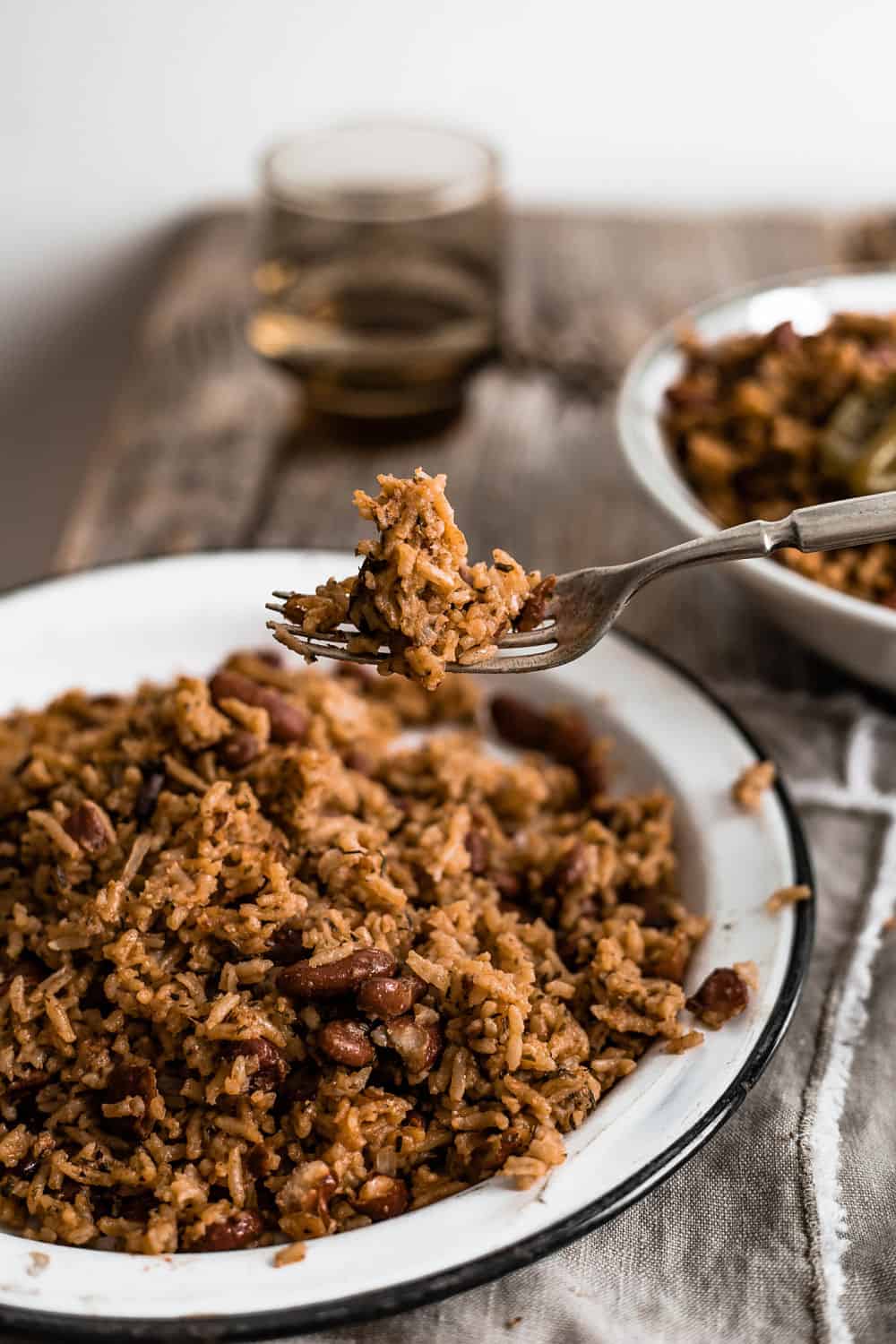 I ate this dish for a long time in my youth. At the time I ate it with chicken or beef in sauce. Today, the rice would gladly accompany well-seasoned and spicy tofu or tempeh.
Seasonings and spices give this rice its unique taste. Take long grain rice and not basmati. It will be firmer (basmati rice in the photo). The addition of Scotch Bonnet pepper fossilizes it in Caribbean cuisine. Caution: this pepper is almost at the end of the Scoville heat scale. Translation: it's extremely spicy! Small and stocky, it is one of the spiciest hot peppers in the world. They are orange, red or green in color, and their heat is mainly found in the seeds, so they must be handled with care. Normally, we don't put tomato paste, but despite the condescending looks of Haitian cooks, I gave it a try anyway. It turned out browner than usual, but it was very tasty.
Rice and Beans keep pretty well in the fridge and freezer, so it's worth making a big batch ahead of time. You can eat it with a green salad or even put it in burritos.
Bring the Caribbean to you now!
Bring an exotic touch to your meals. You only need three main ingredients: rice, beans, and coconut milk.
For beans, don't forget to prepare them in advance or at worst, use canned beans, if short on time. Then add your spices and voila.
You'll quickly find yourself in the Caribbean heat without flying there.
Coconut milk gives a creamy, slightly sweet flavor to the soft rice, while the spices and hot pepper give a delicious spice to the dish.
Finally, after all this rambling about my trip, I give you a well-deserved recipe.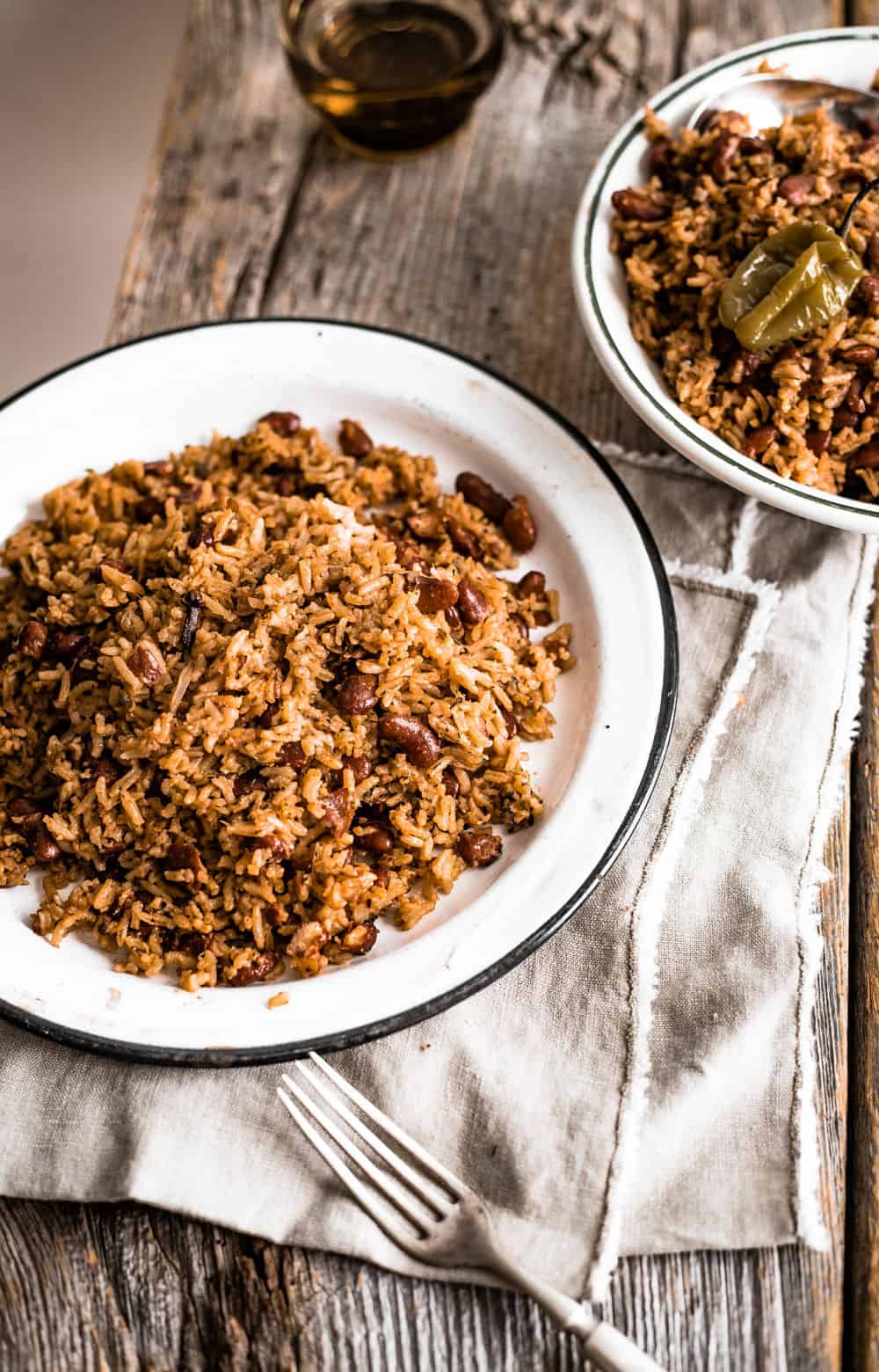 If you try this recipe, I want to know about it! I always appreciate your feedback. Leave a star rating in the recipe card right below and/or a review in the comment section further down the page. You can also follow me on Pinterest, Facebook, or Instagram. Sign up for my email list, too!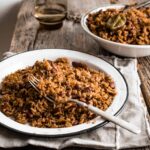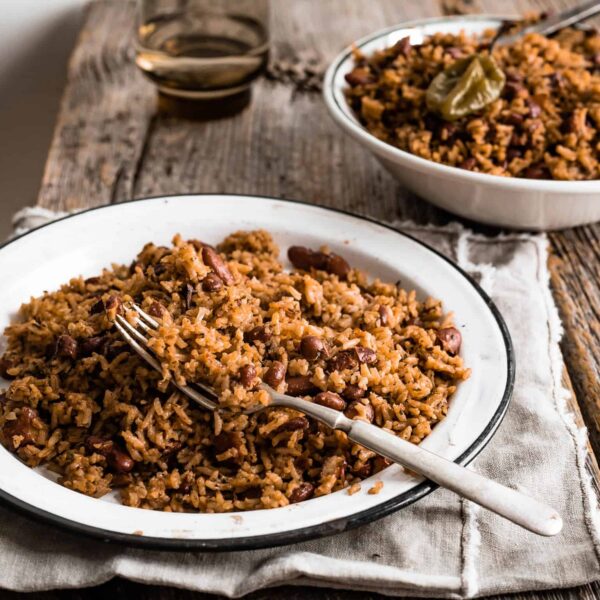 Caribbean Rice and Beans
Rice keeps fairly well in the fridge and freezer, so it's worth making a big batch ahead of time. You can eat it with a green salad or even serve it in burritos.
Save Recipe
Saved!
Print Recipe
Pin Recipe
Ingredients
1

cup

red beans

dried or 1 can (Notes)

3

teaspoons

salt

divided

1

stalk

celery

2

tablespoons

olive oil

coconut or sunflower

½

red onion

finely chopped

2

shallots

finely chopped (about ¼ cup)

2

teaspoons

garlic

crushed (about 4 cloves)

½

cube

vegetable broth

(Optional)

1

teaspoon

tomato paste

(Optional)

¼

teaspoon

ground pepper

1

cup

coconut milk

2

cups

long-grain white rice

washed and drained

1

Scotch Bonnet pepper

(Optional) (Notes)

1

bouquet garni

½ bunch of thyme, ½ bunch of parsley and 4 cloves wrapped in gauze (cheesecloth)
Instructions
Cook the kidney beans: Wash and drain the beans. In a saucepan, put 6 cups of water and the salt and bring to a boil. Reduce the heat and boil over medium heat, not covered, for 1 h. Add the celery and cook for another 30 minutes or until the skin creases. Taste to see if they are tender. Drain and keep the liquid to cook the rice later.

Cook the rice: In a cast-iron casserole (or medium-sized saucepan), heat 1 spoon of oil over medium heat. Stir in onions, shallots, 2 teaspoons of salt and ground pepper and stir for 2 minutes. Add the cooked beans and sauté for 5 minutes. Add 3 cups of the cooking water from the beans and coconut milk and bring to a boil. Add the rice and cloves, stir and boil until the water evaporates. Lower the heat, stir the rice and place the hot pepper, thyme, and parsley on top of the rice. Cover and cook for 30 minutes. Remove the hot pepper, thyme stems, and parsley. Stir before serving.
Notes
Never touch your face or eyes after touching them, especially after touching the seeds. In general, if you're told in a recipe not to cut them, don't do so, apparently at the risk of making your food inedible (Lidia Palmer did it anyway and it was edible, so who knows). For other peppers, no problem. IN NO CASE ADD SEEDS. Unless you want to burn in hell. Use habanero peppers if you can't find Scotch Bonnet peppers. On the other hand, these are a little less sweet than the previous ones.
Nutrition
Calories:
696
kcal
|
Carbohydrates:
111
g
|
Protein:
19
g
|
Fat:
20
g
|
Saturated Fat:
12
g
|
Polyunsaturated Fat:
1
g
|
Monounsaturated Fat:
6
g
|
Sodium:
1787
mg
|
Potassium:
1028
mg
|
Fiber:
11
g
|
Sugar:
3
g
|
Vitamin A:
376
IU
|
Vitamin C:
11
mg
|
Calcium:
161
mg
|
Iron:
9
mg
Get Your Free Plant-Based Eating Toolkit and More
Subscribe to my newsletter and unlock my plant-based course, nutrition charts, recipe secrets, and exclusive updates to prepare wholesome, varied & balanced meals effortlessly. All you need is a good appetite. Subscribe!