It was a moment like no other.
For a whole morning, I'd been buzzing in Lidia Palmer's privileged kitchen from Lidia's Place and smelling the vapors of her star dishes. It took me cojones to do it (part 1 here) and because of that, it takes a part 3 to tell you this story—this simply unique event.
That morning, to put myself in the Caribbean spirit, I dressed up as a Creole woman—a modern one to say the least. So I wore loose, flowy black gaucho pants and a salmon-colored tank top. These are just details. Here's the icing on the cake: I wrapped a black and white patterned scarf on my head and I put on round brass earrings in a semi-crescent shape, bought in Morocco the previous year. The only thing that was missing was a fruit basket on my head to complete the look of a perfect Creole lady!
I hopped on my rented bike and drove to Lidia's Place. On the narrow road, as I pedaled briskly, I admired the green foliage of giant trees, which went up and down similar to when you see draped furniture.
When I got there, I attached my bike to a post and stared at the empty and calm rustic restaurant in the blazing sun. I pushed the wooden barrier and took the passage through which Lidia had gone out that memorable evening. I saw her on my right through the window frame.
The great lady was officiating in front of the furnaces.
"Hello! I greeted.
— Come in!" she said smiling.
I walked along the wall and then went into the kitchen. Lidia approached me and, quite naturally, we kissed each other on the cheeks, à la française.
"I prepared the meat. I was waiting for you to arrive so I could show you what I was going to do with it."
She showed me two huge bowls with chicken legs in one of them and pieces of beef in the other one.
"I coated the meat with mustard and tomato sauce, and added salt. Next, I'm going to brown the chicken and simmer it with the beef. For about two hours.
— Did you marinate it overnight?
— No, no. I did it all this morning", she said, stirring the pieces of beef with her hand in the bowl. "Have you ever cooked huge amounts like this?
— No, never.
— I never did before having my own restaurant." She turned to a large saucepan that contained oil waiting on the fire. "To color my chicken, I add brown sugar and let it cook until it turns brown. But be careful not to char it, otherwise, you're screwed. "
She added the brown sugar which started to crackle and to clump together quietly. Shortly after, she transferred the bowl of chicken thighs to the hot pan, stirred the chicken, and colored each piece. Finally, she transferred the beef to the second large pan.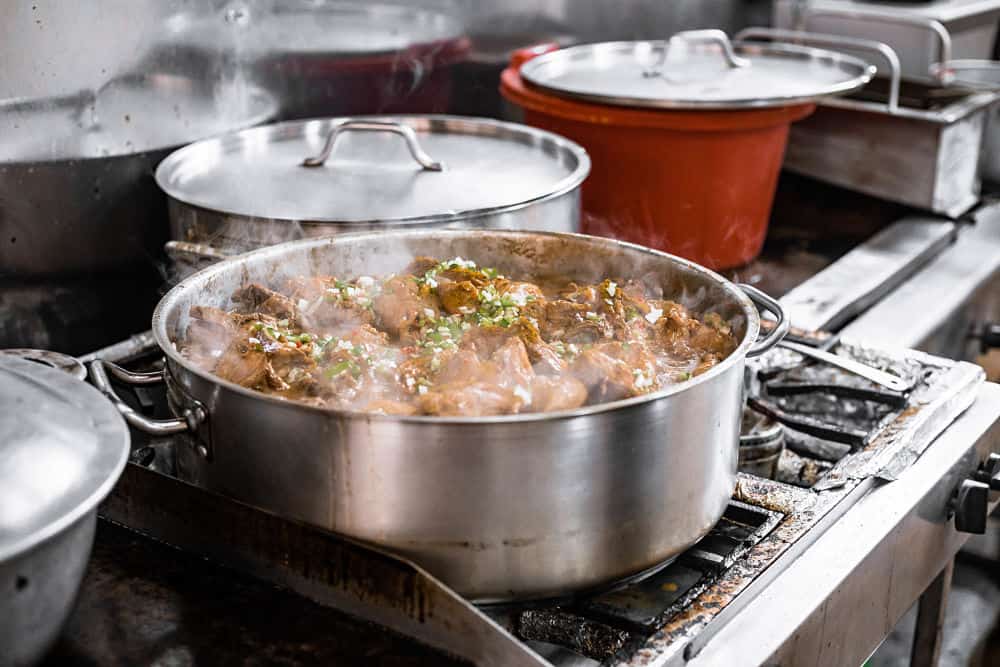 Further on my right, I saw something else on the fire.
There was a large pot filled with a mysterious liquid.
" What is it? I asked.
— This is the coconut milk in which we'll cook the rice and beans.
— I've already seen my mom extracting the flesh from a mature coconut. It's quite a job to do it by hand.
— Ah, well, I don't do it by hand. After breaking it in half, I grate it with my automatic scraper and grinder. Then I transfer everything to a bowl and squeeze until I get the milk. I keep the liquid and get rid of the fibers.
— How much milk did you extract from coconuts so far?
— Nine."
Lidia took me to see her metal machine in her back kitchen. I had never seen such a machine. Oh, my dear, my mind mumbled the Sound of Music. Yes, I thought this thing could be one of my fav-or-ite things... Ariana Grande-style: "I see it, I like it, I want it, I got it".
I saw some on Amazon but I never tried any of them so I can't give you a review. Anyway, after this demonstration, we returned to where the liquid lay. It was orangy-yellow like the color of the sun.
I was wondering why the liquid had such a coloring. I think I asked her why, but either I didn't understand her answer, or I quickly forgot the reason. I suspect there was tomato paste or curry. (I may know this when preparing the dish later.)
In short, she added the main ingredients: previously rinsed white rice and cooked beans preserved from another cooking. Later, she incorporated a bunch of tied thyme—to facilitate the removal of the mini bundle of twigs—celery and... So there you go. Once again, I didn't take note of all the ingredients. Sorrrryyyy. But here's a photo to redeem me.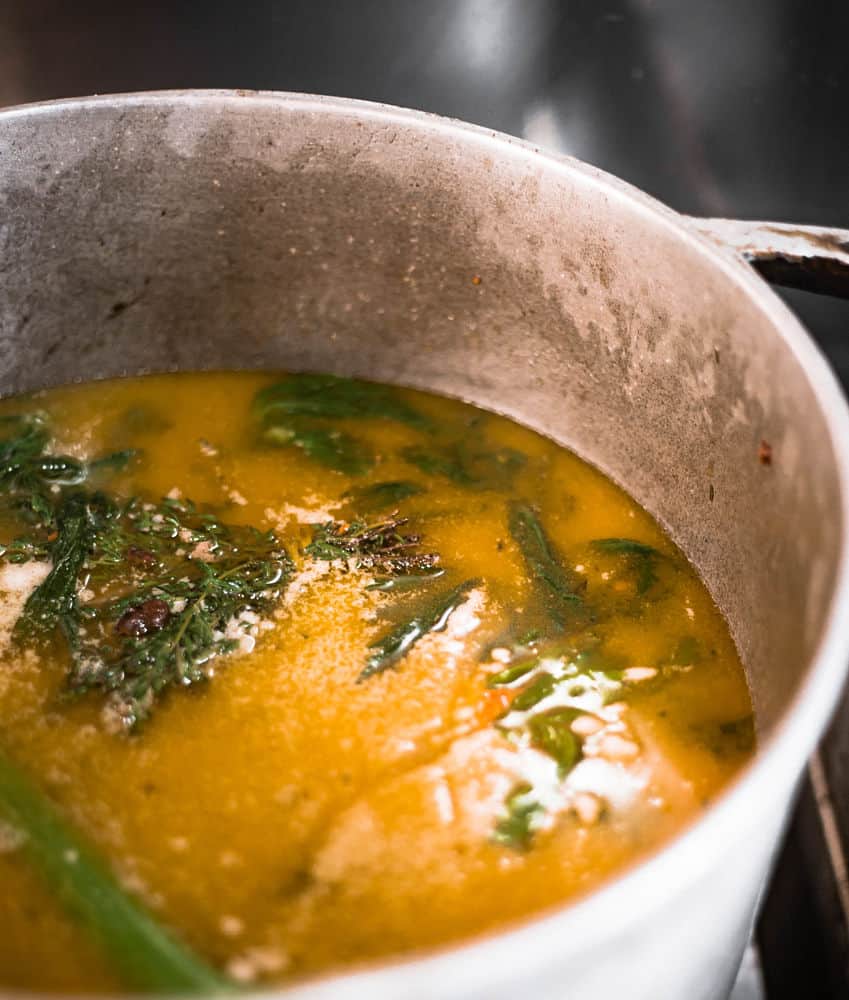 To enhance the taste, she never uses broth cubes, as many cooks do. No Maggi or other chemically transformed broths that cloud our minds, she said (preach, sister!). She always let natural ingredients speak for themselves.
She's been advocating this from the start.
"How did you learn to cook? I asked her.
— I learned everything from my mother first. Then, my parents would take turns telling my sisters and me, 'It's your turn now. Go cook for the whole family'. Yeah, like that. We had to do it for them and for all our siblings. Later, I had my first professional cooking experience in 1986 at Stanford, which at the time was one of the best Caribbean restaurants in the country. I went to work in other restaurants afterward.
— And what led you to create your own?
— People made me work too hard. As if I was being taken advantage of. I got tired of it and thought, 'Never again. I will no longer work for anyone else but me.' At my home, I began to prepare and sell Pupusas and Jurney, a Caribbean treat baked in coconut milk. And a few years later, Lidia's Place was born. It wasn't easy, you know."
A few moments later, Lidia returned to see the meat cooking. Upon discovering the pans, the fragrant vapors rose like an erupting volcano. The meat—the chicken and the beef—had browned well. To add flavor, she added curry powder.
Look, dear friend, I may not be eating meat, but I have to admit it smelled treacherously good.
A deep and depraving scent filled the kitchen.
To accentuate it, Lidia cubed hot peppers, green peppers, celery, and onions, which she added in the last moments of cooking. Then, in the end, she added the meat juice that had marinated earlier.
While the meat was simmering, Lidia told me about her experience in a more personal way: her achievements and her struggles in her family and professional life. She confided in me with such ease that I was touched. I was touched by both her softness and her robustness. In her kitchen, standing by her side, I listened attentively to everything she was saying to me, like a girl having finally reached adulthood to hear her mother's old secrets.
Frankly, I was very fortunate and privileged to be able to listen to her story.
She was very generous in letting me enter her intimate, physical and personal space, something she had never agreed to do before, from what she told me. I was flattered to hear that it was my energy that had lifted the shield from her usual refusals. She wasn't wrong, you know, I've been known to be overflowing with energy—a little too dizzying, at times.
After this intimate conversation, she set out to prepare the tomato sauce. She simply blanched the tomatoes, peeled them, cut them into pieces, and seasoned them before putting them in a saucepan over low heat. Later, she added onion rings. She simmered everything until she got a liquid sauce.
Now it was time to move on to the rice and beans.
You have been very patient to have let me chat for all this time. Three articles! That takes some doing! However, you'll be disappointed to know that I didn't get Lidia's recipe. I dared not ask her. Anyway, she cooks without measuring, so I'm not sure I could've gotten it.
But I remember this.
Earlier in this post, I told you that Lidia had added rice and beans with herbs to an orangy coconut milk-based liquid. But she had also added a very finely cut hot pepper, that my parents call Scotch Bonnet pepper in Haiti. It's easily found in the Caribbean. Normally, it is the custom for the Carribeans to add it whole in a dish to give a slightly pungent taste, but Lidia clearly violates this rule. She never found it made her rice too hot.
And I also told you that the beans were preserved from another cooking, it's "canned" beans in a certain way.
The detail I didn't mention to you is that when she cooks a large number of beans in a pressure cooker, she puts celery in them to flavor them. During my visit to Lidia's Place, a new batch of beans was due, so I was able to attend.
Pressed against each other, the red beans were well split.
Finally, just before the end of cooking, Lidia added parsley stems to give it a fresh aromatic scent.
After this beautiful morning of about two hours in Lidia's Place kitchen, I was able to put my invisible apron aside and sit in the dining room, empty of customers, to stick my fork in this long, awaited rice. To enhance my experience, Lidia had prepared a plate of rice and beans in a half-ball shape, accompanied by the aqueous tomato sauce, more red beans in a sauce (at my request) and avocado slices so I could have a balanced meal—since I was not going to eat either the chicken nor the beef (by the way, I agreed earlier to taste the resulting sauce to honor it).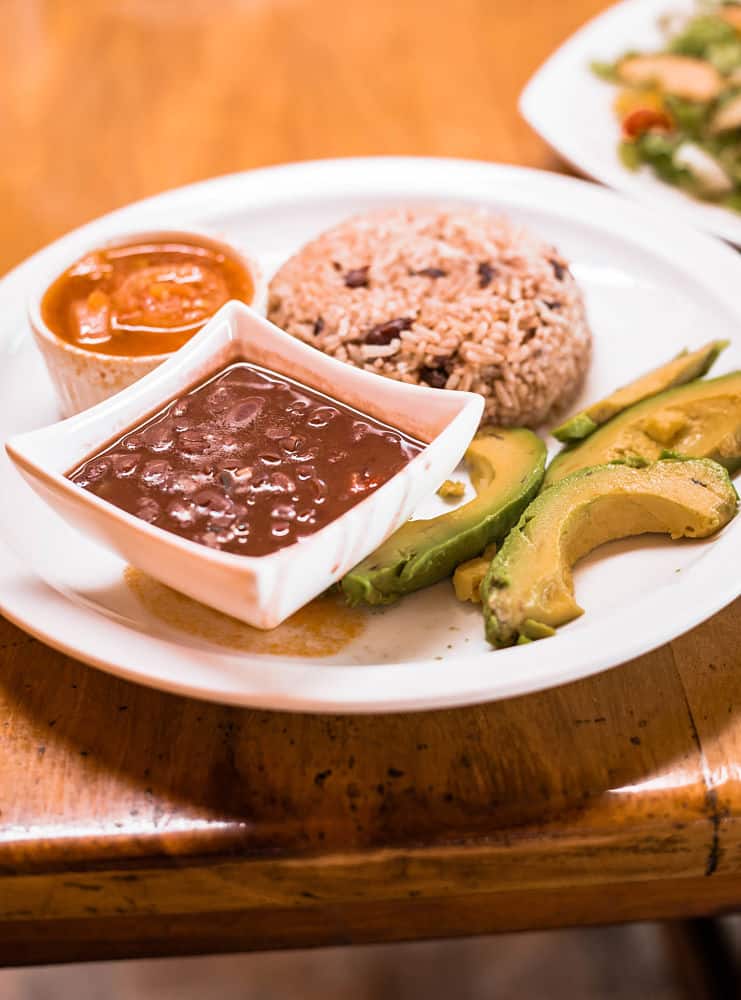 The presentation leaves a bit to be desired, but the tasting was exceptional! The rice was perfumed with coconut to perfection. It was not overpowering, and the spicy taste was so discreet that it teased the nostrils. And how about those sauces! The bean sauce was round. Each bite brought fleshy and tender beans to the bite. The tomato sauce, meanwhile, flowed voluptuously on the tongue.
Now, thanks to everything I had learned, I was looking forward to preparing my own recipe upon my return.
I was finally going to find out if my private lesson was going to pay off.
To be continued…