A few weeks ago, I went in a hideaway in Puerto Viejo de Talamanca, a region on the Caribbean coast of Costa Rica, with an "eat-pray-love" purpose, and let's say that it was practically successful.
Let's start from the last third of my purpose.
Love. It was really good to consolidate and proclaim my love for my man — sometimes clumsily (I'm far from being a skilled romantic) — in a space free of distractions and daily occupations.
Pray. Oh, yeah, I grounded myself. Meditation was ensured every day in the wee hours of the morning on an inviting wooden terrace in front of a breathtaking view of wild beauty: the jungle in the foreground. Right after my sessions, I fed myself with inspiring readings while rocking myself in my hammock. There, I relaxed abundantly.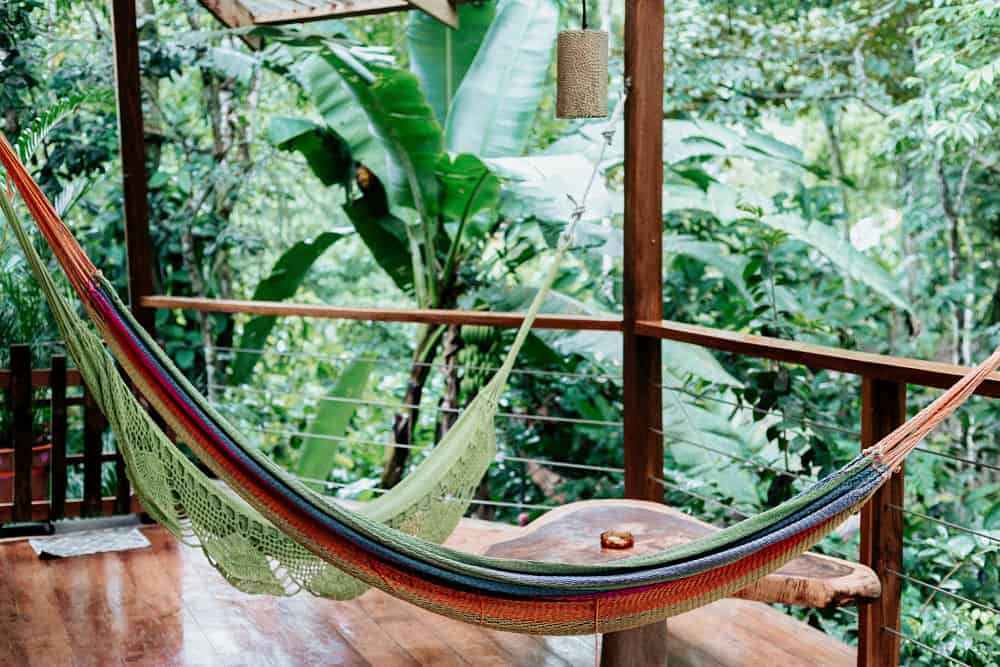 Like this little guy.
Eat. I was a little reluctant to eat in restaurants and wanted to cook at home, but who can blame a girl to want to indulge in farniente (doing nothing)? Especially since there are plenty of places to forage. On the other hand, if you're looking for a great gastronomic experience, this is not really the place. I mean, maybe I'm wrong, but there were a few times when the dishes weren't faint-worthy.
Of course, there's a host of restaurants where you can enjoy local cuisine while listening to Reggae or Calypso music or the fiery waves of the beaches breaking on the shore. Strangely (or not), contrary to my expectations, few are held by locals, namely the natives Bribrí, the Rastas of Jamaican descent or even, the descendants of the Spanish settlers. For example in the center of the village, the owners are mostly European foreigners (many Italians, surprisingly). In defense of Puerto Viejo, I didn't rake the whole village with a fine-toothed comb.
Anyway, for vegetarians or vegans of this world, Puerto Viejo is the perfect foil to feel heady with freshness: juicy pineapples, melting mangoes, silky guanabanas (soursop), homely mamones (kind of lichee), velvety maracuyas (passion fruit), bright carambolas …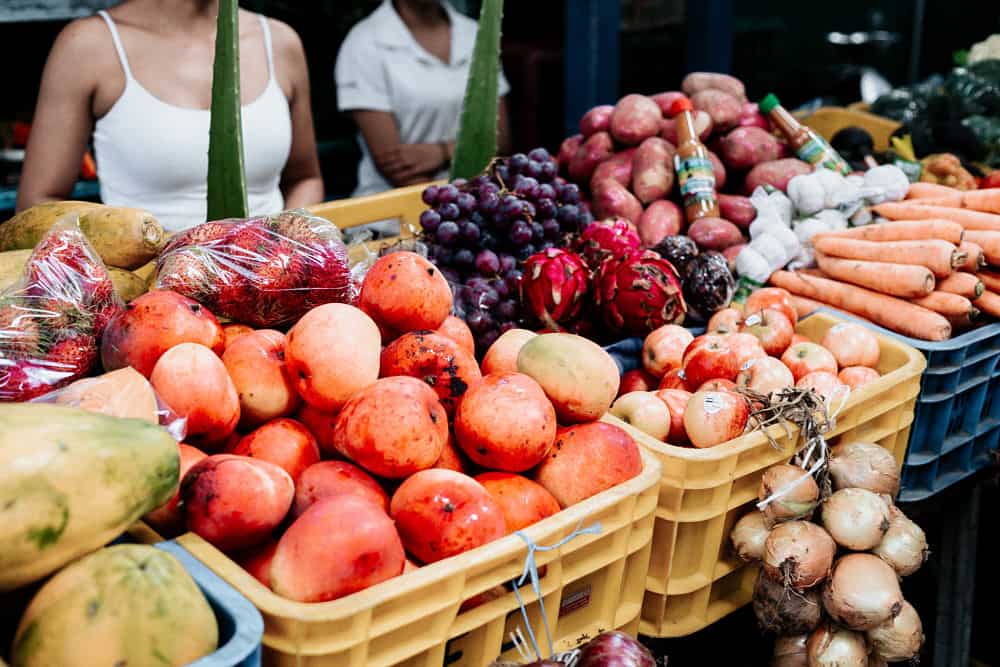 I was also served with, obviously, typical plant-based Caribbean dishes.
Certainly, the local specialties radiate.
There's some international cuisine too, but you should mostly be chasing after the coconut rice and beans. Then, add fried and crushed plantain bananas (patacones) as a side, quench your thirst with bastidos (fruit smoothies), and of course, spoil yourself with chocolate!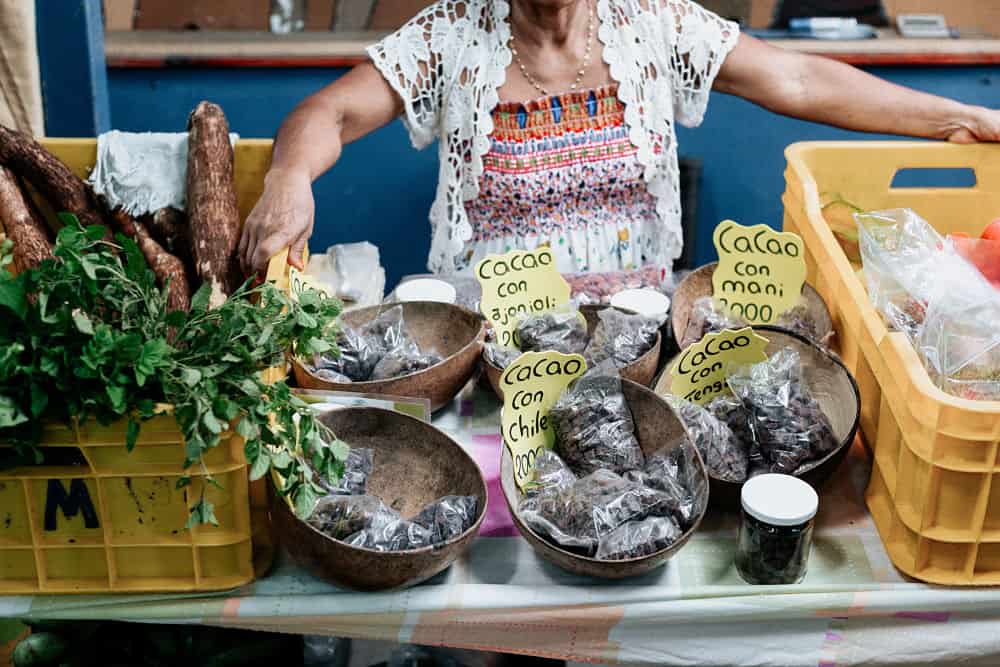 That's what I did the first day of our arrival in the evening in a soda (small family restaurant), which I didn't note the name, and the next day at lunchtime at Salsa Brava, seated in front of a beach lined with palm trees. There, I also added slices of eggplant and zucchini scented with garlic and dipped in olive oil, moan-and-faint-worthy, thank you very much (they were the best I swallowed during my whole my trip).
But that evening, no rice with beans. I changed the situation.
Because I planned to celebrate Mr. Man's birthday in a special place with a different menu. Anyway, it was an evening full of twirls, I tell ya.
Warning! I interrupt this post to tell you that it's time to go get yourself a cup of iced tea or something else or, if necessary, go and take care of some bigger priority first, because I'm going to open the valves of chattiness. Also, in case you haven't noticed, the main title sports "Part 1" in the subheader.
Good. On Mister's birthday, I chose a restaurant strongly recommended by our Lonely Planet 2019 travel guide for its seafood—Laszlo's. It had to be the cherry on the Sundae, according to Mister's optimistic expectations (no pressure!) after I had offered him the day before our departure: 1) a guide to know how to taste wine that will prevent him from appearing ignorant in front of the wine waiter (I include myself in this ignorance); 2) Tickets to attend a Cuban group honoring Buena Vista Social Club at the end of September.
After parking our ridiculously fuel-efficient SUV rented 4x4, we arrived at our destination to find ourselves in front of an obliterated space. A few meters away, a sign displaying the village map confirmed that the place had vaporized indeed, despite the restaurant's recent reviews on Trip Advisor and, moreover, dated a few months earlier.
Decidedly, the restaurant must've disappeared recently. I took the guide again and suggested my second choice of the same kind, which didn't appear either on the village map. Okay, forget seafood, I thought.
Now, we were on a frantic search for a befitting place.
Sitting comfortably in the car, we spent five to ten minutes consulting the web, delving into the reviews and checking restaurants' existence.
"Why not go to Nena?" suddenly suggested Mister, his face lit by the blue glow of his cell phone. "The one we drove by near the apartment? It seems good, doesn't it?"
"The kitchen closes at 8:30 pm," I replied, "and we have exceeded the time by six minutes."
"Let's try to go there anyway," he insisted, "you never know. "
Things are doomed, I thought to myself. We drove to the restaurant. As we parked in front, a waiter came towards us with an air of desolation. I felt the bad news.
"Is the kitchen closed?" Mr. Man inquired in Spanish.
"Yes, I'm sorry," replied the waiter.
Things are doomed, I thought to myself. We drove to the restaurant. As we parked in front, a waiter came towards us with an air of desolation. I felt the bad news.
"Is the kitchen closed? M. Man inquired in Spanish.
"Yes, I'm sorry," replied the waiter.
There, things are really doomed, I thought, helpless. Here was a simple evening turned into a complicated evening, a hunt for restaurants. We started browsing the web again and this time, it proposed Lidia's Place. It offered Caribbean cuisine. I wasn't completely thrilled with the type of cuisine, repeating like a chorus —but what do you want, we were on the Caribbean coast. Its score of 4.5 and its more than 640 positive reviews seemed very tempting.
Granted! But the restaurant closed in about ten minutes.
We called the place and our arrival in extremis would not be a problem. In order not to lose a single second, we used the Waze app, which guided us off the main road.
"Ah! I read that we find the best restaurants in neighborhoods," exclaimed Mister.
We were quietly piercing the damp darkness of the night when we saw a yellow sign which its red and bold letters which seemed to be inflamed. On the left, there was a circle in which appeared the drawing of an Afro-Caribbean mama with a scarf on her head. Despite my shortsightedness, I could've seen the radiance of her warm smile for miles away. Under the sign was marked "Carribean food since 1996". Ah, a restaurant established for over 20 years, things were looking good.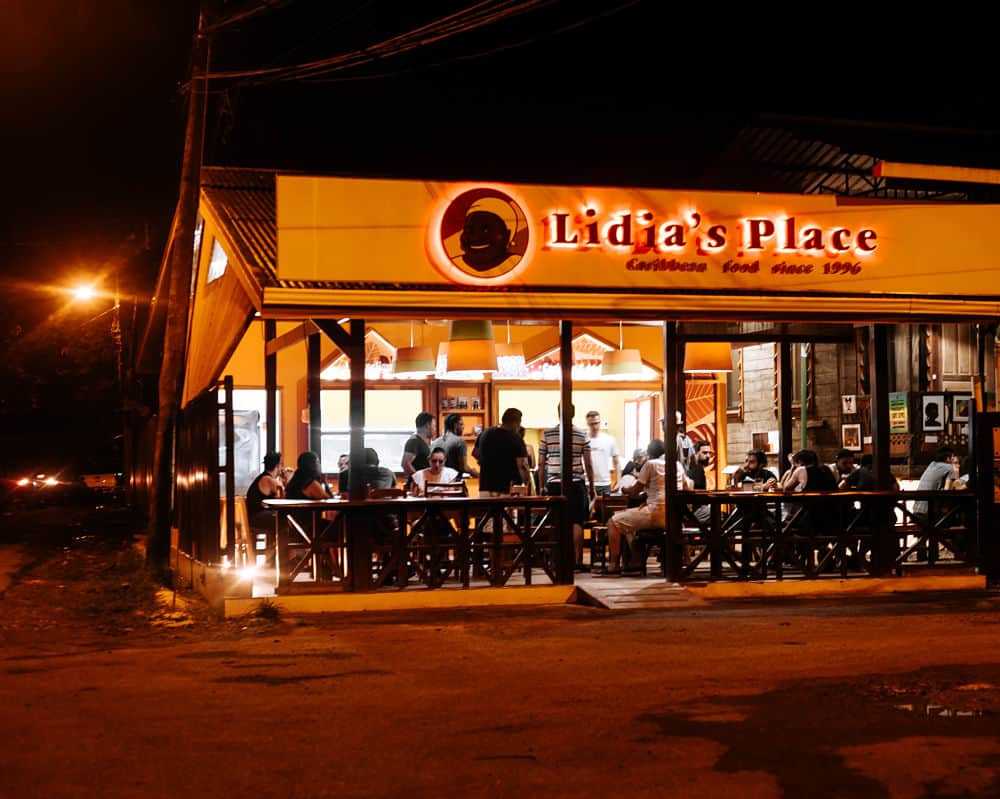 We entered a rustic open space and sat among the last guests. A man with a shaved head, dressed in a white tee-shirt adorned with a yellow triangular fabric collar with African motifs, welcomed us, holding the menus in his hand. He asked us if we had called earlier.
We started by selecting our glasses of wine (a white one for Mister and a red one for me) and, for the dishes, Mister opted for a very frisky lobster, which would soon see its life abridged by cooking (may it rest in peace). It would be accompanied by coconut rice and beans, and a small green salad. As for me, since I had already filled my stomach with the same type of rice earlier, I decided on a humble green salad with cherry tomatoes, slices of mango, and paper-thin translucent apples. As an accompaniment, I had crunchy patacones.
Our contrasting dishes arrived—a hearty dish against an all-light one. While Mister was enjoying his meal, the garlic vapors emanating from the lobster caressed my nostrils and spelled me off point-blank. Mysteriously, I pricked my fork inside the critter split in two head first, I took a piece of the sand-colored flesh...
... and I scandalously put it in my mouth.
The flesh was impeccably cooked and fragrant, with melting tenderness, a penetrating garlicky flavor, and a caustic freshness. Di-vine. I moaned. (Sorry, no photos.) *Ashamed*
I think that for a second, I was ready to throw off my diet to devour this stuff, like a skewed nun who lifts her black dress over her head, her underwear unveiled, and who runs headlong into the crowd. I was ready to exceptionally lift my 15-year dietary restrictions during my stay. I was in a paradise of freshness, I thought.
But after this food transgression and fleeting happiness, I gave myself a mental slap and came back to my senses. "Forgiveness is a beneficent miracle for the heart desiring peace, harmony, and freedom," once said an internet user. I went to repent before his analog in the aquarium. I also gave it my gratitude and blessing.
We finished our meals clean with a slice of light-hearted chocolate cake to top it off.
As we cleaned our dishes, we saw a full-featured figure emerging from a dark, narrow hallway. The ambered ceiling light gradually revealed the face of a black woman wearing a scarf on her head.
"Ah, the dueña del restaurante!" said Mr. Man, enthusiastic.
Yes, it was her. And as fate would have it, she approached us naturally and gently, as would behave a magnetic object under the influence of a magnetic force.
We were soon going to have a befitting meeting.
(To be continued…)