This black bean soup has an earthy, spicy, and slightly sweet taste. This meal is perfect when you come home from work and want to cook something hearty but quick.
Jump to:
The Best Black Bean Soup
I love sitting in front of a bowl of steaming beans, especially when the climate is, shall we say, gloomy. It really just warms you up from the inside.
When you make them from scratch, the wisdom of cooking a fabulous meal with pre-cooked beans as a solid base comes with time. Because if they're not pre-cooked, you might find yourself one night, after running into your kitchen dangerously hungry, opening your cupboards to see nothing on your sadly empty shelves but jars of dried beans.
But if you get a head start, having beans ready to eat is really great. Plus, it's not so hard to prepare, and it's so economical. Plus, you'll find it's just as fast as canned beans.
This soup is extraordinary. It's really great because it's:
High-protein
Low in calories
Naturally salty, therefore low in salt
Diet-conscious
This is exactly what you need to reach your healthy weight goals. In fact, it's very satisfying. You'll love it.
After the vegetables are sautéed, the cumin, chili, and chipotle intertwine happily with the black beans in your kitchen for just under an hour while your butt is waiting on the couch.
Once it has simmered, you top the soup with a textured gremolata-style herb sauce made with cilantro, oil, and lime zest. What a delight!
I was thrilled to bring a spoonful of this thick and variegated soup to my mouth.
The acidity of the sauce comes first hits the palate. Then comes the softness of the tomatoes and the smoothness of the avocado. And finally, some explosions of sweetness emanating from the carrots, corn kernels, and red bell pepper and amalgamated with the beans' earthy taste. At the very end, all I felt was a pleasant tickle in the back of my throat.
It is a good backup dish to prepare at any time. Your family will think you've been working at simmering it for hours.
What Goes in It?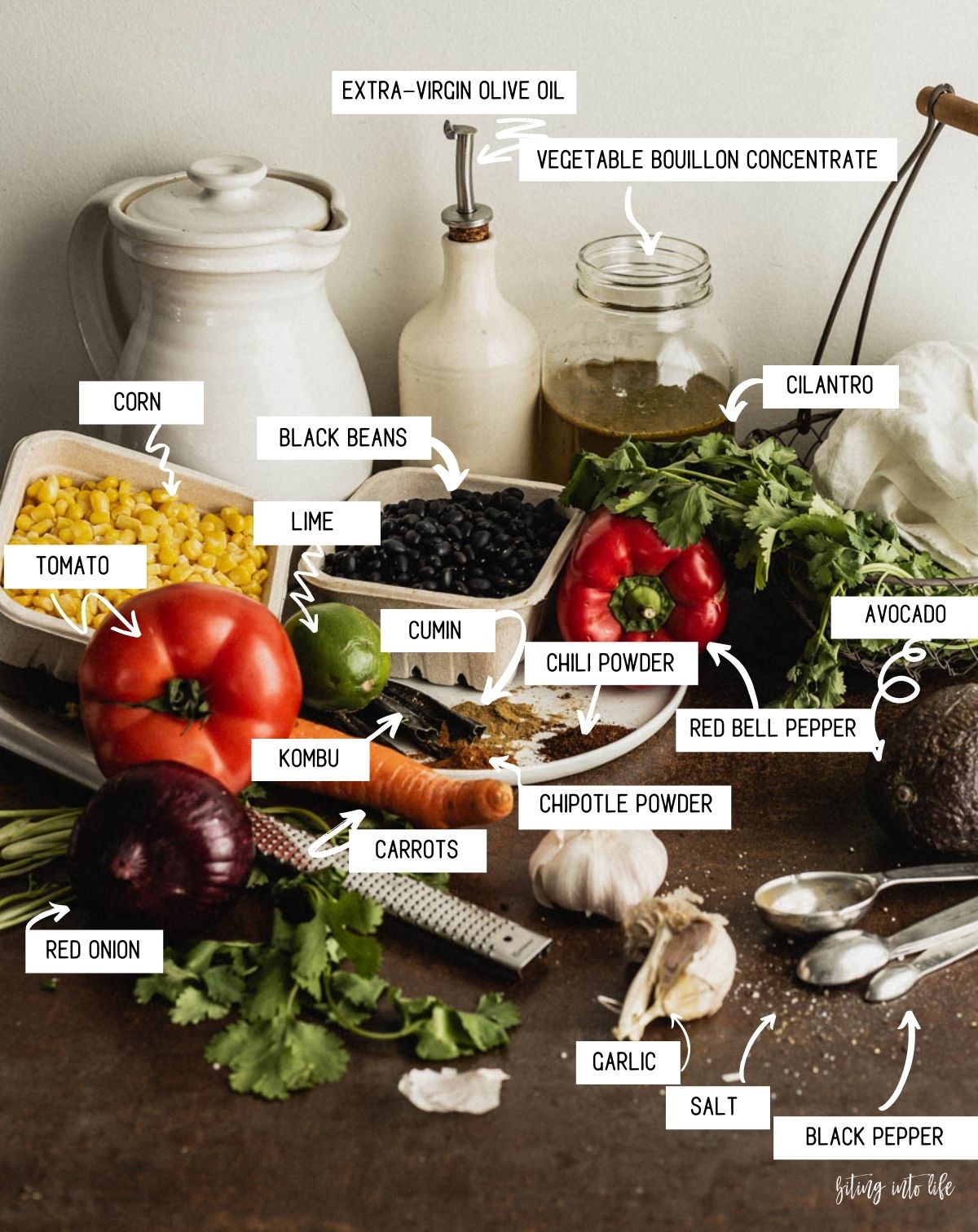 Main ingredients
Black beans – it's ridiculously easy to make them at home. In this case, pre-soak them the night before in water with a tenderizing substance (like baking soda). If you're using canned beans, make sure they're organic and salt-free.
Corn kernels – fresh or frozen will do the trick. It brings a color contrast in the brown porridge and a touch of sweetness.
Red bell pepper – another color element to take the monotony out of the meal.
Carrot – and another one.
Cilantro – used in the herb sauce. It goes really well with black beans.
Lime – I used it instead of lemon because it reminded me of the Caribbean's flavors.
Tomato – for garnish and color.
Avocado – ditto.
Seasonings
Red onion – to me, red onions are more flavorful than yellow onions.
Garlic – ditto.
Vegetable broth – gives umami. Not all broths are equal. Choose one that is tasty enough but doesn't leave its mark.
Ground cumin – it's a bitter spice that gives a depth of taste. I like to have whole seeded cumin, then grind it in a small coffee/spice grinder if necessary. This way, I can be sure that there are no additives or other possible dubious substances. Also, the fragrances are more obvious. The finest ones are from India.
Chili powder – this is a mixture of spices used among others in Tex-Mex cooking. The main element that gives its name to the mixture is the chili serrano (chile serrano). Also found in its composition (in ascending order) are paprika, garlic, cumin, oregano, and cloves. It comes in the form of a fine powder with a dark red-brown color.
Chipotle powder – it's a variety of chili pepper native to Central and South America. It's actually a type of large jalapeno picked very ripe, then smoked and dried. It has a café au lait color. It's a little hotter than the jalapeno but less fiery than the cayenne pepper. The finest ones are from Mexico.
Salt and pepper – for seasoning, of course. It's worth using kosher salt. It dissolves twice as fast as dense salt and gives you an early indication of your preparation's saltiness.
Optional Ingredients
Kombu – widely used in Japanese cuisine, it's a food seaweed usually dried which is rich in minerals.
How to Make Black Bean Soup Step by Step
I start by sautéing the vegetables (onion, garlic, bell pepper, carrot) ①. Then I add the black beans, corn, broth, and spices ②. In a food processor, I roughly mix the soup and season ③. Then, I prepare the herb sauce ④.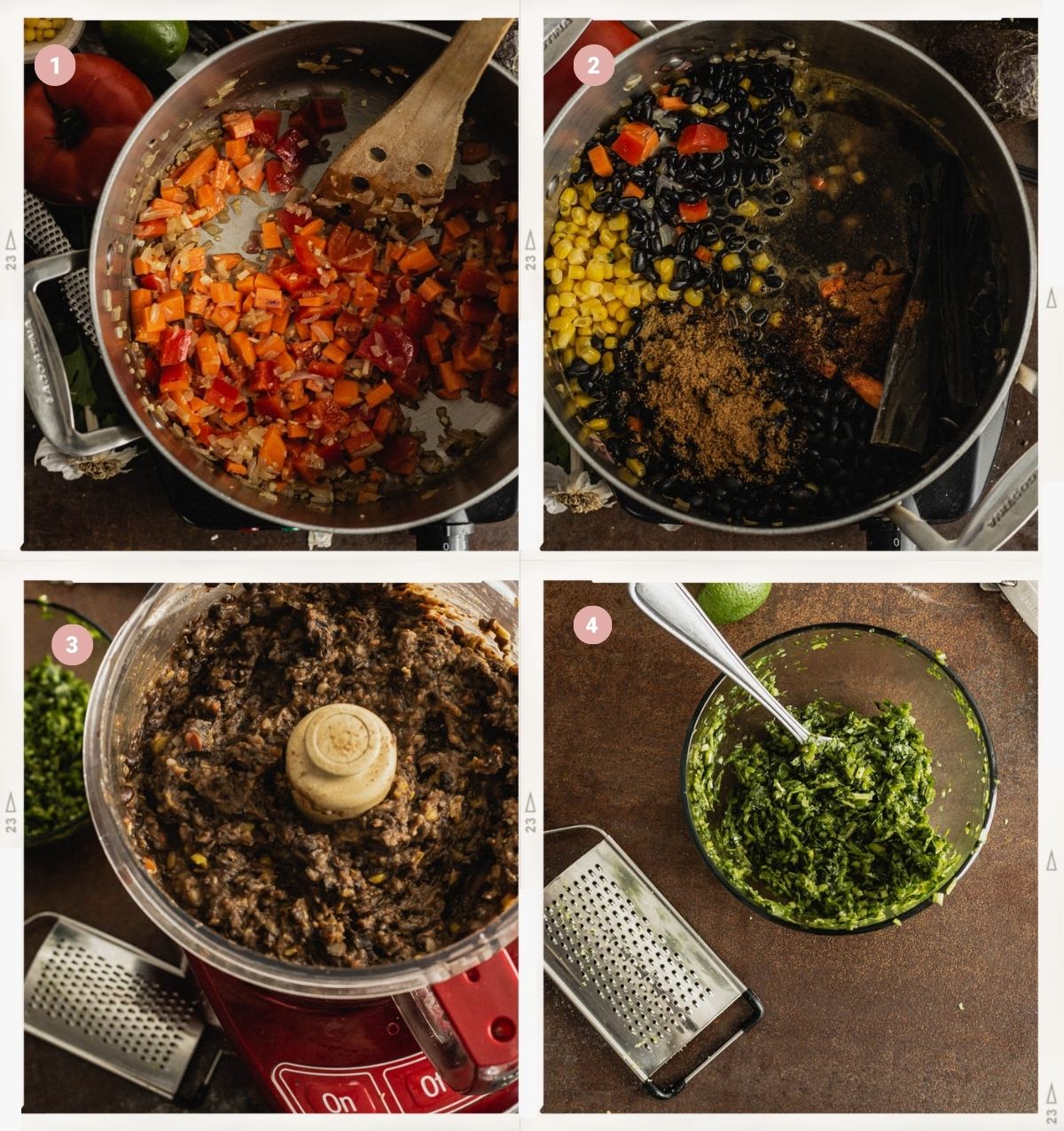 When I'm done, I divide into bowls and put the toppings on.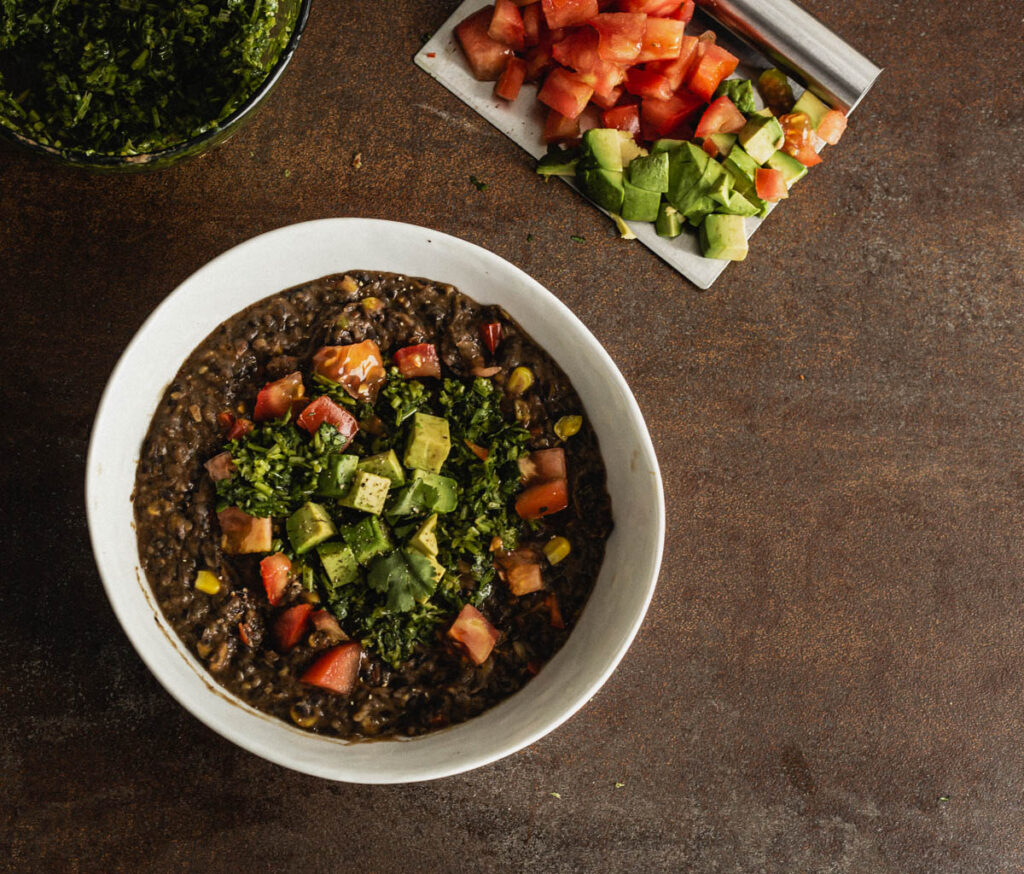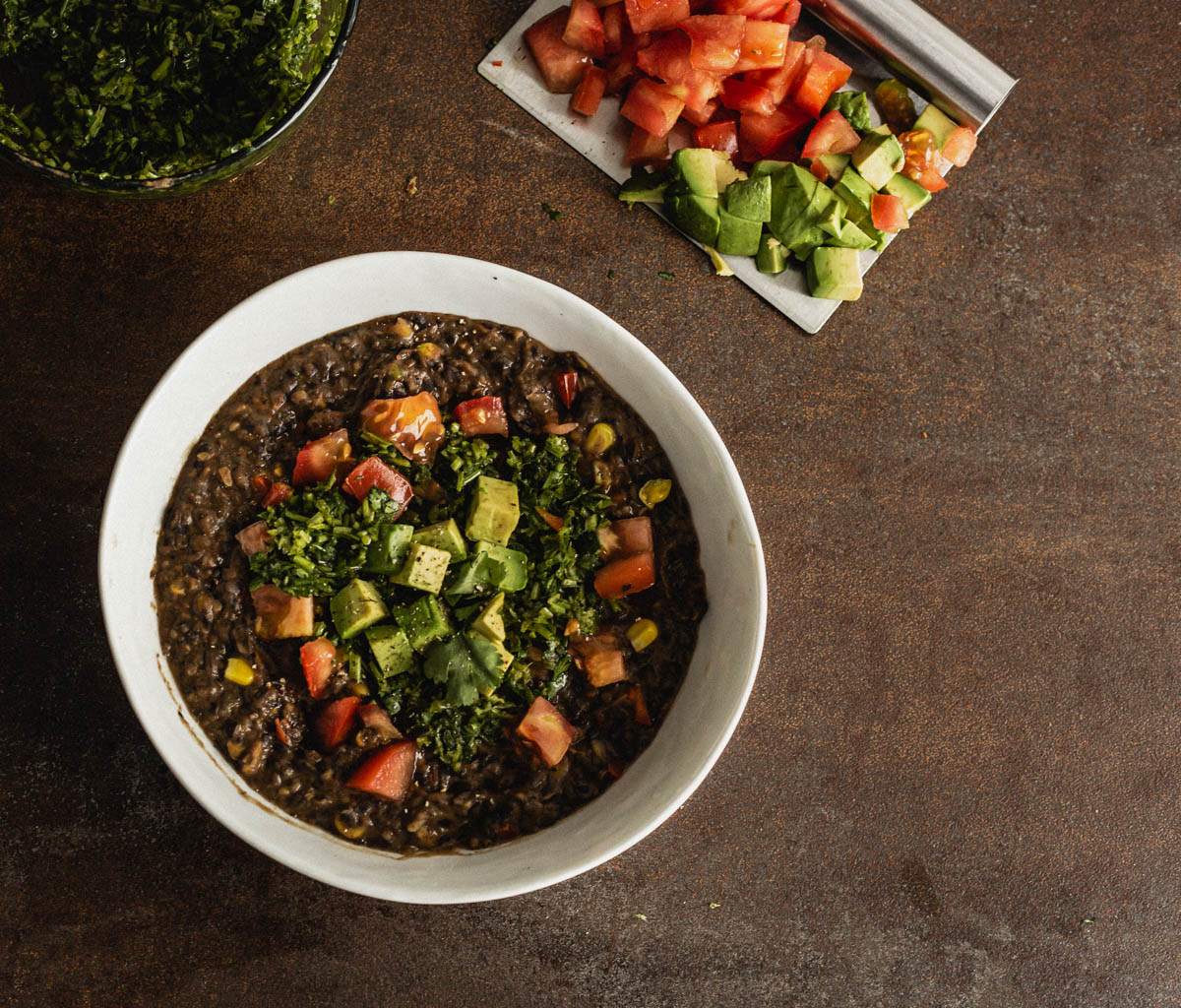 The Keys to Success: My Top Tips
These tips are for you if you decide to go the canned bean route.
Choose the right black beans
I'm going to go on a limb, but in my opinion, it's useful, dear guest, to know how to doctor those. It's one of those important life skills, like knowing how to tie your shoes, make your bed or use a corkscrew. If you have this skill, it's nothing to be ashamed of.
Anyway, I've heard through the grapevine that they're very different from brand to brand. So you have to be fussy and aim right.
Cook them to perfection
Also, be aware that canned beans should only be heated briefly; otherwise, you'll end up with a sad mush.
Bring out the spices' inherent flavors
If you have a small coffee/spice grinder, I suggest you have whole cumin seeds and grind them for usage to release its volatile oils—aromatic compounds that give the spices their fragrance and flavor.
How to Serve It
If you can, keep a quantity of pre-cooked black beans handy. Put some in the freezer to keep them longer. You'll be able to create the easiest, quickest and tastiest meals ever!
Your soup may thicken over the next few days. What to do with your bean mixture?
Mix them with rice (white or brown), a sliced tomato salad, or anything in the refrigerator.
Wrap it all up in a tortilla or burrito with a cream that imitates sour cream.
Use it as a base to make black bean burgers.
Turn your soup into a taco filling.
Accompany them with plantains.
Answers to Your Burning Questions
Are black beans good for you?
Black beans contain an impressive total amount of fiber (about 15 g per cup) and protein (close to 15 g per cup). These can help regulate the passage of food through your digestive tract and stabilize the flow of digestion. This is believed to help regulate blood sugar levels and the overall health of the digestive tract.
Also, these legumes have unique qualities: their fiber is a valuable source of resistant starch. This is because it "resists," it doesn't break down, and therefore does not cause an undesirable increase in your blood sugar level.
Resistant starch is counted as calories on labels and charts, but 90% of resistant starch calories are lost during digestion, acting more like a type of fiber. Let me explain.
Let's say you eat about 41 grams of total carbohydrate. About 15 of those grams are classified as fiber. If you subtract them from the total amount of carbohydrates, you end up with 26 g, which contains lots of starch.
Usually, this high starch content would increase a food's Glycemic Index value and make it a food of concern concerning blood glucose and insulin impact.
However, in the case of black beans, these concerns are not raised because a large amount of the starch in black beans "resists" digestion, as I said earlier, and goes straight through, if you will, like water through a sieve.
Recent studies show that black beans contain unique components that also improve the regulation of blood sugar and insulin levels on the protein side.
What's the difference between canned black beans and dried black beans?
Dried black beans generally need to be soaked, drained, and cooked before being consumed. Canned black beans are pre-cooked, which provides a greater level of convenience.

A nutritional loss would be negligible when switching from dried and cooked black beans to canned black beans. They are generally sorted, graded, and cleaned, and they go through the drying and cooking process in both cases.

The manufacturing process

Canning is not very aggressive. Before being cooked inside their sealed can, they are hydrated, blanched for 3-8 minutes in water heated to 180-199°F (82- 93°C). A common type of cooking method for canned black beans would involve about 45 minutes of cooking at approximately 240°F (116°C). After cooking, they are cooled and then placed in their can with brine or another type of liquid.

This liquid may be low or no salt, a better choice for those who want or need to avoid salt.

Sometimes calcium (for example, in the form of calcium chloride) can be added to canned black beans to maintain their firmness. Other times, sodium bicarbonate can be added to help reduce acidity and improve water absorption when they are cooked.

The choice of consumption

As a general rule, these added ingredients would not be a problem for most people. But if their presence bothers you, just rinse thoroughly to reduce them considerably.

It's not difficult to find canned organic black beans that have been cooked without the addition of salt, calcium chloride, or sodium bicarbonate in most areas. It's possible to find them with a sea vegetable such as kombu.
Both types can be beneficial to health. My concern, however, is the can material.
Recent nationwide testing shows that many canned foods still contain chemicals, such as BPA, linked to cancer and birth defects.

So, if you're concerned about the environment, cans cause more waste.
Do black beans cause farting or diarrhea?
Normally, canned black beans are better for the stomach, as they are already well prepared and pre-cooked.
However, the dried ones should be pre-soaked in water with a tenderizing substance (such as baking soda) for at least 8 hours to make them easier to digest and reduce flatulence caused by certain types of sugars. Another advantage is that it shortens their cooking time. You can also add strips of kombu, a food algae, which has the unique ability to neutralize the effects responsible for gas.

Afterward, you throw away the water and cook them for your favorite meals.

Well, I'm aware of the debate on the disposal of soaking water.
Some websites and commentators have argued that it contains too many valuable nutrients to throw away. I agree, but it goes along with other undesirable nutrients (anti-nutrients), such as those associated with flatulence.

It's up to you, negligible loss of nutrients or more farting, indigestion, diarrhea, etc.?
Make this Soup Now
This black bean soup is the perfect comforting meal on a cold winter day.
Make it a backup meal when you don't feel like thinking about what to cook when looking for something filling, healthy and tasty.
All you need are some fine beans that are ready to cook. But they're not pre-cooked, it's not hard to get them ready. Soak them the night before, and then add ingredients that combine well with their earthy taste.
The day you come home from work hungry, you'll cry with gratitude for doing it early.
And your hungry belly and lazy buttocks will thank you too, both of them happily soothed.
Other Black Bean Recipes
Once cooked, the beans make a blank base, ready to be made into anything you fancy.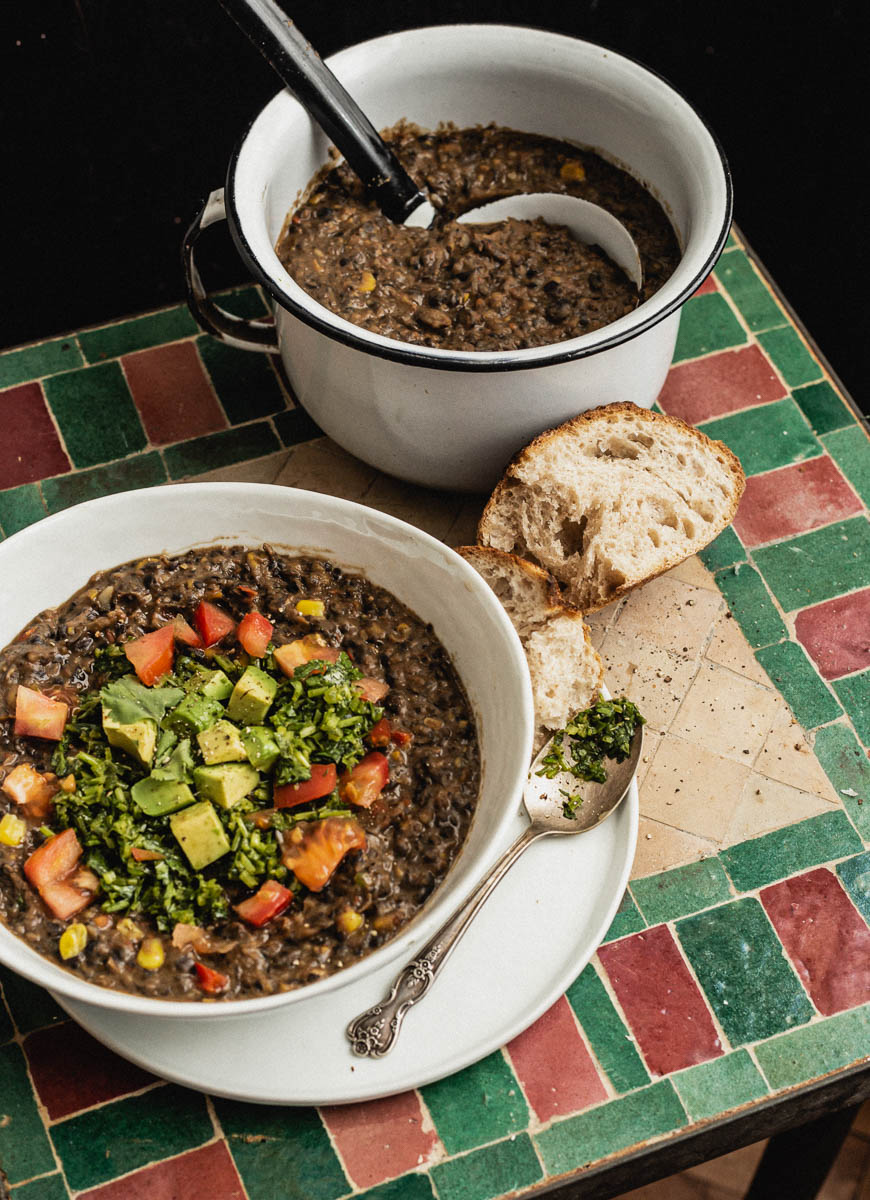 If you try this recipe, I want to know about it! I always appreciate your feedback. Leave a star rating in the recipe card right below and/or a review in the comment section further down the page. You can also follow me on Pinterest, Facebook, or Instagram. Sign up for my email list, too!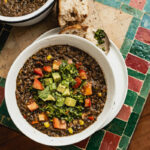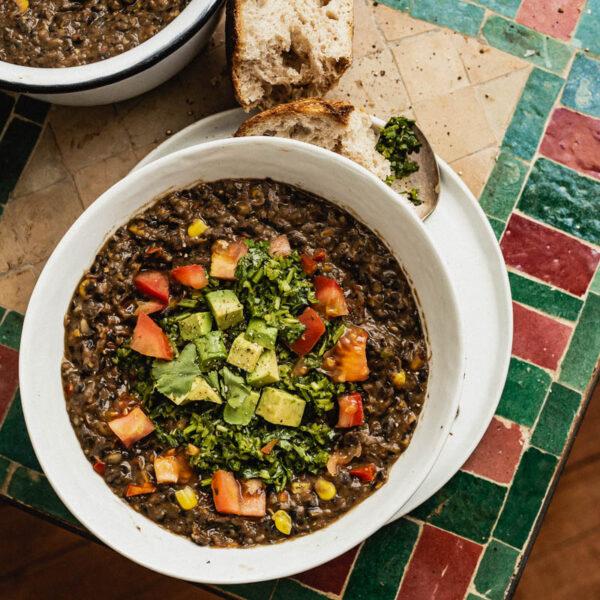 Spicy Black Bean Soup with Cilantro sauce
This black bean soup burbles together just long enough to warm through, and then it's ready to go, earthy and spicy and faintly sweet. With a green salad on the side, this soup makes a terrific, supper or an easy lunch.
Save Recipe
Saved!
Print Recipe
Pin Recipe
Ingredients
1

tablespoon

olive oil

1

red onion

chopped

4

cloves

garlic

minced (about 1 tablespoon)

1

carrot

cubed (about 1 cup)

1

red bell pepper

cubed

720

g

black beans

rinse, and drain (2 dry cups, 4 pre-soaked cups, or 2 cans of 540 ml each)

1

cup

corn kernels

frozen (160 g or 1 x 199 ml-can, rinsed and drained)

4

cups

vegetable broth

plus 1 cup to dilute

1

tablespoon

ground cumin

2

teaspoons

chili powder

½

teaspoon

chipotle powder

or to taste

1

tomato

diced

1

avocado

diced

Salt and pepper

to taste
For the cilantro sauce
1

bunch

cilantro

fresh, chopped

3

tablespoons

olive oil

Grated zest and juice of 1 ½ lime
Instructions
In a large saucepan over medium heat, heat the oil and sauté the onion and garlic for 3 minutes.

Add the red bell pepper and carrot and continue cooking for 5 minutes. Add black beans, corn, broth, cumin, chili, and chipotle. Cover and simmer over low heat for about 50 minutes. Remove the kombu.

In a blender, coarsely blend the soup to obtain a thick texture, keeping some beans and vegetable pieces intact. Add salt and pepper to taste. Meanwhile, in a bowl, mix all the ingredients for the coriander sauce.

Serve the soup in bowls. Garnish with tomatoes, avocado, and cilantro sauce.
Notes
Choose the right black beans: Canned black beans are very different from brand to brand. So you have to be choosy and aim right.
Cook them to perfection: Also, be aware that canned beans should only be heated briefly; otherwise, you will end up with a sad mush.
Bring out the spices' inherent flavors: If you have a small coffee/spice grinder if needed, I suggest you have whole cumin seeds and grind them when you use them to release its volatile oils, aromatic compounds that give the spices their fragrance and flavor.
USEFUL TIPS
This soup can also be prepared in the slow cooker. Simmer all the ingredients for 6 to 8 hours, until the vegetables are tender.
STORAGE
This soup can be kept for one week in the refrigerator.
Nutrition
Serving:
1
g
|
Calories:
562
kcal
|
Carbohydrates:
9
g
|
Protein:
3
g
|
Fat:
60
g
|
Saturated Fat:
8
g
|
Sodium:
92
mg
|
Potassium:
343
mg
|
Fiber:
3
g
|
Sugar:
1
g
|
Vitamin A:
1374
IU
|
Vitamin C:
1
mg
|
Calcium:
151
mg
|
Iron:
11
mg
Get Your Free Plant-Based Eating Toolkit and More
Subscribe to my newsletter and unlock my plant-based course, nutrition charts, recipe secrets, and exclusive updates to prepare wholesome, varied & balanced meals effortlessly. All you need is a good appetite. Subscribe!