I don't know how it came to me.
Suddenly, I wanted to make a gluten-free burrito. Not just any gluten-free burrito. A very low-calorie burrito with a grain-free tortilla and… jackfruit!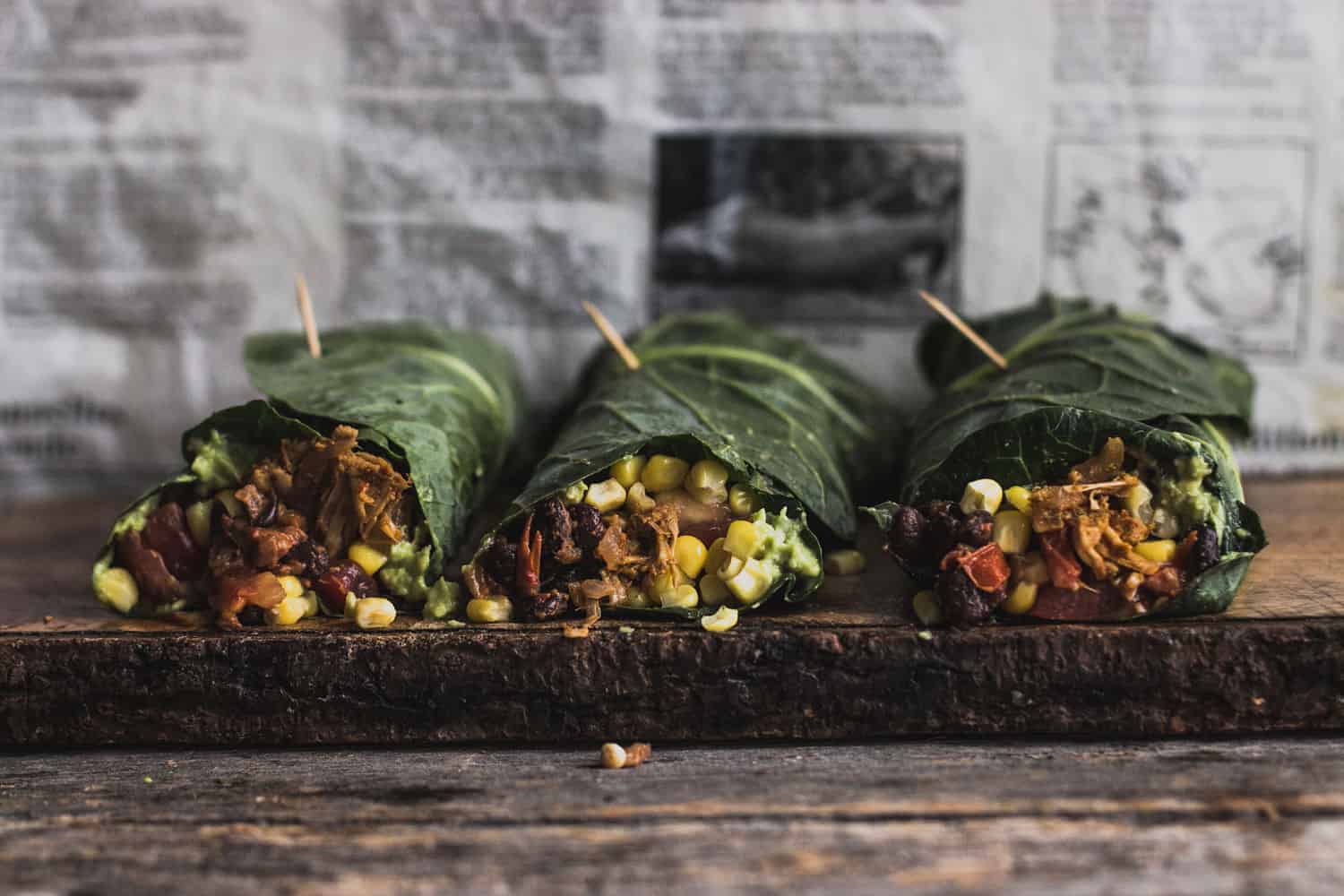 Every Wednesday or most Wednesdays anyway, it's Mexican night. We usually have a vegan chili but my son gets tired of it. He's like: (Yawn) Boring! To be honest, sometimes I get tired of it too.
So I looked for inspiration because I never had jackfruit before and I had to do something with it because that mysterious thing was calling me like my son does every so often...
— Mommy?
— (No reply. I'm probably in my head like usual.)
— Mommy?
— (No reply. I'm still somewhere in dreamland but hearing a distant voice.)
— Mommy?!
(Bubble popped. I'm falling back to earth.)
— WHHAAAT!
That's right! Lately, I've been seeing jackfruit everywhere. I saw it on social media, a friend of mine mentioned it, and at the grocery store, there it was staring at me in a can, beautifully packaged in bright white and green colors with decorative Indian-style patterns. I'd never noticed it before, but there it was. The time had come for me to play with it.
So I did and I came up with a ridiculously delicious, marvelous, to-die-for healthy burrito. I'm not kidding. Don't be fooled by the fact that it doesn't contain any grain tortilla. It got me singing Alicia Keys' chorus like this: That thing is on fire!
Do you want a piece of it? I thought you'd never ask.
How to Replace Grain Bread Products
Remember I told how I wanted a low-calorie burrito? Well, last week I was curious to weigh myself and to my astonishment, I gained almost 10 pounds! Ok, if you saw me, you'd be like: "Shut up!" because I look thin.
But still, I noticed I've been gaining weight slowly for the past year, especially these last five, six months. In those months, I think I gained 6 pounds or something. I'm blaming it on the crazy hours I've been putting in to launch this blog and get it in front of the eyes of others, and sitting in front of my computer for hours on end and snacking on nuts and seeds repeatedly.
I may look somewhat thin, but I have to put a stop to this madness before I wake up one day and see Willy the Whale as my reflection. Ok, I might be exaggerating, but I want to be able to see my toenails. Is that too much to ask? So for the first time in my life, I decided to go on a super healthy regimen: stop munching too much, work out and have more sex. What!? That's more exercise, isn't it?
Anyway, let's get back to the subject. The easiest solution for grain-free (or cereal-free) bread products is to use green leaves, like a lettuce leaf or cabbage leaf — sometimes softened in warm water. They work great for one-bun burgers, one-slice sandwiches, tacos, and burritos/tortillas. Remember this, my friend:
When replacing lifeless beige bread, use lively green leaves.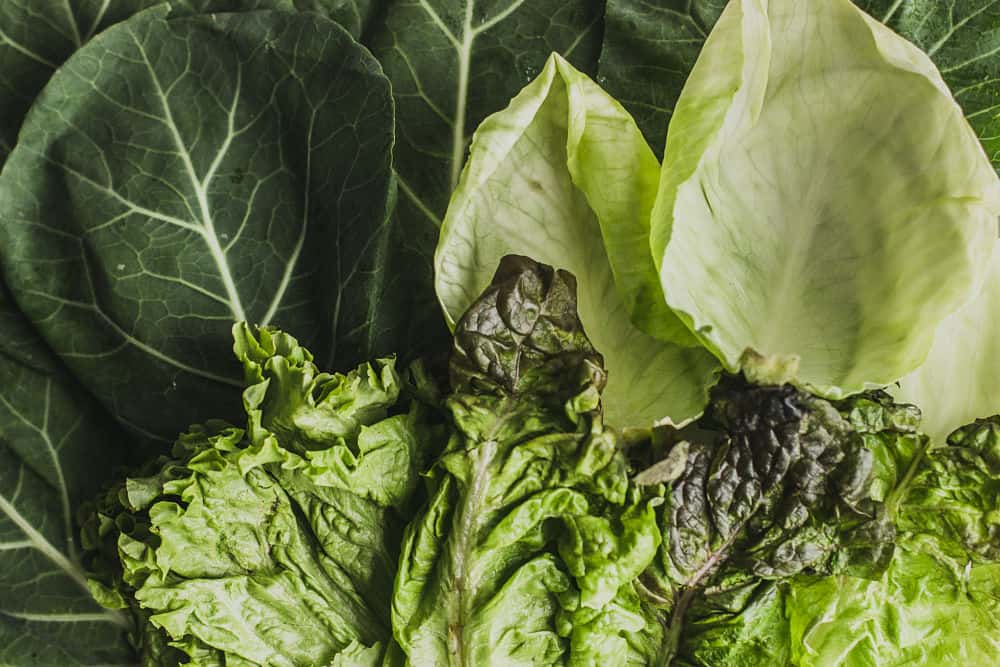 Beep! I'm interrupting this message with this trivia…
Do you know the difference between enchiladas and burritos? The type of tortilla, the serving method, and the size characterize them. Essentially, enchiladas are made with a corn tortilla and come with some type of sauce. Burritos, which are usually larger, are made with a flour tortilla.
In my case, I'm using neither a flour tortilla nor a corn tortilla. Mine is a leafy wrap. (Hum… maybe I should've called my recipe Pulled Jackfruit Garden Wraps, but would you have been attracted to the title?)
The Perfect Weapon to Fool Meat Eaters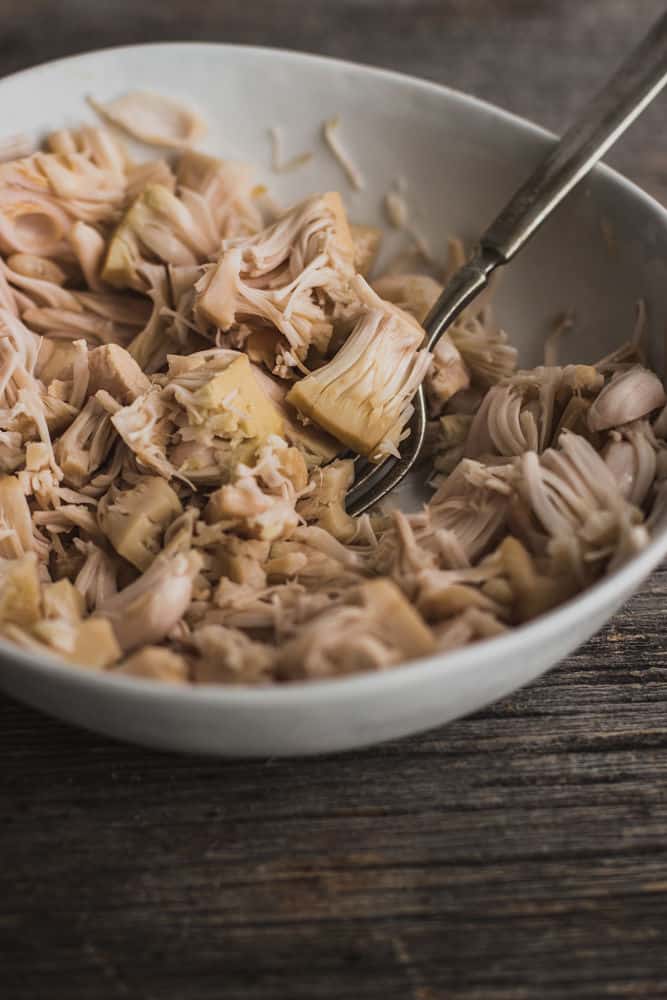 I never paid attention to jackfruit until very recently. Jackfruit is gaining a lot of popularity lately. The reason is it can be used as a great substitute for dishes that call for pulled pork or chicken, thanks to its fibrous texture.
Of course, jackfruit won't taste anything like meat. It tastes more like a mix of banana, mango, and pineapple. But the texture? Woah, I'm telling you, meat eaters will be definitely tricked. Ok, great but how to prepare it?
Internet to my rescue! I looked up jackfruit recipes and when compared, I noticed that most of them contained some kind of paprika, chili powder, and/or tomato paste — all red ingredients. Ahhh! And then I had an epiphany! These are all used to color the jackfruit! There you go, another trick to imitate meat's color.
A Lighter Burrito: Cutting Calories and Steps
My inspiration for my low-calorie burrito all started with an enchilada recipe I learned how to make in raw food cuisine. It contained a raw corn tortilla, a chile Colorado sauce, and different ingredients for the filling.
There was no way in hell I was going to make the raw corn tortilla because it involved making a veggie batter that had to dehydrate for 8 to 12 hours. So I had to think of something else.
My wrap of choice was collard leaf. Now I had two things covered, the wrap and the chili sauce (or so I thought). For the filling, in the beginning, I wanted black beans, corn, shredded cabbage, salsa, sliced avocado, and jackfruit. And the idea was to slap the chile Colorado sauce onto the leaf then add the filling's ingredients.
But I had a few setbacks.
First of all, to make the chili Colorado sauce, I needed dried red California chilis. But from all the varieties of chili packages pinned on the wall at my favorite ethnic grocery store, I couldn't find any. A quick search online pointed that I could replace California chilis (aka Anaheim chilis) with canned green chilis or fresh Poblano chilis. The grocery store only had the latter so I used that. Second, when I made my sauce, it was too liquid! I could just imagine the sauce dripping constantly out of the wraps. Not too pretty.
So I decided to use the sauce for the jackfruit but also make guacamole — a way thicker and more solid consistency — to lie in between the collard leaf and the filling.
Third, preparing the shredded cabbage and salsa was going to involve too many steps. So I skipped them altogether. Actually, I replaced the grated cabbage for a bag of frozen corn that had been getting a cryogenic treatment like Walt Disney for months and was waiting for its revival... I also thought corn would add a nice bright color to the brown cooked beans and jackfruit. And finally, I used plain cubed tomatoes instead of freshly-made salsa to give you some mercy and topped the filling with lime juice and cilantro leaves.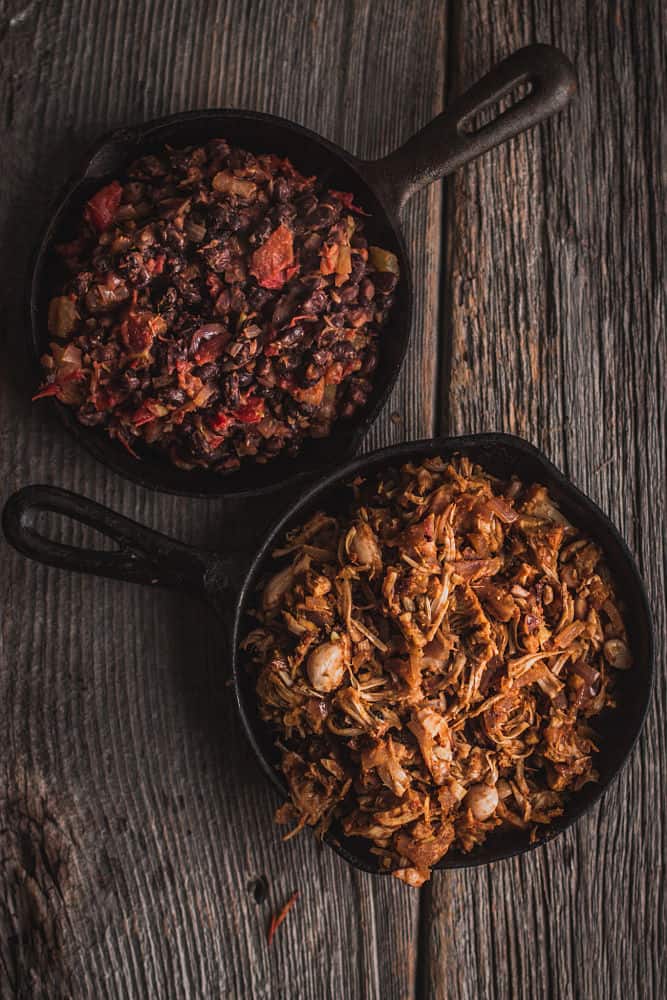 As you can see, you can play around with the filling. If you want to go the lazy route, you can use whole wheat or gluten-free tortillas and ready-made guacamole (or simply mashed avocados) and/or salsa. You can add mangoes, more leafy greens, green onions, whatever you like. You can serve the seasoned jackfruit in sandwiches, tacos, or nachos or make a jackfruit bowl.
My wrap is dope though. It's light, slightly crunchy, slightly tangy, slightly hot, uber savory, satisfying, and comforting. What's not to love?
Make it Now
Burritos are always fun to make and are perfect for cool gatherings. This recipe might take four big major steps because you're preparing everything from scratch, but even when you build traditional tortillas, it still involves many components.
The freshness of the ingredients makes it so worth it, though.
Pulled Jackfruit Garden Wrap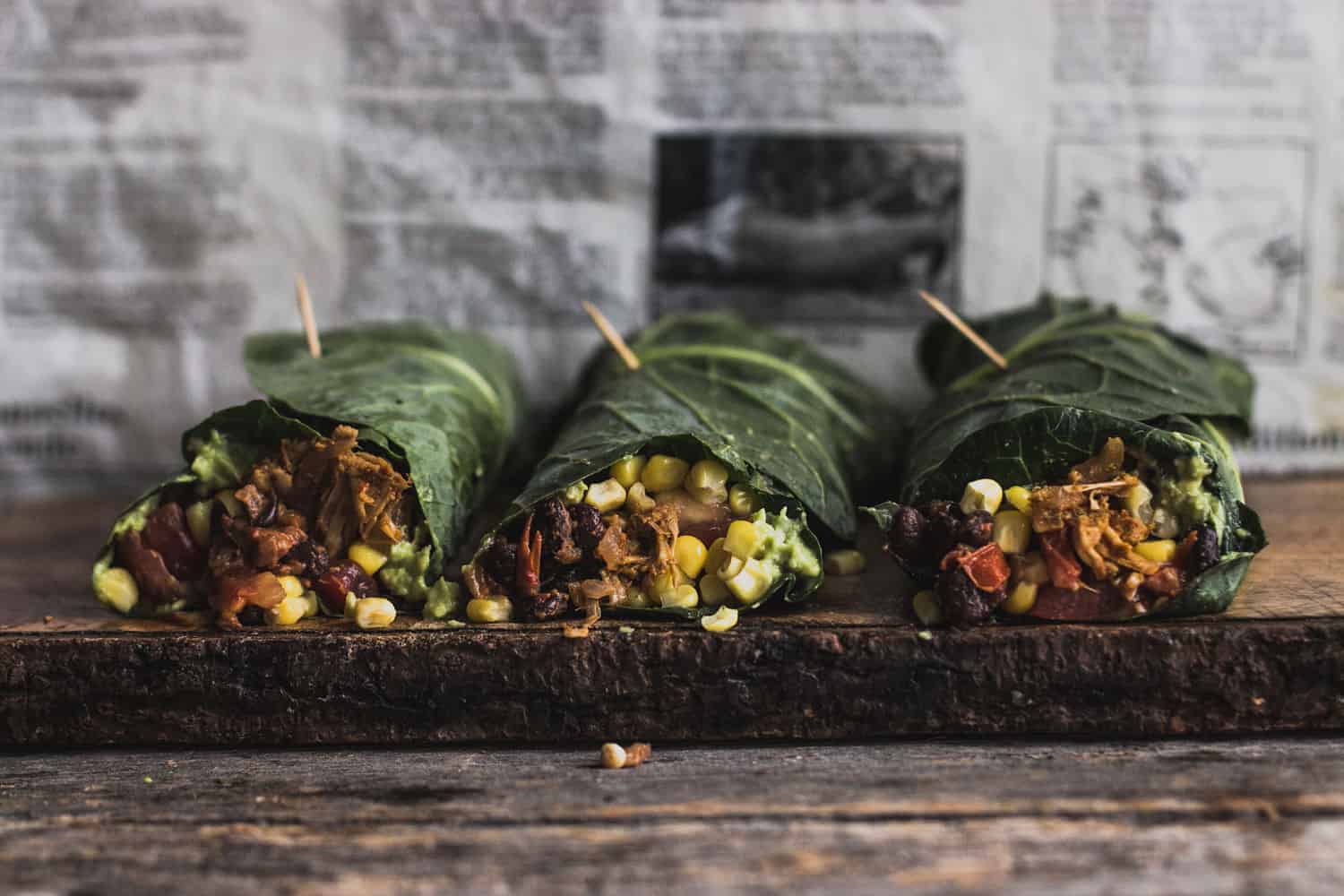 If you try this recipe, I want to know about it! I always appreciate your feedback. Leave a star rating in the recipe card right below and/or a review in the comment section further down the page. You can also follow me on Pinterest, Facebook, or Instagram. Sign up for my email list, too!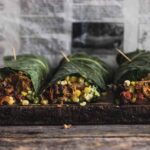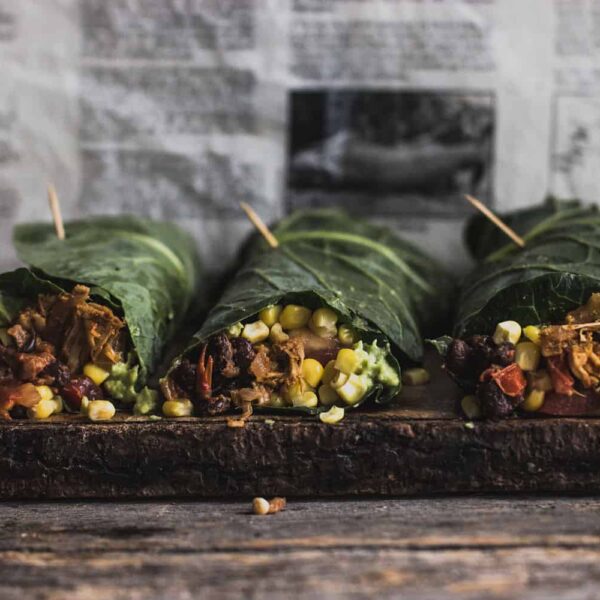 Pulled Jackfruit Burritos
Burritos are always fun to make and are perfect for cool gatherings. This recipe might take four big major steps because you're preparing everything from scratch, but even when you build traditional tortillas, it still involves many components.
The freshness of the ingredients makes it so worth it, though.
Save Recipe
Saved!
Print Recipe
Pin Recipe
Ingredients
Chile sauce
2

Poblano chilis

fresh or dried California chilis stemmed and seeded (Notes)

1

red bell pepper

seeded and chopped

2

teaspoons

onion powder

1

teaspoon

Mexican chili powder

1

teaspoon

smoked paprika

1

teaspoon

garlic powder

1

teaspoon

ground cumin

½

teaspoon

salt

¼

teaspoon

dried oregano

¼

teaspoon

pepper

1

tablespoon

olive oil

1

20 oz-can

green jackfruit

in brine or water

1

teaspoon

olive oil

Salt

to taste
Caribbean Black Beans
1

teaspoon

oil

½

cup

chopped onion

4

cloves

garlic

finely chopped

1 ½

cups

black beans

cooked or 2 x 15 oz-can (Notes)

1

cups

Roma tomatoes

diced

1

tablespoon

apple cider vinegar

½

teaspoon

thyme

½

teaspoon

salt

⅛

teaspoon

Cayenne pepper
Guacamole
2

ripe avocados

2

tablespoons

red onions

minced

2

teaspoons

lime juice

1

teaspoon

garlic

crushed (about 1 clove)

Pinch

salt

Pinch

Cayenne pepper
Garnish
Diced tomatoes or salsa

½

cup

minced cilantro

1

lime

cut into wedges

4-6

large

collard leaves

shaved and stem removed
Instructions
Make the sauce: In a high-powered blender, place the chilis with the remain ingredients, except the olive oil, and blend until completely smooth. Add the olive oil and continue blending until emulsified. Set aside.

Drain and rinse the jackfruit. Squeeze out excess liquid by pressing the jackfruit pieces in a paper towel. Slice jackfruit into thin, ¼-inch thick strips using a small knife, from core to edge, or shred in a food processor.

Heat 1 teaspoon oil in a skillet over medium heat. Add shredded jackfruit and cook for 2-3 min. Add the sauce and ¼ cup water. Cook partially covered for 25 to 30 minutes. Stir occasionally. Once the mixture is dry, salt to taste.

Make the Caribbean black beans: Heat oil in a skillet over medium heat. Add onions and garlic and cook until translucent for 4-5 min. Add the black beans and the remaining ingredients, and simmer for 10 min. Stir occasionally.

To assemble: Spread the guacamole onto the collard leaf. In rows, add the black beans, corn, tomatoes, and jackfruit. Drizzle the filling with lime juice from a wedge and sprinkle with cilantro. Fold each extremity of the collard leaf perpendicularly to the rows of the filling and roll the free extremities into a burrito. Cut in half and secure each half with a toothpick.

Served immediately.
Notes
If using dried chilis, in a medium bowl, cut into pieces and discard seeds. Soak for 30 minutes then drain. If using dried black beans, soak overnight and cook the night before or the day of the recipe. Cook for about 45 minutes.
Placed in a tight container in the refrigerator, the wraps will keep for a day, the blacks beans for a week and the jackfruit for 5 days.
Nutrition
Calories:
364
kcal
|
Carbohydrates:
39
g
|
Protein:
11
g
|
Fat:
21
g
|
Saturated Fat:
3
g
|
Polyunsaturated Fat:
3
g
|
Monounsaturated Fat:
14
g
|
Trans Fat:
1
g
|
Sodium:
611
mg
|
Potassium:
1185
mg
|
Fiber:
17
g
|
Sugar:
7
g
|
Vitamin A:
2884
IU
|
Vitamin C:
117
mg
|
Calcium:
103
mg
|
Iron:
3
mg
Get Your Free Plant-Based Eating Toolkit and More
Subscribe to my newsletter and unlock my plant-based course, nutrition charts, recipe secrets, and exclusive updates to prepare wholesome, varied & balanced meals effortlessly. All you need is a good appetite. Subscribe!