With a few ingredients, this sticky tempeh recipe is a masterstroke. It is fast, easy, budget-friendly, and above all, it's absolutely delicious.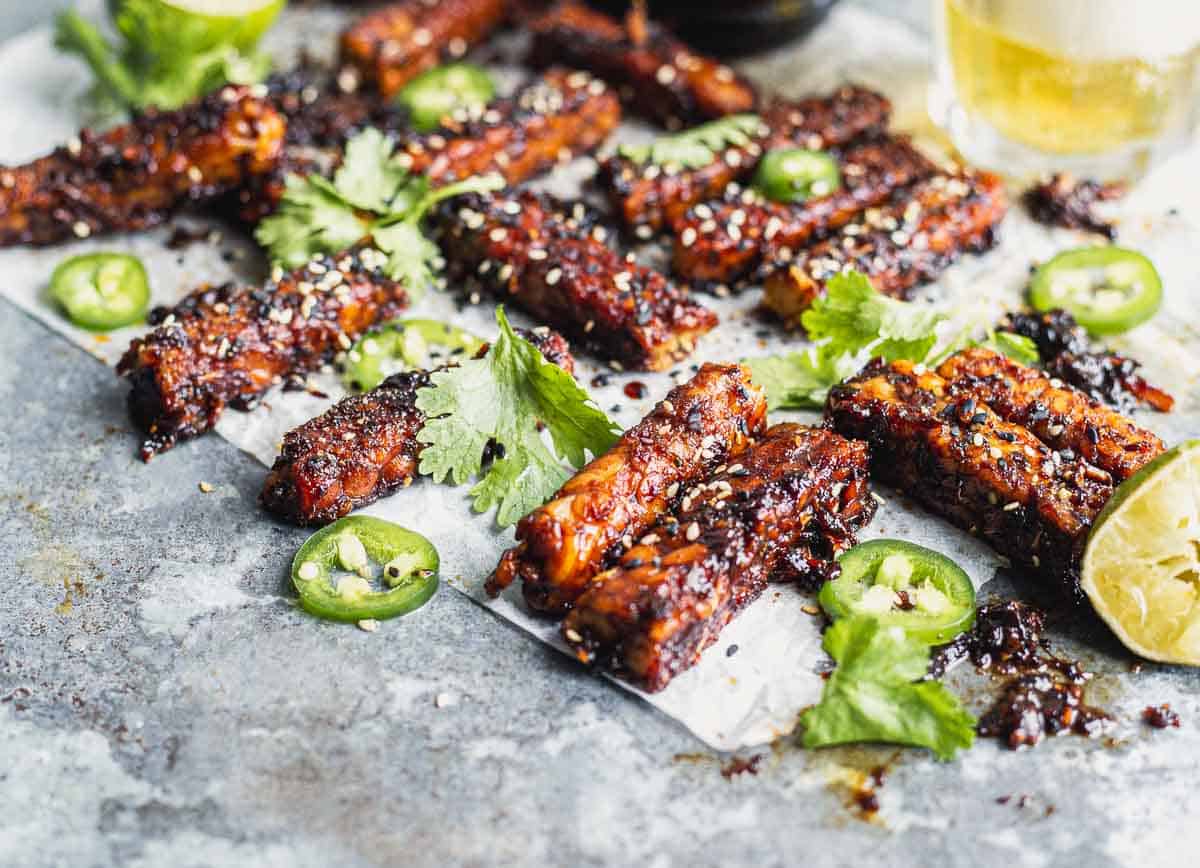 ---
Watch How it's Done
View the recap with the Sticky Tempeh Web Story. It's done in the blink of an eye!

Jump to:
Why this Recipe Rocks
Ah, tempeh, that little wonder I have a love-hate relationship with. The first time I tasted it, I practically gagged.
But I tried incorporating it into my diet because it's the protein star! It's the perfect meat substitute! And it has many benefits! (See the FAQ below for an overview.)
No matter how much I consumed it, no matter how much I seasoned it, its taste always surprised me. It was bitter, earthy, nutty with a dominant and bizarre mushroom taste. My bites were always on the verge of being spit out on my plate.
What about the rest of my family? Forget about it. No one dared to touch it.
I could only eat BBQ-flavored tempeh from the Montreal restaurant Aux Vivres. The creators have successfully combined their cooking method with their flavor processing.
As for me, after many trials, I finally produced a soy bread that is caramelized and takes on a deliciously sticky, almost crispy texture. And the taste? It is rich, intense, deep. You can practically feel the sweet-salty aroma in your kitchen, hear the crunch of tempeh in your mouth, taste this unique flavor.
This sticky tempeh goes perfectly with a nice portion of fragrant rice and a crunchy salad.
When you see your children's plates empty in no time, you will tell yourself that this dish really has something magical. So yes, the decision is made; tonight, it's tempeh sticky to the menu!
You'll see. A bite and you will feel you are in a little corner of taste paradise.
What Goes in It?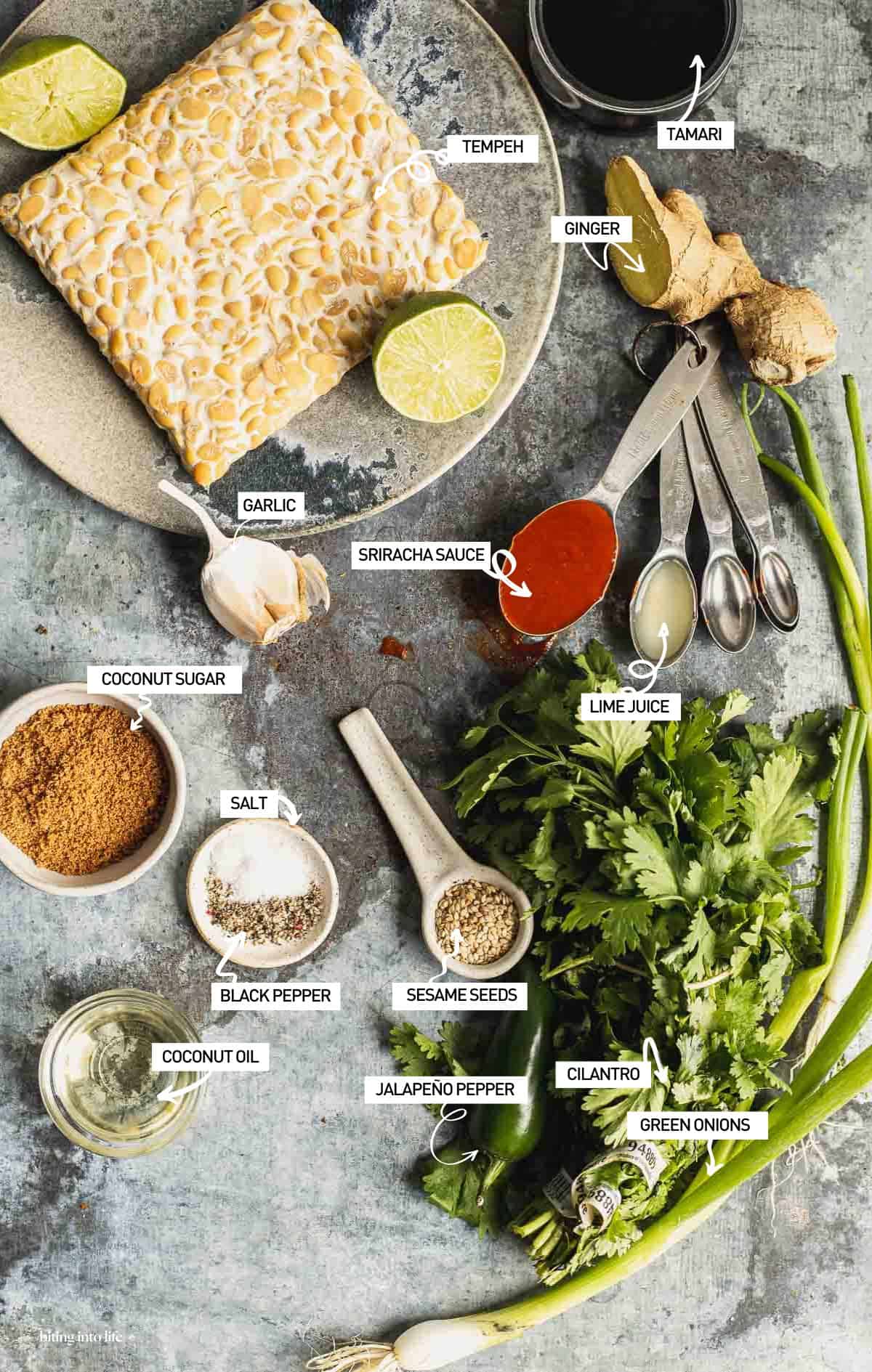 Ingredients Notes
Tempeh. Take it plain so you can season it to taste. You can find it in freezers in general or any Asian grocery store. I used the brand Noble Bean, regular tempeh, or mixed with other beans.
Click here to see the full list of ingredients and exact quantities in the recipe card.
Get Your Free Plant-Based Eating Toolkit and More
Subscribe to my newsletter and unlock my plant-based course, nutrition charts, recipe secrets, and exclusive updates to prepare wholesome, varied & balanced meals effortlessly. All you need is a good appetite. Subscribe!
How to Make this Sticky Tempeh Step by Step
I start by cutting the tempeh into slices and boiling it in a medium saucepan to remove any trace of bitterness ①. In the meantime, I prepare the marinade, grate the ginger and chop the garlic. After 10 minutes of cooking, I remove the tempeh from the heat, let it cool on a plate, and throw away the water. (At this point, it can also be crumbled into small pieces to absorb even more flavor.)
Then it is put back in the skillet (no need for another separate pan 🙌) and lightly browned ②. I continue by combining a lot of ginger and garlic ③ and finish cooking with a shower of seasoned tamari sauce ④.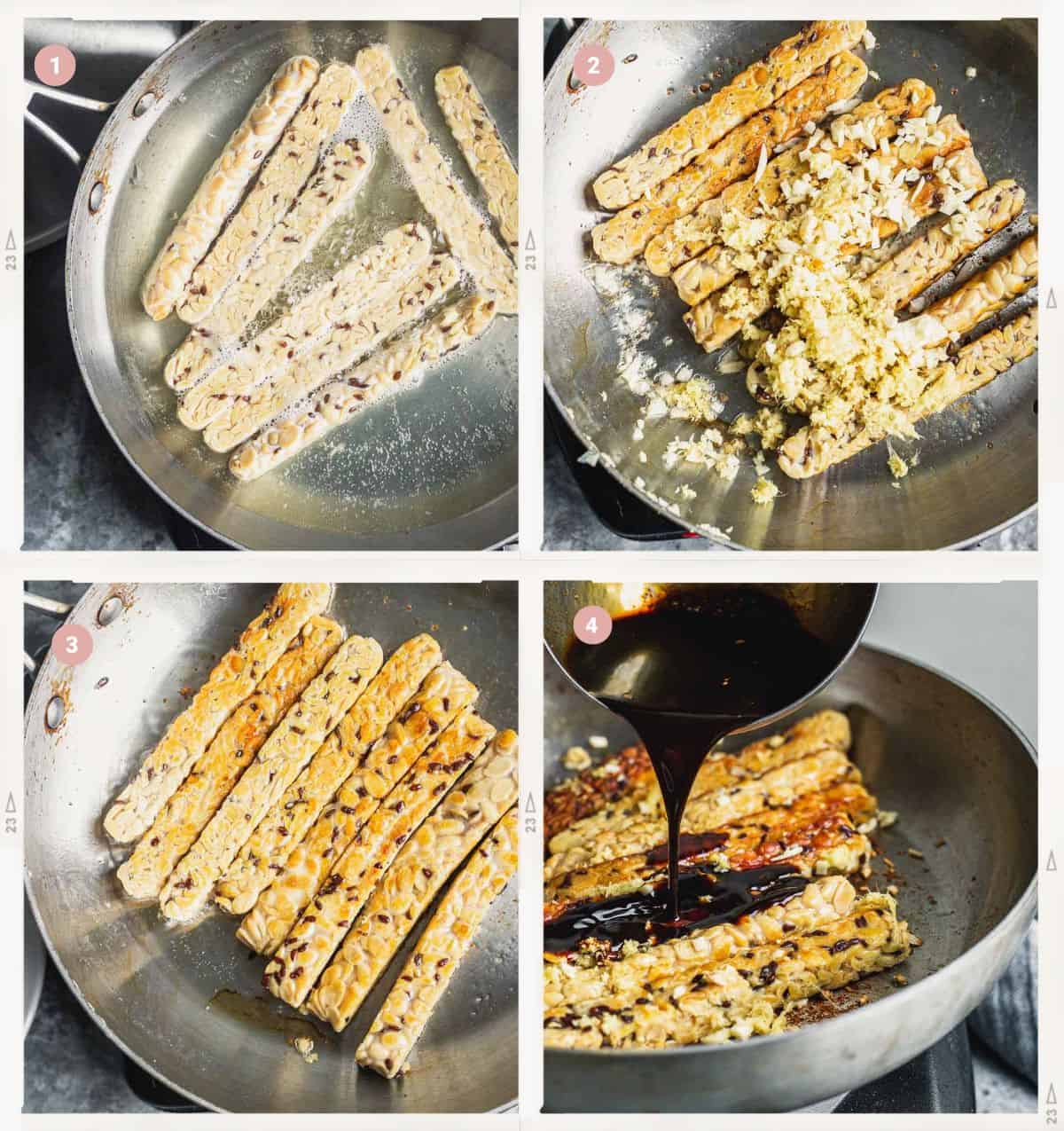 The sauce thickens slightly, clinging to the golden tempeh pieces.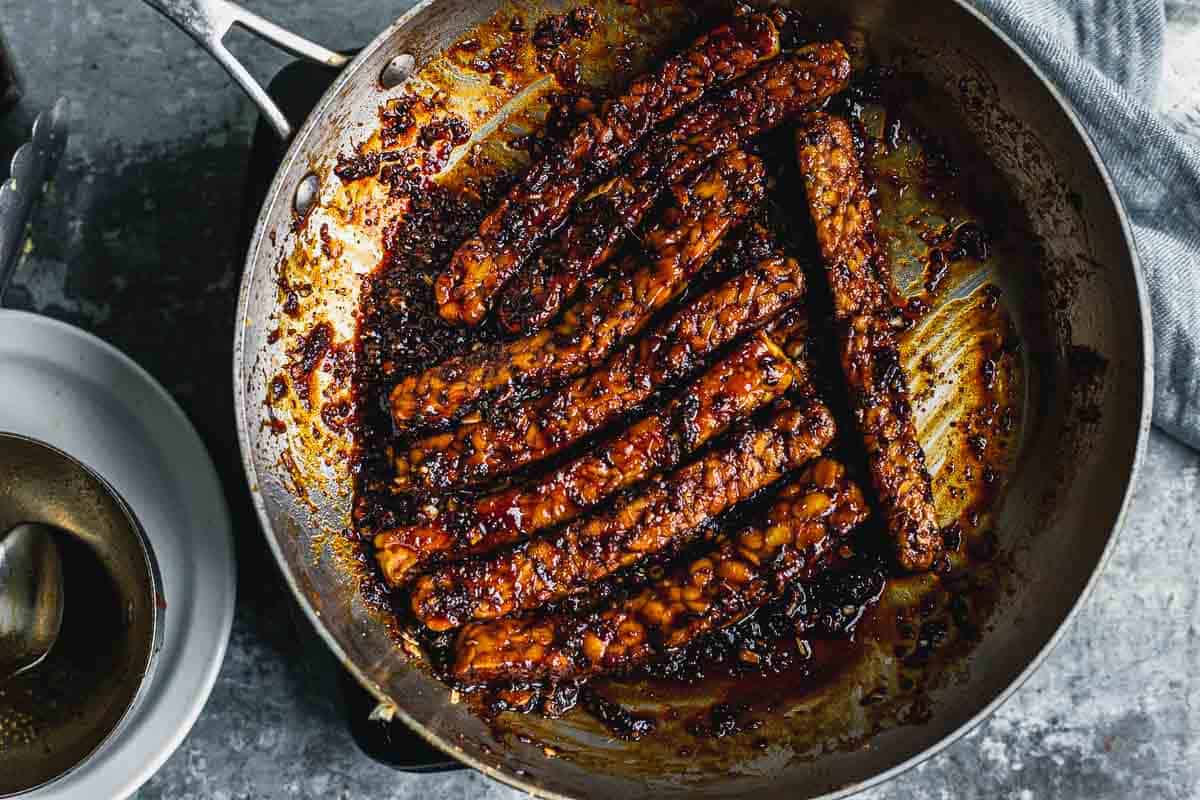 Essential Equipment
To achieve this sticky tempeh, you will need the following accessories and tools:
A cutting board to prepare tempeh and other ingredients.
A sharp knife to cut the tempeh into equal slices.
A nonstick pan or grilling sheet to cook the tempeh.
A medium bowl to prepare the marinade.
Measuring spoons and a measuring cup to measure the ingredients of the marinade.
A whisk or fork to mix the marinade ingredients.
A spatula or tongs to turn the tempeh while cooking.
Absorbent paper to mop up excess water after cooking tempeh, if necessary.
A plate to serve tempeh.
The Keys to Success: My Top Tips
Miracle marinade. The secret of succulent tempeh lies in its marinade. If you can, let the tempeh bask in your favorite marinade for at least an hour or even overnight if you have time. This will allow the tempeh to absorb all the delicious flavors.
Patience is propitious. In the same way that marinade time affects the taste of tempeh, allowing tempeh to cool slightly after cooking allows the flavors to fully develop. So, wait a little after cooking before biting to the fullest.
Conscious cooking. Tempeh needs well-distributed heat to cook evenly. Whether you're grilling, roasting, or sautéing, flip the tempeh regularly for an even golden color and crispy texture.
Subtle sprinkling. A little extra that brings out the flavor of tempeh is to add a pinch of salt before cooking. This helps intensify the other flavors of the marinade and adds a little touch of perfection.
The variety to value. Do not hesitate to experiment with different marinades and cooking methods. Tempeh is incredibly versatile and can be adapted to many culinary styles. Give free rein to your creativity and see what you can create!
Simple Substitutions and Additions
If you don't have all the ingredients on hand, don't panic! Here are some ideas for substitutions and additions to make or customize your sticky tempeh:
Change your vegetable protein source. Substitute tempeh for tofu.
Play with sweeteners. If you don't have coconut sugar, take brown sugar or cane sugar; it will do. You can also opt for maple syrup by thickening it with cornstarch.
Cover the tempeh with other sauces. Tempeh can also be cooked in a sticky orange sauce, peanut sauce, or BBQ sauce. Ensure to add sugar to produce a sticky glaze.
The Special Diets Corner
If you have food intolerances, here are some ideas to make this dish...
Low-FODMAP vegan. Try replacing coconut sugar with xylitol or erythritol; omit the garlic and cook the tempeh with a tad of asafœtida or garlic-flavored oil.
Click here to see the full list of ingredients and exact quantities in the recipe card.
Answers to Your Burning Questions (FAQ)
What exactly is tempeh?
Tempeh is a kind of fermented "cake" made from cooked soybeans (and sometimes from other grains such as rice or spelt) that have been inoculated with a fermentation starter. It has been made and enjoyed in Indonesia for thousands of years. The fermentation process helps break down phytic acid in soybeans and allows for better digestion of starches.
What is the consistency of tempeh?
Tempeh has a firm, dense, slightly grainy texture that differs from tofu or other plant-based meat alternatives. It retains this texture even when cooked, making it pleasantly tender. When properly cooked, it should be tender enough to be easily bitten or cut but firm enough not to fall apart.
Why boil tempeh before cooking?
The steaming step can help reduce its natural bitterness and make it more absorbent for marinades or sauces. In addition, it makes it more tender and facilitates its subsequent cooking. It's not a mandatory step, but it's a trick that some cooks like to use to improve the taste and texture of tempeh.
When do we know that tempeh is cooked?
Tempeh is technically edible in its raw state, so "cooking" tempeh is more a matter of personal preference and seasoning. However, you will know that tempeh is well cooked when its outer color changes from creamy white to golden brown and it develops a crispy crust. It must also be warm throughout.
How to make tempeh sticky?
Marinate tempeh in a thick, sweet sauce before cooking. Sauces made from coconut sugar, soy, or honey are particularly effective for getting sticky tempeh. Once the tempeh is well coated in sauce, cook it over medium heat in a skillet until golden brown and the sauce has reduced to form a sticky layer around the tempeh.
Troubleshooting
Is the tempeh not sticky enough?
Increase cooking time and add a little more sugar.
Is the tempeh too dry?
Lower the heat and add a little water to the pan.
How to Store it
Sticky tempeh can be stored in an airtight container in the refrigerator for 3 to 4 days. It is also possible to freeze it for longer storage.
What to Serve Sticky Tempeh with
The sticky tempeh goes perfectly with the following accompaniments:
Cereals or pseudo-cereals: white/brown rice or coconut rice, quinoa, or else
Noodles (try my Gluten-Free Soba Noodles)
Green beans or grilled vegetables
A fresh salad
In a burger
Wrapped in a tortilla.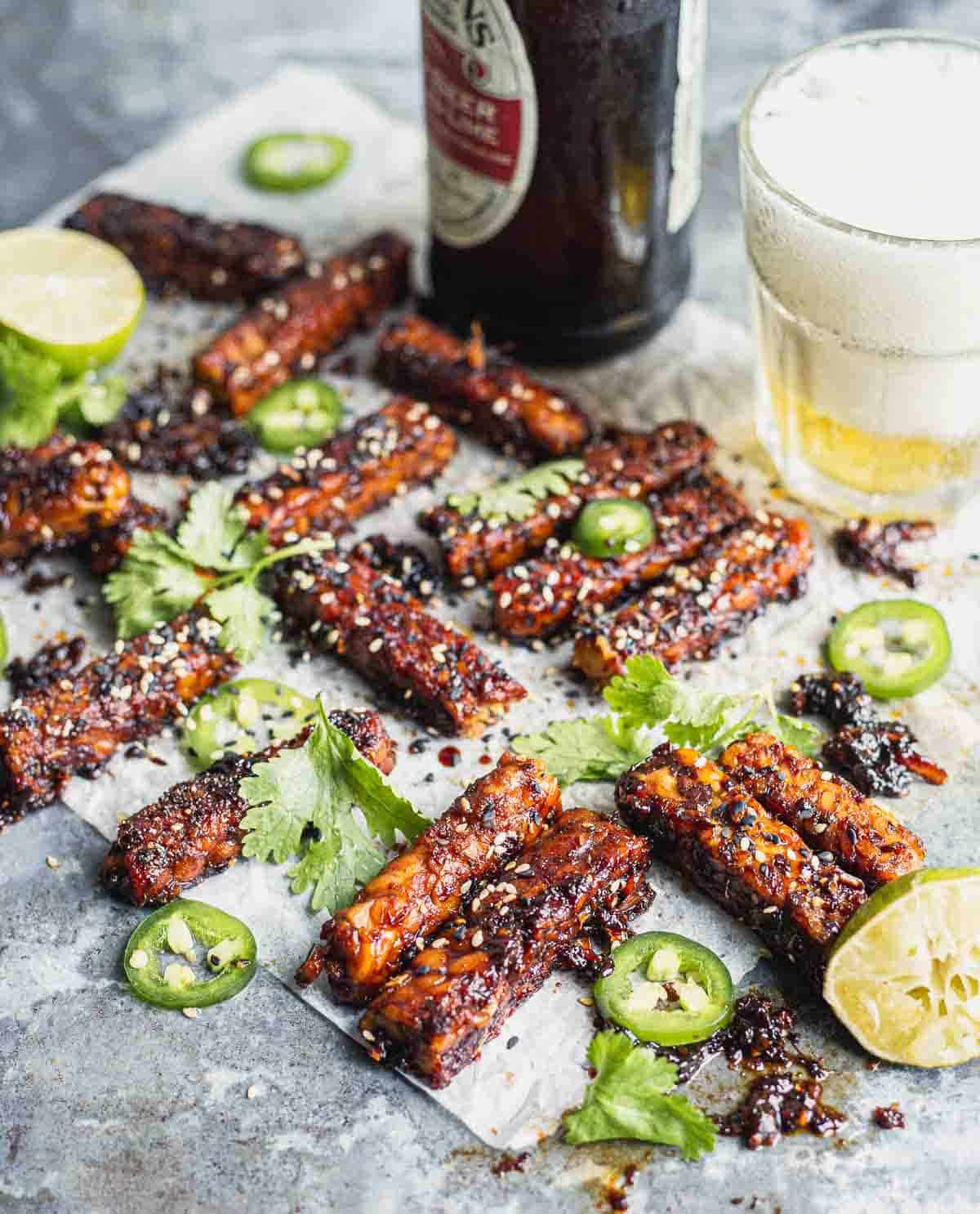 More Plant-Based Proteins Recipes
Make this Sticky Tempeh Now
If you're looking for a tasty and versatile protein source that packs a tasty punch, look no further than sticky tempeh.
Whether you add it to stir-fries or salads, use it as a burger patty or sandwich topping, or just as a snack on its own (yes, it's that good), this deliciously sticky substance is surely to become a staple in your kitchen.
So go ahead and try it. I promise you won't be disappointed!
After all, who can resist the irresistible combination of sweet, spicy, and savory flavors wrapped in deliciously tender packaging?
If you try this recipe, I want to know about it! I always appreciate your feedback. Leave a star rating in the recipe card right below and/or a review in the comment section further down the page. You can also follow me on Pinterest, Facebook, or Instagram. Sign up for my email list, too!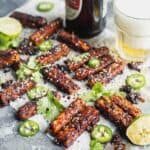 Sticky Tempeh Recipe
This sticky tempeh recipe is simple, fast, and tasty. It requires only a few ingredients, and the result is absolutely delicious.
Save Recipe
Saved!
Print Recipe
Pin Recipe
Equipment
1 Cutting Board

1 Sharp knife

1 Nonstick skillet or grilling sheet

1 Medium bowl

Measuring spoons and a measuring cup

1 Whisk or fork

1 Spatula or tongs

1 Absorbent paper

1 Serving plate
Ingredients
1

(8-ounce)

package tempeh

cut into 1-inch/2.5 cm-thick slices (Notes)

1

tablespoon

coconut oil

or olive oil

2

inches

fresh ginger

peeled and grated

2

cloves

garlic

finely chopped (about 1 teaspoon) or 1 teaspoon garlic powder

Salt and ground black pepper

to taste
Marinade
¼

cup

tamari sauce

soy sauce or coconut aminos

3

tablespoons

coconut sugar

or another sweetener

1

tablespoon

sriracha sauce

(Optional)

1

teaspoon

lime juice

1

teaspoon

sesame oil

(Optional)
Garnish
2

green onions

thinly sliced

Cilantro leaves

Green peppers

thinly sliced (Optional)

White sesame seeds
Instructions
Bring water to a boil in a medium skillet over medium heat. Once simmering, add the tempeh slices and cover. Steam the tempeh for 10 minutes. Boiling tempeh helps to reduce or remove any trace of bitterness.

Meanwhile, whisk the tamari, coconut sugar, sriracha, and lime juice into a small bowl. Reserve.

Remove the tempeh from the pan with tongs and place it on a plate to cool. Empty the pan and wipe it to cook the tempeh later.

Dab the steamed tempeh with a clean cloth or paper towel to dry, if necessary. (At this point, the slices can be kept as is, halved, cubed, or crumbled.)

Return the pan to the stove on medium-high heat and pour oil into it. Add the tempeh to the pan and stir. Sauté the tempeh until the pieces are lightly browned, about 3-4 minutes.

Add the ginger and garlic and stir until fragrant enough, about 30 seconds.

Pour the tamari marinade into the pan and stir, peeling off the tempeh (or scraping the brown crumbled tempeh from the bottom) from the pan with a spatula if necessary. Continue cooking the tempeh until the sauce has slightly caramelized and browned more deeply, about 6-7 minutes. Season the tempeh with salt and pepper and stir.

Serve the sticky tempeh with a side dish of your choice, and sprinkle the top with the desired topping.

Placed in an airtight container, this sticky tempeh will keep for up to 4 days.
Notes
The tempeh was sliced to speed things up. However, if it is rather crumbled, it will be even tastier.

For maximum flavor, let the tempeh marinate for at least an hour, or even overnight, and cool slightly after cooking.

Add a little salt before cooking to bring out the flavor of the tempeh. This helps intensify the other flavors of the marinade and adds a little touch of perfection.

For an even stickier tempeh, increase the cooking time and add a little more sugar.

Distribute the heat well so that the tempeh is cooked evenly regardless of whether it is grilled, roasted, or sautéed. Turn it regularly to get an even golden color and crispy texture.
Variations
Sticky Tofu:

Substitute tempeh for tofu.

Tempeh in a sticky orange sauce:

add orange sauce instead of the sauce ingredients above.

Low-FODMAP

Vegan

Sticky Tempeh

: try replacing coconut sugar with xylitol or erythritol; omit the garlic and cook the tempeh with a tad of asafœtide or garlic-flavored oil.
Nutrition
Calories:
346
kcal
|
Carbohydrates:
43
g
|
Protein:
8
g
|
Fat:
19
g
|
Saturated Fat:
12
g
|
Polyunsaturated Fat:
2
g
|
Monounsaturated Fat:
3
g
|
Sodium:
3717
mg
|
Potassium:
302
mg
|
Fiber:
2
g
|
Sugar:
27
g
|
Vitamin A:
264
IU
|
Vitamin C:
18
mg
|
Calcium:
45
mg
|
Iron:
2
mg