These vegan savory muffins won't make it to the table! Quick and easy, they're made with leek and mushrooms, and they have crisp, golden tops and light, moist interiors.
Keep a reserve for snacks, place them in lunch boxes or serve them in a basket with dinner!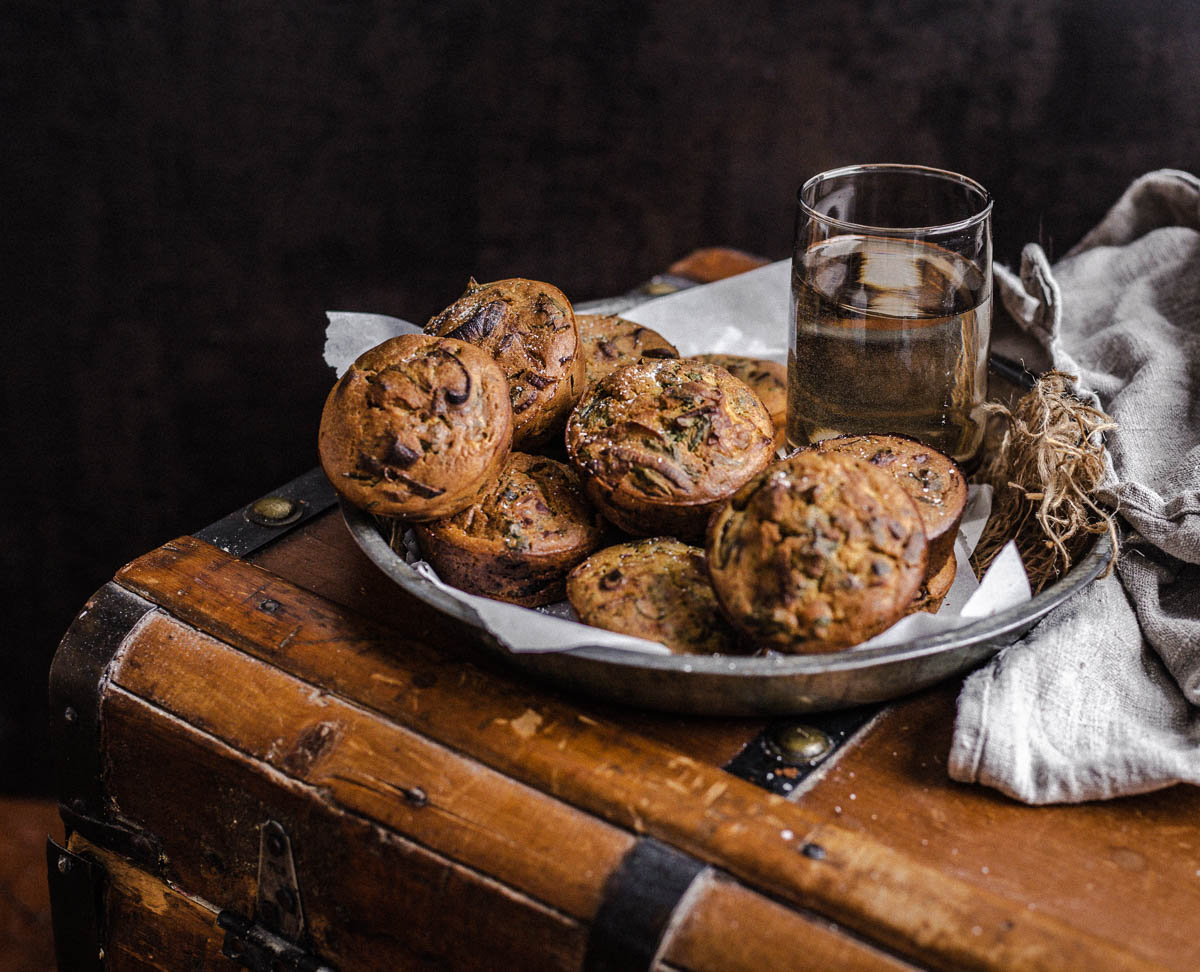 Jump to:
The Best Savory Muffins
Oh, how glad I was that this recipe presented itself to me on a lazy Saturday night. For almost a year, I've kept a package of chickpea flour. And its content has been disappearing as quickly as a sloth crossing a road.
Rest assured, the expiration date hadn't yet passed. Fortunately, I had just the right amount, to the nearest gram, to make savory muffins. The stars were aligned. What's more, the idea of ​​cooking for hours didn't vibrate in me.
But when I realized that 10 minutes of effort was the only thing standing between me and a batch of goodness, my Saturday night laziness quickly turned into a little dance on the floor.
These babies are fantastic. They are :
Gluten-free
High-protein (10 g)
Healthy
Fast (set them and forget them)
Easy (four main steps)
Straightforward (only five main ingredients)
Toddler-friendly
Why this last point? Because it's the perfect cover to hide vegetables. Yes, the end justifies the means.
These toasted and spicy muffins have a moist and substantial crumb but not heavy. I tinkered with the original recipe to make it airy and fluffy. And if you eat them while they're hot, you'll find that the top is cracked and reveals some traces of greenery.
And then the flavor comes, that calm, whispering warmth that allows time to hatch, more a sensation than a flavor. If you swallow two or three muffins per meal, you might feel a burning sensation in the back of your throat, not that it's a warning, but it's a preamble to a great bite.
Answers to your Burning Questions
What are savory muffins?
These are individual mini-cakes. However, they're salty and consist of tasty vegetables. As with sweet muffins, the characteristic manufacturing principle is to prepare the mixture of liquid ingredients and that of dry ingredients separately, then quickly and coarsely stir the two preparations.
Are savory muffins healthy?
Many recipes include eggs, dairy products (butter, cow's milk, lots of cheese), making them relatively high in saturated fat. Plus, they contain refined white flour, which is often devoid of nutrients. To make them healthier, you can replace these two elements with chickpea flour.
What is chickpea flour?
It is a gluten-free flour made from ground chickpeas (garbanzo). It's traditionally used in Indian cuisine as gram flour.
Thanks to its texture, it's often used in vegan cooking to make recipes containing eggs.
Since it's made entirely from chickpeas, this flour provides 21 grams of protein per cup, while all-purpose flour provides 13 grams.
How does it taste? Chickpea flour has a taste reminiscent of chickpeas in flour, but only inconspicuously. It has a slight cornbread flavor, which definitely contributes to these muffins' esculent factor.
What do You Put in Them?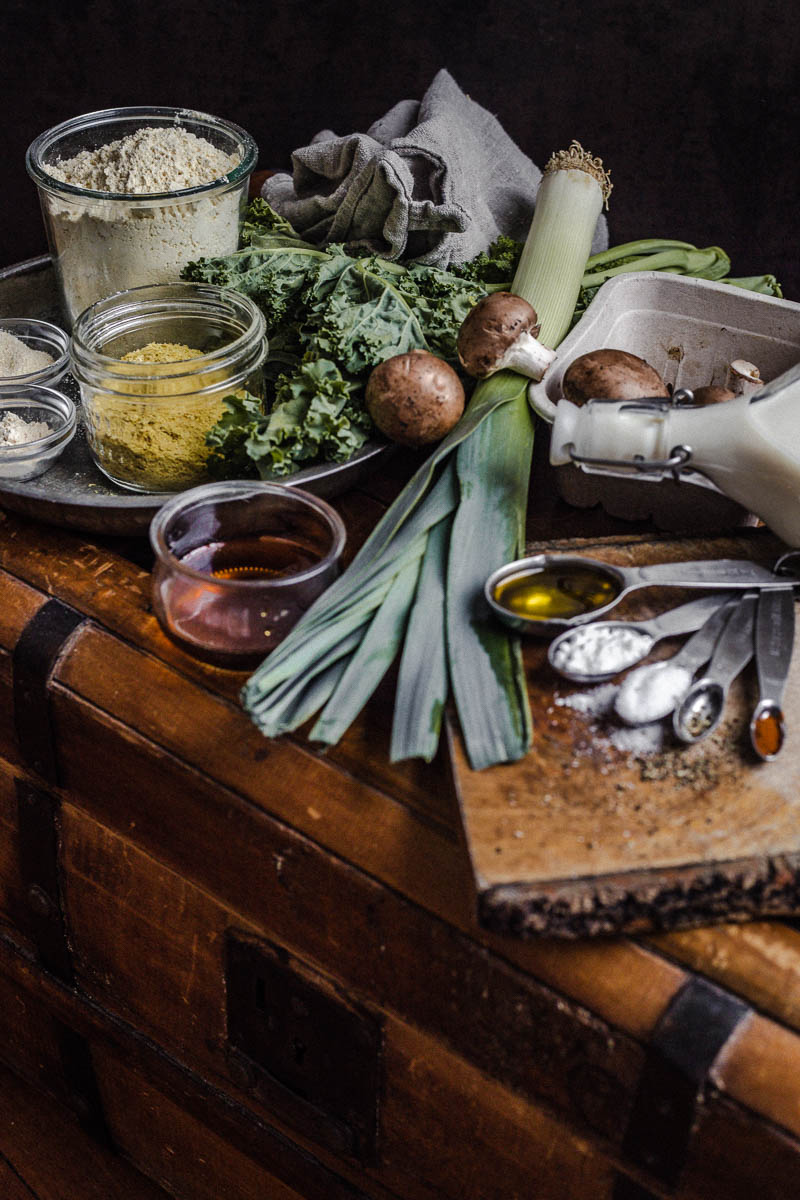 Main Ingredients
Chickpea flour – very convenient for recipes for cookies, bread, muffins, etc., without eggs and gluten. Its protein and fiber content provides a nice texture to the final product. You can typically find it in the health food section. Otherwise, go to grocery stores for that kind of vocation.
Brown mushrooms – also called crimini mushrooms, I prefer to use them for their concentration of antioxidants.
Kale – this cruciferous is one of the most protein-rich leafy greens. I like to cook with it for its antioxidant and anticancer properties. You can use curly kale, Tuscan cabbage (aka black, dinosaur, palm), or spinach.
Unsweetened soy beverage – to ensure your protein intake. Other plant-based drinks can be used if you are concerned about soy or are allergic to it. In this case, I recommend drinks made with plain oats (which have a fairly neutral taste), cashew, or macadamia (more expensive).
Leek – for the taste, but also to show a few spots of green.
Seasonings
Nutritional yeast – this is an inactive yeast that is grown on a nutrient-rich culture. Some are fortified with vitamin B12, such as that of the Red Star brand. Thanks to its flavor, it recalls the taste of cheese and adds a depth of taste.
Onion powder – I tried this recipe with fresh onions before but found that the flavor did not carry through the crumb. So, I switched to onion powder, and the taste was much more enhanced.
Garlic powder – same.
Cayenne pepper – to warm you up a bit. It's said that combined with black pepper, capsaicin's properties, an antioxidant, are increased tenfold. Capsaicin may have significant potential to promote vascular and metabolic health.
Maple syrup – to soften the dough slightly. Choose good quality ones. Real maple syrup, not that fake Aunt Jemima stuff.
Salt and pepper – I like to use kosher salt for its fine crystals. The pepper is freshly ground.
Miscellaneous Ingredients
Baking powder – this will raise the dough to have a mushroom-like appearance and nice craters on top.
How to Make Savory Muffins Step by Step
Making savory muffins without cheese, without eggs, without white flour, without dairy products (butter or milk) is child's play.
1 / Sauté the vegetables (leek, mushroom, kale) and seasonings (cayenne pepper, pepper, salt).
2 / Combine the dry ingredients (flour, nutritional yeast, spices)
3 / Combine the wet ingredients.
4 / Quickly and roughly mix the two preparations.
5 / Add the vegetables.
6 / Divide the dough into muffin tins and cook.
7 / Unmould and serve immediately or reserve.
Other Creative Variations
You have many add-in options. Add in these vegan savory muffins:
Corn
Zucchini
Salted Carrots
Sun-Dried Tomato
Spinach
Sweet Potato
How to Serve Them?
If you eat them for lunch or dinner, serve the warm muffins (2 per person) with grilled vegetables, stew, or soup. This will make a whole meal.
These savory muffins were a huge hit with my little one, who used them as a ketchup sponge. But the adult in you will appreciate them as well.
Instead of dividing the dough into muffin cups, you can also shape it into a rectangular cake shape, like a quick bread.
If you eat them as a breakfast or a snack, you can add a handful of berries.
Make this Meal Now
Unless you're familiar with various recipes using chickpea flour, it's rare to use it in large quantities. Gluten-free savory muffins are the perfect way to take advantage of this opportunity.
Among other things, these gluten-free savory muffins are quick and nutritious, tasty, and healthy. They can disguise vegetables without the reluctant victims—your kids—blatantly noticing them.
So when laziness seizes you, savory muffins will come to your rescue.
Pair them with what's in your fridge, and you'll have a satisfying and relaxing meal in an instant.
Vegan Savory Muffins Recipe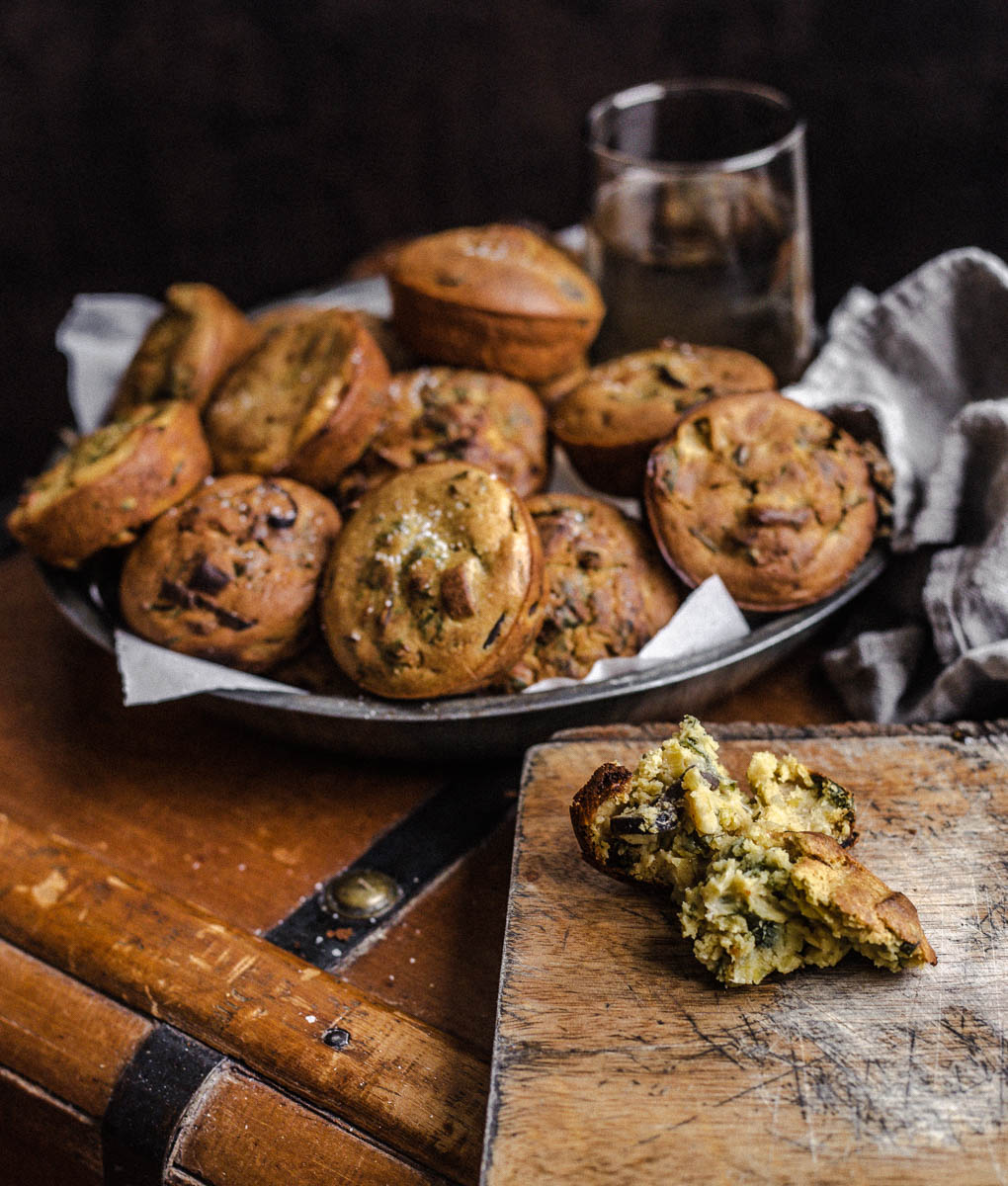 If you try this recipe, I want to know about it! I always appreciate your feedback. Leave a star rating in the recipe card right below and/or a review in the comment section further down the page. You can also follow me on Pinterest, Facebook, or Instagram. Sign up for my email list, too!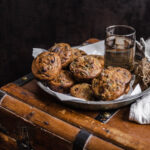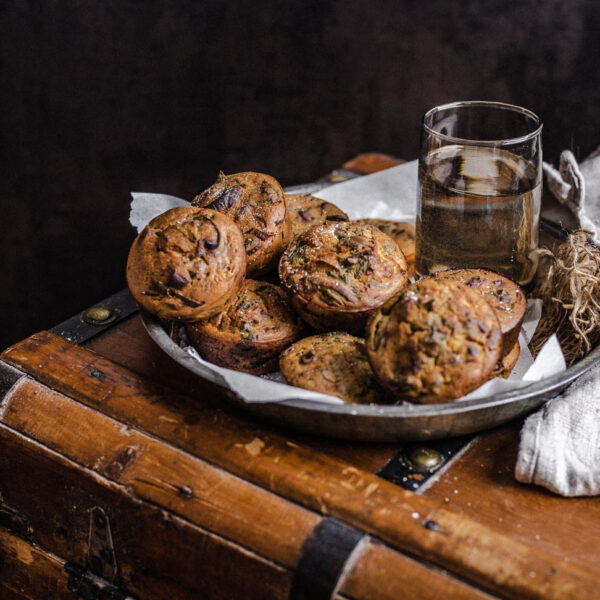 Vegan Savory Muffins
These healthy savory muffins are quick to make. The resulting muffins are tender and golden yellow and somewhat reminiscent of cornbread. They're best when they're fresh from the oven, or on the day that they're made, but they'll still be good in your lunch box.
Save Recipe
Saved!
Print Recipe
Pin Recipe
Ingredients
1

teaspoon

olive oil

plus 3 tablespoons

1

leek

minced

2

cups

brown mushrooms

sliced

2

cups

kale

chopped

1

pinch

cayenne pepper

2 ½

cups

chickpea flour

½

cup

nutritional yeast

1

teaspoon

onion powder

1

teaspoon

garlic powder

1

teaspoon

baking powder

3

tablespoons

maple syrup

3

cups

soy milk

unsweetened

Salt and pepper

to taste
Instructions
Preheat the oven to 475 °F (245 ° C).

In a non-stick skillet, over medium heat, heat 1 teaspoon of oil and sauté the leek for 3 minutes. Add the mushrooms and continue cooking for 3 minutes or until tender. Add kale and cayenne pepper for 1 to 2 minutes. Add salt and pepper to taste. Drain and let cool.

In a large bowl, combine the flour, nutritional yeast, garlic powder, onion powder, baking powder, and a good pinch of salt. In another bowl, combine 3 tablespoons of oil, maple syrup, and soy beverage. Pour the wet ingredients into the dry ingredients and mix until smooth. (You can also combine all the ingredients at once in one bowl.) Add the vegetables and mix well.

Oil the muffin cups, distribute the dough, taking ¼ cup of the mixture, and place them in 18 cavities. Bake in the center of the oven for 25 to 30 minutes or until the muffins are golden and a toothpick comes out clean.
Notes
These savory muffins are best taken out of the oven or on the day they are made.
HOW TO SERVE
Serve the muffins warm (2 per person) with grilled vegetables, soup, or soup.
STORAGE
Placed in an airtight container, these savory muffins can be frozen.
Nutrition
Calories:
158
kcal
|
Carbohydrates:
25
g
|
Protein:
9
g
|
Fat:
2
g
|
Saturated Fat:
1
g
|
Sodium:
69
mg
|
Potassium:
352
mg
|
Fiber:
4
g
|
Sugar:
8
g
|
Vitamin A:
18
IU
|
Vitamin C:
1
mg
|
Calcium:
50
mg
|
Iron:
2
mg
Get Your Free Plant-Based Eating Toolkit and More
Subscribe to my newsletter and unlock my plant-based course, nutrition charts, recipe secrets, and exclusive updates to prepare wholesome, varied & balanced meals effortlessly. All you need is a good appetite. Subscribe!