This plum crumble contains a whole combination of sensations: fruity and spicy, lumpy on the top, crunchy in some parts, chewy in others, soft where it meets the jam fruit underneath... And the plum topping is solidly puckery.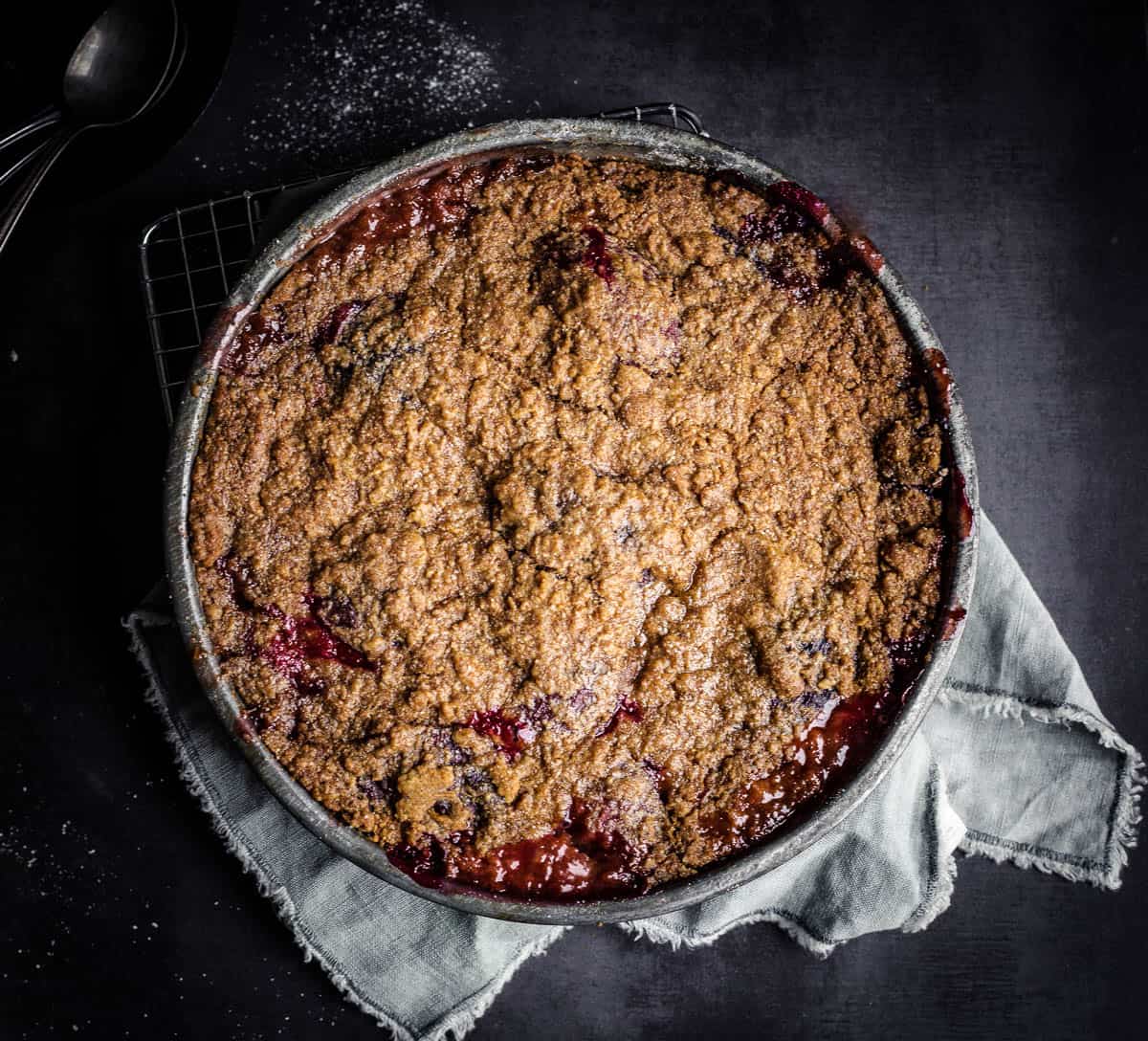 Jump to:
Why This Recipe Works
Each season brings its share of fruits. Late summer calls for corn, peaches, tomatoes...
At the moment, we're talking about plums. So what to do with them? A plum dessert, of course! So far, plum crumble has received my full attention. I'm more of a salty food kinda girl, but I was very fond of this delicacy.
My recipe is the vegan version of Marian Burros's, cookbook author and food columnist for The New York Times, a position she has held since 1983. It's an excellent replica of the original recipe.
I've now done it three times, and my guests have not been disappointed. The taste of the jammy plums doesn't seem to displease the palate of the rare people who are crazy about sour flavors.
Honestly, if your dessert isn't all about whole foods, you can't say it's 100% healthy. I won't lie and tell you this one is. It still contains a lot of added sugar.
On the other hand, I'll tell you that I strove to make it a little more nutritious. This is because it features whole wheat and almond flour instead of white flour, and coconut palm sugar instead of white sugar. Plums make up most of the dish anyway, so we're not going to feel too bad about swallowing all that sugar.
This dessert is made in no time.
What do We Put in it?
To make a crumble without eggs, you will simply remove them. And to make a crumble without butter, we'll replace it with non-dairy butter.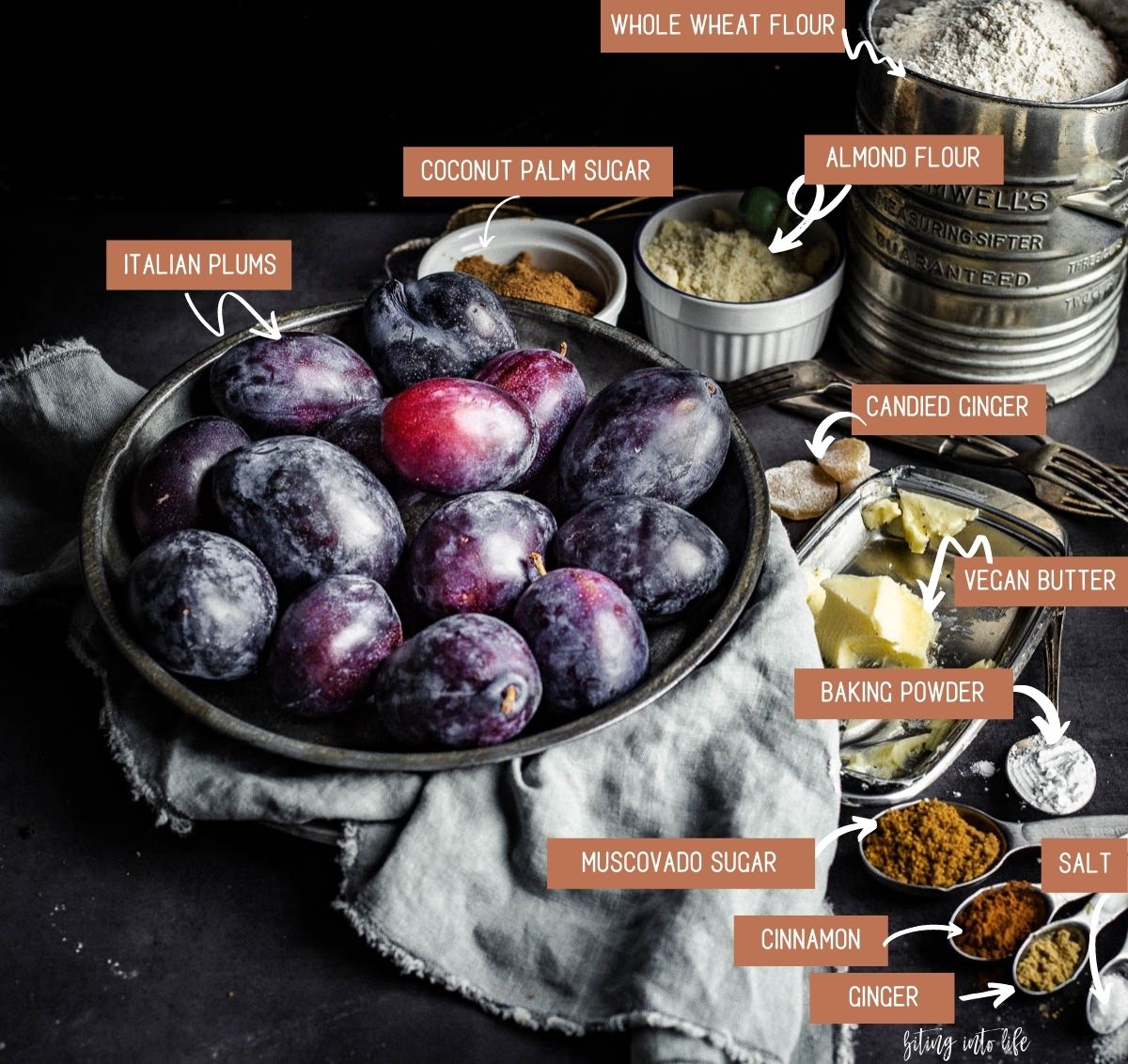 Notes on a Few Ingredients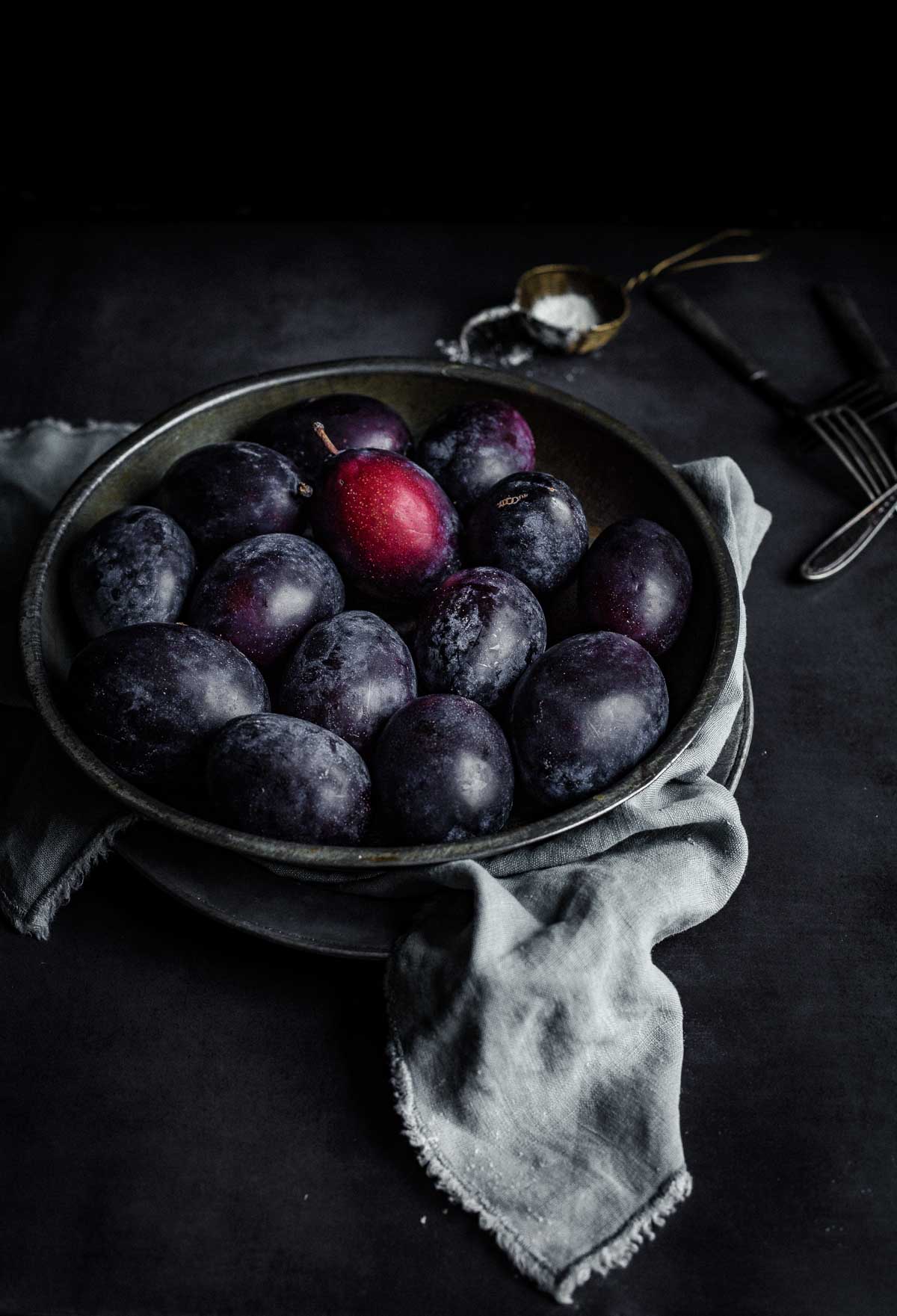 Plums – I chose Italian plums over the Japanese variety as their dense texture is full of sweet, rich, and complex flavors.
Egg replacement – this is optional. The original recipe includes a beaten egg, and I wanted to reproduce the same effect by adding an ingredient, called Egg Replacer, mixed with a little water.
Non-dairy butter – I used the Earth's Balance brand (not my favorite choice, as it contains palm oil). Another choice would be Miyoko's Creamery Cultured Vegan—a Californian product whose flavor is also mind-blowing.
Coconut palm sugar –

the original recipe called for white granulated sugar. Instead, I used this type of sugar—a direct replacement for the latter. Its dark brown color and caramel, nutty and earthy flavor have a taste impact, but it compliments the plums.
Notes: This granulated, unrefined sweetener is considered "healthier" than white sugar. It is also considered to be "a little healthier" than cane sugar because the conversion process retains more nutrients, including a fiber called inulin, which slows the absorption of sugar into the bloodstream.
This allows for a lower glycemic index compared to some other sugars. The calorie content is the same as that of granulated sugar, ie about 4 calories per gram.
Notes: Why are these quotes around healthier or a little healthier? Let's be clear, NO SUGAR is better for your health than another. But even if you have to take a sugar drug, you might as well do it with a minimum of processing and trace elements.
Candied ginger – it brings a play of textures in the compote, a bit of resistance to the tooth.
See the recipe card for the exact quantities.
Simple substitutions and Add-ins
Make it cook faster – use white flour instead of whole wheat flour. It's widely used for crumble. But it is devoid of nutrients.
Make it gluten-free – use gluten-free flour or coconut flour and make a gluten-free plum crumble.
Egg replacement – you can also use cornstarch or potato starch. If you don't add it, it won't make much of a difference to the crumbled topping.
Non-dairy butter – if you can't find any of the aforementioned brands, use margarine. It also lends itself well.
Turn it into a plum crisp for breakfast (or not) – replace the flour with rolled oats et add nuts (come closer; I have another secret to share with you: you'll boost the nutritional density at the same time).
How to Make this Dish Step by Step
Before going into the pan, the plums are simply cut in half and pitted ①. They are then stirred with a very small amount of brown sugar, even smaller amounts of ground ginger and cinnamon, just enough flour to give their juice body. Then, they're lightly electrified by candied ginger. ②
Then you turn the plums over to see their skin. ③ While their buttocks are up in the air, you mix together the ingredients for the crumb topping in another small mixing bowl ④.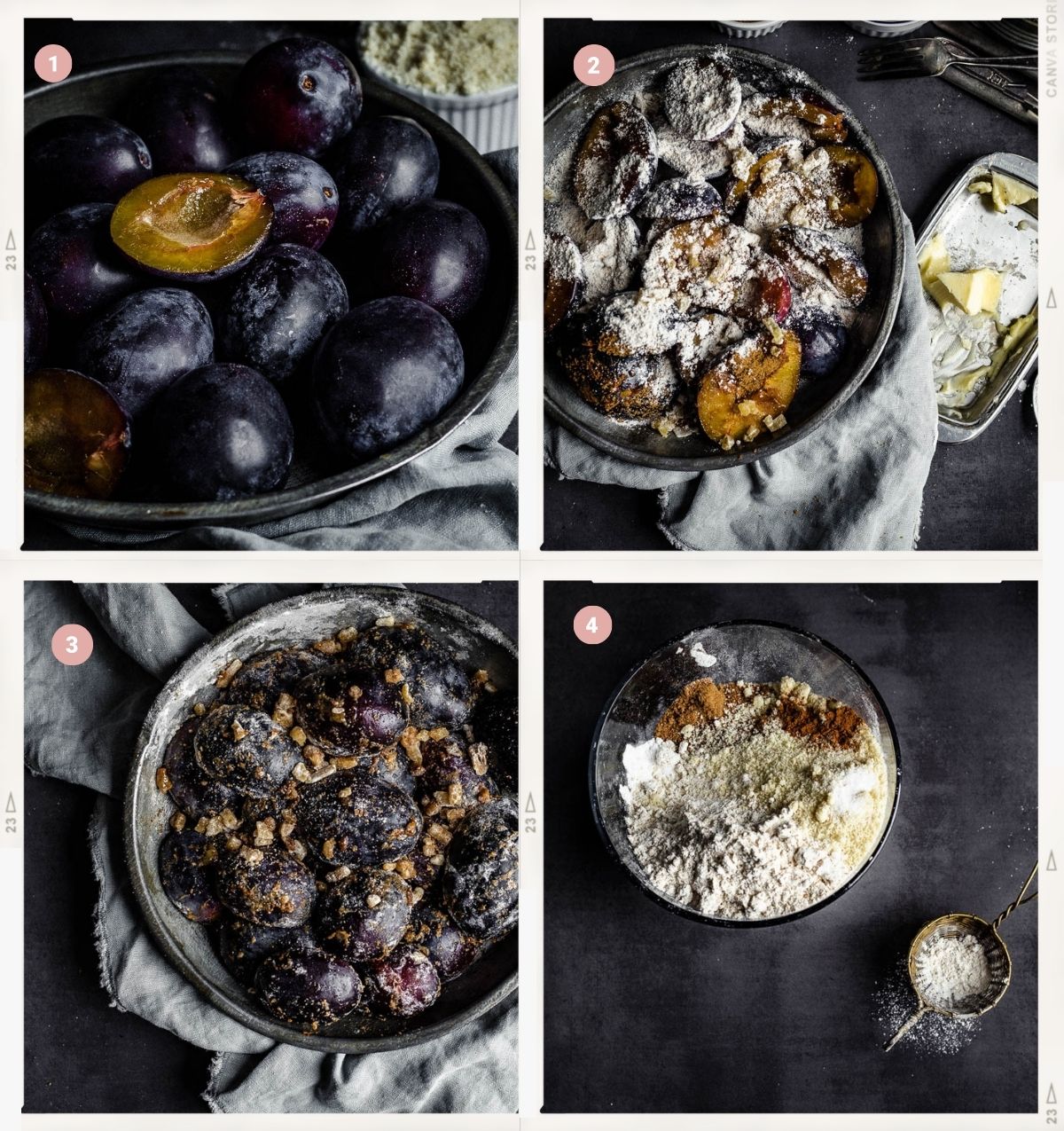 The glorious texture of the crumble will result from this final step: you cover the fruit with the crumble topping, then pour a little melted non-dairy butter on top ⑤ (seems like a lot, but be strong, be strong) so that it binds the pieces of dough together ⑥, forming a craggy crust.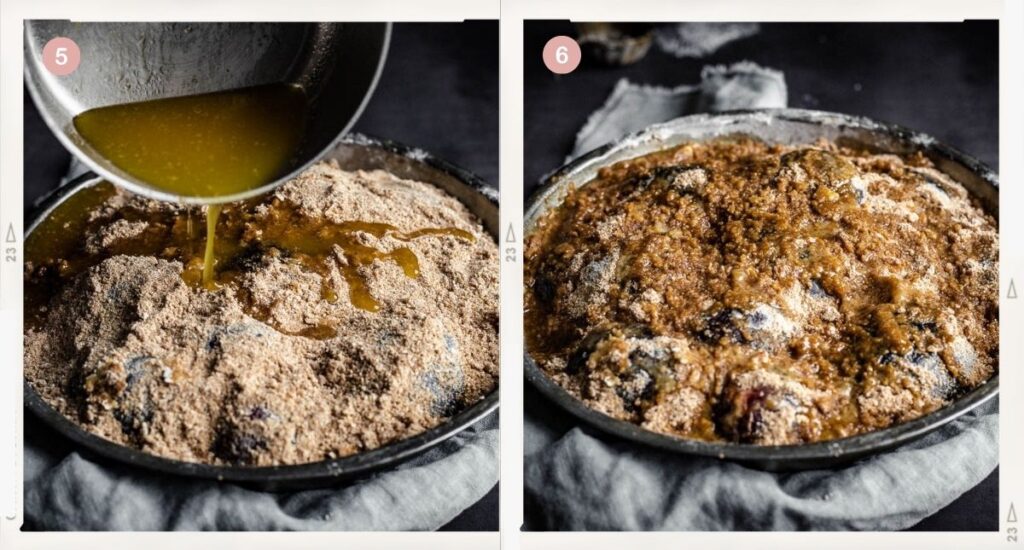 All you need to do is put everything in the oven and cook until the topping turns light brown and pleasantly lumpy.
Keys to Success : My Best Tips
Thanks to my next tips, you'll avoid having a soft topping. You won't say that your crumble is too wet, powdery, or crumbly enough.
Choose the appropriate size baking dish
As with all crumble or cobbler-type desserts, everyone wants a bit of crunchy or crumbly topping with every bite of fruit filling. If you use a baking dish that's too deep, you're probably going to cook something that looks like a jar of fruit jam with a thin layer of crust on top.
Once the topping is removed, you'll end up with a lot of syrupy fruit at the bottom of the baking dish. For pretty presentations, the right-sized baking dish will ensure a good serving of crispy topping with the fruit filling.
Don't skimp on the butter (non-dairy, eh)
Butter, which encourages both browning and crispness, is the magical ingredient for the perfect topping.
If you don't add enough butter, it will be a dry, mealy mass. If you put in too much butter, it will become a mass without a fatty form.
Some recipes will ask you to cut cold butter with your dry ingredients, resulting in pea-sized pieces sprinkled over the hot fruit filling. Other recipes will ask you to melt the butter, starting with a few tablespoons, and pouring it over the dry ingredients for the topping.
If you feel your topping is still too dry and crumbly (even for a crumble), add a little more melted butter, a tablespoon at a time.
Essential Equipment
Pairing knife or chef's knife
Mixing bowls
9-inch pie pan, rectangular baking dish or 8-inch square baking dish.
What to Serve this Dish with
The crumble's craggy, crunchy topping makes a perfect bed for streams of slushy ice or poured heavy cream. So, serve it with a scoop of vegan ice cream or whipped coconut cream.
Other Creative variations
Give your plums other partners
Add other fruits to make a plum crumble and:
Apples;
Peaches;
Rhubarb;
Berries (strawberries, blueberries, gooseberries, etc.);
Figs
Peaches, abricots, or nectarines;
Oranges.
Present it to a Rated R audience
Add alcohol and prepare un plum crumble with port or brandy.
Add a je ne sais quoi for texture and taste
There's nothing wrong with a simple topping of flour, butter, and sugar. But consider adding a few more elements to create a textural contrast with the pudding-like fruit filling.
Add crunchy ingredients, like chopped nuts or healthy oats. For example, the recipe presented here is a crumble with almond flour.
Also, don't be afraid to incorporate an unexpected but flattering spice or herb to take the taste up a notch, and a light coating of Demerara sugar (real raw sugar) adds a nice caramelized finish.
Change the style
Use the ingredients in this recipe to turn it into a plum crumble cake, pie, bars, or squares.
Answers to Your Buring Questions
What's a crumble?
A crumble is a hearty dish of British origin, a kind of fruit pie made up of a stewed fruit layer in the bottom of a dish. The fruits are topped with a dough layer, a crumbly mixture of fat, flour, and sugar, hence its name. Indeed, it comes from the verb to crumble. The crumble is baked until the topping is crisp.

What's crumble made of?
Popular fruits used in crumbles include apple, blackberry, peach, rhubarb, gooseberry, and plum. The topping can also include oatmeal, ground almonds, or other nuts.

How to store crumbles?
For storage, let cool to room temperature, lightly place paper towels on top of the topping to absorb condensation. Cover the dish tightly with foil, plastic wrap, or a lid.

To reheat, place leftovers in the oven at 350-355 °F for 15 minutes. Or, if the microwave doesn't scare you, you can put the single servings in for 30 to 40 seconds at a time until heated through.

Do crumbles need to be refrigerated?
It depends on their ingredients. Usually, crumbles containing cow's milk and eggs need to be refrigerated. If they don't include any of them, as in our case, they can be left at room temperature by covering it lightly.

Can you freeze the crumble topping?
Put the uncooked crumble in a covered dish and store it in the refrigerator for up to 24 hours before baking or in the freezer for up to three months. If you're cooking it right out of the freezer, bake it at 355°F (180°C) for 50 minutes or until the crumble topping is golden brown.

Can you make plum crumble using frozen plums?

Absolutely! You won't need to thaw them. But your crumble will cook longer.
Make this Dish Now
As autumn dawns, it's time to cook with plums. Create an ever so lightly nutritious crumble with a crumbled crust and a spicy plum jam.
You'll only have to cut the plums in half, mix them with spices, and cover them mainly with flour and sugar. You'll then pour a stream of melted butter over the topping, which will merge it into a sweet and spicy cookie after baking.
You'll obtain a topping reminiscent of streusel: formed bunches of dough sprinkled on the plums cut in half and sweet.
By brandishing your spoon and adding a judicious scoop of ice cream or whipped cream for their softening powers, you will pierce the crumbly topping to find soft purple plums below, cooked into a jam, and sweet and sour pulp.
Is your mouth watering yet? Your dessert spoons are waiting.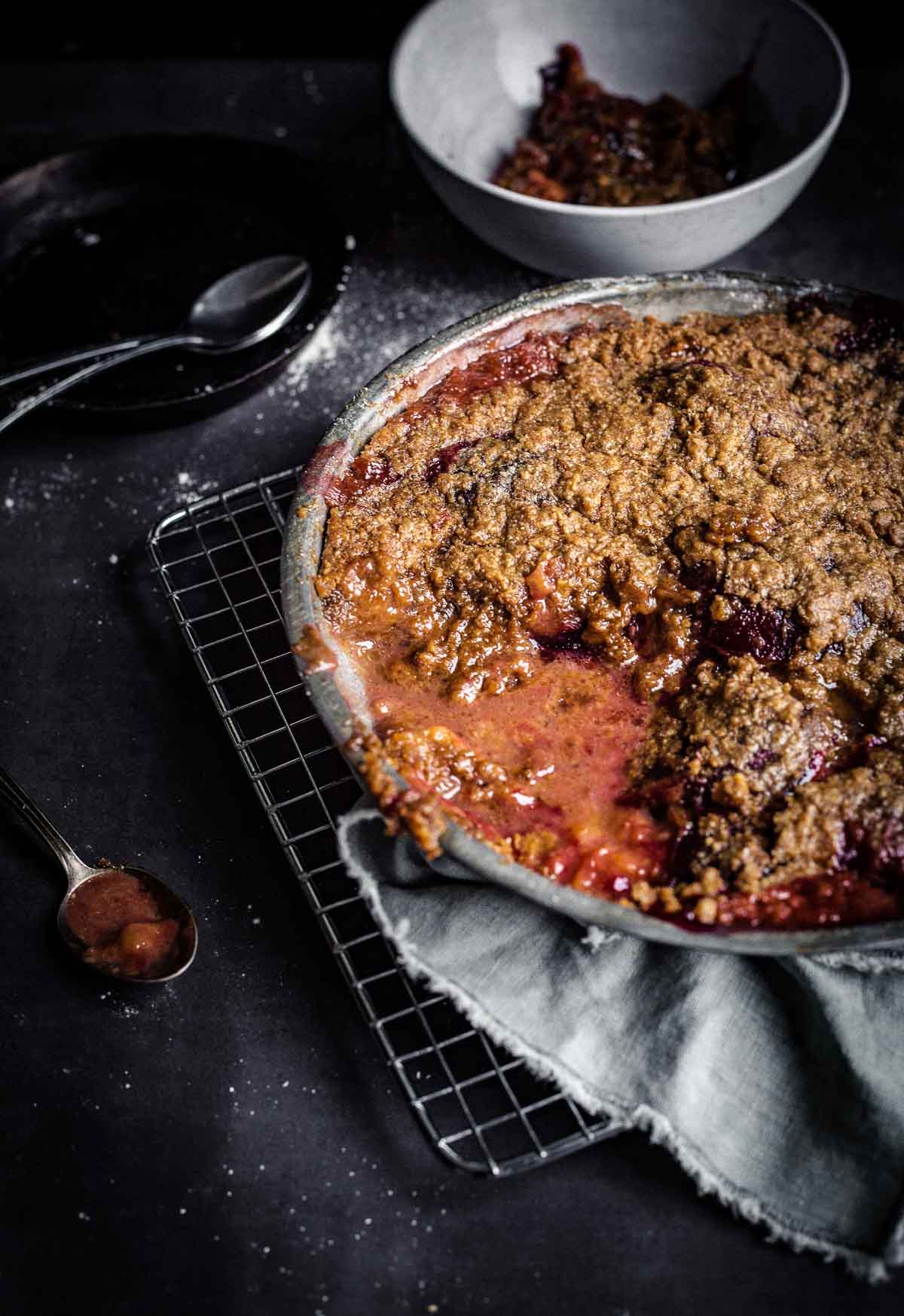 If you try this recipe, I want to know about it! I always appreciate your feedback. Leave a star rating in the recipe card right below and/or a review in the comment section further down the page. You can also follow me on Pinterest, Facebook, or Instagram. Sign up for my email list, too!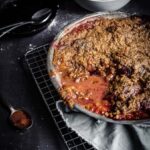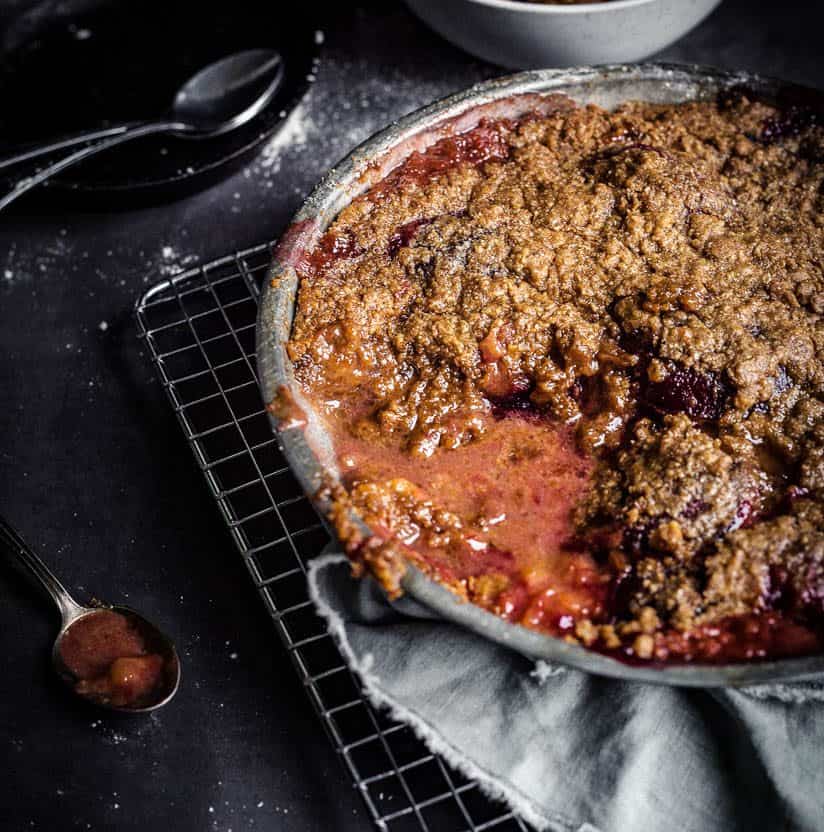 Plum and Ginger Crumble
Burros crumble is made with a layer of tangy plum jam covered with a lumpy crust that looks like a giant cookie, warm with cinnamon. The plums are simply cut in half, pitted, and mixed with spices and a little flour and sugar. The topping looks like a streusel—flour, sugar, baking powder, salt, "beaten egg"—scattered over the fruit. For the vegan version, I replaced the beaten egg with Egg Replacer. Its wonderful cookie-cake texture comes from the final step: before the pan goes into the oven, you'll pour melted butter on top. The butter binds the dough lumps together to form a craggy crust.
Save Recipe
Saved!
Print Recipe
Pin Recipe
Ingredients
10-12

Italian plums

halved and pitted

2

tablespoon

Muscovado sugar

or other brown sugar

1 ½

tablespoon

plus ¾ cup whole wheat flour

¼

cup

almond flour

(optional)

¼

teaspoon

plus ½ teaspoon ground cinnamon

¼

teaspoon

ground ginger

2

tablespoon

candied ginger

finely chopped

¾

cup

coconut palm sugar

1

teaspoon

baking powder

(Optional)

½

teaspoon

ground cinnamon

¼

teaspoon

salt

1

teaspoon

Egg Replacer by Ener-G

plus 2 tablespoons water (Optional)

½

cup

non-dairy butter

melted
Instructions
Heat the oven to 375 °F, with a rack in the center.
Prepare the plums:
Place plums in a medium bowl.

In a small bowl, combine the brown sugar, 1 ½ tablespoon flour, ¼ teaspoon cinnamon, ground ginger, and candied ginger. Add to the plums and mix well. Arrange plums skin side up in an ungreased 23 cm (9 inches) deep pie plate.
Make the crumble topping:
In a small bowl, combine coconut palm sugar, baking powder, remaining flour, cinnamon, and salt. Mix well. Optionally stir in the egg substitute with 2 tablespoons of water. Mix without destroying the tiny lumps formed. Sprinkle over the plums.
Finish the crumble:
Drizzle butter evenly over breadcrumb mixture and cook for 30 to 35 minutes. The crumble is cooked when the top is golden, and the plums give way easily when pricked. Take out of the oven and let cool down.

Serve the crumble hot and if desired, with vegan ice cream or coconut whipped cream.

Tightly covered, this plum and ginger crumble will keep up to two days in the refrigerator or up to a month in the freezer. If reheating, bring to room temperature, then reheat to 350 degrees F.
Notes
Almond flour: it's added to create a contrast in flavor. It's optional. If you don't have one, replace it more wheat flour.
Variations
Plum Crumble with Oats (aka Plum Crisp): replace the flour with healthy oats.
Plum Crumble with another fruit: reduce the quantity of plums and add apples, pears, peaches, oranges, berries, etc.
Plum Nut Crumble: add crunchy ingredients, like chopped nuts or healthy oats. For example, the recipe presented here is a crumble with almond flour.
Spiced Plum Crumble: don't be afraid to incorporate an unexpected but flattering spice or herb to take the taste up a notch, and a light coating of Demerara sugar (real raw sugar) adds a nice caramelized finish.
Nutrition
Calories:
227
kcal
|
Carbohydrates:
30
g
|
Protein:
2
g
|
Fat:
13
g
|
Saturated Fat:
2
g
|
Polyunsaturated Fat:
3
g
|
Monounsaturated Fat:
5
g
|
Trans Fat:
2
g
|
Sodium:
244
mg
|
Potassium:
143
mg
|
Fiber:
2
g
|
Sugar:
23
g
|
Vitamin A:
286
IU
|
Vitamin C:
8
mg
|
Calcium:
47
mg
|
Iron:
1
mg
Get Your Free Plant-Based Eating Toolkit and More
Subscribe to my newsletter and unlock my plant-based course, nutrition charts, recipe secrets, and exclusive updates to prepare wholesome, varied & balanced meals effortlessly. All you need is a good appetite. Subscribe!