Brownies come in many guises.
You can find them with nuts or without, topped with butterscotch caramel, or swirled with cream cheese. You can experience them shot with fruit filling. And if you're feeling adventurous and want to go on a trip around the world, you can munch on them spiked with espresso, booze, or marijuana.
Or you can enjoy just plain chocolate in a ton of variations.
But for true brownie lovers, the most important feature of a brownie is texture.
And the brownies I'll be sharing with you offer just that: amazing texture. They're actually no-bake brownies.
The kicker? They're healthy.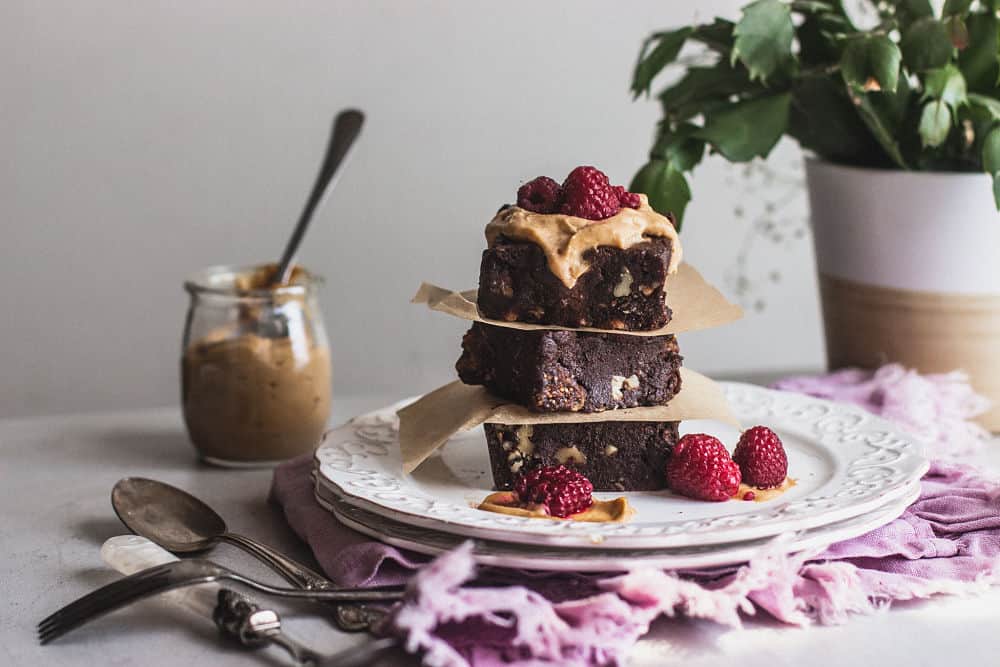 I was supposed to post this recipe for Mother's Day, but I missed the date.
But for me, Mother's Day is every day. If, like me, you believe it should be a yearlong celebration and therefore, you can't get over your brownie fix, I've got something that you'll certainly enjoy guilt-free.
Better Ingredients for Better Brownies
These brownies are entirely raw (or at least 98 % of them) and they come with only 5 ingredients. Five high-quality ingredients at that. You've got walnuts, Medjool dates, raw cacao, vanilla, and dried cherries, which are way healthier ingredients than what you would find in traditional-style brownies (like crazy refined sugar and other ones I don't want to think about).
The first three are nutrient rich.
Walnuts: Rich in omega-3 essential fatty acids — essential because your body can't make them, so they must come from the food you eat —, walnuts help reduce cholesterol, lower the risk of heart attack and stroke, boost your immune system, improve brain function, and relieve symptoms of inflammatory conditions such as arthritis. (Source)
Medjool dates: Although dates taste more like caramel — which is not a bad thing — they make an excellent alternative for sugar or honey. Yes, they do contain a significant amount of fruit sugar, but they also contain fiber, which slows the absorption of sugar and keeps you from getting sugar highs and lows. Dates are also a good source of potassium, magnesium, copper, and manganese.
Medjool dates are more tender, versatile and larger than regular dates. That's why they're used in this recipe. I know they tend to be more expensive, so you can use the regular ones. But you'll have to double the quantity, though (1 Medjool date = 2 regular dates). (Note: I used apricots originally.)
Raw cacao: This superfood is one of the best sources of magnesium found in nature. Magnesium helps with the contraction of muscles, your heart, your digestive tract (to push the ingested food bolus toward the stomach), and more.
Cacao contains high amounts of calcium, zinc, iron, copper, sulfur, and potassium, as well as many chemicals that enhance physical and mental well-being. Yep, the serotonin, dopamine, endorphins, and anandamide will surely propel you to heaven.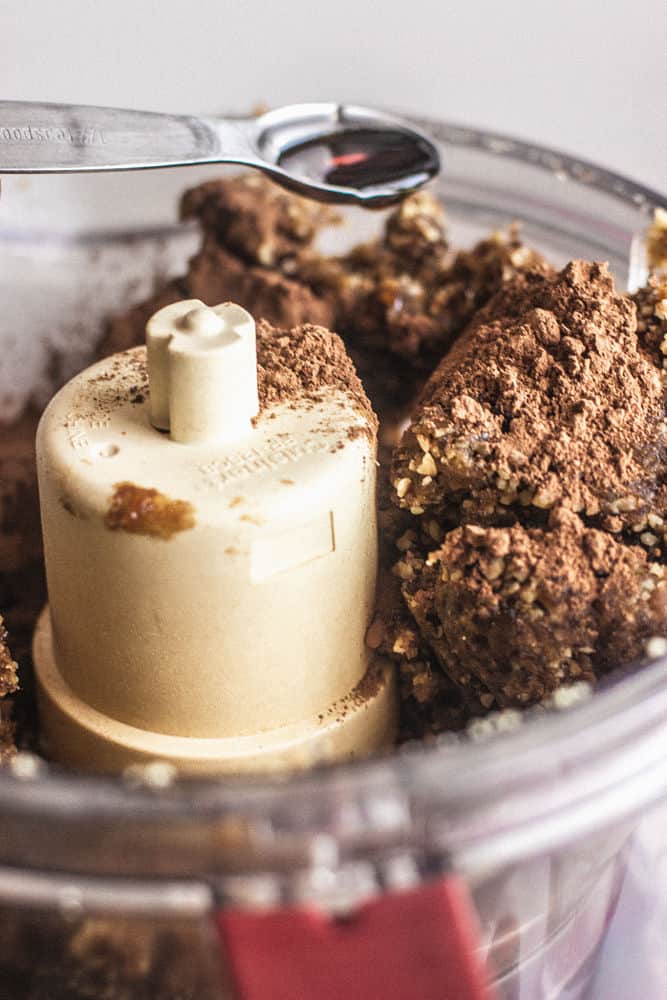 From a confection standpoint, when making these perfect brownies, for fudge-like brownies, it's important to process the « batter » long enough to get the rich dark brown color and add a little water for moisture.
Surprisingly Delicious Traditional-Style Brownies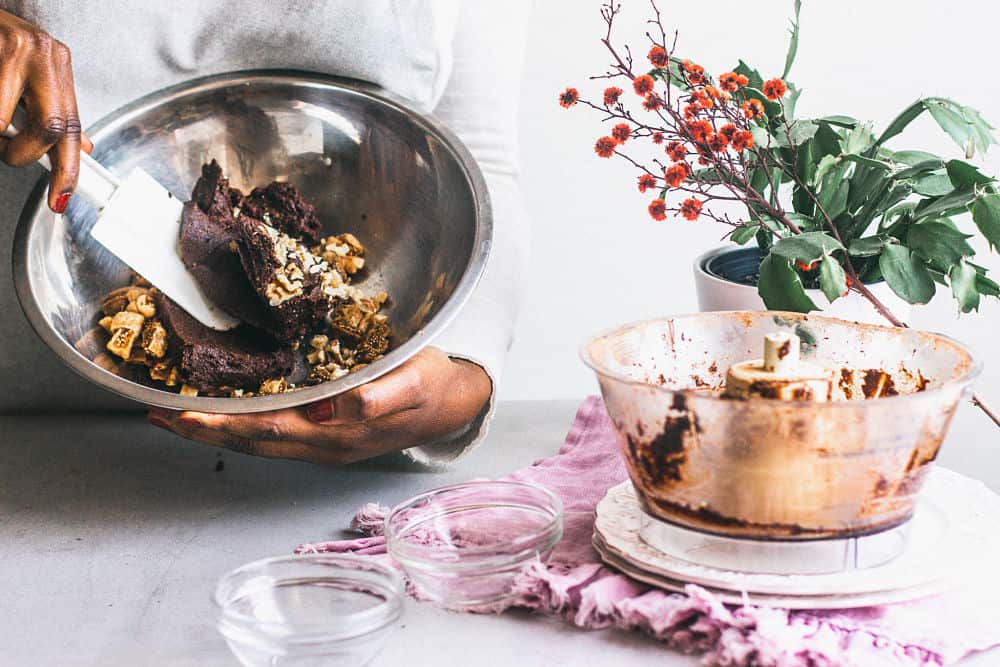 Ooey and gooey, this treat oozes with chocolaty goodness. I learned this recipe from the raw food school I went to. It includes chopped walnuts for crunch and dried cherries for even more gooeyness.
But I didn't just stop there. I wanted to go full-blown gourmet, so I poured homemade date caramel on top for a second layer. Oh. My. Gawd. It's something!
At first, I did the caramel with macadamia nuts and dried apricots (all photos feature apricot caramel). But I found that making them with dates instead is crazy delicious, as the caramel flavor is intensified and the color is darker. It also includes a little bit of maca for a burnt flavor. I usually give this whole recipe to people who follow my Gourmet Plant-Based Food Workshop at home, but I'm gonna share with you! Aren't you lucky!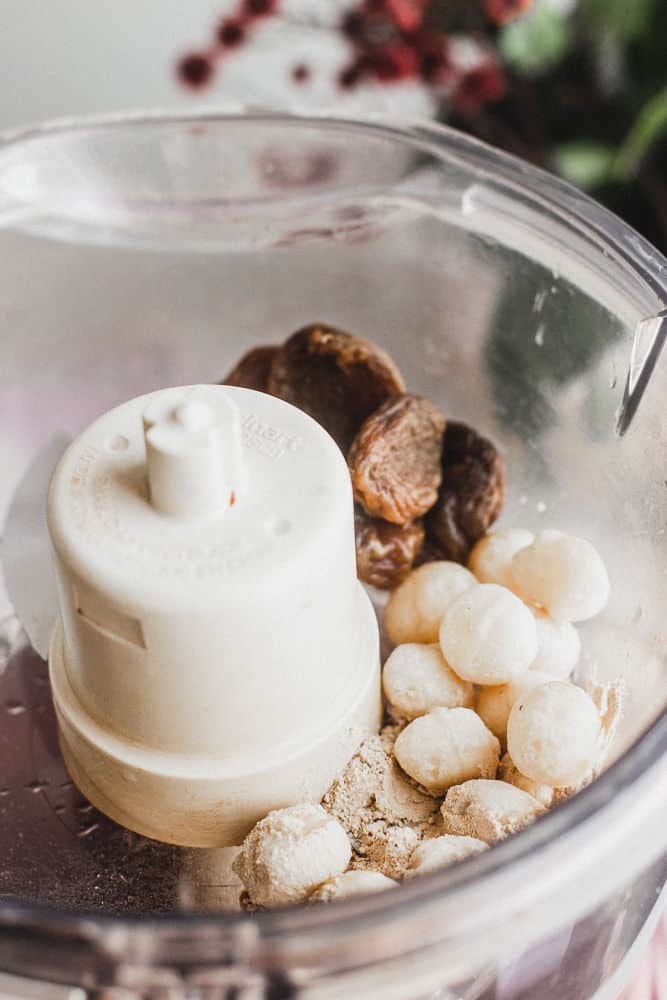 Anyway, going back to the brownies, you'll be surprised how much they taste like REAL BROWNIES! Mind you, this recipe is made purely from nuts, so it ain't cheap.
But it lasts quite a while and can be served in small portions. In very small portions. Because they're incredibly satisfying. One bite, and you'll be done.
All in all, these raw, no-bake brownies are rich, dense, fudgy, chewy, gooey, and simple to make.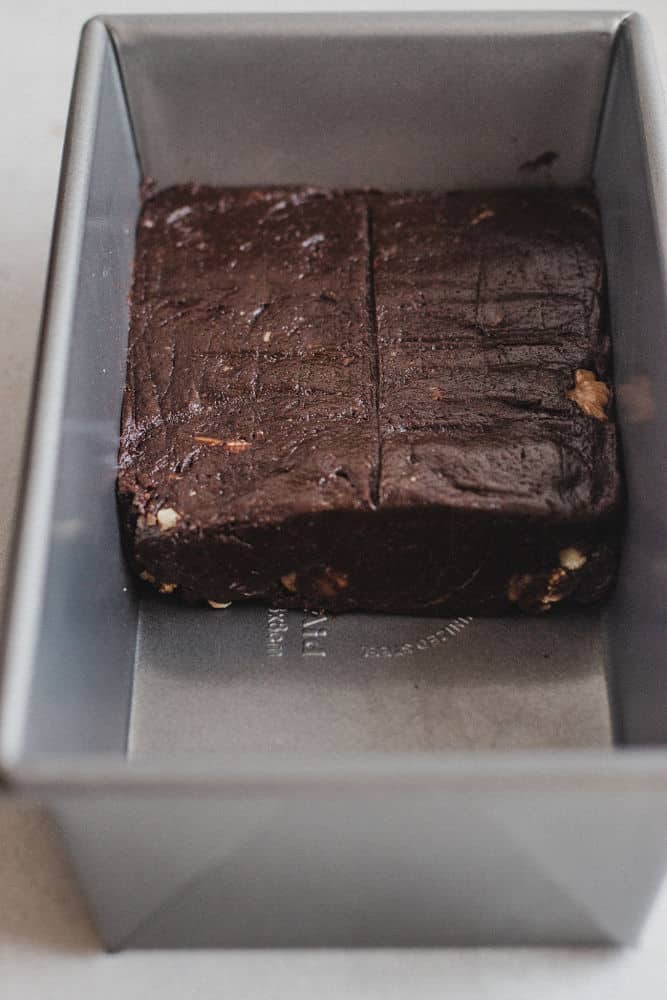 Plus, they're gluten-free, egg-free, dairy-free, soy-free, and vegan. They're naturally sweetened, there's no oven required, and they take about 20 minutes to put together. They're best enjoyed straight from the freezer.
You can also refrigerate these brownies for a few weeks, or you can freeze them for up to 2 months or more. But I'll be surprised if they last that long. You can add chocolate ganache instead of the raw caramel, coarsely chopped nuts on top (pistachios or whatnot), and whatever rocks your boat.
Making these brownies is a fantastic option for a bake sale or a gourmet gift.
Now that you know all the brownie goodness, shall we?
Make this Now
Sometimes, you just really need a brownie! You've got the perfect recipe to satisfy your chocolate cravings. With these ingredients which are good for the body and the mind, you definitely won't be sorry as you bite into bliss!
Raw Brownies with Salted Caramel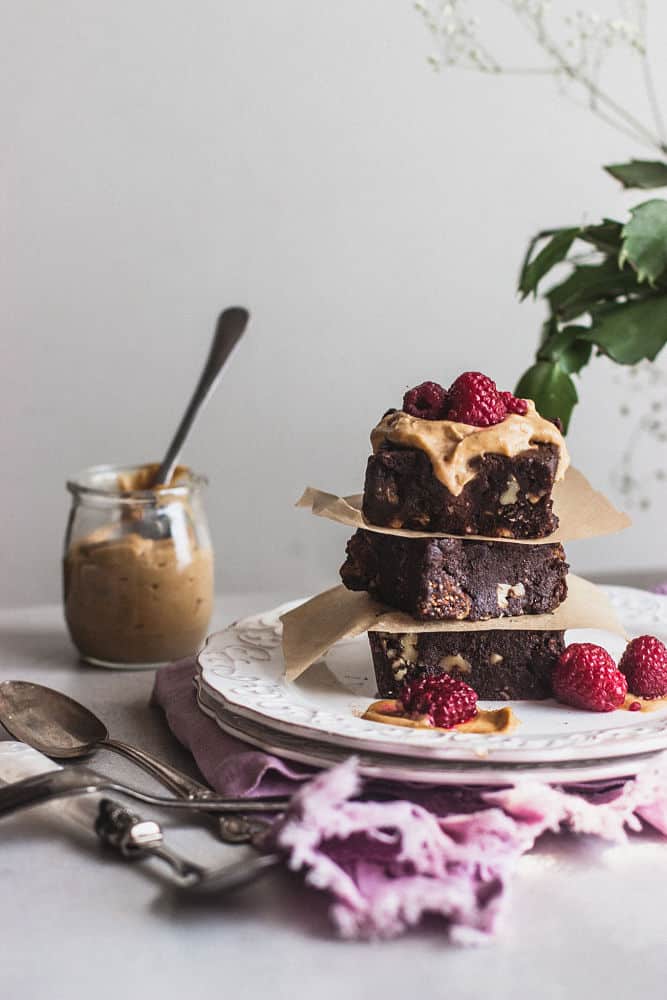 If you try this recipe, I want to know about it! I always appreciate your feedback. Leave a star rating in the recipe card right below and/or a review in the comment section further down the page. You can also follow me on Pinterest, Facebook, or Instagram. Sign up for my email list, too!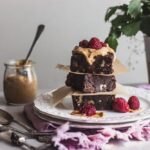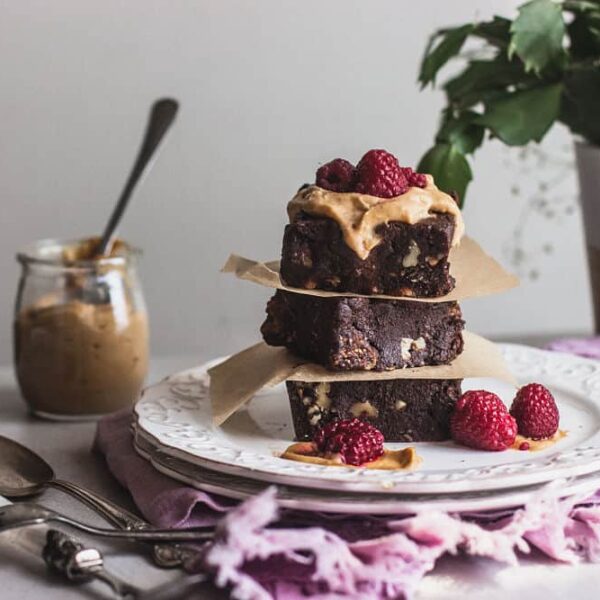 No-Bake Brownies with Salted Caramel
Simple, raw vegan, gluten-free brownies layered with raw salted caramel. This layer is optional but will send you to cloud 9, thanks to its fudgy, decadent finish. A healthier and guilt-free dessert!
Save Recipe
Saved!
Print Recipe
Pin Recipe
Ingredients
3

cups

walnuts

preferably soaked and dehydrated

¼

teaspoon

sea salt

20

Medjool dates

or 40 small regular dates, pitted

⅔

cup

cocoa powder

unsweetened, raw chocolate powder, or carob powder

1

teaspoon

vanilla extract

(Optional)

4

teaspoons

water

¼

cup

dried cherries

or figs, chopped (Optional)
Salted Raw Caramel
½

cup

dates

or apricots soaked in water for 1 hour

¼ - ½

cup

macadamia nuts

½

cup

maple syrup

1

teaspoon

maca

Pinch

salt
Instructions
Chop ½ cup of the walnuts with a knife and set aside. Place the remaining walnuts and the salt in a food processor fitted with the "S" blade and process until finely ground. Add the dates and process until the mixture begins to stick together. Add the cacao powder and optional vanilla and process until evenly distributed. Add the water, if using, and process briefly.

Transfer to a mixing bowl. Add the reserved chopped walnuts and cherries or figs, if desired, and mix well using your hands. Pack the mixture firmly into a square container.

Make the raw caramel. Blend all the ingredients in a high-powered blender until smooth. Thin with soaking water if desired.
Notes
Stored in a sealed container, Brownies will keep up to one week in the refrigerator or one month in the freezer; the same with Salted Caramel.
Nutrition
Calories:
298
kcal
|
Carbohydrates:
40
g
|
Protein:
5
g
|
Fat:
16
g
|
Saturated Fat:
2
g
|
Polyunsaturated Fat:
10
g
|
Monounsaturated Fat:
3
g
|
Sodium:
39
mg
|
Potassium:
422
mg
|
Fiber:
5
g
|
Sugar:
31
g
|
Vitamin A:
117
IU
|
Vitamin C:
1
mg
|
Calcium:
62
mg
|
Iron:
2
mg
Get Your Free Plant-Based Eating Toolkit and More
Subscribe to my newsletter and unlock my plant-based course, nutrition charts, recipe secrets, and exclusive updates to prepare wholesome, varied & balanced meals effortlessly. All you need is a good appetite. Subscribe!