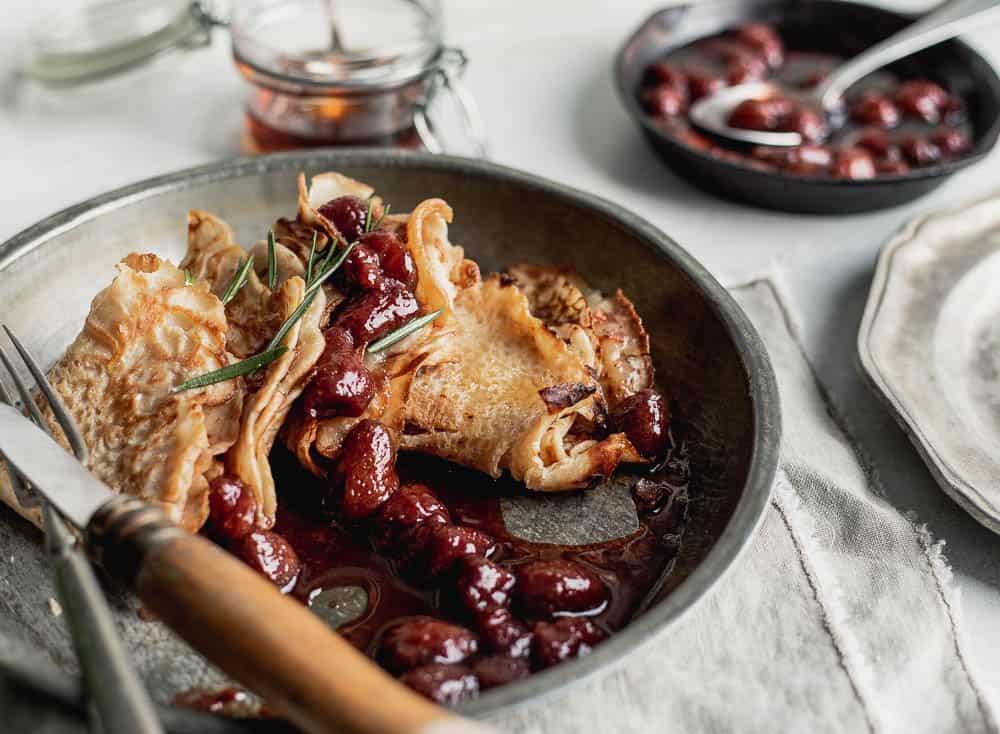 January arrived like a big sack of potatoes falling heavily on my shoulders.
First, I didn't help with my last not so very happy blog post. On Christmas Eve, on top of that. Very heavy.
During the holidays, I "celebrated" big Christmas evening with my man's family like an observer watching fish moving around in an aquarium. I'm the type to move my hips like there's no tomorrow on good music, but as of late, they have been put to sleep.
A week later, I couldn't see myself shouting HAPPY NEW YEAR!!!, with 2020 glasses on my nose, a glass of champagne in one hand, a firecracker in the other with golden confetti falling on my head. Well, to tell you the truth, there's never been any confetti in my life nor the fanciful glasses by the way (worth noting for the following years).
Anyway, I simply chilled at home. I needed to get some peace of mind. And it was quite difficult, I would say.
Just last Sunday, when I finally sat cross-legged to try to meditate in my living room, on my thick woolen Berber carpet, supposed to comfort me thanks to its soft and warm weaving, tears were running down on my cheeks. I couldn't contain them. Instead of emptying my head, I was filling it with scattered flash backs.
Quite naturally, they're etched in my memory.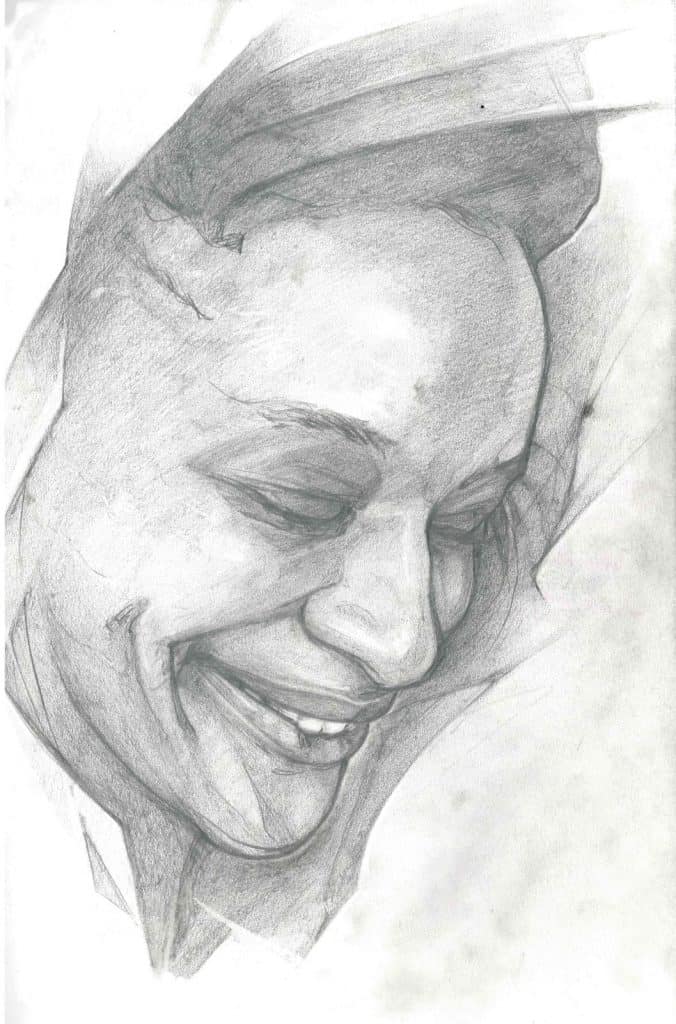 Of course, a charcoal portrait of my sister, lying on my wall shelf, stood straight ahead of me. Enough to help calm my mind. All of a sudden, I feared that I would never be able to get my wandering thoughts about her out of my head again during that supposedly moment of wholeness.
Sometimes, I wonder if I should move this portrait to put it in the kitchen instead. For if I had to associate a room with her personality, it would be this space, this space imbued with fire and heat, and spices and zest. That's how I would describe her.
Ah... I'm still thinking about her famous crêpes that she made so well. And then, this thought comes to mind, it's true, I never got her recipe and I'll never get it again. A secret, a gem lost in the ocean.
But one day something turned the tide.
A few months ago, while I was walking with my little monster to buy comic books, as usual, I stopped at the cookbook table. A dark cover book with light shapes in the center caught my eye.
In front of a dark barn wood paneling wall, there was this brunette, dressed in pale light summer clothes, hair tied loosely, eyes half-closed and riveted downward, mouth ajar, shoulders uncovered and prominent collarbones, right arm folded—from my perspective—, hand frozen downward with a strawberry caught between her fingers. As you look at the photo, we understand that it's meant to be placed in the middle of other strawberries, these strawberries which were comfortably sprawling on small creamy apple-green spiky cushions, shaped like Kisses chocolates.
She was assembling a fruit pie.
Above her head, we could read the title in large white capital letters Les Bonnes Choses (The Good Things), then just below in a smaller font: Cuisine végane au fil du jour (Vegan cuisine throughout the day). And at the very top Éline Bonnin was written in an even smaller font.
In this moody atmosphere, she looked so angelic.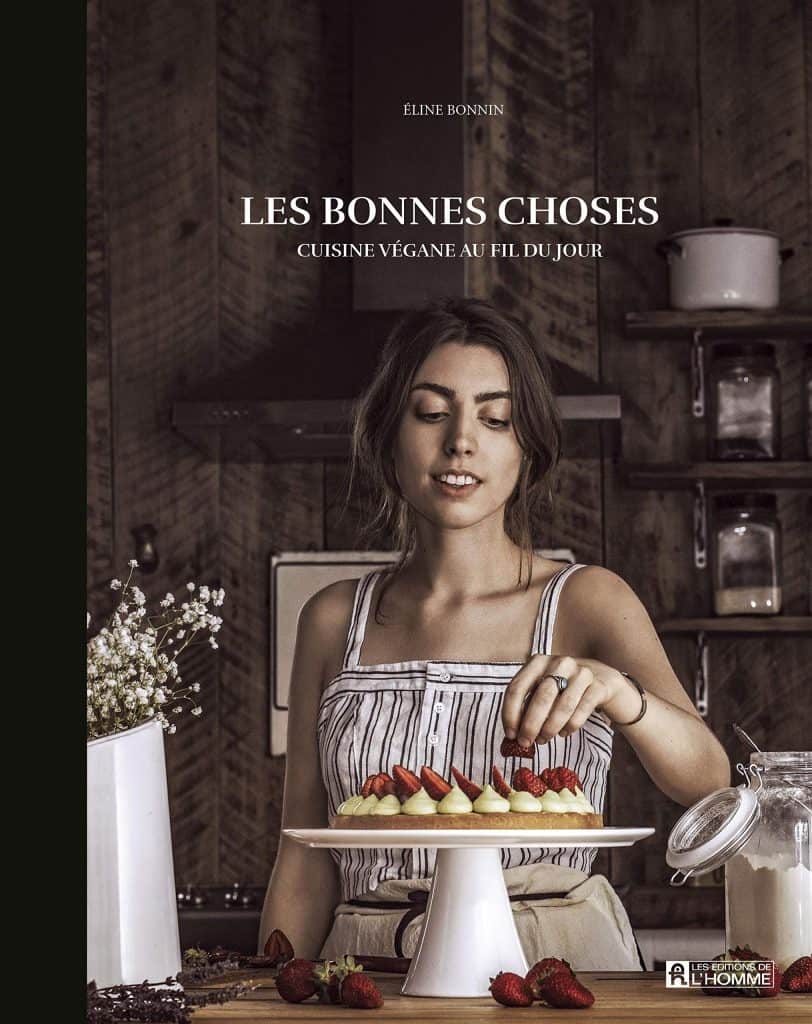 She stood out from the dark background, illuminated with soft light and surrounded by a vase of small white flowers to her left and a Mason jar of white flour to her right. She seemed to be calling me to her. I think I heard the high and angelic note: AAAAAAAH (no, no kidding). So I went over to her, grabbed the book, and started to leaf through it out of curiosity.
My curiosity paid off. Within five seconds, I discovered a recipe for thin vegan pancakes. The photo was convincing.
But not enough to trust the author right away.
Because you see, I tried many vegan pancake recipes to be disappointed. There are these people online who boast about the ultra-soft side of the preparation when that's not the case at all.
Oftentimes the texture was as pasty as a dry morning mouth. Times a thousand. I didn't see how someone else was going to sell me another vegan pancake, and thin on top of it. I turned the book over and read the back to learn that...
Éline Bonnin was trained in tableware from Nantes and Toulouse. She was a pastry chef in France before coming to settle in Quebec. [...] She is now a chef in Montreal [...].
She had me at: pastry chef.
If there was someone who had to know how to make thin pancakes like my sister's, but in a vegan version, I said to myself, it had to be her: French and pastry chef, I was more than convinced.
So I entered the bookstore with the sole intention of buying two books for my little one and came out with four: two comic books, Les Bonnes Choses and food literature (Un Chemin des tables from Maylis de Kerangal).
Vegan pancakes worthy of this appellation.
I was really happy to have made thin eggless pancakes for the first time. I showed them proudly to my friend Juju with a photo and she asked me if they were gluten-free. Well, this recipe isn't, but I had to give Éline a chance before venturing into other things.
Come to think of it, this recipe is very similar to that of my pre-vegan days, the only difference being that you replace the eggs with cornstarch. However, it seems to me that I have already tried to make this simple substitution, but perhaps I was too ambitious in replacing white flour with other types of flour such as quinoa or millet flour. Far too grainy. I think I also failed with whole wheat and spelt flour. Go figure what must've happened.
Mr. Pleasant (my man's name has been updated for the new decade) knows how to make crepes Suzette. He flavors them with orange juice, but Eline—yeah, we're girlfriends now—does it with orange blossom water, which is just as nice.
Frankly, these thin and lovely vegan pancakes surprised me deliciously.
During frying, they take a beautiful shade of gold, and when they're done frying, their outer edges sport a pretty lace finish and emit a fine crunch that dissipates in a few seconds in the mouth. Their flavor is unassuming and familiar. Fresh out of the pan, they're light and just fluffy enough to amaze you: they're egg-free pancakes, remember.
In any case, it's true that I lost my little Tany, but I won a recipe that will make her unforgettable.
So, maybe, maybe during these moments of preparation and cooking, even if my pain is immeasurable, I might suffer a little less. These moments will be our rendez-vous for both of us. It'll be our rendez-vous filled with this quiet moment of pain and joy, bitterness and sweetness, heaviness and lightness, and all the while angelic.
[Happy birthday, Dad. And I thank the creator, my sister's friend, for this magnificent portrait.]
Prepare these thin egg-free pancakes now!
When you want to have a nice breakfast, thin vegan pancakes can fulfill this role.
It's very easy to do. Mix all the liquid ingredients into the dry ingredients, then mix everything. Thin your dough with water, if necessary, then make your pancakes. That's all.
You'll have in a short time lightly flavored pancakes which will bring you nothing but happiness.
Bon appétit!
Vegan Pancakes Recipe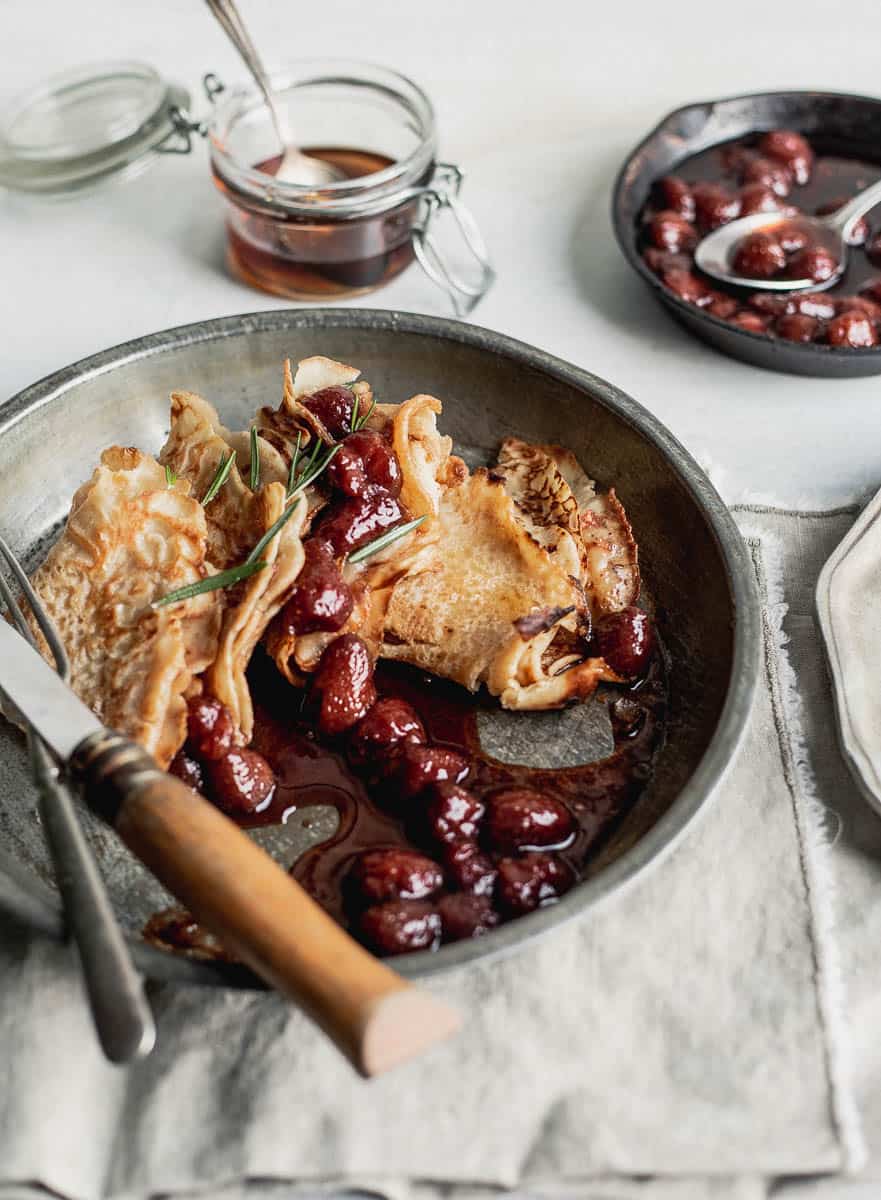 Adapted from the book Les Bonnes Choses: Vegan cuisine au fil du jour by Éline Bonnin.
If you try this recipe, I want to know about it! I always appreciate your feedback. Leave a star rating in the recipe card right below and/or a review in the comment section further down the page. You can also follow me on Pinterest, Facebook, or Instagram. Sign up for my email list, too!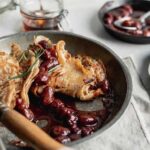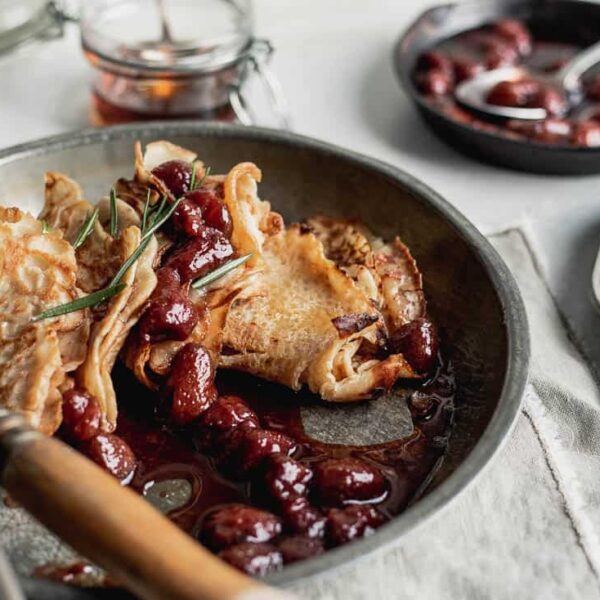 Vegan Pancakes
These vegan pancakes remind me a lot of my little sister's. The original recipe calls for ¼ cup of sugar, but I reduced the amount since rice milk is naturally quite sweet. Speaking of rice milk, the author mentions in the ingredients section to familiarize yourself with other types of vegetable milks (aka plant-based drinks), such as soy, almond, coconut or oat milk, but I opted for the milk aforementioned because of its more liquid texture than the others. If you're in a hurry, you can cook the pancakes immediately, but letting the dough rest in the fridge increases the binding effect of the mixture.
Finally, the strawberry jam adds a more colorful note. These thin dough patties are worth eating hot otherwise they harden (and much more as leftovers), so eat them as fast as you can.
Save Recipe
Saved!
Print Recipe
Pin Recipe
Ingredients
2 ½

cups

all-purpose wheat flour

¼

cup

cornstarch

3

tablespoons

Sucanat sugar

or Muscovado sugar (Notes)

Pinch

salt

2 ½

cups

rice milk

1

tablespoon

coconut oil

liquefied

1

teaspoon

orange blossom

rum or vanilla water

rosemary

fresh, for garnish
Quick Strawberry Jam with Maple Syrup
3

cups

strawberries

frozen or seasonal

½

cup

raw agave syrup

or maple syrup

1

teaspoon

cornstarch

(Optional) (Notes)

½

teaspoon

vanilla extract
Instructions
Make the sauce: In a small saucepan, bring the strawberries and maple syrup to a boil. Cook over medium heat for about 10-15 minutes or until the texture thickens slightly. Set aside and let cool.

Put the flour, starch, sugar and salt in a mixing bowl and mix everything. Gradually pour in the vegetable milk, mixing quickly with a whisk until it is liquid. Add the oil and orange blossom water. If time permits, let stand for 1 hour. If the dough is too thick, add 1-2 tablespoons of water.

Heat the lightly oiled pan over high heat. Pour a ladle of dough and cover the pan. Peel the dough with a spatula, checking that it is browned enough. Turn it over to cook the other side. Reduce the heat to medium and cook the other pancakes.

Serve immediately and garnish with fresh rosemary.
Notes
Sucanat is derived from the name natural sugar. This and muscovado sugar are raw, unrefined sugars, brown in color.
Cornstarch can be added to further thicken the jam.
Nutrition
Serving:
1
g
|
Calories:
192
kcal
|
Carbohydrates:
39
g
|
Protein:
4
g
|
Fat:
2
g
|
Saturated Fat:
1
g
|
Polyunsaturated Fat:
1
g
|
Monounsaturated Fat:
1
g
|
Sodium:
21
mg
|
Potassium:
83
mg
|
Fiber:
1
g
|
Sugar:
13
g
|
Vitamin A:
5
IU
|
Vitamin C:
21
mg
|
Calcium:
15
mg
|
Iron:
1
mg
Get Your Free Plant-Based Eating Toolkit and More
Subscribe to my newsletter and unlock my plant-based course, nutrition charts, recipe secrets, and exclusive updates to prepare wholesome, varied & balanced meals effortlessly. All you need is a good appetite. Subscribe!