You must be kidding... $8!
Filled with indignation, my voice echoed throughout the small grocery store in my neighborhood... "I know, I know," the owner told me. "Things haven't been going well in California for some time now. So, that's the price cauliflower. And it's the same for broccoli."
Well, I know that cauliflower is out of season in Quebec since October, but let's not exaggerate! On top of this, I really wanted to make this recipe for the holiday season, which incorporates other seasonal ingredients in the winter: oranges, pomegranate, and fresh cranberries. 😭
Never mind! I give up.
For several weeks I watched the price of cauliflower. And I shouted victory when I saw it at $3. Not a very beautiful and not organic cauliflower, but still. Quickly, I did a check in my brain, beep, beep, beep, and I remembered that it was on the list of Clean 15, the 15 foods considered safe relative to the pesticide load, according to the Environnmental Working Group.
Without hesitation, I put it in my grocery basket to finally create this recipe that I hoped to concoct for a month already!
And I loved the result.
Cranberries and Company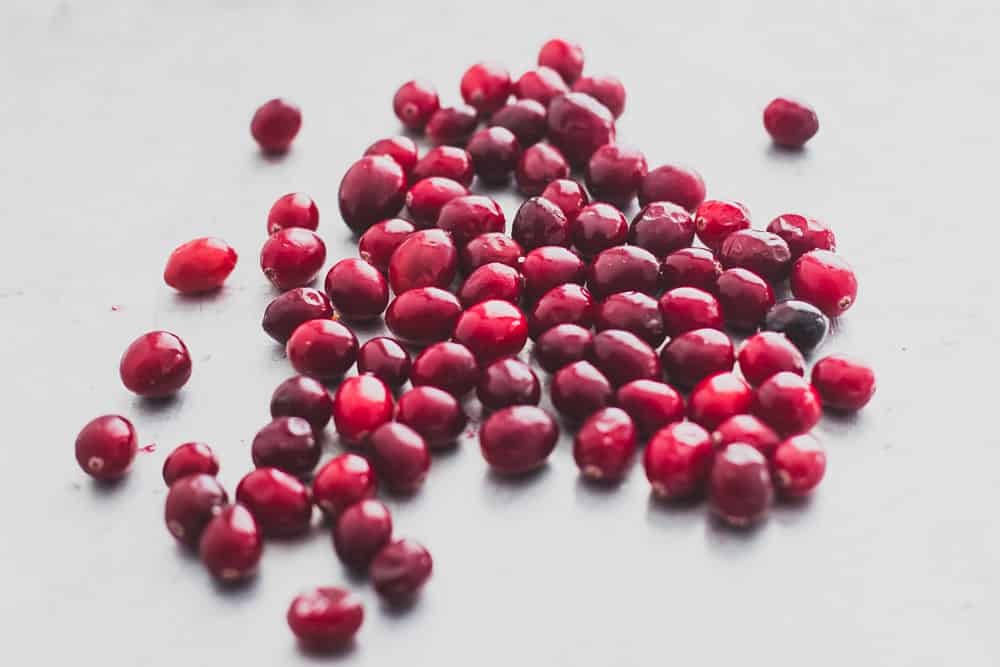 Apart from the drink and the traditional cranberry sauce, these small berries are also delicious in chutneys, pies, and other desserts. Recently, I made a kind of relish with cranberries and orange.
These two ingredients are a classic combination. So, I wanted to bring this "relish" in the recipe that I will present to you in a few moments.
At the last family Christmas dinner, on my boyfriend's side, I prepared a quinoa salad with fresh cranberries, pomegranate, and dill. And everyone loved it.
In short, I was inspired by this recipe — and another one I saw online somewhere — to transform it into a raw version. To get the same grainy texture, I used that vegetable that shook me so much earlier: cauliflower!
Then, as red and green are complementary colors, I decided to add greenery to my red preparation. I then sweetened it to counterbalance the crispy side of cranberries. Then I went for kale, another crucifer (cauliflower is one too), and mint, as herbs. And finally, I added nuts to have some crunch. Pecans. But it could have been almonds, walnuts, etc.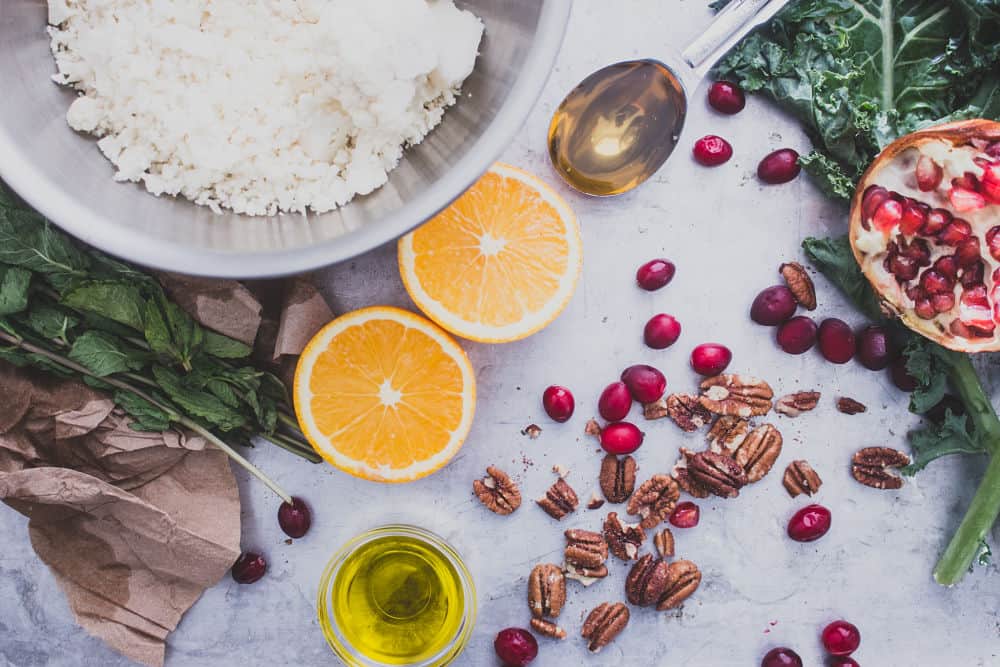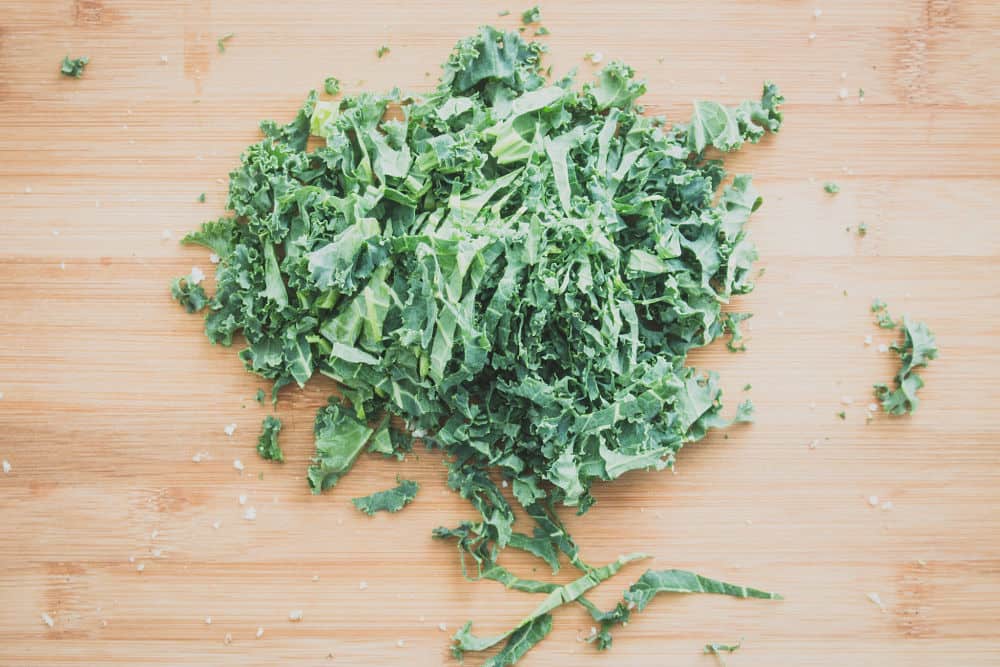 What else can I say about this salad? It's doubly rich in vitamin C, thanks to cranberries and oranges, and doubly rich in antioxidants, thanks to cranberries and pomegranate.
By the way, cranberries have been found to contain polyphenols that nourish the good bacteria in the intestinal flora, which fight obesity and all of its accompanying diseases, such as type 2 diabetes. I'll tell you more about it another time.
But in the meantime, enjoy this easy-to-prepare, tart salad.
Cauliflower Salad with Cranberry, Orange and Pomegranate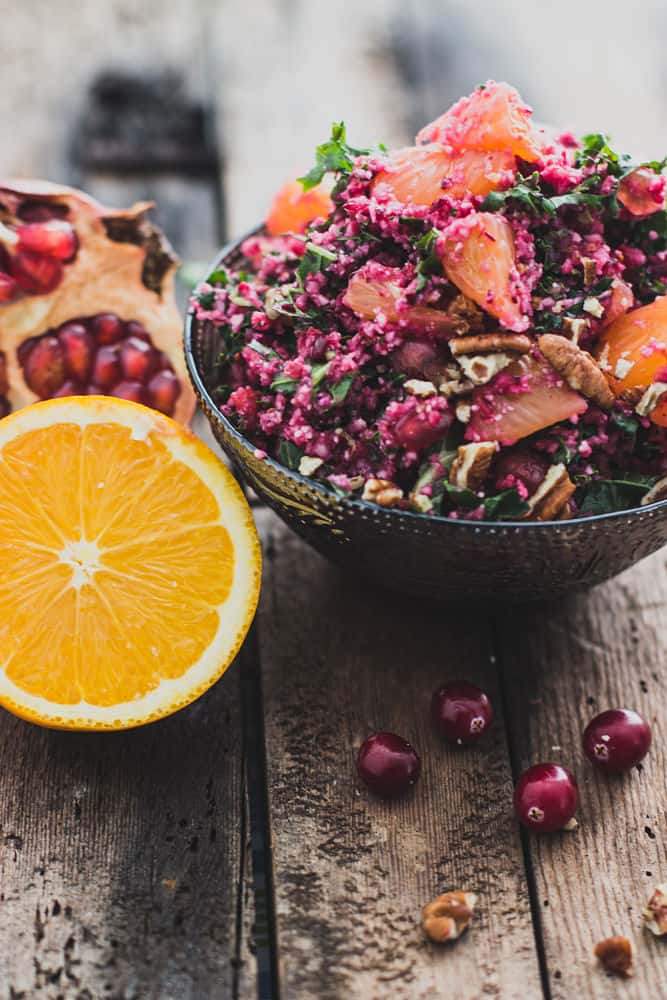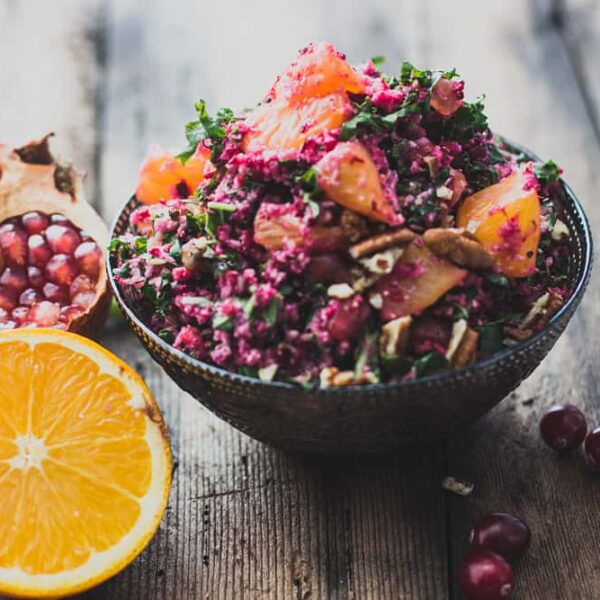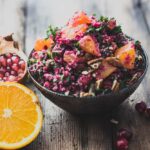 Print Recipe
Vitamin C Power Cauliflower Salad with Cranberry, Orange and Pomegranate
Servings:
4
medium portions or 2 large portions
Ingredients
1

small cauliflower

roughly cut (about 3 cups or 365 g)

2

cups

cranberries

2

tablespoons

olive oil

2

tablespoons

honey

2

large kale leaves

stems removed and chopped (Note)

2

tablespoons

orange zest

6

small oranges or 4 medium oranges

peeled, seeded and roughly cut

½

cup

pomegranate seeds

¼

cup

fresh mint

Pinch

salt

¼

cup

walnuts to garnish
Instructions
Place the cauliflower in a food processor and process until a couscous-like grainy consistency. Transfer to a salad bowl and set aside.

Still in the food processor, place the cranberries, olive oil, and honey and pulse to cut roughly. Transfer to a small bowl and set aside.

Add cauliflower, kale, orange peel, orange-cranberry mixture, pomegranate, mint, salt and mix well.

Serve in bowls and garnish with nuts.

Placed in an airtight container in the refrigerator, this salad will keep for 3 days.
Notes
You can use any type of kale: green, black, purple ...
For quinoa version, replace cauliflower with 2 cups cooked or sprinkled quinoa (1 cup cooked quinoa for about 2 cups when cooked).
Make This Now
If you try this recipe, I want to know about it! Leave me a comment below or share it on Instagram. Tag @biting.into.life with the hashtag #bitingintolife.
Enjoy!