This fresh and fancy lemonade infused with lemon thyme and ginger has nothing to do with the cloudy, saccharine-laden, colorless carbonated lemonade.
It's invigorating and is the perfect refreshment on hot summer weather or when you're feeling a bit low on energy.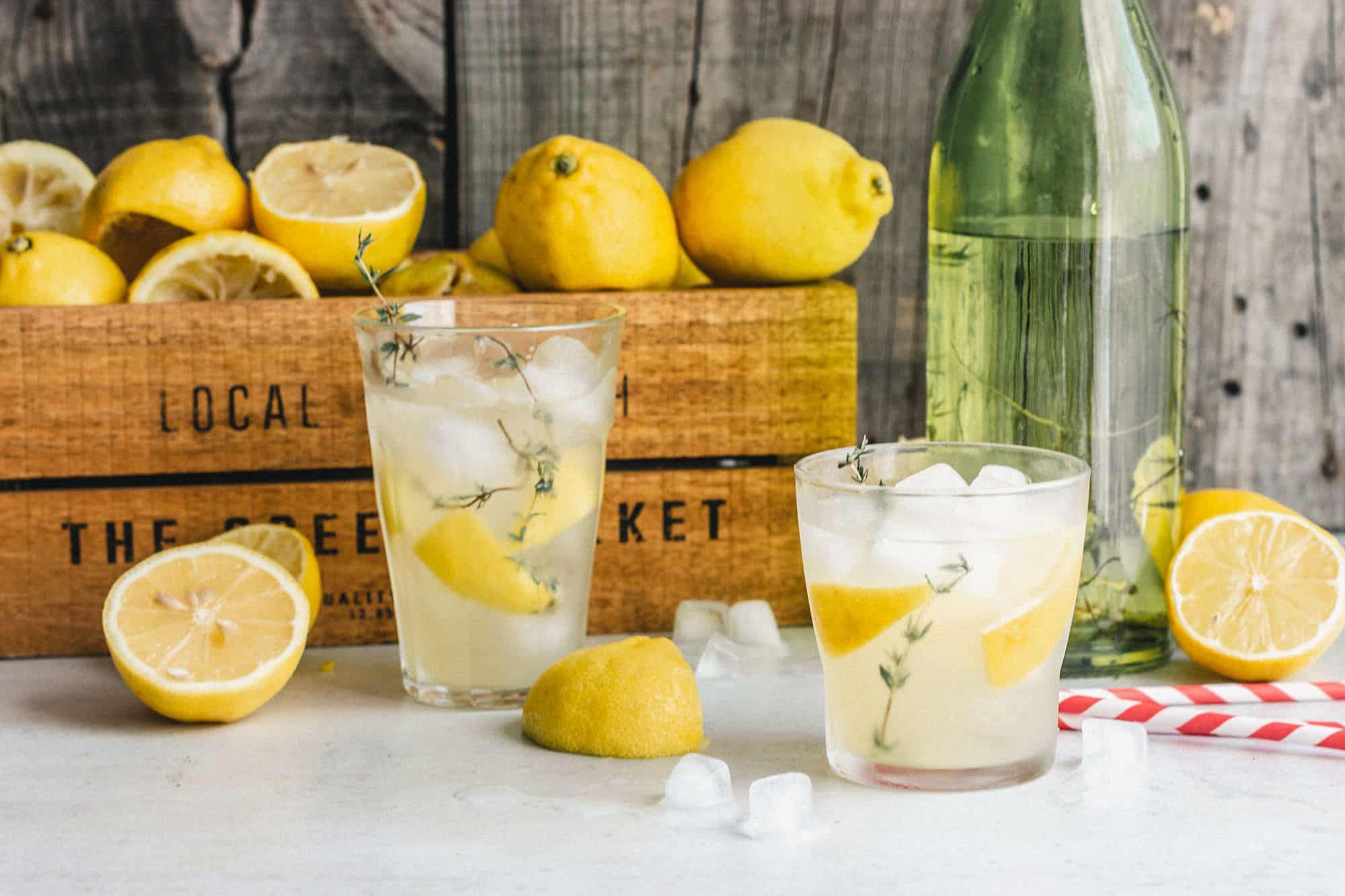 Jump to:
The Best Lemonade When You Need a Pick-Me-Up
At this time of the year, when I'm shuffling up a hill in the scorching sun or stuck on a stuffy bus in the fuming traffic, a cold glass of lemonade might often appear before me, spontaneously, like a mirage of refreshment.
But not any old lemonade. The mouth-puckering, traditional drink. The kind that will soothe me. The kind that will charge me as if I was inhaling fresh air around Niagara Falls. This type of lemonade!
If you've been feeling dehydrated, drowsy, sluggish, like a dog walking around with its tongue sticking out, maybe it's time to perk up your body with some real, fresh lemonade.
Pst! Without simple syrup, though.
What is Simple Syrup?
Simple syrup, also called simple sugar, is made with two ingredients: refined white sugar and water. You dissolve sugar in heated water (in equal parts) and that's it. It's that simple (hence the name maybe?) Now here are my thoughts on this.
Swallowing simple syrup is like sticking a needle in your arm with liquid heroin.
Am I being too outrageous? Today, it's well known that sugar is addictive—just like liquid, syrupy heroin (see the analogy?). And we eat too much of it.
In 2009-2010, reports have shown that Americans consume about 18 teaspoons of added sugar per day when, according to the American Heart Association, the daily limit for a woman is 6 teaspoons (20-25 grams or 100 calories) and 9 teaspoons (30-37.5 grams or 150 calories) for a man. If you're over that limit, it wouldn't be outrageous to say that you're overdosing.
How to Make Lemonade without Simple Syrup
Most commercial—and even homemade—lemonades are loaded with sugar. They're usually sweetened with simple syrup.
So should you eliminate sugar?
Well, going sugar-free would be best. Eating naturally occurring sugars from fruit would be wiser. But, adding natural sweeteners may be the answer.
Because certain natural sweeteners like cane sugar, maple syrup, agave nectar, or honey (not vegan) contain some minerals compared to refined white sugar, which has none. But hold up:
Natural sweeteners might be better alternatives, but they're not any healthier.
They are still refined, high in calories and devoid of fiber. They will spike your blood sugar and provoke highs and lows.
Listen, I know we can't all be perfect. So I always say: when choosing something unwholesome, choose the lesser evil.
Which I did. To create my mocktail, my sweetener of choice was maple syrup to make maple simple syrup. I'll tell you in a moment how I made it, but for now, I'll advise you to make it first as a stand-alone ingredient, then add it to your lemonade. This will also allow you to create other drinks with or without alcohol.
Now let's dive into the sourness of the drink.
What's in a Ginger and Thyme Lemonade?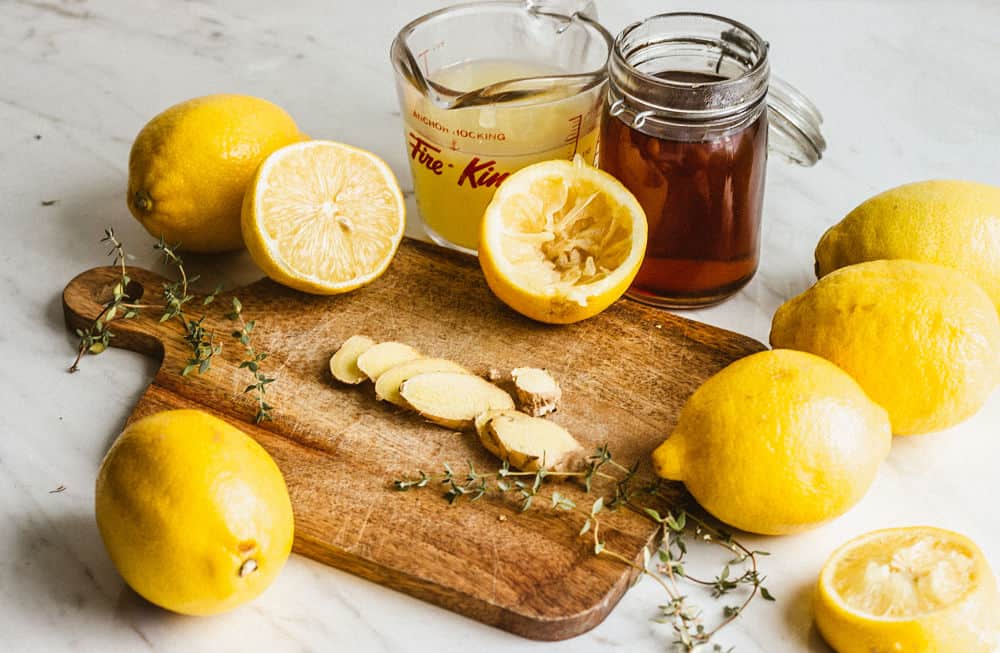 Here's what you'll need for this recipe:
Main ingredients
Water – you can use rested tap water, distilled or spring water;
Simple maple syrup – this is simply made with water and maple syrup (see below);
Lemon – make sure they're not too hard or else, you won't have a lot of juice.
Seasonings
Ginger – use fresh ginger, for sure;
Lemon Thyme – if you can't find any, normal thyme will do.
How to Make Ginger Thyme Lemonade Step by Step
To begin, I combined 1 part water and ¾ part maple syrup to make my maple simple syrup. Apparently, it's the best ratio to replace sugar, as 1 cup of sugar contains more air, more space between the crystals. I then infused the mixture with a few sprigs of lemon thyme and grated ginger (sliced ginger is shown in the picture) until it simmered. After, I let it cool while the thyme and the ginger steep for extra flavor. Then I strained the syrup, transferred it to a small jar and refrigerated it until ready to use.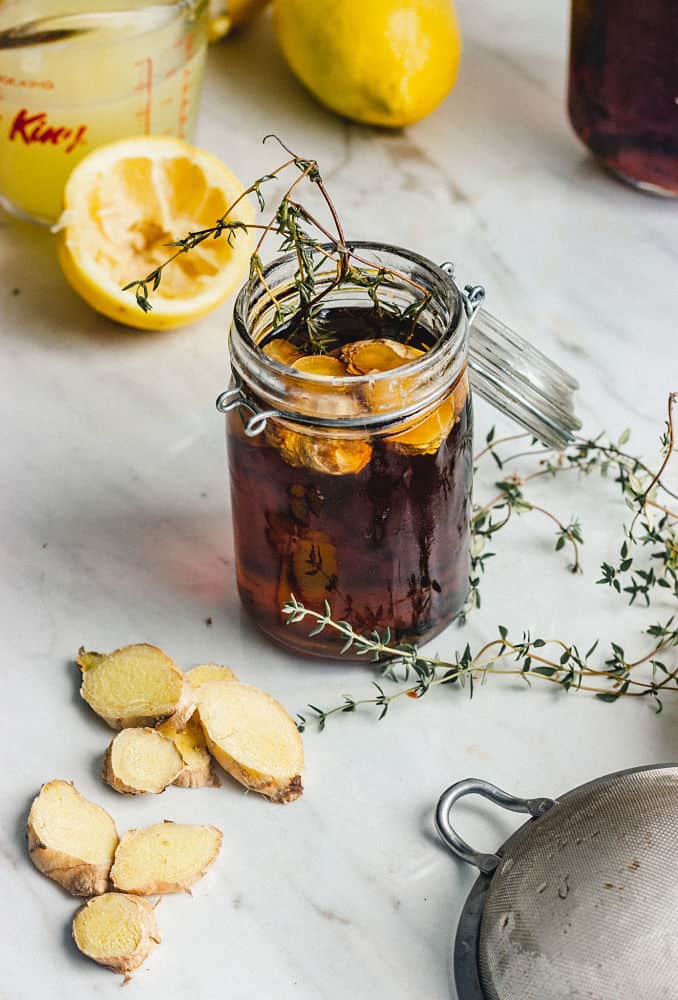 Finally, in a pitcher or a mason jar, I diluted lemon juice with water and added a portion of the infused maple simple syrup. I reintroduced fresh lemon thyme and the strained ginger to the lemonade to boost the flavor. I refrigerated the beverage for a few hours and served it over ice with garnishes of lemon rinds and thyme.
How does Ginger Thyme Lemonade Taste Like?
This lemonade is tart, but it's not overpowering. I'm not a fan of cloying sweet lemonade so this fits me perfectly. If you like yours sweeter, then there should be enough simple syrup to sweeten it. The ginger and the thyme flavors are subtle, and the maple syrup gives a distinctive flavor like that of iced tea.
If you want the ginger to be subtle, you could add sliced ginger instead of grated ginger in the infused maple simple syrup. Talking about infused simple syrup, be creative. Consider adding vanilla beans, cinnamon sticks, cloves, fresh or dried chiles, various citrus rinds like grapefruit or lime, mint or other fresh herbs, or even edible flowers like lavender or rose petals. And in your lemonade, consider adding cucumber for a unique twist.
It's also amazing mixed with iced tea or splashed with a little vodka, gin, whiskey, or alcohol of choice. Cheers to that!
Make this Perfect Summer Thyme Drink Now!
We can all agree that the sweet and sour flavors of real lemonade seem to hit the spot like nothing else on a hot day.
But beware of which lemonade you choose as a refreshment. Commercial "old-fashioned" lemonade is often just as sugary as its colorless cousin.
But the fresh kind made with natural sweeteners is a better candidate to quench your thirst.
So mix yourself a batch of this lemonade. Be sure to add a lot of ice. (It's best ice-cold.)
Then sit outside on your porch, your patio, or your front steps and look forward to sunnier days, lazy summer afternoons and weekends.
Or better yet, walk around the neighborhood, singing: « Rollin' down the street, smoking fresh air, sipping on lemon juice. Laid back (with my mind on my health and my health on my mind).
Ginger and Thyme Lemonade Recipe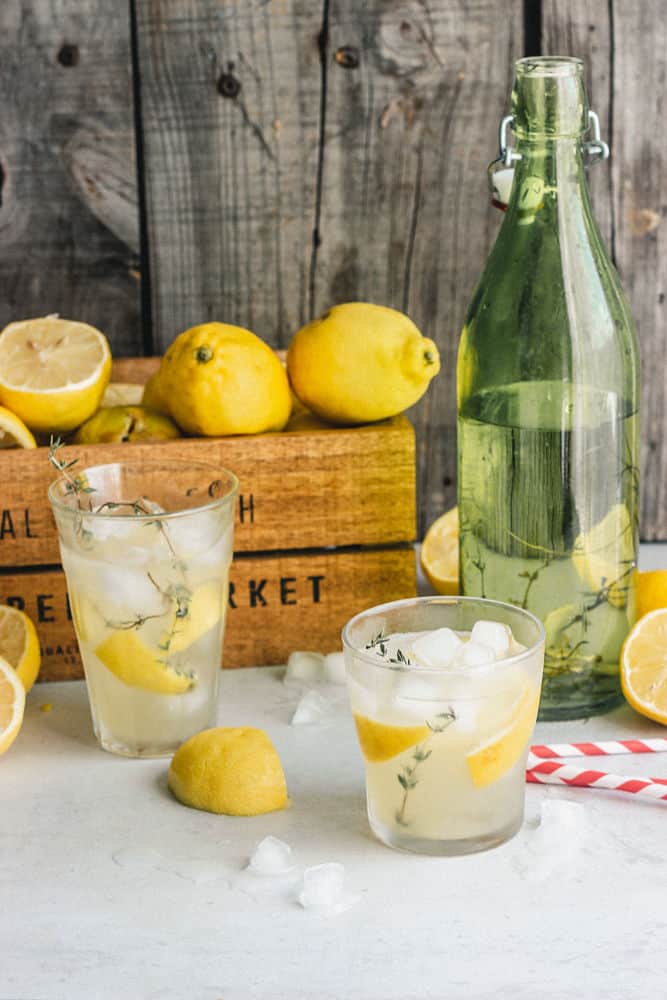 If you try this recipe, I want to know about it! I always appreciate your feedback. Leave a star rating in the recipe card right below and/or a review in the comment section further down the page. You can also follow me on Pinterest, Facebook, or Instagram. Sign up for my email list, too!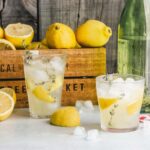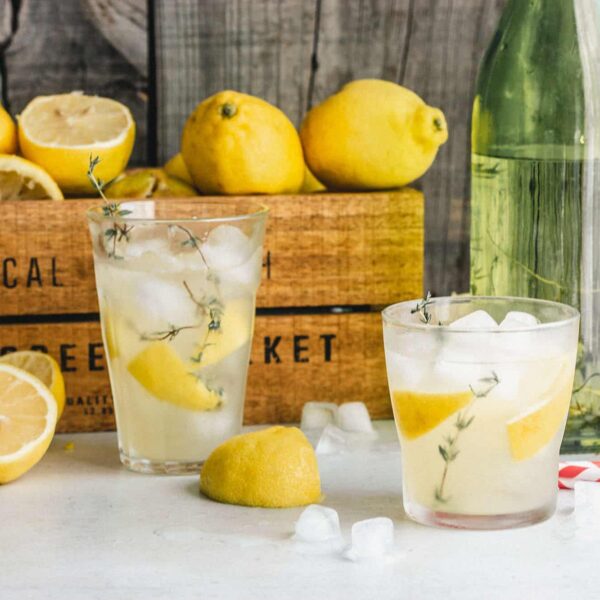 Ginger and Thyme Lemonade
Make the perfect summer drink with infused flavors to invigorate you. With ginger and lemon thyme as your spices, you'll have a unique lemonade. Give it a taste.
Save Recipe
Saved!
Print Recipe
Pin Recipe
Ingredients
Infused Maple Simple Syrup
1

cup

water

¾

cup

maple syrup

or agave or honey

8

sprigs

lemon thyme

or regular thyme, divided

1

tablespoon

ginger

grated (Notes)
Lemonade
4

cups

water

¾

cup

lemon juice

(from about 6 medium lemons)

4

sprigs

lemon thyme

Ginger slices

for extra steeping (Notes)

Thyme

for extra steeping and garnish
Instructions
First make the infused maple syrup: Combine water and maple syrup to a medium saucepan over medium heat. Add ginger and sprigs thyme, and bring to a boil. Reduce to a low heat, cover and simmer for about 5-8 minutes. Remove from heat and let cool to room temperature for 25 minutes. Strain and refrigerate until further use.

In a large pitcher, add lemon juice and dilute it with water. Add ⅔ cup of the simple syrup mixture and reserve for later use.

Add the ginger slices, some lemon rinds, and lemon thyme to steep if desired. Refrigerate for at least 8 hours. Serve over ice with garnishes.
Notes
For a lighter ginger flavor, add 6 ¼-inch sliced ginger. In this case, you might need ginger slices for extra steeping in the lemonade.
Nutrition
Calories:
178
kcal
|
Carbohydrates:
45
g
|
Protein:
1
g
|
Fat:
1
g
|
Saturated Fat:
1
g
|
Polyunsaturated Fat:
1
g
|
Monounsaturated Fat:
1
g
|
Sodium:
21
mg
|
Potassium:
209
mg
|
Fiber:
1
g
|
Sugar:
37
g
|
Vitamin A:
145
IU
|
Vitamin C:
23
mg
|
Calcium:
90
mg
|
Iron:
1
mg
Get Your Free Plant-Based Eating Toolkit and More
Subscribe to my newsletter and unlock my plant-based course, nutrition charts, recipe secrets, and exclusive updates to prepare wholesome, varied & balanced meals effortlessly. All you need is a good appetite. Subscribe!