This Thai salad is colorful, crisp, and eclectic. And it's very, very succulent. So much so that you'll want to eat it every day. How so? It has all these magical ingredients!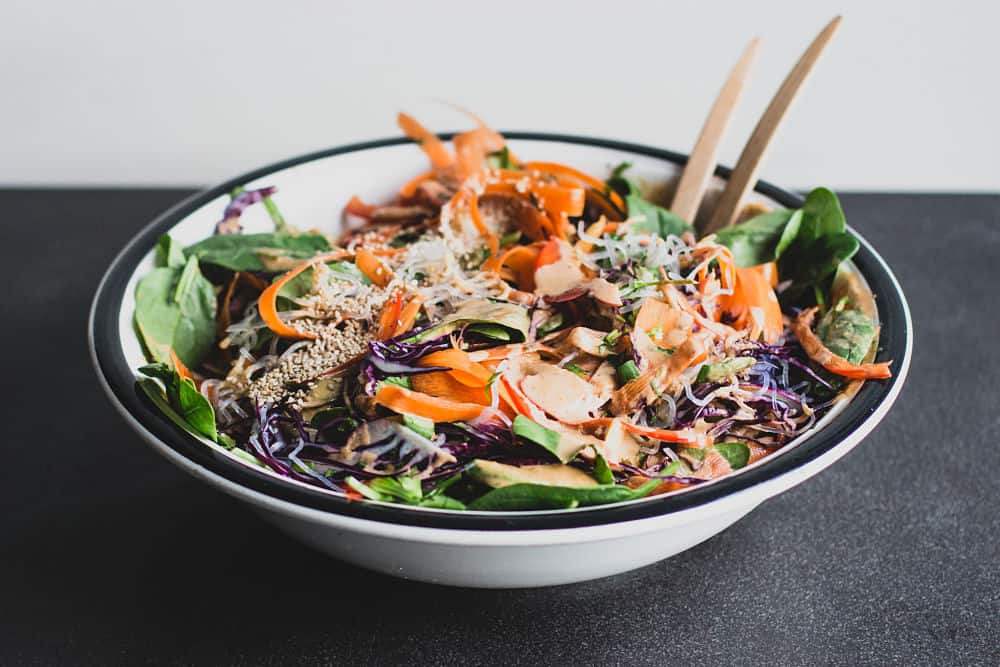 The Golden Rules for Creating an Appetizing Salad
Let's be honest.
How many times have you been served salads that were, well, boring?
Salads, made of crumbled Iceberg lettuce leaves with sliced tomatoes or shredded carrots, drowning in a Kraft vinaigrette. Ugh! So sad!
And you force yourself to eat these boring salads because they're healthy.
But even if they are, you don't enjoy them. They're just not mouthwatering.
You may have heard of those rare fanatics who love salads and eat them every day. What motivates them so much? What should you do to be like them?
Well, I'll tell you.
You have to be creative enough to make your salads to die for.
Often, salads are not attractive because they lack elements to stimulate all your senses: sight, smell, hearing, touch, and taste.
In order to do this, you have to play on three types of contrasts:
Colors: first impressions count and we eat with our eyes! Choose invigorating colors — dark green leaves and ingredients with warm and often saturated colors (orange, red, purple ...). You can add lighter colors (the light green of cucumber or green apple or the beige of seeds and nuts) to bring another contrast. Add suggestive sensual elements (I'll talk about this in 30 seconds), which make you imagine what you'll feel once you take a bite.
Textures: textures are the second sensation you feel. Crunchy textures are always more interesting than soft ones, so choose fresh ingredients. For the salad dressing, keep the textures flowing and creamy (hint: these are the sensual elements I talked to you about earlier). You can also add juicy fruits and vegetables (cucumber, red pepper, or tomato) for a liquid explosion.
Tastes: sweet and sour or sweet-salty flavors are very popular because they are stimulating. So do the same. Play with this contrast in your dishes: grated carrot + olives, lemon juice + maple syrup in salad dressings, bitter green leaves + sweet fruit, etc. These are just a few examples.
In general, what many don't know is the salad dressing is really what makes all the difference. So focus on that.
For this salad, I also added an unusual crunchy food...
Truly Fresh Noodles
Every Monday night, at home, we have an Asian theme. And for some time, I was preparing vegetable sautéed with teriyaki sauce, accompanied by quinoa. This is not my adorable little monster's favorite dish. So last weekend, I decided it was time to "modernize" it and add something that would make my salad irresistible to my son: noodles. Booyah!
But not any noodles. Kelp noodles.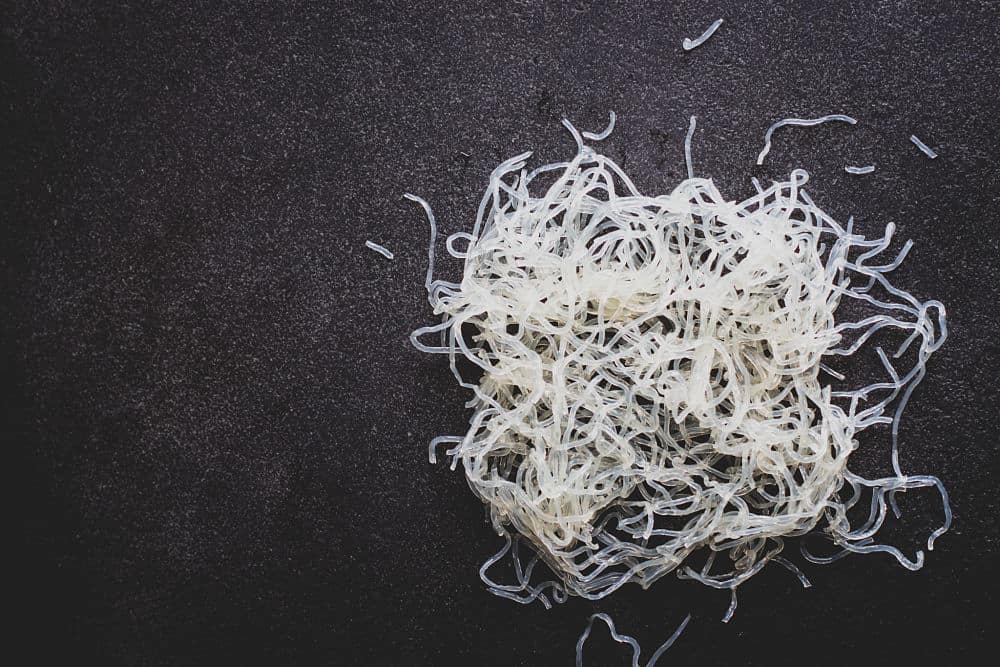 This salad is mainly composed of greenery with lots of colorful vegetables, herbs, noodles, all topped with a creamy sauce. I opted for kelp noodles for the nutritious side.
These seaweed noodles are crunchy and contain only 6 calories per serving if you want to lose weight. In addition to being gluten-free, raw and fat-free, they are also rich in minerals, including calcium (15% of daily intake). They require no cooking. Just rinse them and add them to your favorite recipe.
But it's also possible to put kelp noodles in hot water to soften them.
You can find them in health food stores and, apparently, even in more conventional supermarkets such as Wal-Mart. If you can't find it, brown rice vermicelli or legume-based noodles will do just fine.
Also, if you have trouble making your cohort eat these new types of noodles, because they're addicted to refined products, mix them with traditional noodles (put less of those, of course). As long as your beloved ones eat the rest, right? I know, it's sneaky. But desperate times calls for desperate measures.
This salad takes at most 30 min and is very easy to do. It requires two steps: cutting the vegetables — with a mandolin or a peeler — then preparing the sauce.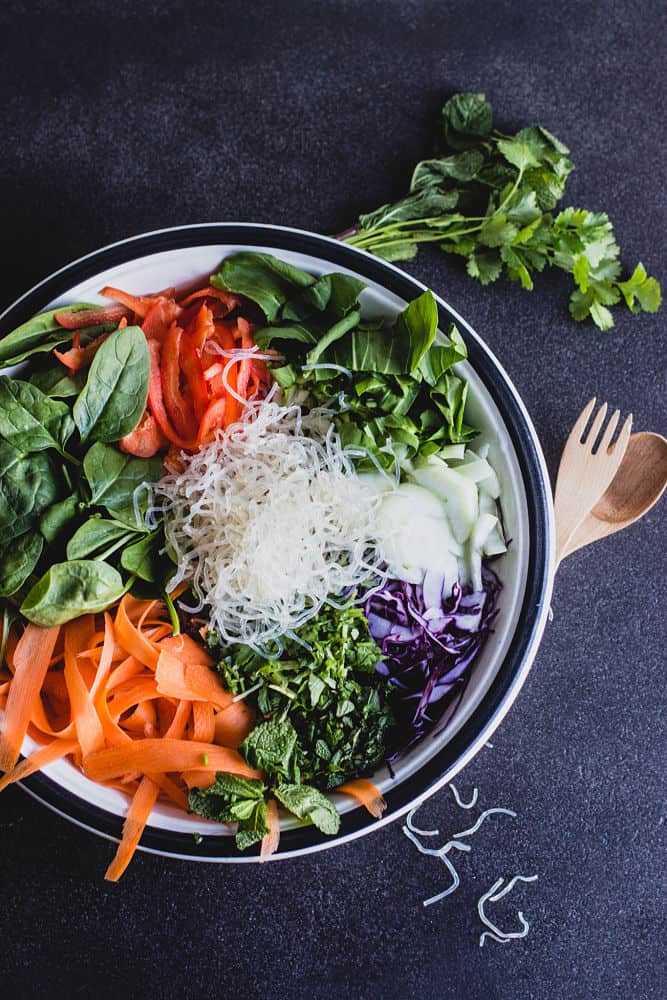 The sauce is made from almond butter and not from peanut to avoid allergic reactions that some may have. But don't hesitate to choose another nut butter of your choice.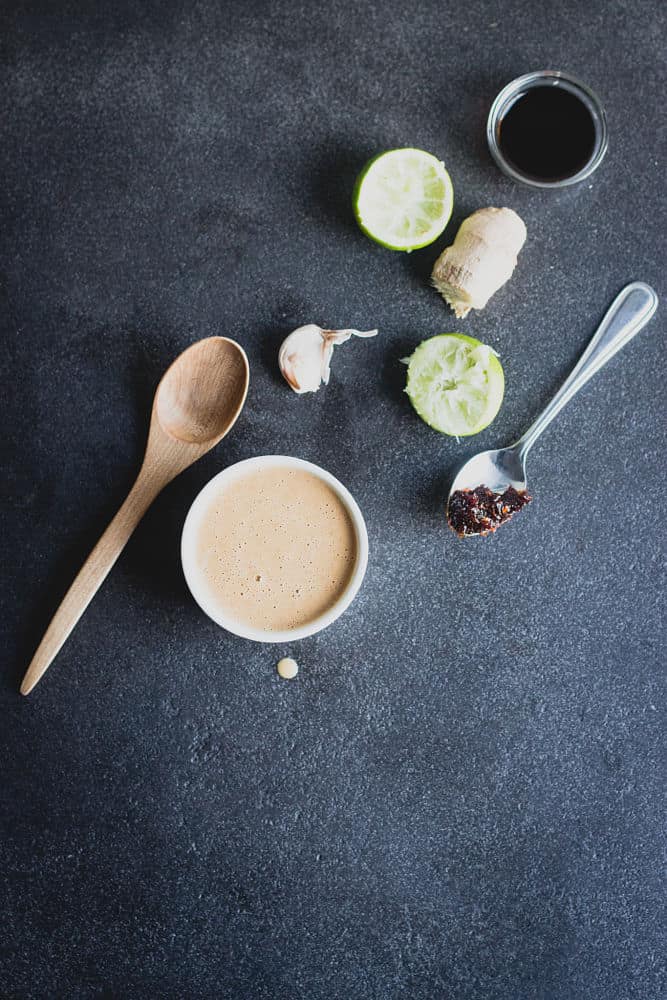 Finally, if you want to add extra protein, add hemp seeds or edamame beans; for a more "meaty" effect, you can add tempeh.
Anyway, I think you'll really like it. It's super nutritious AND crispy AND tasty.
Serve it as a starter or main dish. Eat it in a roll — made out of rice paper or a cabbage leaf. You have lots of variants to choose from.
Thai Salad with Mock Peanut Sauce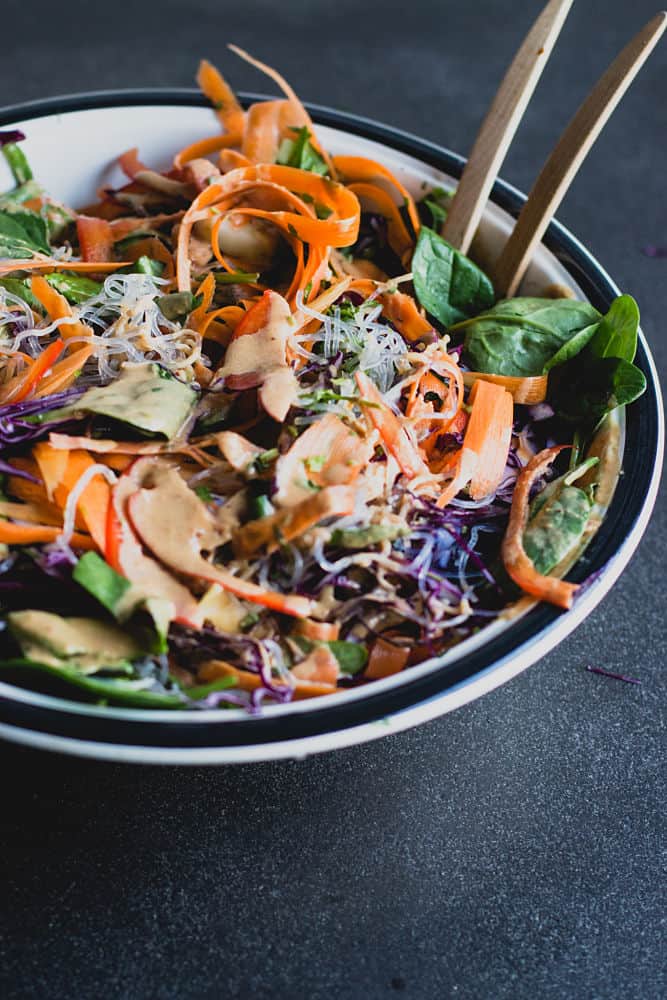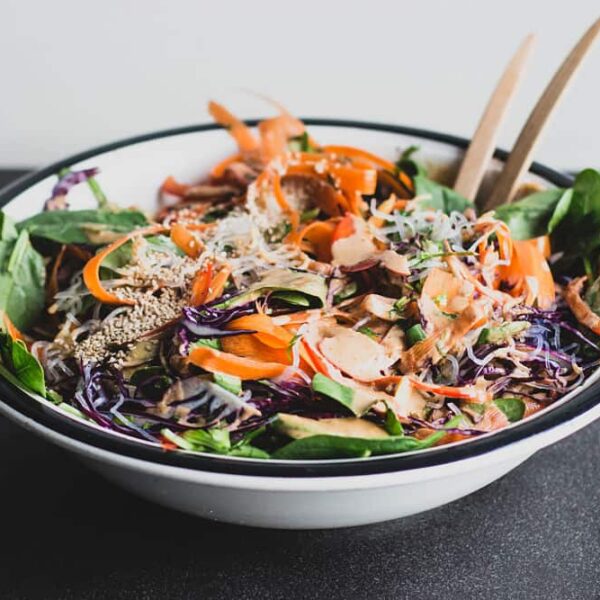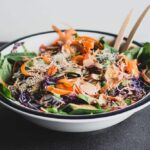 Print Recipe
Thai Salad with Mock Peanut Sauce
Ingredients
Salad
2

cups

kelp noodles or rice vermicelli

(340 g)

2

carrots

cut into ribbons or spirals with a spiral cutter

2

green onions

finely chopped

¼

cup

coriander

chopped

¼

cup

mint

chopped

1

cup

spinach

chopped

1

cup

chopped bok choy

1

cup

red cabbage

finely chopped

1

red pepper

finely chopped

¼

cup

sesame seeds
"Peanut" sauce
½

cup

almond butter

¼

cup

water

2

tablespoons

lime juice

3

tablespoons

tamari

2-3

tablespoons

maple syrup

1

garlic clove

crushed (about ½ teaspoon)

½

teaspoon

grated fresh ginger

1

teaspoon

Thai chili paste or 1 minced Thai red chili or ¼ teaspoon of red chili flakes
Instructions
In a large salad bowl, add all the ingredients and mix well. Put aside.

To make the sauce, put the ingredients in a small blender or a small mixing bowl. Add the salad dressing and mix well. Sprinkle with sesame seeds and serve immediately.
Notes
This salad and the sauce alone will keep in the refrigerator for 5 days.
Make it Now
If you try this recipe, I want to know about it! Leave me a comment below or share it on Instagram. Tag @biting.into.life with the hashtag #bitingintolife.
Enjoy!