Do you have a quinoa recipe that is always a winner? One that whenever you make it, people always rave about it?
I have one. It's made with mango, red bell peppers with a cumin-lemon sauce. It never fails. Every time I make it, people ask me for the recipe. One day, I'll post it.
But tell me, do you sometimes get tired of making that same winner recipe? I do. That's why I didn't feel like sharing it now :P. I wanted to make something different.
One thing is for sure, though, I never get tired of making quinoa salads. They're so easy to make and so filling.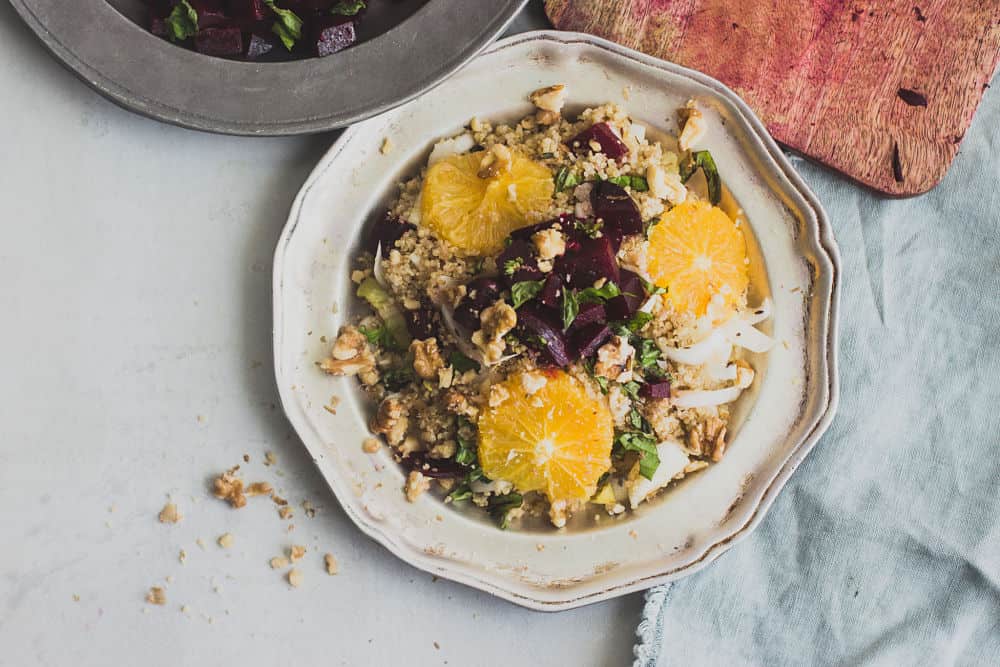 If you're running out of ideas with your quinoa salads, I have just the right one that'll stir things up a little.
This one is made with fresh ingredients like beets and oranges, which make winter meals look so inviting.
Bloody Beets: The Things You'll Do to Avoid Stains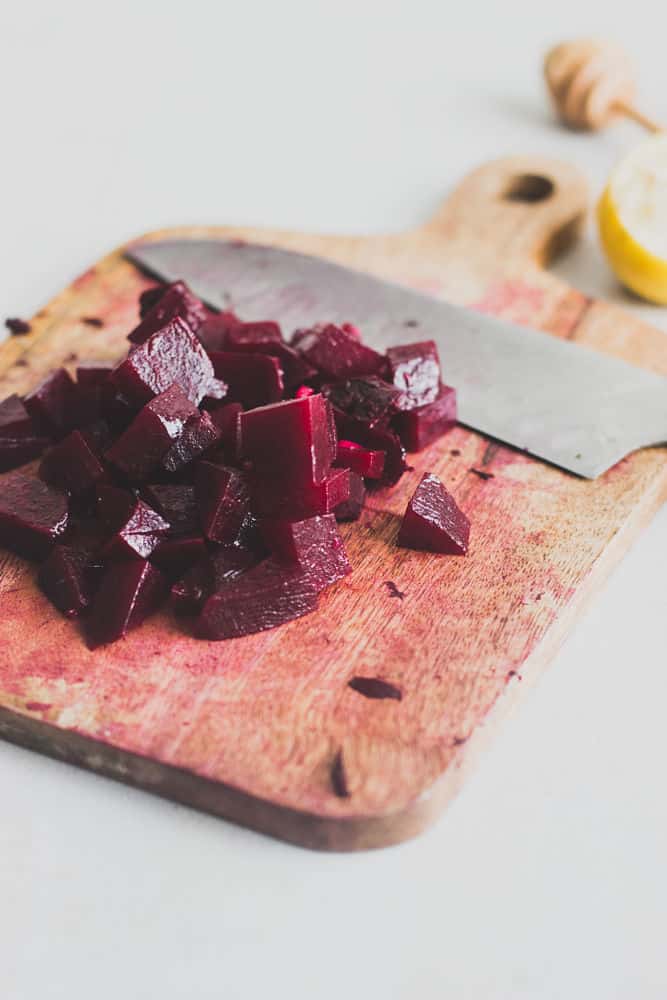 There's no way around it. Beets will stain everything they touch when boiled.
When I thought about making this recipe, I tried to come up with all the ways I could mix the cubed beets into the quinoa salad without it turning purple.
First, I thought I could let the water run on the beets or put them in ice water. Then I thought I should coat them with oil. I tested these different methods with a small sample and none of them worked.
When I dug further, I learned that the best way would've been to bake them in the oven. You wrap them in foil and bake them for about 40 min or more, depending on their size. Then you uncover them, let cool, and run cold running water on them while you peel off the skin. You can tell I'm no beet expert.
When I found out about this, it was too late. The beets were already plunged into hot water, boiling away. Eh.. I'll try it next time.
As for your hands, if you don't want to have any trace of their color, use gloves when you peel them. But if you don't use gloves, don't worry, the color will go away after a few washes.
Anyway, since it was too late to try this no-stain experiment, I figured I would top the quinoa salad with the beets. There. No choice.
Fragrant Combinations
My basic formula for making a quinoa salad is this: cooked quinoa + fine herbs + sometimes fruits + sometimes nuts + dressing + seasoning.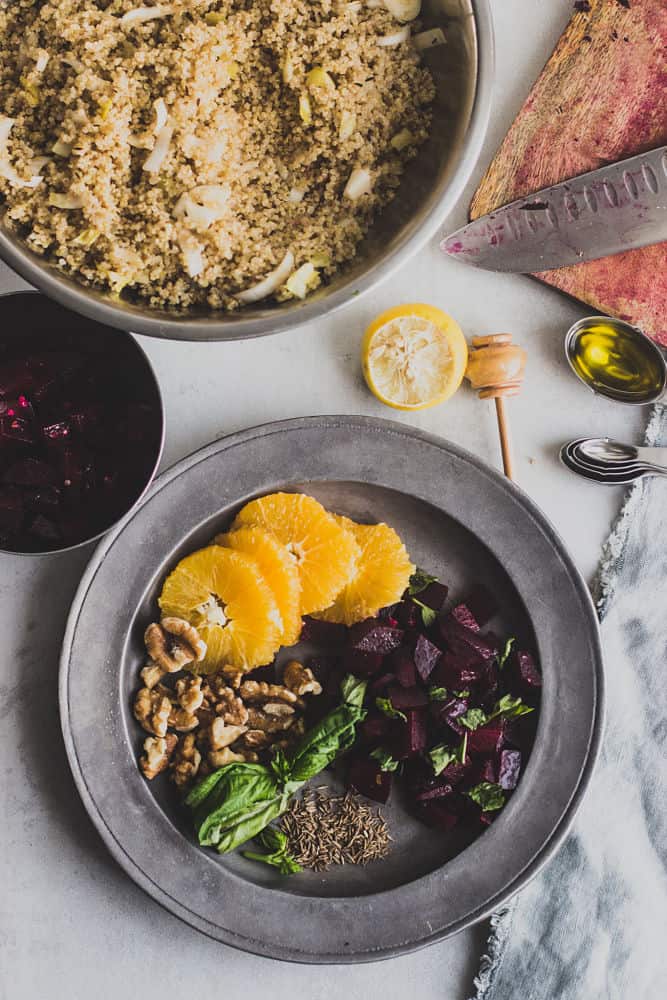 I had two heads of endives in my fridge and I thought it would be a great addition to the quinoa and beet salad. The endives would tone down the salad and bring some freshness.
For the fresh herbs, my most used ones are usually parsley or cilantro, but I wanted something completely different. I could've used dill but I chose basil instead, which also compliments beets well. I was curious to taste the result.
I found that the mix of the purple beets and the beige quinoa lacked cheerful color. So as a contrasting and vibrant color, I added oranges. Plus, oranges work perfectly with beets.
I love cumin with quinoa. I usually grind the seeds and add them to a vinaigrette, but I remembered that once, I cooked the seeds until fragrant and added them in some recipe that I can't remember for the life of me! Augh, does this happen to you? Anyway, I thought it would be interesting to do this here.
For the nuts, I chose walnuts. I don't know… there's something comforting about them. And I'm happy I used them. The salad wouldn't have been the same without them.
If I wanted to bring the salad to a crazy yummy level I could've added some nut ricotta, but I wanted to keep things simple.
Finally, for the dressing, I usually mix lemon juice with olive oil and I add garlic and salt. So that's what I did. Buuut for more sweetness, I added honey.
This salad is so flavorful. I love the finishing touches with the beets, the oranges, and the walnuts. The oranges bring so much freshness to the salad and the beets are just, muah! so sweet and tasty. And finally, the walnuts brought lots of umami.
So there you go. If you follow my quinoa salad formula, it's easy to change the ingredients whichever way you want it. You can eat this salad hot or cold, as is, or in a burrito. Have fun with it.
Quinoa Salad with Beets, Oranges and Walnuts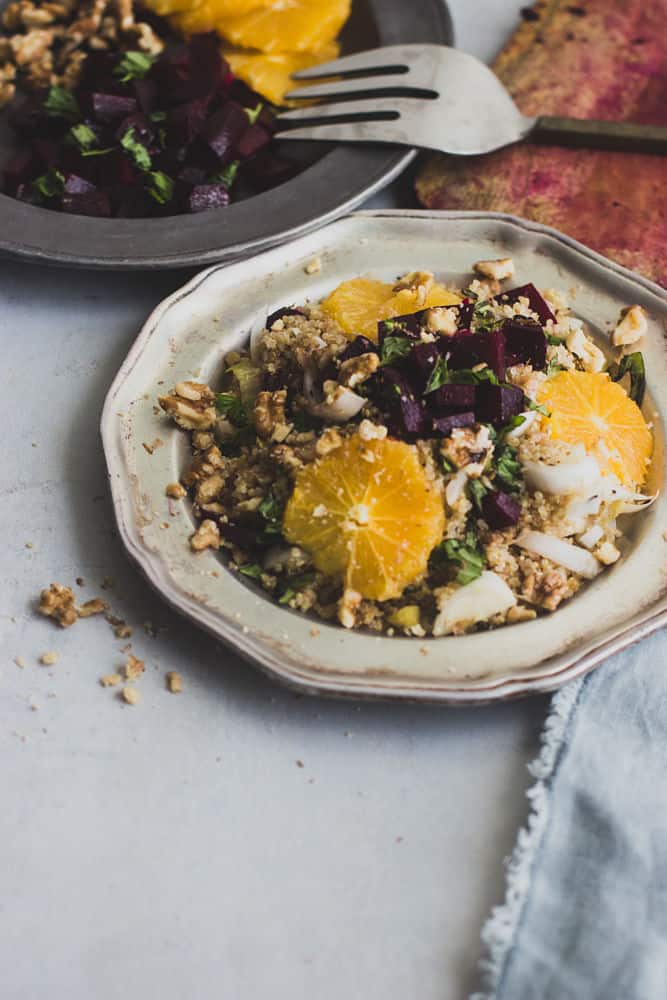 If you try this recipe, I want to know about it! I always appreciate your feedback. Leave a star rating in the recipe card right below and/or a review in the comment section further down the page. You can also follow me on Pinterest, Facebook, or Instagram. Sign up for my email list, too!
Quinoa aux betteraves, aux oranges et aux noix
Si tu manques d'idées avec tes salades de quinoa, en voici une faite avec des ingrédients frais comme les betteraves et les oranges, qui rendent les repas d'hiver si attrayants.
Save Recipe
Saved!
Print Recipe
Ingredients
4

betteraves

cuites

1

botte

de basilic

haché (environ 2 tasses)

1 ½

tasses

de quinoa

2

oranges

2

têtes

d'endives

tranchées

2

cuillères à café

de cumin
Dressing
3

cuillères à soupe

d'huile d'olive

3

cuillères à soupe

de jus de citron

1

cuillères à soupe

de miel

ou de nectar d'agave

½

cuillère à café

d'ail

écrasé (environ 1 gousse d'ail)

Sel et poivre

au goût
Instructions
Porter une grande casserole à ébullition, ajouter les betteraves dans l'eau et faire bouillir pendant environ une heure jusqu'à ce qu'elles soient tendres à la fourchette. Alternativement, tu peux les envelopper individuellement dans du papier d'aluminium, les placer sur une plaque à pâtisserie et les rôtir au four pendant 40 à 70 min, jusqu'à ce qu'ils soient cuits. Retirer du feu et laisser refroidir. Peler la peau et couper en cubes d'environ 1 pouce. Transférer dans un petit bol. Ajouter ¼ tasse de basilic aux betteraves et mélanger.

Entre-temps, cuire le quinoa environ 15 minutes dans de l'eau salée. Porter à ébullition jusqu'à ce que l'eau atteigne la surface du quinoa, puis couvrir et cuire à feu doux. Transférer le quinoa dans un saladier.

À l'aide d'un couteau bien aiguisé, couper le haut et la queue des oranges. Coupez le côté de chaque orange, en suivant sa ligne naturelle, pour enlever la peau et la moelle blanche. Coupez chaque orange en coupes transversales.

Dans une casserole, à feu vif, cuire les graines de cumin jusqu'à ce qu'elles soient parfumées. Mélanger les graines dans le saladier de quinoa. Ajouter l'endive et le reste du basilic et bien mélanger.

Pour faire la vinaigrette, mélanger tous les ingrédients dans un petit bol et bien mélanger.

Verser 1 cuillère à soupe de vinaigrette sur le mélange betterave-basilic et bien mélanger. Versez le reste de la vinaigrette dans la salade de quinoa et mélangez bien.
Nutrition
Calories:
421
kcal
|
Carbohydrates:
63
g
|
Protein:
11
g
|
Fat:
15
g
|
Saturated Fat:
2
g
|
Polyunsaturated Fat:
3
g
|
Monounsaturated Fat:
9
g
|
Sodium:
70
mg
|
Potassium:
840
mg
|
Fiber:
9
g
|
Sugar:
16
g
|
Vitamin A:
310
IU
|
Vitamin C:
45
mg
|
Calcium:
89
mg
|
Iron:
5
mg
Get Your Free Plant-Based Eating Toolkit and More
Subscribe to my newsletter and unlock my plant-based course, nutrition charts, recipe secrets, and exclusive updates to prepare wholesome, varied & balanced meals effortlessly. All you need is a good appetite. Subscribe!